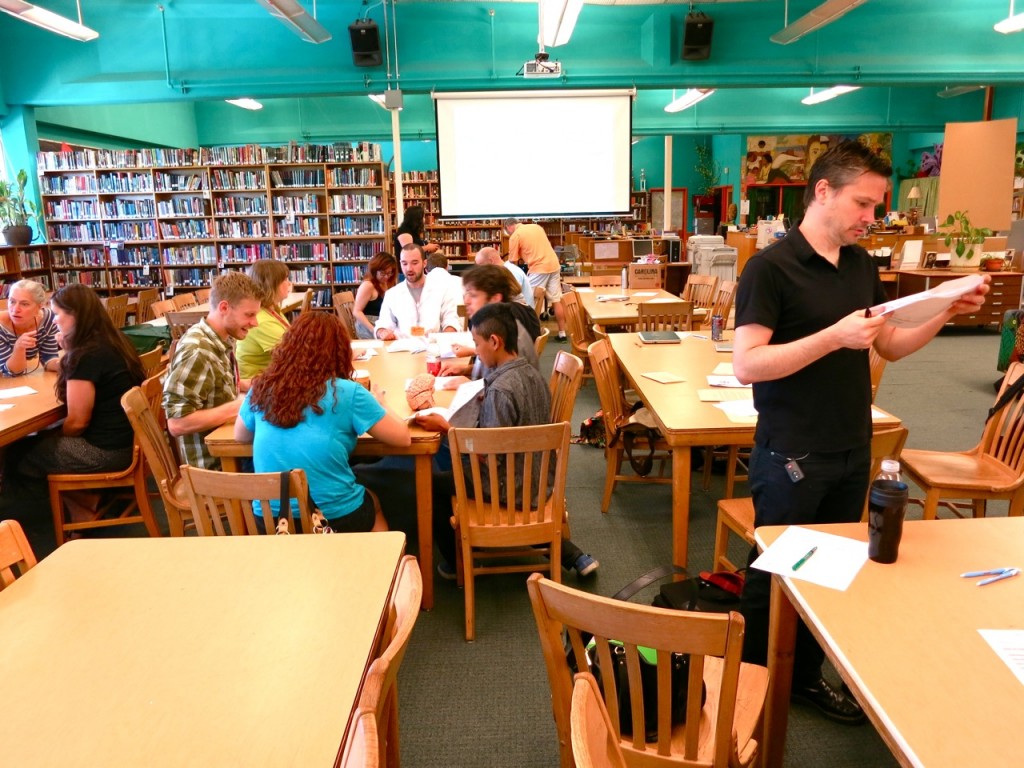 GROWING IN NETWORKS…
The Northwest Neuroscience Outreach Group:  Growing in Networks (nwnoggin.org) is a collaborative educational effort to enthuse and engage academic priority students and the general public in the study and practice of neuroscience and art.  We welcome, value and depend on the significant contributions and volunteer efforts of dedicated individuals from academic institutions, arts organizations, professional associations, public school systems and our Northwest community.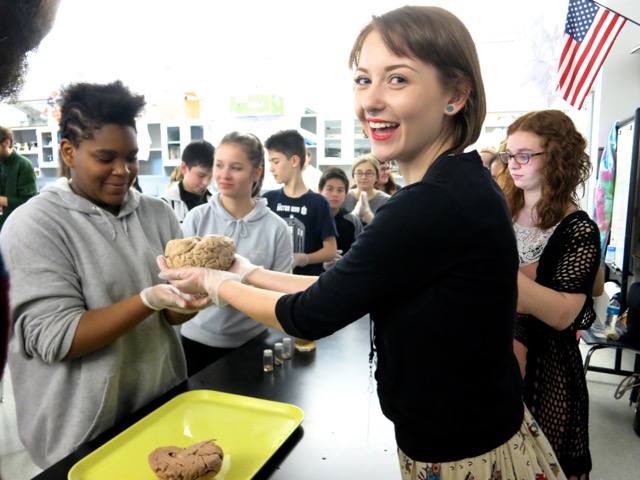 These partners have gone above and beyond to make art and science teaching and enrichment opportunities a reality in the Portland/Vancouver area…
Undergraduates and graduates at this diverse, urban campus are among the most committed, fervent, passionate supporters of science outreach and education through NW Noggin.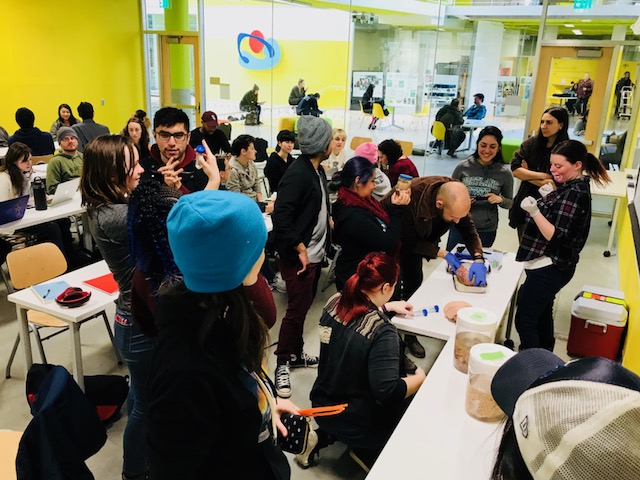 The Department of Psychology offers a concentration in Neuropsychology/Neuroscience, and networks of colorful pipe cleaner neurons hang in the main lobby!
The College of Liberal Arts & Sciences supports innovative #sciart outreach (they co-sponsored our latest Noggin briefing to the U.S. Congress), and recognizes the value and effectiveness of cross-disciplinary, multi-institutional collaboration. In winter 2018, the University Studies department welcomed a new Freshman Inquiry (FRINQ) theme course sequence, co-taught by Noggin co-founders Jeff Leake and Bill Griesar, on the Neuroscience of Creativity and Learning…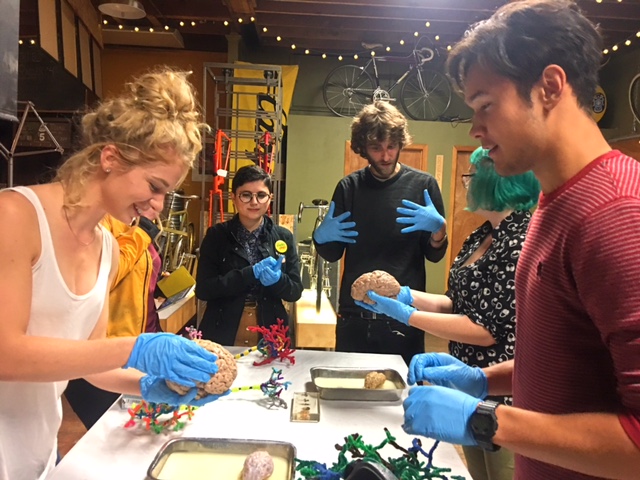 The NIH BUILD EXITO program at PSU is a research training program that supports undergraduate students on their path to become scientific researchers. PSU received a major grant from the National Institutes of Health to serve as a center for innovation to help undergraduates, including those from diverse backgrounds, be successful in health research careers…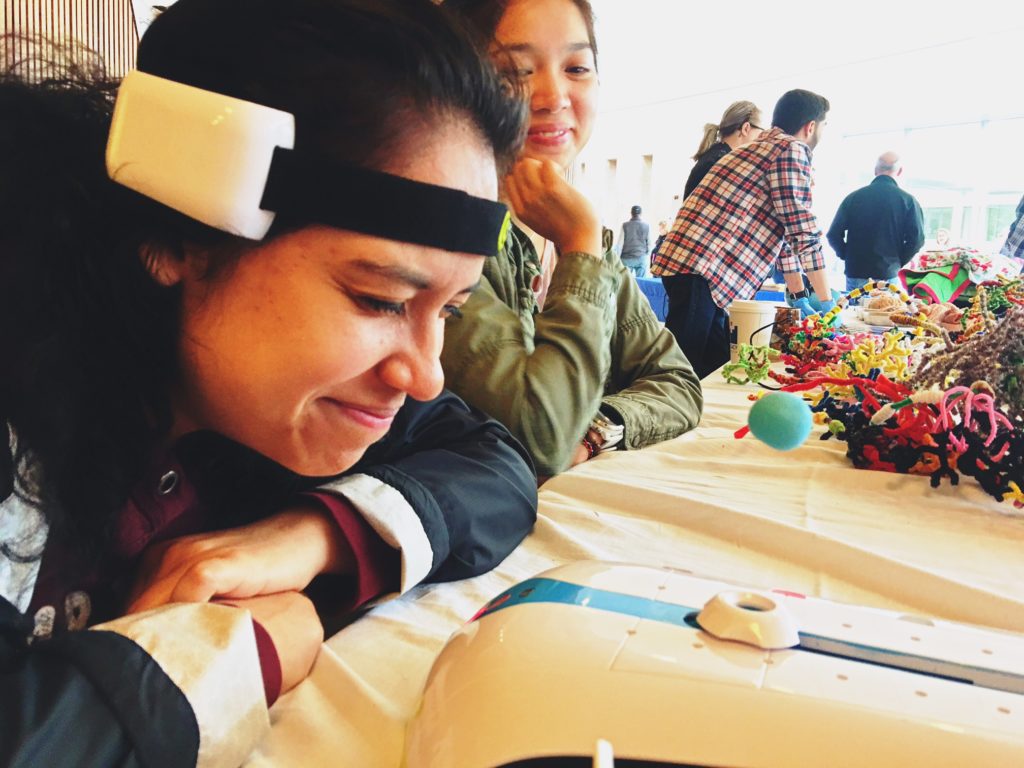 Oregon Health & Science University (OHSU) serves as the research intensive partner, providing crucial support, guidance, and expertise as PSU develops and implements EXITO. BUILD EXITO scholars regularly participate in Noggin outreach, and the program has contributed significant supplies!
The Neuroscience Club at PSU (their Facebook page is here) won a SALPie (Student Activities and Leadership Programs) award in 2014 as the "Student Organization of the Year," and again as the 2017 "Service Organization of the Year."  Bill Griesar of PSU Psychology, and NW Noggin, was awarded the "Faculty/Community Partner of the Year" SALPie Award in 2016…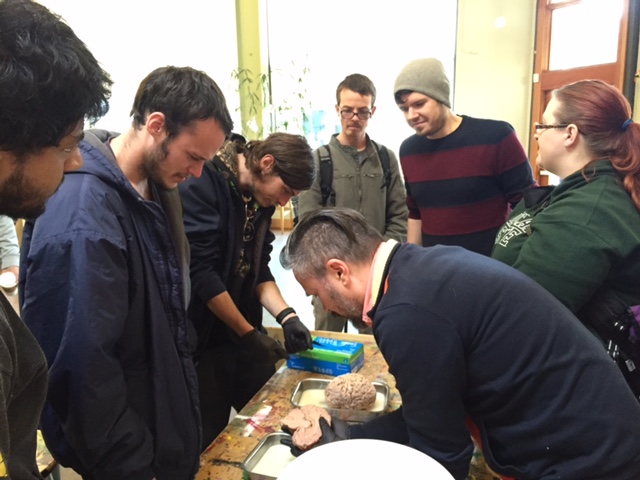 Both OBI and Behavioral Neuroscience help make the Pacific Northwest a "neuroscience powerhouse," in the words of Oregon Congressman (and House Neuroscience caucus co-chair) Earl Blumenauer.  OHSU's enthusiastic graduate students are always eager to inform the broader community about exciting brain research happening on Pill Hill…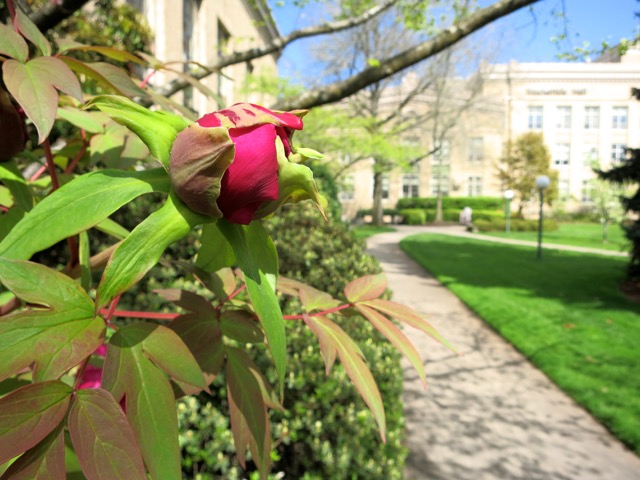 An exceptional contributor to neuroscience research and education in the Northwest. We always look forward to introducing K-12 students and undergraduates to Diana Gordon, their irrepressible outreach coordinator, who provides insightful tours and arranges panels of experts to answer student questions…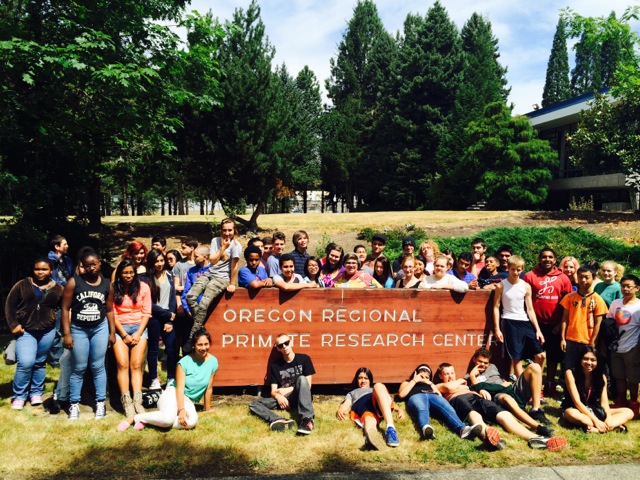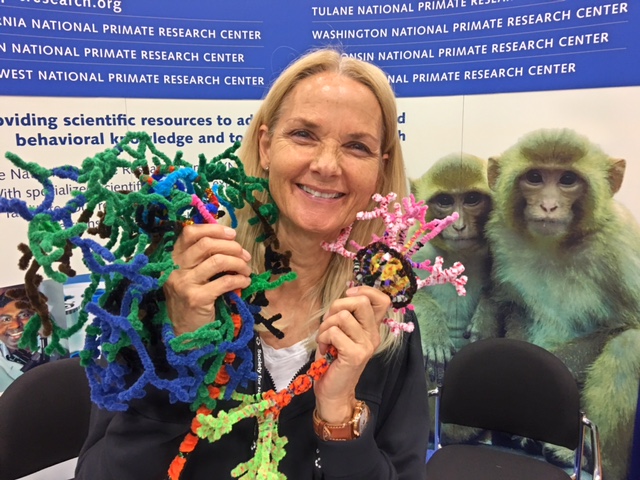 The Portland Alcohol Research Center investigates genes that enhance risk of or convey protection against alcohol use problems. The Center's goal is to help find new therapies to improve treatment and prevention. Mark Rutledge-Gorman at PARC is a tireless supporter of STEAM education work in the community..!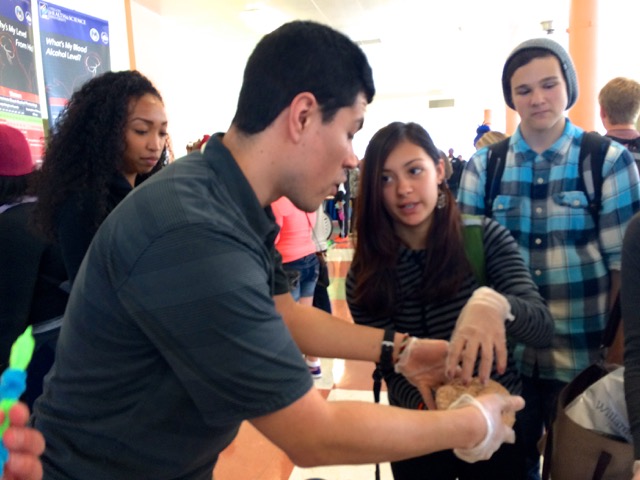 YES! Youth Engaged in Science is a multi-faceted outreach program run by the Fair Neuroimaging Lab aimed at exposing underrepresented students to science, research & STEM-related  careers. YES! aims to get kids excited about science through education, mentorship, and hands-on experience. The program also educates families about mental health and the importance of community participation in biomedical research, with the hopes of increasing enrollment of underrepresented populations in clinical studies.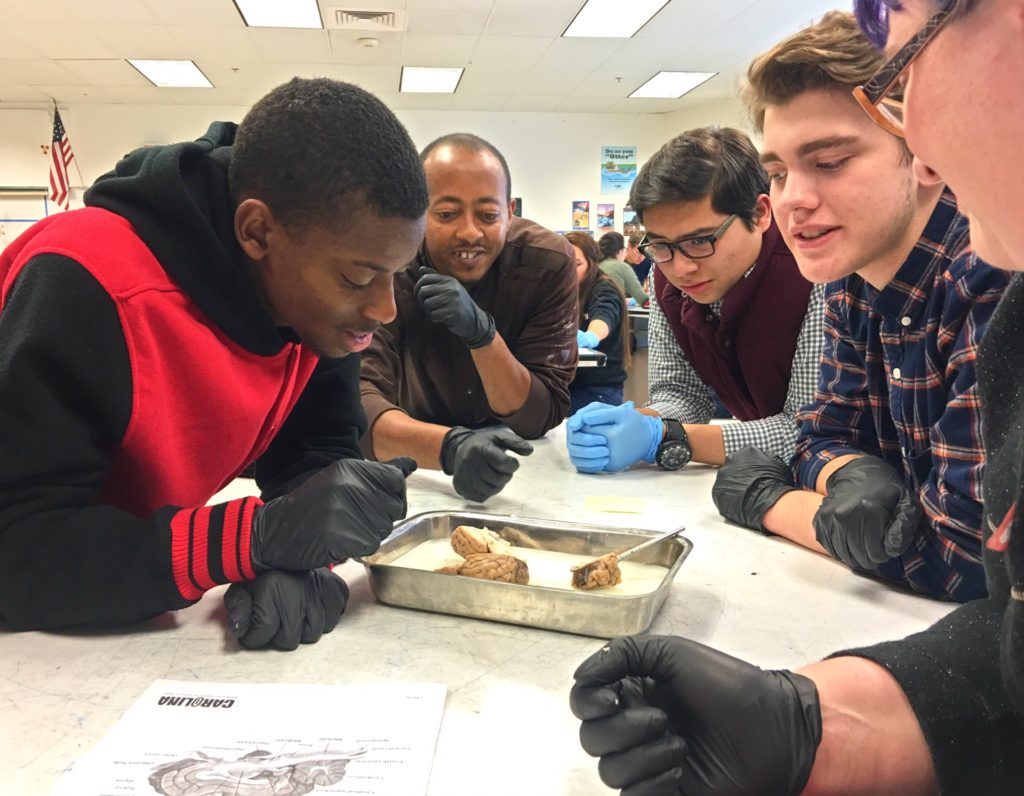 Noggin has partnered with YES!, bringing K-8 students from Portland and Vancouver public schools into OHSU imaging labs, and graduate students and post-docs from OHSU into public classrooms…
LEARN MORE:  Synapsing with Summer @ SAIL!

The Regional Arts & Culture Council (RACC) receives funding from a variety of public and private partners to serve artists, arts organizations, schools and residents throughout Clackamas, Multnomah, and Washington counties.  Noggin was awarded a RACC grant in 2014…
The Latino Network is a Latino-led education organization, grounded in culturally-specific practices and services, that lifts up youth and families to reach their full potential…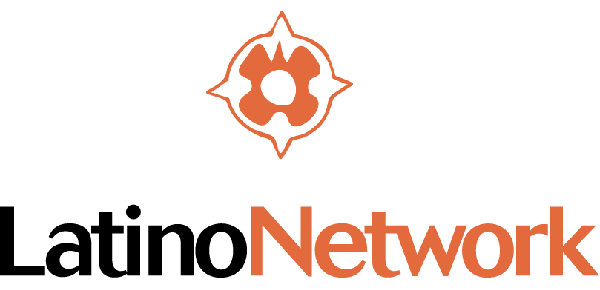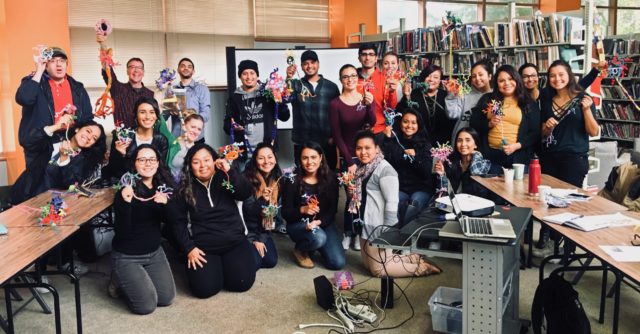 NW Noggin is thrilled to partner with this effective nonprofit community organization which shares our interests in improving community livability, fostering civic participation, and preparing young people for educational and life success…
LEARN MORE: Latino Network Learning & Lobes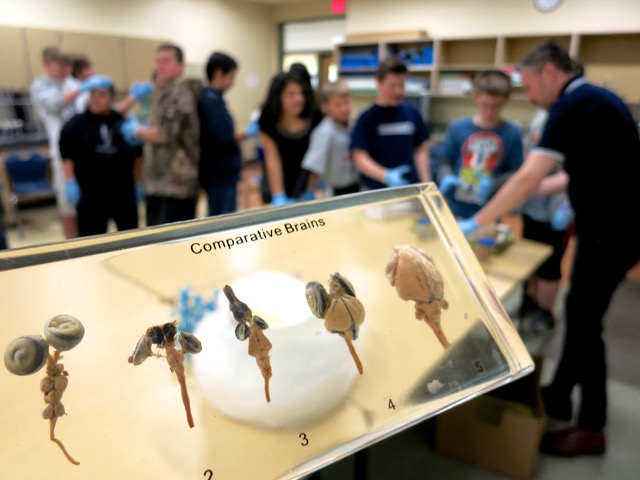 Caldera is a catalyst for the transformation of underserved youth through innovative, year-round art and environmental programs. Caldera serves Oregon youth from both urban and rural communities with limited access to educational and economic resource opportunities. Our programs nurture individual creativity to ignite self-expression and transform the way young people engage in their lives, families, and communities.  Jeff Leake of NW Noggin has run brain-related arts programs at their central Oregon campus, and at nearby Redmond Public Schools.
LEARN MORE:  Caldera Arts and Brains in central Oregon
The museum, the 7th oldest in the United States, is another extraordinary partner in furthering education about both brain science and art.  Noggin collaborated with PAM on the popular "Seeing Nature" exhibit (we contributed panels with text for a "Nature of Seeing" gallery which accompanied this striking collection of landscape paintings from the Paul G. Allen Collection), and PAM was also a co-sponsor of our Brain + Art briefings for the U.S. House of Representatives in both 2016 and 2017.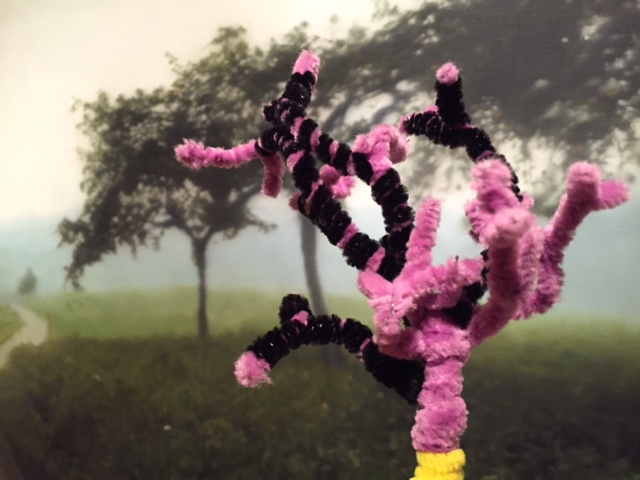 LEARN MORE:  The Nature of Seeing @ the Portland Art Museum
LEARN MORE:  The Nature of Seeing: Noggins and Art
LEARN MORE:  STEAMing to DC!
LEARN MORE:  Jeff Leake Joins Teacher Advisory Council @ PAM!
LEARN MORE:  One landscape contains the other…
LEARN MORE:  Noggin @ Portland Art Museum
SUN stands for Schools Uniting Neighborhoods. The SUN Service System helps our youth have the opportunity to develop intellectually, socially and emotionally. Like three strands of a rope, these intertwined capacities strengthen later functioning into adulthood.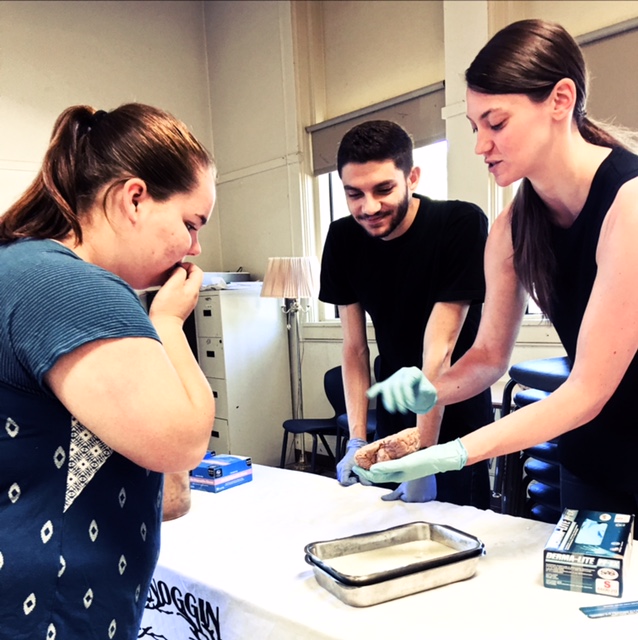 NW Noggin has partnered with SUN community schools on multiple occasions, reaching thousands with brains and art.  One example (more at Noggin Bloggin):  Cellphones & Receptors at Franklin SUN
NW Noggin volunteers LOVE collaborating with this critical community center for services and support for homeless youth.  P:ear provides a warm, welcoming, arts-filled educational space in downtown Portland, filled with caring staff and volunteers for young people, many of whom lack access to safe housing.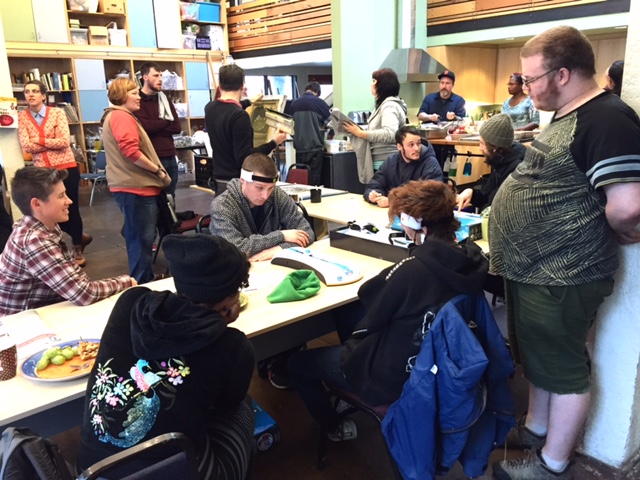 P:ear was a co-sponsor of our briefing to the U.S. House Neuroscience and STEAM caucuses in 2017!
LEARN MORE:  Noggin @ P:ear
LEARN MORE:  Homelessness and the Brain
LEARN MORE:  From classrooms to Congress!

NW Noggin is a nonprofit partner of the American Brain Coalition, an organization comprised of leading professional neurological, psychological, and psychiatric associations and patient groups, and an exceptional collaborator in both our 2017 and 2016 outreach efforts in Washington DC!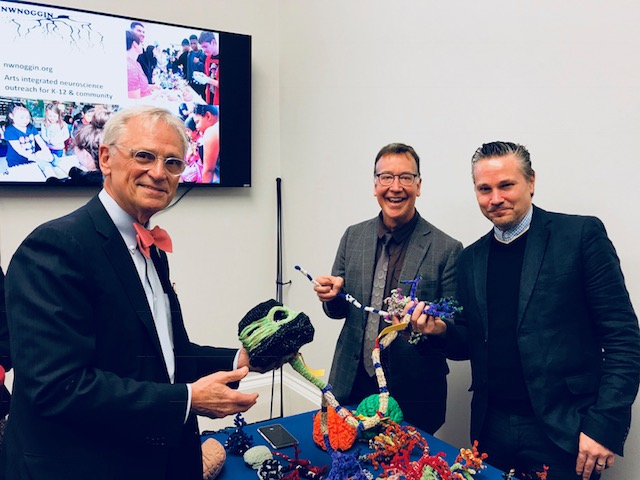 We were also highly honored to attend the Obama White House Frontiers conference with Katie Sale, the Executive Director, in fall 2016…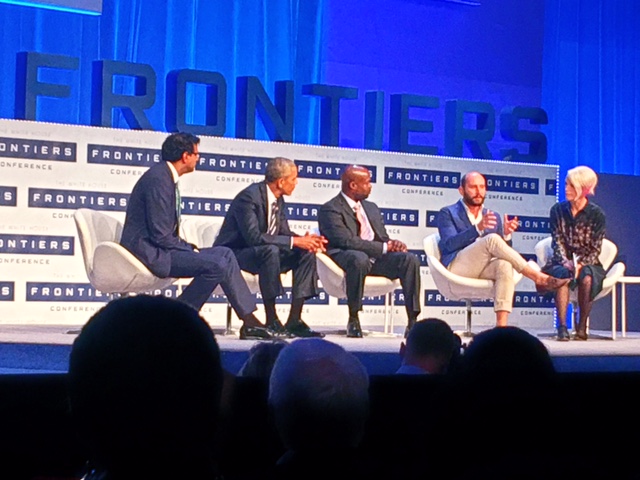 LEARN MORE: A Coalition of Noggins & Brains!
LEARN MORE: From classrooms to Congress!
LEARN MORE: STEAMing to DC!
A whole body donation and surgical education center in Portland, Oregon, which offered human brains for outreach!  Select Noggin volunteers have spent memorable hours here learning and exploring, and absorbing understanding, knowledge and insight from Michael, Miguel and Andrew into how our bodies look, feel and function.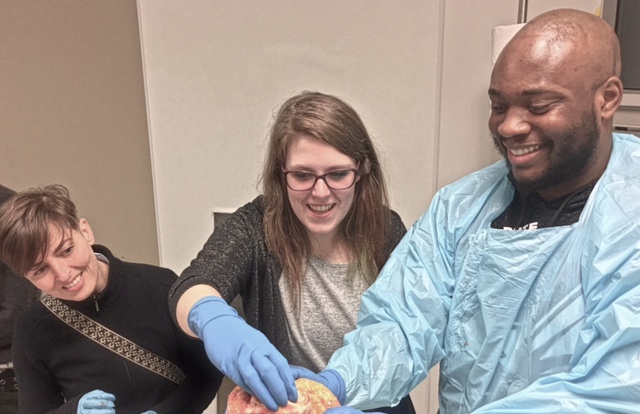 We remain awestruck by this experience, which made us more effective educators, and are grateful for the generosity of those who donate their bodies to clinical and basic research, education and outreach.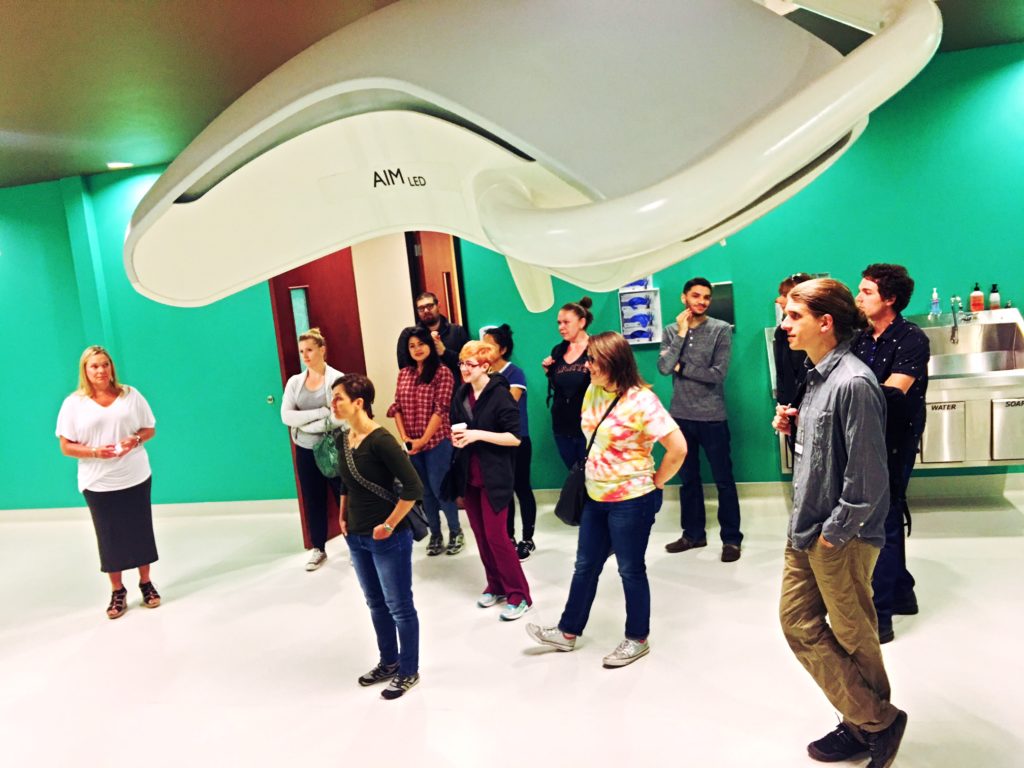 Another Portland-based whole body donation and surgical education center.  We thank them for their embrace of arts-integrated neuroscience outreach  –  and for brains!  Learn more about their work and support for community engagement here:  Memories @ MedCure
Home to exceptional student and faculty artists, whose outreach efforts through NW Noggin excite and engage students throughout the region…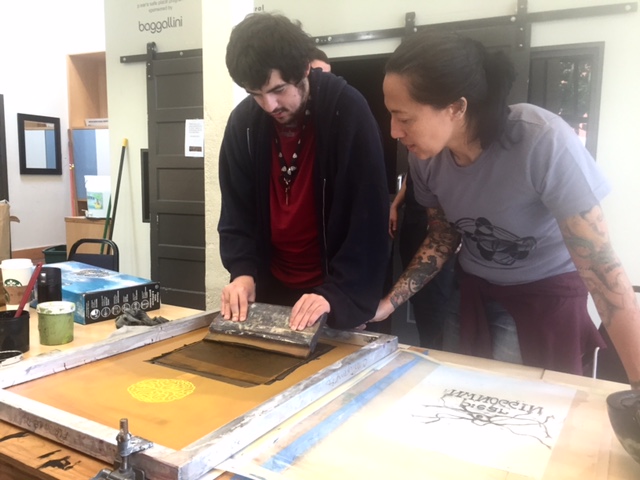 Make+Think+Code is a technology-focused lab at the Pacific Northwest College of Art that brings together members of Portland's creative, tech, civic, and educational communities to explore the powerful role that creativity and technology play in the search for imaginative and impactful solutions to complex and urgent problems.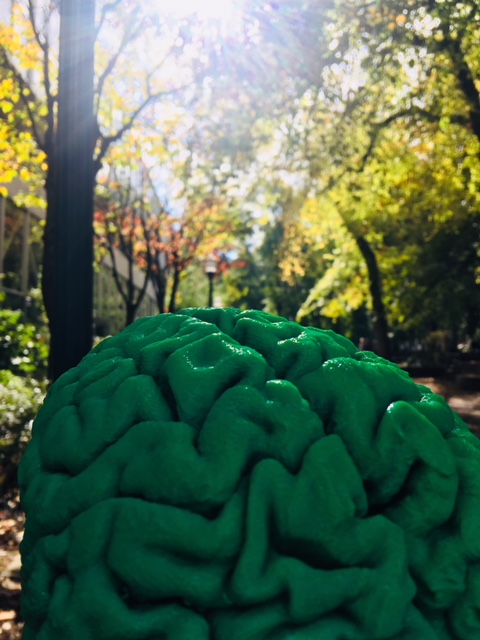 3D printed brain from MRI data created by PDX 3DP Lab Monthly Meetup
NW Noggin is thrilled to partner with this vibrant program, and with founder and Executive Director Nandini Ranganathan, and appreciates access to their extraordinary facilities and our shared eagerness to innovate and engage with our community, and our world.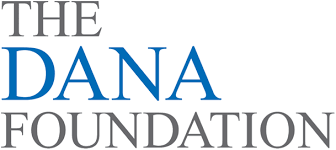 The Dana Foundation is committed to advancing brain research and to educating the public in a responsible manner about the potential of research.  NW Noggin is a proud partner of the Foundation, and was one of three organizations profiled by Dana during Brain Awareness Week in 2017…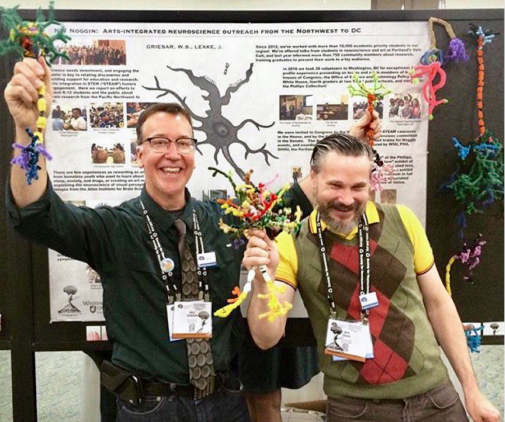 LEARN MORE:  NW Noggin: Interview with the Dana Foundation!
The Society for Neuroscience (SfN) is the world's largest organization of scientists and physicians devoted to understanding the brain and nervous system. The nonprofit organization, founded in 1969, now has nearly 38,000 members in more than 90 countries and over 130 chapters worldwide.
Noggin regularly presents posters at the annual meeting, and this year SfN awarded complimentary conference attendance in Washington DC for ten of our undergraduate volunteers! We presented at the conference, in DC area public schools, and to the Neuroscience and STEAM caucuses in the U.S. House of Representatives!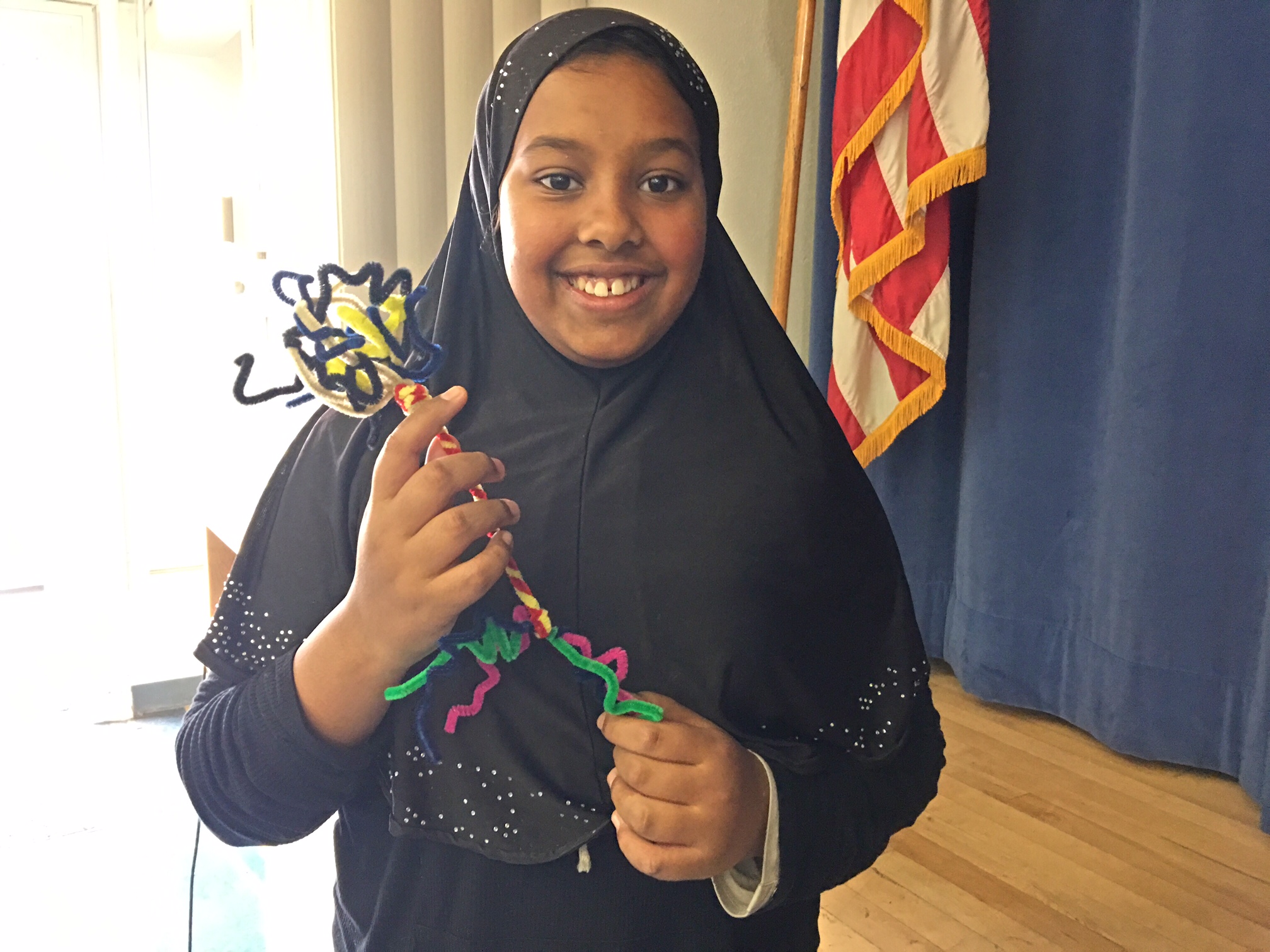 LEARN MORE:  From classrooms to Congress!
LEARN MORE:  Serving 700 students at SfN!
LEARN MORE:  #brains2DC!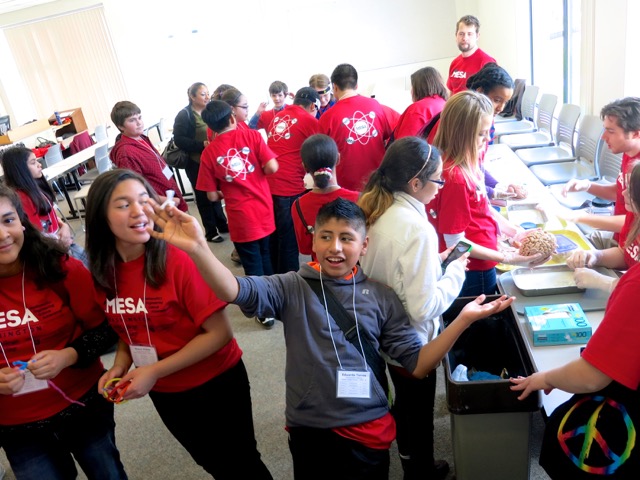 By far our favorite bike shop pub anywhere in the world 🙂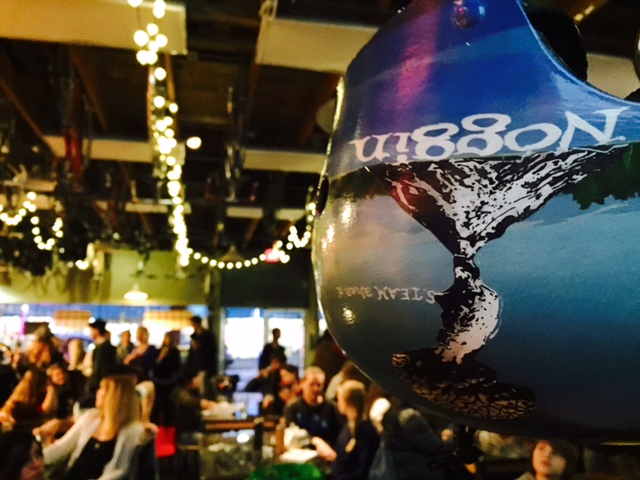 LEARN MORE:  Noggin @ Velo Cult

Rewire Neuroscience is a Portland startup providing cloud-connected data acquisition and data sharing products for the lab that are affordable and custom designed. They offer an array of lab equipment, ranging from social operant chambers to freezer monitoring, built to customer specifications. Rewire Neuroscience is dedicated to empowering the future of neuroscience by supporting the next generation of scientists with tools like Journal of Abstracts, where students and scientists can share cutting edge research by posting, and linking to, conference posters and abstracts.
LEARN MORE: RewireNeuro.com
WSU Vancouver is the regional branch campus of Washington State University, home to a Department of Neuroscience. Their accomplished graduates and undergraduates are terrific, and often thrilled to leave their sheltered commuter environment to join NW Noggin for innovative engagement in diverse communities.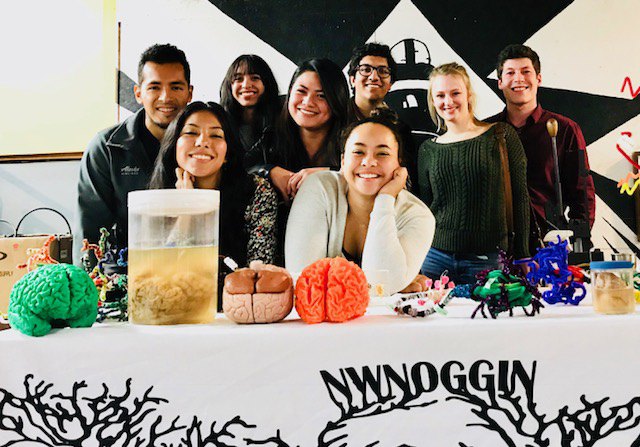 Despite Noggin links and instructor names on their website, WSU itself provides no actual support for those instructors or for multi-institutional outreach. (They like to "#scitalk," though without action). NW Noggin raises all funds and organizes all activities to include our awesome student volunteers from WSU Vancouver. We even arranged for several Cougar undergrads to join high profile efforts at the Society for Neuroscience conference in Washington DC!
FOR STUDENTS:  Noggin for WSU
Explore more Cougar science outreach with Ask Dr. Universe at the main WSU campus in Pullman.