NW Noggin would not exist without these folks!  They tirelessly offer their creativity, engagement, time and support to art and neuroscience education in our community.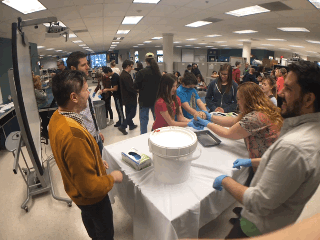 We'd like to recognize them as members of the NW Noggin Resource Council.
JESSICA PATCHING-BUNCH, Resource Council member for communications and grants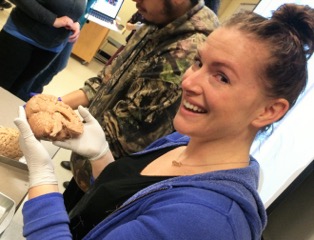 Jessica Patching-Bunch recently obtained her B.S in Psychology with a focus in Neuroscience from Portland State University. Graduating from the Urban Honors College Jessica had the opportunity to explore her passion for intercultural relations and write her undergraduate thesis on the acquisition of intercultural competency through international travel. Discovering a passion for neuroscience through classes at PSU and work with NW Noggin, Jessica has been able to integrate her love for learning about diverse cultures and her fascination with the brain and hopes to research in the area of cultural neuroscience. Working with NW Noggin has given her the opportunity to let her knowledge serve the community as well as promote personal growth and learning in the process. When she is not volunteering her time with outreach Jessica enjoys practicing her Spanish language skills and traveling. Being a Portland native Jessica also likes to spend her free time outdoors enjoying all of the natural beauty the northwest has to offer.
KANANI MIYAMOTO, Resource Council member for arts integration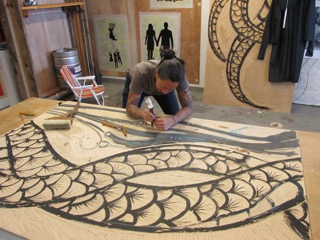 Carrie Ann Kanani Miyamoto holds an MFA in Print Media from the Pacific Northwest College of Art, and a bachelors degree in Art Practices from Portland State University. Miyamoto is a passionate printmaker and has had an education rooted in the traditional practices of printmaking. Her studio practice has recently expanded to non-traditional forms of printmaking including mixed media original prints, sculpture, installation, and animation. Her current work is inspired by her personal experiences as an individual of mixed heritage as well as life growing up in Honolulu. Issues of cultural and personal identity have been a major them in her work. She is originally from Honolulu, Hawai`i and is currently lives in Portland, Oregon.
Additionally, Miyamoto loves collaborations of all kind and is supportive of community based art. She is an advocate for art education and the integration of art in public schools. She also works with RACC's Right Brain Initiative and NW Noggin's STEAM program as a teaching artist. Both organizations focused on integrating art education with standard curriculum, with the shared belief that cognitive, creative learning fosters productive, divergent thinkers. Miyamoto believes that our society is in need of creative thinkers and providing quality arts based education will enrich the world we live in.
JOEY SEUFERLING, Resource Council member for hospital/health care outreach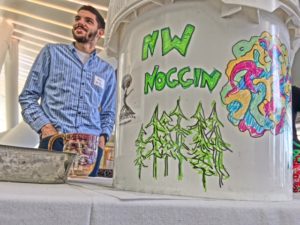 Joseph Seuferling is a recent Neuroscience graduate of WSU Vancouver. His goal is to emphasize to youth the importance of the brain as part of one's health and well-being through NW Noggin outreach; a healthy mind makes a healthy body. Without the complexity of the human brain the universe would be an incomprehensible phenomenon, and the wonder and curiosity that exists today would be lost among us. The obscurity and mystery of one's "self" facilitates the controversial exploration of human consciousness. How does the brain perceive the universe, with its surfeit of knowledge and sensation? Why are things the way they are? These questions are those that youth contemplate each day of their lives, and if the younger generation does not question everything, who will have the drive to find the answers? I hope to motivate younger minds to believe they can use their brains and creativity to improve the community, especially in areas such as health care.
"A society grows great when old men plant trees whose shade they know they shall never sit in"
THOMAS MADISON, Resource Council member for technology
Thomas studied Computer Science as an undergraduate student in the Maseeh College of Computer Science and Engineering at Portland State University. As a software engineer, programs he's helped developed have been used by PSU's Department of Applied Linguistics, the U.S. House of Representatives, the International Space Station, and more. Getting involved with the PSU Neuroscience Club as a junior was the turning point that motivated him to pursue a career in neuroscience research. In the future he hopes to work in research that intersects with his passion for education research, tutoring, and biomedical engineering.  Outside of the classroom his interests include exploring Portland, cooking, and the New York Times crossword.
KIRK WYDNER, Resource Council member for technology
Kirk has a range of passions that he loves sharing. Mathematics and logical systems came easily to him growing up and he developed that into a ten-year career in the field of information technology. Kirk was inspired to pursue an education focused on neuroscience and communication by his older brother who has autism and is non-verbal. Kirk recently graduated from Portland State University with a B.S. in Speech Pathology and is active in several non-profit groups, including NW Noggin, sharing his unique expertise. One of Kirk's main focuses is to spread the idea of neurodiversity — the understanding that everyone is built differently and should not be judged by any set standard. Through Noggin, Kirk continues to be able to share his message, knowledge and compassion with high school students, homeless youth, and working professionals throughout the Northwest.
SULEMA RODRIGUEZ, Resource Council Member for NIH BUILD EXITO outreach
Sulema Rodriguez is a sophomore at Portland State University, double-majoring in Psychology and Speech and Hearing Sciences. Her interests lie in speech disorders, specifically stuttering. As a stutterer herself, since the age of 6, she has been inspired to find out more about this disorder. Both her uncle and grandma stutter as well. These experiences have fueled her curiosity surrounding the genetic and neurological processes linked to stuttering. She is fascinated by the complexities of the brain and believes that it holds the answer to understanding its cause. This can hopefully lead to improved methods of treatment and a cure. Sulema is also a BUILD EXITO scholar, which is an NIH-funded grant that helps students participate in undergraduate research and prepares them for careers in research. In addition, she volunteers with NW Noggin and loves being able to combine art and neuroscience; having the ability to understand the functions of one's brain at a young age is very empowering. Sulema also enjoys being a part of Portland's chapter of the National Stuttering Association, where stutterers, parents of stutterers and Speech-Language pathologists come together to talk about their experiences. She believes that through education and further research, the social stigma surrounding stuttering can be shut down and stutterers everywhere can have a voice.
"Success is not final, failure is not fatal: it is the courage to continue that counts."
-Winston Churchill
JAMIE SAUL, Resource Council member for legal advice
Jamie Saul serves as pro bono legal advisor for Northwest Noggin and has assisted us with the formation of Northwest Noggin, Inc. and other matters related to nonprofit corporate governance.
Jamie is an Assistant Clinical Professor Law at Lewis & Clark Law School and a staff attorney at the Earthrise Law Center, Lewis & Clark's environmental litigation clinic. Jamie co-teaches a weekly clinical seminar and, with the help of Earthrise students, represents clients in public-interest environmental cases in state and federal courts, focusing on clean air, clean water, and solid waste litigation. Jamie holds a B.S. from the College of William & Mary and a J.D. from Lewis & Clark Law School. He lives in Portland with his wife Alex DeLucenay and daughters Kate and Charlotte.
JACOB SCHOEN, Resource Council member for Portland State University, and official preparator for museum exhibits
Jacob Schoen engages students with his fire for Neuroscience! His role is to connect Portland State University students with NW Noggin outreach. Jacob serves as President of the PSU Psychology Club, Teaching Assistant for Neuroscience classes, and Psychology Department Academic Peer Advisor. His lab experience and interests include the psychological, physiological, and neurological basis of addiction. Jacob also has an artistic side—he has installed Neuroscience art exhibits at several institutions including The Phillips Collection in Washington, DC and is the official art handler and preparator for NW Noggin. As a NW Noggin volunteer, he has wrangled brains, led dissections, and even written and directed plays about the brain. He continues to teach students about the mechanisms and wonders of the brain from dreaming to the effects of cocaine and beyond.
LEARN MORE ABOUT JACOB:  Where are PSU grads finding great jobs?
BINYAM NARDOS, Resource Council member for OHSU
I was born and raised in Addis Ababa, Ethiopia. Upon finishing high-school at the International Community School in Addis Ababa, I came to the U.S. to pursue my undergraduate education. My expectations to see tall sky-scrapers and bright lights were soon to be met when I arrived at Franklin & Marshall College in Lancaster, PA. Among other things, Lancaster is famed for its large Amish community, and wasn't exactly the Times Square I had expected. While at Franklin & Marshall, I studied economics and computer science. Following a year of internships and odd-jobs, I began working as a research technician at Washington University in Saint Louis for two labs. One of the labs conducted developmental cognitive neuroscientific research on children with Phenylketonuria, and the other on patients with different types of Aphasias resulting from ischemic strokes. The research experience soon began building my interest in the sciences, which I complemented by taking formal undergraduate science courses after work. A little over two years later, I applied and got accepted to the Washington University graduate program in Neuroscience. I conducted my dissertation research with Dr. Bradley Schlaggar investigating how the young adult human brain learns, stores, and instantiates the meaning of words using a novel word learning paradigm.
I recently defended my thesis and have since been working as a postdoctoral researcher with Dr. Damien Fair at Oregon Health and Science University. As a postdoc, I am continuing to do neuroscience research in a project that is funded by the MacArthur Foundation to explore neuroscience applications to criminal law. In particular, we are conducting developmental cognitive neuroscience research to address what we feel are important considerations that should be made in the domain of criminal law vis-à-vis the developmental brain maturity of juvenile delinquents, similar to how mental health is taken into consideration in adult criminal courts. The other segment of my tenure as a post-doc is to serve as a director of the diversity outreach program in the Fair Neuroimaging Lab, namely the Youth Engaged in Science (YES!) initiative. YES! was created to address educational and health disparities in underrepresented minority communities. We offer enriching science educational programs to middle- and high-school students. We also offer information and resources for families on mental health disorders and the importance of community participation in research and clinical studies.
JESSE HAMLIN, Resource Council member for music and performance
Jesse Hamlin is a student of Psychology at Portland State University, as well as a performing musician, composer, music producer, and event promoter. Since his background stems from both artistic and scientific interests his focus is on collaboration. You may have seen him around Portland, playing in his bands, Shannon Entropy and Internet Beef.
Jesse is currently pursuing his undergraduate thesis on the effects of visual arts, music, and practical/trade educational supplementation on inspiration and engagement towards STEM outcomes. Additionally, he works as a transcranial magnetic stimulation (TMS) technician applying magnetic stimulation to the dorsal lateral prefrontal cortex of subjects with major depression.
This year Jesse has become the coordinator of NWNoggin's 1st annual capstone event: Noggin Fest. Noggin Fest is the supreme collaboration of artists, scientists, and musicians in the Northwest and is being held as a fundraiser to help NWNoggin bring the brains back to D.C. this year.
KAYLA TOWNSLEY, Resource Council member for STEAM Assessment
Kayla Townsley is a senior at Portland State University majoring in micro/molecular biology and double-minoring in chemistry and art practices, with a focus on drawing and painting. She is currently engaged in research in Dr. Angela Ozburn's lab at the Portland VA Medical Center were she examines the neuro-molecular mechanisms that underlie addiction, as well as those that mediate circadian gene effects on drug and mood-related disorders. Her future research interests include examining the relationship between epigenetics, brain plasticity, and mood disorders, hoping to focus specifically on the comorbidity between substance abuse disorders and affective disorders.
However, as both an artist and scientist, Kayla's main passions lie in celebrating the intersections between art and science; a topic she explored in her Honor's thesis: From STEM to STEAM: The Neuroscience Behind the Movement Towards Arts Integration in K-12 Curricula. She believes working with NW Noggin, and organizations like it, will catalyze the progressive movement towards a STEAM (Science, Technology, Arts, and Mathematics) focused educational system, and in turn, help alleviate certain socio-economic disparities as well as better mirror the trans-disciplinary nature of our society.
ERIN MCCONNELL, Resource Council member for Program Evaluation and Feedback
Erin is a graduate student of Applied Community Psychology at Portland State University. She is passionate about bringing creative and engaging educational opportunities to a wide and diverse student population in the Pacific Northwest and beyond. Erin is excited to help NW Noggin in our goal of continually improving and adapting in order to better serve the needs of the individuals and communities we meet. In her free time Erin likes to attend chili cook-offs, and to combine hiking and biking with geocaching.
CHRISTINA WILLIAMS, Resource Council member for Instagram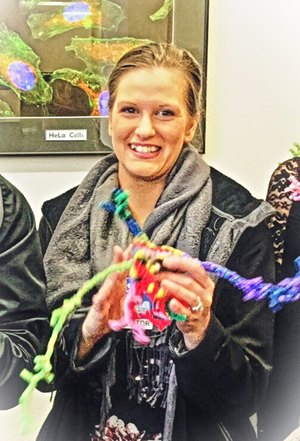 Christina Williams recently graduated from WSU Vancouver with a B.S. in Biology and emphasis in Neuroscience. She is pursuing a lifelong goal to become a behavioral neuroscience researcher, and study emotional memory disorders such as PTSD. "There are many unknowns associated with PTSD, and it is for that reason that so many people continue to suffer with this disorder. I feel compelled to use my personal experience with PTSD as a tool to bring insight to this field of study." Christina is currently focused on preparing herself for graduate school by continuing outreach with NW Noggin, as well as looking for research experience. "I plan to continue doing outreach with Noggin both during and after graduate school. Outreach with Noggin has become both a passion and a way of life and I have no intention to stop giving back to my community."
BRIANNA JACOBS, Resource Council member for Facebook
Brianna Jacobs is a senior at Portland State University, majoring in psychology and minoring in sociology. She returned to school after a seven year hiatus, following the birth of her first son. Now, at the age of 30 with two young children, Brianna considers herself a nontraditional student and uses her experiences to influence her interactions with students of varying backgrounds. Over the past year with NW Noggin, Brianna has brought her love of art and science to multiple classrooms and engagements. She believes that neuroscience can and should be accessible to everyone.
RUTH MARIGOMEN, Resource Council member for WSU Vancouver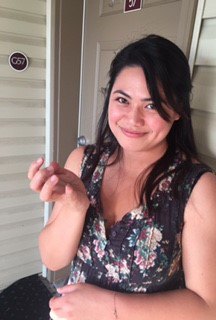 I am a senior at Washington State University, majoring in Neuroscience. I currently work with children and young adults with autism spectrum disorder as a behavior therapist. What reeled me into the field was the concept of neuroplasticity—how the brain can change throughout one's life—as opposed to the former notion that it could not; that after a certain stage of development, the brain changes only as it enters the process of decline (Doidge, 2007). I am intrigued by how neuroplasticity is a game-changer for how we approach studies about the brain and how we treat disorders once deemed "hopeless cases."
While brain plasticity was my gateway to neuroscience, I find myself more and more rooted to the field as I come to learn more about its various aspects. Neuroscience is such a diverse and intriguing field, and I am passionate about exploring it further and sharing my knowledge with others in hopes that they, too, could discover how marvelous this field is.
GAILE PARKER, Resource Council member for Youth Social Service Outreach
Gaile Parker is a recent honors graduate from Portland State University with a Bachelor's in Sociology and Psychology, and a concentration in Neuroscience. Early in her PSU career, in 2014, Gaile had her first teaching experience with NW Noggin and has consistently volunteered ever since. Gaile has also held leadership positions in numerous clubs at PSU, including the Neuroscience Club. 
She works at the non-profit 4th Dimension Recovery Center as a Peer Recovery Mentor for youth ages 13-35 and identifies as a person in long-term recovery. 
Due to her extensive work with youth facing substance use disorders, Gaile served as a subject matter expert for the "SUD Transition Age Youth Peer Delivered Services" best practices curriculum and assisted in writing and editing, along with co-workers who co-wrote the Manual. This is the first manual of its kind and it is currently being cited internationally.
Gaile brings passion and experience to Noggin and enjoys teaching about addiction and the brain. She plans to research actions and effects of drugs in a behavioral neuroscience graduate program, focusing on how periods of abstinence 
affect the structure and function of recovering brains. 
Gaile believes it is important for all people to have access to neuroscience in a way that is fun, informative, and beneficial to their lives.