Come join us!  PSU students are actively engaged in STEAM (STEM + Art) NW Noggin outreach throughout the academic year, and over the summer as well…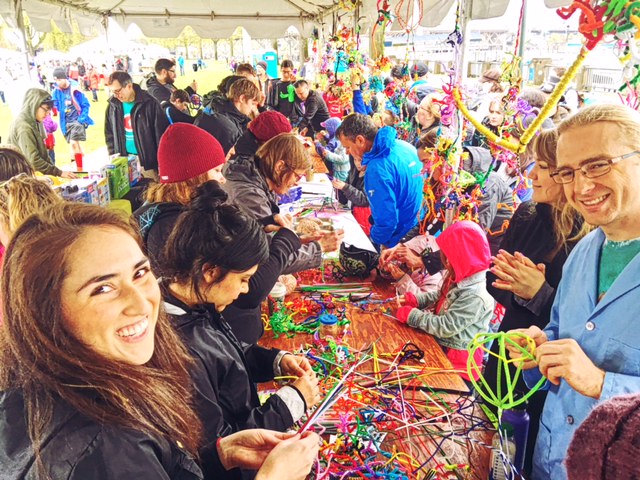 LEARN MORE:  Noggin Bloggin
A regularly updated summary of our outreach visits and activities, with an emphasis on the science presented, and the arts projects designed to educate students and the public about research exploring the link between brain and behavior…
LEARN MORE:  Calendar of Events
What's next on our schedule?  How can you get involved?
The chance to collaborate with graduate students and fellow undergraduates from OHSU, WSU Vancouver, and the Pacific Northwest College of Art to both design and then deliver instruction to K-12 students in Portland and Vancouver public schools is an extraordinary educational experience…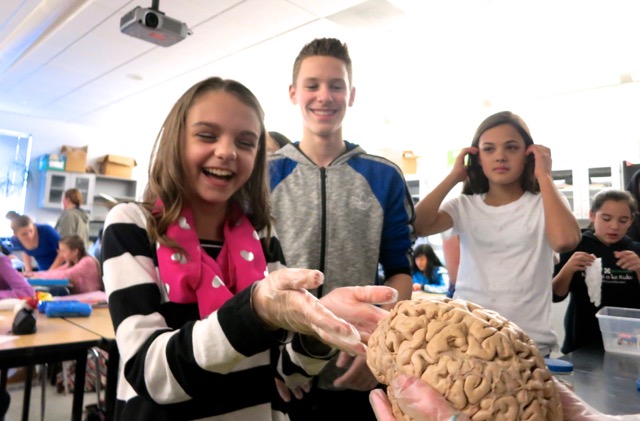 You'll gain confidence in your public speaking skills, you'll learn about current federally funded efforts in graduate research, you'll discover the power of art in conveying complex concepts in neuroscience and psychology, and you'll know what it's like to plan lessons and teach…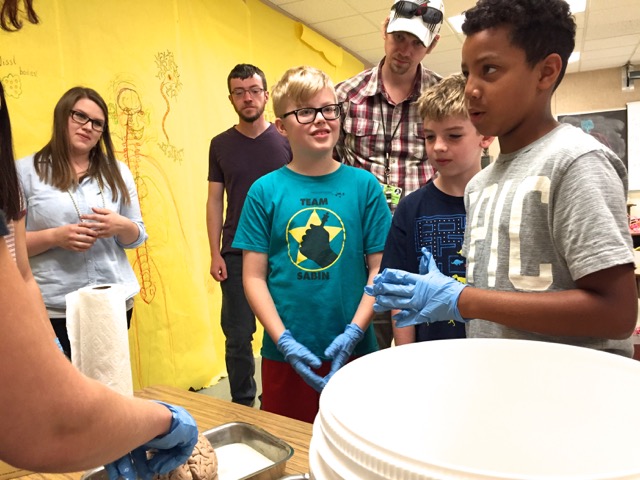 And you will help enthuse a new generation of scientists and artists, too!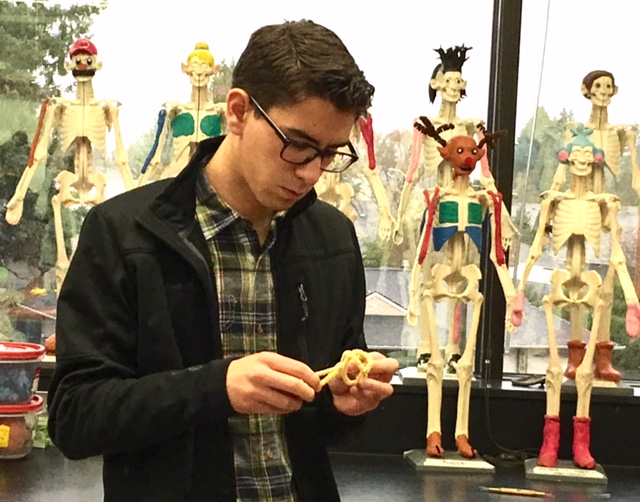 We encourage you to get involved as a volunteer!  Please contact Jacob Schoen, the Noggin Resource Council member for Portland State University (jschoen@pdx.edu), Bill Griesar (bgriesar@gmail.com) and Jeff Leake (aspragus@yahoo.com) to learn more… 🙂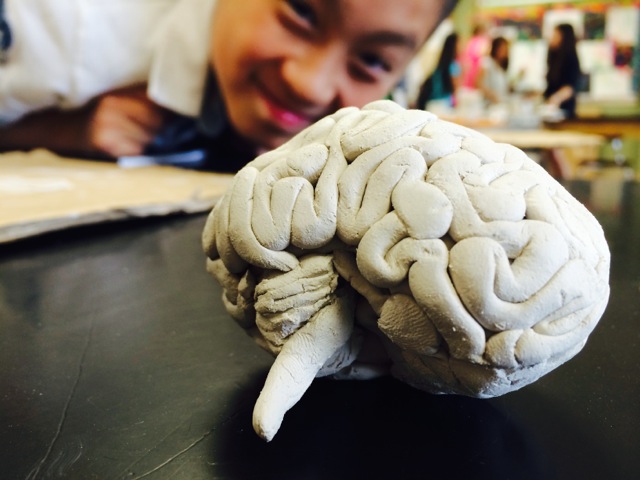 PSU undergraduates and graduates have also successfully engaged in extended collaborative NW Noggin outreach activities along with additional graduates and undergraduates from OHSU, PNCA, and WSUV by enrolling in a specific summer course, Neuroscience Outreach (PSY 410).  Note that this course is only offered during some summer sessions (but you can get involved in outreach year round)…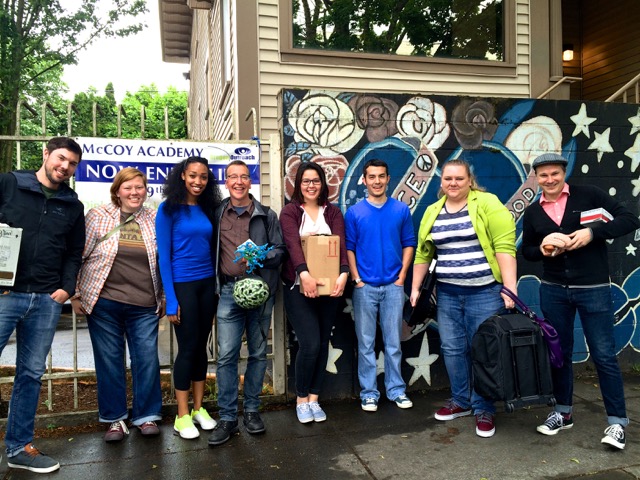 For example, in summer 2015, PSU students enrolled in that course developed two middle school programs (at Sabin K-8 and Jason Lee K-8, in Portland Public Schools), one elementary/middle school program (at the Boys & Girls Club in Vancouver), and one MESA (Mathematics, Engineering, Science Achievement) program in Vancouver and Evergreen Public Schools…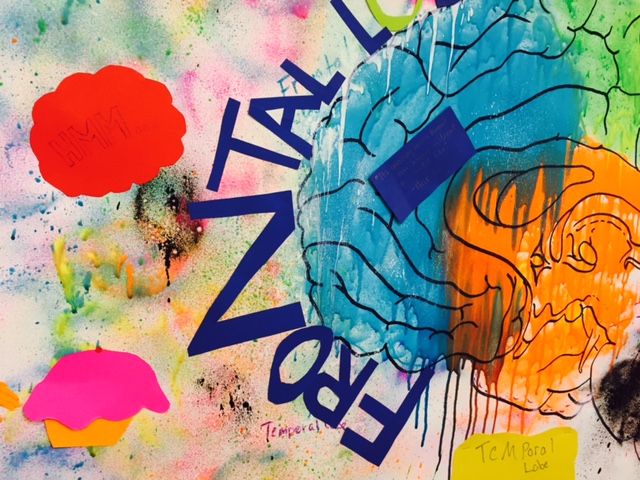 A sample DRAFT summer course syllabus (from 2015) is available below…
SYLLABUS Outreach class 2015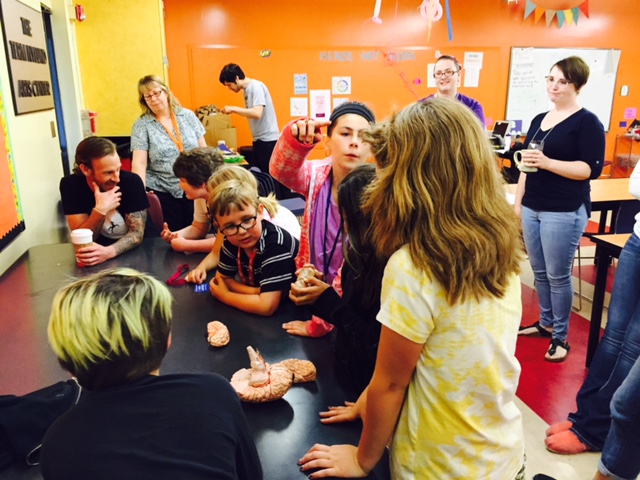 When this course is offered at PSU, you will need permission to enroll (email Bill Griesar at griesar@pdx.edu to request this).  This is primarily to confirm your understanding of the often unique dates/times for summer outreach.  In summer 2015, those dates/times were the following…
June 22 – July 9, MTWTh, 9:15 – 10:20am for planning and prep
July 13 – July 30, MTWTh, 9:00 – 11:00am for course delivery in school
When offered, this course can serve as a qualifying capstone experience if you enroll in an additional capstone course.  These capstone courses include "Story, Video and Civic Action" and "Effective Change Agent."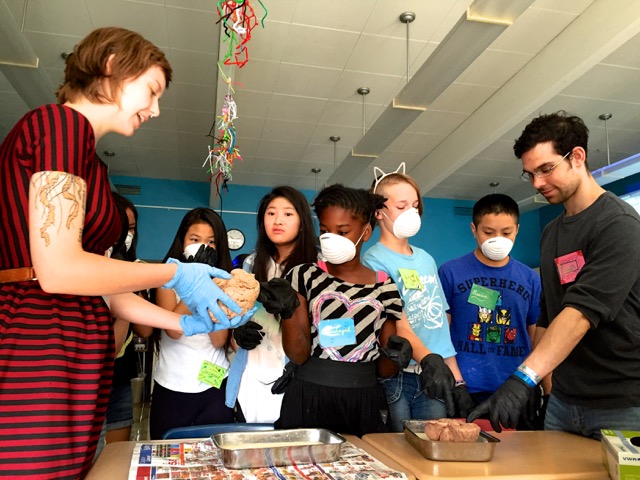 PSU undergraduates hoping to participate in summer outreach activities will ideally have some background in neurophysiological psychology and/or art practice and the arts.
To prepare for each summer's Neuroscience Outreach course (Psychology 410), there are a number of courses you are encouraged to take during fall term at PSU, including…
Introduction to Neurophysiological Psychology (Psychology 451)
SYL Intro Physio PSU Fall_16
Perception (Psychology 347)
SYL Perception PSU Spr17
Behavioral Neuroscience (Psychology 399)
In winter term, students may enroll in Advanced Neurophysiological Psychology (Psychology 410), which invites graduate students from OHSU's Department of Behavioral Neuroscience into the classroom.  In addition to acquiring further experience with neuroscience, PSU undergraduates also gain valuable insight into current, federally funded research, and learn more about their options for graduate education.
SYLLABUS Advanced Neuro PSU 2015
SYLLABUS Advanced Neuro PSU 2016
SYLLABUS Advanced Neuro PSU 2017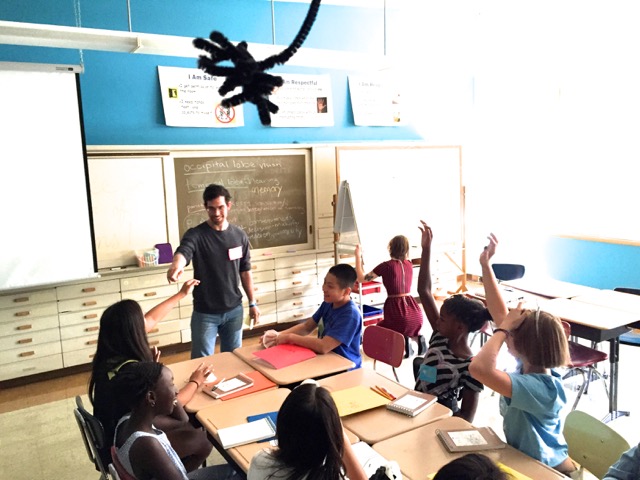 In winter and spring terms, students may continue their study of neuroscience by enrolling in Perception (Psychology 347) and Psychopharmacology (Psychology 410).
SYL_PSU_Drugs_Spr17

In both fall and winter terms, Neurology of Speech and Hearing (SPHR 461/561) is another good preparatory class for summer participation in neuroscience outreach…
SYLLABUS Neurology 461 PSU Fall 2013
NW Noggin is very active in the community throughout the year, and if you are interested in finding out more about participating, submit the information requested below and follow the instructions in the confirmation email.
You are also encouraged to contact our Resource Council Member for Communications to confirm you are on our list for upcoming events:  Jpatchingbunch@gmail.com
Cheers!
FOR ALL OUTREACH PARTICIPANTS:
We are committed to creating and fostering a learning and working environment based on open communication and mutual respect.  We have an extraordinarily diverse K-12 student population, and a diverse community of teachers as well. We expect volunteers to be respectful and welcoming of difference, including differences involving race, color, religion, age, national origin or ancestry, veteran or military status, sex, marital status, pregnancy or parenting status, sexual orientation, gender identity, or disability.  Inappropriate behavior is unacceptable, and will result in removal from NW Noggin activities…
Please help everyone feel valued as full, respected participants in our teaching and learning communities – this is key to successful outreach…