"The world is full of magic things, patiently waiting for our senses to grow sharper." – W.B. Yeats
Including phenomenal painting and sculpture inspired by scientific investigation and discovery..!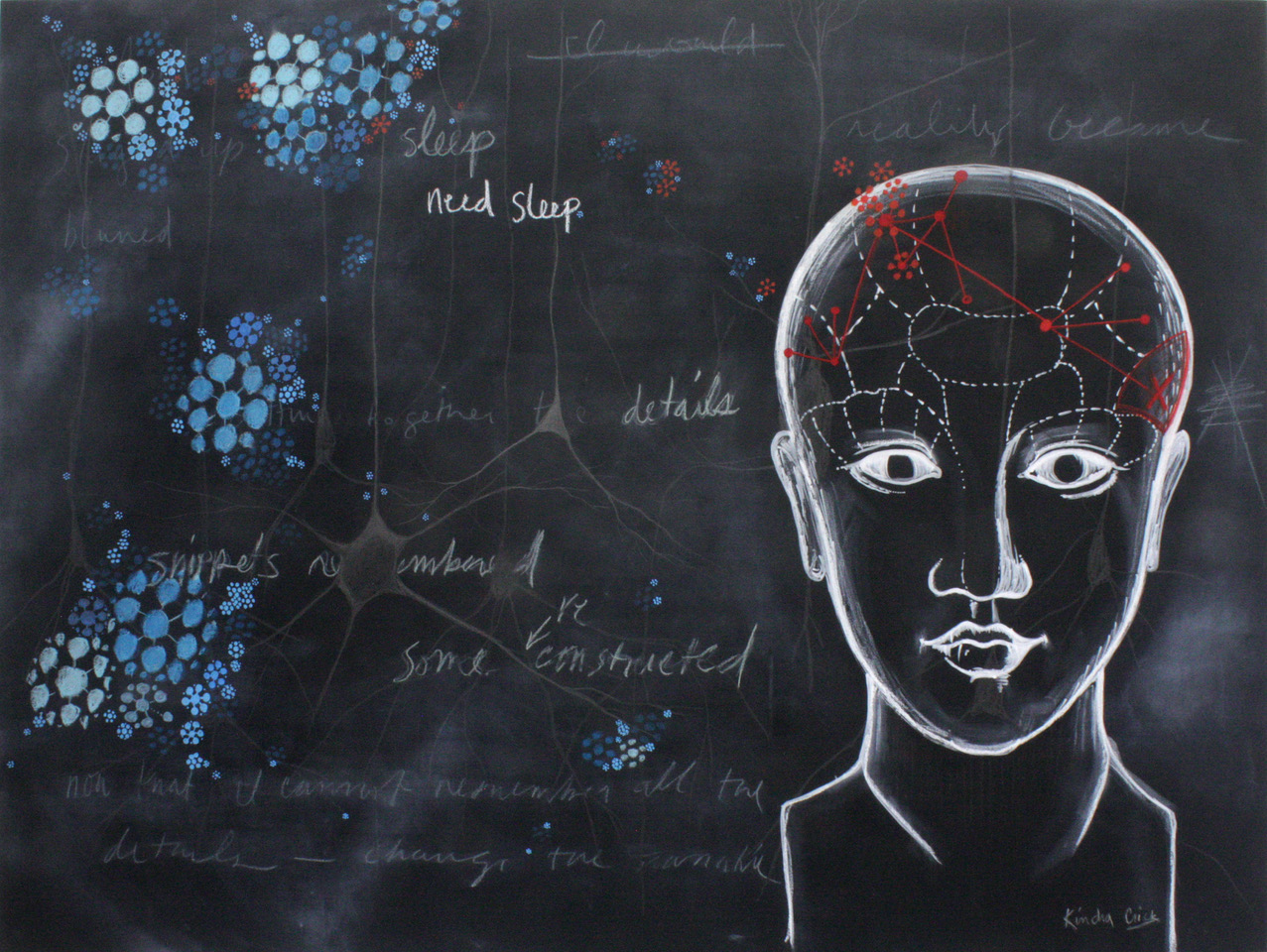 Noggin was honored to join the opening reception for a remarkable SciArt group exhibition curated by Sara McCormick, featuring Northwest artists Kindra Crick, Julian Voss Andreae, Elise Wagner, Lawrence Morrell, and Sienna Morris…
Mad Pursuit: Exploring Science through the Lens of Art opened at Portland's Ford Gallery this weekend (*the show runs through August 23*), and several of these fascinating, scientifically inspired artists have volunteered with NW Noggin before!  Sara McCormick, the exhibit curator and Assistant Director of the Ford, presented her captivating fractal images at a Noggin Velo Cult event last fall…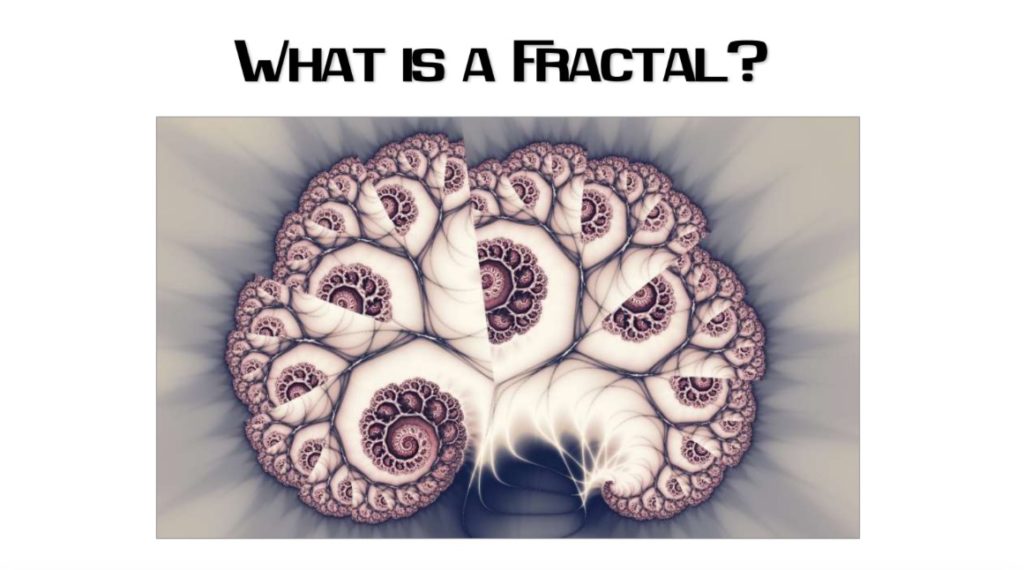 LEARN MORE:  Is Your Brain Fractal?
Sienna Morris and Noggin Brain Board member Kindra Crick have also engaged in popular SciArt performances at our favorite bike shop pub.  Kindra's Noggin collaboration with Dr. John Harkness, a recent graduate of Behavioral Neuroscience at OHSU, will be featured next month on Oregon Art Beat, a popular TV show from Oregon Public Broadcasting!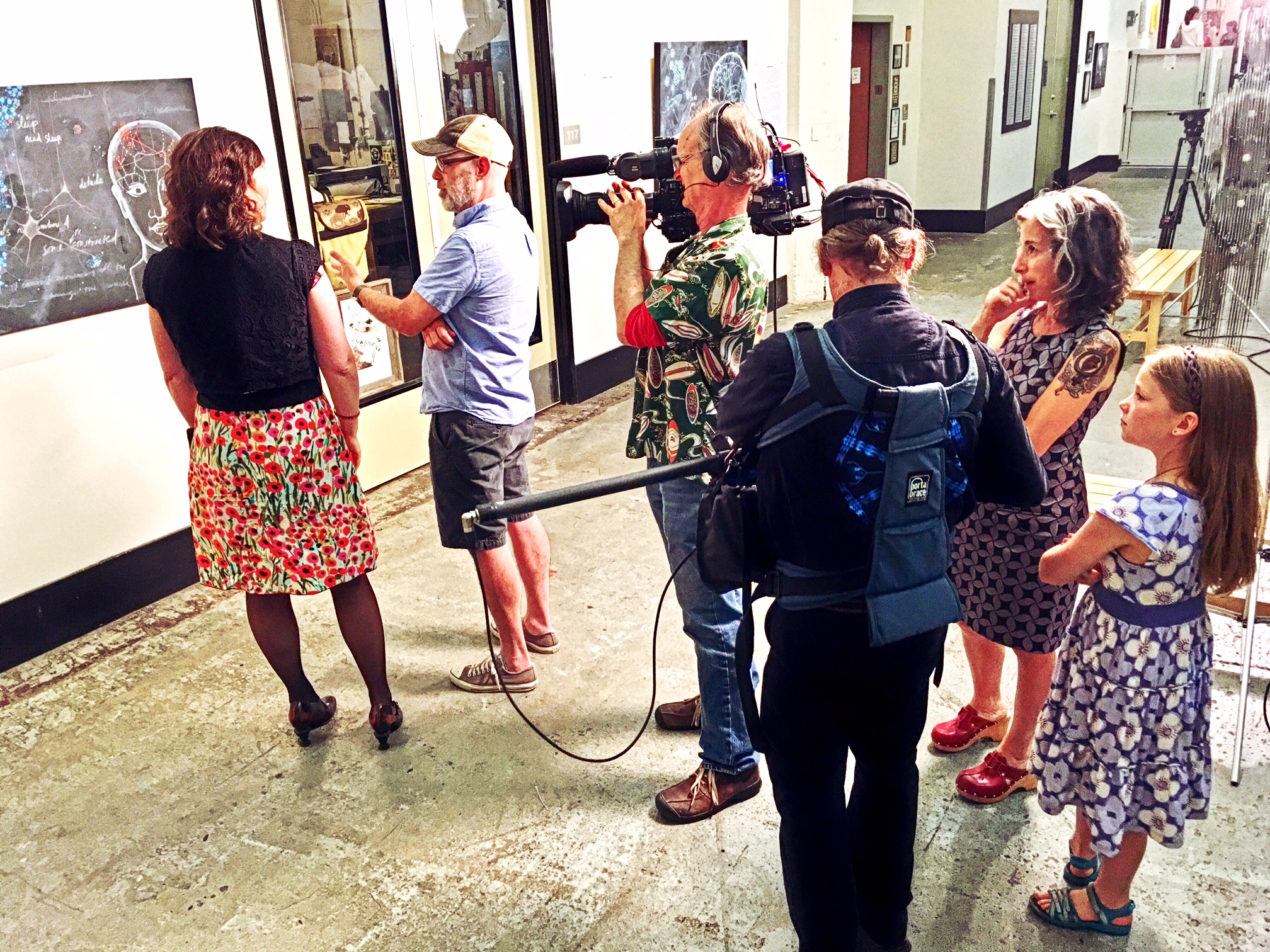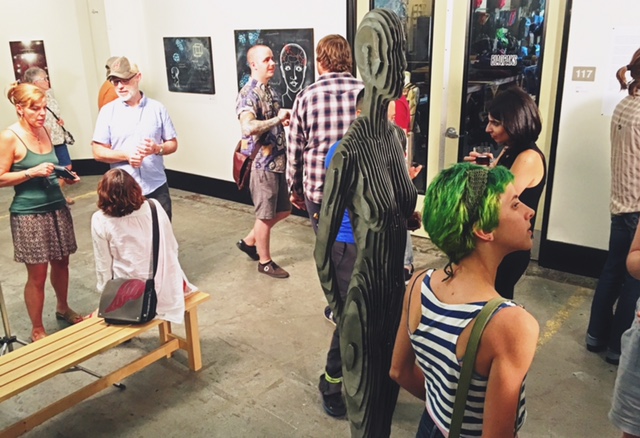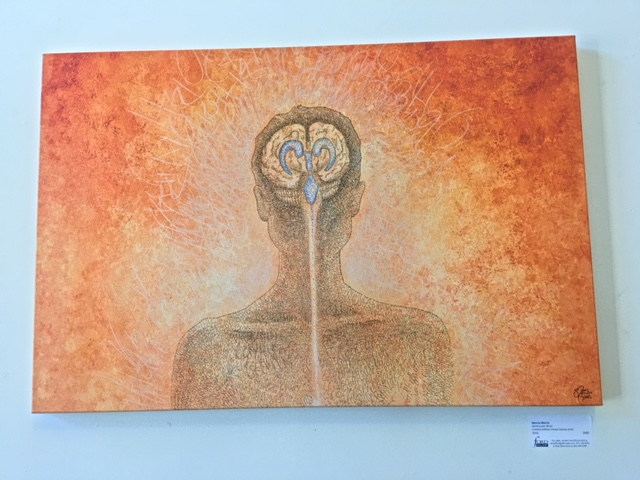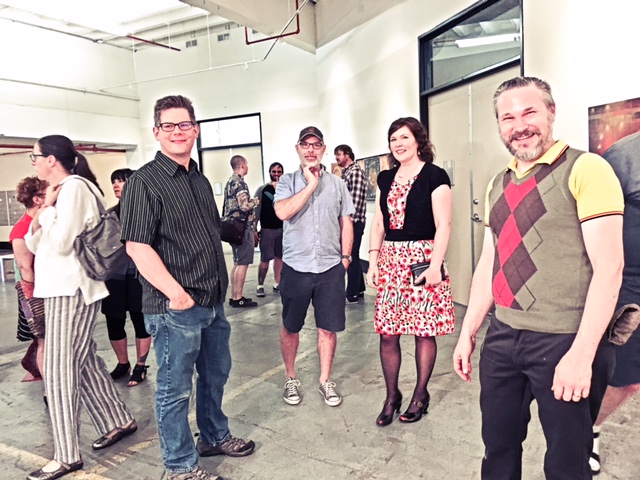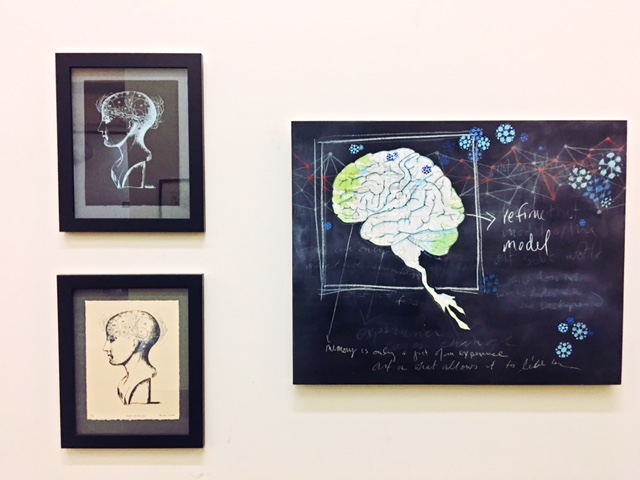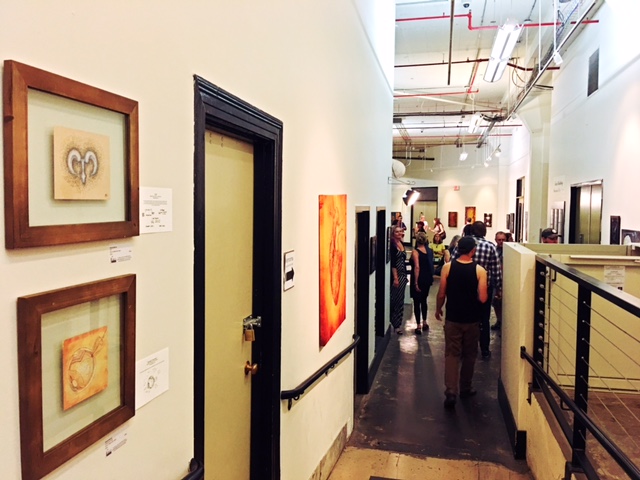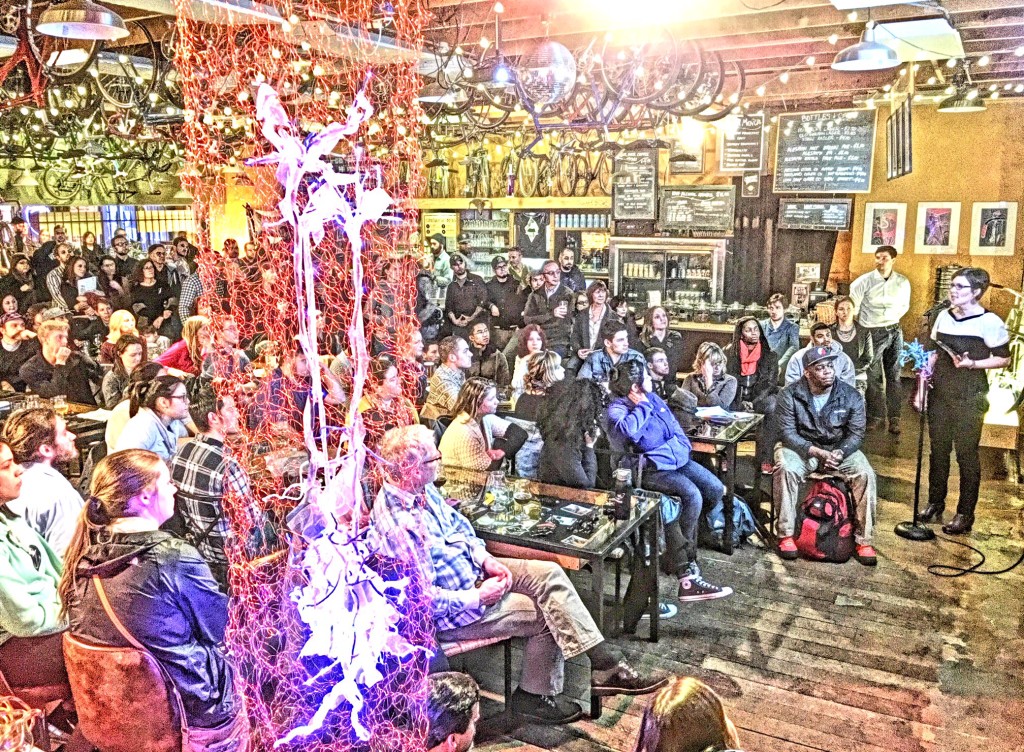 LEARN MORE:  Your brain is plastic @ Velo!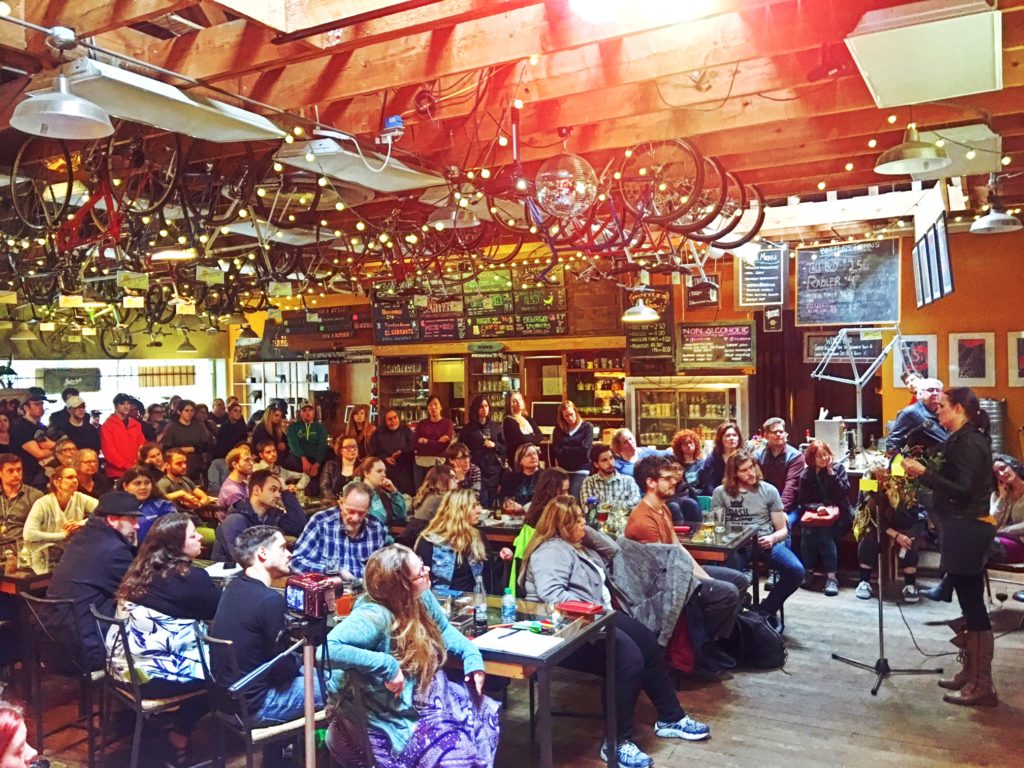 LEARN MORE:  Changing Brain Waves of Depression
We gathered some terrific Noggin volunteers, as always, including Heather Hamilton from Portland State University and the NIH BUILD EXITO program, PSU undergraduates Aliese Poole, Jesse Hamlin, Travis Christian, Thomas Madison and Ali Mack, Sam Carpenter from OHSU, and Noggin Resource Council member (and brain wrangler extraordinaire) Joey Seuferling!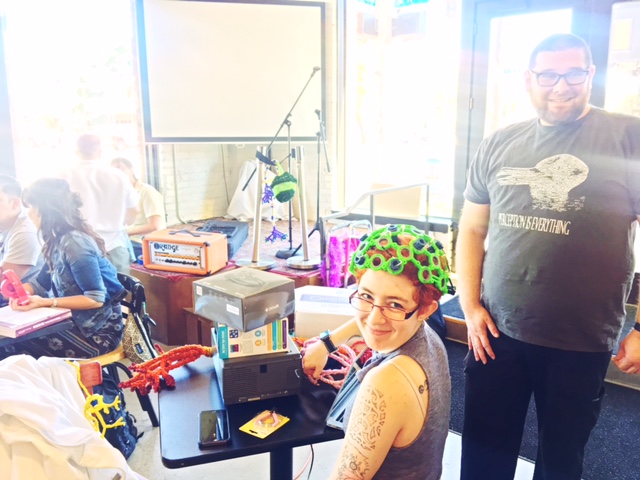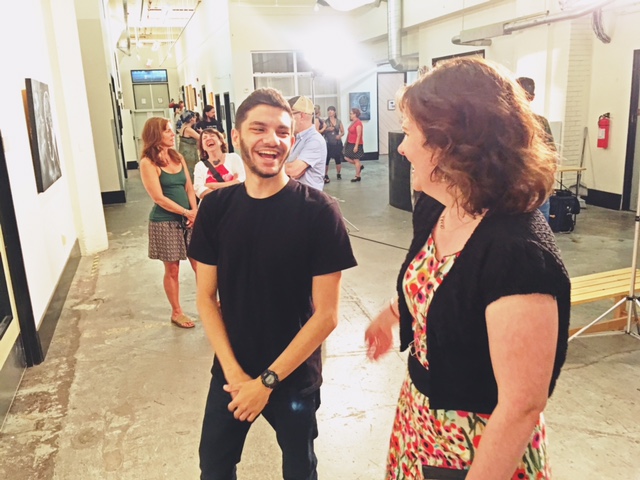 Travis and Ali were our EEG specialists for the evening, and they enthusiastically and effectively field tested equipment and wired up gallery volunteers to record their brain activity, and display it live in response to some terrific music…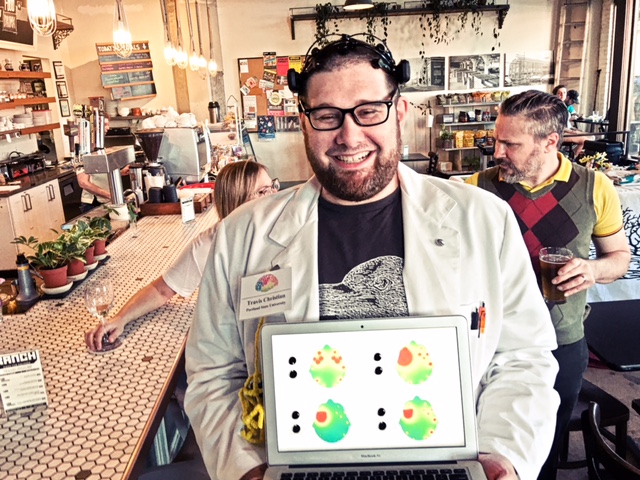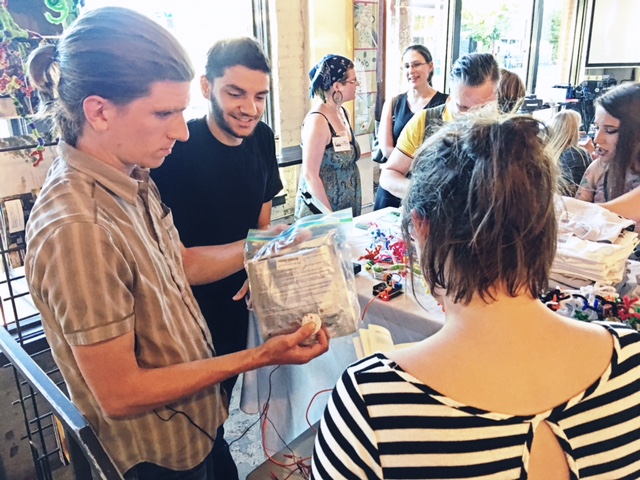 Jesse Hamlin from PSU brought along his superb fellow musicians from the highly regarded band Shannon Entropy, which performed upstairs at Ford Food and Drink..!  Noggin had recently joined them  –  with still more electrodes!  –  for their album release party earlier this summer…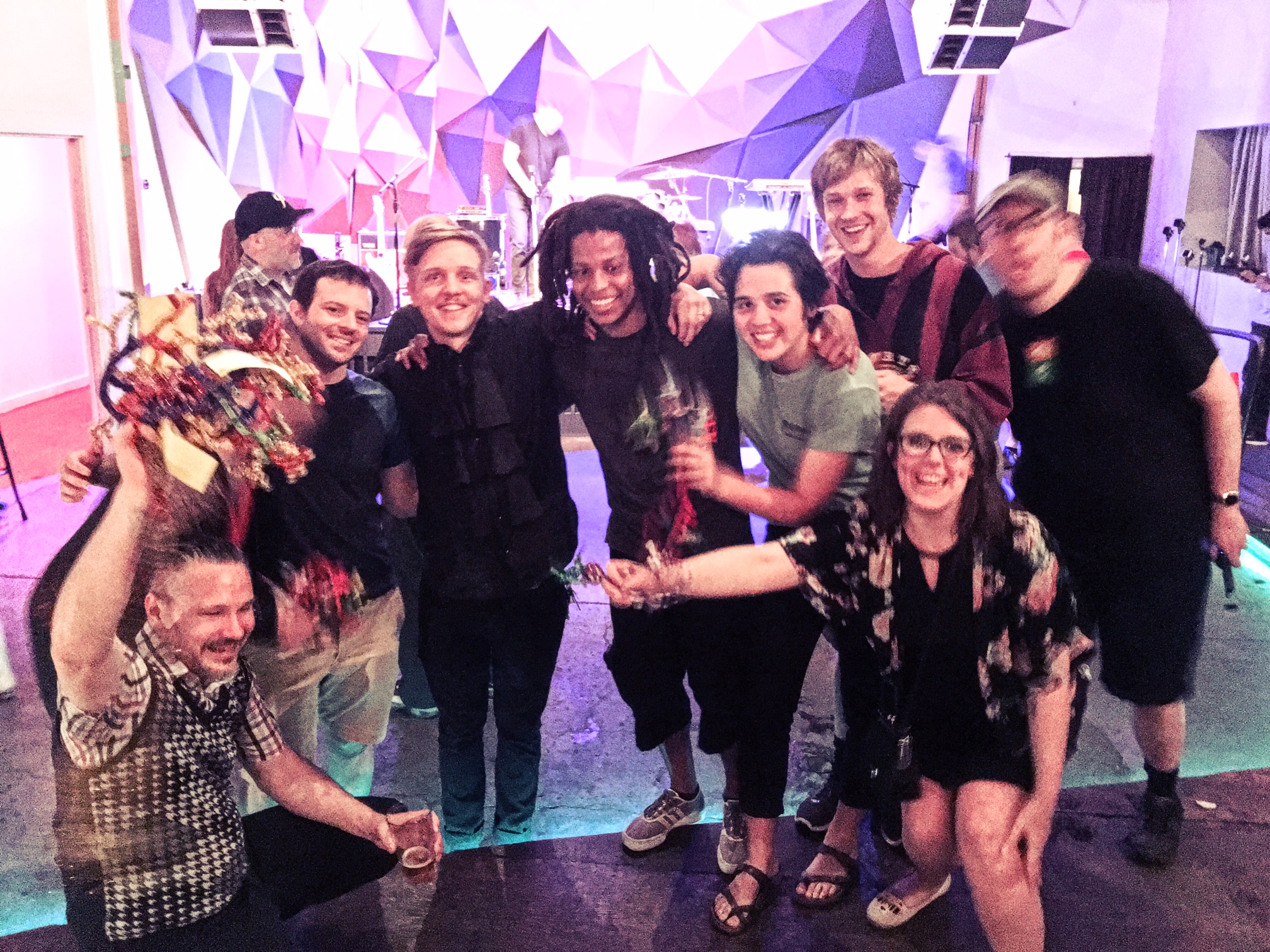 LEARN MORE:  EPSPs & Entropy!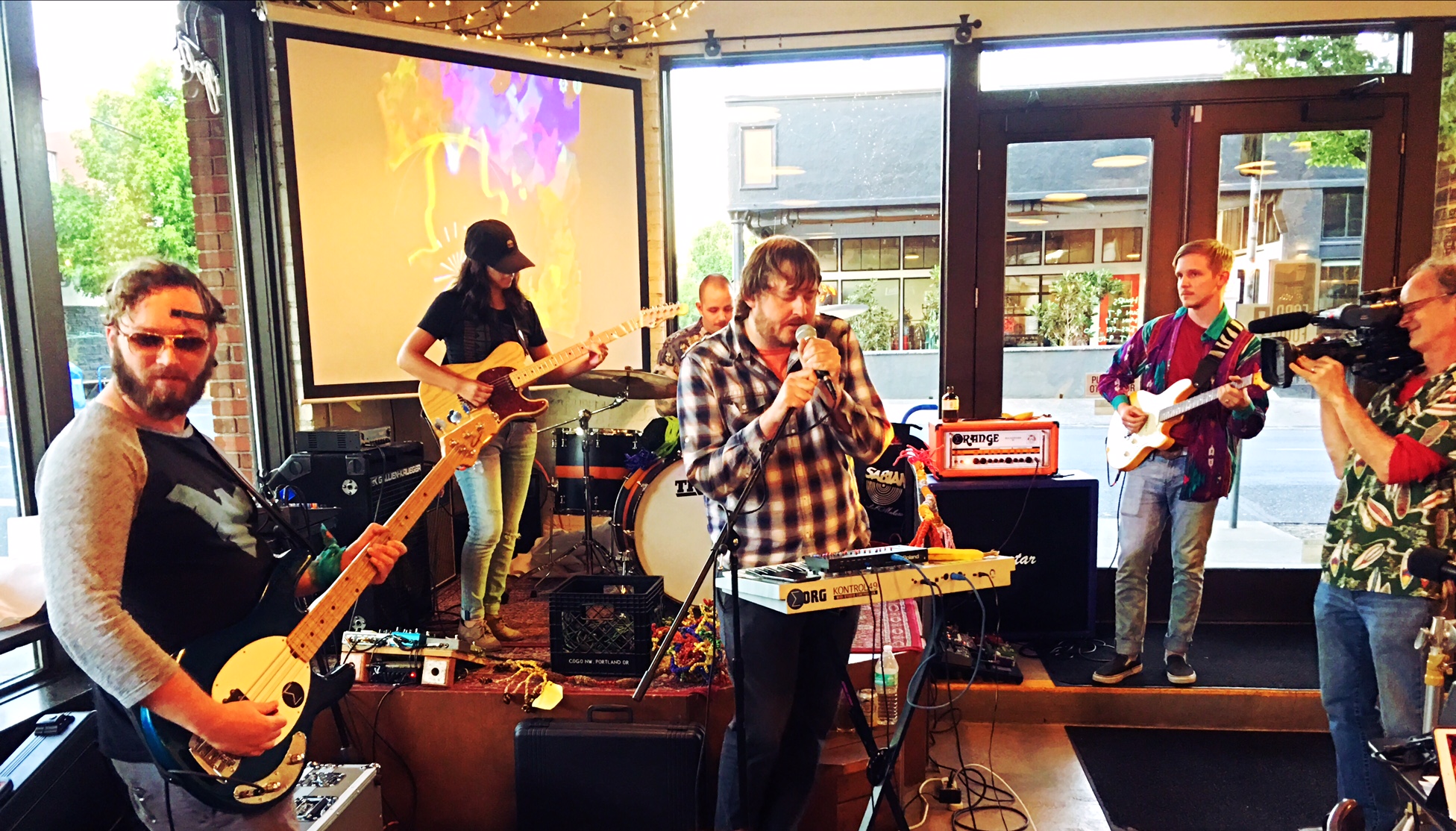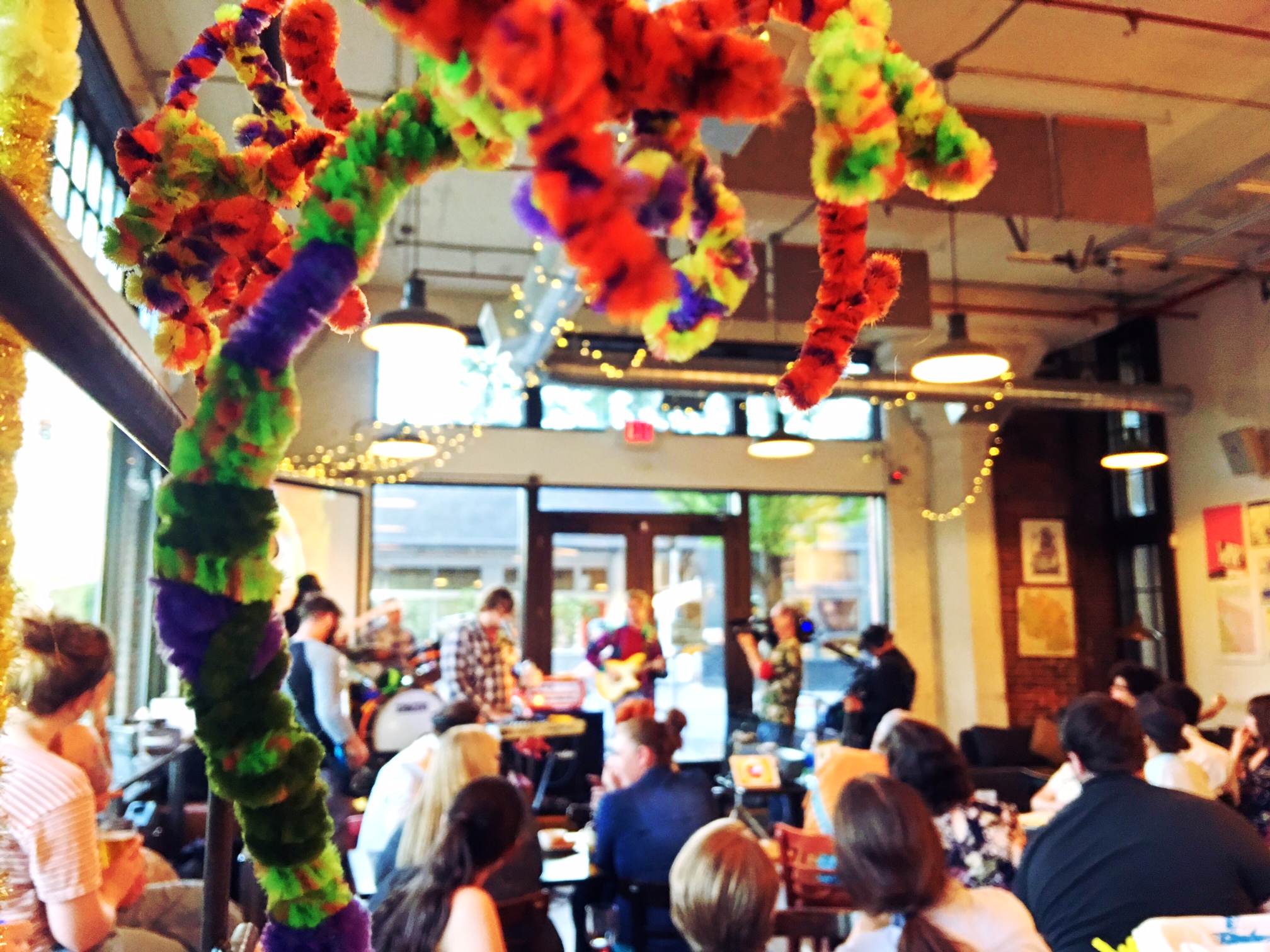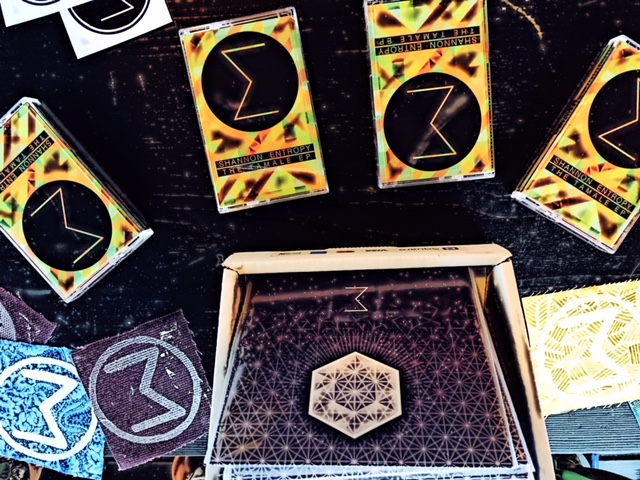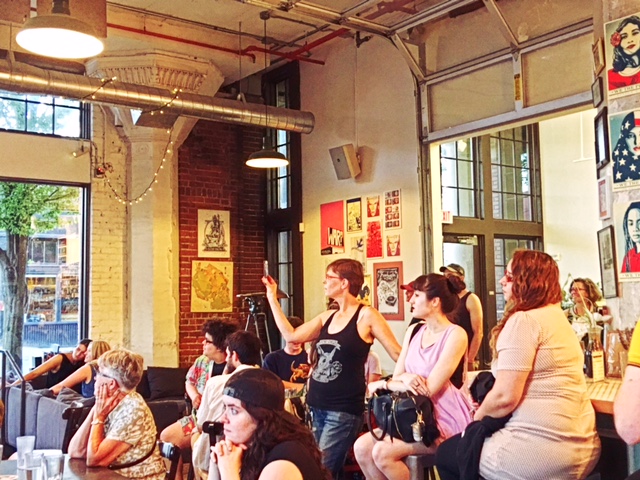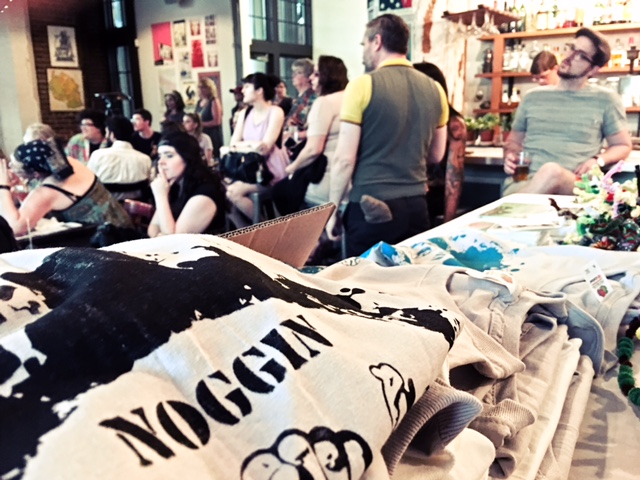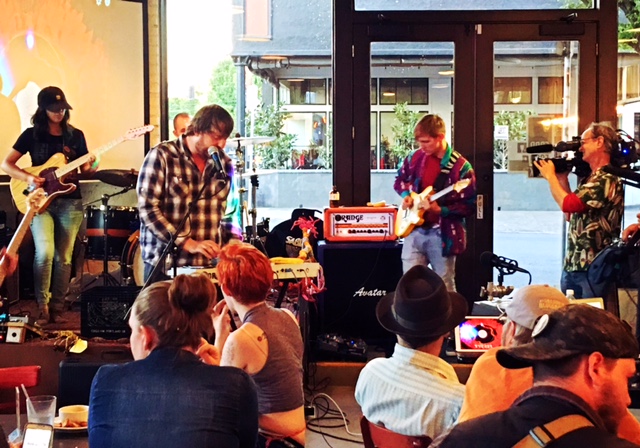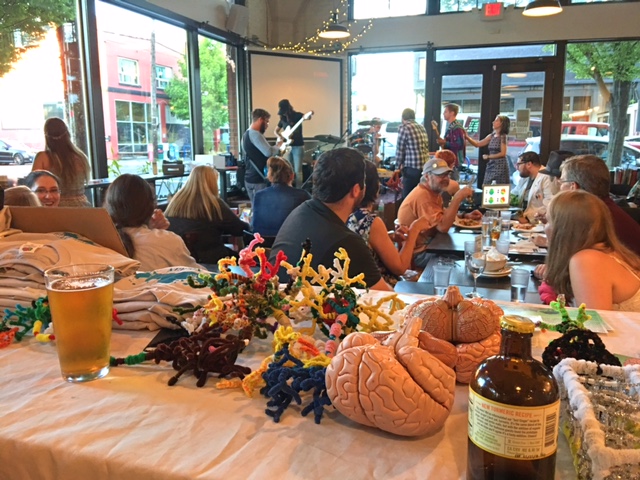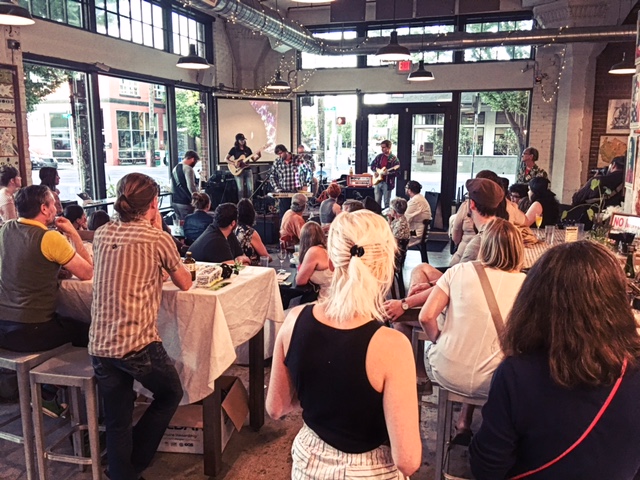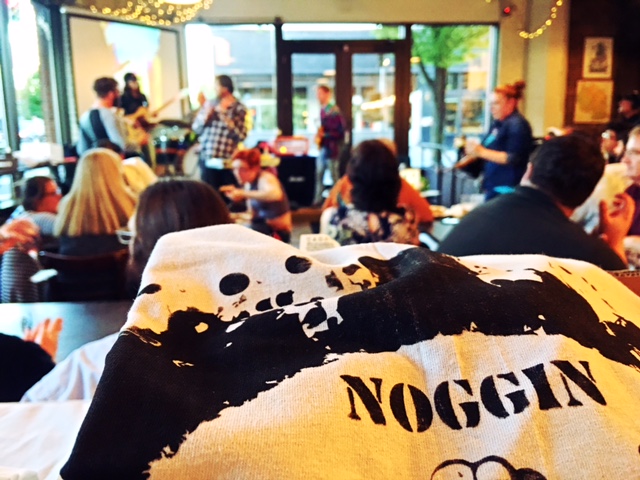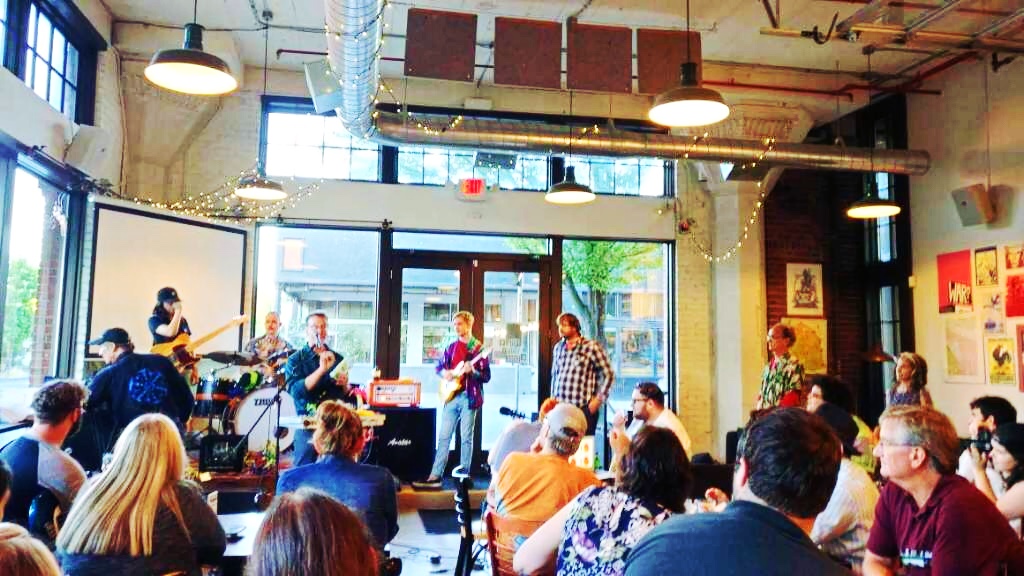 As the sun set over Portland's West Hills, we carried our Medcure and BioGift noggins  –  and a lot of pipe cleaner neurons  –  down into a special basement boiler room space known as The Mechanical for a late night art and science salon!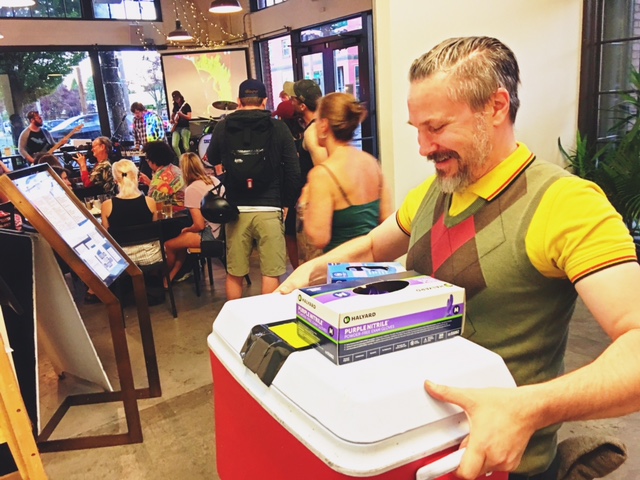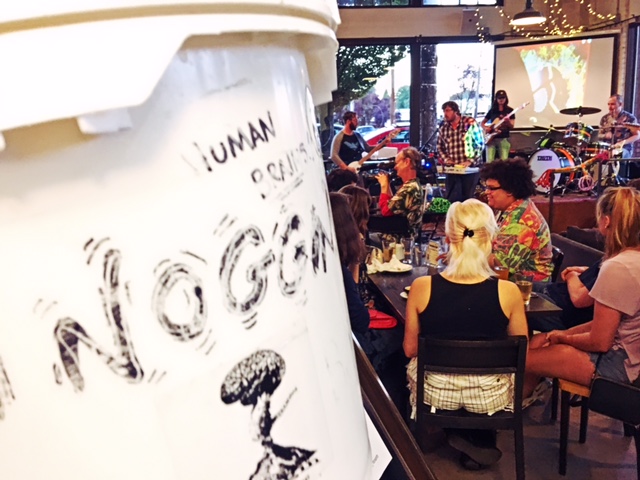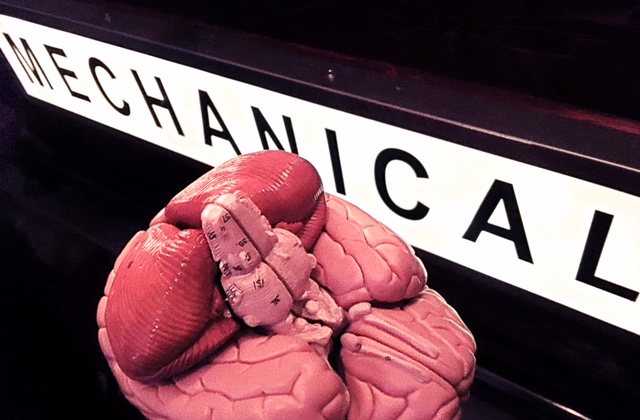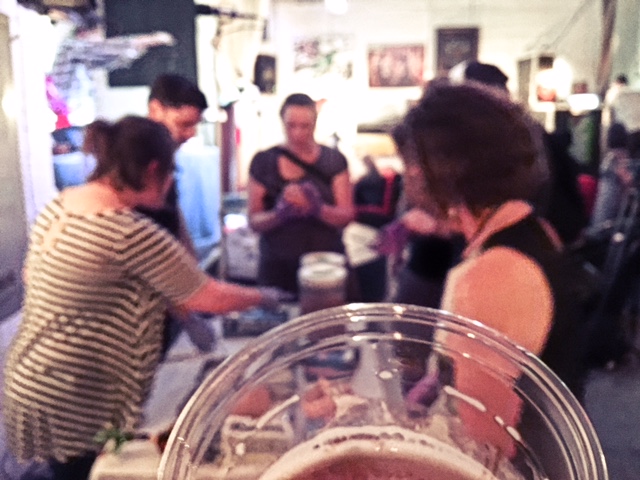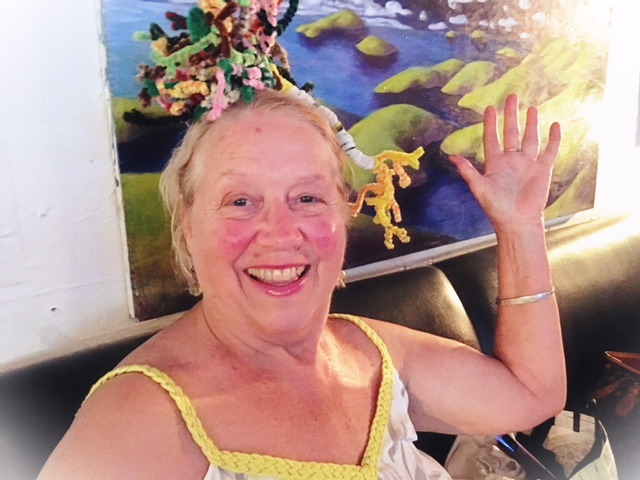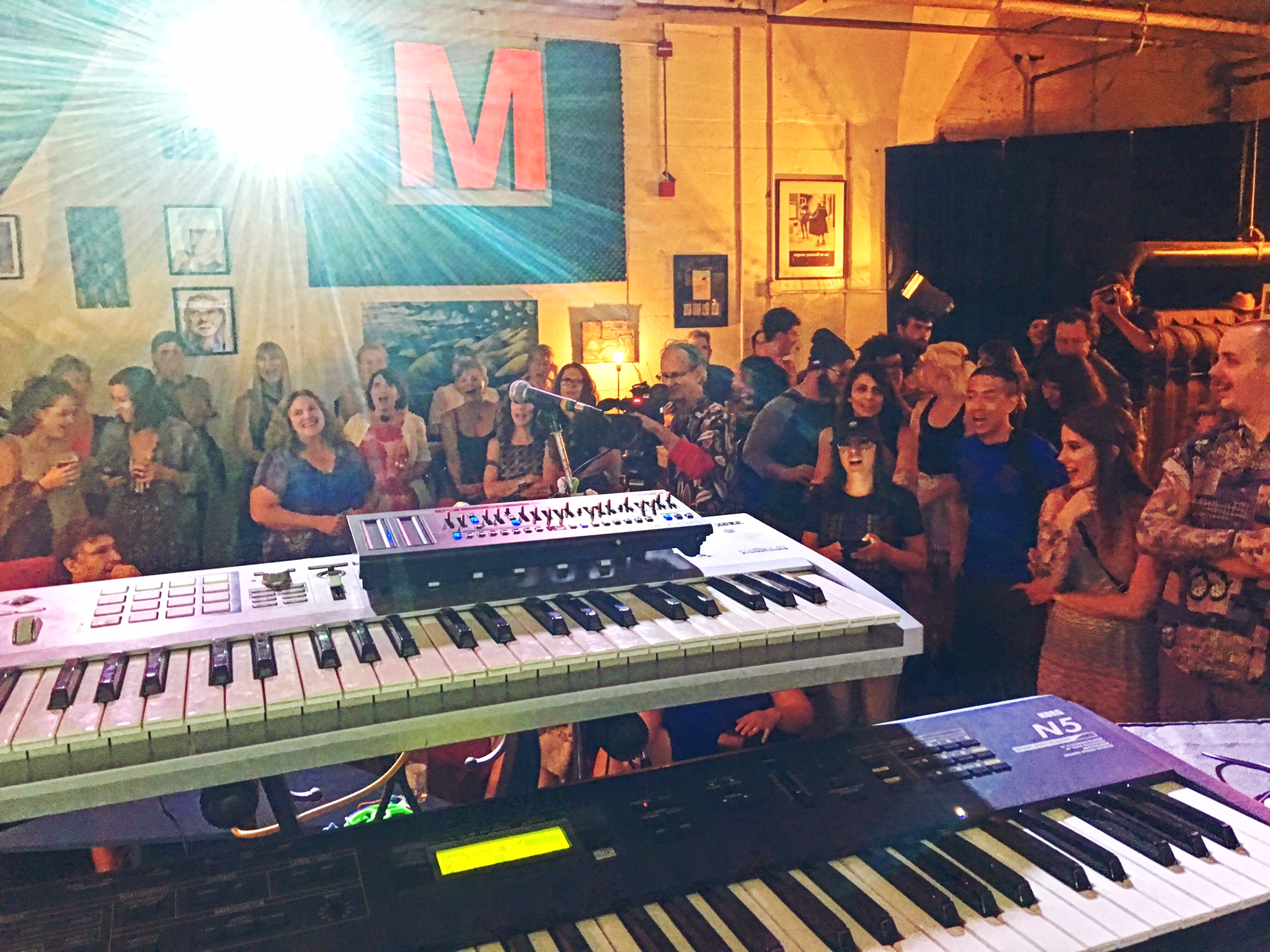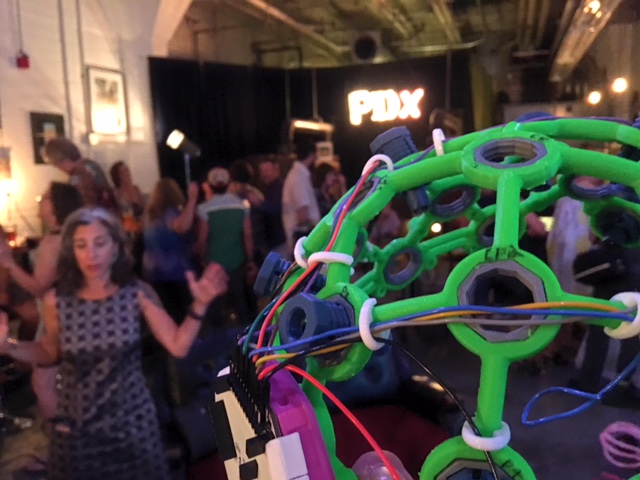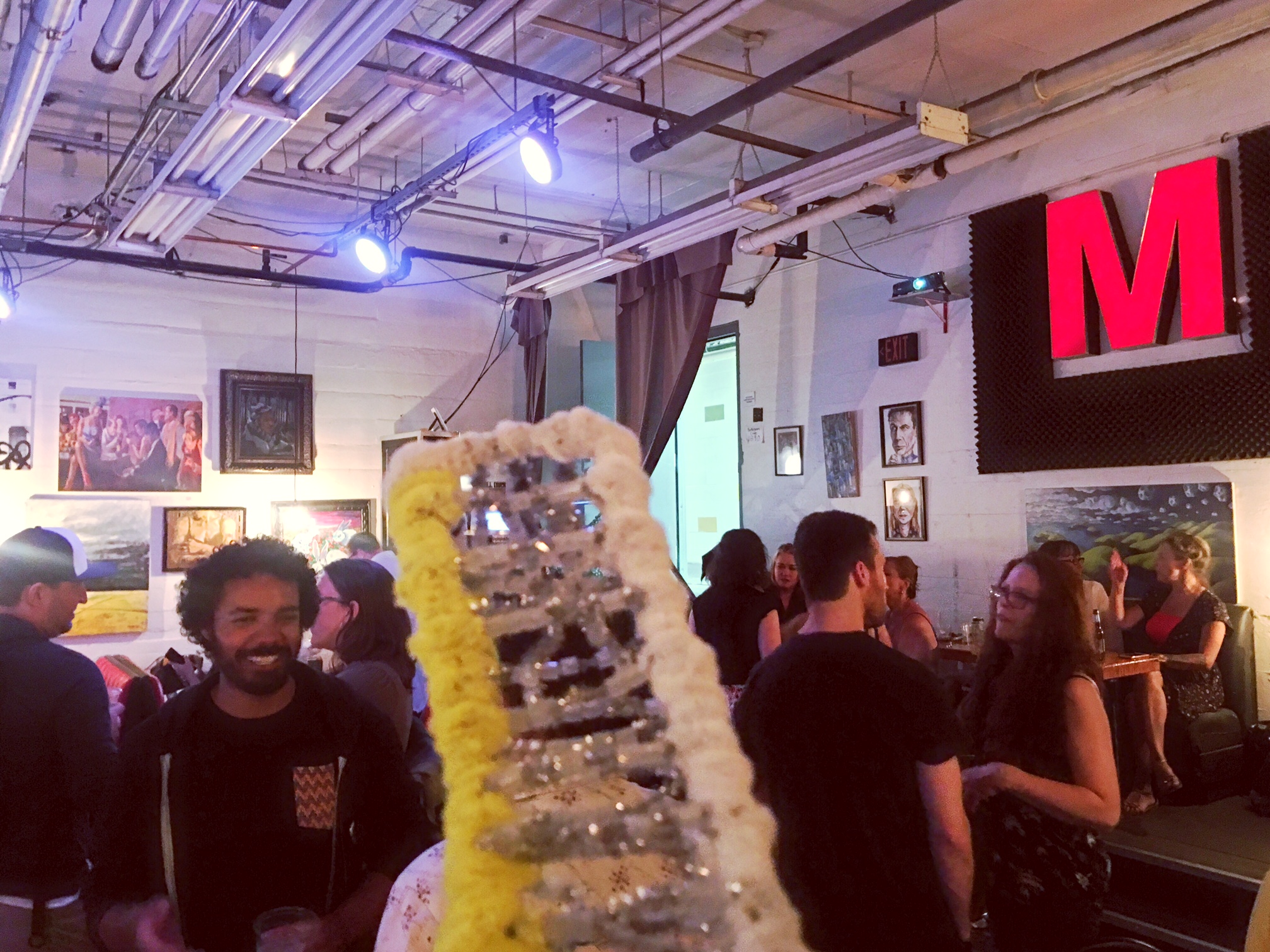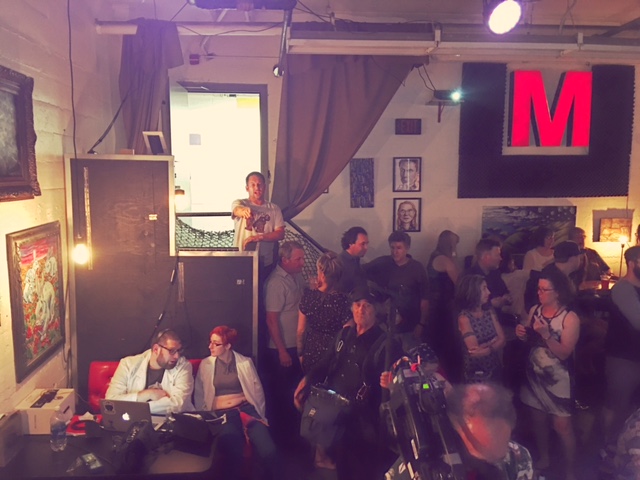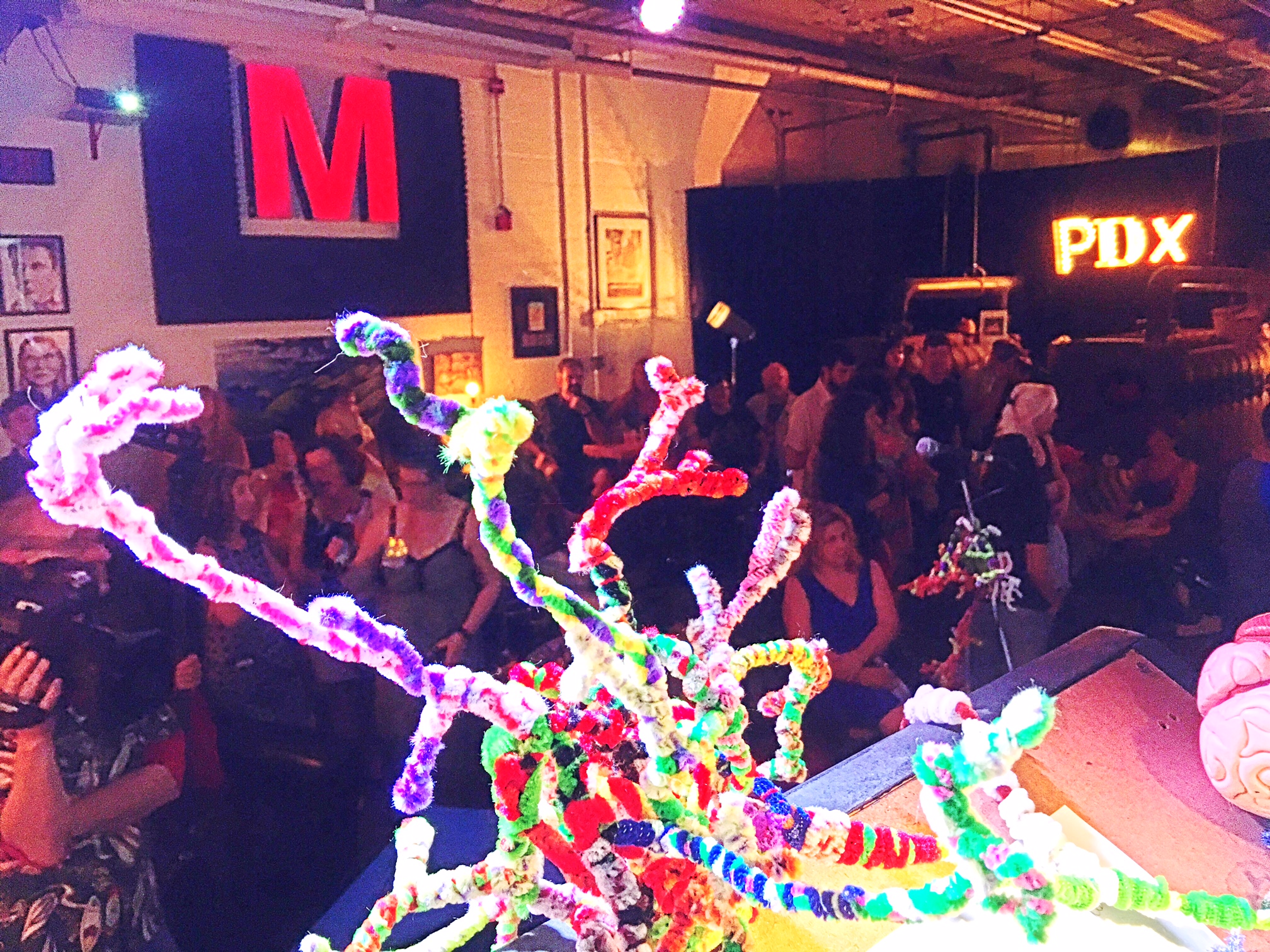 Ross Blanchard, the Director of the Ford Gallery and founder and editor of PDX Magazine, welcomed everyone to The Mechanical, and both he and Sara McCormick spoke about the powerful and compelling works on display upstairs.  Bill Griesar of NW Noggin and Kindra Crick then highlighted the incredible SciArt outreach our exceptional graduate and undergraduate volunteers have engaged in, and the tendency of cross-disciplinary collaboration to inspire awe, amazement, curiosity, understanding, creative exploration, art making, opportunity, connections and delight!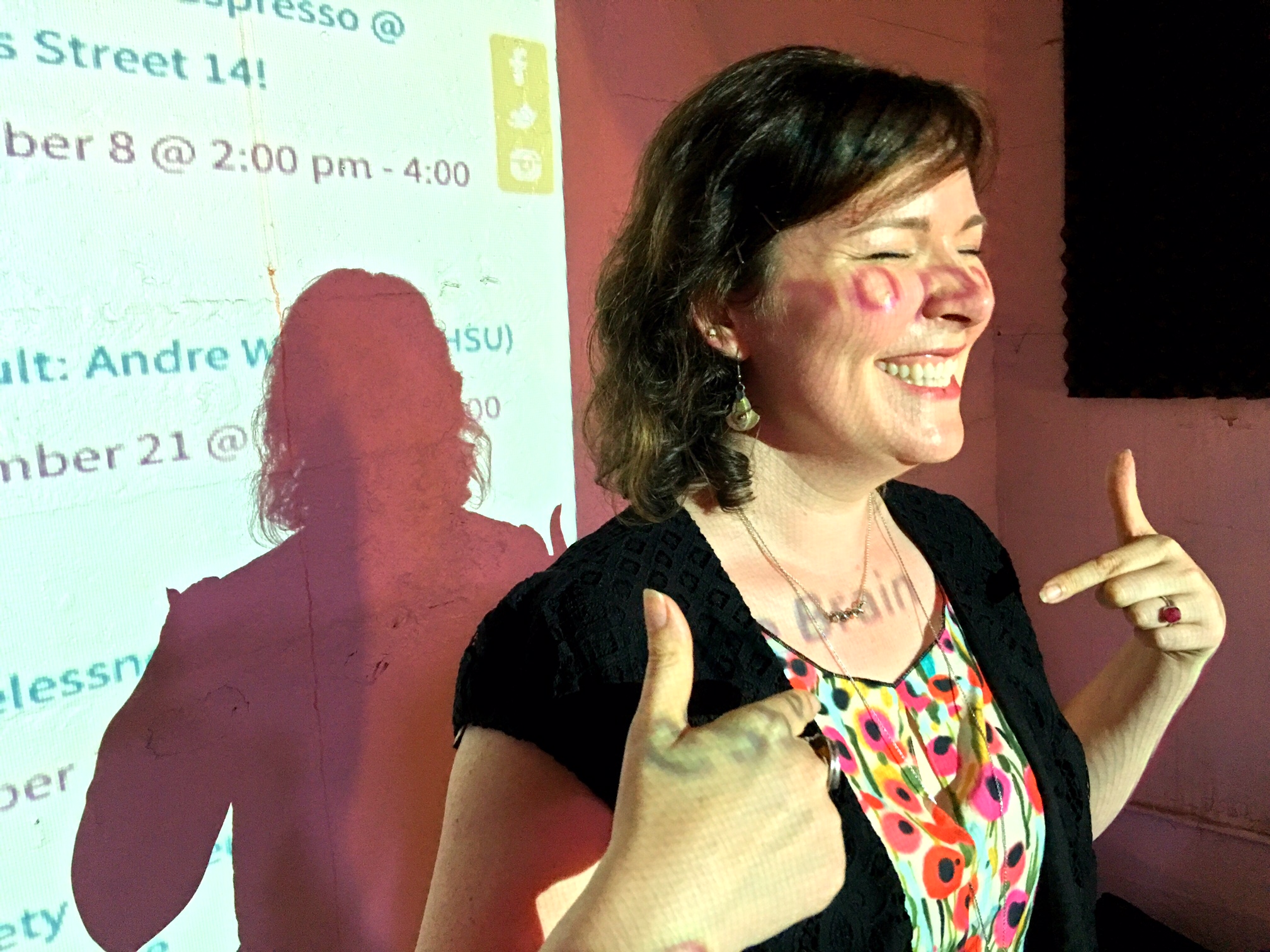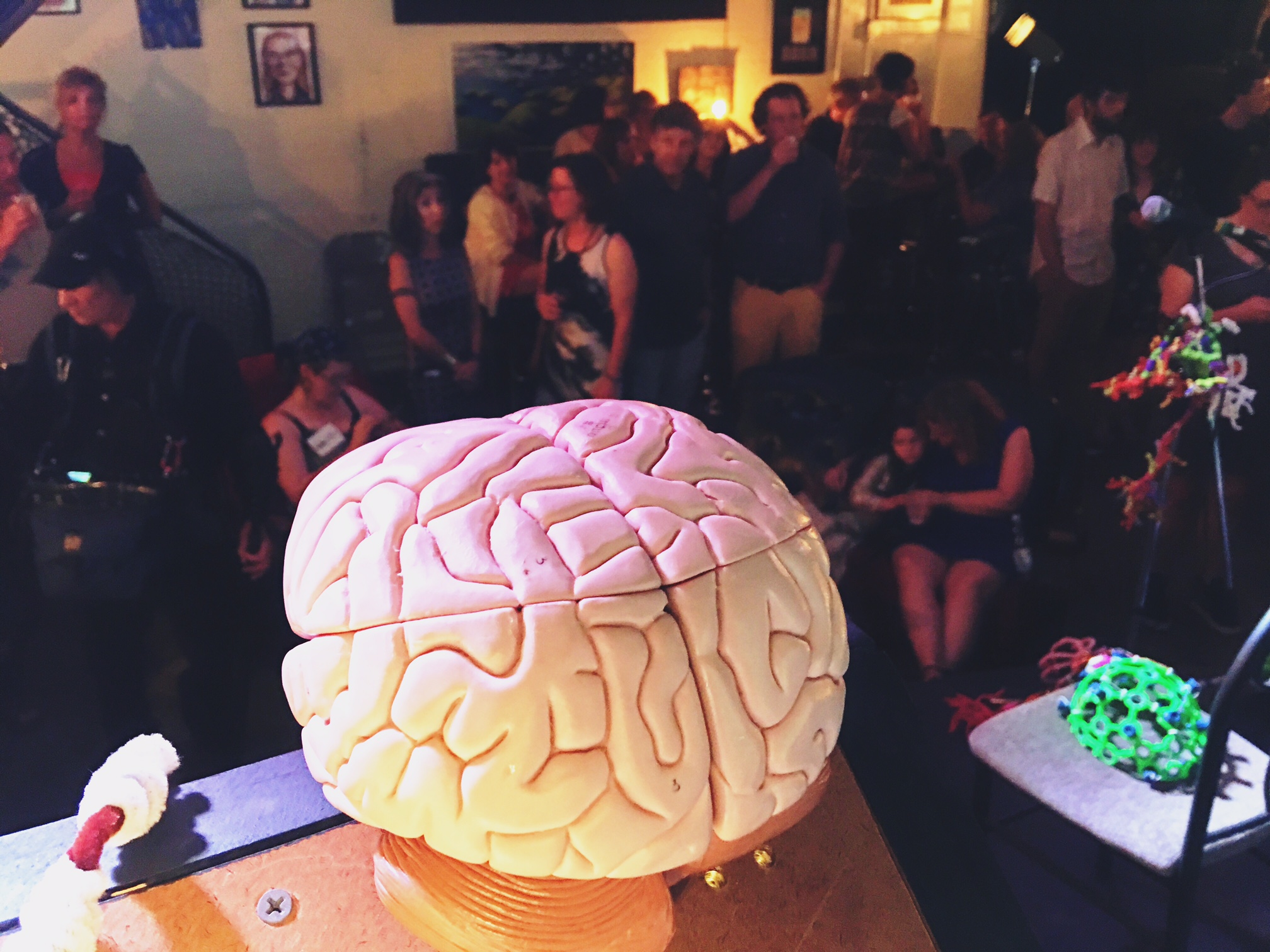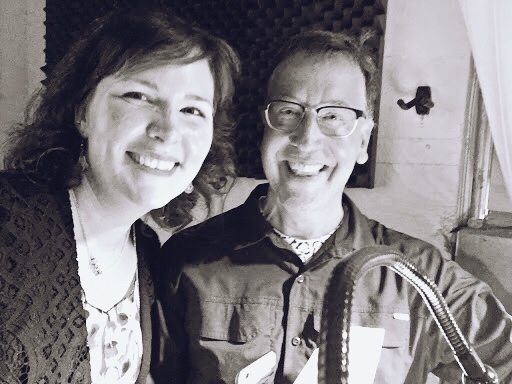 We wired up some willing audience members with electrodes, and the first up was Ford Gallery owner Ross Blanchard!  David Hickey and Jesse Hamlin of Shannon Entropy sang and played guitar, while Ali and Travis recorded EEG from Ross's scalp using a 3D printed headset from the Neuroscience Club at PSU.  Ross's brain was, well  –  a bit unique..!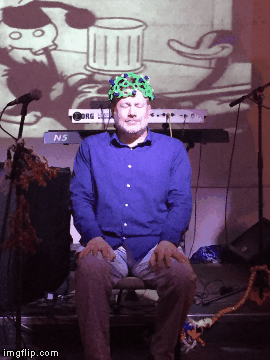 We had a number of additional volunteers test our electrodes, too..!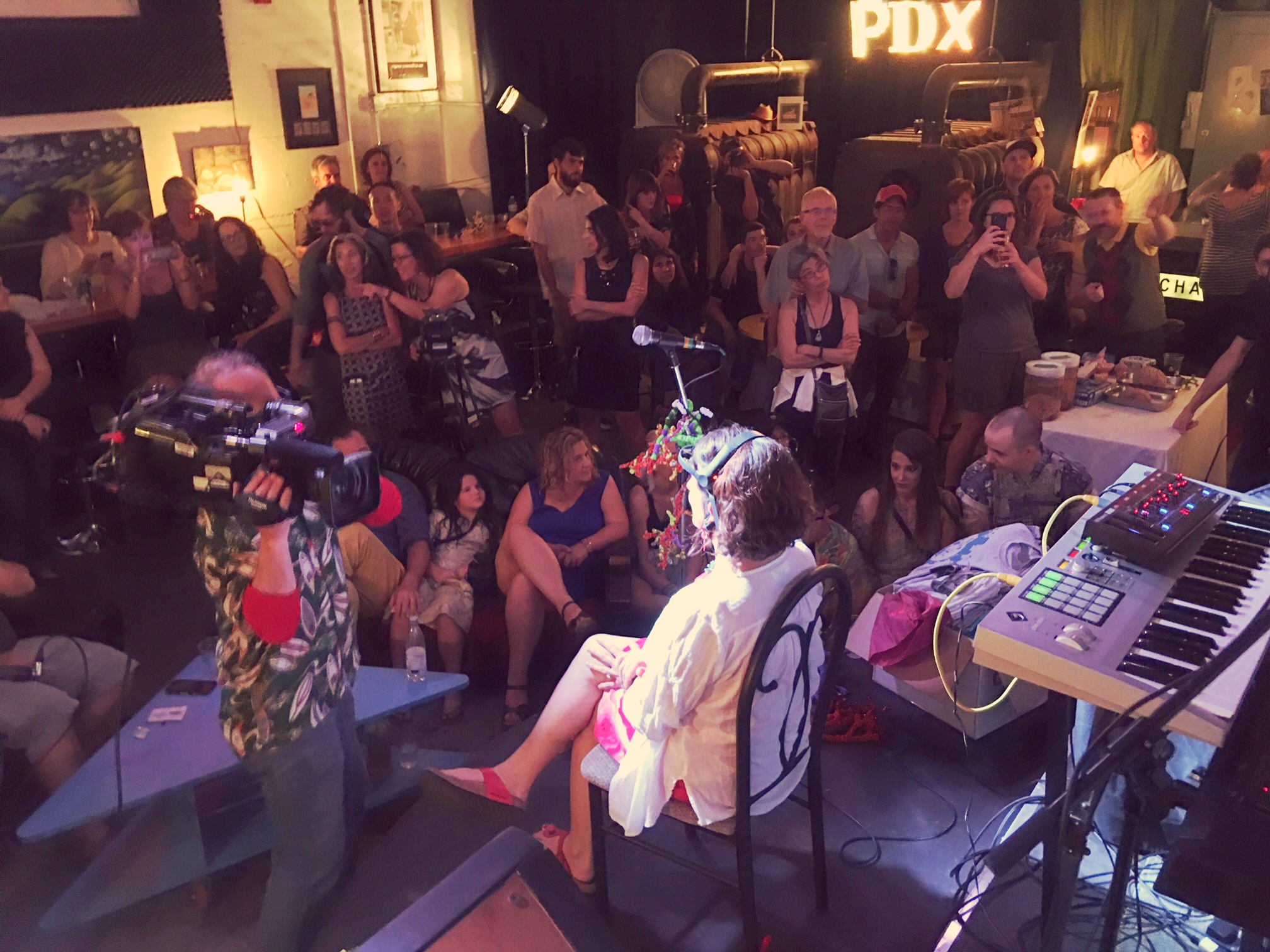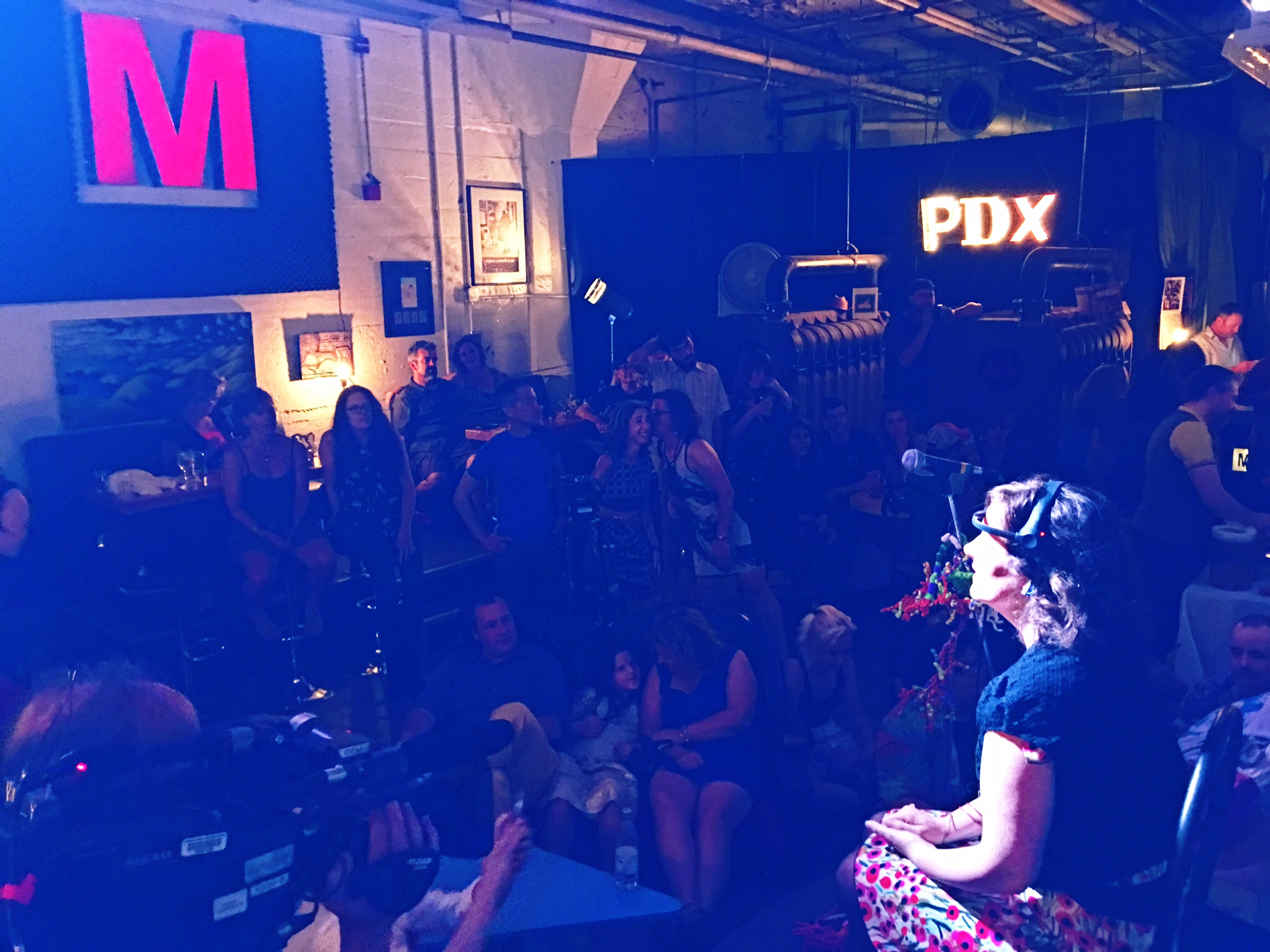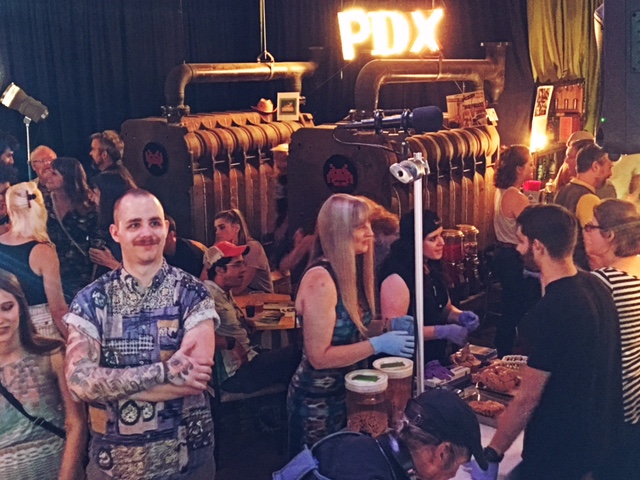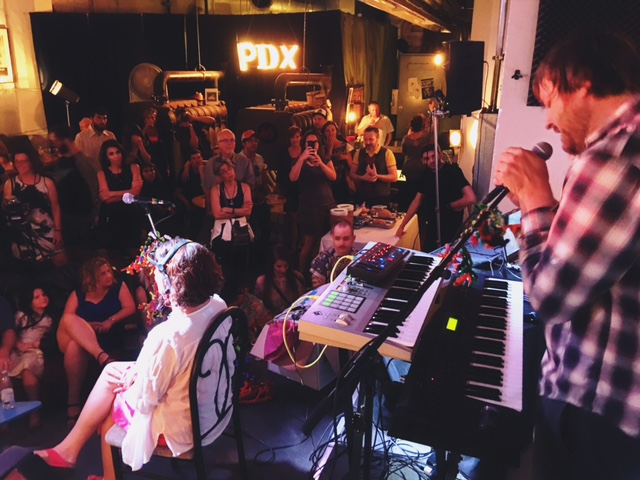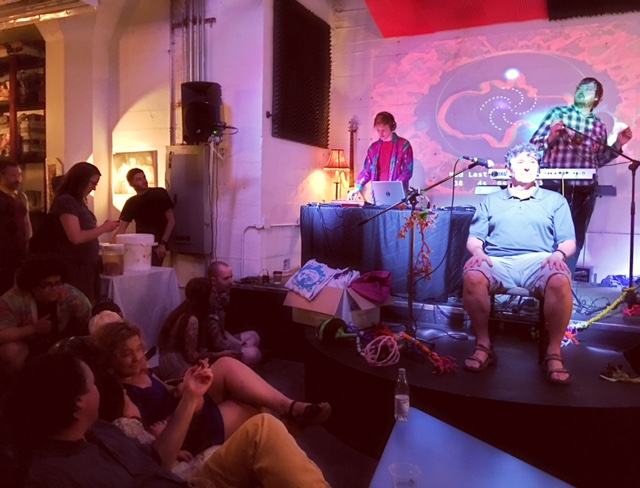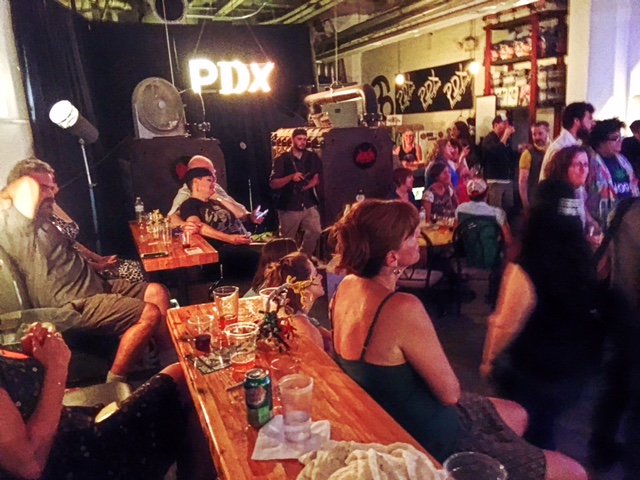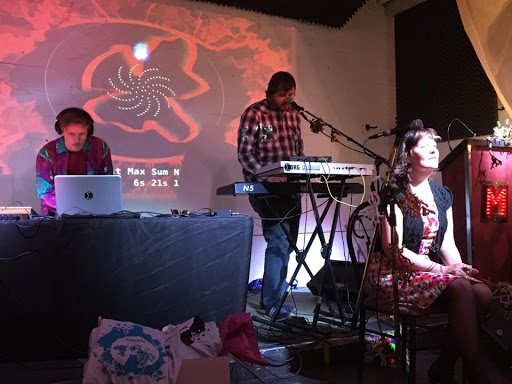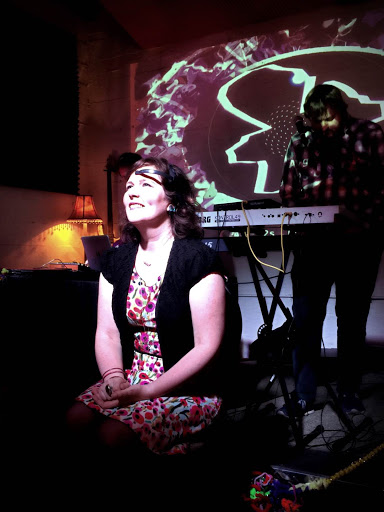 An extraordinary evening of science, art, brains and music!  Many thanks to Ross Blanchard and Sara McCormick of the Ford Gallery, Becky Doggett of Ford Food and Drink, and Kindra Crick for inviting us to join the fun  –  and help generate still more awe, amazement and delight (see below!)
Have you ever experienced awe?  Have you felt bowled over by beauty, compelled by an idea, tantalized by the prospect of understanding  –  of being this close to figuring something out?  Has a song or sculpture or experimental result delivered actual chills up your spine, provoked deep pleasurable anticipation of next steps, transfixed you, awakened you, confounded but also inspired you with real potential, curiosity, a way forward, and a sense of connection, excitement, amazement or delight?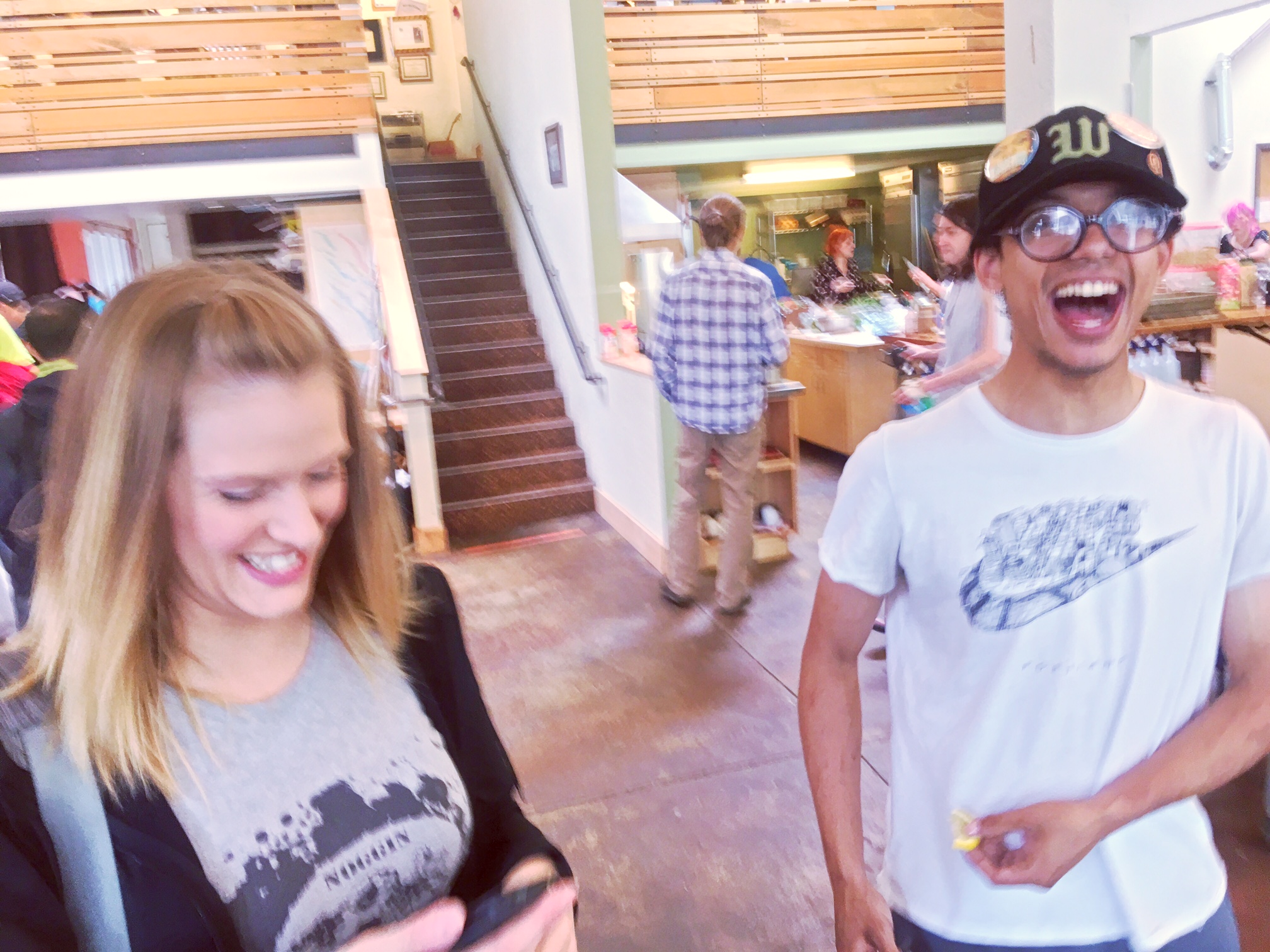 "When we look at the blue sky for the first time: not merely see it, but look at it and experience it and for the first time have a sense that we live in the center of a physical poetry…few people realize that they are looking at the world of their own thoughts and…feelings."  -Wallace Stevens
The source of these experiences  –  and all others  –  is of course your brain, a remarkable network of about 86 billion neurons in the adult.  We each arrived as a baby with well over twice that number, and during childhood and adolescence lost a good 100 billion cells, while extensively remodeling and refining the connections and pathways between those that remain…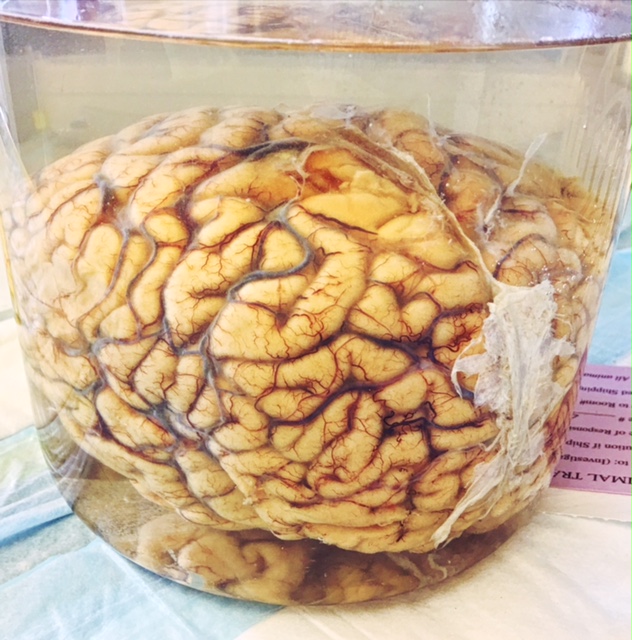 LEARN MORE:  Peak emotional responses to music: The psychophysiology of chills and tears
Brains change in response to experience, routing detection of light, sound, touch, body position, acceleration, taste and odor more efficiently with practice, and after countless surprises, mistakes and errors, so opportunities for diverse perceptual and social experience and expression are critical for our development…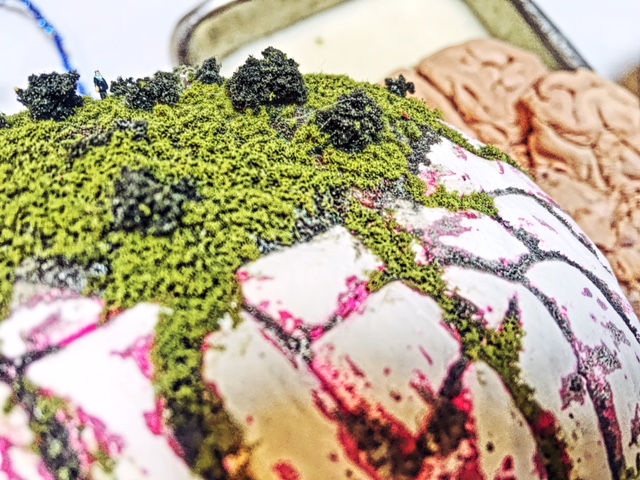 "We are a landscape of all we have seen." -Isamu Noguchi
We're Northwest Noggin, and we are all about expanding opportunities for remodeling and refining neural connections  –  by introducing undergraduates, graduates, K-12 and the public both to each other, and to artists and scientists trying to express their evolving knowledge of how brains work.  We meet with many kids who struggle in school, who are drilled in preparation for standardized assessment, with test questions demanding one "right" answer  –  a system designed to make money for test and textbook publishers, and drive all the awe and excitement and delight right out of the day…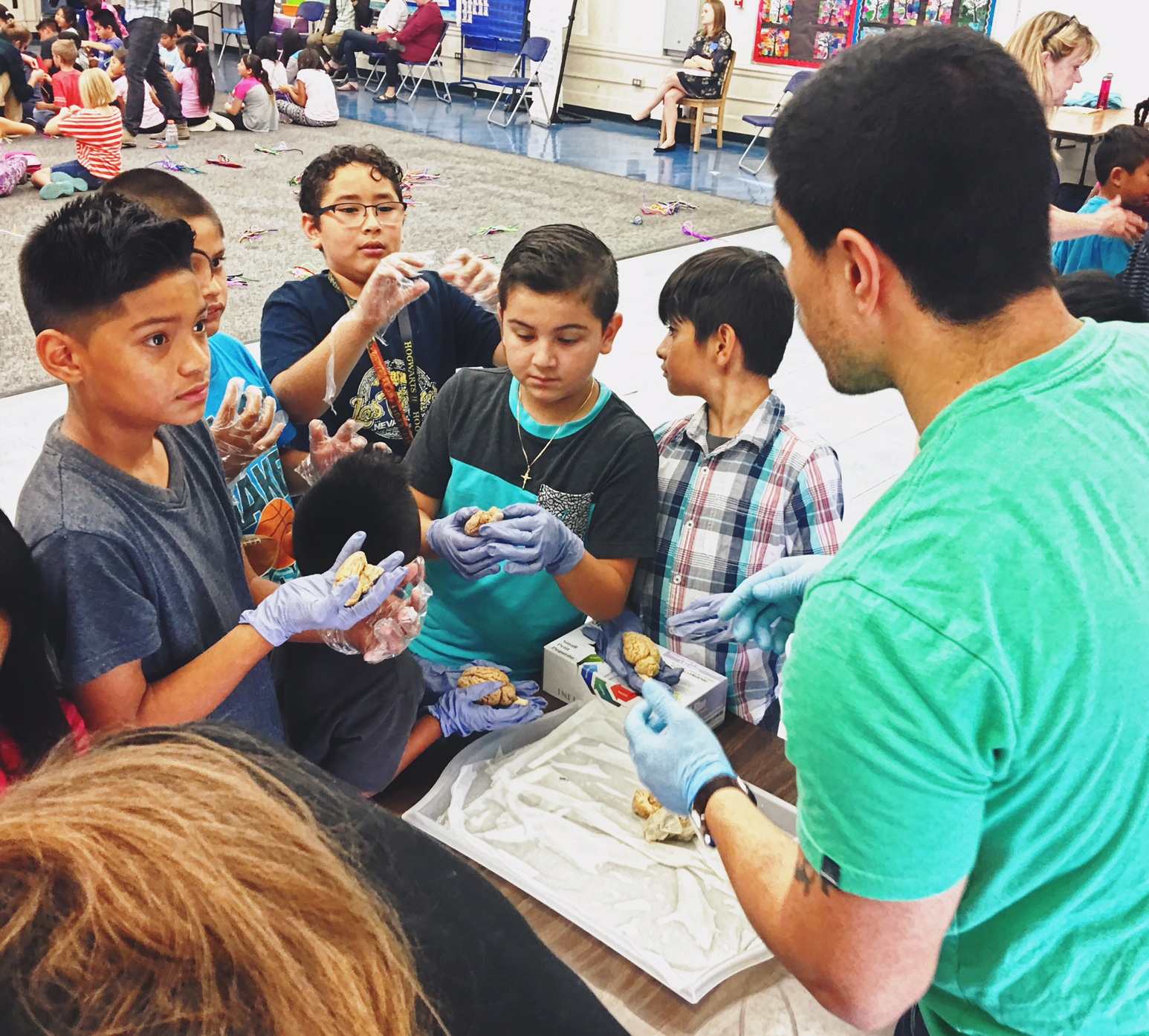 "Kids are smart. Knowledge is power. Let them figure things out. Don't turn into that grown-up who they won't come to."  -Lauren Myracle
We don't just talk about science and art.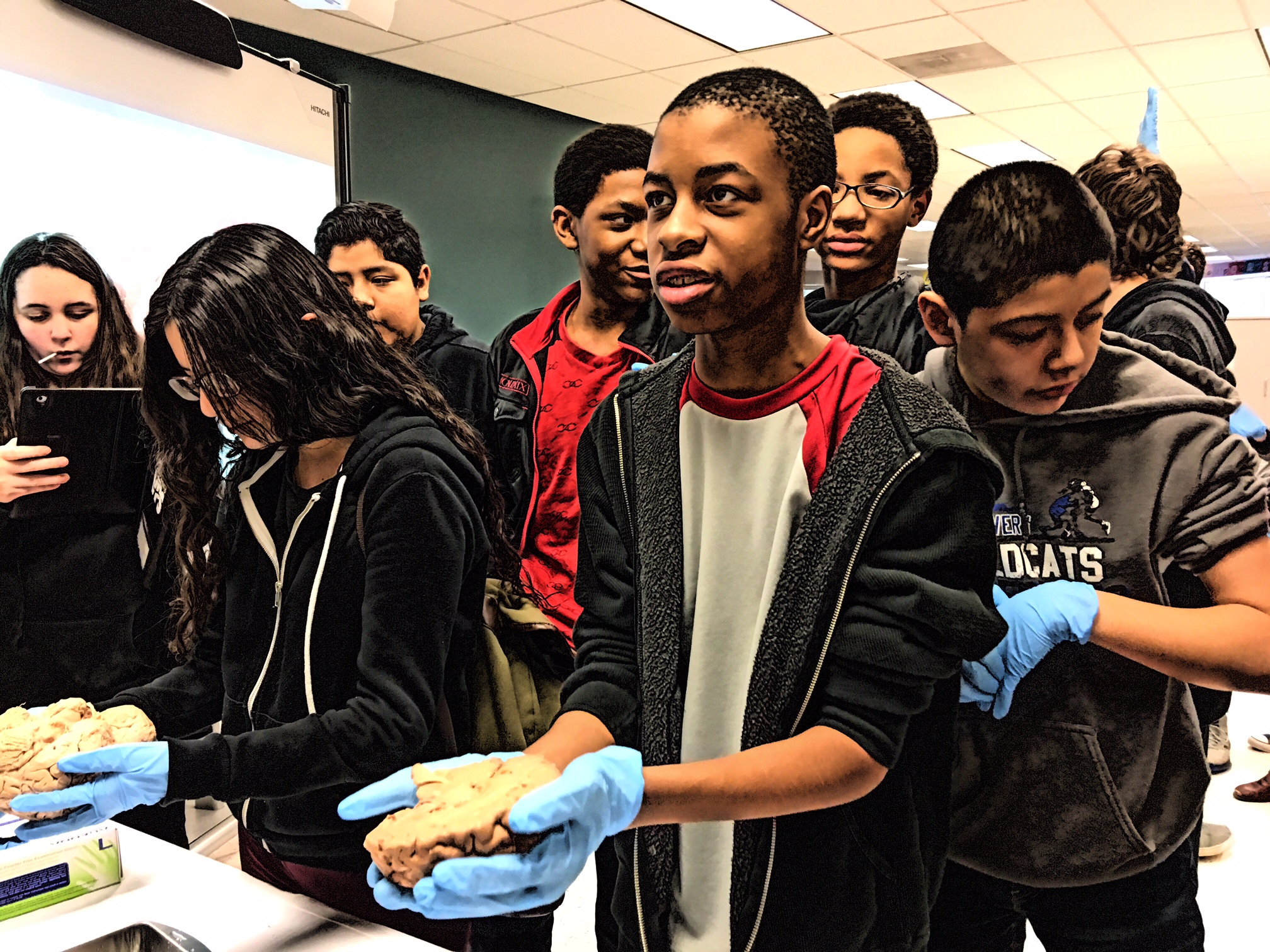 We act.  We leave our labs, classrooms and studios, and bring our diverse young Noggin volunteers directly into the community  –  grads and undergrads creating art and/or pursuing cutting edge research on subjects that matter, like anxiety, sleep, pain, depression, memory, drugs, ADHD, Parkinson's, PTSD, Alzheimer's, autism, and adolescent brain development.  We make art, exploring structure/function relationships and communicating ideas in engaging, empowering and personally relevant ways…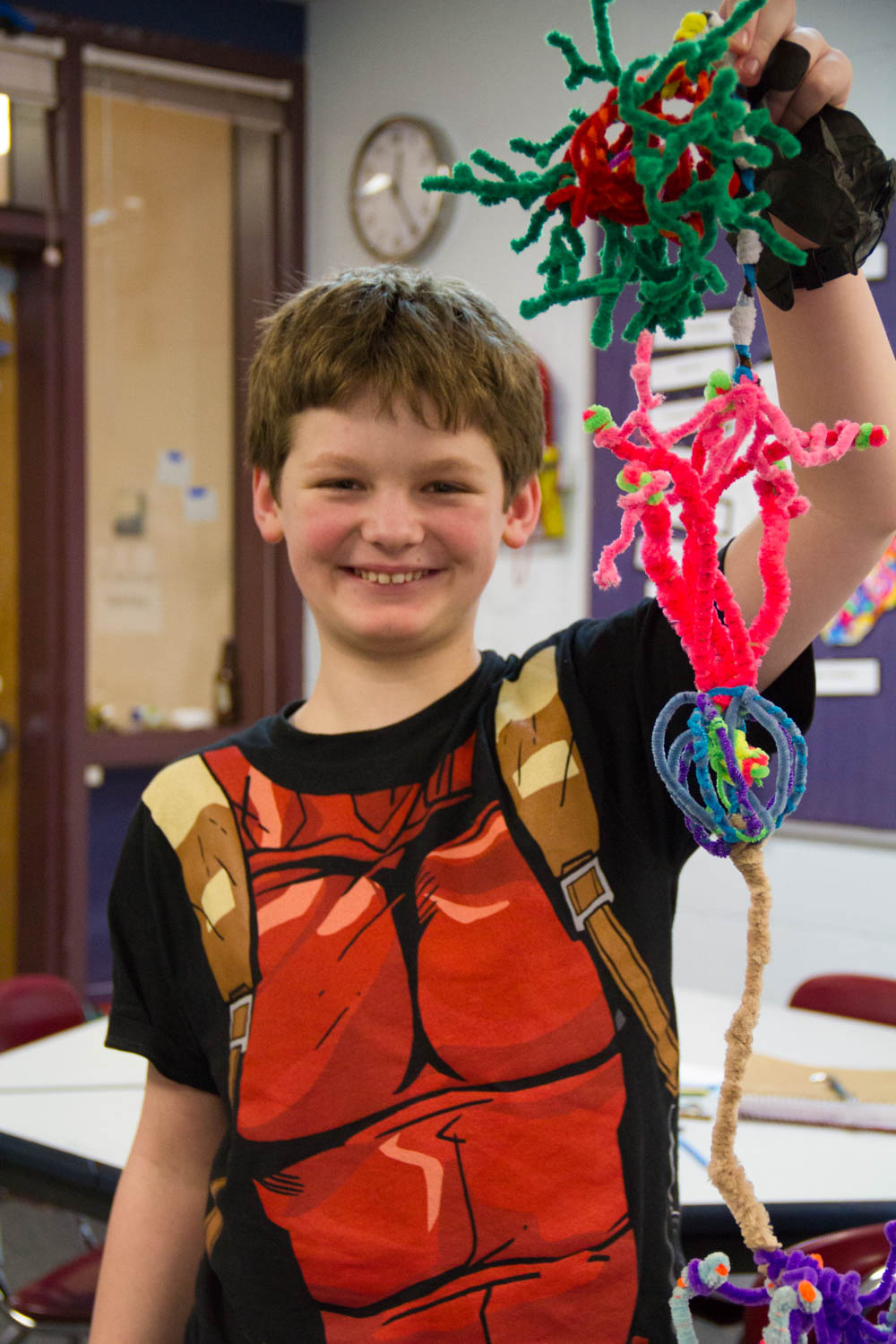 Our volunteers introduce themselves to K-12 students, and tell them who they are and how they got here. We also pair neuroscience graduate students from OHSU and PSU with artists and art students, many of them presenting their work here tonight at the Ford Gallery, to collaborate on unique, engaging public presentations in schools, homeless service centers, and at Velo Cult, a bike shop/pub…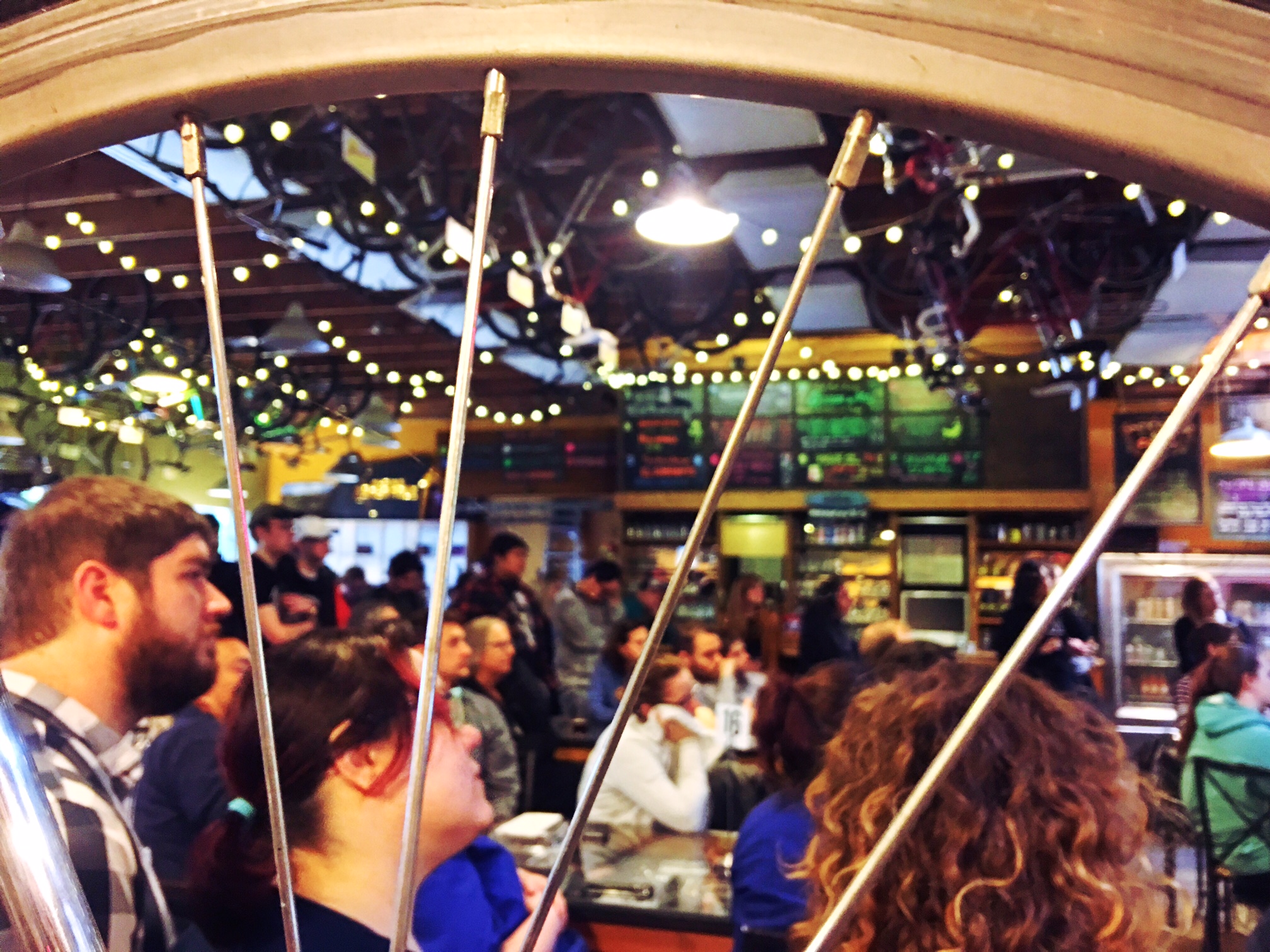 Both kids and the public are intensely curious about brains, and have their own ideas, and we always invite their questions, and answer everything, from what marijuana does to how we see color to why someone might feel like they are a different gender.  We encourage creativity, exploration and new hypotheses, and offer evidence-based research to support what we say…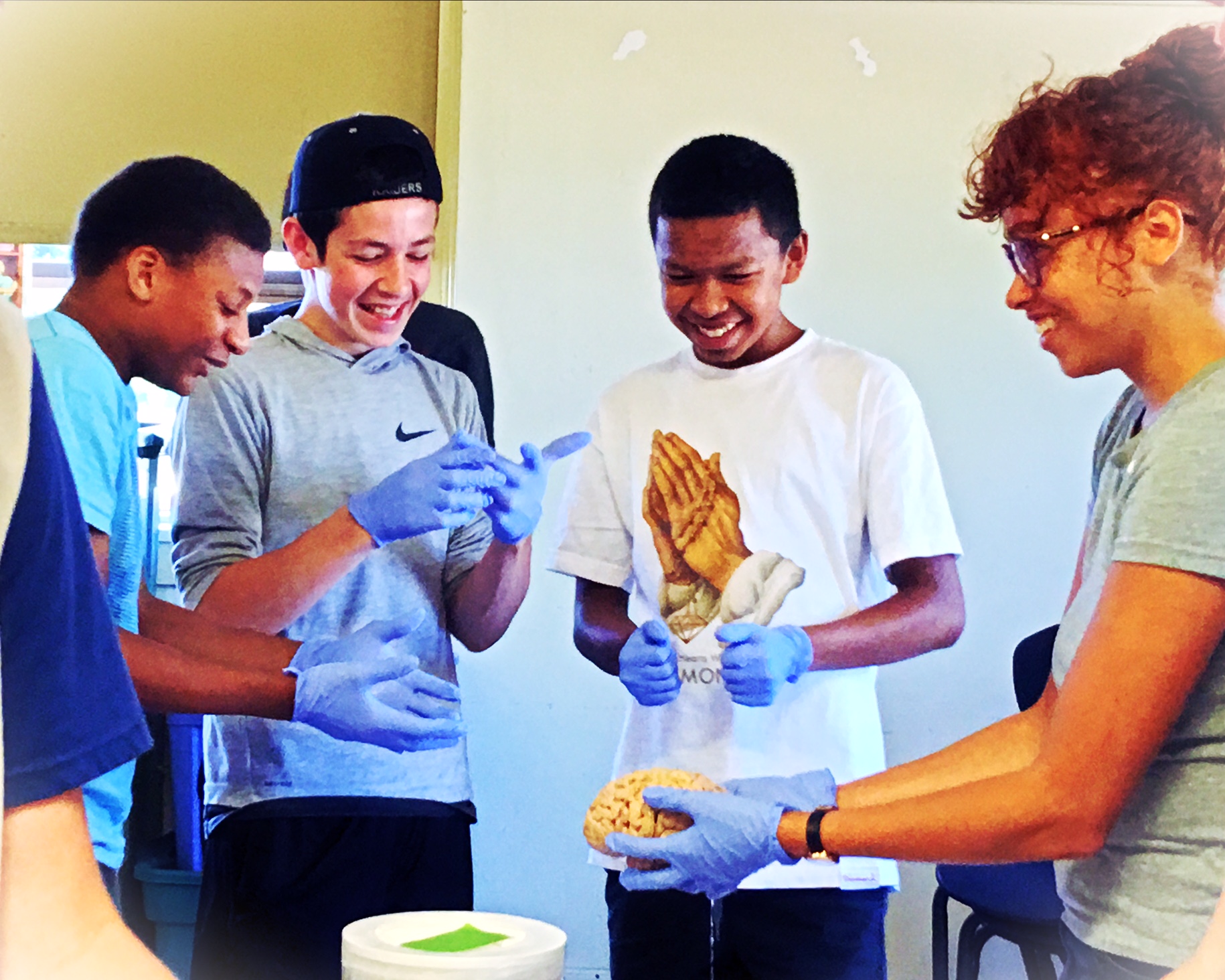 "Somewhere, something incredible is waiting to be known."  -Carl Sagan
This fall we've been invited to present our innovative #sciart outreach efforts at the Society for Neuroscience conference in Washington, DC!  We have ten talented undergraduates who were offered complimentary admission to this conference, where over 30,000 neuroscientists will gather from all over the world!  We'll also visit local public schools  –  and bring real brains and art directly to Congress  –  to present a briefing for the Neuroscience and STEAM caucuses in the U.S. House of Representatives!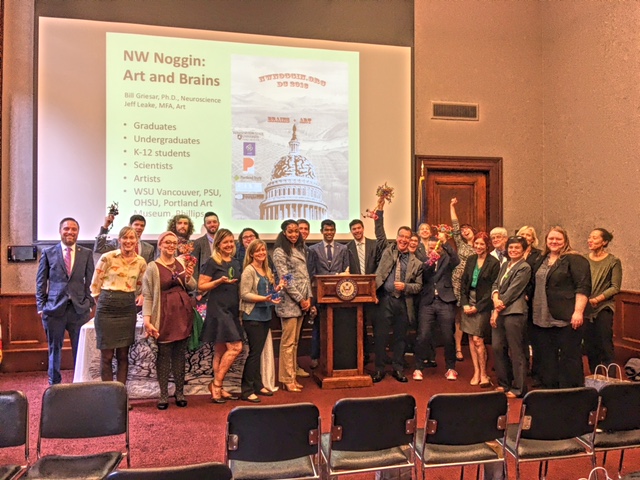 SEE WHAT WE DID LAST YEAR:  STEAMing to DC!
We need to get these ten accomplished young people before our distracted federal representatives, and before smart, underserved K-12 students, and before scientists and the public this fall to demonstrate the effectiveness of art and science outreach and education.
Would you like to help bring brains back to Congress?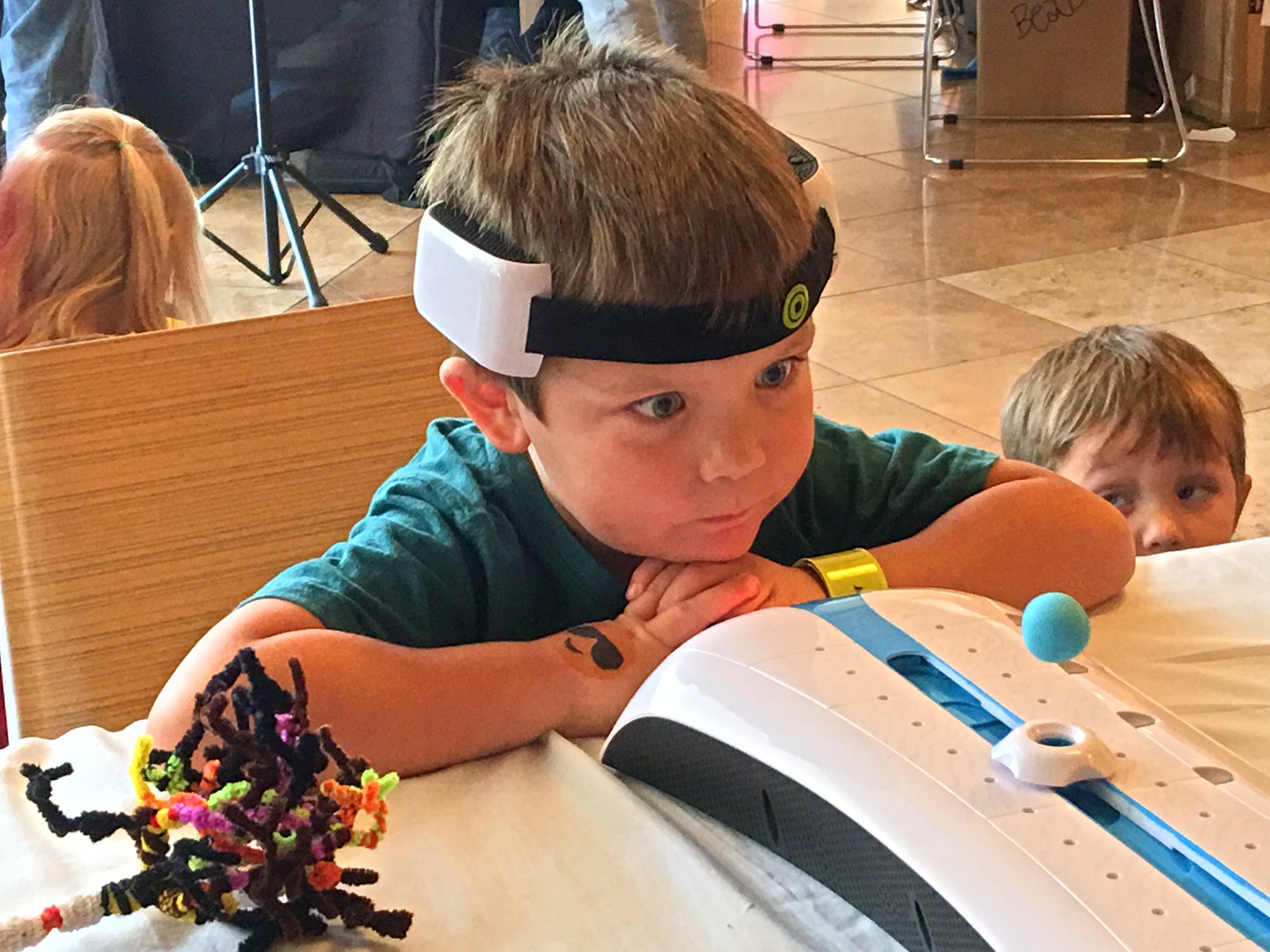 We need basics  –  flights, housing and food for our undergraduate volunteers  –  and we have screen-printed t-shirts and stickers you can buy right now (we just got our Square reader this week!).  We are a recognized 501(c)(3) nonprofit, and can also gladly take donations at nwnoggin.org…
Tonight we've enjoyed exciting (and free!) live music, and we're going to record actual brain activity of volunteer listeners for a live demonstration of the link between structure and function as your brains respond to the excellent sounds of Shannon Entropy!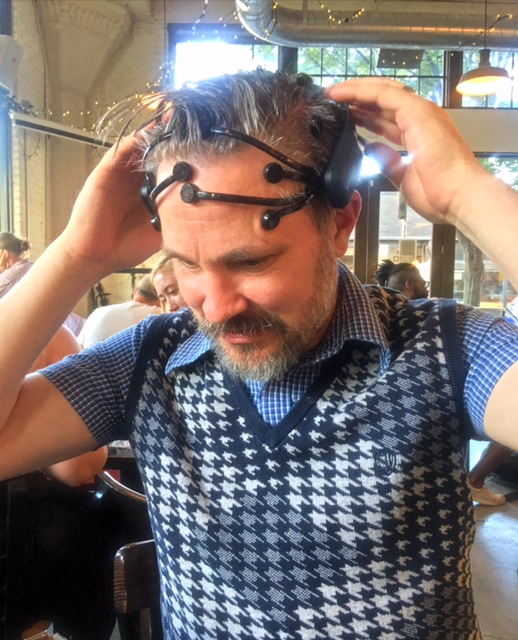 Brains cells are like wires, and transmit information in the form of electric current.  This electricity can be detected at the surface of the scalp using electrodes which pick up the aggregate activity (many, many brain cells firing at once) in selected areas of neocortex found at the wrinkled surface of our brains…
LEARN MORE:  Electroencephalography (EEG)
There is plenty of complex information in these recorded tracings of brain activity, but tonight we're going to focus on the different frequencies embedded in the EEG…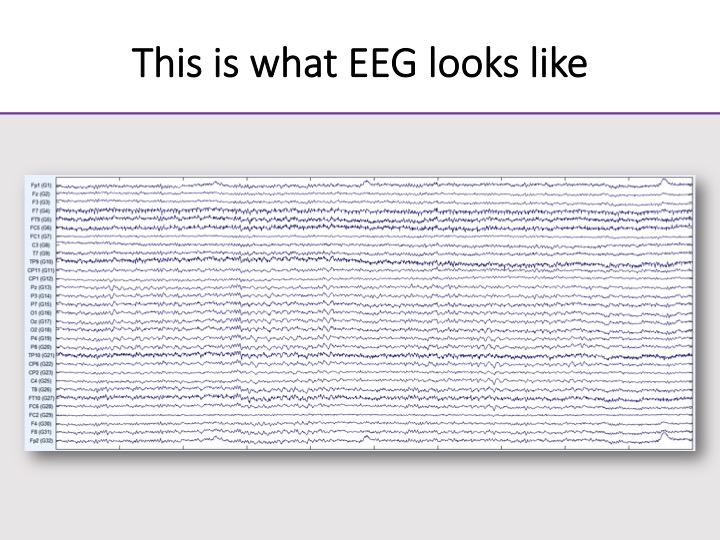 Raw EEG looks like "squiggles," but it represents clusters of thousands of neurons firing together at different rates.  These different frequencies add up, and create that raw signal we get from electrodes placed on the scalp. A question researchers and clinicians ask:  how much of each frequency do we see..?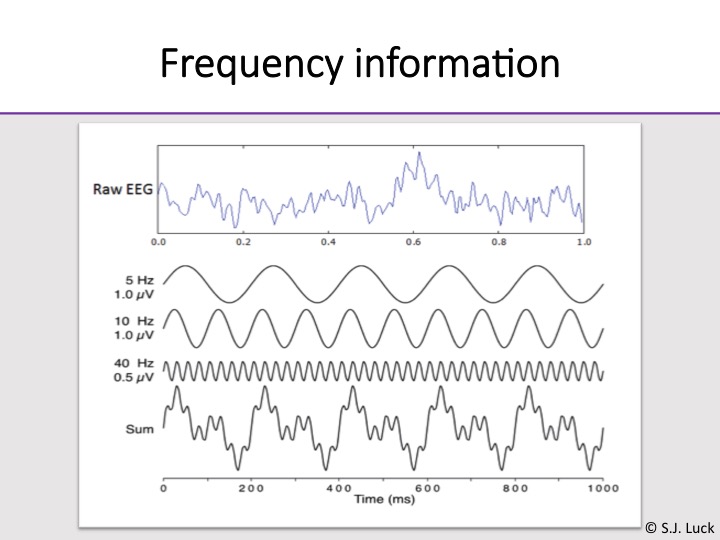 EEG frequencies range from slow delta (1-4 Hz) and theta (4-8 Hz) activity, characteristic of deep sleep, to the higher frequency alpha (8-13 Hz), beta (13-30 Hz) and gamma (> 30 Hz) commonly detected when we're awake…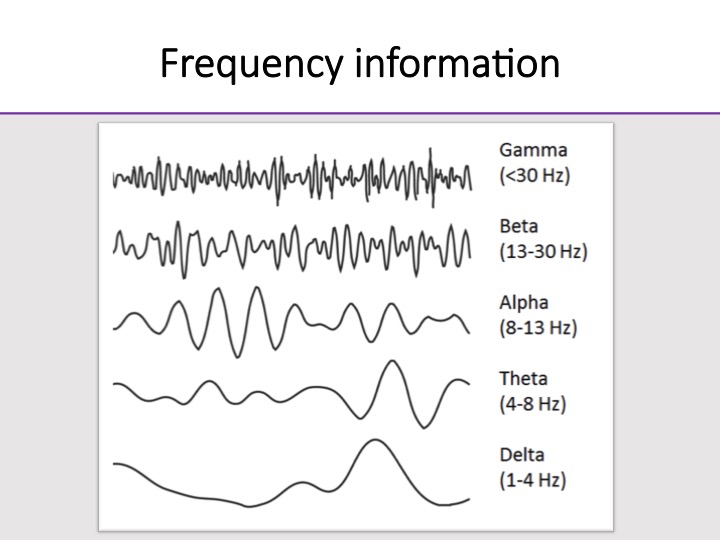 Frequency slides from Brittany Alperin at Velo Cult
LEARN MORE:  Changing Brain Waves of Depression
Frequencies represent different functional states.  They might represent attention, sleepiness, or emotion;  so we can tell different things about a brain by looking at the different frequencies.  Yet the relationship is complicated, as it depends on multiple factors, including what the person is doing, and which electrodes you're analyzing for frequencies…
We wired up some volunteers, including Ross Blanchard of the Ford Gallery, and watched how their brains responded to music!  What changes did you see?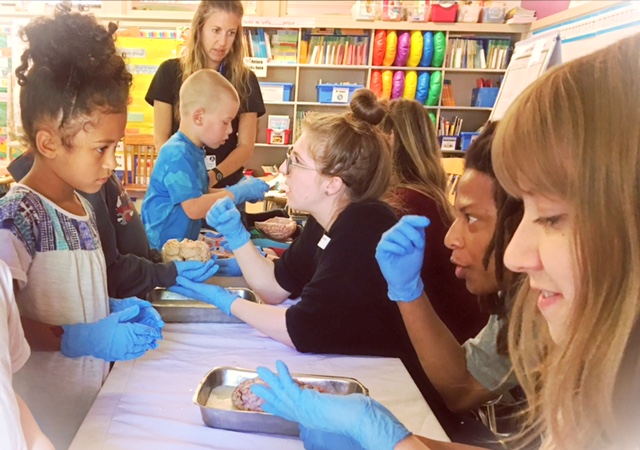 Thank you for supporting free, arts-integrated, research-based neuroscience education for K12 and the public in the Pacific Northwest  –  and beyond..!
Donations are tax-deductible.  The EIN number for Northwest Noggin is 81-3885713.