"I felt a funeral in my brain,
And mourners, to and fro,
Kept treading, treading, till it seemed
That sense was breaking through."
– Emily Dickinson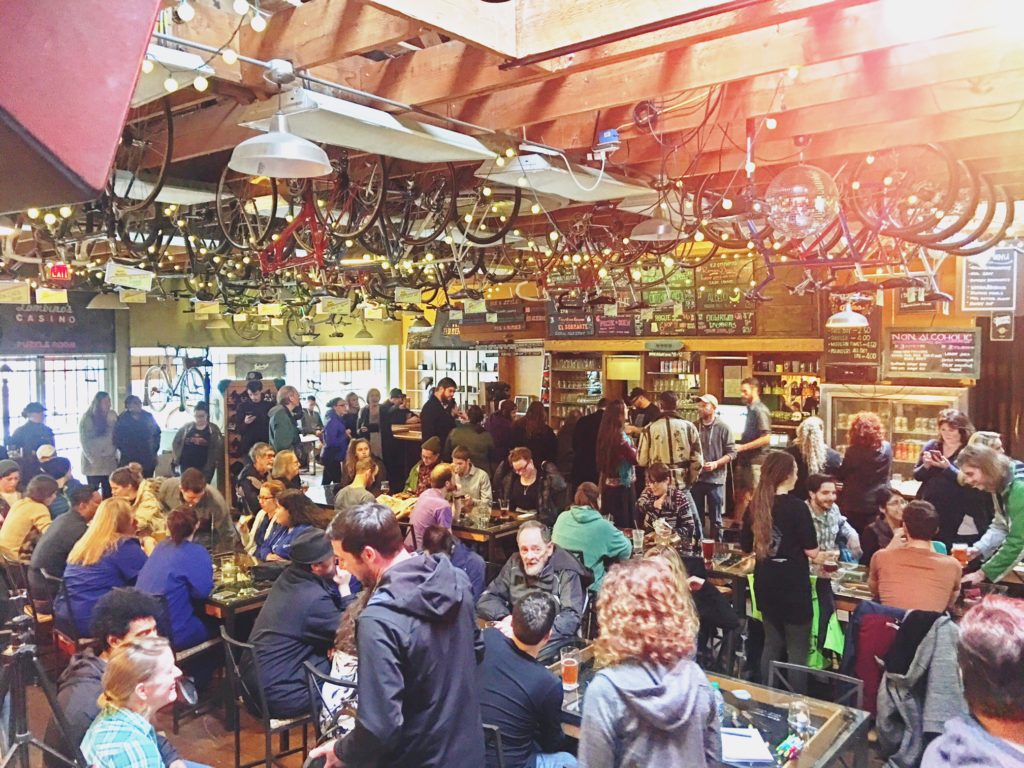 Depression proved a compelling topic for our latest NW Noggin presentation at Velo Cult, with a bar-estimated 200 community members gathering to connect, engage and learn about the effects of self-care on the symptoms and biology of one of the most common mental disorders in the United States…
LEARN MORE:  Major Depression Among Adults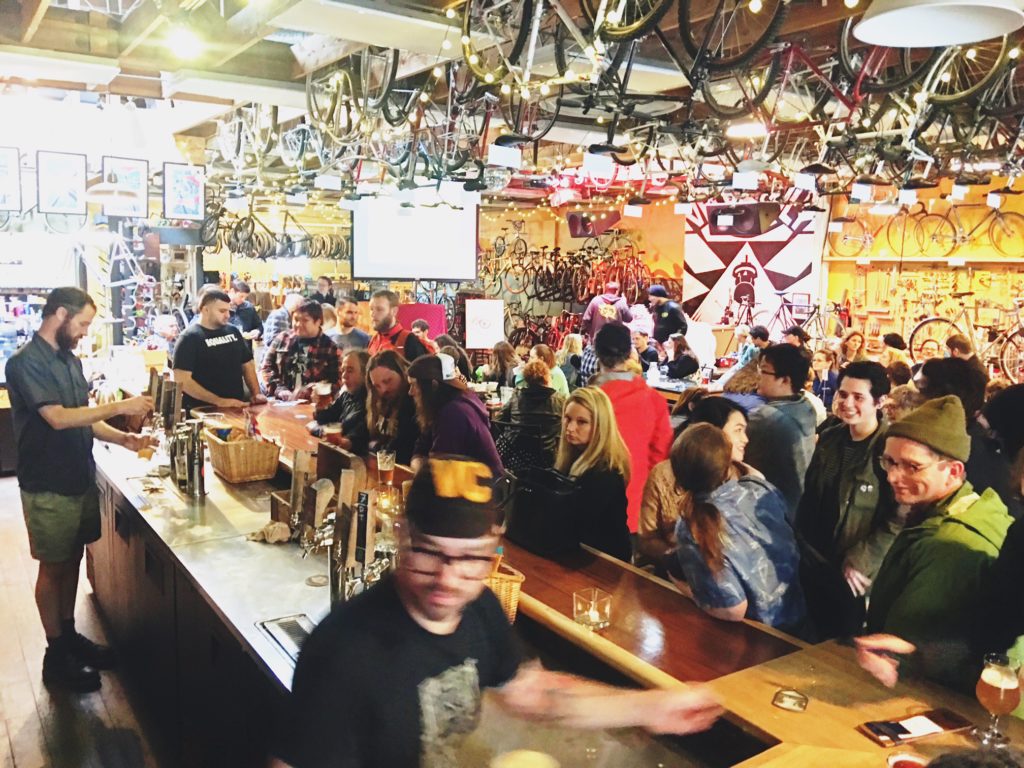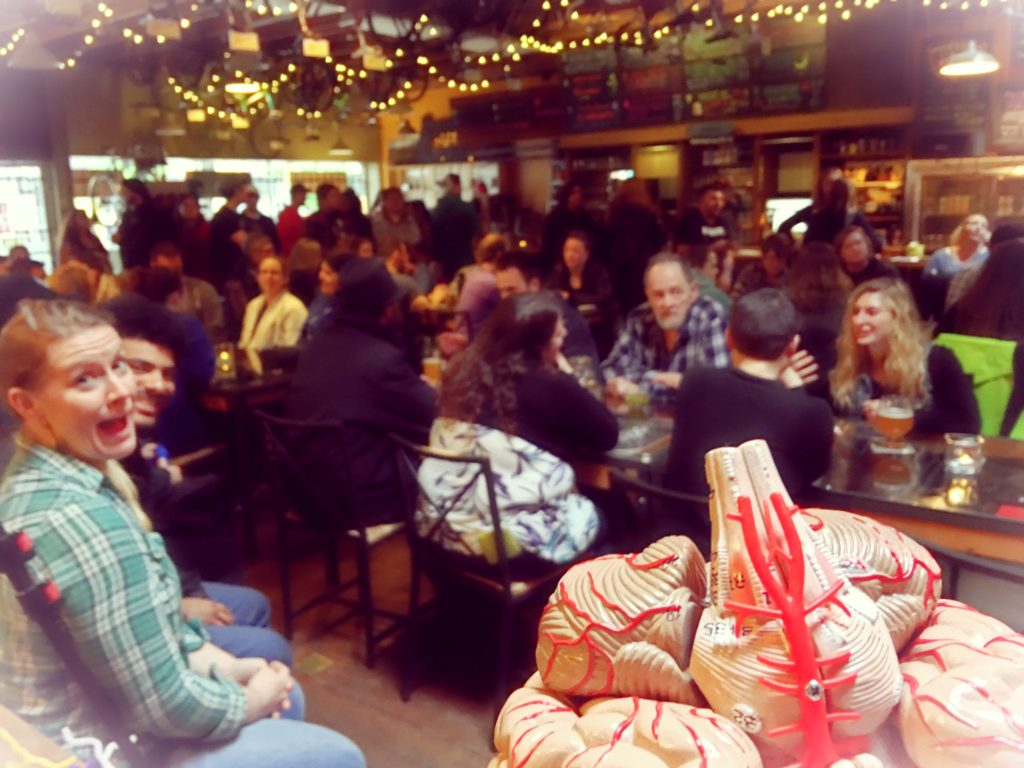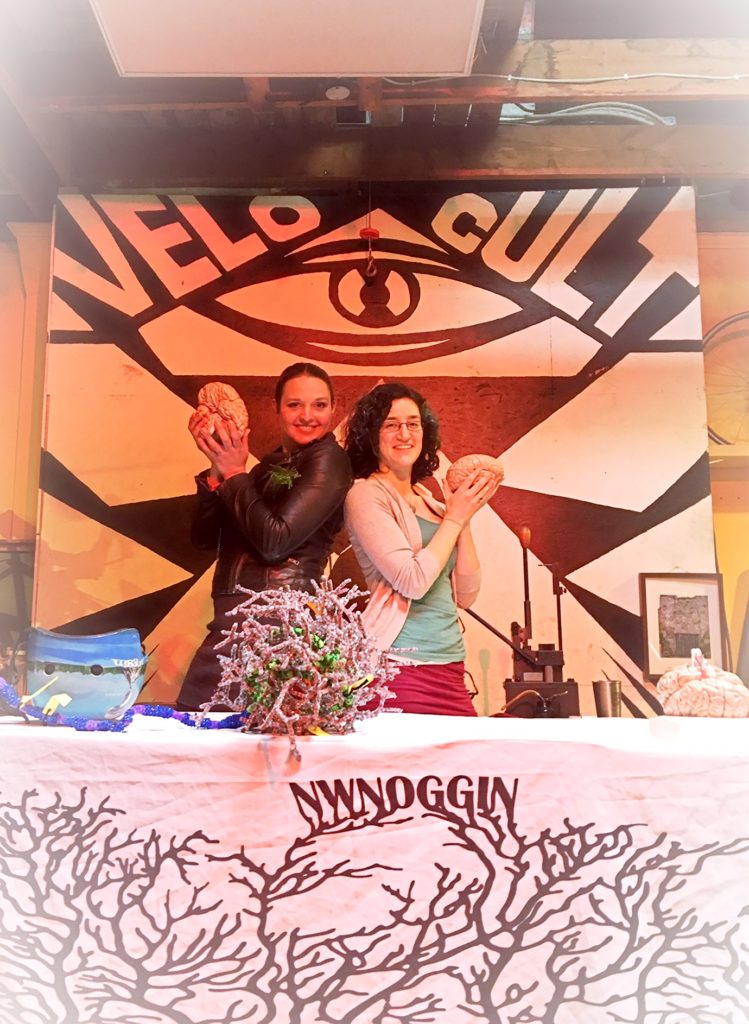 Our speakers included Brittany Alperin, a graduate student in Behavioral Neuroscience who studies emotional regulation in Sarah Karalunas' ATTEND lab at OHSU, and Sienna Morris, a phenomenal artist who creates science-inspired works using a technique she calls "Numberism," where images arise from related equations…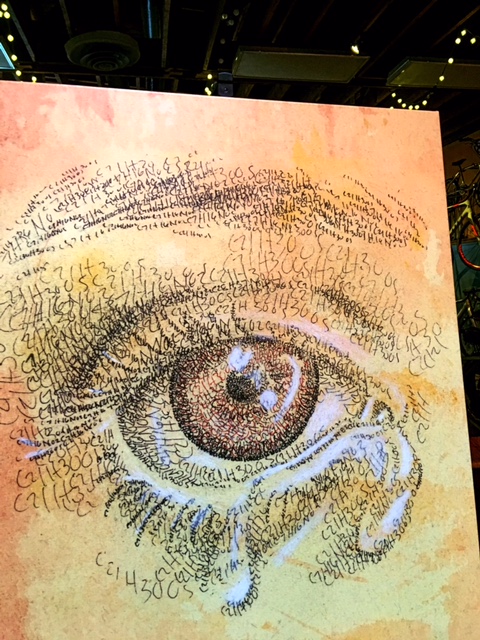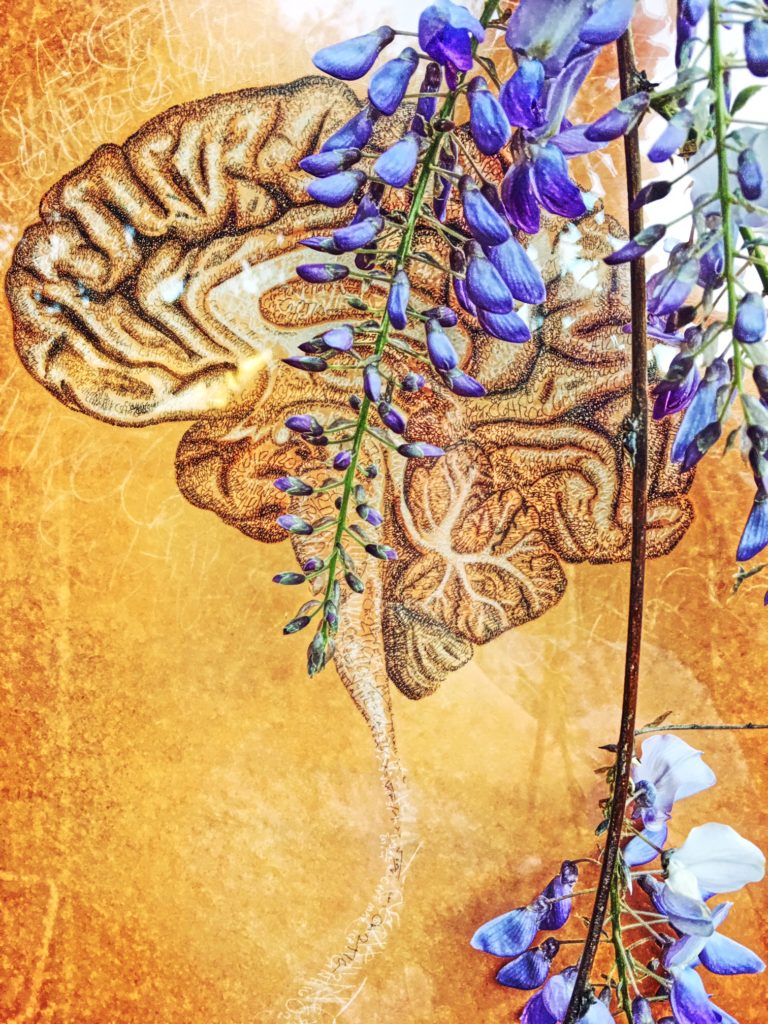 LEARN MORE:  Fleeting States Studios (Artwork Inspired by Science)
LEARN MORE:  ADHD & Attention Research @ OHSU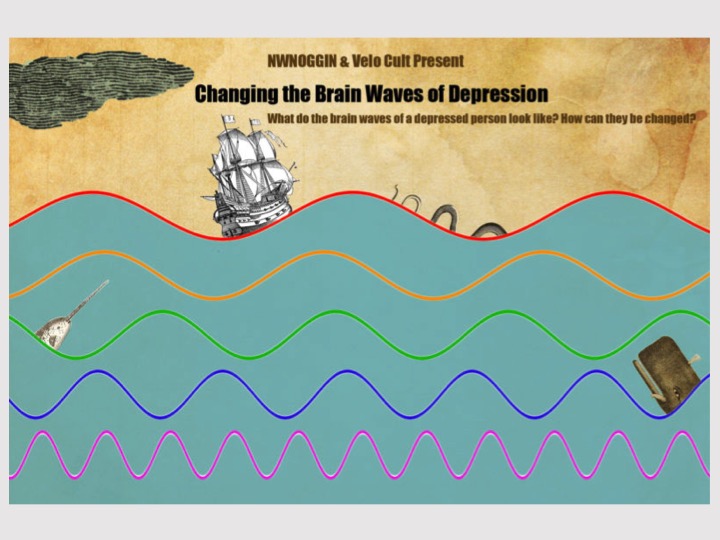 Brittany introduced our topic for the evening, a presentation on a project that she and Sienna had embarked on months earlier to look at, as Brittany explained, "depressive symptoms, and the brain of someone with depression," and to see how "self-care might change those symptoms and change what their brain looks like."  "That person," she added, "was Sienna…"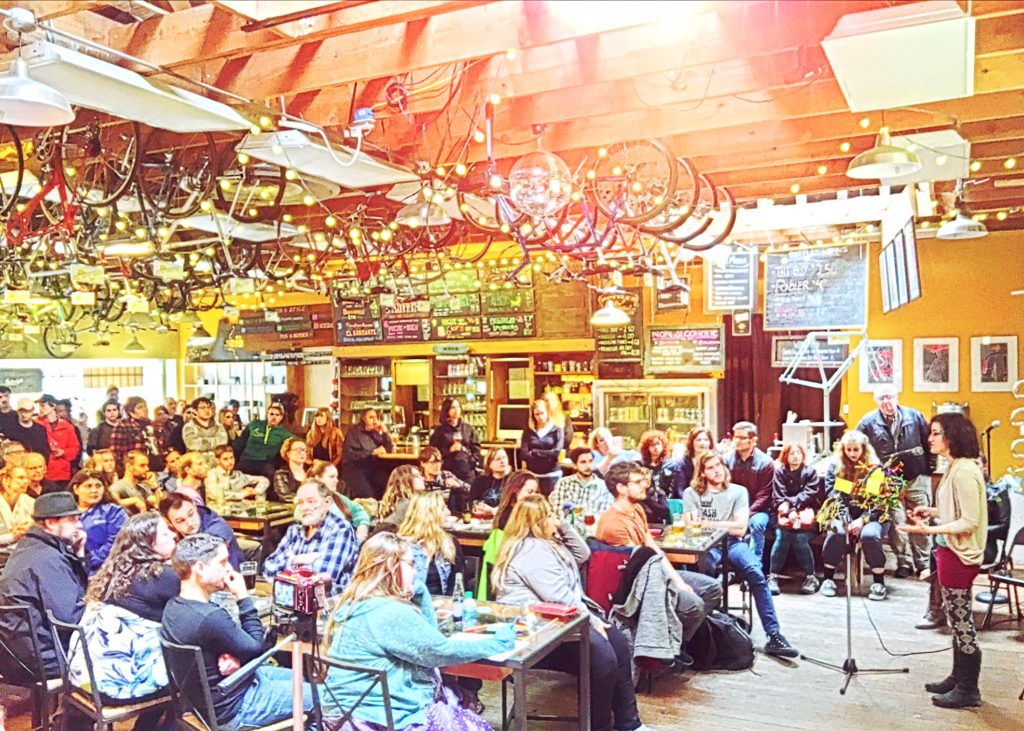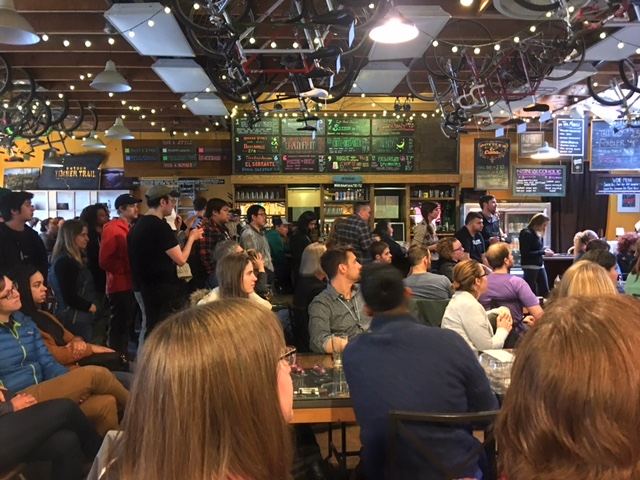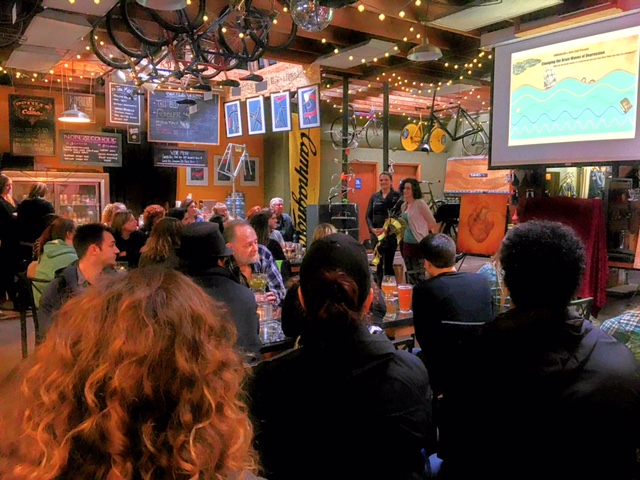 Sienna offered a gorgeous and fascinating personal tour of her art of Numberism, a technique she likened to Pointillism, though using numbers and equations instead of dots…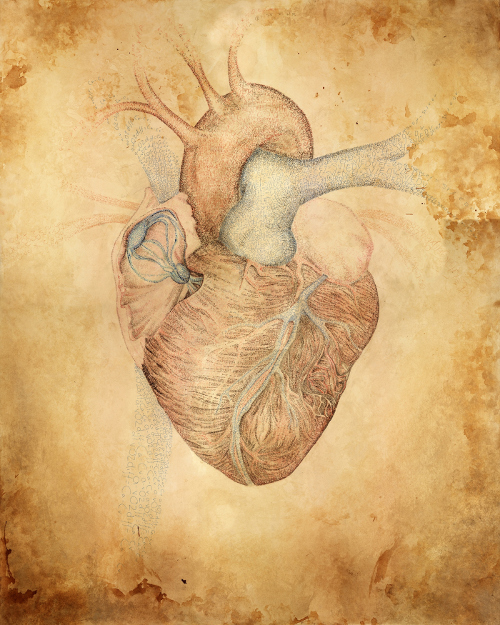 EXPLORE:  Visual illusion may explain the allure of pointillist paintings
These striking pieces take hundreds of hours to draw, and it often requires months for this self-taught artist and science enthusiast to research the equations and formulas that relate to each work.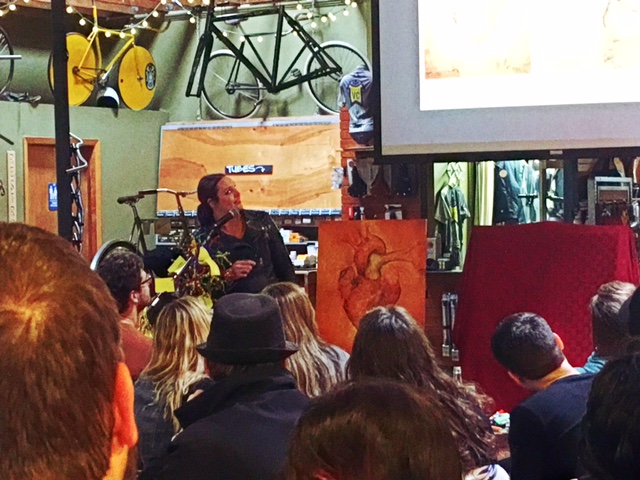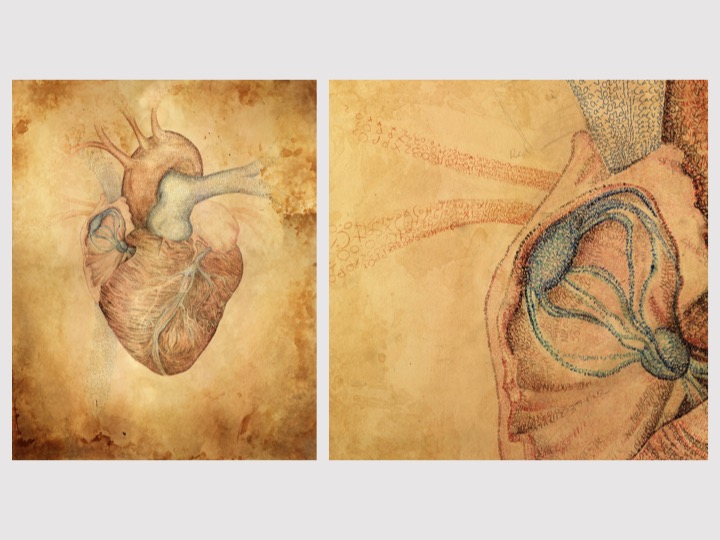 "Heart," for example, takes shape from the cardiac calculations used to measure the health of a human heart, including stroke volume and ejection fraction.  The panel on the right, noted Sienna, depicts the interior view of the right atrium, and the neural wiring (in blue) of the sino-atrial node, drawn with its average firing rate, and the cross-membrane potential that shifts, rhythmically, as your heart pumps blood ("treading, treading…").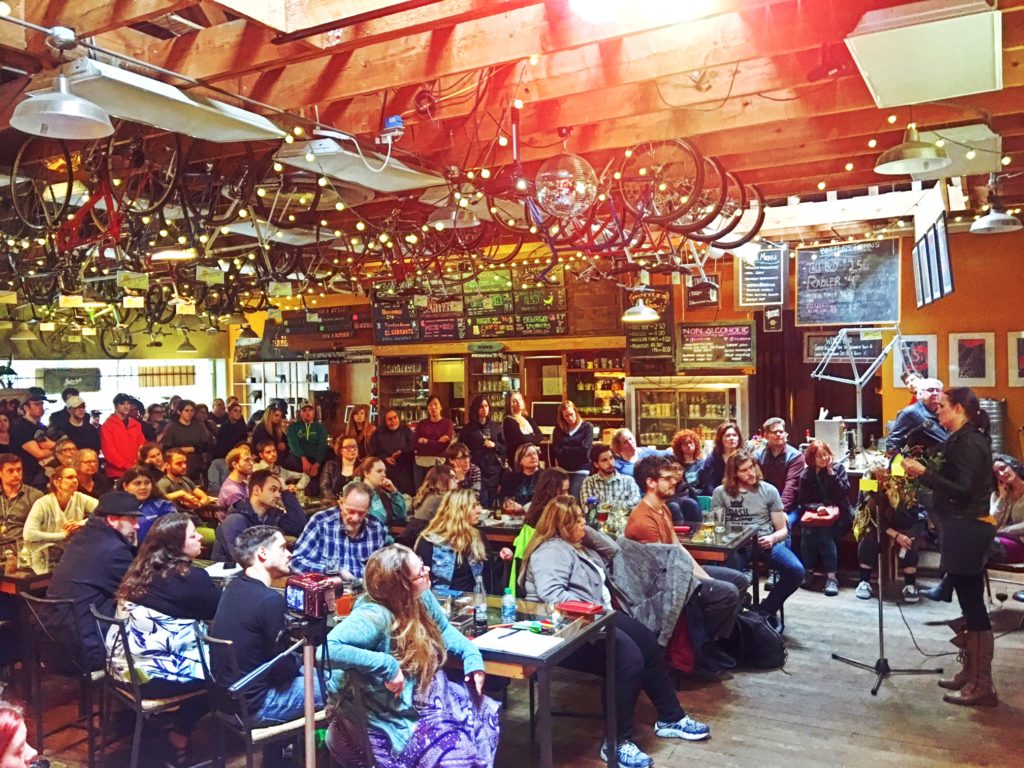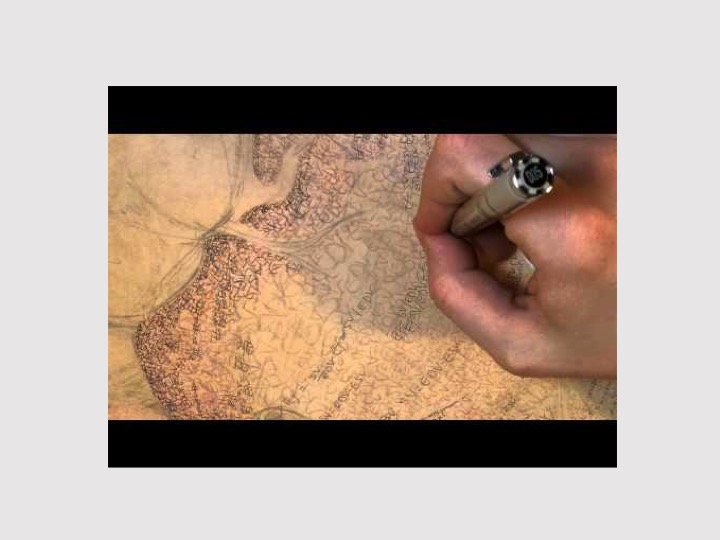 She described additional works, including Touch  –  drawn entirely with the formula for oxytocin, a chemical involved in social bonding, and trust, pleasure and empathy…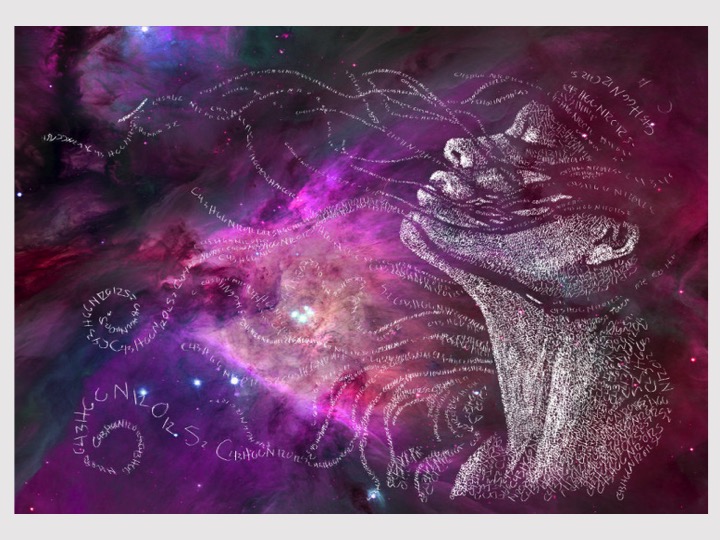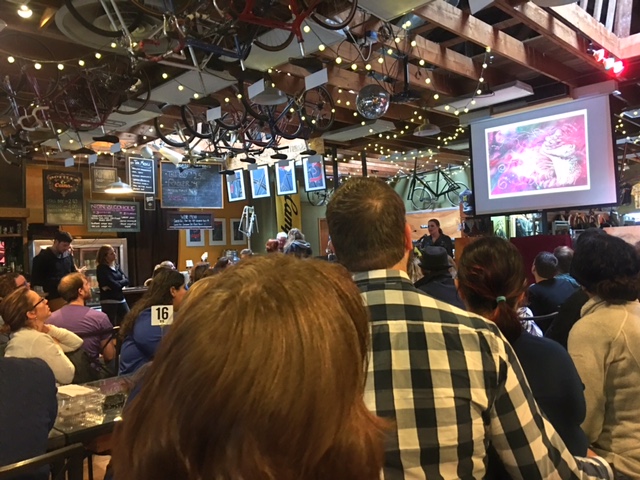 LEARN MORE about oxytocin:  Neurophilosophy @ the Newmark
LEARN MORE about touch:  Touched in the head
A crowd (and personal!) favorite was Sienna's "Corvus Callosum," a rich image referencing both the genus for crows (corvus) and the thick band of axons linking cortex in the left and right hemispheres of the brain (the corpus callosum).  Crows and ravens are clever, as are primates like ourselves, and Sienna's bird perches on a walnut requiring some complex problem solving to crack!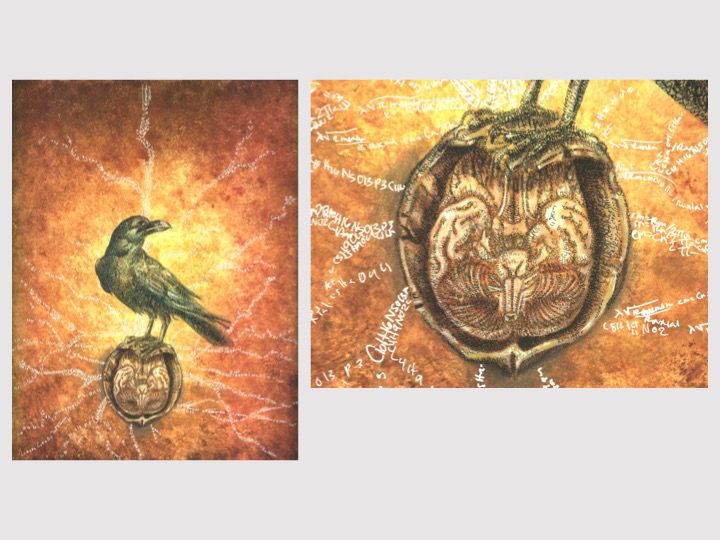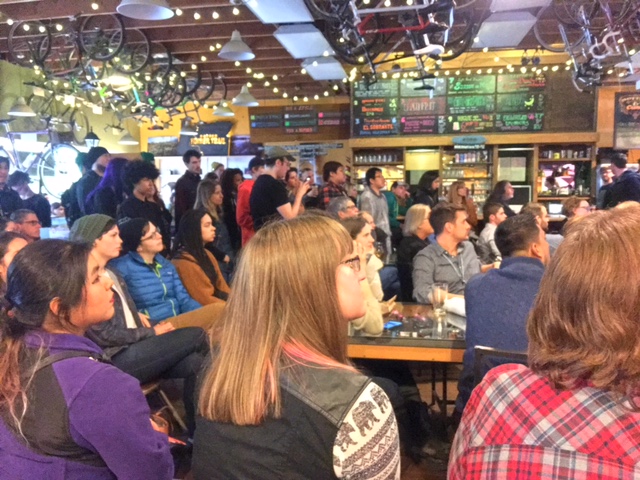 LEARN MORE:  Meet the Bird Brainiacs: American Crow
And "bird brain" should be a compliment!  New research suggests a far greater density and lightness of neurons in the brains of tool using, communicative corvids (and also songbirds, and parrots) when compared with primates, who don't need to overcome gravity and fly…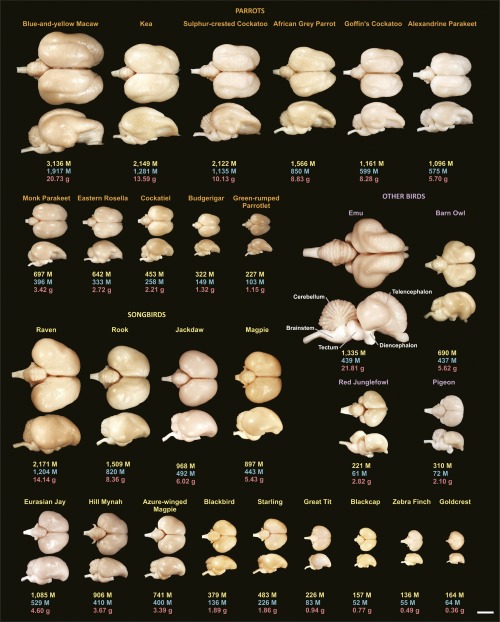 LEARN MORE:  Birds have primate-like numbers of neurons in the forebrain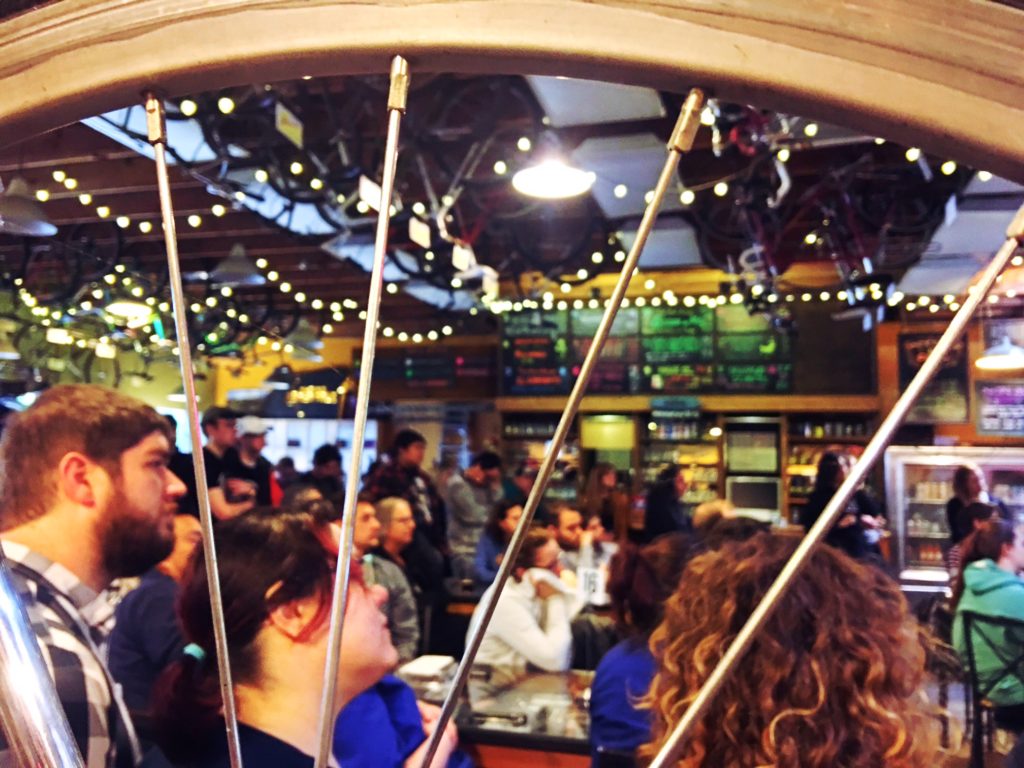 "That's my nerdy art!" exclaimed Sienna, to audience applause… 🙂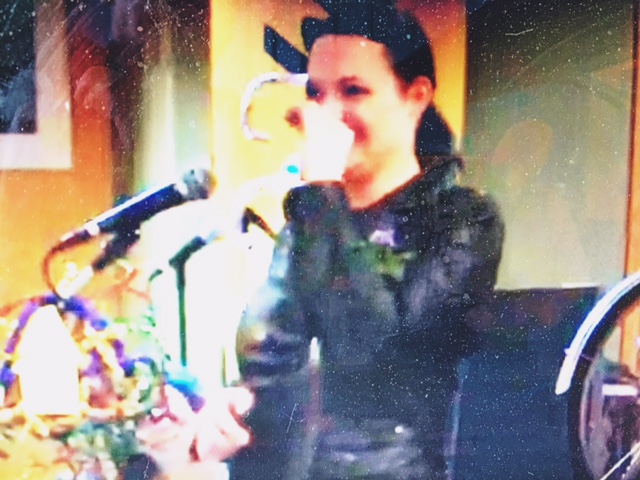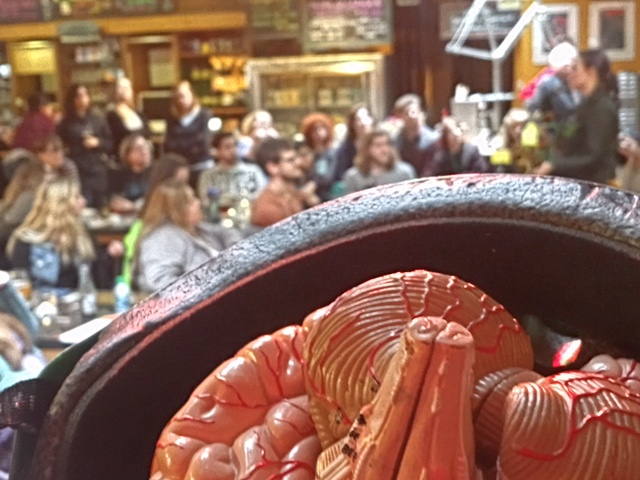 Brittany then took the microphone, and explained that she studies "attention, emotion, and the interaction between the two" at OHSU.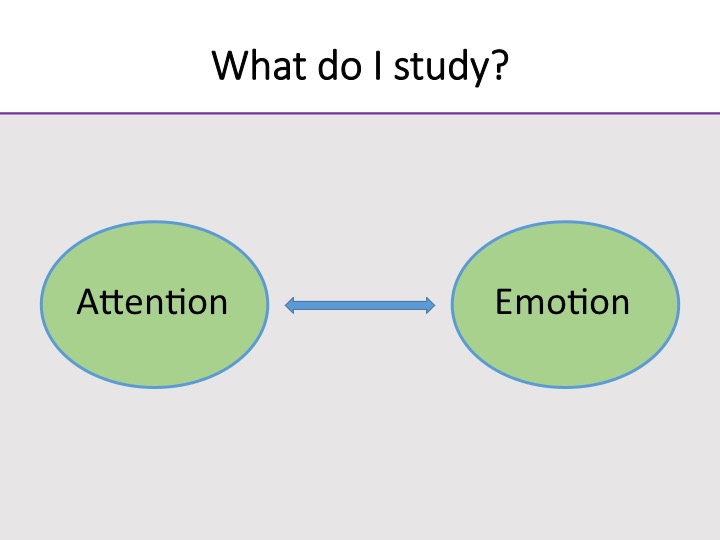 She noted the dramatic variability in her adolescent subjects who are diagnosed with Attention Deficit Hyperactivity Disorder (ADHD), some of whom have difficulty regulating negative emotions (and exhibit tantrums and irritability) while others get happy and excited to the extreme.  The former are more likely to develop depression, which also presents symptomatically in diverse ways…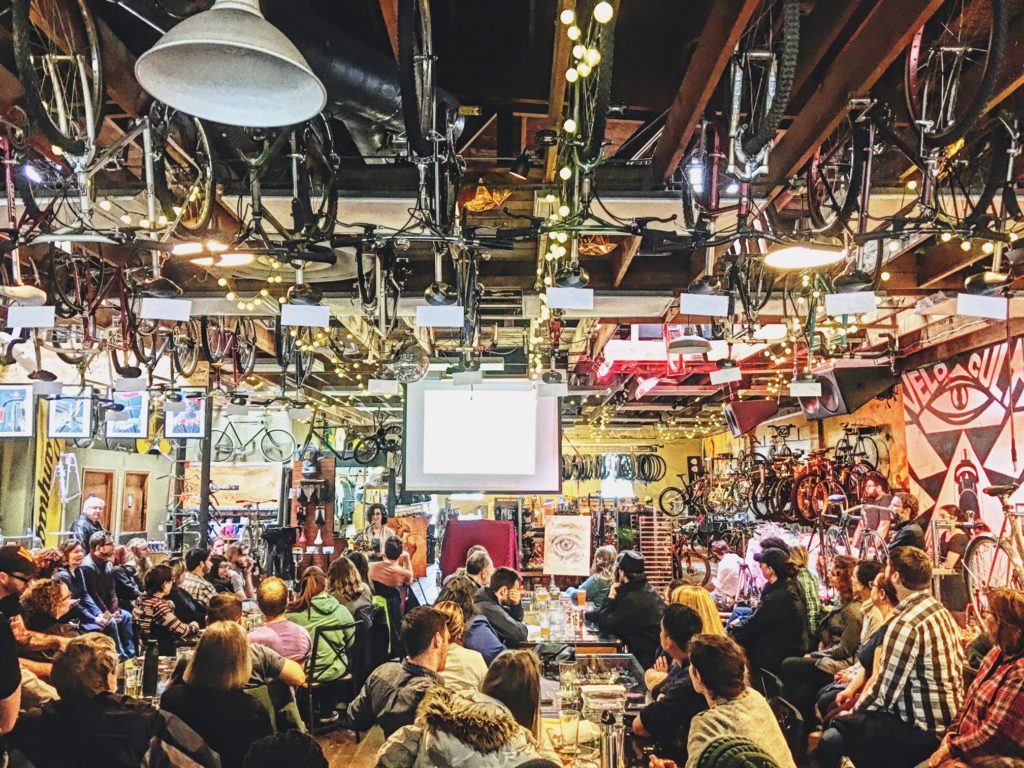 LEARN MORE:  Subtyping attention-deficit/hyperactivity disorder using temperament dimensions: toward biologically based nosologic criteria
LEARN MORE:  Major Depression with ADHD in Children and Adolescents
This variability in terms of patient symptoms and experiences is challenging, and makes mental health care difficult.  It's also a tremendous focus of current neuroscience research, including efforts to identify the underlying physiological causes of variable presentations of conditions now classified by descriptive criteria in the Diagnostic and Statistical Manual of Disorders (DSM V)…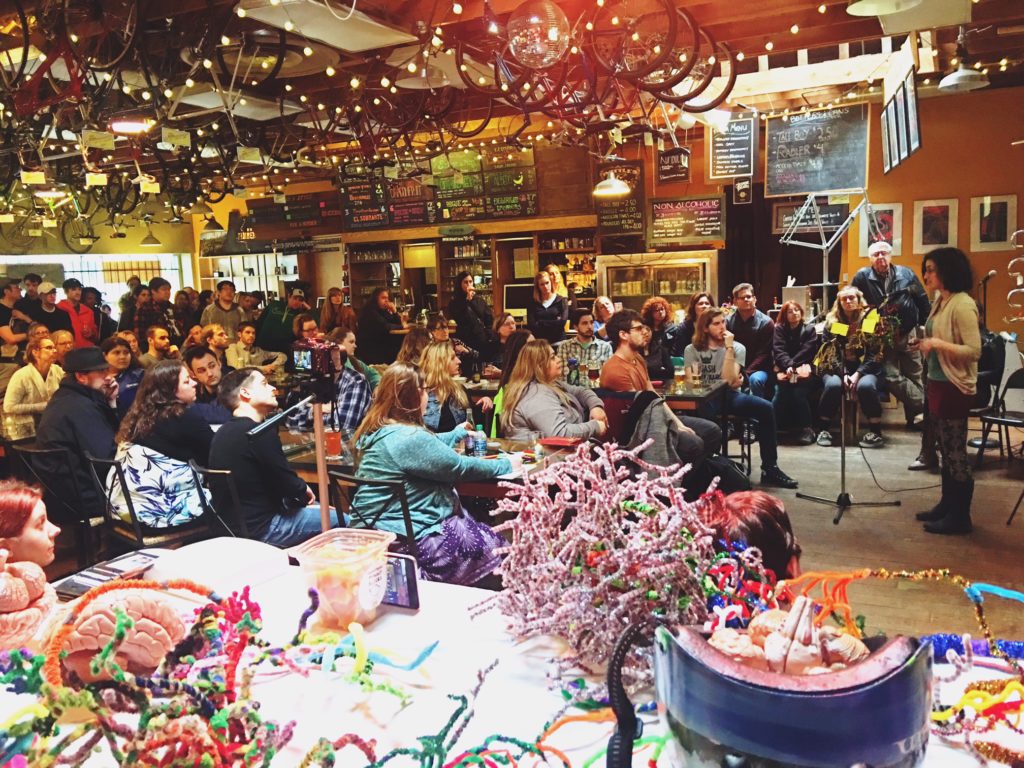 Studying only psychological symptoms and behaviors, without examining the underlying biology, is clearly not the best or most effective approach for understanding these complex human disorders, or for developing treatment options that work…
LEARN MORE:  NIH rethinks psychiatry trials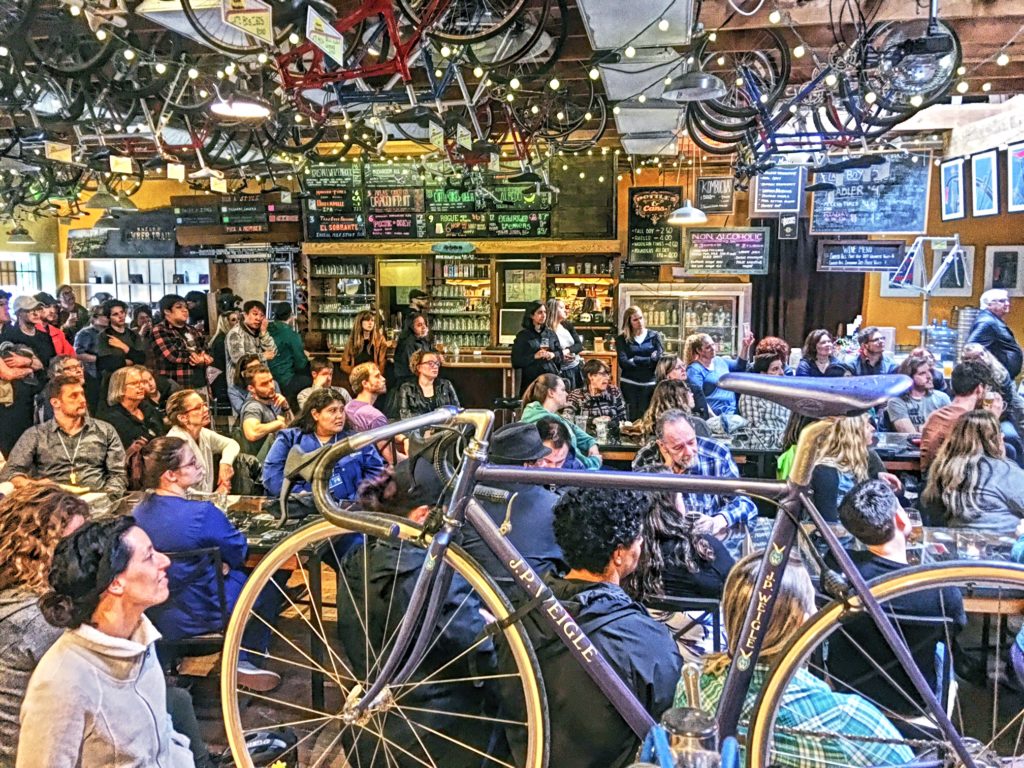 Brittany is particularly interested in the common experience of mind wandering, or "what your mind is doing when it's not paying attention to the thing in front of you."  Mind wandering, suggested Brittany, can be benign, and also very beneficial, as it allows us to imagine, consider and create…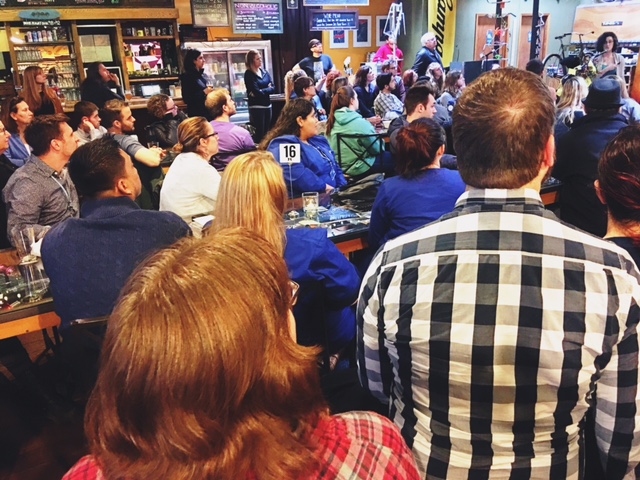 However, both ADHD and depression are characterized by excessive mind wandering, although each disorder has a different focus.  In ADHD, said Brittany, it manifests as "external distraction:  there's a bike over there, I wonder what that bike is like to ride, oh those lights are really bright, oh look someone just walked in the door!"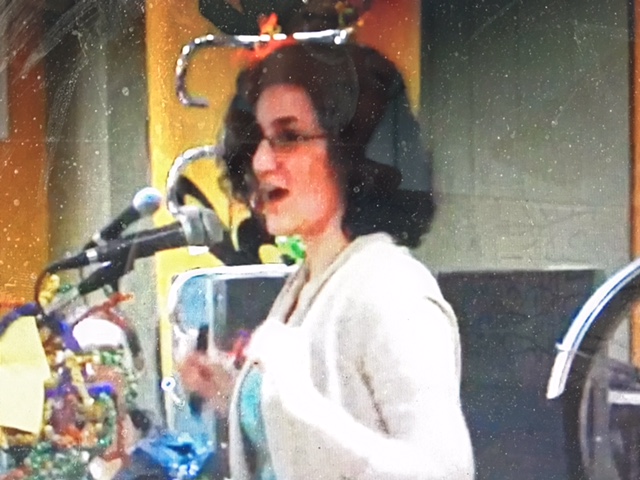 These individuals aren't just thinking about one thing, but are considering many things, "bikes and lights and doors and sounds," in quick succession.  It's an inability to stay present…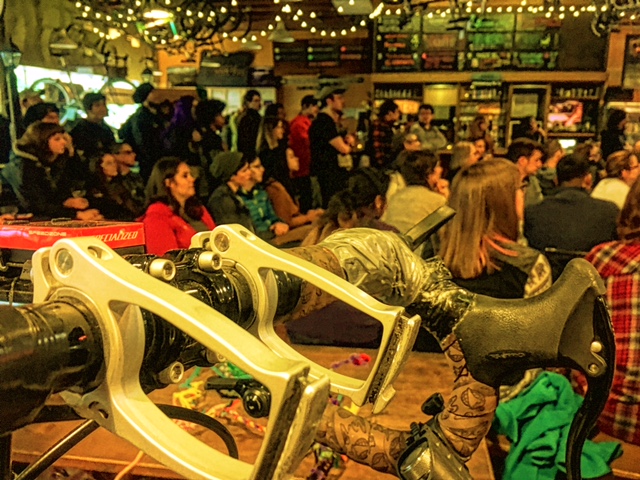 "But if you think about someone with depression," continued Brittany, "you think of internal thoughts." There is also an obsessive focus on one thing, or one event, with a negative interpretation. Both disorders involve excessive mind wandering, "but look very different."  Brittany explained that she's interested in these aspects that differ  –  external versus internal, variable versus constrained  –  and wants to explore how they relate to the impairments seen in both depression and ADHD…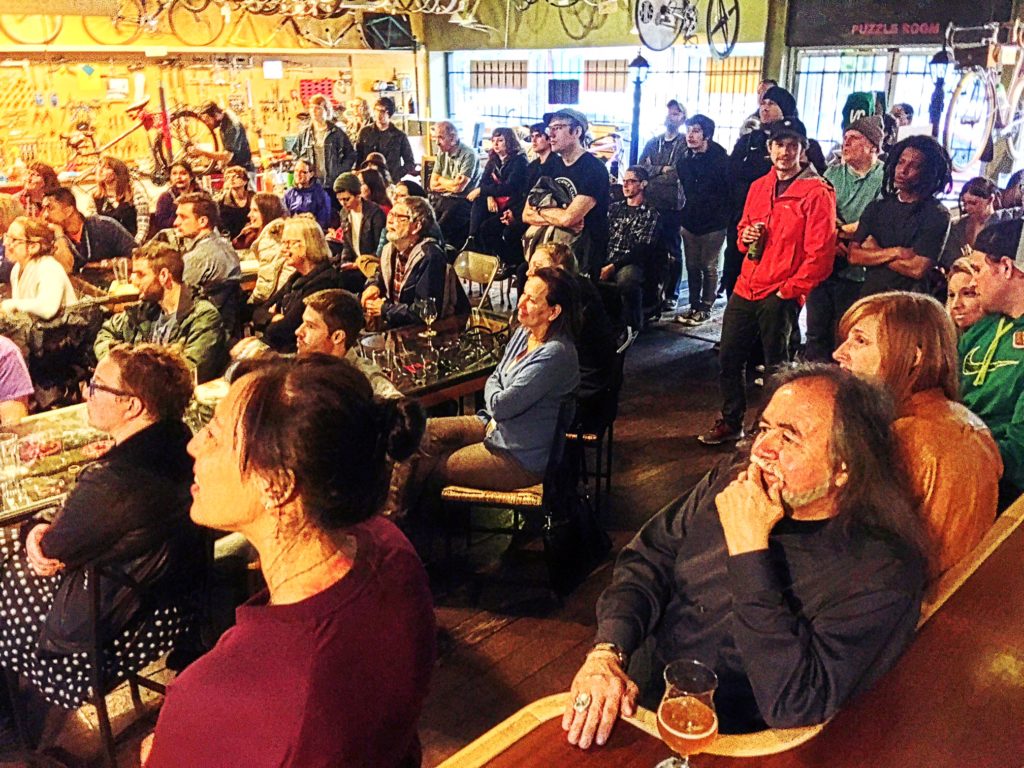 In her graduate studies at OHSU, Brittany examines the electrical activity of her subjects' cerebrums, using a technique known as electroencephalography, or EEG…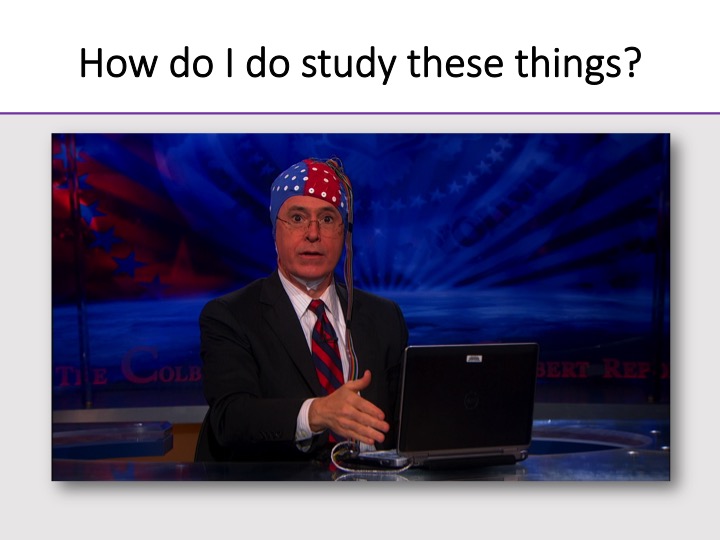 She offered us a concise summary of EEG, which measures the aggregate electrical activity (many, many "post-synaptic potentials") of lined up neurons known as pyramidal cells in selective areas of the neocortex found at the wrinkled surface of our brains…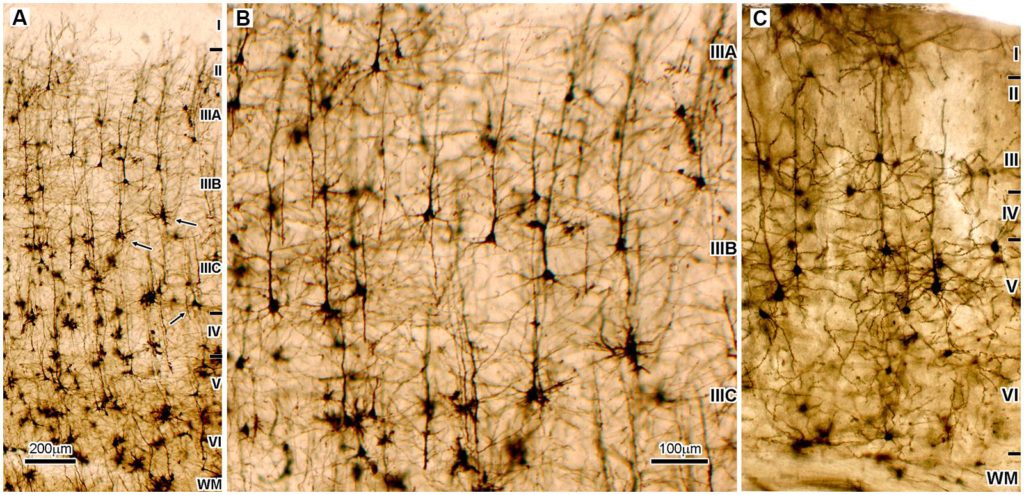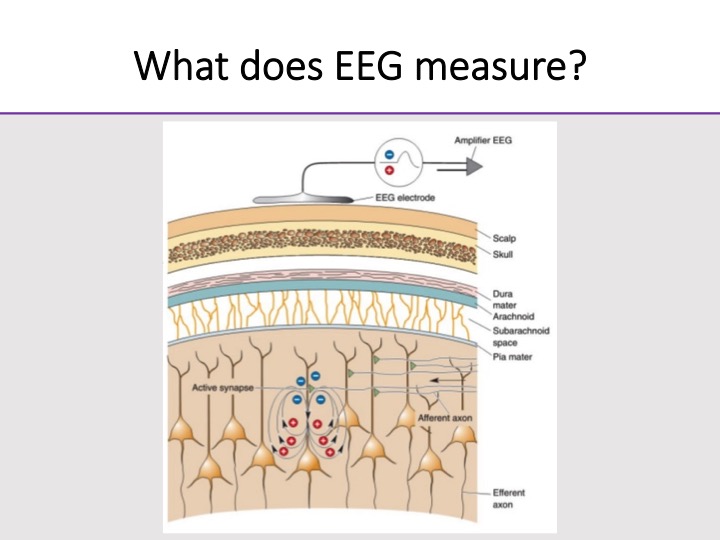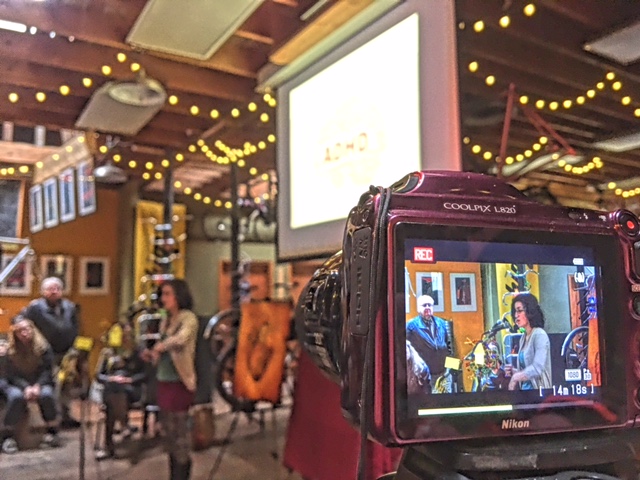 LEARN MORE:  Electroencephalography (EEG)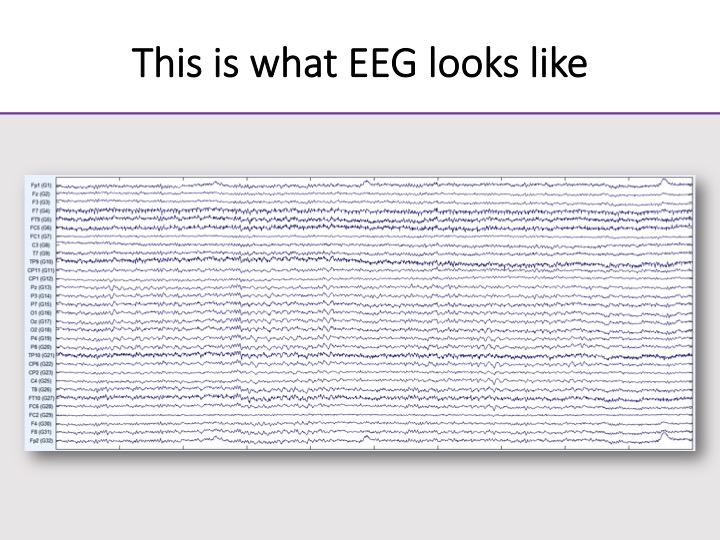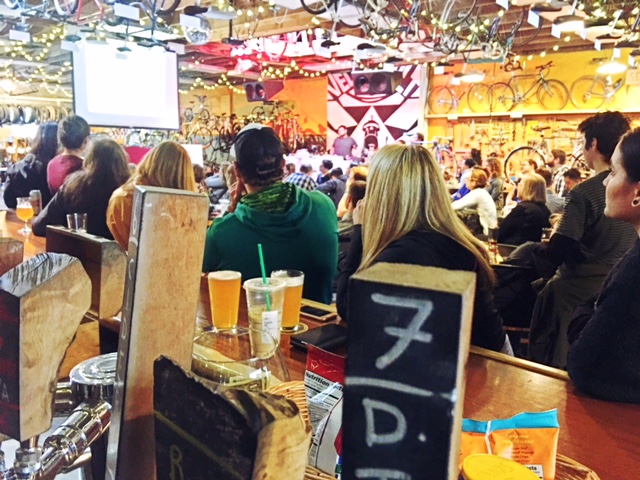 Brittany noted that there is plenty of complex information in these recorded tracings of brain activity, but she was going to focus her talk on the different frequencies embedded in the EEG…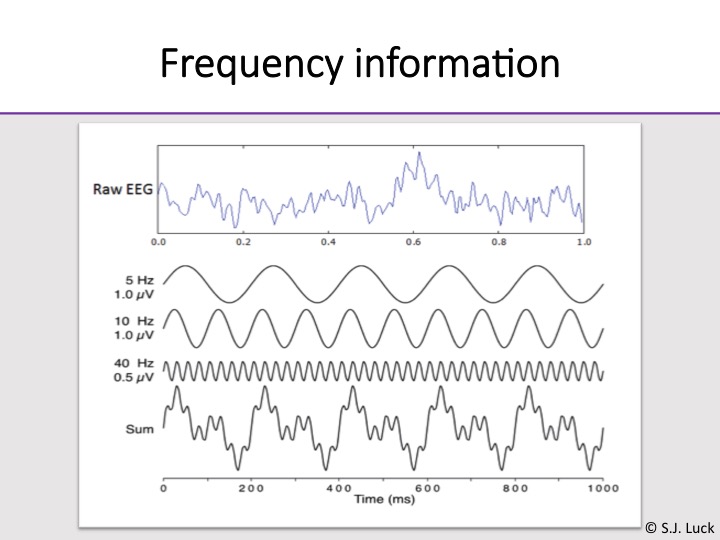 Raw EEG looks like "squiggles," but it represents clusters of thousands of neurons firing together at different rates.  These different frequencies add up, and create that raw signal we get from electrodes placed on the scalp.  The question Brittany asked is:  how much of each frequency are we seeing..?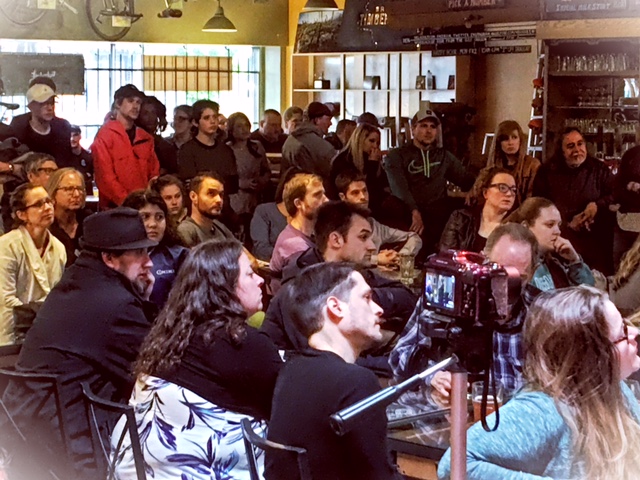 EEG frequencies range from slow delta (1-4 Hz) and theta (4-8 Hz) activity, characteristic of deep sleep, to the higher frequency alpha (8-13 Hz), beta (13-30 Hz) and gamma (> 30 Hz) commonly detected when we're awake…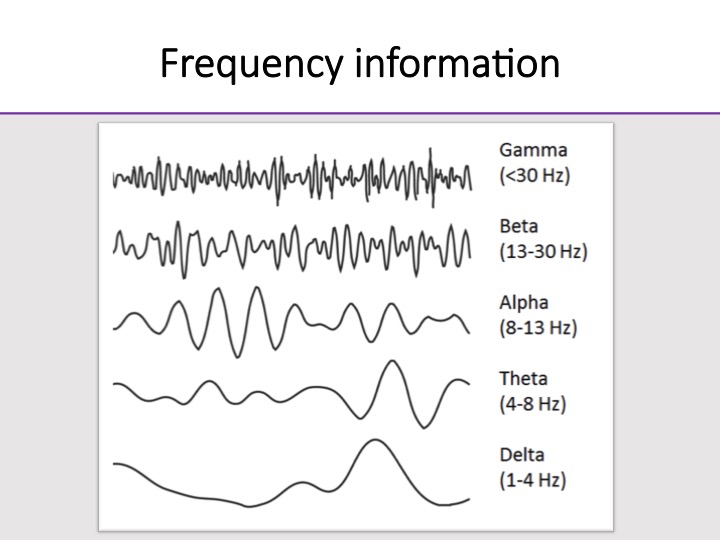 "Frequencies represent different functional states," said Brittany.  "They might represent attention, sleepiness, or emotion;  we can tell different things about a brain by looking at different frequencies." However the relationship is complicated, as it depends on multiple factors, including what the person is doing, and which electrodes you're analyzing for frequencies…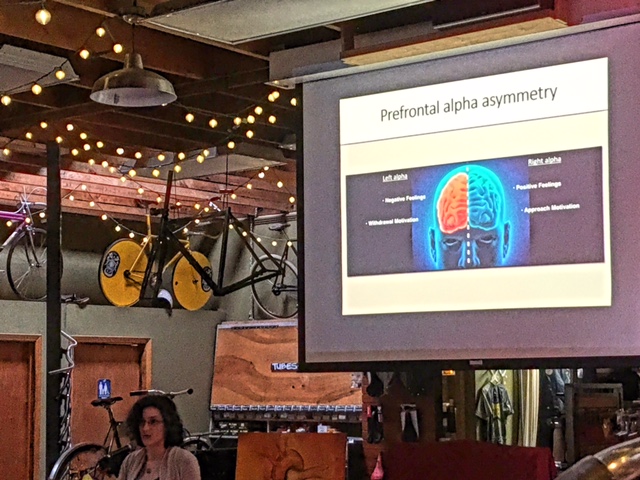 Yet people experiencing depression show more alpha activity in their left frontal lobes when compared to right frontal lobe activity, while those without depression show the opposite pattern!  This hemispheric "alpha asymmetry" is perhaps one neurophysiological way to evaluate someone's mental state, and index changes reflecting improvement after effective intervention…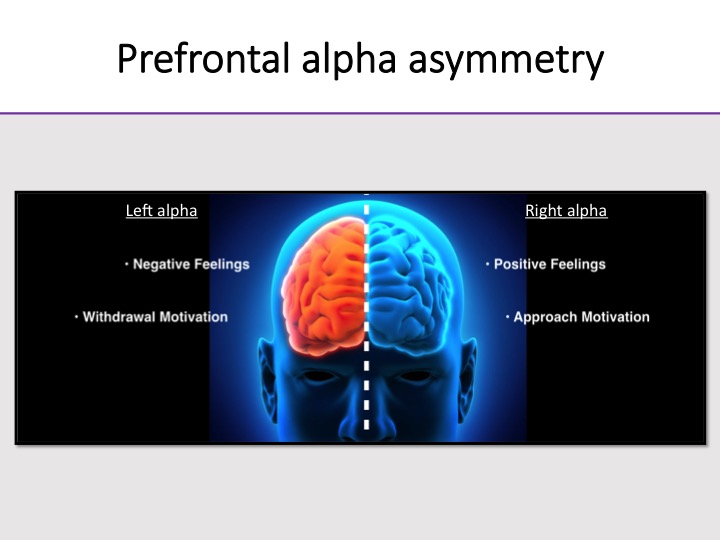 So again, a left alpha asymmetry is linked to negative feelings and assessments, and withdrawal from activity, while a right alpha asymmetry correlates with positive interpretations of social situations, and a drive to approach and engage…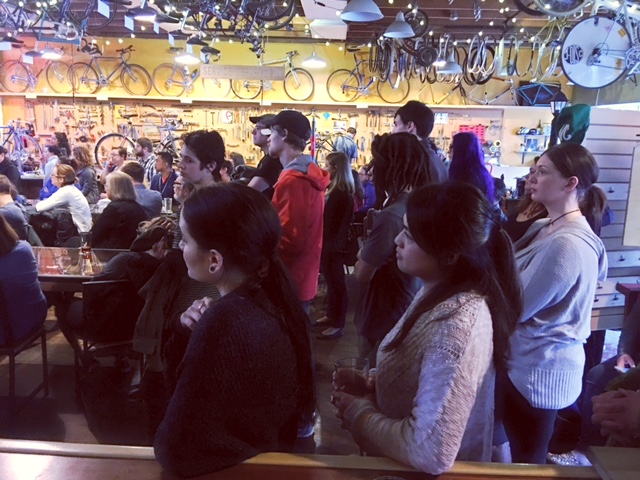 Everyone fluctuates in terms of negative versus positive assessments, and avoidance and approach, depending on what's happening in our lives, but there are "typical baselines," suggested Brittany, and "we can see extremes in different populations."  Higher left asymmetry is associated with depression, while too much right asymmetry can often be seen in those with ADHD…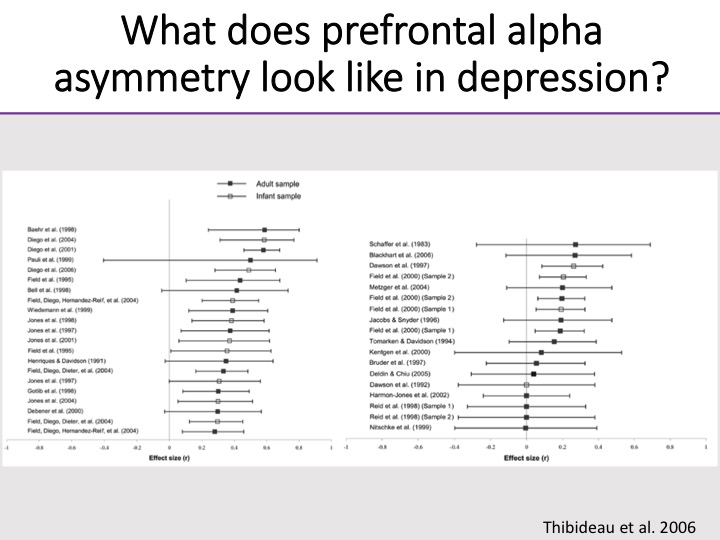 LEARN MORE:  Frontal EEG Asymmetry as a Promising Marker of Depression Vulnerability

"And when they all were seated,
A service like a drum
Kept beating, beating, till I thought
My mind was going numb."
-Emily Dickinson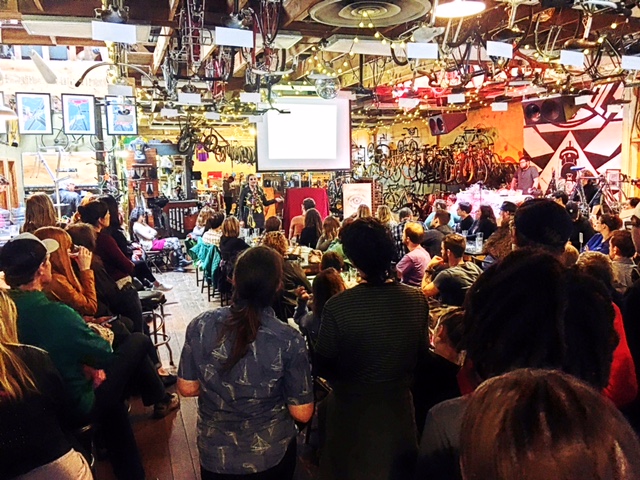 Sienna then took the stage to describe her own descents into depression.  "I have depression and anxiety," she began.  Sienna also addressed some common myths about this highly variable disorder, cautioning that her description was hers alone, and not meant to reflect anyone else's experience…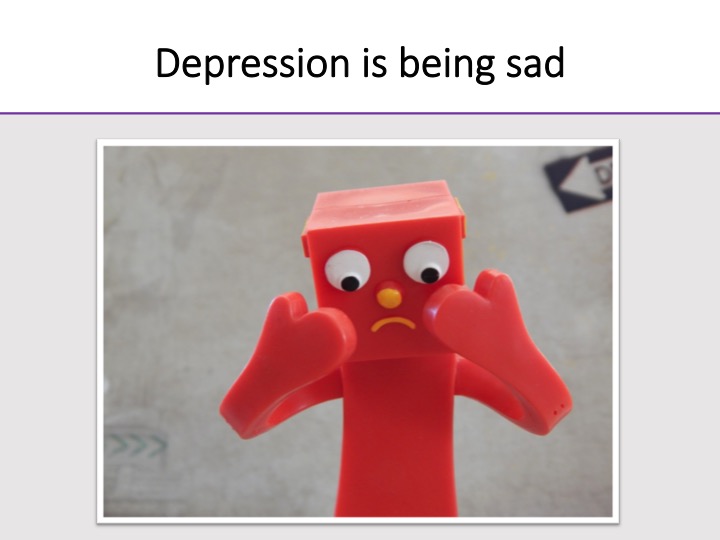 For one thing, depression is not "just sadness."  Depression takes you well beyond feeling melancholy, or down, and often involves physical symptoms like fatigue and pain, difficulty sleeping and concentrating, and a profound sense of indifference, anxiety, irritability, worthlessness, hopelessness and guilt.
LEARN MORE:  National Institute of Mental Health (NIMH) on Depression
LEARN MORE:  Mental Health Myths and Facts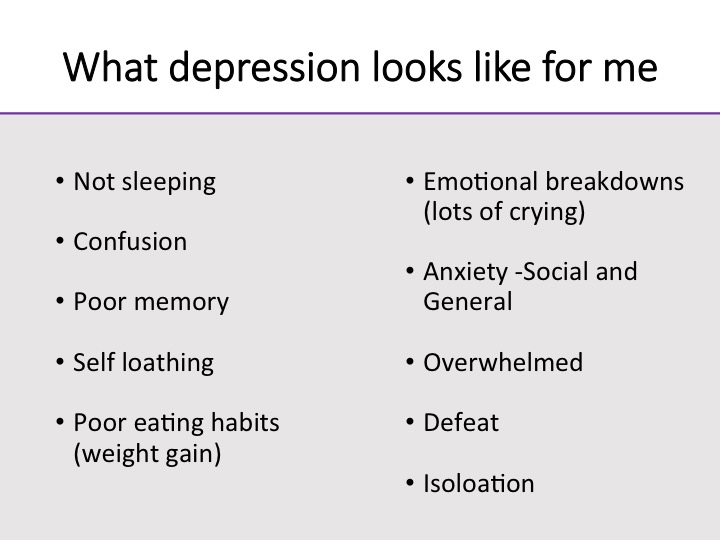 Sienna movingly depicted a long and painful episode during 2015, which she got through with support of family and friends, and because of her "bootstrap mentality."  "Basically it amounted to:  I woke up that day.  And I just kept waking up each day.  And that's how I got through 2015."  But her experience worsened in 2016, following a divorce.  "I would go days to weeks without sleeping more than three hours a night," she said.  She was also confused, had trouble concentrating, and would read the same paragraph over and over without understanding, which made her feel stupid, and worthless, and added to her sense of self-loathing.  "Bootstrapping" wasn't enough.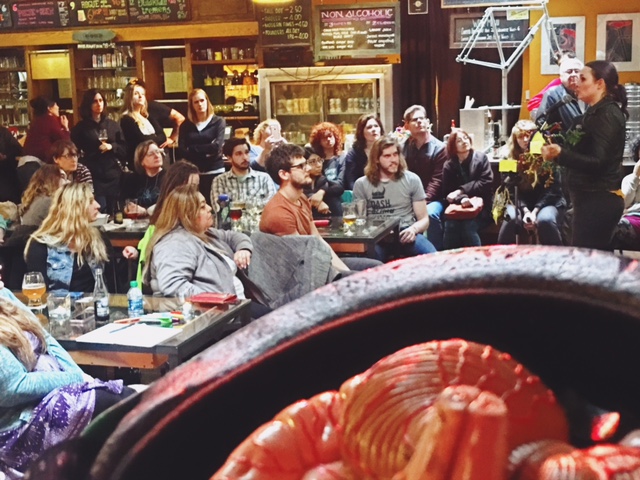 There are significant reasons why those with depression can't easily address their health issues without assistance.  Lack of sleep contributes to chronic stress, confusion, and an inability to make appropriate decisions, or solve problems.  Depressed individuals are often terrific actors, with "really good face," said Sienna:  "I could be in a really vulnerable place, and you'd have no idea."  And while depression is not always obvious to others, those suffering may isolate themselves even further, because they don't feel they have any "right" to be depressed in the first place!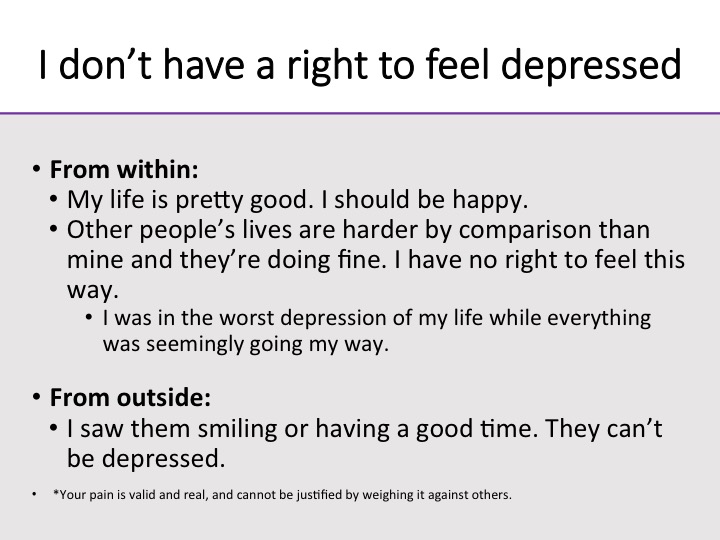 However, those with depression are not weak.  In fact, our friends and family suffering depression are often heroically managing stresses and symptoms that might lay many others low.  "People with depression deal with the same things everyone else deals with in life, while fighting for their lives," Sienna declared.  She added that, despite her own condition, she is "a badass self-employed artist with impressive guns…" 🙂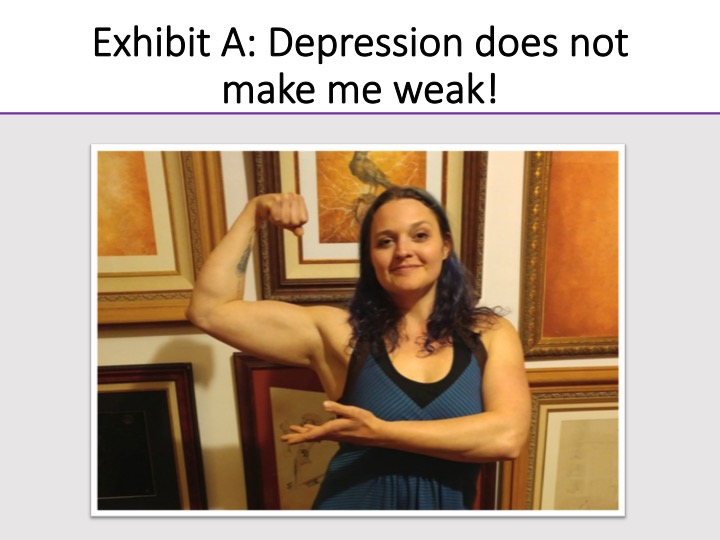 When Brittany and Sienna began collaborating on this Noggin/Velo project, they decided on first acquiring some baseline data on Sienna's frontal alpha activity.  Sienna showed a significant left alpha asymmetry, characteristic of those experiencing depression…
Sienna then embarked on several months of conscious self-care, including daily meditation, yoga, journaling and specifically gratitude journaling  –  writing down 3 – 5 things that she was grateful for every day.  Sienna also went on hikes in Portland's Forest Park, and the Columbia Gorge, and engaged in daily mindfulness practice…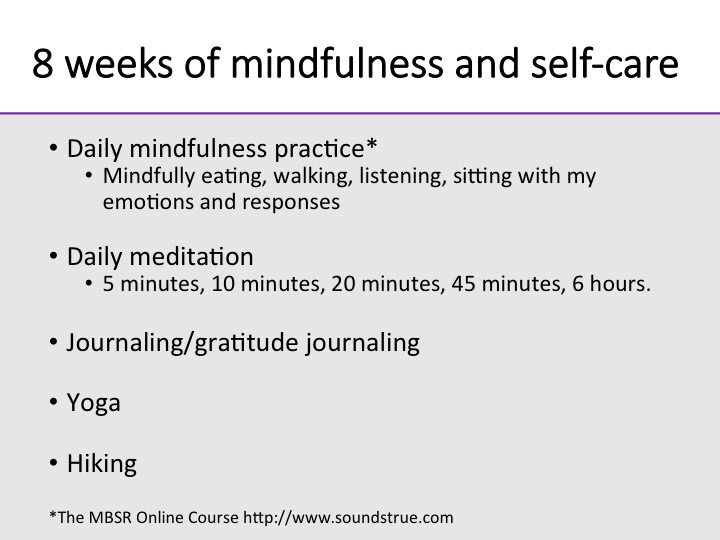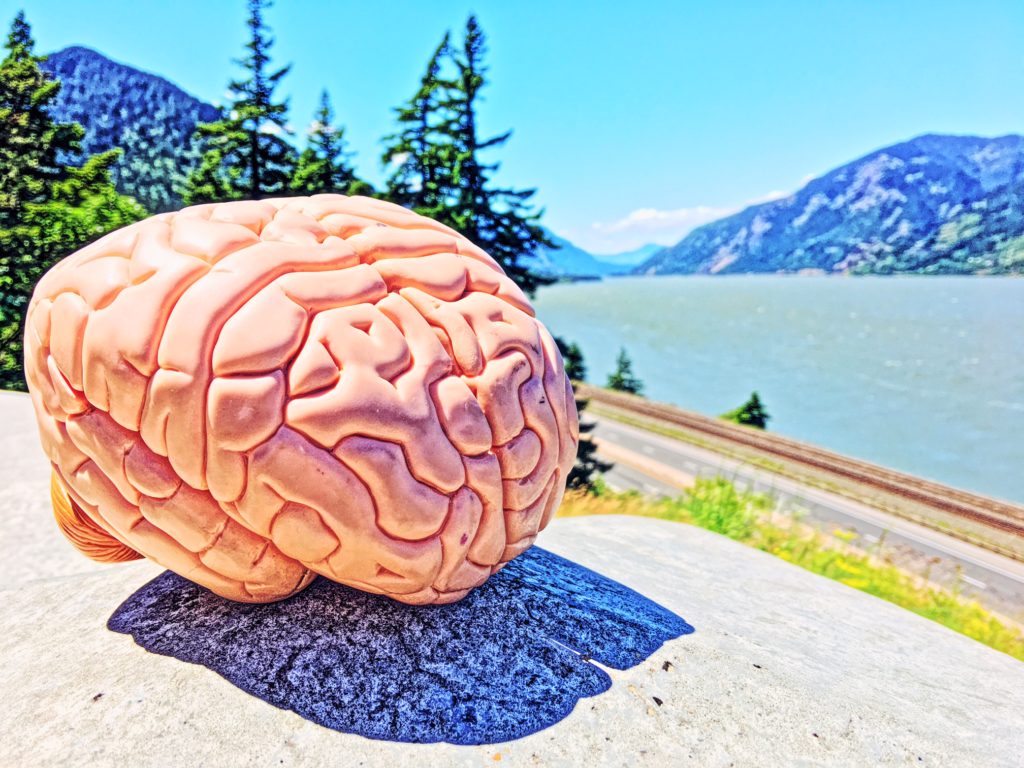 LEARN MORE:  Gratitude and Well Being – The Benefits of Appreciation
LEARN MORE:  The effectiveness of yoga for depression: a critical literature review
LEARN MORE:  Can yoga and breathing really help 'cure' depression?
LEARN MORE:  Nature experience reduces rumination and subgenual prefrontal cortex activation
LEARN MORE:  Mindfulness-Based Stress Reduction (MBSR) online course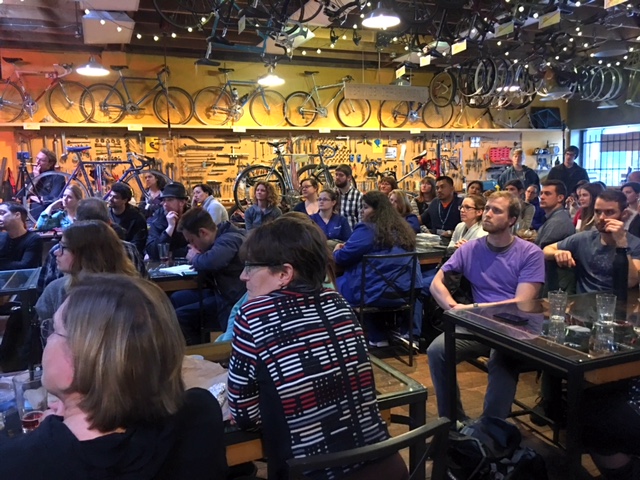 Mindfulness based meditation training has been shown to shift that alpha asymmetry from the left hemisphere dominance seen in those with depression towards a mild right asymmetry associated with improved mental health…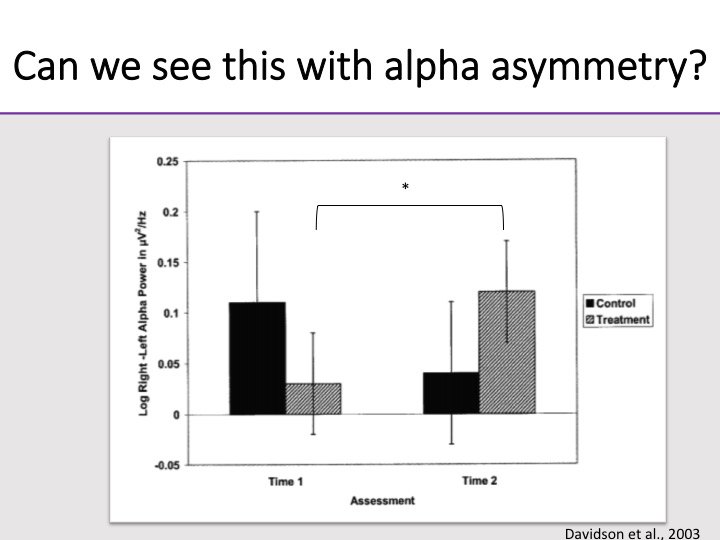 LEARN MORE:  Alterations in brain and immune function produced by mindfulness meditation
Sienna then led our captivated crowd at Velo in a public example of mindfulness.  She asked us to carefully consider our drinks, and each make a deliberate, conscious decision to take another sip…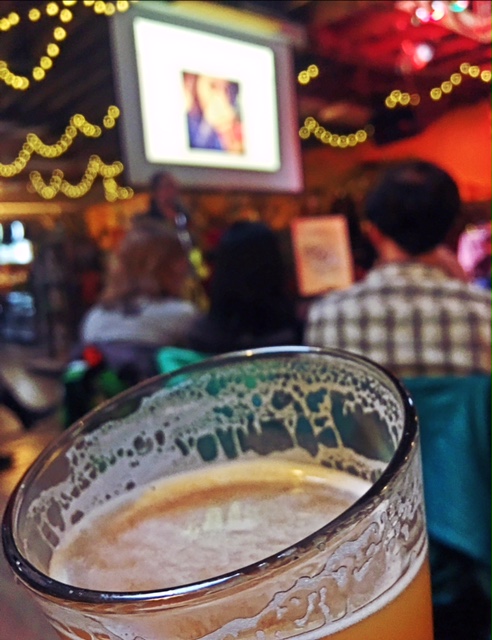 We were instructed to think about what this decision actually felt like before reaching for our glass, and then to feel our arms reaching, and our fingers touching the cool pint, noting any differences in the temperature, or the color of the beer, or the pattern of foam around the rim…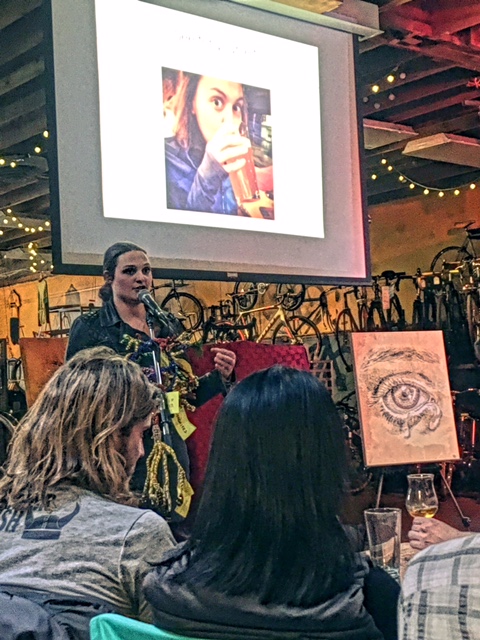 She asked us to smell our drinks, too, "as if you've never smelled one before…"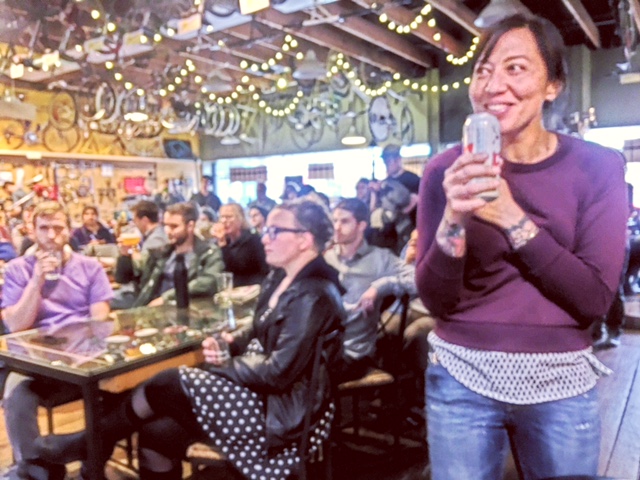 It was a surprisingly powerful experience  –  personally I felt unusually present, and thoroughly enjoyed tasting and sensing complicated tastes and flavors, and decision making and thoughts that accompanied my "mindful" sip of great Northwest beer.  As Sienna explained, "Generally speaking when we're drinking this, it just happens, and we're not there for it.  The beer happened."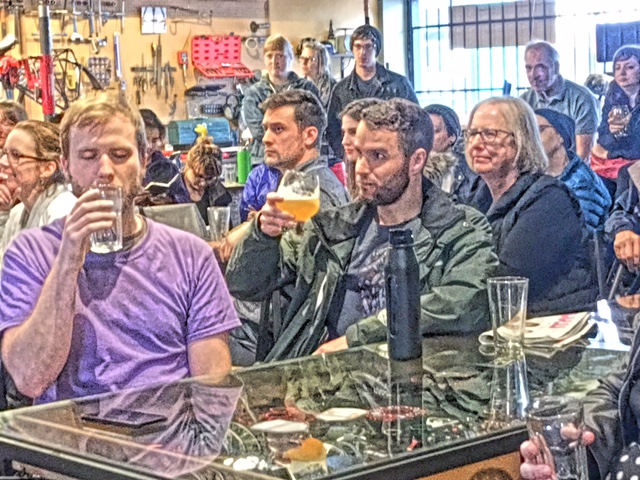 Sienna noted that "you can mindfully talk, you can mindfully walk, and you can mindfully listen to others, and what they have to say. It's all rather simple.  You're really being there for the moment."

"The hard part," she added," is doing that with your feelings…"
So…after several months of dedicated self-care, what was Sienna's experience?  Did her depression resolve?  Were there any changes in her symptoms, or in those waves from her brain..?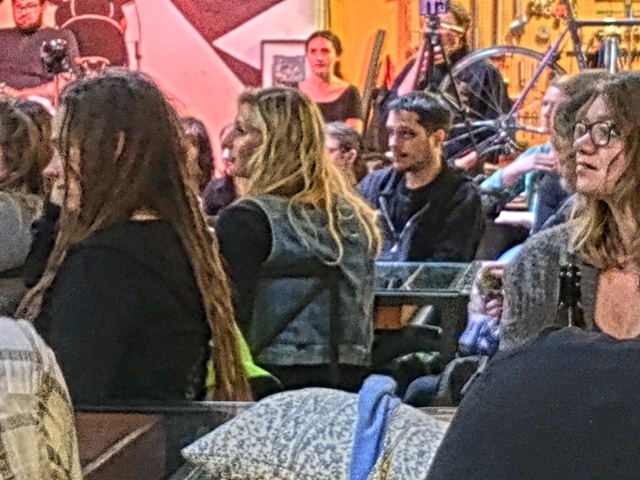 Again, the hardest part was being mindful of feelings, particularly anxiety, and experiencing them manifest in her body, without passing judgment.  "I would feel the tightness in my chest, I would feel my muscles getting tense, I'd get dizzy  –  and I never realized I'd get dizzy when I was anxious  –  I got tunnel vision, I felt my heart race…"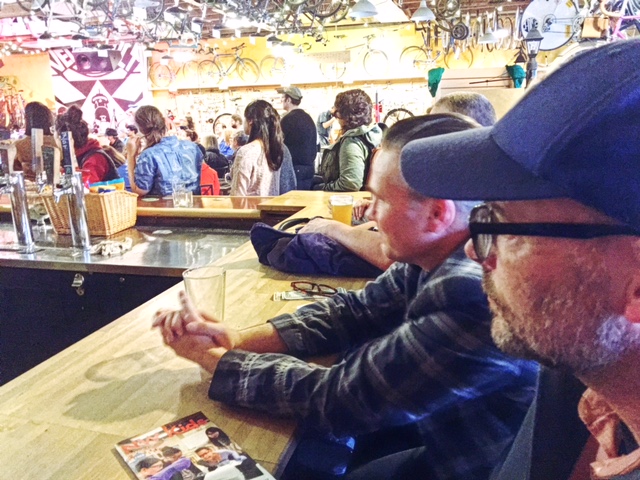 "But the cool thing with mindfulness," Sienna continued, "is you have an ability to observe an emotion, and respond to what's happening, instead of just reacting.  So you can sort of make a choice about how you're going to move forward…"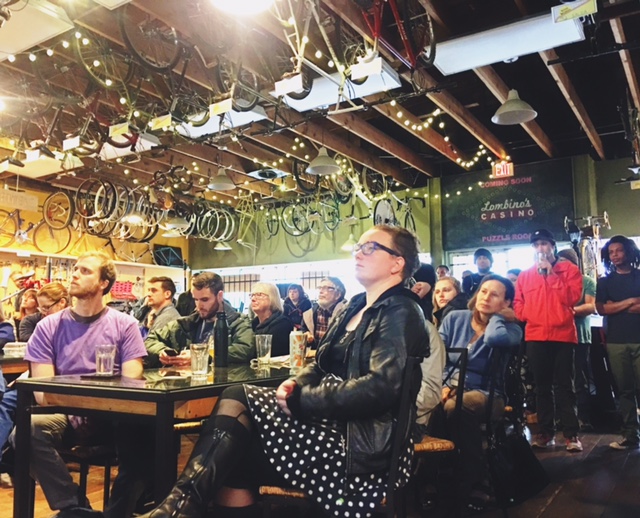 And according to Sienna, it worked!  "It totally happened!  It sounds like magic…"  Sienna does not feel depressed, her memory is better, and her ability to converse with others ("and human"  –  as a verb) improved.  "I am not cured," she stressed, but she's learned to use the tools of self-care to manage her symptoms.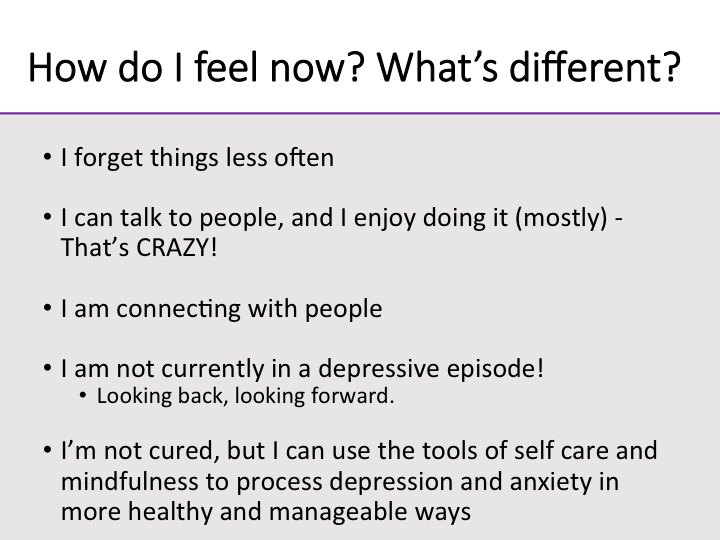 And according to Brittany, Sienna's alpha asymmetry also improved.  Sienna now showed significantly less left hemisphere dominance for alpha activity, characteristic of those without depression…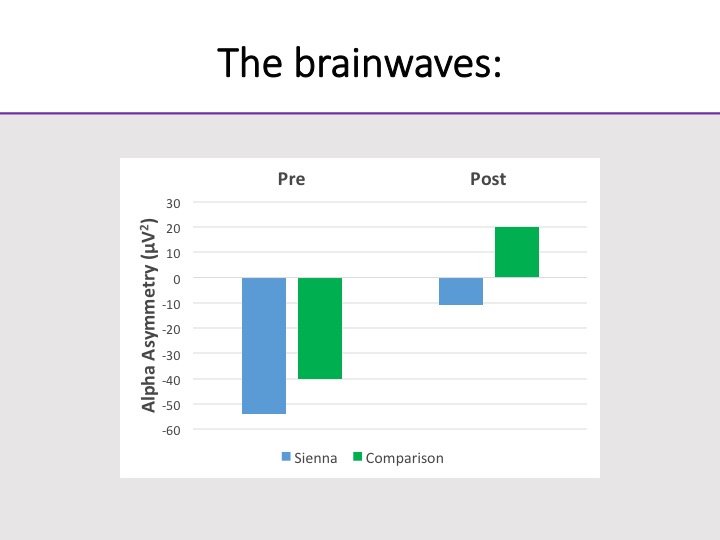 And from this experience, Sienna composed an extraordinarily deep, eloquent, local and beautiful work of Numberism art, combining the peaks and valleys of her own EEG with the chemistry of water from Ponytail Falls in the Columbia River Gorge, one of her favorite spots for hiking over the last few months…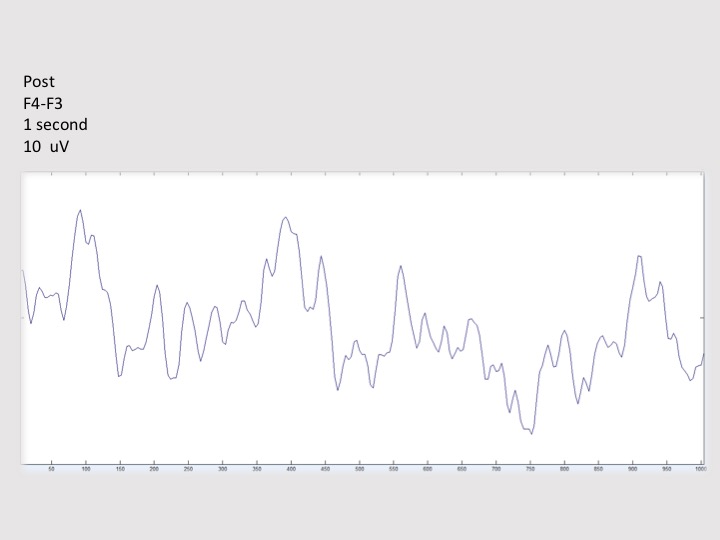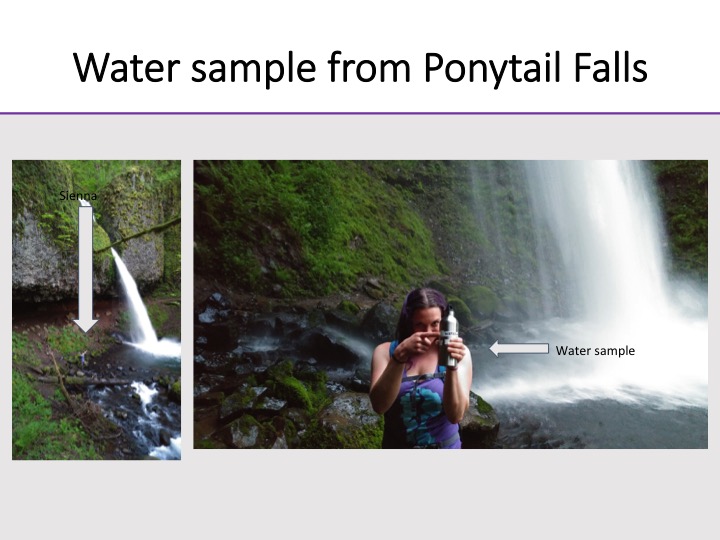 The audience crowded in to see the result…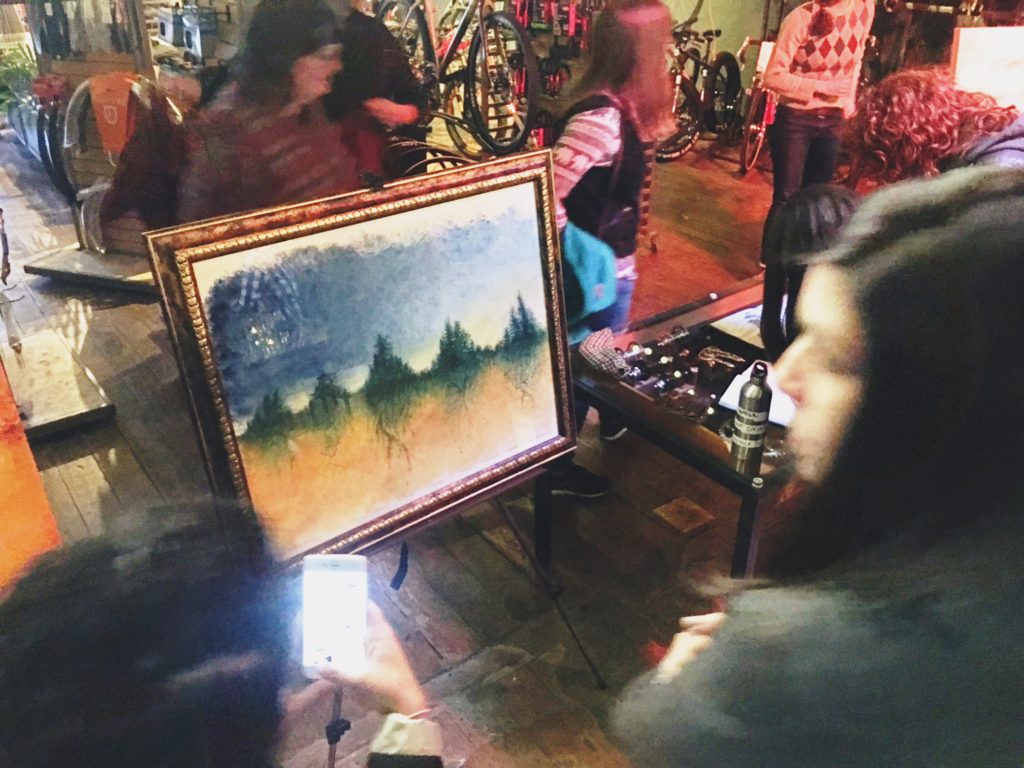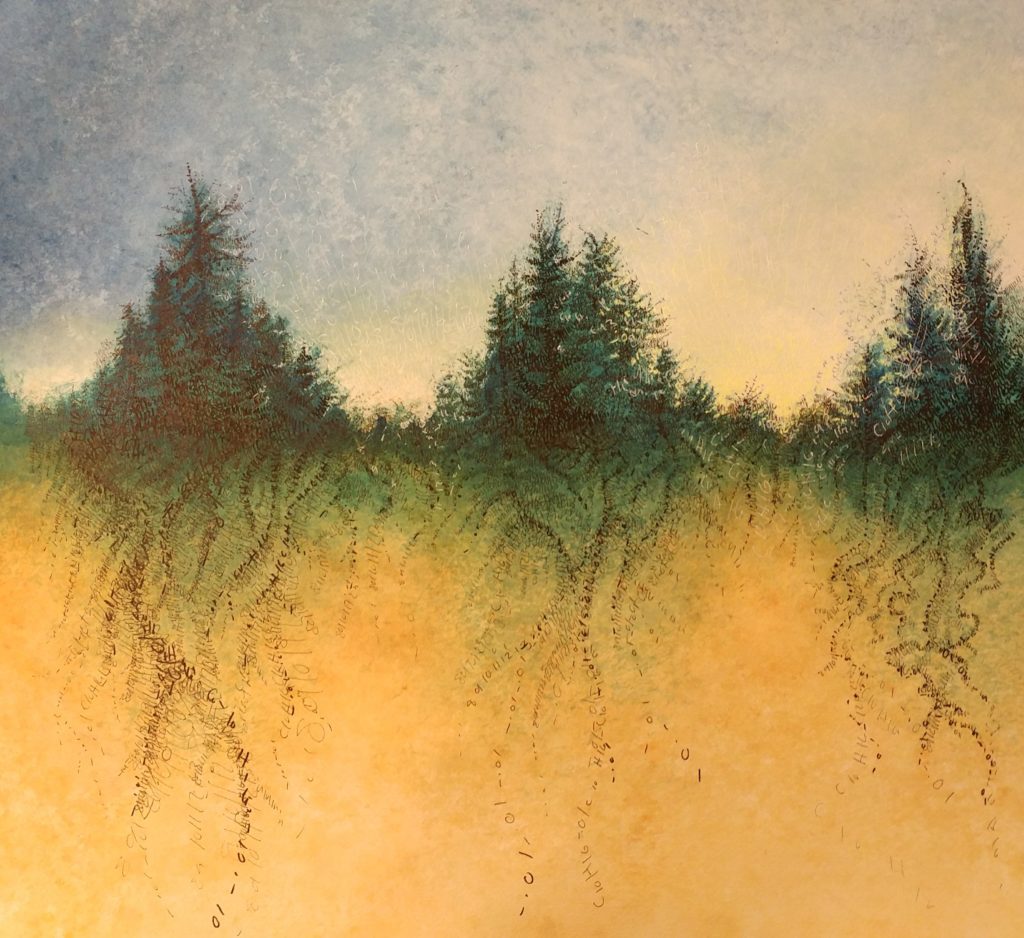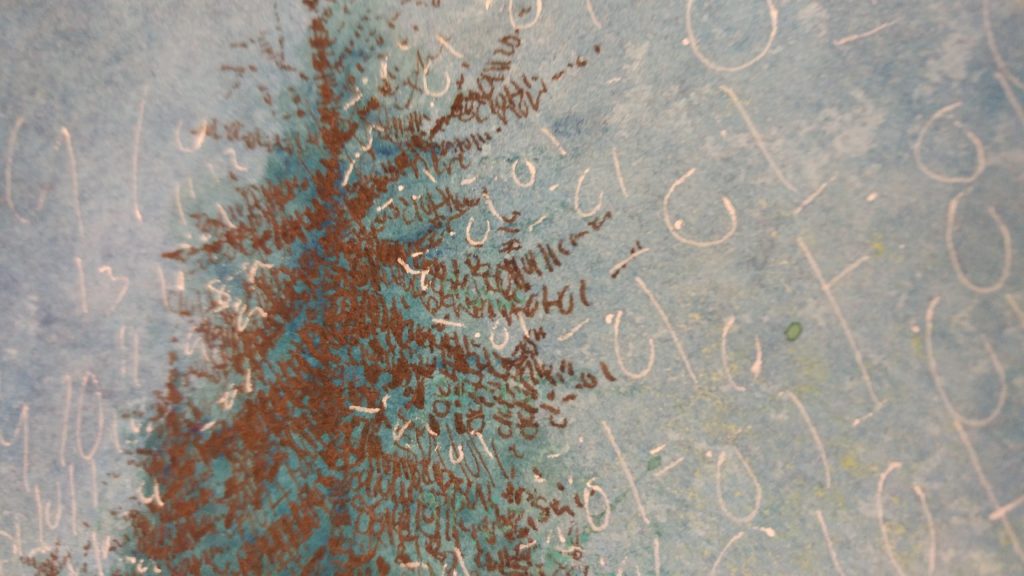 So many young people we talk with in public schools ask us about anxiety, and depression, or they don't ask, and suffer silently in isolation.  Sienna's willingness to embark on this effort to publicly address her symptoms lets people know they are not alone, and that there is hope in what we're learning from neuroscience research.  It helps tremendously to talk openly about the diversity of our own brains, and our own experiences, and to consider the link between caring for ourselves and potentially healthy changes in how our neurons ultimately wire up.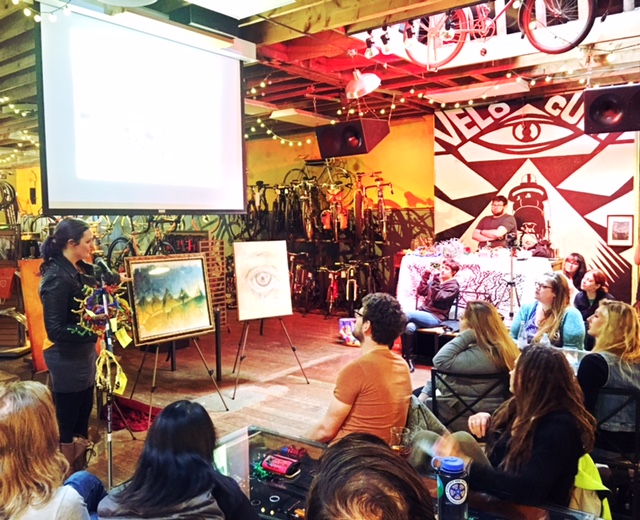 We've also seen posters of actors and other recognizable people who struggle with mental health issues in our local public schools, and know that these campaigns can raise awareness among young people, and in some cases may help save their lives.
"If you're out there and need help, please seek it. Be proud of your valiant day-to-day struggle. There is no shame in needing support."
–Jared Padelecki
"If you know someone who's depressed, please resolve never to ask them why. Depression isn't a straightforward response to a bad situation; depression just is, like the weather.
Try to understand the blackness, lethargy, hopelessness, and loneliness they're going through. Be there for them when they come through the other side. It's hard to be a friend to someone who's depressed, but it is one of the kindest, noblest, and best things you will ever do."
LEARN MORE:  Major Depression Among Adolescents
LEARN MORE:  Public awareness campaigns about depression and suicide: a review
LEARN MORE:  Always Keep Fighting
If you are feeling a similar hopelessness, sleeplessness, guilt, anxiety, stress or self-loathing as described in this post, please know that people care about you, and that we all need each other in order to survive, and thrive.  Your family and friends have your back, but they need to know what you're experiencing, so you can get the support and assistance you both require and deserve.
CONTACT FOR ASSISTANCE:  Oregon Suicide Hotlines
CONTACT FOR ASSISTANCE:  Mental Health Crisis Intervention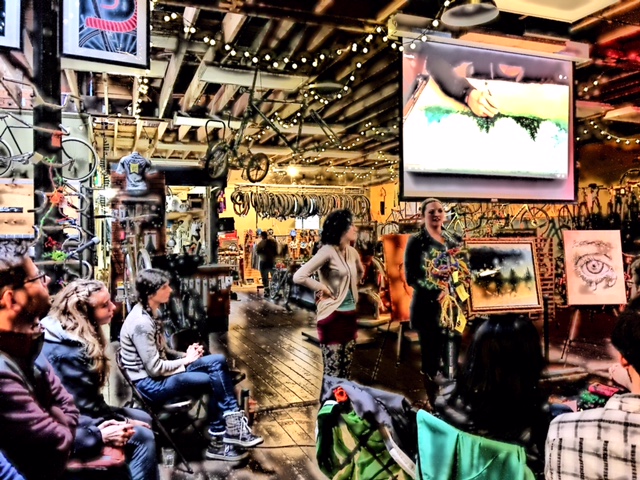 Many, many thanks to Sienna and Brittany, and to Velo Cult for welcoming us once again…