Our noggins are no strangers to sunrise, as teenagers are often expected to appear for classes that begin at 8:00am or earlier, despite research evidence suggesting brain benefits from a later start to school…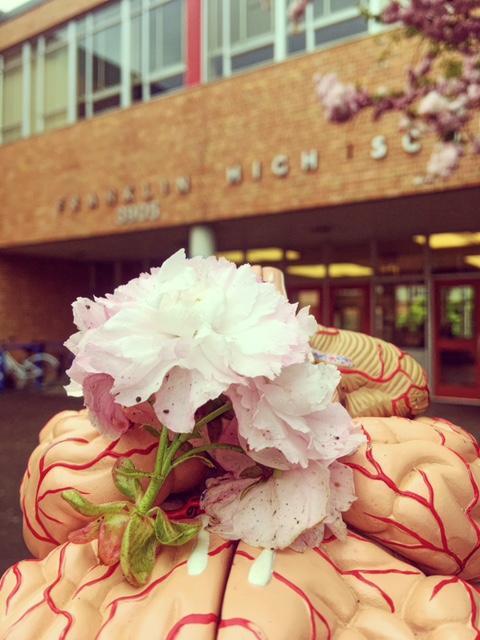 LEARN MORE:  Sleep in Adolescents: The Perfect Storm
LEARN MORE:  Noggins in Nod: The science of sleep
Yet we had no trouble rising for our morning at Portland's Franklin High, and the sleepy 9th graders who slowly arrived at Karen Polis's Psychology classroom quickly roused when they discovered what we had in mind..!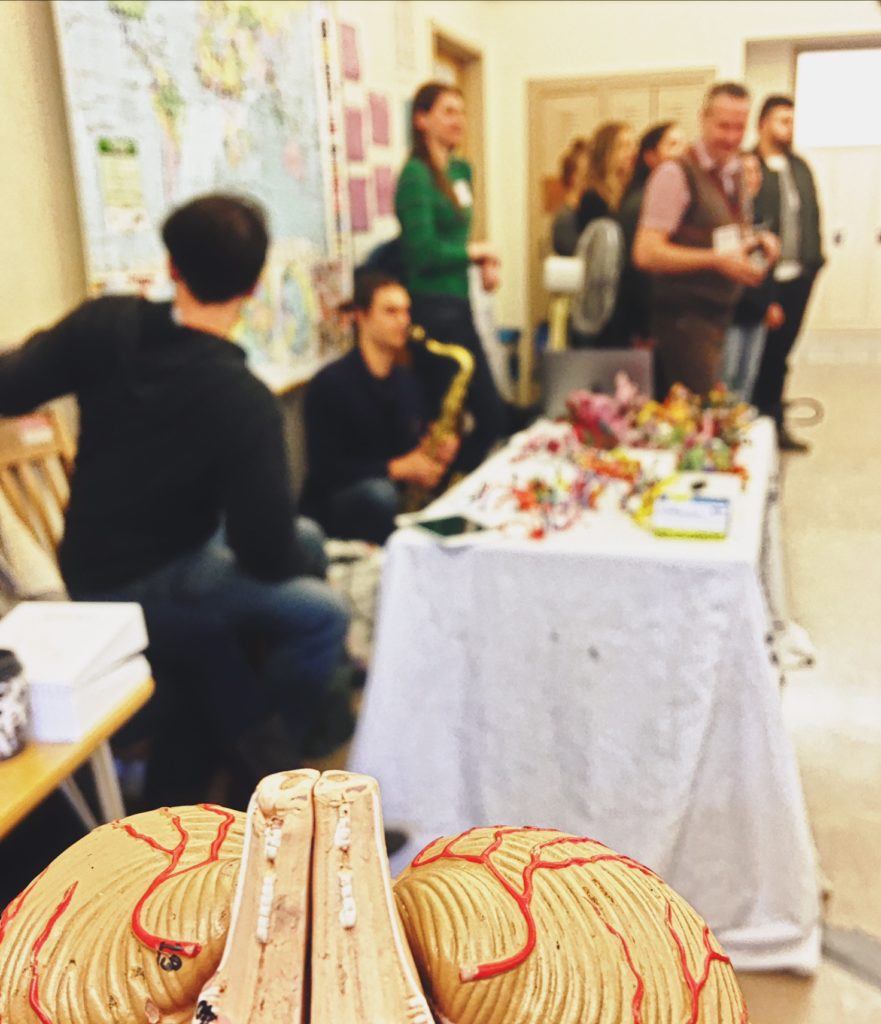 Real brains and our undergraduate and graduate volunteers are often exciting enough to engage students, but today we also welcomed a special visitor to Franklin.  Wenzl McGowen, a member of the band Moon Hooch, joined us with his saxophone and a project he's pursuing on how the brain responds to music…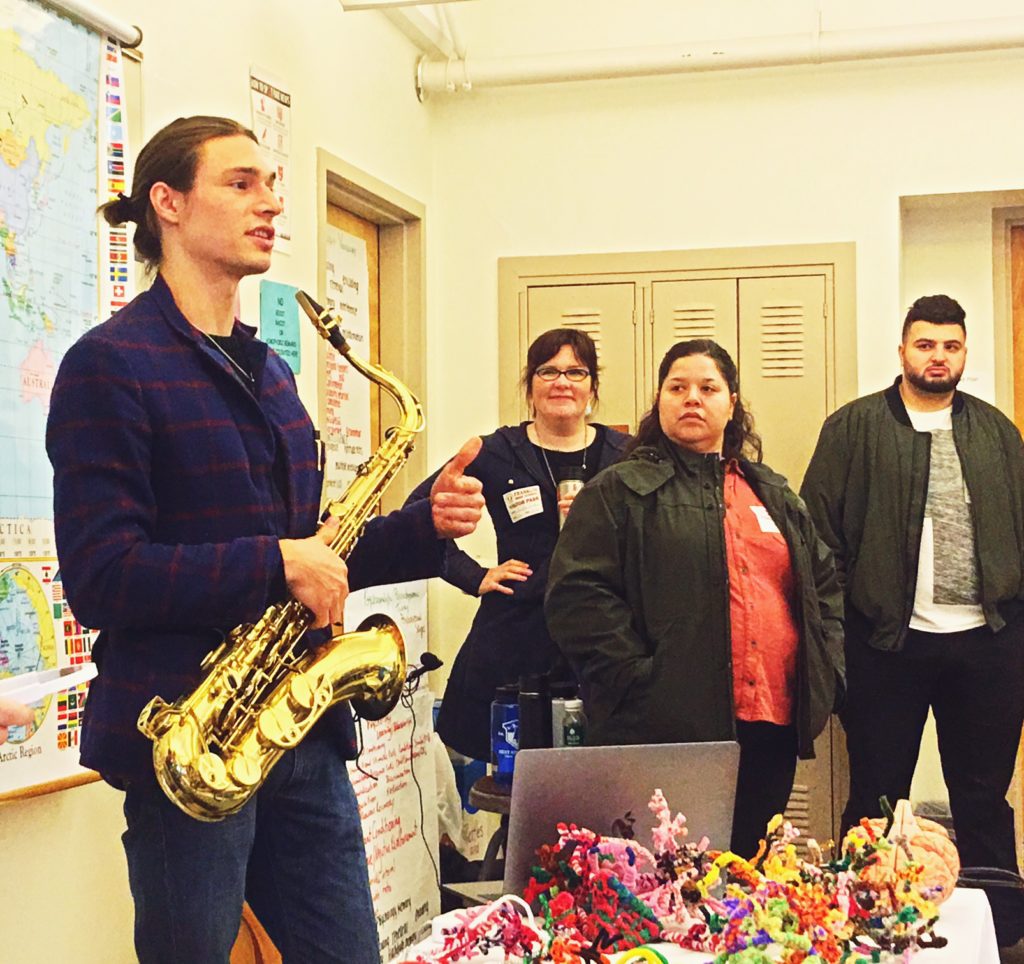 LEARN MORE:  Moon Hooch NPR Tiny Desk concert
Wenzl had approached Noggin with his strong sense that when playing music, he and his fellow Moon Hooch members enter a state of "flow," where they are fully engaged and absorbed in their performance, and their music  –  and experience a deep and palpable sense of effortless pleasure and enjoyment…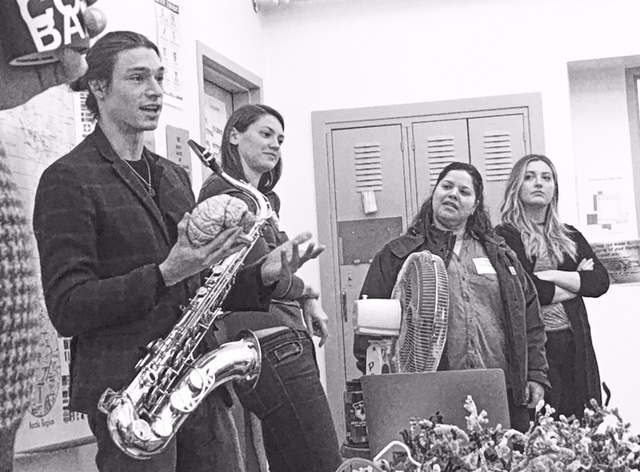 Wenzl also sees this in his listeners, and he was fascinated by the idea of measuring changes in the brains of both performers and audience participants during a concert.  We loved this idea too, as "flow" felt familiar, and has also been reported by athletes and people who work in many skilled and practiced contexts…
LEARN MORE:  When music "flows". State and trait in musical performance, composition and listening: a systematic review
LEARN MORE:  Neural contributions to flow experience during video game playing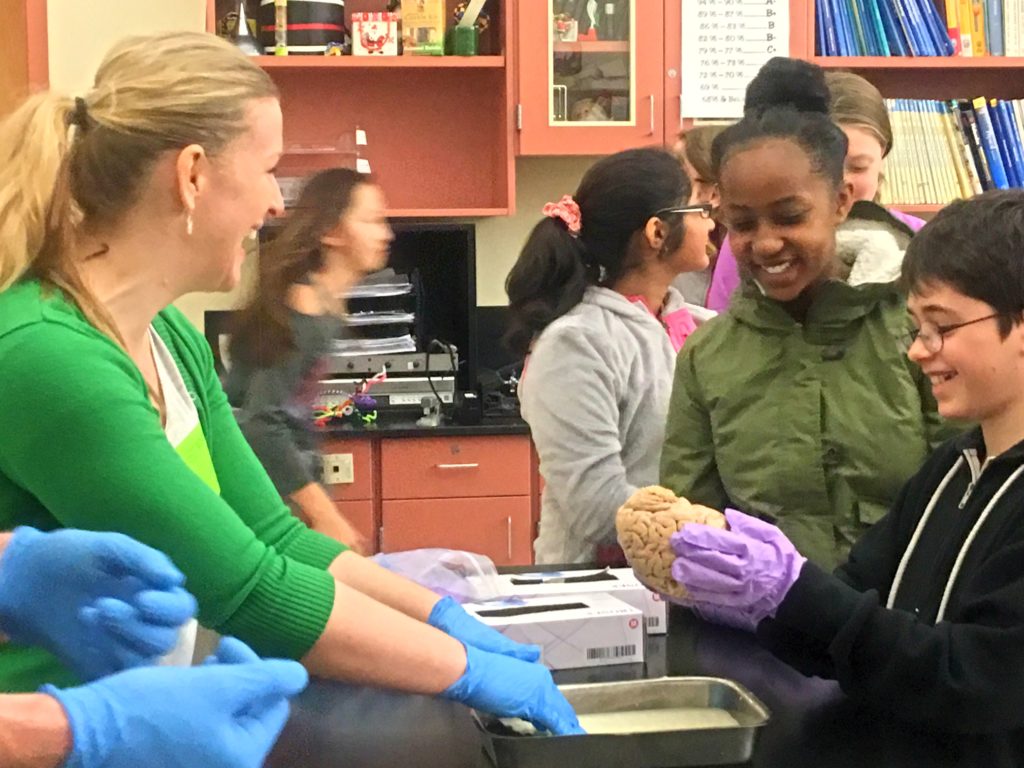 Many of our seasoned Noggin outreach participants describe a similar sense of intrinsic enjoyment and effortless performance when teaching young people and the public about the brain…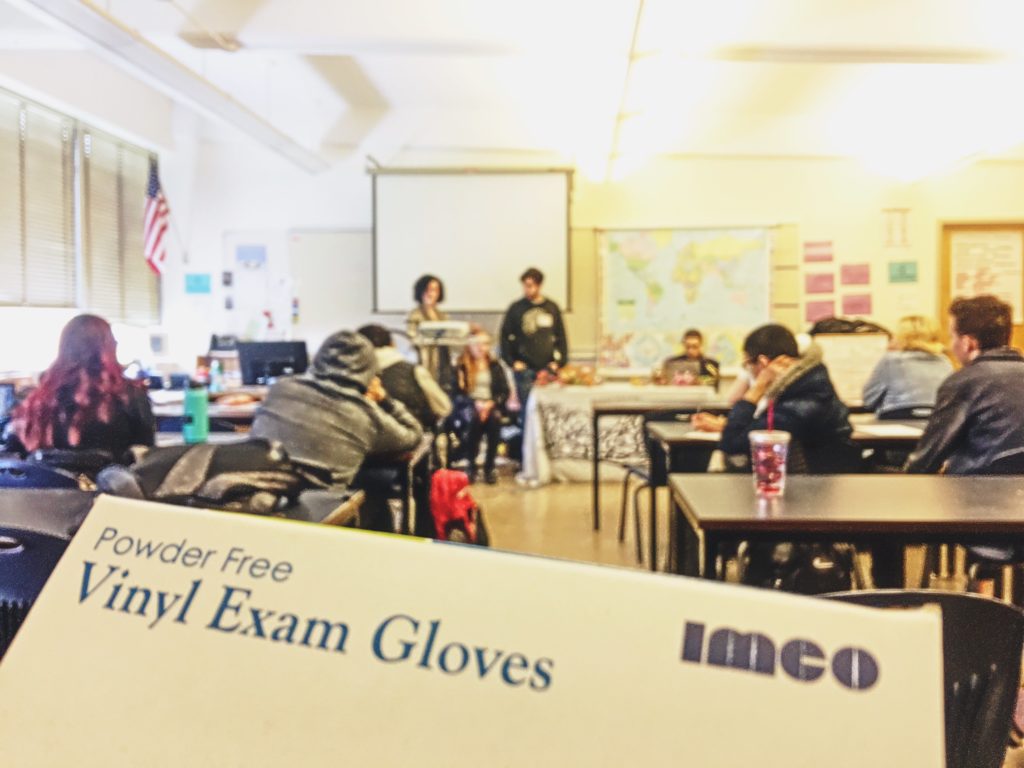 We put Wenzl in touch with Brittany Alperin, a Noggin volunteer and graduate student in Behavioral Neuroscience at OHSU, who works with EEG in the laboratory of Dr. Sarah Karalunas.  Brittany brought in Mike Soroka, a Portland roboticist, to help with the many technical challenges of this project…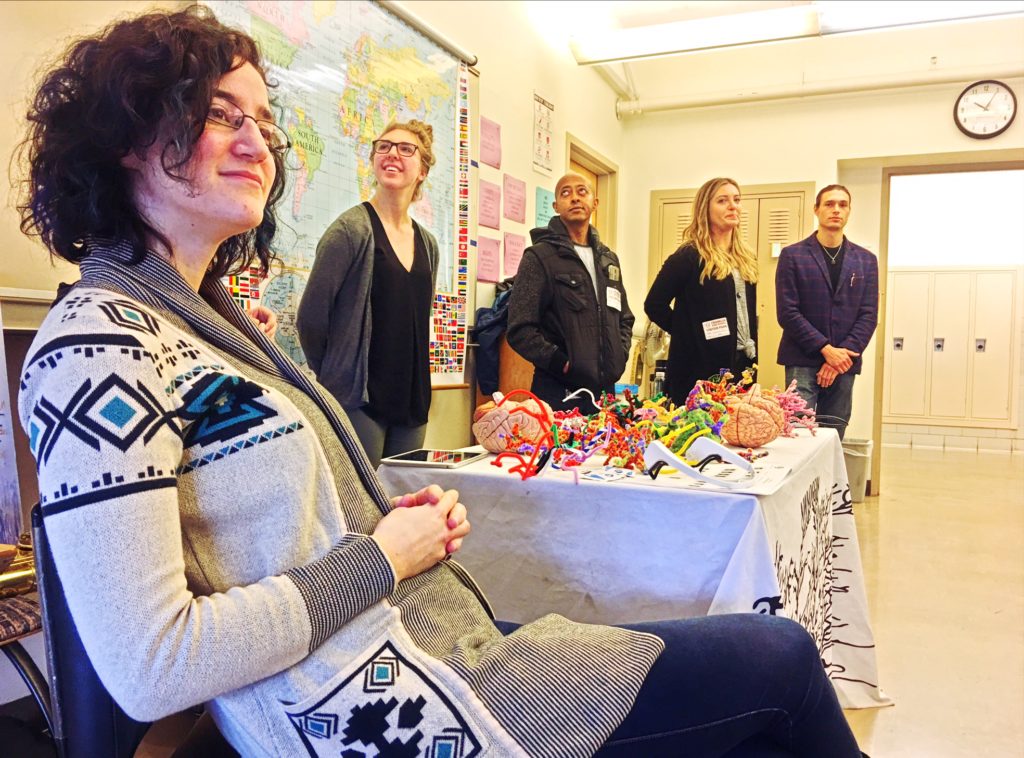 We also assembled a host of volunteers in Karen's classroom, including Firas Saad, Jennifer Jensen, Leota Wolford, Rebekah Hough and Rebekah Alexander from Psychology at Portland State University, Binyam Nardos, Rebecca Hood and Brittany from Behavioral Neuroscience at OHSU, Jeremy Dunford from Neuroscience at WSU Vancouver, and Noggin Board member and artist Kindra Crick…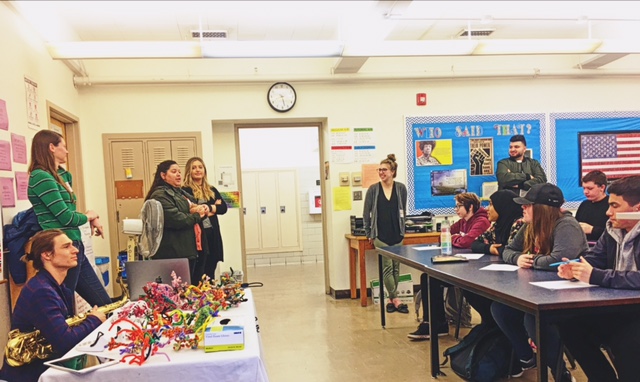 We began by introducing ourselves to students, describing what we craft, study and research.  We were a diverse group of musicians, artists, and STEM graduates and undergraduates, and spoke briefly about work on Parkinson's disease, happiness, how social context affects the brain's implicit response to faces of people of different races, and the development of emotional control and regulation during adolescence…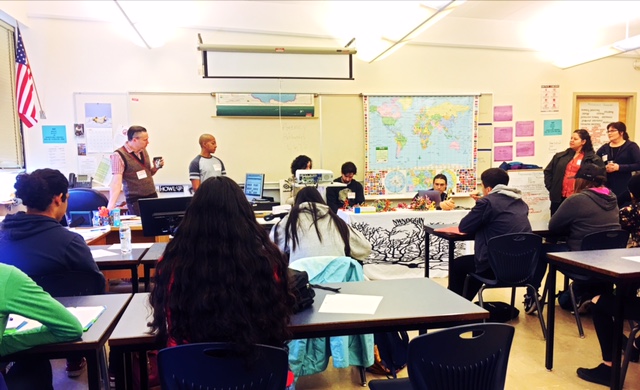 Students had already studied brain lobes and brain cells, and had challenging questions for our volunteers, covering everything from lobotomies to migraines.  One student asked specifically about migraine pain, and how to treat it, and Jeremy Dunford explained that current medications (including triptans and opiates) often led to tolerance and unpleasant (and less treatable) "rebound" headaches…
LEARN MORE:  Tolerance to the beneficial effects of prophylactic migraine drugs
LEARN MORE:  Medication-overuse headache: epidemiology, diagnosis and treatment
LEARN MORE:  The diagnosis and treatment of chronic migraine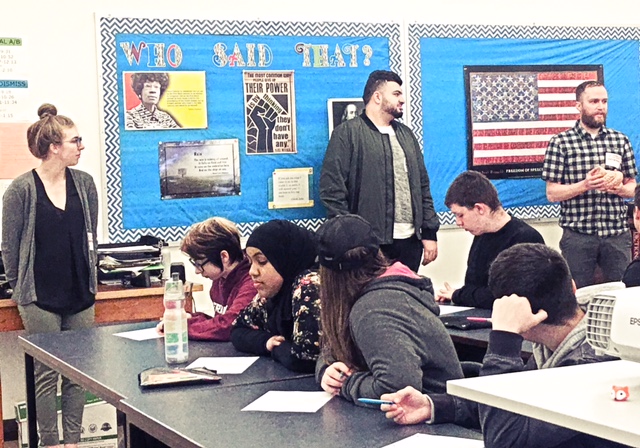 Jeremy also described research by newly minted Ph.D. Ram Kandasamy at WSU.  Ram studied THC, a chemical found in marijuana, as a potential treatment for migraine-like headaches induced in mice.  Ram's rodent subjects returned to active wheel running with low doses of THC, as they did initially with the anti-migraine medication sumatriptan.  But unlike the triptan, they didn't develop tolerance after THC…
LEARN MORE:  Feeling no pain @ Velo!
LEARN MORE:  NIH Migraine Information Page
LEARN MORE:  Preventive treatment in migraine and the new US guidelines
Another student was fascinated by how your felt experience of your body could be at odds with your actual body  –  why someone might, for example, perceive themselves as male, while having the body of a female.  We explained that your perceptual experience is not the same thing as what your body's sensory receptors detect and transmit to maps and networks in the brain that support perception;  for example, people who suffer loss of an arm or leg often continue to feel a persistent "phantom" limb…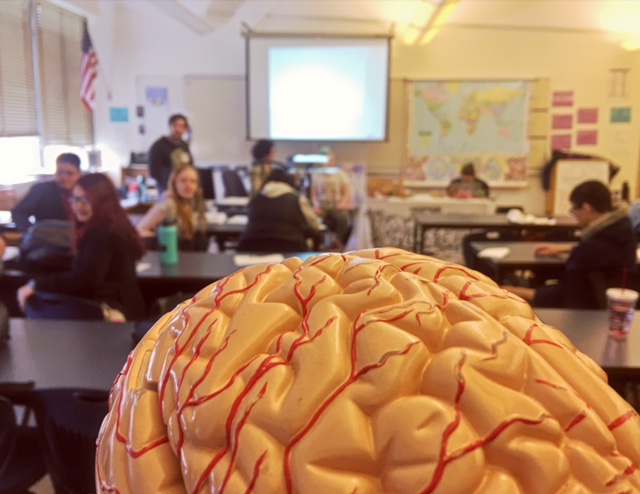 Even some individuals born without a limb experience phantoms, and sometimes those phantoms are unique in terms of size or length;  in other words, they might not match the "ideal" prosthetic that a doctor initially offers, and feel deeply unsatisfying and wrong.  This suggests that brain "maps" of the absent limb are present even in those who never had that limb, and support a distinct, powerful perceptual experience that does not reflect the actual sensory input from the body itself…
LEARN MORE:  Phantom limbs in people with congenital limb deficiency or amputation in early childhood
LEARN MORE:  Neural Network of Body Representation Differs between Transsexuals and Cissexuals
WHAT ELSE DID FRANKLIN STUDENTS ASK?  Find out from Binyam Nardos… 🙂
From Moon Hooch to Split Cerebrums: What teens ask about brains
We then asked for volunteers to try on new EEG headsets that Wenzl had requested for testing from Muse…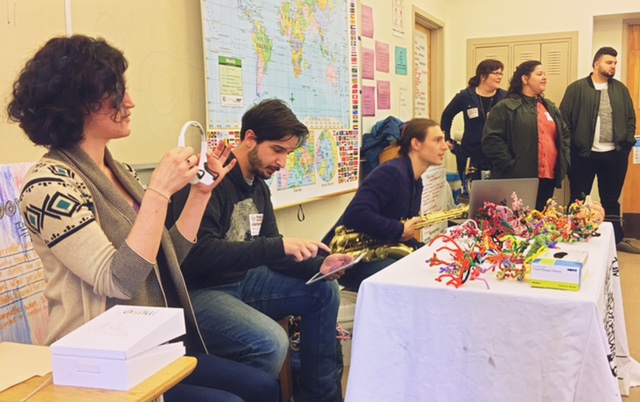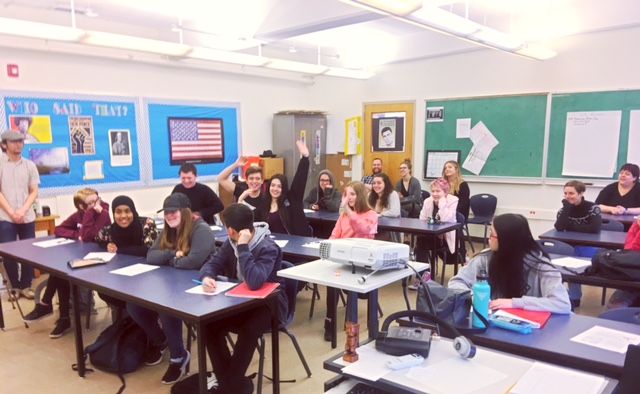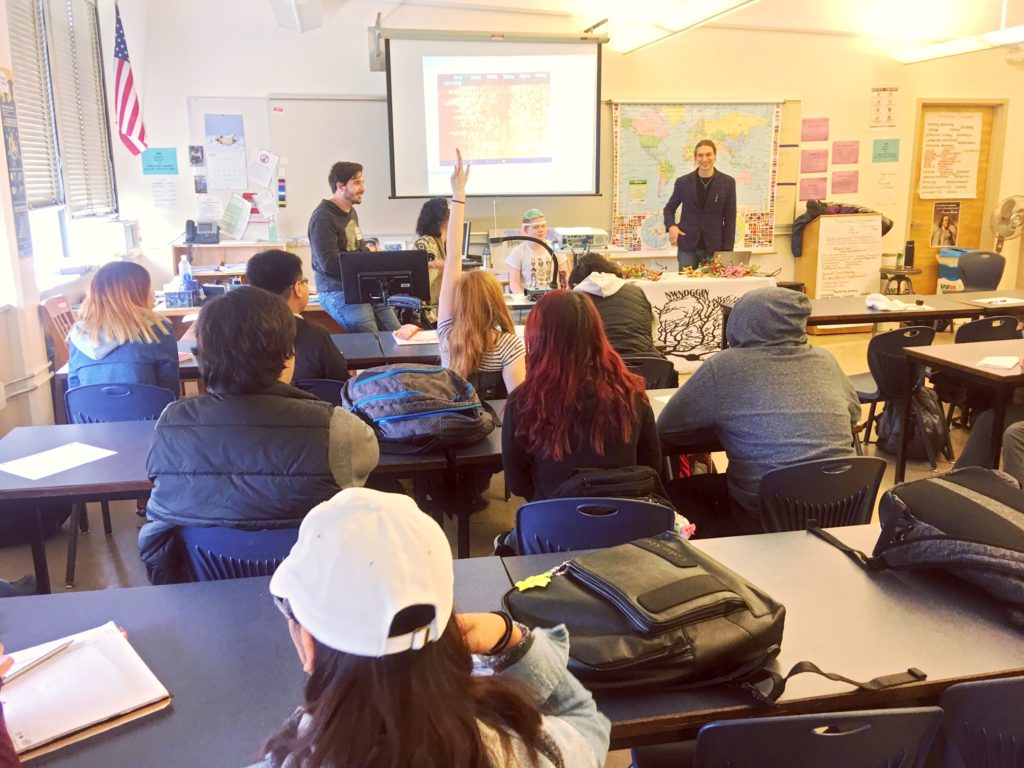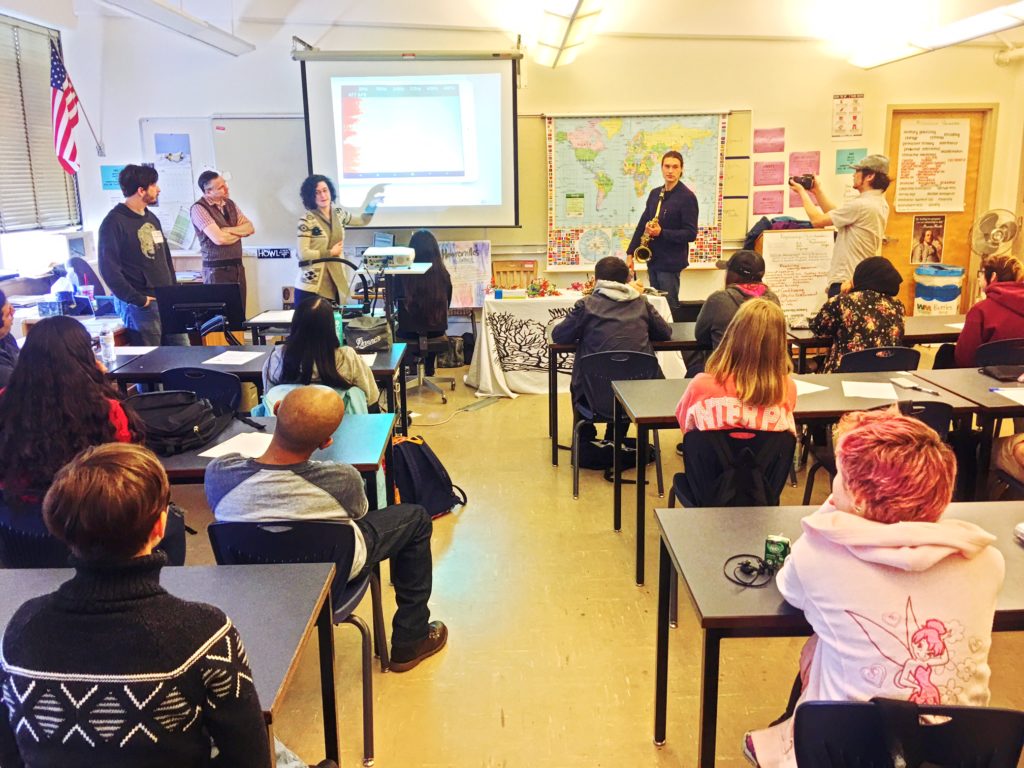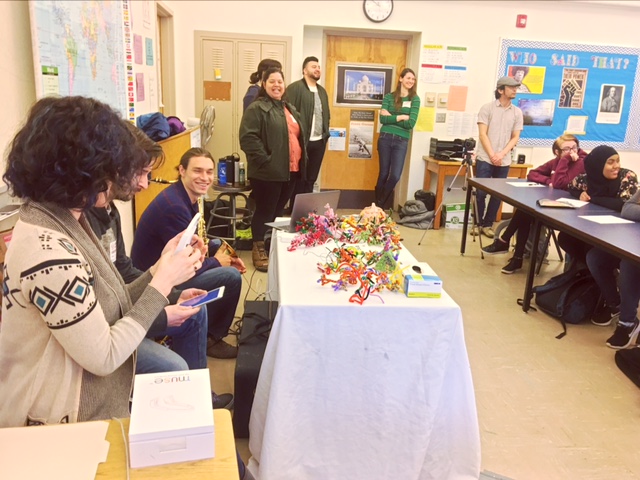 LEARN MORE:  Choosing MUSE: Validation of a Low-Cost, Portable EEG System for ERP Research
Brittany explained the system:  "The five electrodes on the headband record post-synaptic potentials from the cortex. In other words, the unit picks up the activity of thousands of neurons firing close together in time and space…"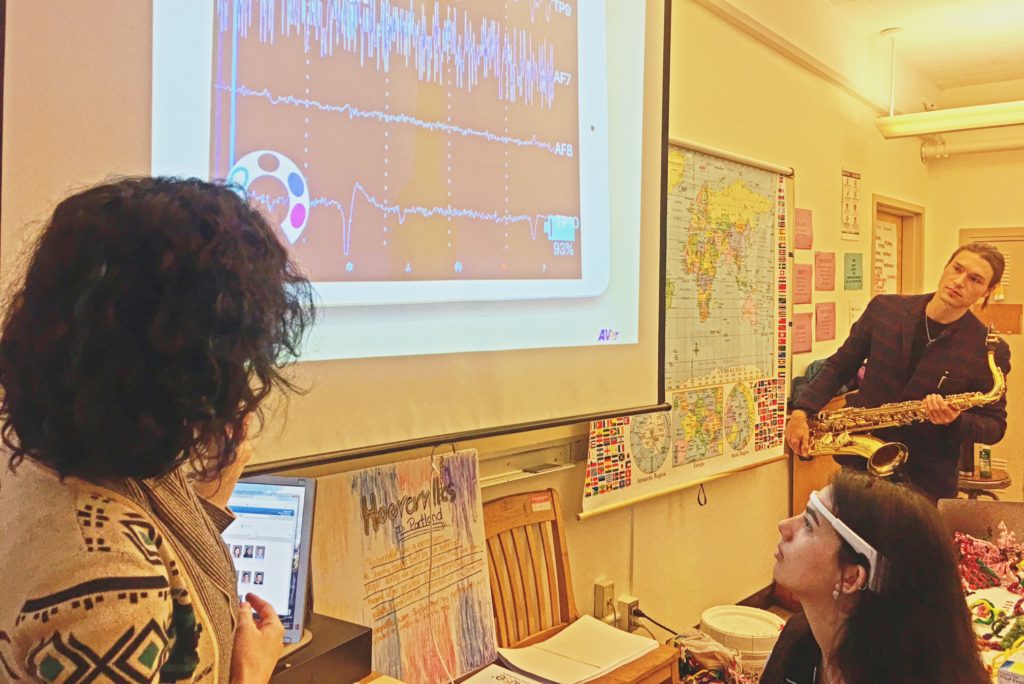 "On the projector we displayed a time frequency plot of brain activity. Groups of neurons can fire at different rates. Sometimes this can be really slow at 1 Hz or one pulse per second, or this could be really fast at 60 Hz or 60 pulses per second. These different frequencies reflect different cognitive or arousal states…"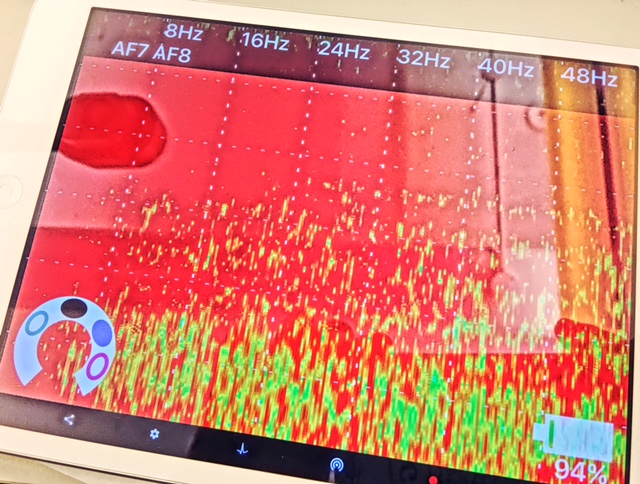 "For example, low frequencies (1-12 Hz) are often associated with sleep or relaxation whereas high frequencies (13-100 Hz) are associated with alertness. The scrolling image presented showed real time frequency information!  On the left were low frequencies and on the right were high frequencies. The red reflected high activity at a given frequency and blue reflected low activity at a given frequency…"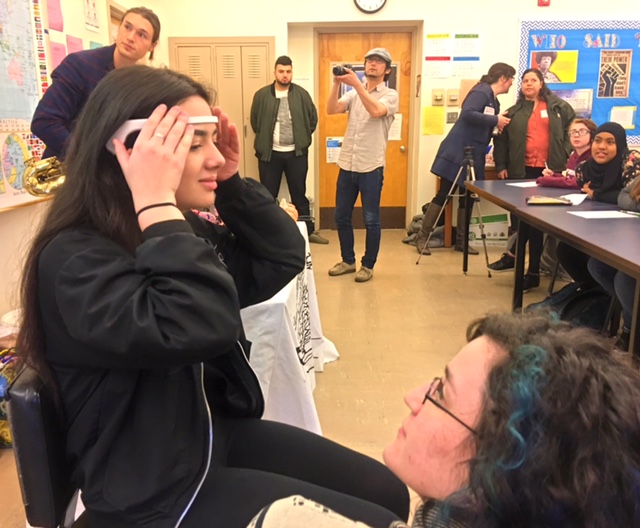 "The brave volunteers wearing the headsets settled in as everyone got to see what their brain activity looked like at rest. When Wenzl began playing the saxophone, the students were asked to look at the plot and see if they could detect any changes that occurred..!"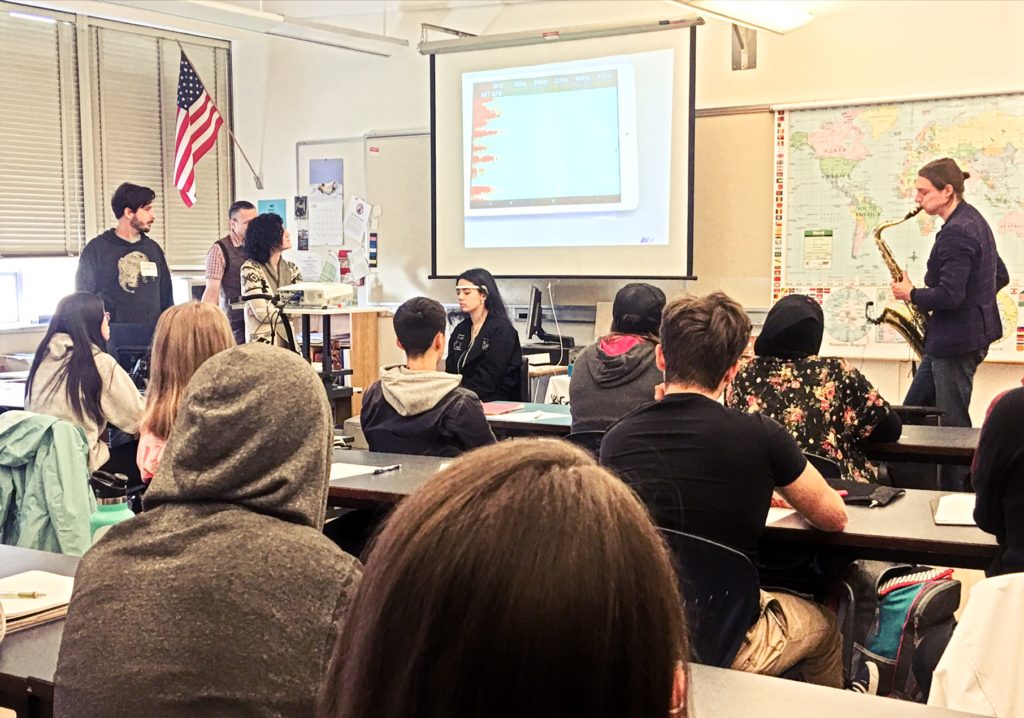 As the stirring, enthralling, alternately tremulous and smooth, rich sounds struck our ears, we could feel ourselves focusing, orienting, and then relaxing elatedly into the music…
Wenzl played several different tunes, which elicited different responses.  The livelier, more syncopated pieces encouraged actual movement  –  you could feel yourself sway  –  and brought smiles and nods in time with the beat.  Our brains have a set of interconnected subcortical nuclei known as the basal ganglia that play a big role in motivated behavior, including the starting, stopping and timing of movements.  The basal ganglia are highly involved in our response to rhythm and music, too…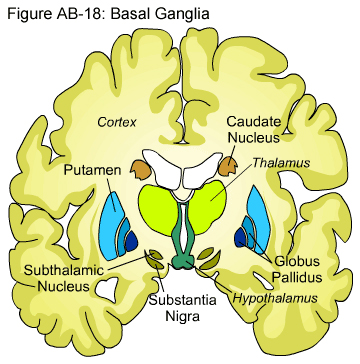 LEARN MORE:  Listening to Rhythmic Music Reduces Connectivity within the Basal Ganglia and the Reward System
LEARN MORE:  Getting the beat: entrainment of brain activity by musical rhythm and pleasantness
LEARN MORE:  Neural Networks for Beat Perception in Musical Rhythm
This was an exciting real-world test of Wenzl's donated Muse equipment, and Franklin students detected definite EEG changes in the brain's response to his tenor sax.  Some dramatic EEG changes occurred when an electrode lost contact  –  and Brittany and Mike explained the importance of understanding how your data is acquired, and how multiple factors can influence the signal you record…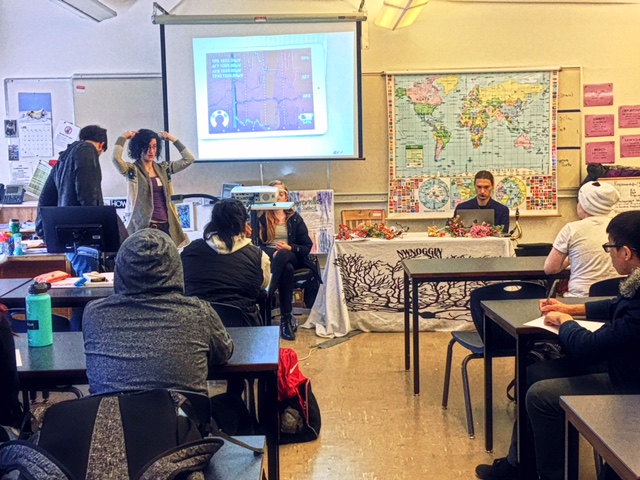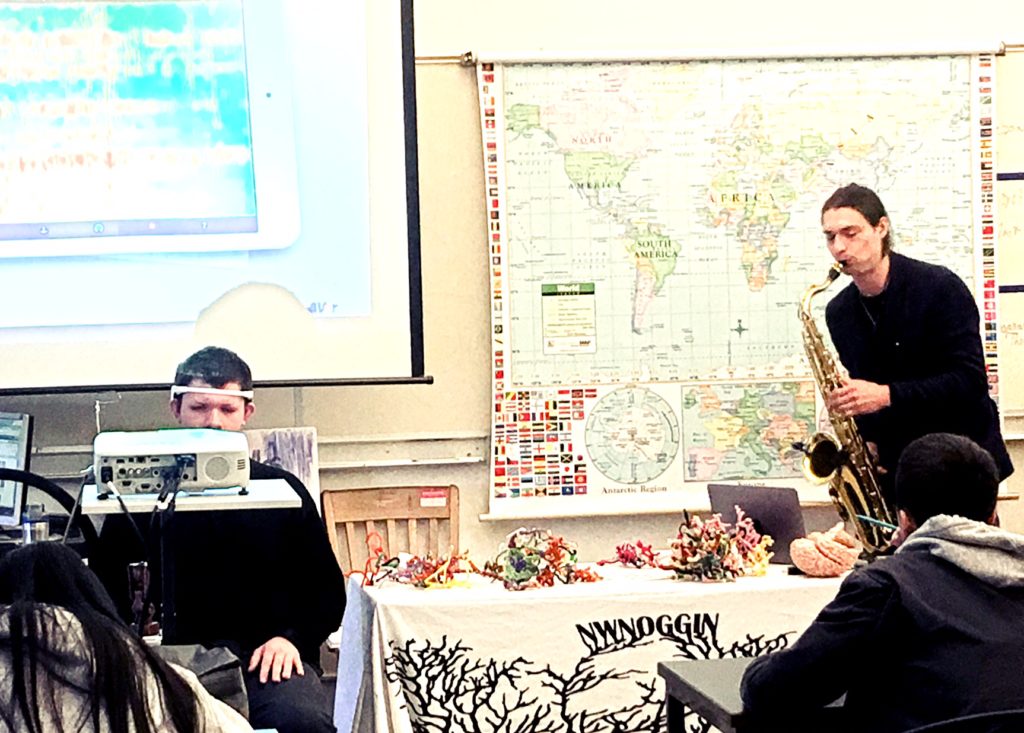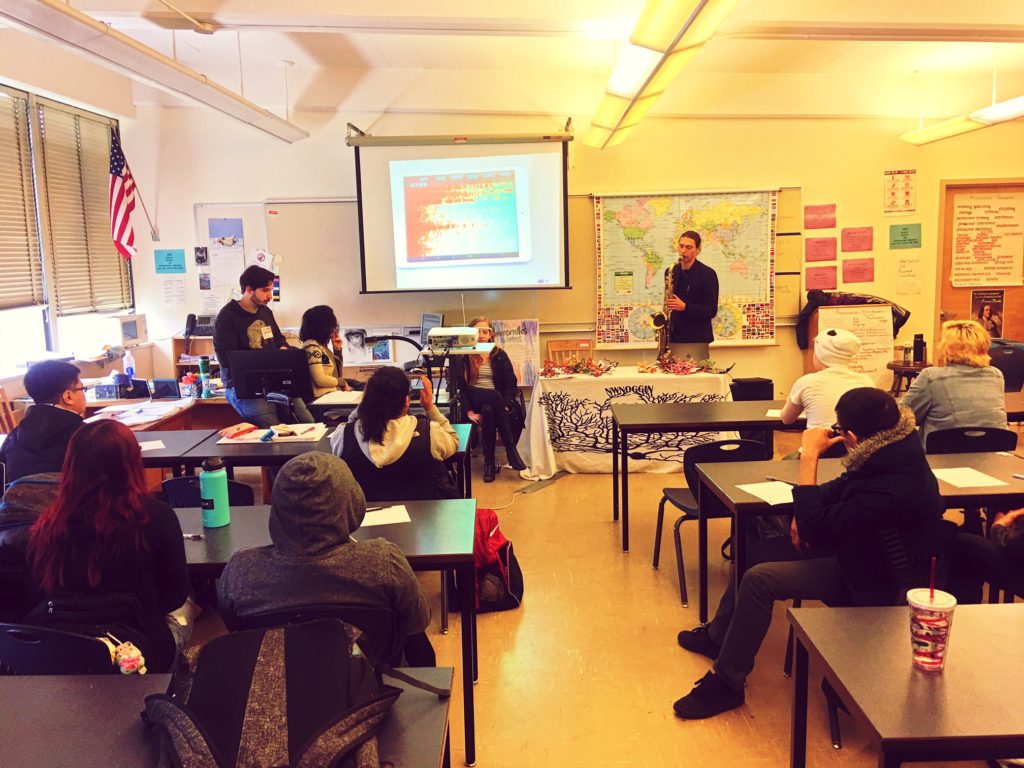 There were alert smiles all around as we asked more questions, held and examined human cortex, and reflected on the relation between felt experience and our brain's electric response to stimuli in our bodies, and the wider world  –  including the powerful effect of sound waves freed from breath and brass…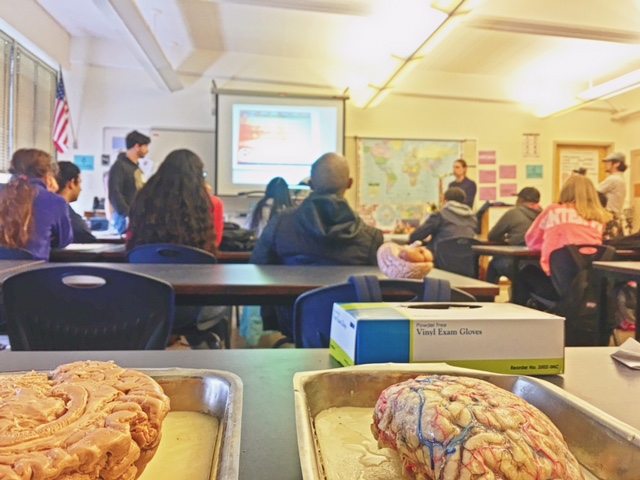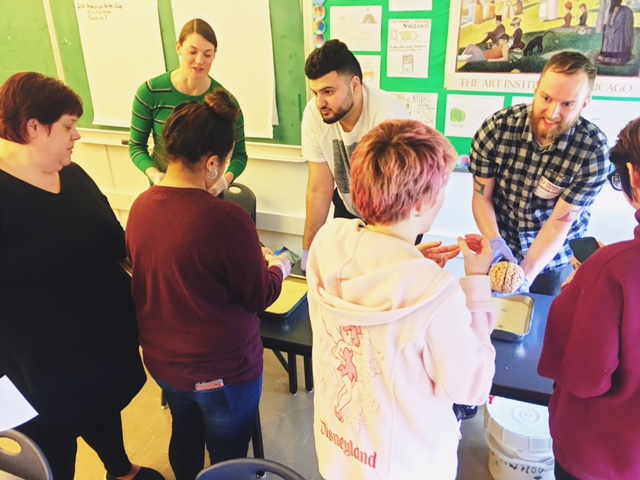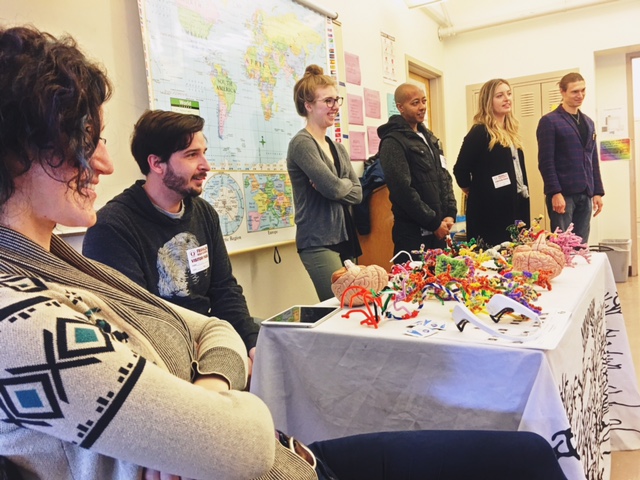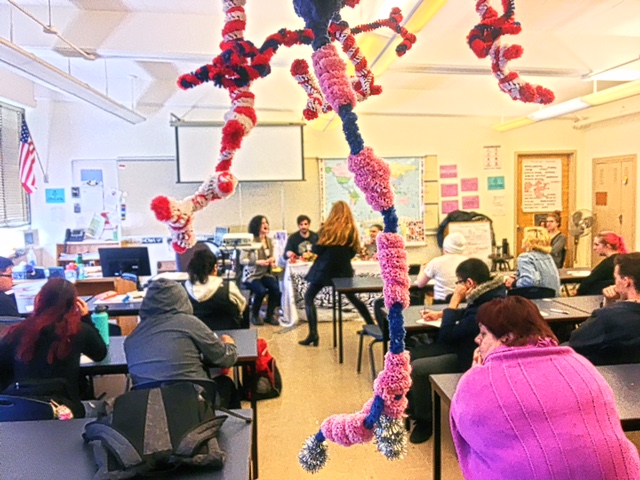 From PSU undergraduate Firas Saad, who received a cheer from the teacher when he mentioned his plans for medical school:  "It was a wonderful experience. I didn't expect it to be like that. I really enjoyed being in the classroom with the team and passing what I've learned on to the students. That's my first time working with the community in a non-medical field. I really felt great. Its always great working with expertise and getting to know more people! Its always great to give back to our community :)!"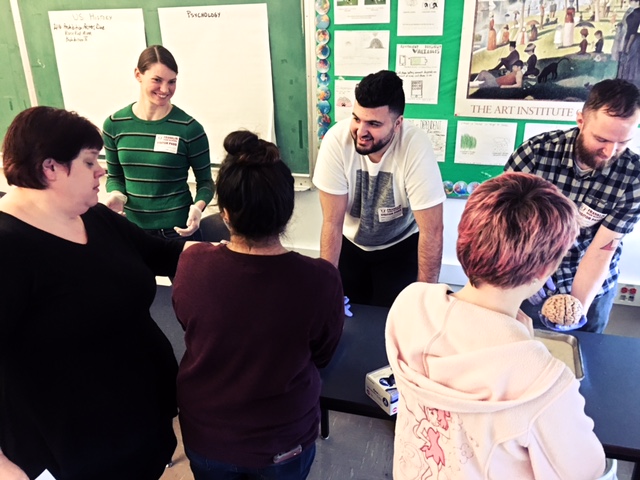 Wenzl's brains + music project continues next month when Moon Hooch performs at the Doug Fir Lounge in Portland  –  where six audience members will have their EEG recorded during the show!  Details below…
JOIN US:  Moon Hooch @ the Doug Fir Saturday, May 13th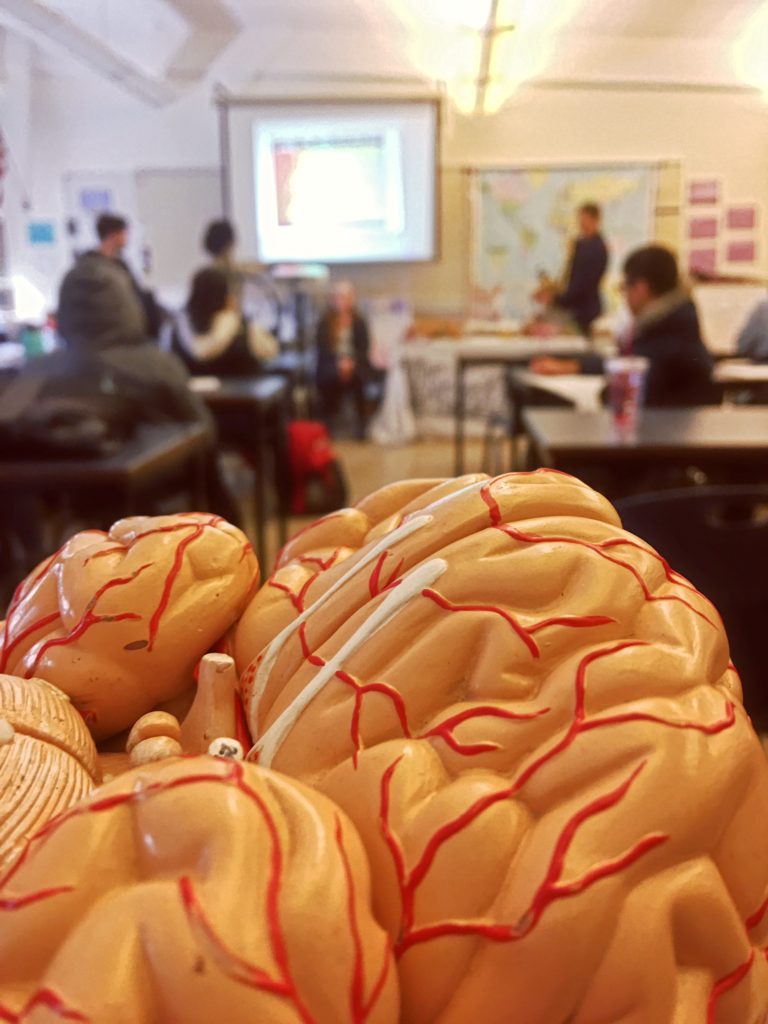 Many thanks to Karen Polis and the welcoming, curious 9th graders at Franklin High.  And our sincere thanks to Wenzl, too, for joining us in the classroom!