On a dry and splendid spring afternoon, fifteen enthusiastic Noggin volunteers headed east for our second "synaptic community connection" in the inland Pacific Northwest…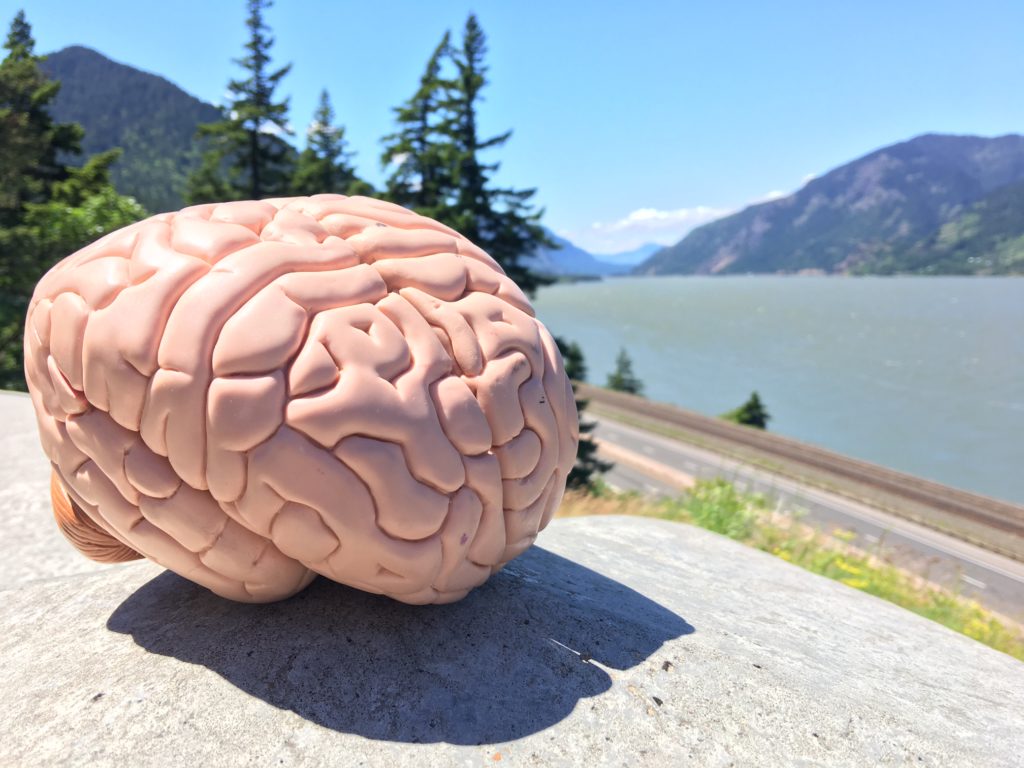 We'd made terrific connections with schools in Davenport, Washington during Brain Awareness Week in March, and were subsequently approached by the Northeast Oregon Area Health Education Center (NEOAHEC) in La Grande to answer questions and introduce brains, art and federally funded research to 6th – 12th graders on a beautiful Saturday in May…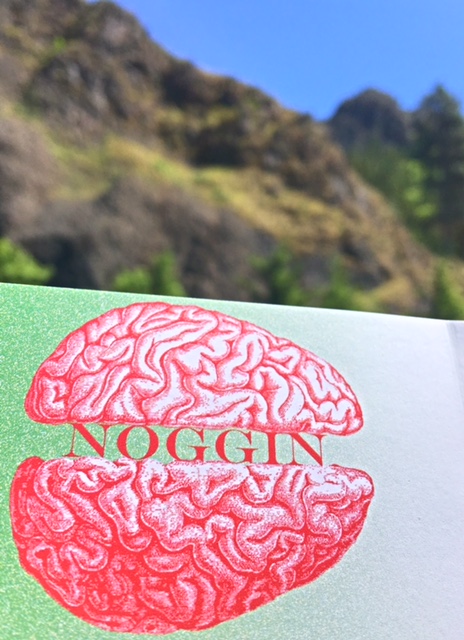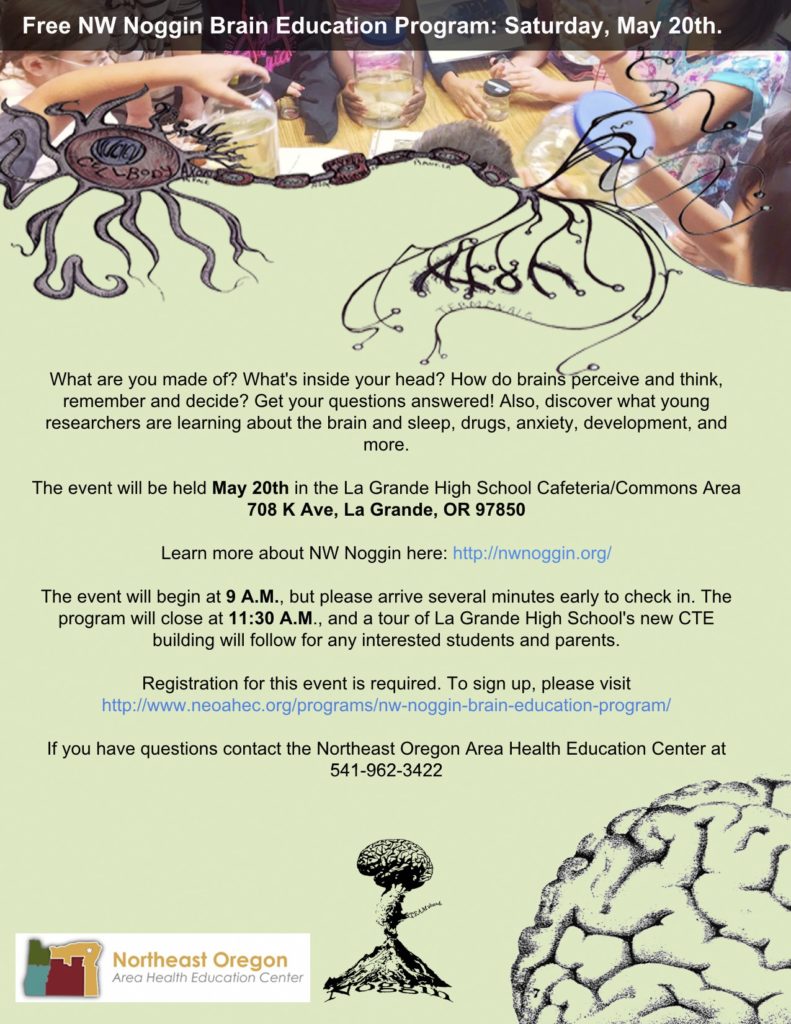 LEARN MORE:  Dopamine in Davenport!
LEARN MORE:  Through outreach, NW Noggin helps others discover the pleasures of neuroscience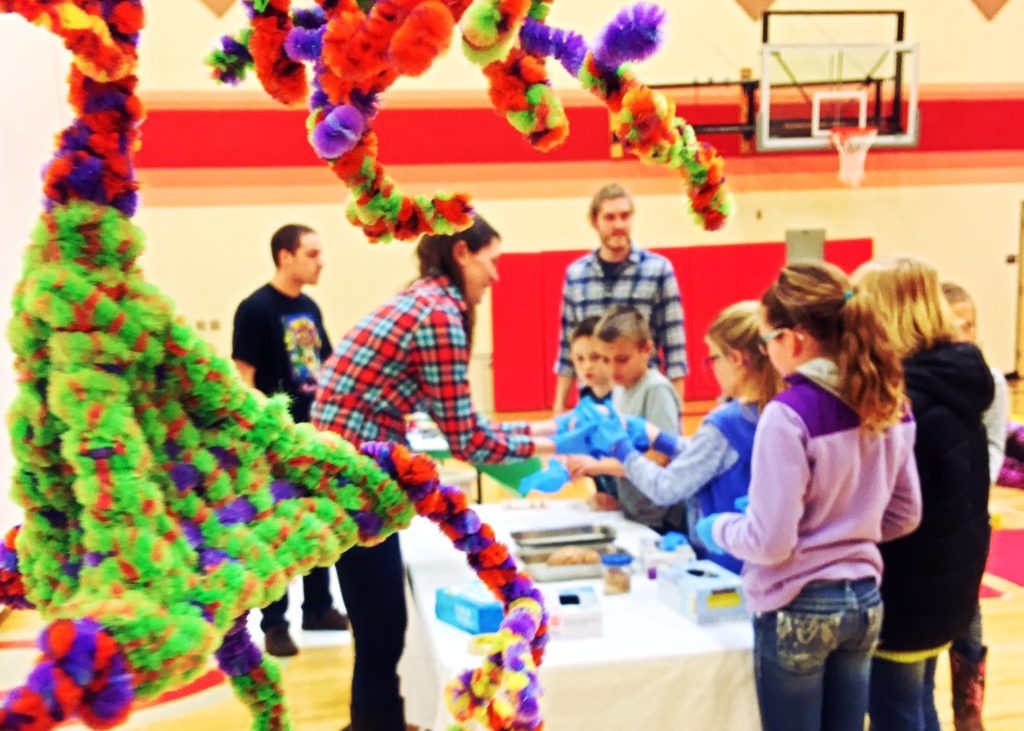 With our ink, pipe cleaners and extra cerebrums in the trunk, we followed the Lewis & Clark Trail alongside the rolling Columbia, stopping for coffee in Hood River, and marveling as the land changed from wooded Gorge to high desert to the unusually green and forested Blue Mountains (formerly a chain of volcanic islands in an ancient sea!) surrounding the city of La Grande…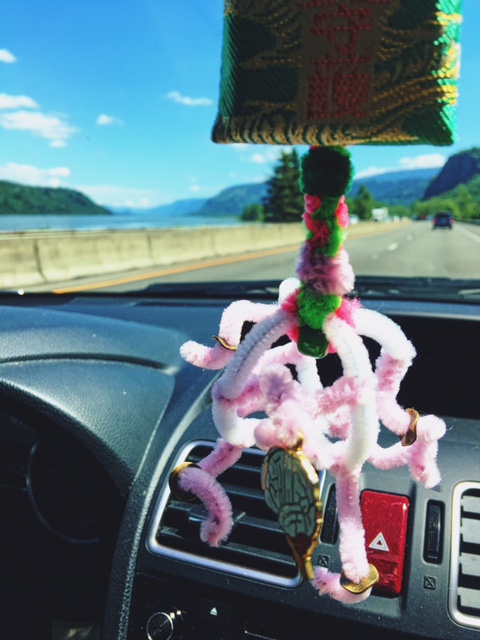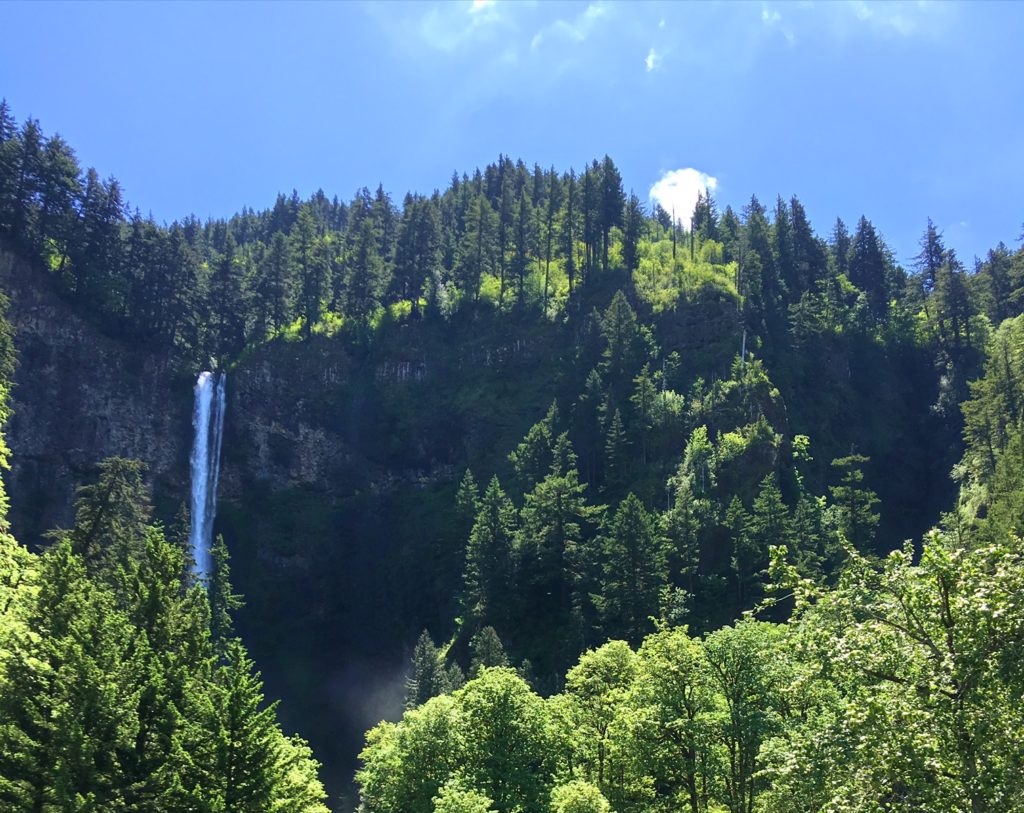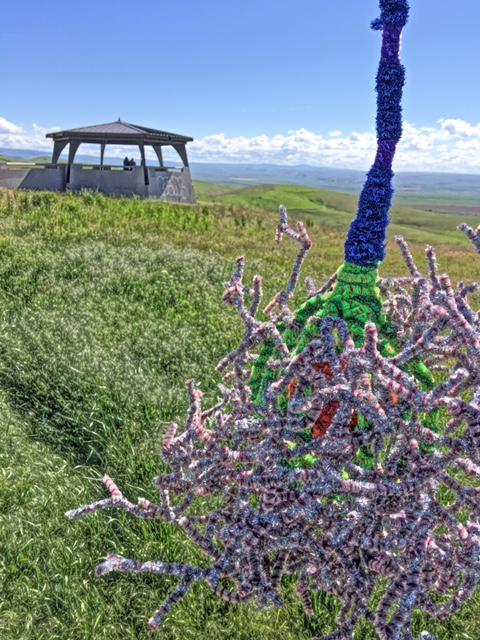 We explored the compact and walkable downtown, and enjoyed an impromptu tour of the historic Liberty Theatre, now undergoing renovation…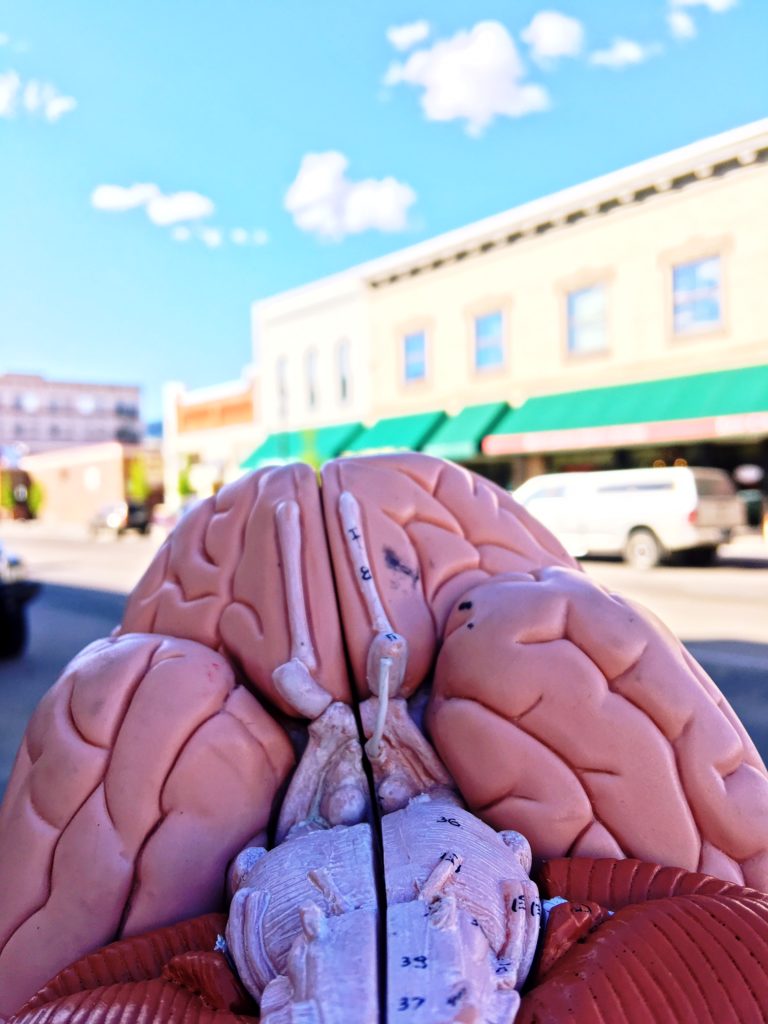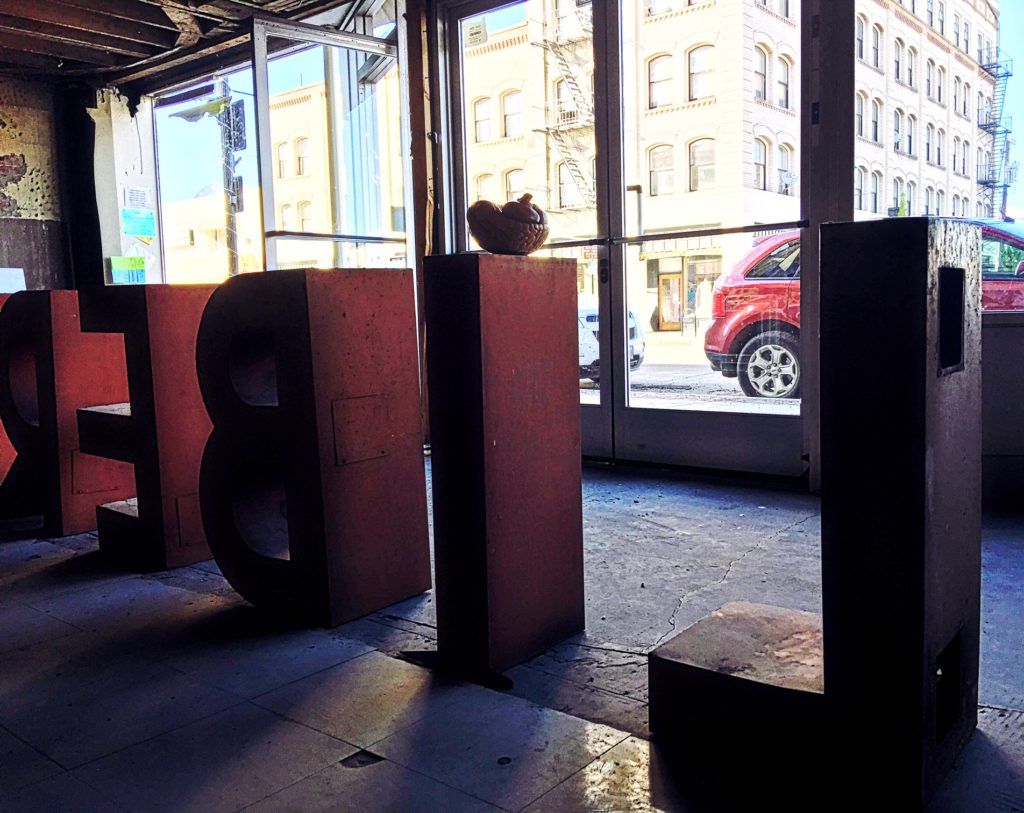 Brittany Hargrove, the Outreach Coordinator for NEOAHEC, had arranged our accommodations, and recommended La Grande's new Side A brewery for Friday's dinner.  We carried a brain model into the bar, sparking multiple conversations about neurons, networks, behavior and research!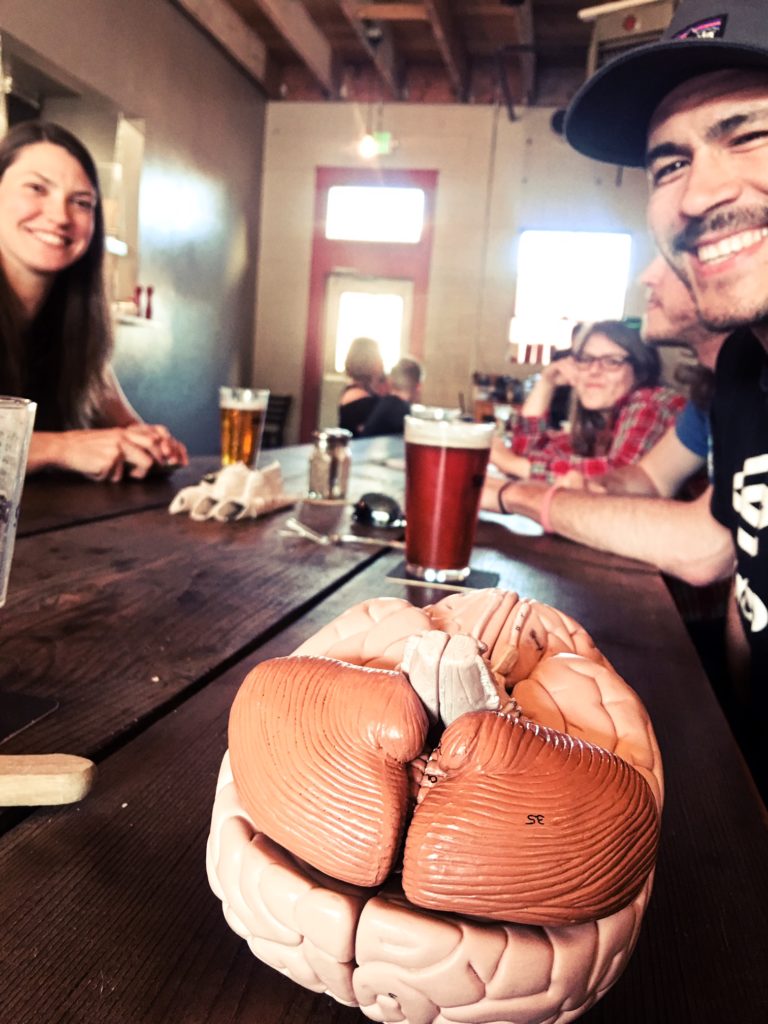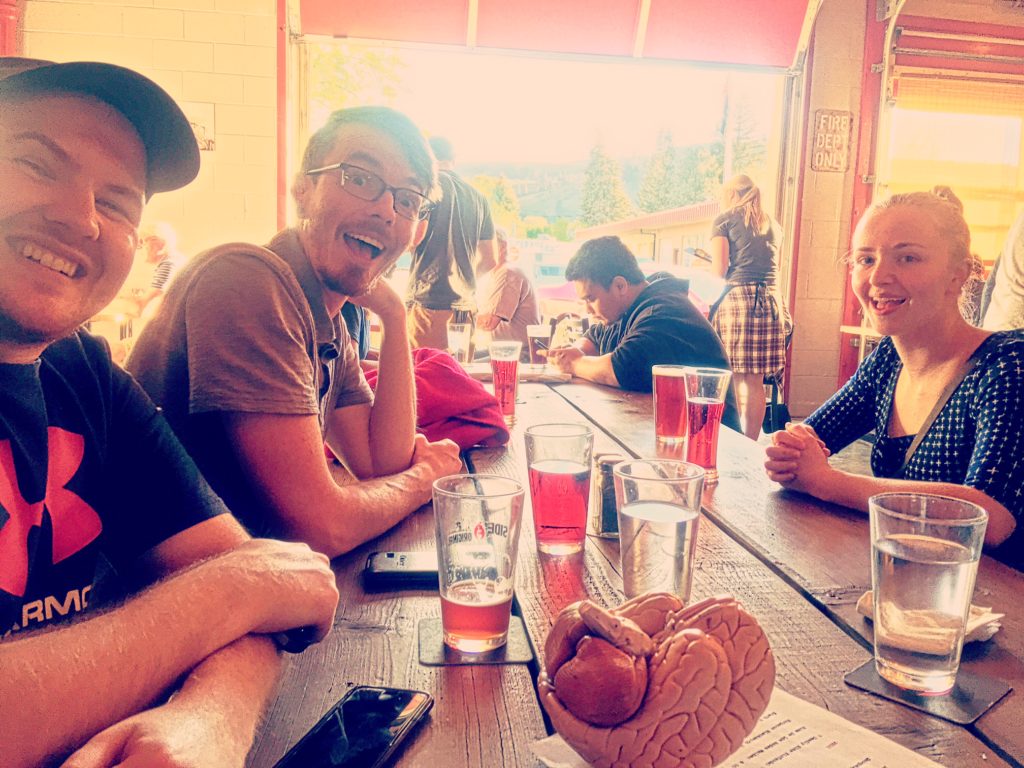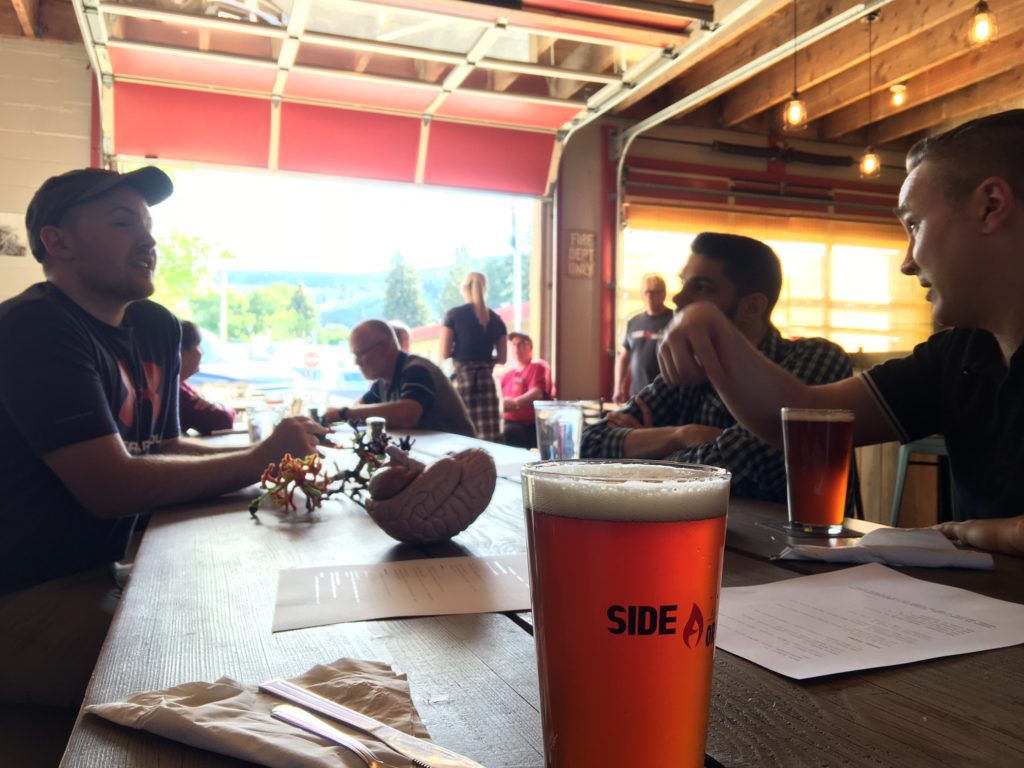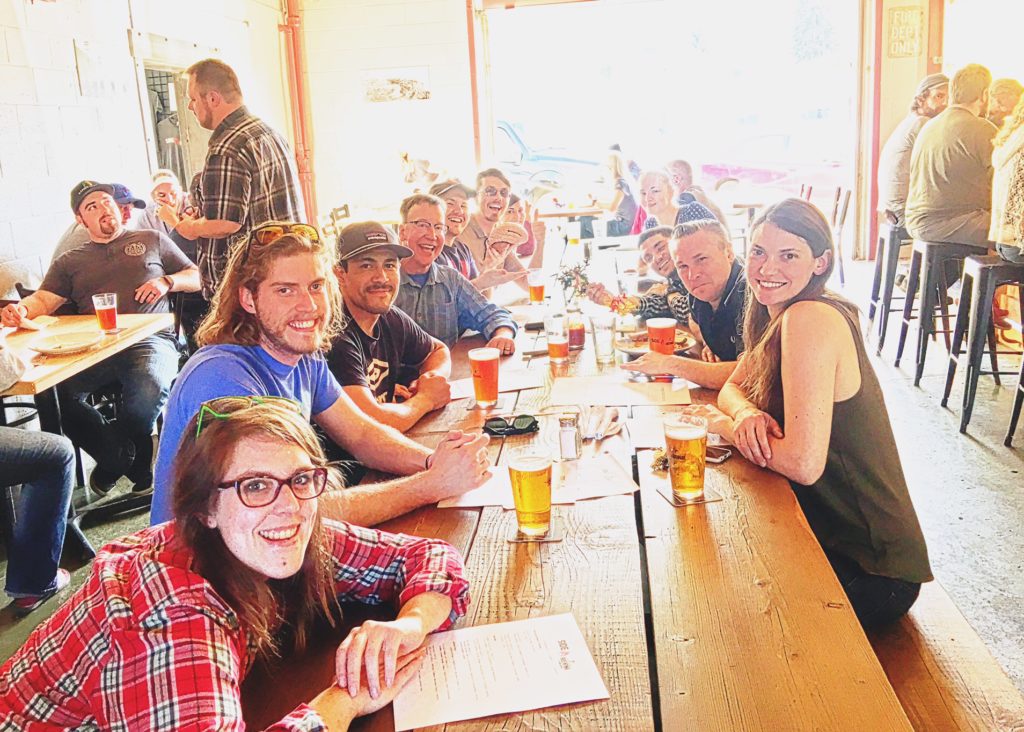 La Grande offered up a gorgeous Union County sunset, as we decided on an early Friday night.  We were expected at La Grande High School the next morning at 7:00am..!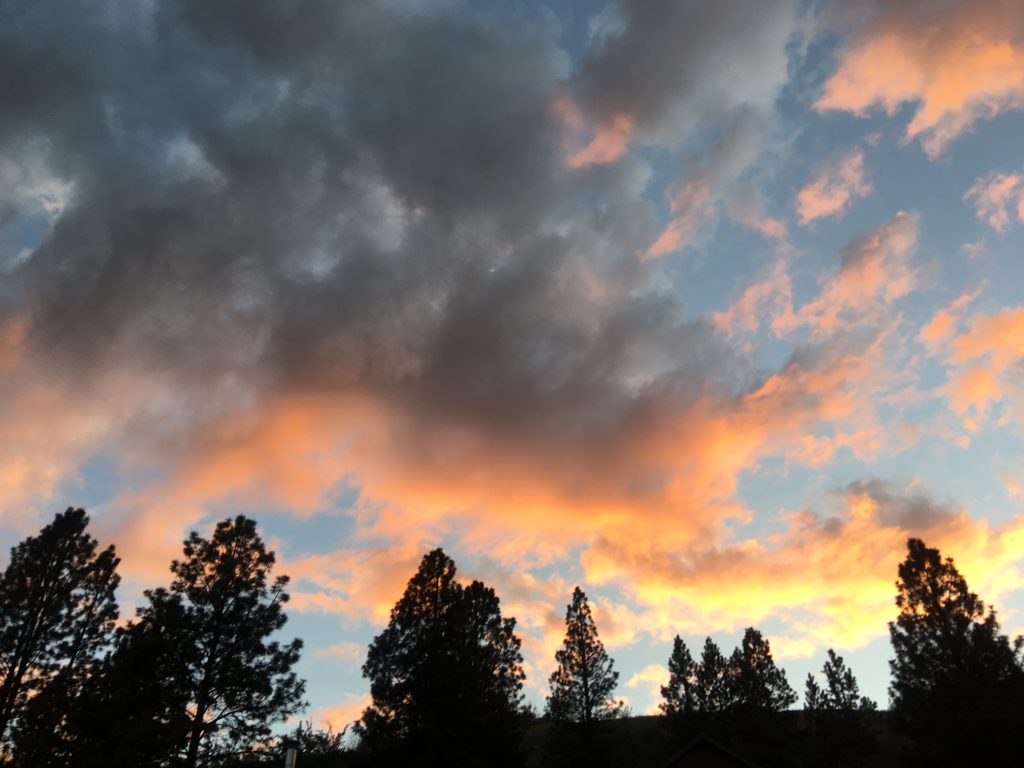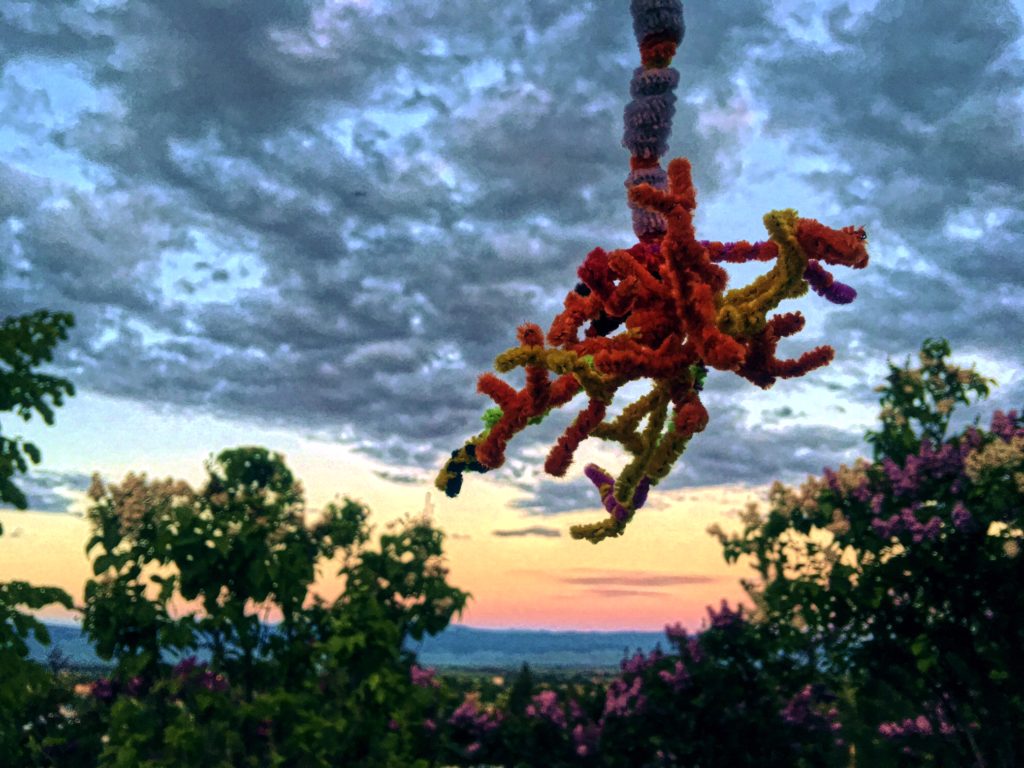 After blocking our adenosine receptors with hotel caffeine, we arrived on time at the school, and began prepping for student arrival!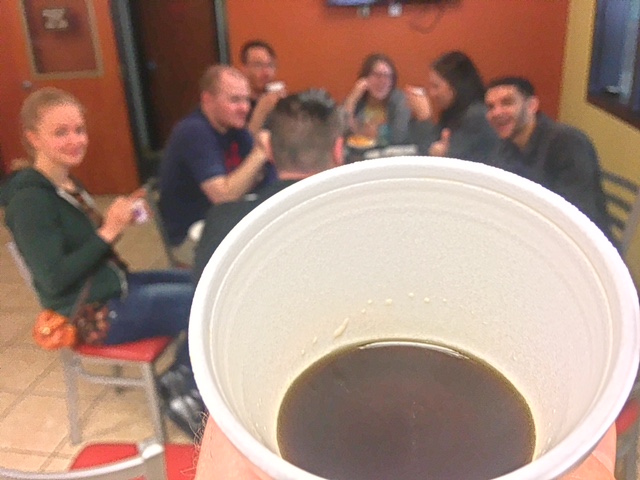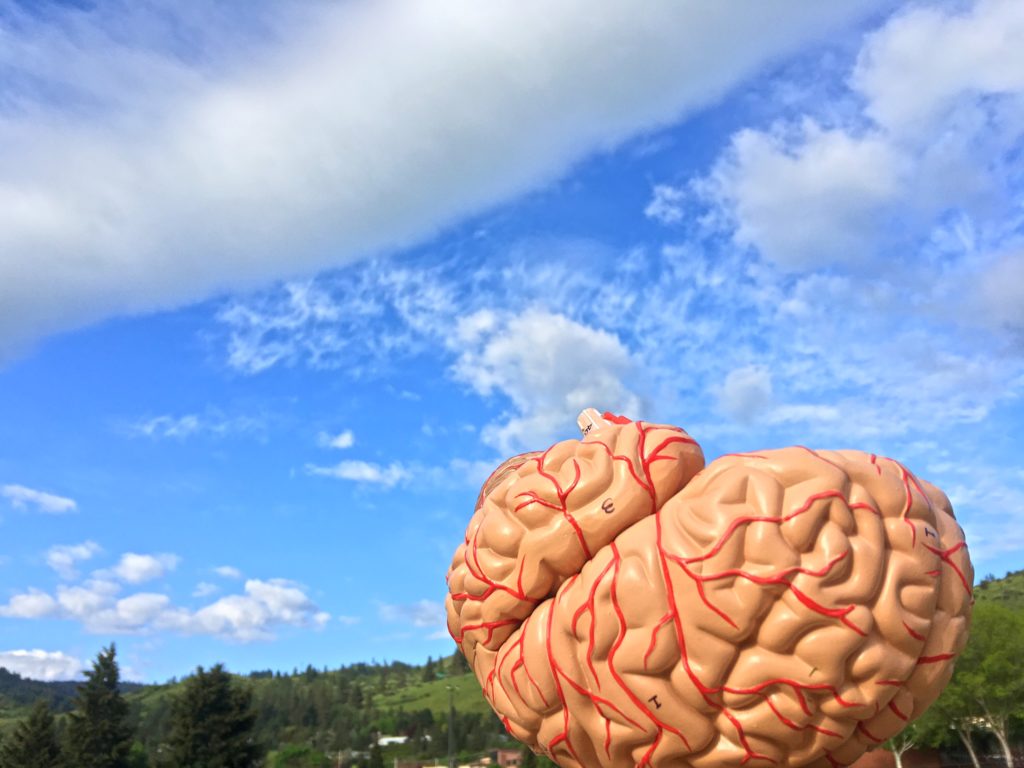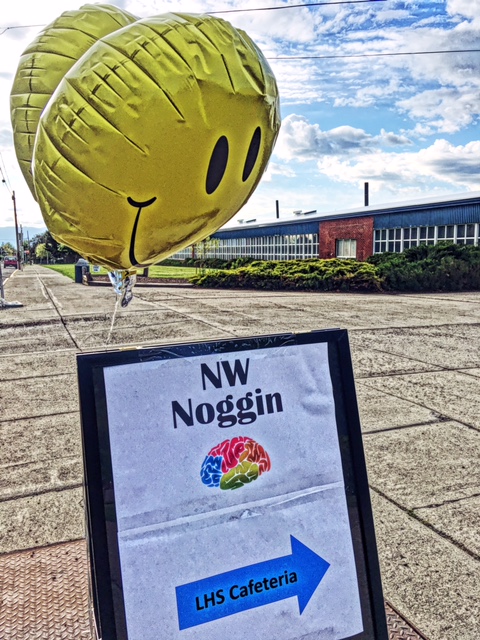 We organized four stations in the cafeteria:  one for examining cerebrums, another for building pipe cleaner neurons, a third for creating inked brain cell gel prints from leaves, branches and other found natural materials, and the last for exploring the electrical nature of information flow in neurons  –  by recording actual brain activity, and delivering electric shocks!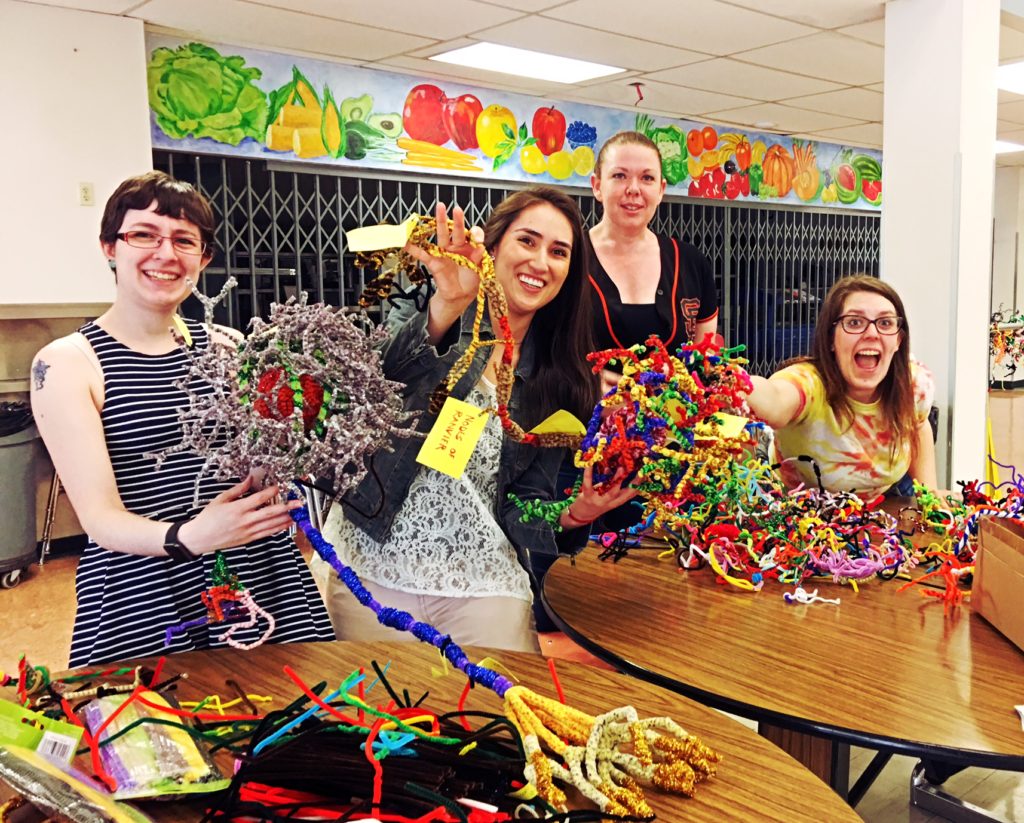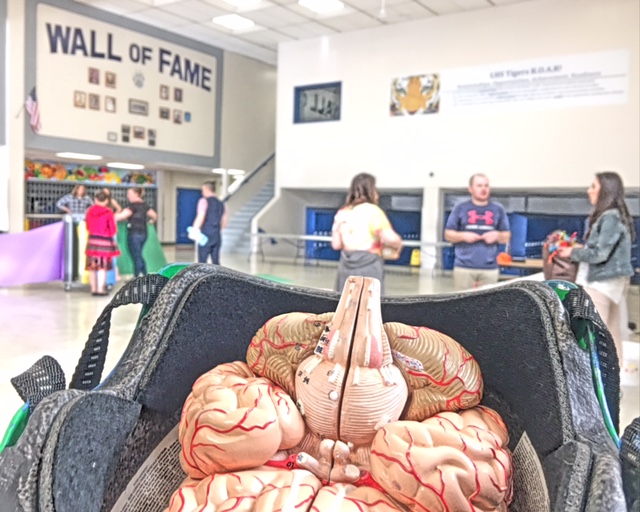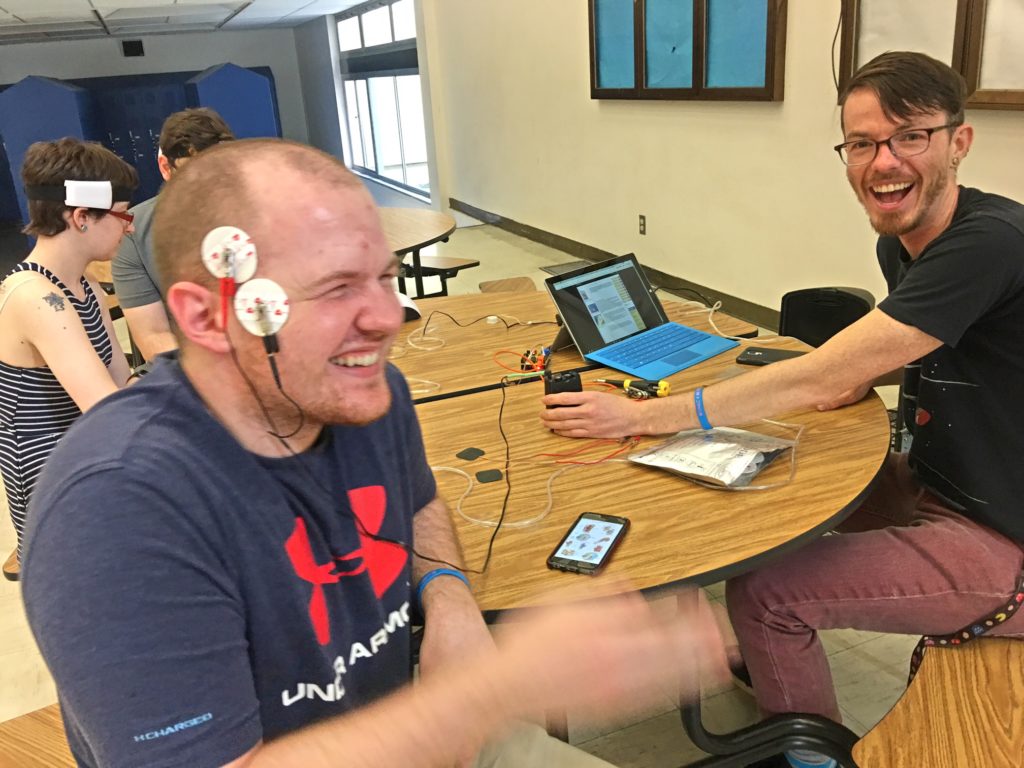 We also created our "brain map" on the cafeteria floor, using rolls of colored butcher paper…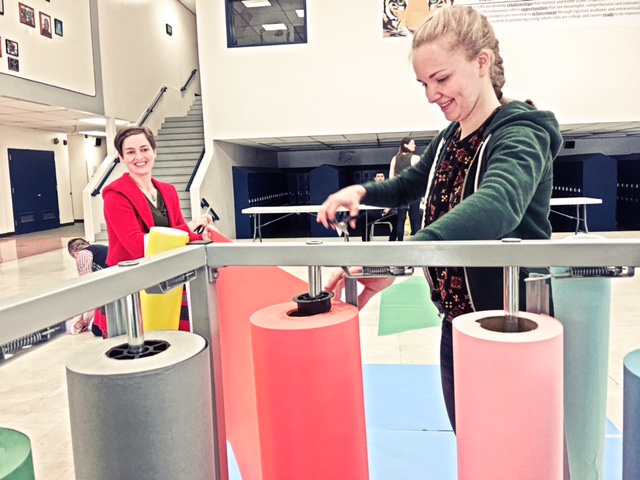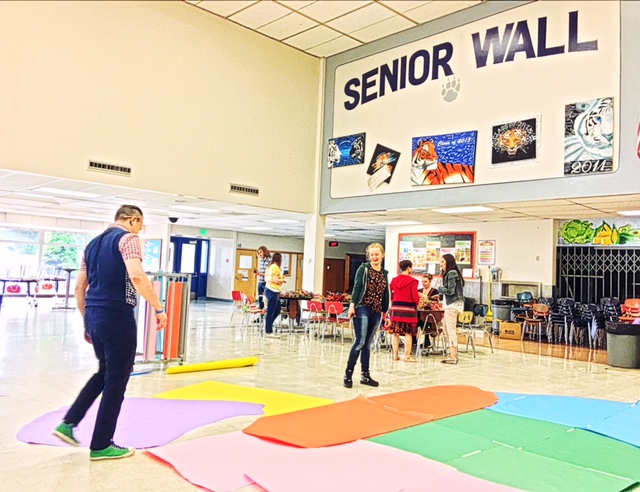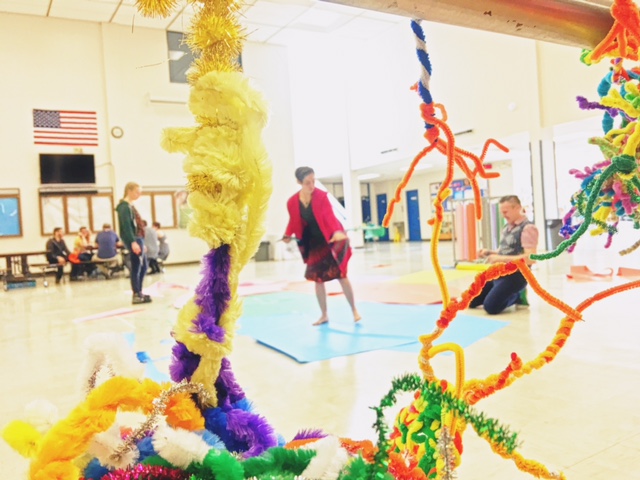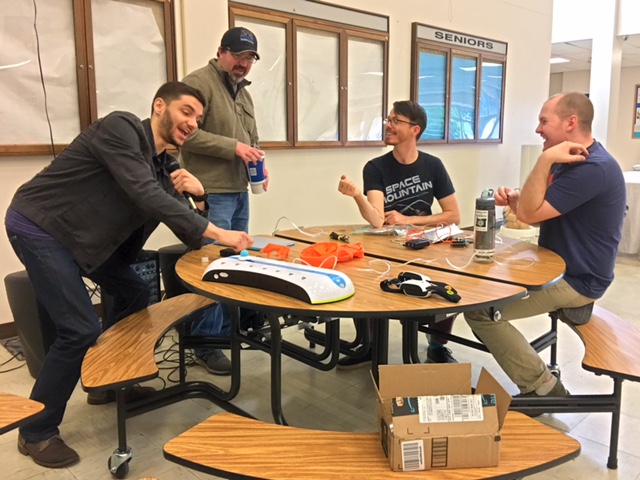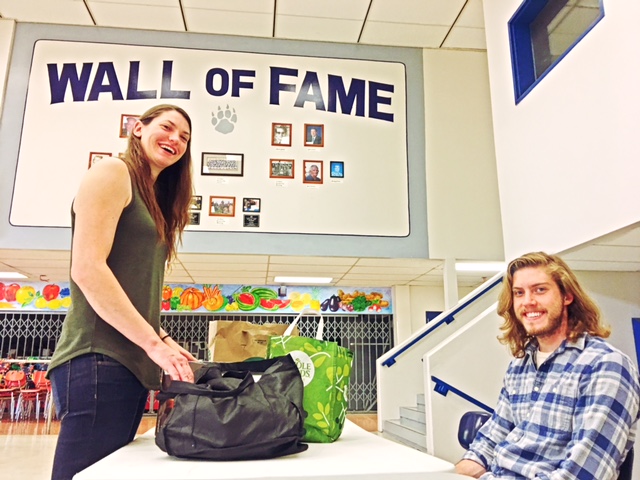 By 9:00am, we were ready for a crowd!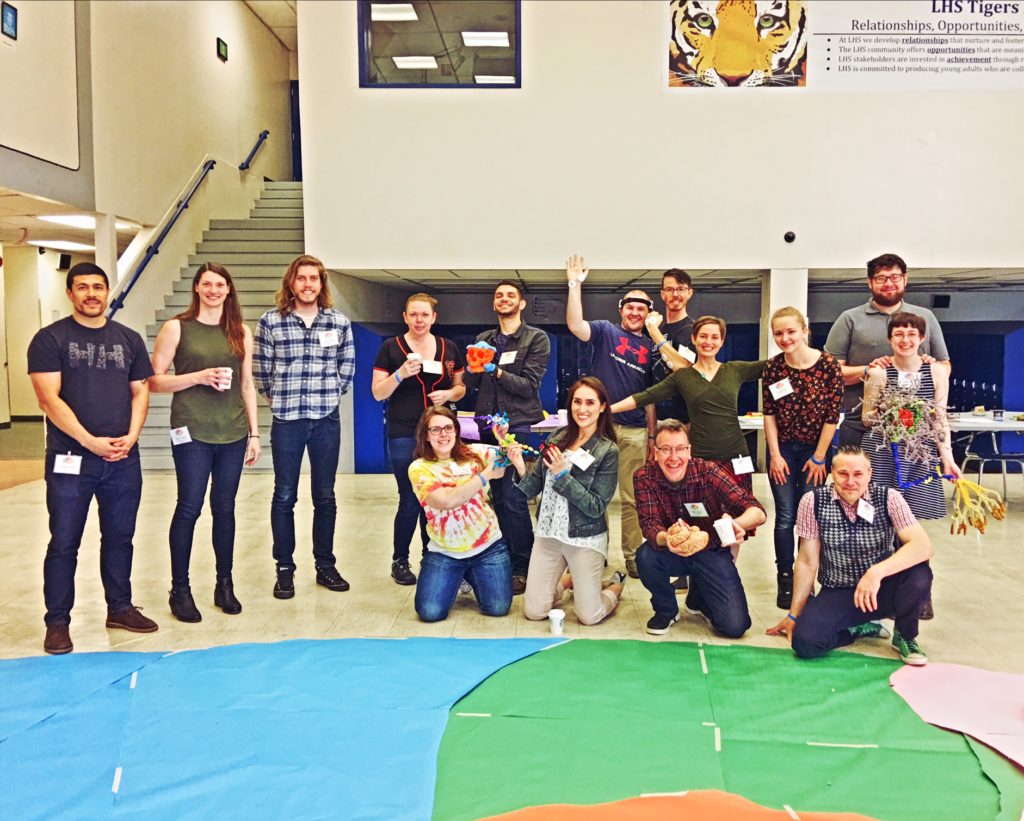 Brittany and Meredith Lair of NEOAHEC had publicized our visit, and arranged for students from Union, Malheur, Morrow, Umatilla, Baker and Wallowa counties to join us that morning in the La Grande High School cafeteria.  The majority of these counties are considered "frontier," with fewer than six people per square mile  –  and several of these 6th – 12th graders had begun traveling over 2.5 hours earlier to meet with our graduate and undergraduate outreach volunteers!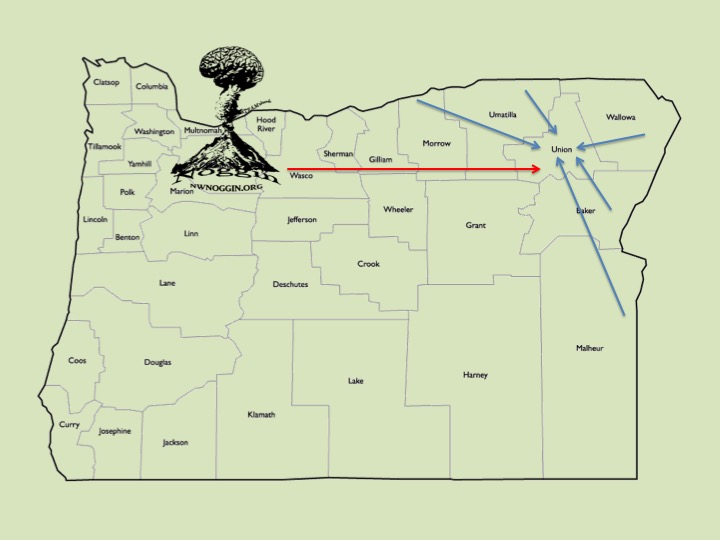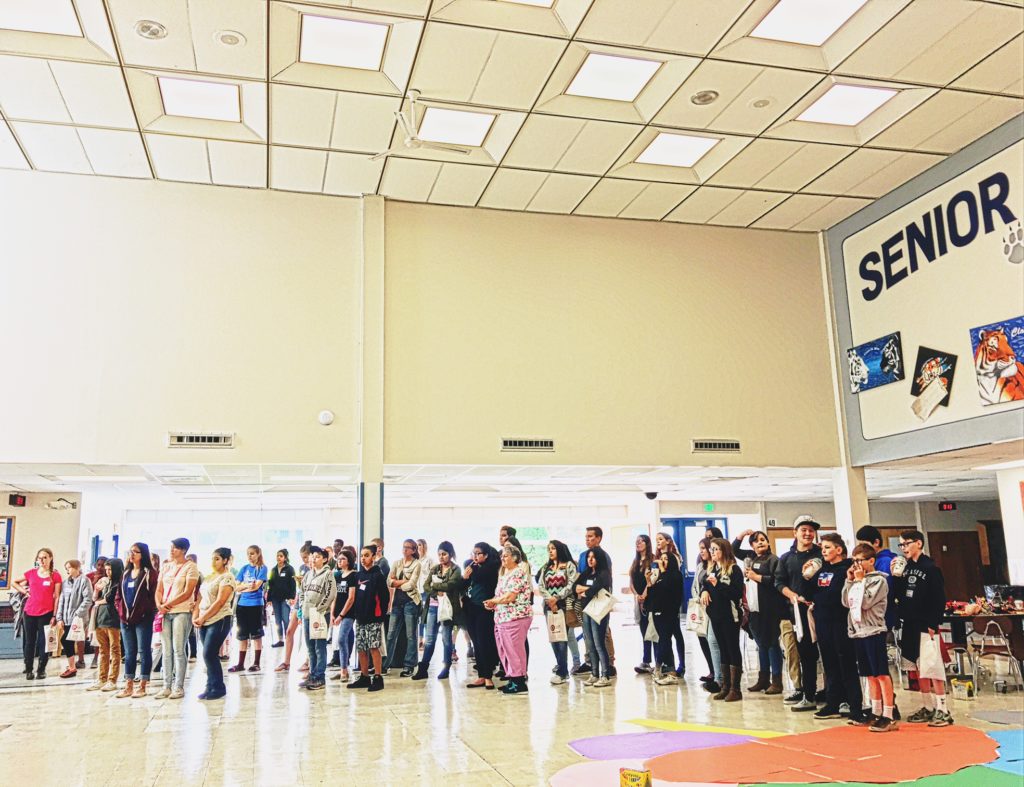 We introduced ourselves, and described what and where we studied and pursued research…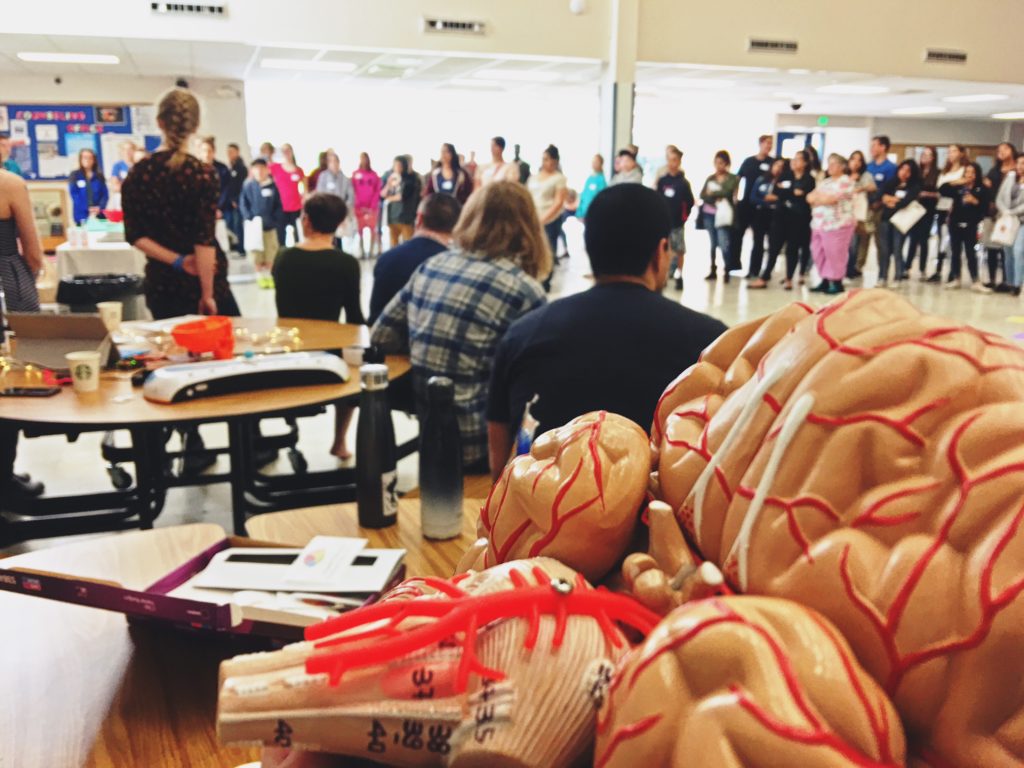 Our Noggin crew included Leota Wolford, Joella Deal, Andrea Anaya, Travis Christian, Ali Mack, Aliese Poole and Heather Hamilton from Portland State University, Rebecca Hood, Scott Jones and Alfredo Zuñiga from OHSU, Brad Dowling and Joey Seuferling from WSU Vancouver, and Kirk Wydner from both PSU and Oregon State…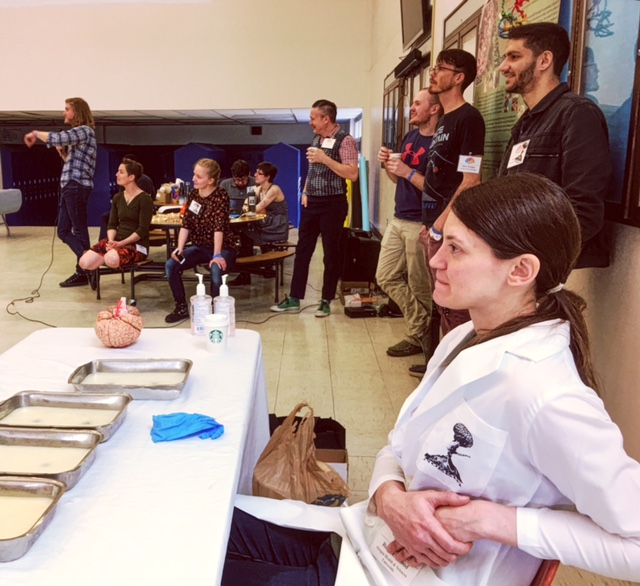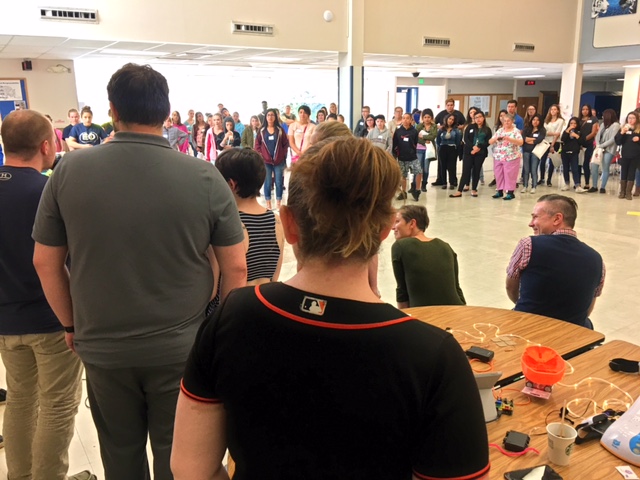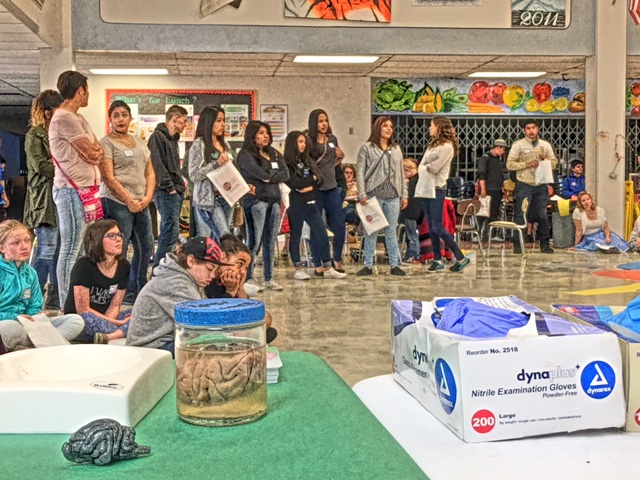 We answered some great questions, including "How can you recharge brain cells?  Why is the outside of the brain a different consistency than the inside?  How is the dyslexic brain unique?  At what age does the brain stop growing and developing? Is it a different age for girls versus boys?"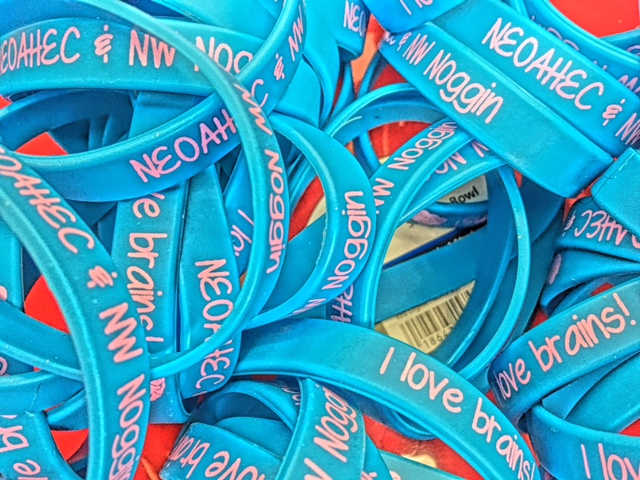 Scott Jones from Behavioral Neuroscience at OHSU covered adolescent brain development, and the changes in network connectivity and myelination (the wrapping of wire-like axons of neurons by CNS glial cells that speeds up the rate of electrical signaling), which doesn't slow down until your mid-20's in boys, and typically a few years earlier in girls.  We emphasized the variability inherent in these processes, with different networks maturing at different rates in different people…
LEARN MORE:  Myelin @ McMenamin's!
LEARN MORE:  NIH ADOLESCENT BRAIN COGNITIVE DEVELOPMENT STUDY
LEARN MORE:  The Adolescent Brain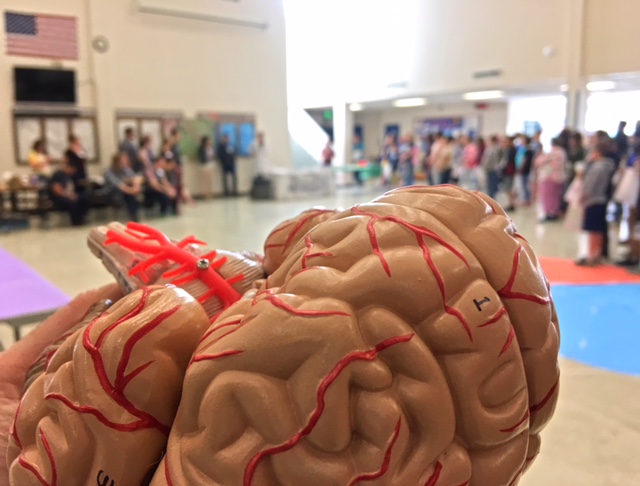 Sleep was recommended for recharging cells, and we observed that, compared to adults, adolescents typically fall asleep later, and require more sleep overall, to help support their dramatically changing bodies and brains.  Lack of sleep, often a consequence of early school start times, can negatively impact memory, cognition and academic performance…
LEARN MORE:  Sleep's effects on cognition and learning in adolescence
LEARN MORE:  Why teen brains need a later school start time
LEARN MORE:  Noggins in Nod  –  the science of sleep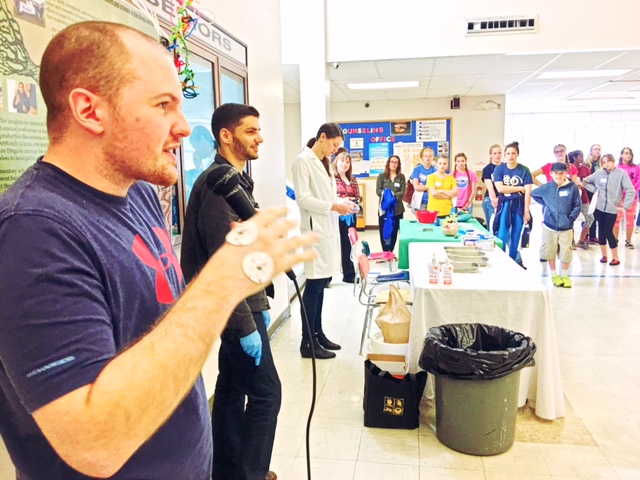 For everyone  –  adults and teenagers  –  deep sleep is essential for clearing out waste materials and toxins that build up in your central nervous system (CNS) via the brain's recently identified "glymphatic system…"
LEARN MORE:  The Glymphatic System: A Beginner's Guide
However, recent research suggests that some adolescents have a much harder time than others, because of a genetically determined shift in their circadian cycles that makes it practically impossible for them to fall asleep early, leading to absenteeism and sleepiness once they do arrive at school…
LEARN MORE:  Mutation of Human Circadian Clock Gene in Familial Delayed Sleep Phase Disorder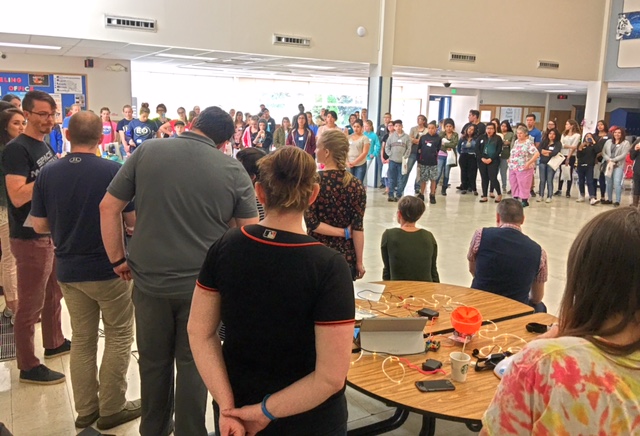 The question about dyslexia was also fascinating, and we asked students to first identify the symptoms.  "Difficulty recognizing letters and words," said one student.  "Switching letters around," said another.  We explained that reading involves initial detection of visible light reflected off letters by specialized photoreceptive cells in your eyes, and then appropriate transfer of these signals along specific networks in cortex that link these letters and words with their sounds and meaning.  A baby can't read, of course, or route visual information correctly, so it takes developmental experience to make neurons wire themselves up effectively so we can enjoy Harry Potter…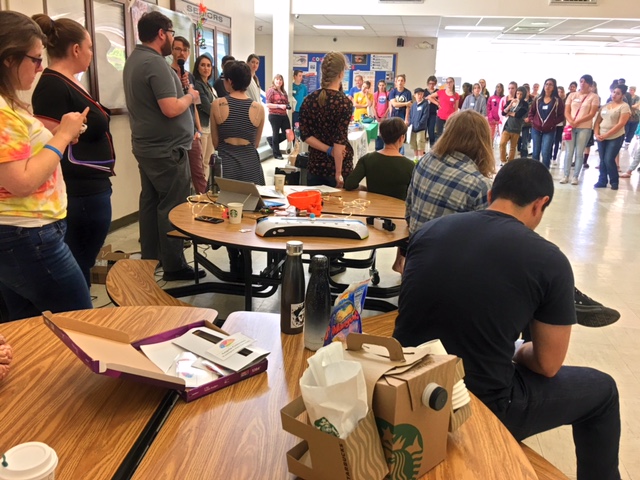 Many studies suggest that people experiencing dyslexia have far less activity in areas of their left occipital and temporal lobes that become specialized for letter/word recognition than those who read without difficulty.  However, they also exhibit more activity in the frontal lobe, indicating effort…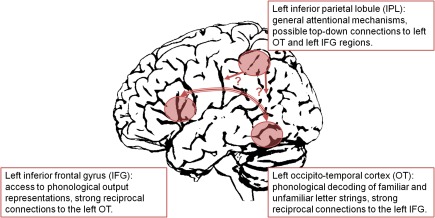 LEARN MORE:  Developmental dyslexia: dysfunction of a left hemisphere reading network
We reminded students that brains are diverse, and people develop important functional networks at different rates during adolescence.  And we emphasized that those with dyslexia are often working a lot harder at tasks that are significantly easier and more automatic for their peers.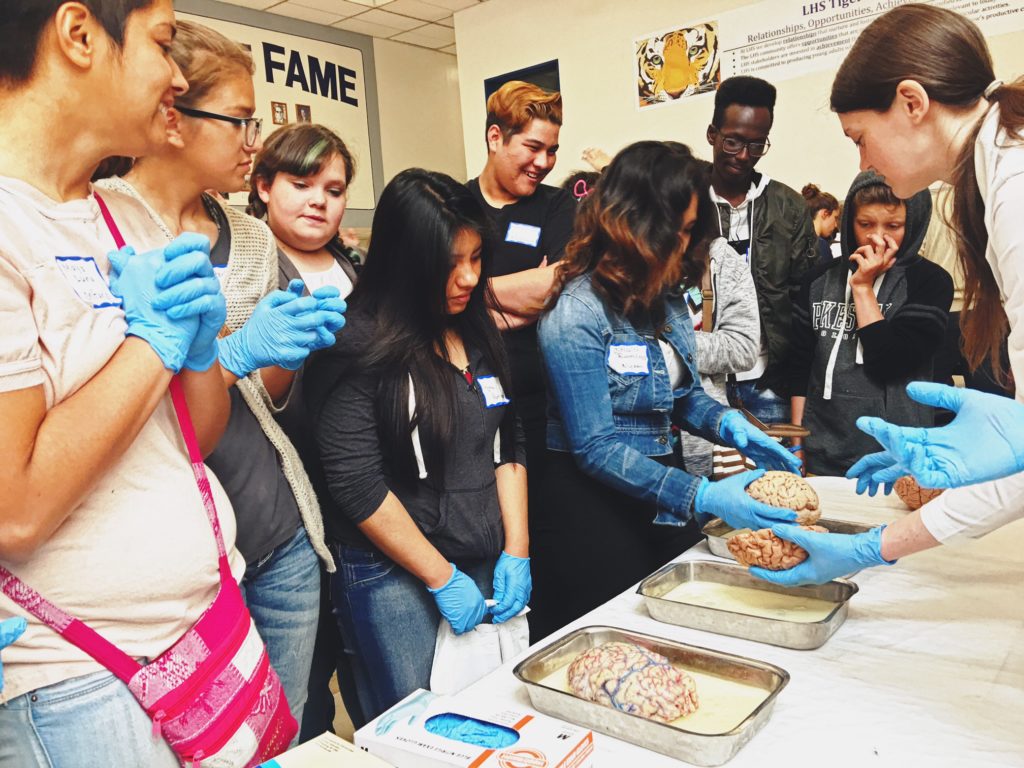 Then it was time to look at brains!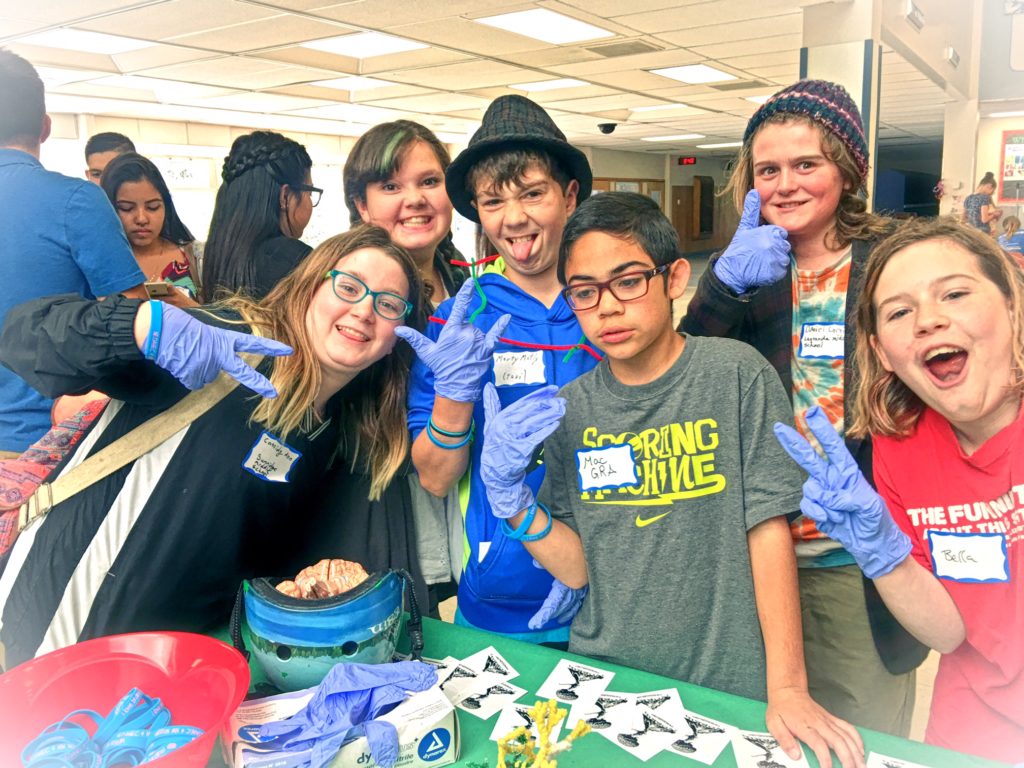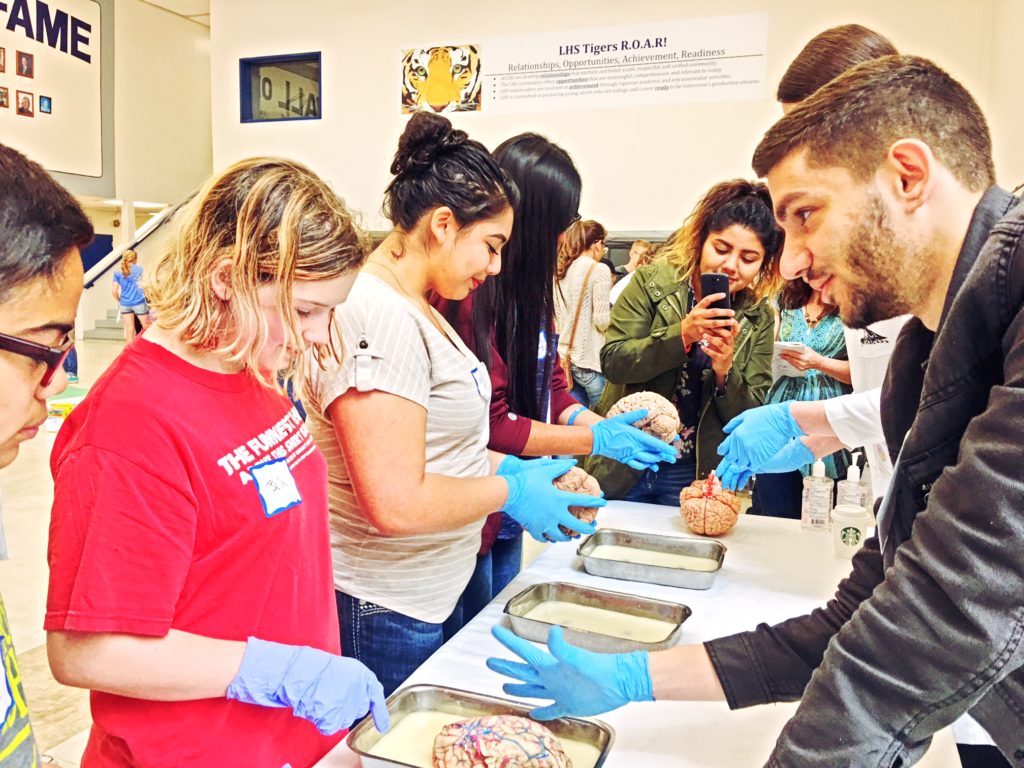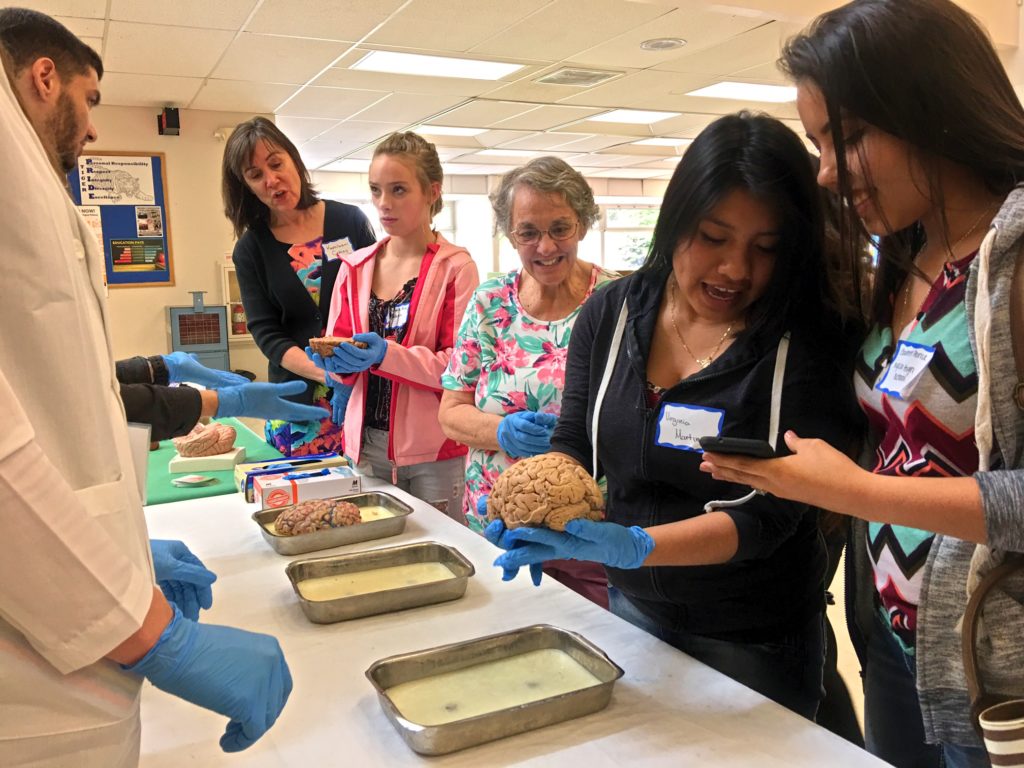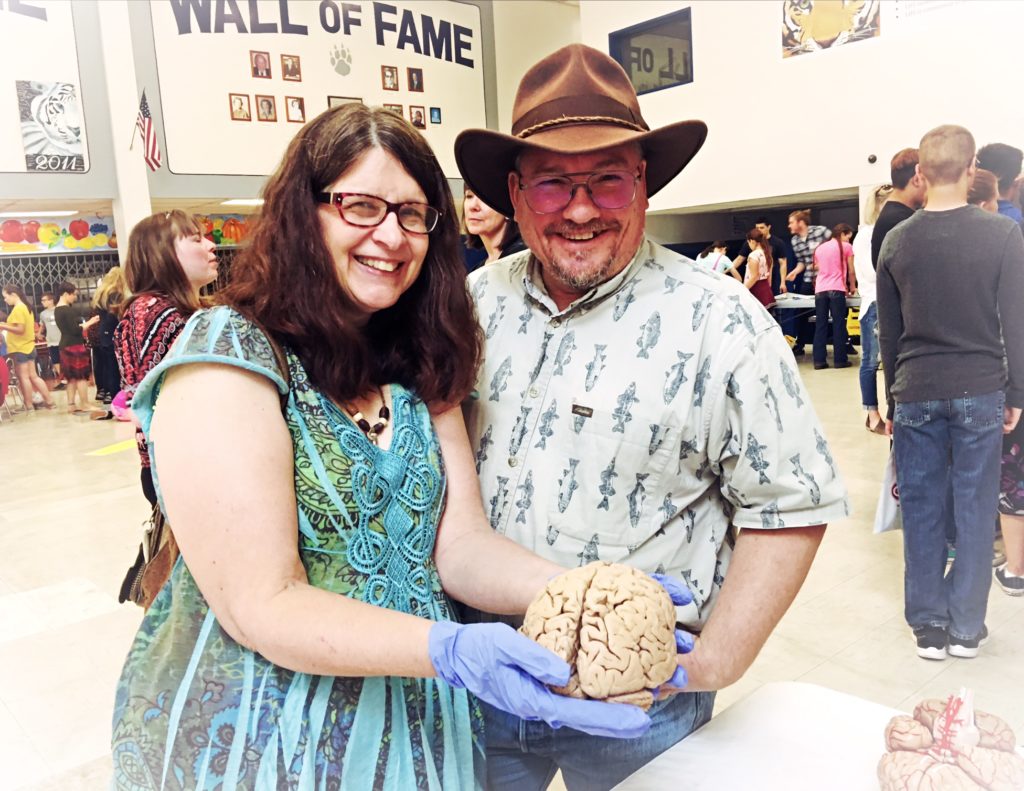 Students headed to our different stations, some to build their own pipe cleaner brain cells…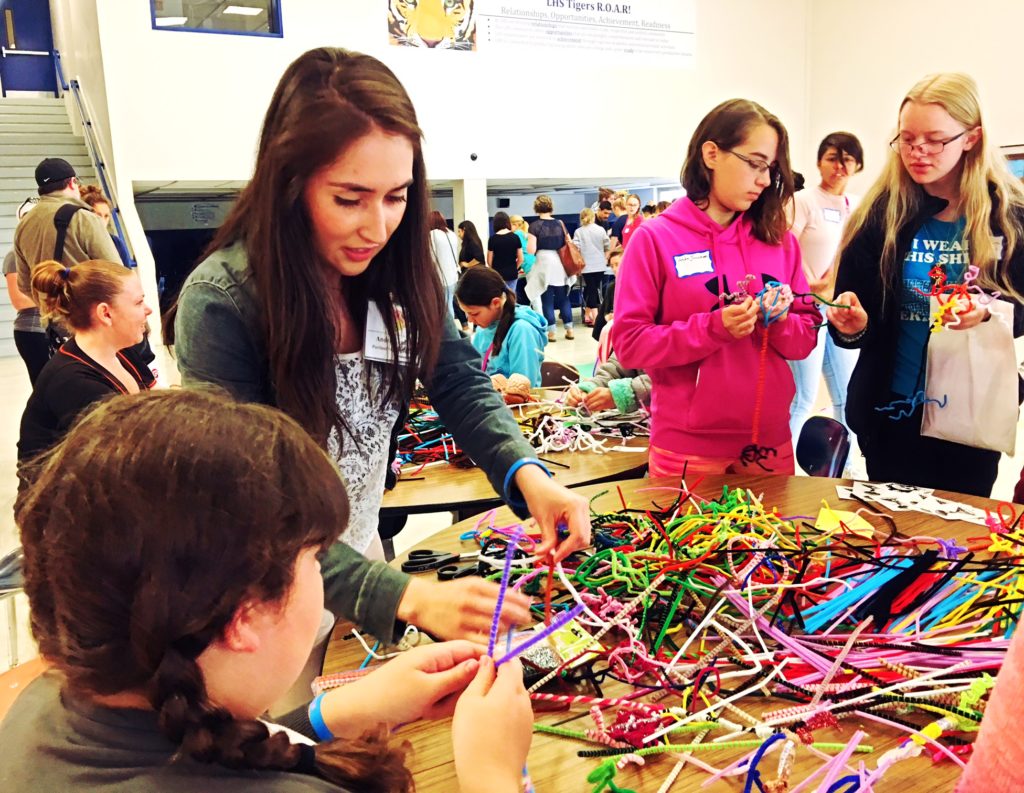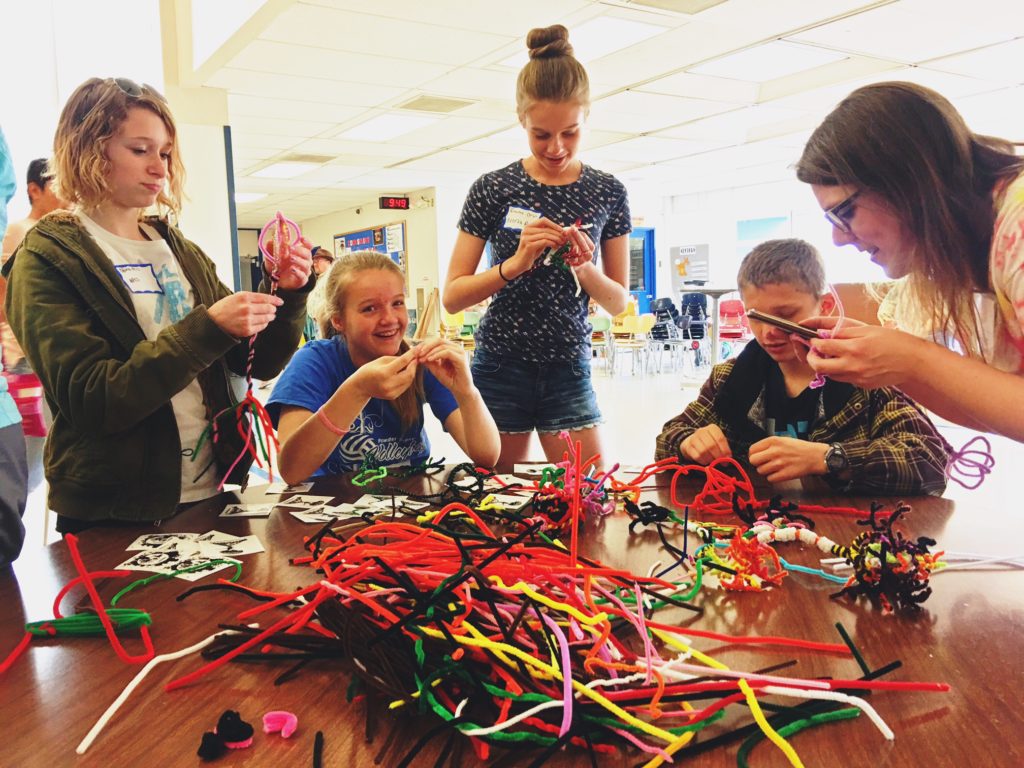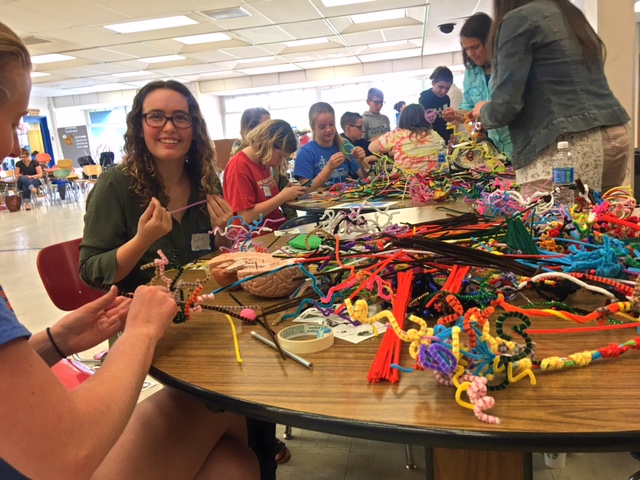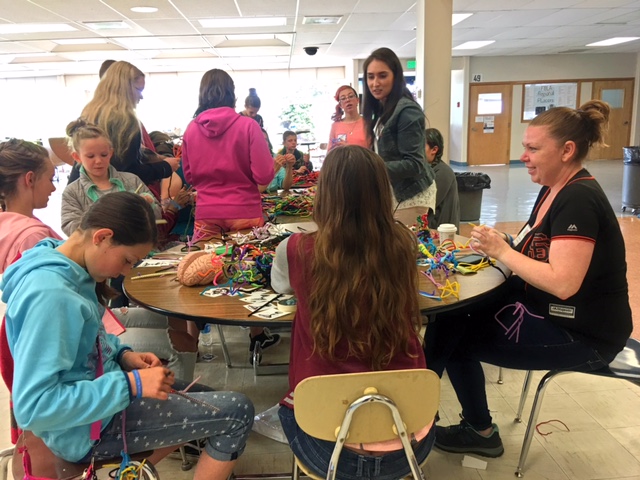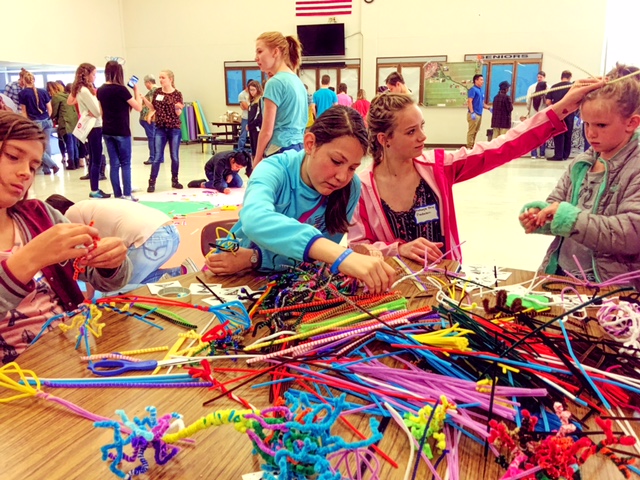 Others picked out leaves and moss to craft their own, often stunning, neuron-like prints…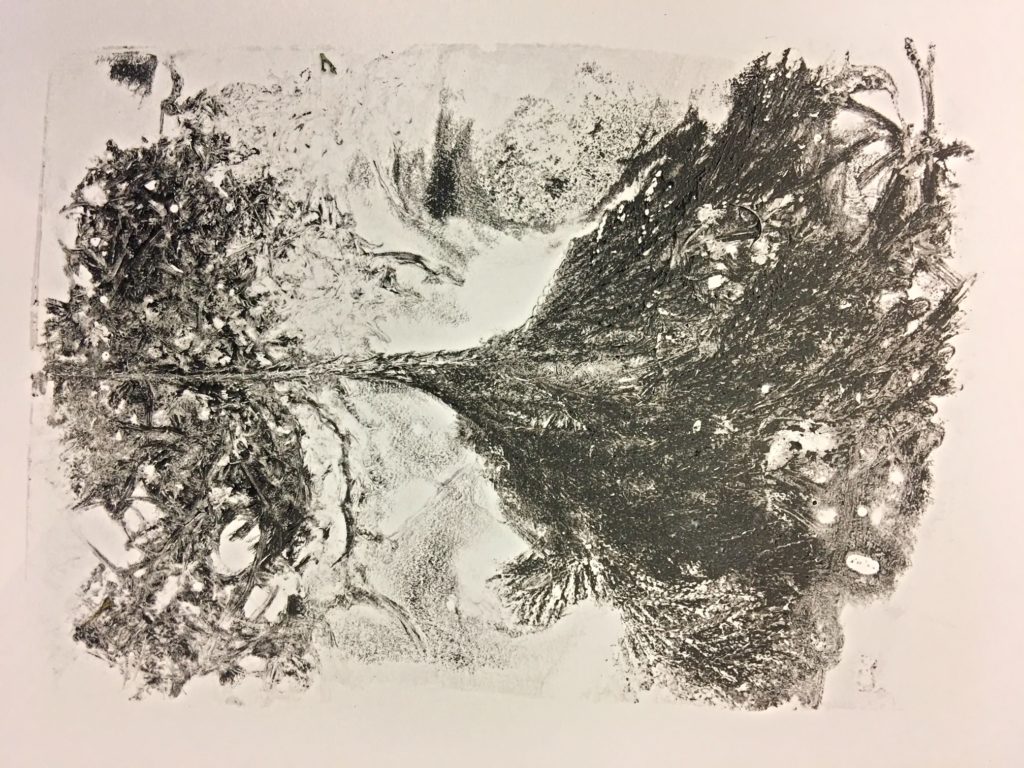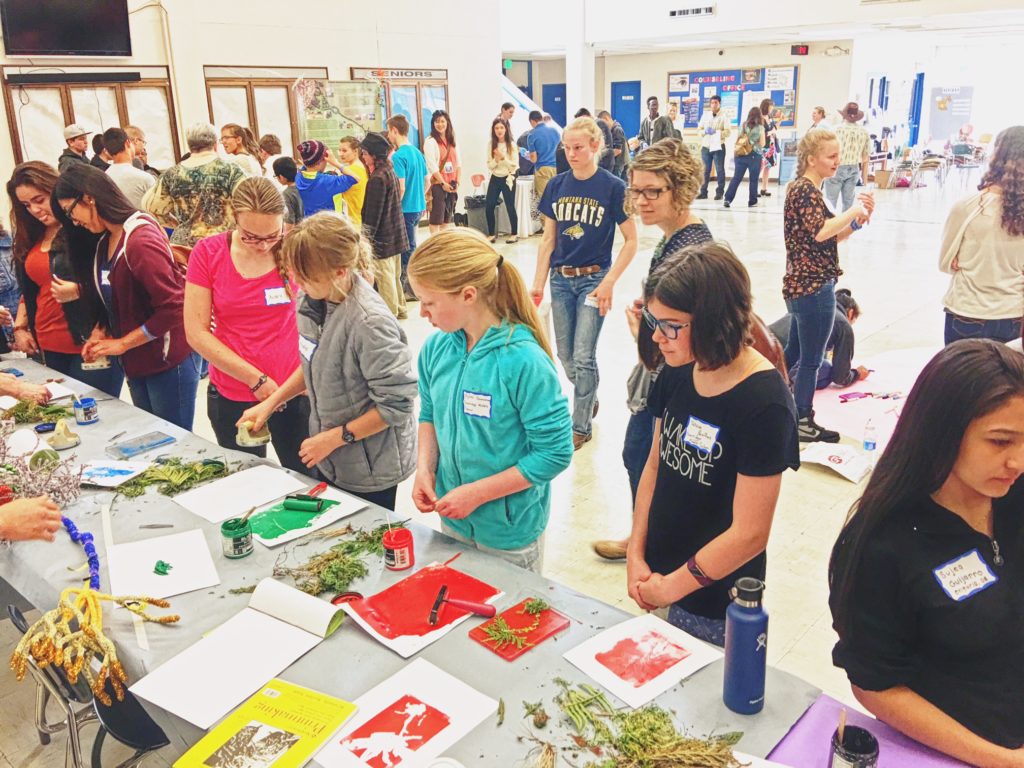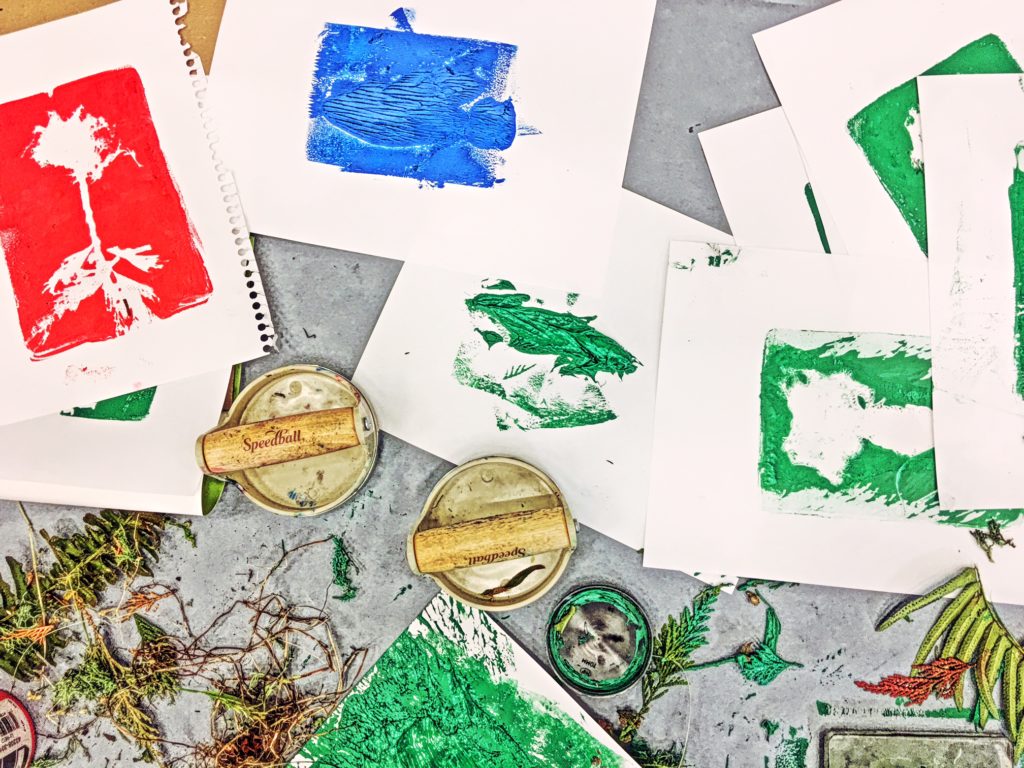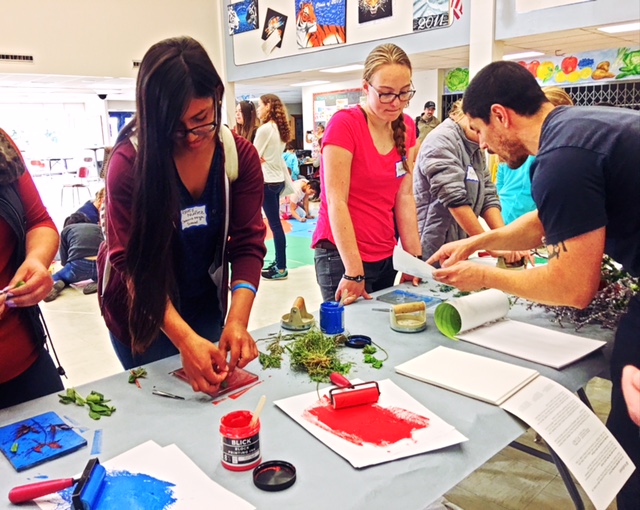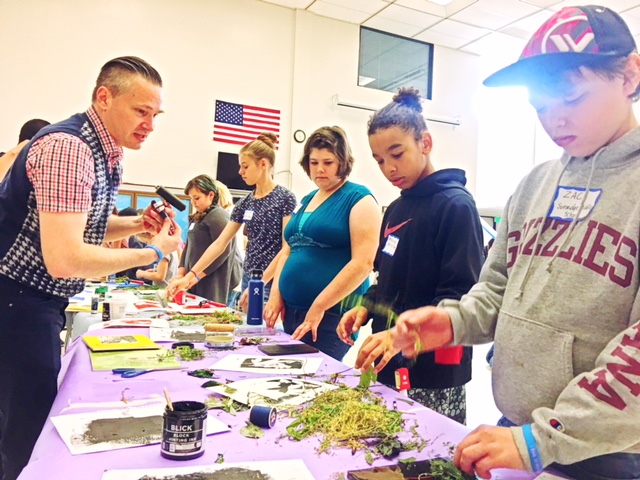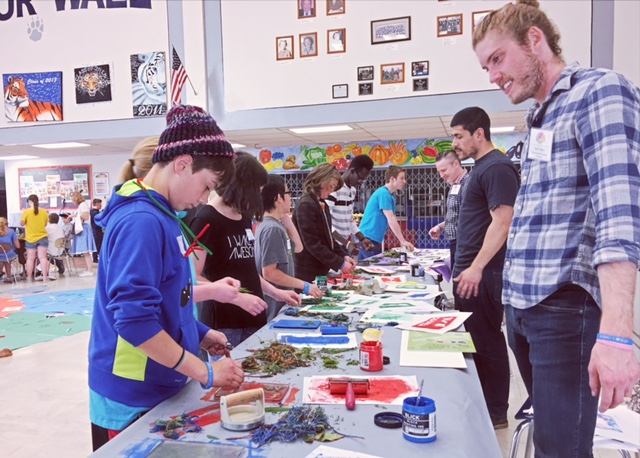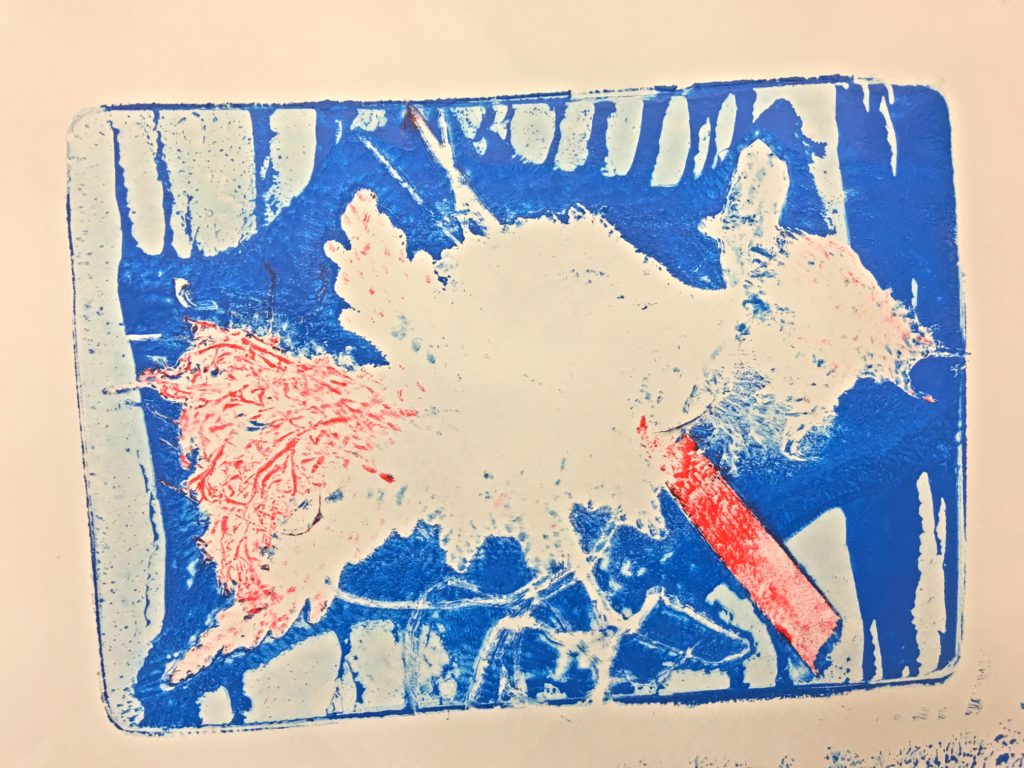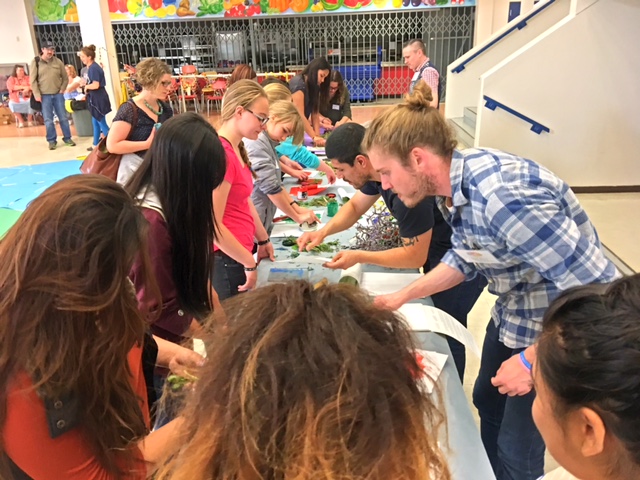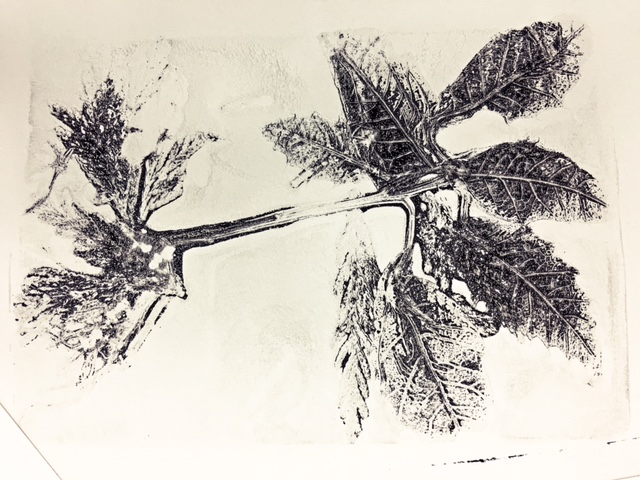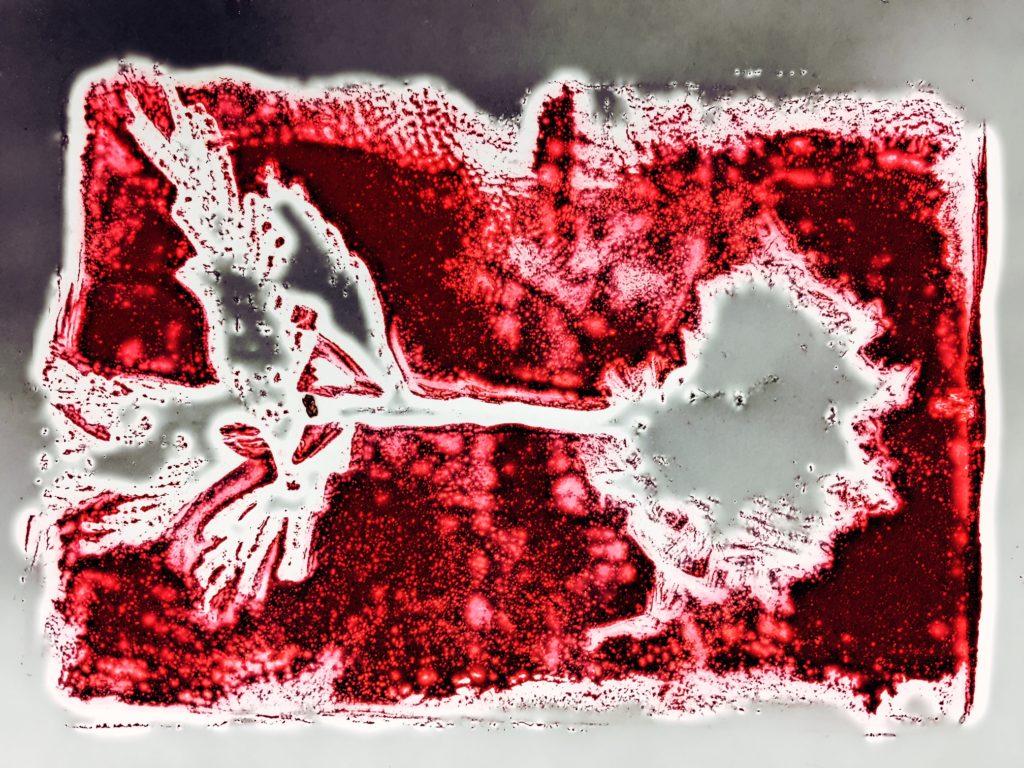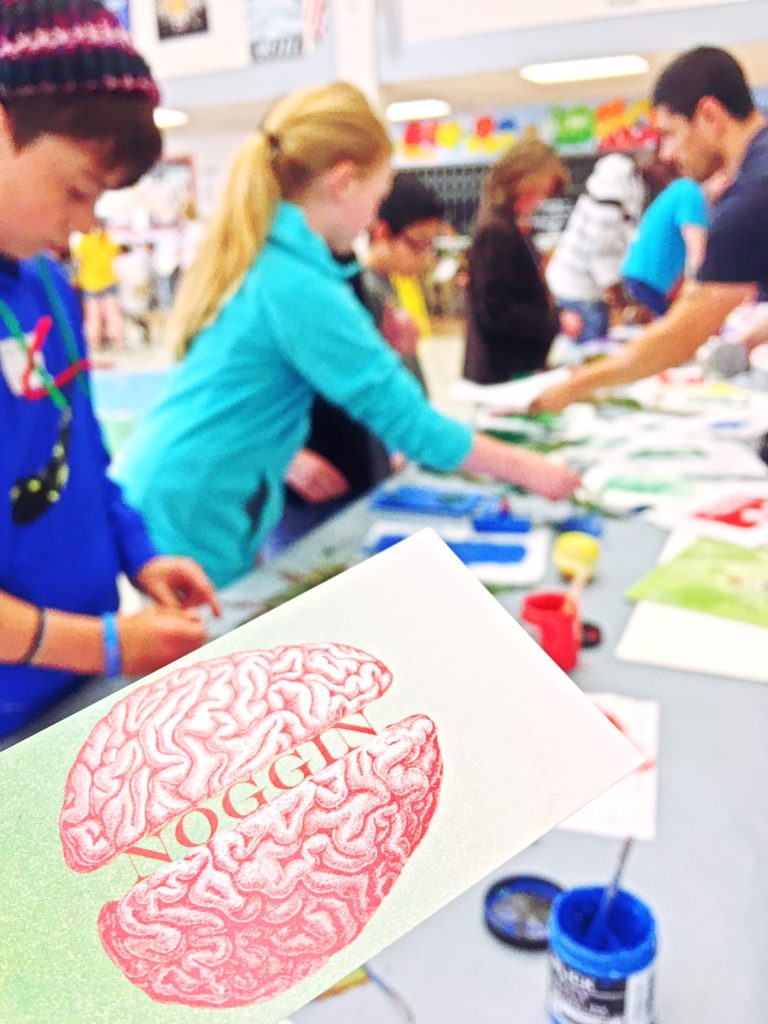 Still more considered how their developing neural networks in different parts of their brains (including the frontal, parietal, occipital and temporal lobes) contribute to specific perceptual and cognitive functions, like the visual recognition of letters and words.  They grabbed crayons to depict these various structure/function relationships directly on our giant paper brain on the floor…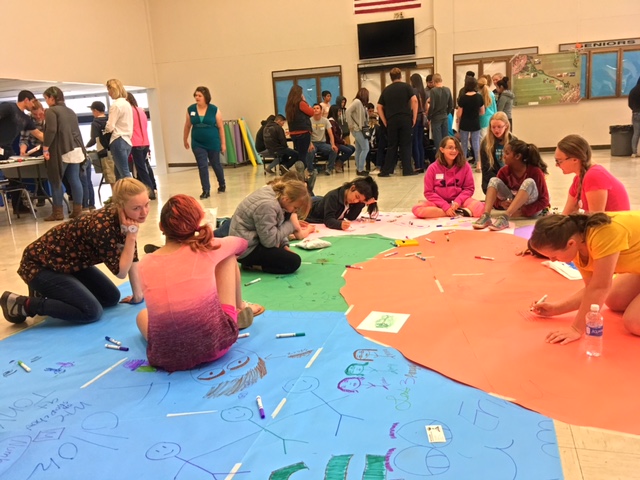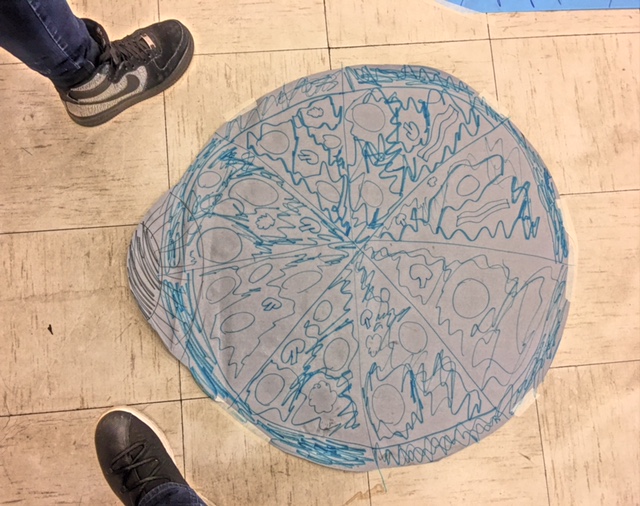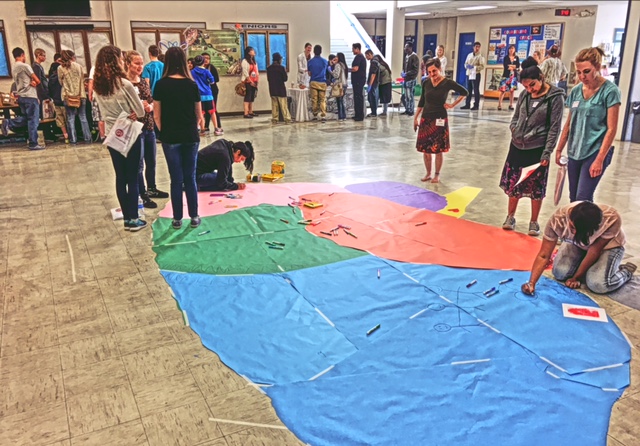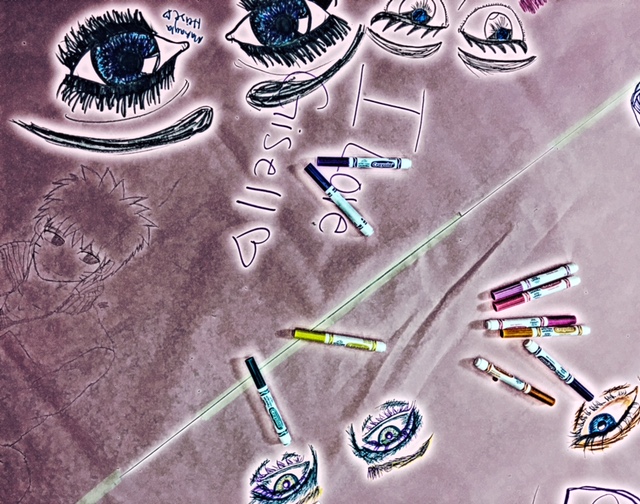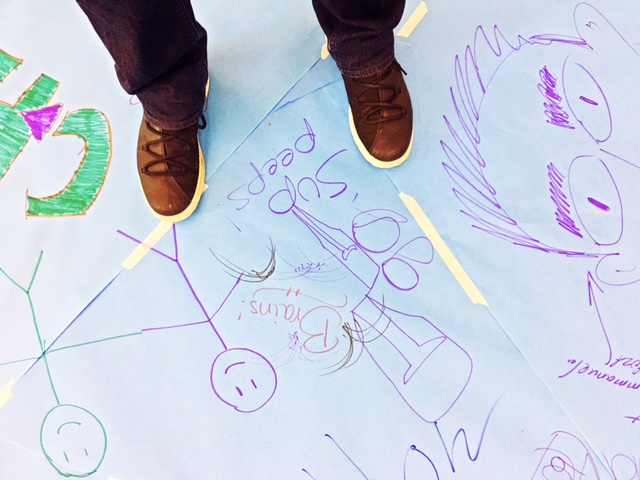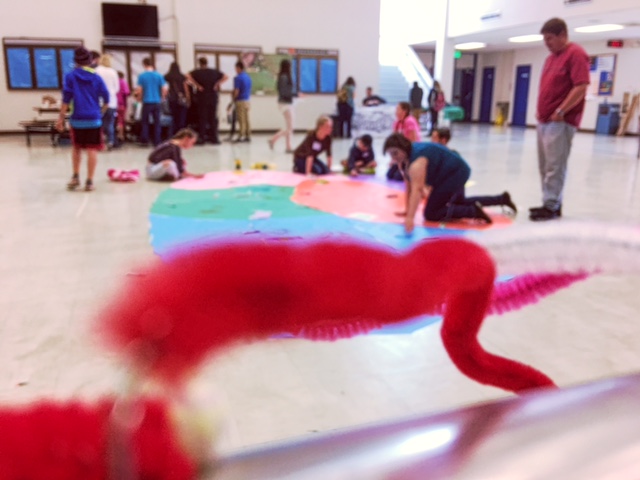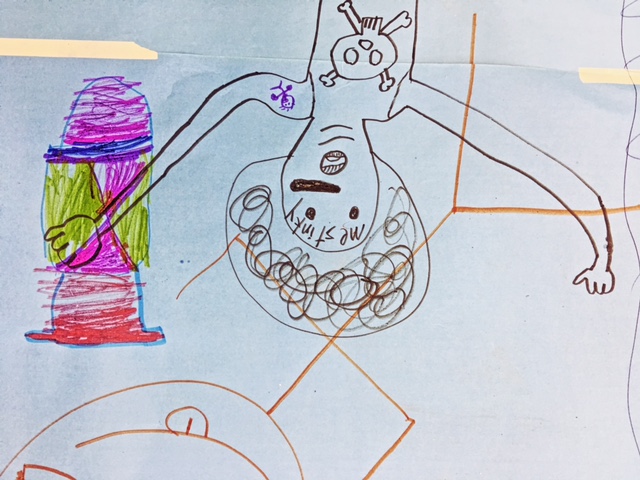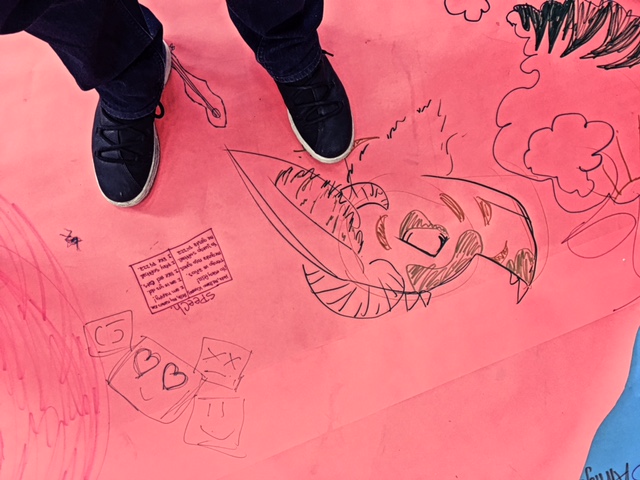 Dragons in the temporal lobes  –  temporal lobes are critical for recognizing visual objects!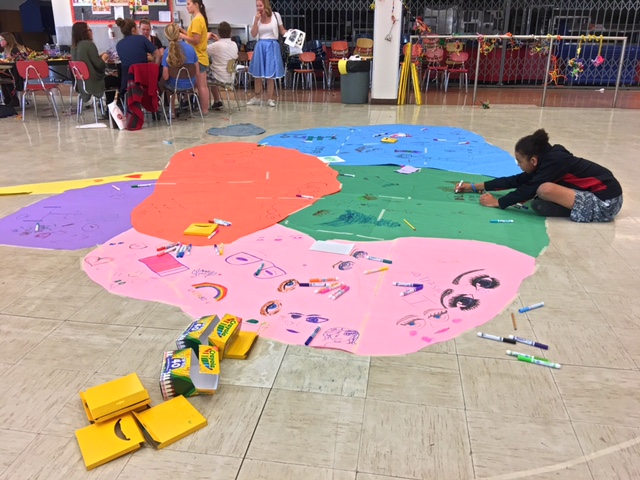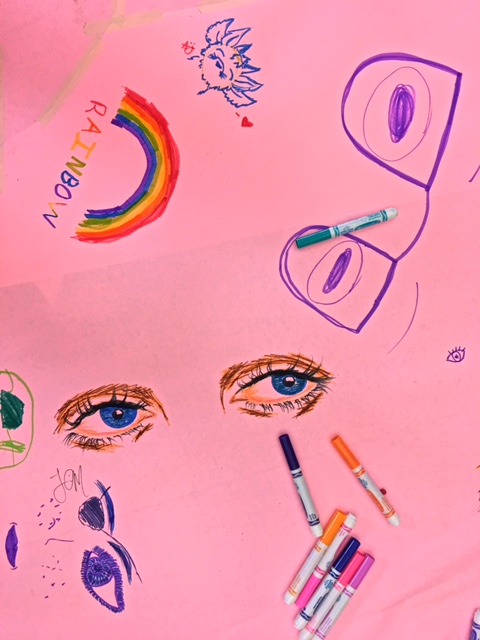 One of the busiest stations was our electrophysiology table, where Kirk, Ali, Travis and Brad had far too much fun with the Human to Human Interface and the Mindflex Duel!
The Mindflex is always a popular way to introduce students to the electrical nature of brain activity, as the headset wirelessly transmits EEG signals recorded from the frontal lobe to the base station, to move a blue ball suspended by a variable stream of blowing air along a track…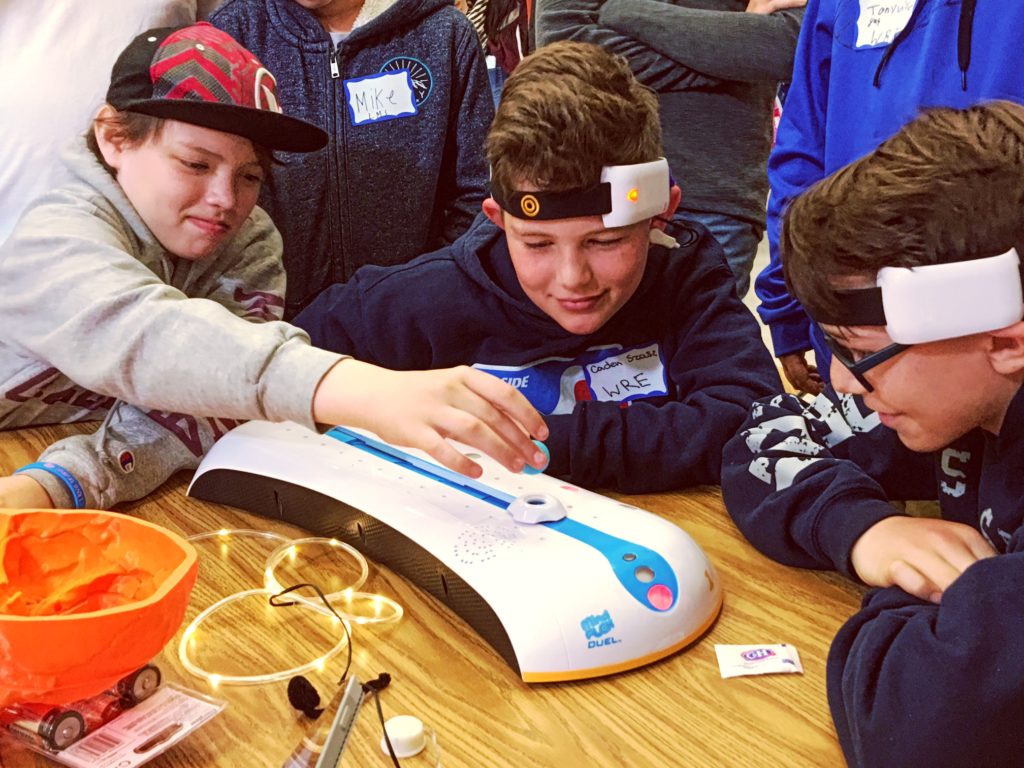 Two people can compete against each other, using two headsets, as the game employs an algorithm to compare activity from both player's brains and move the blue ball back and forth in response…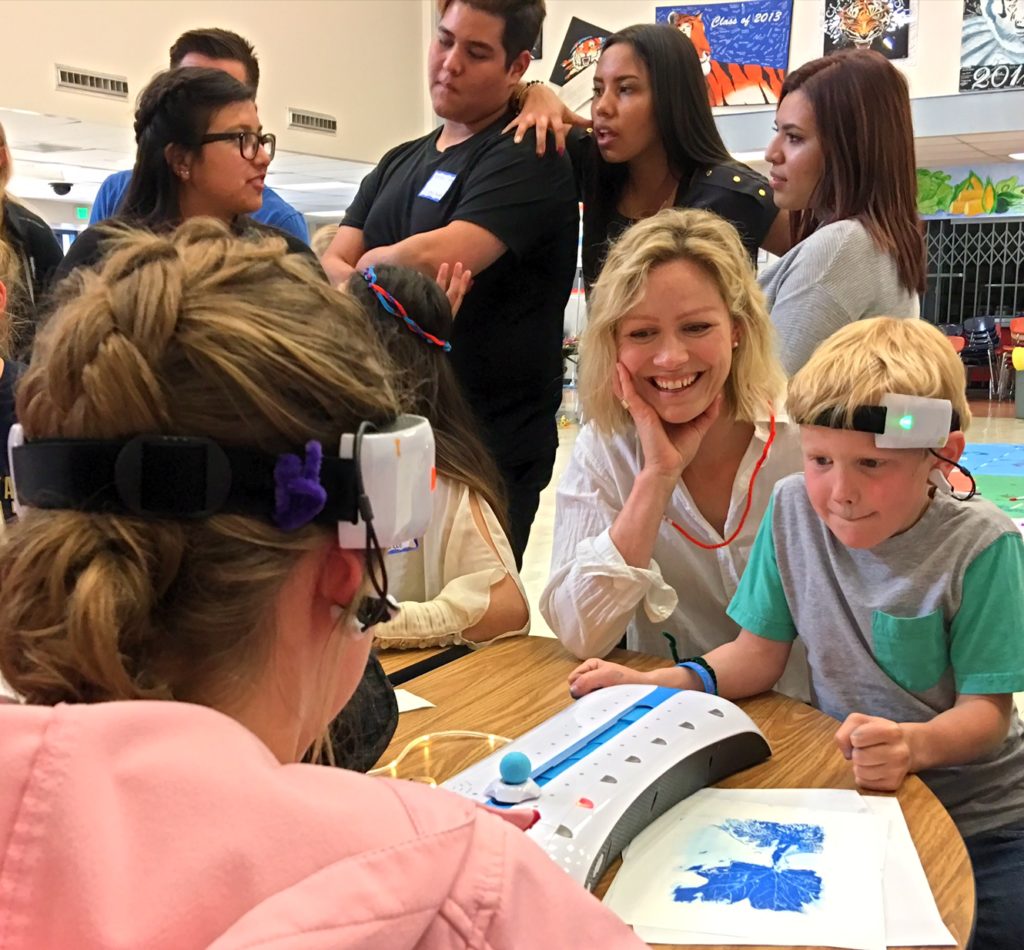 LEARN MORE:  Making a human @ P:ear
The Human to Human Interface, from the awesome neuroscience tinkerers at Backyard Brains, consists of an Arduino micro-controller circuit board that receives electrical input from electrodes placed over muscles on one subject's arm, or hand…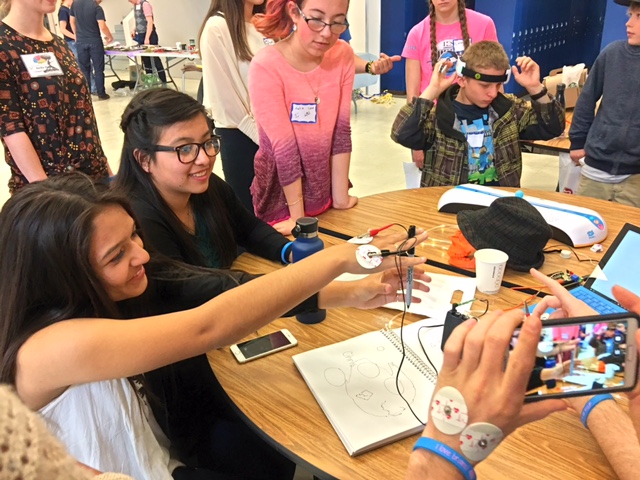 When that individual moves their hand, it signals the Arduino, which activates a Transcutaneous Electric Nerve Stimulation (or TENS) unit  –  that's basically a fancy way to say it delivers an electric shock from a 9 volt battery!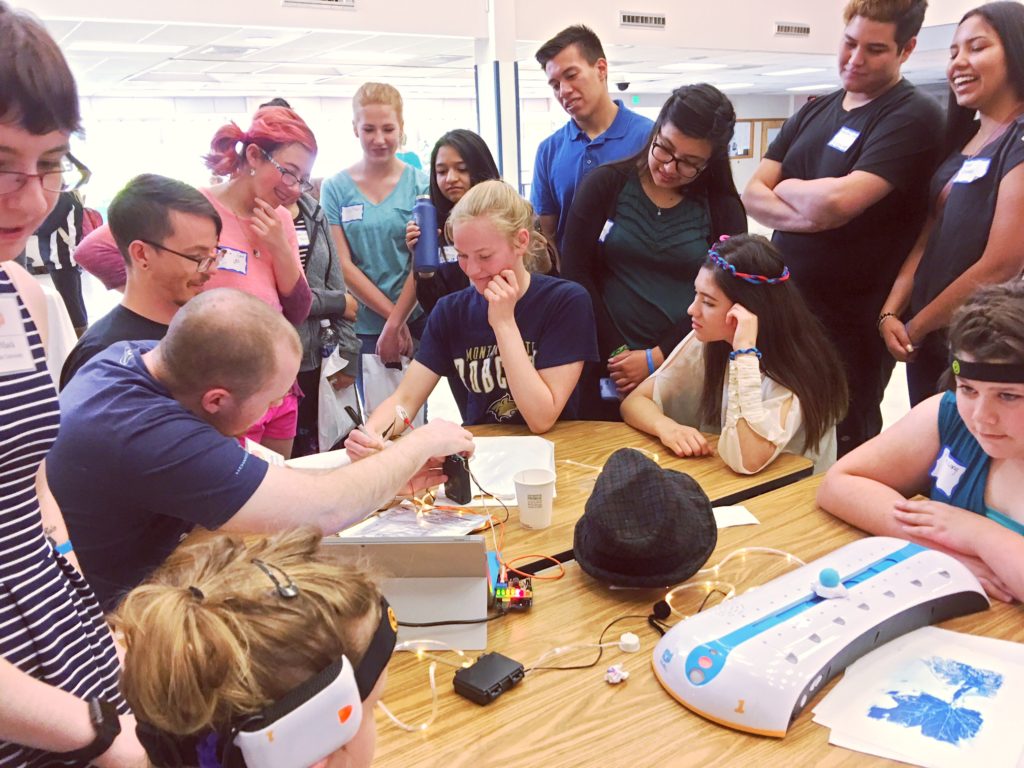 The TENS unit delivers this shock through electrodes placed over the ulnar nerve of a second subject's arm (or over superficial nerves in the hand, or nose!), so when the first subject clenches their fist, the second subject's pinkie and ring finger move suddenly in response, as well!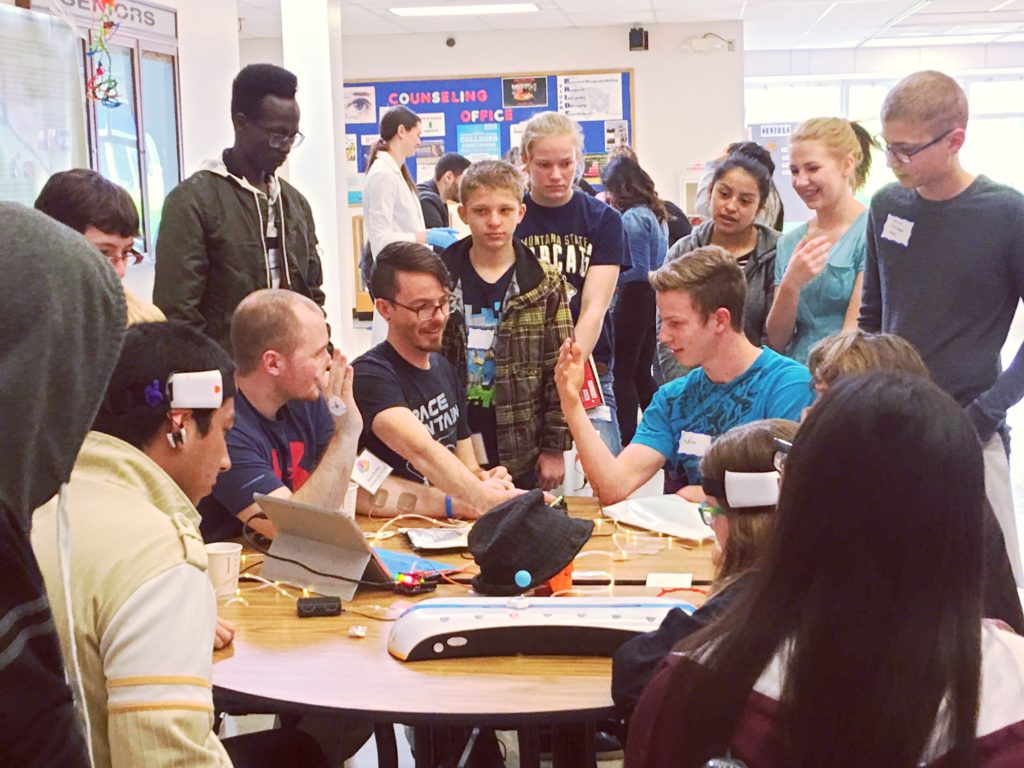 This is a pretty direct demonstration of the electrical nature of information flow along neural wires, or axons, that move our muscles  –  and also along sensory wires that travel into our central nervous system, reaching brain areas responsible for the perception of tingling!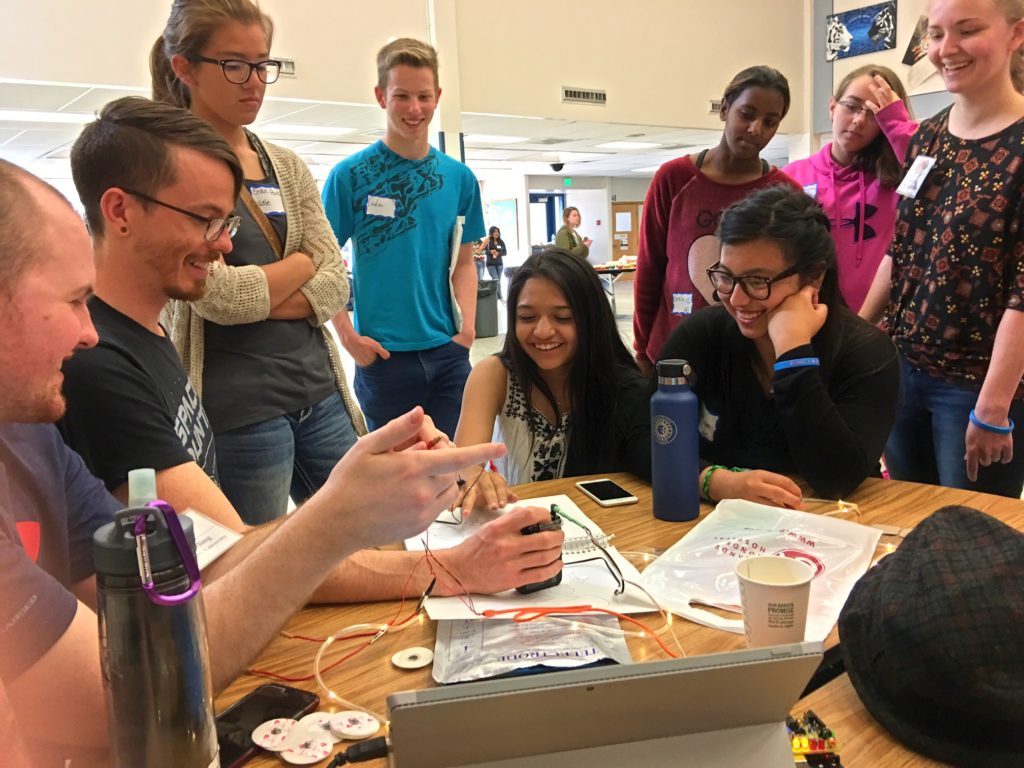 LEARN MORE:  Shocking Connections in La Grande!
We spent hours with these terrific students, engaged in art, conversation and experiment.  We discussed traumatic brain injury, schizophrenia, alcohol, marijuana and opioids, Parkinson's disease, Alzheimer's, and more.  We were also joined in La Grande by a curious Kathleen Cathy, the Field Representative for Oregon U.S. Senator Ron Wyden…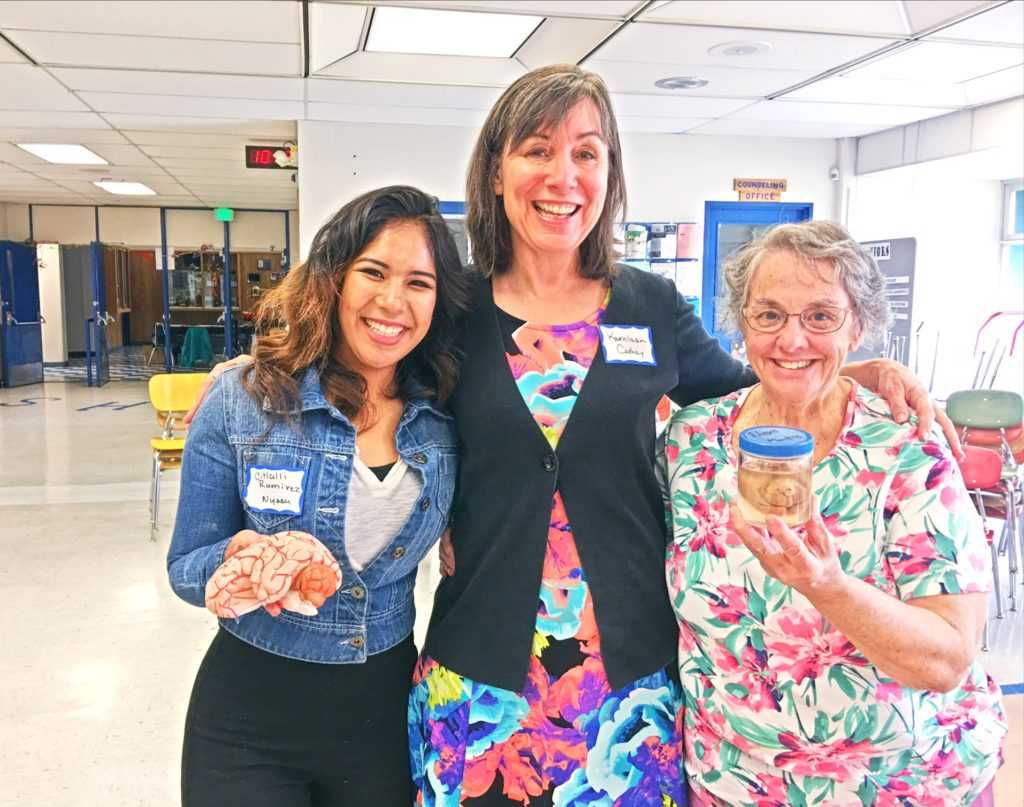 So many thanks to Brittany and Meredith from NEOAHEC  –  and to the students, parents and teachers who joined us for art and brains!  We look forward to heading east again in the future…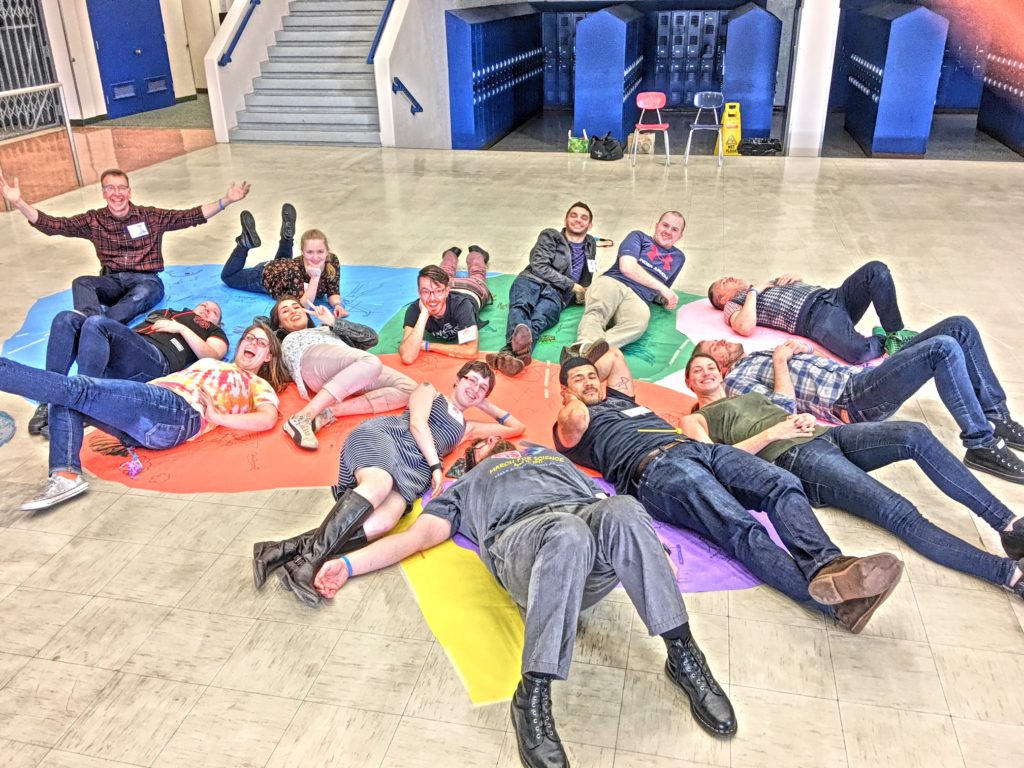 Susan Parrish, For The Observer

Daniel Corsini, 11, held a human brain Saturday.
"It was gooey," said the La Grande Middle School student, "and also awesome!"
Jun 01, 2017
By Brittany Hargrove–NEOAHEC Admin. & Outreach Coordinator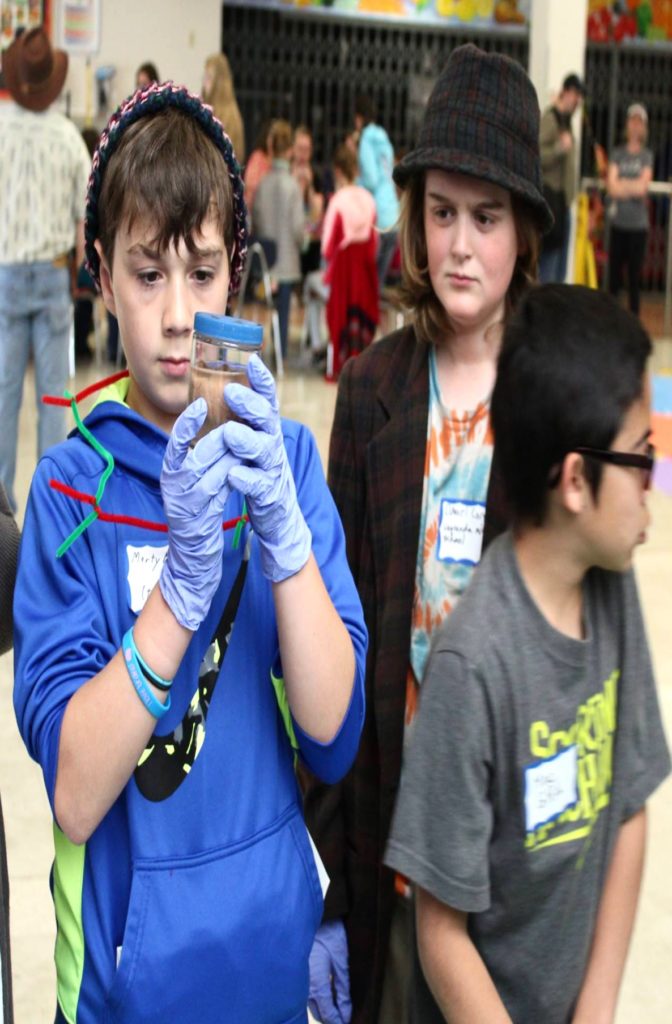 Students began by picking the volunteers' brains—almost literally!–asking questions ranging from topics like dyslexia to the brain's consistency. Then, smiling ear to ear, the students rotated through several stations where they fashioned neuron replicas out of pipe cleaners, made neuron-like gel prints from plants, explored electrophysiology with a Mind Flex game and other activities, and channeled their inner artist by doodling on a giant paper brain model on the cafeteria floor. Most importantly, the students rolled up their sleeves, plugged their noses, and got up close and personal with real human and animal brains…