Thanks to Katie Sale of the American Brain Coalition, our NW Noggin graduates and undergraduates from WSU Vancouver, Portland State University and OHSU were invited to spend our last East Coast morning enjoying art, science and history at the National Institutes of Health, a sprawling, 300+ acre campus of federal research agencies in Bethesda, MD, just outside Washington DC…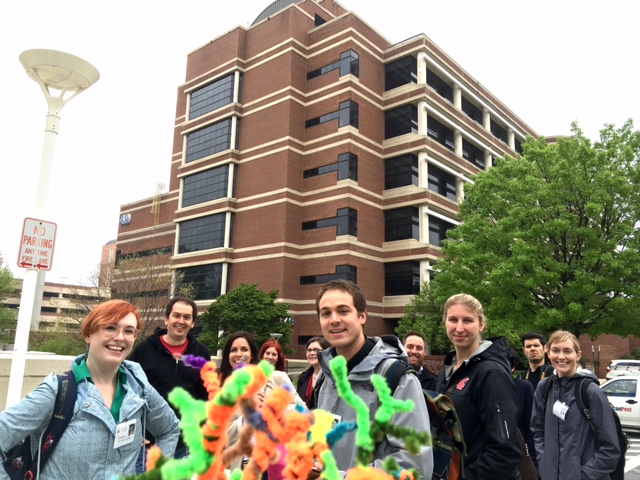 The NIH is composed of 27 Institutes and Centers, each with its own research focus on particular diseases and/or body systems.  Many of our graduate students work in labs funded by specific NIH agencies, including the National Institute on Drug Abuse (NIDA), the National Institute on Deafness and Other Communication Disorders (NIDCD), and the National Institute of Mental Health (NIMH).  Many, including myself, benefited from NIH graduate training grants, and received individual National Research Service Awards (NRSA's) to pursue our pre-doctoral research.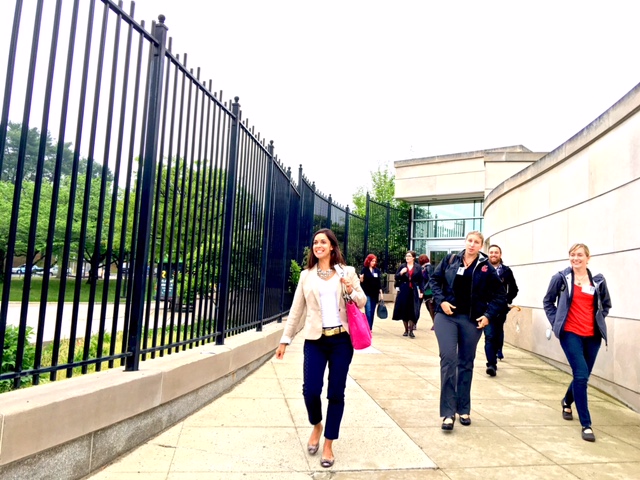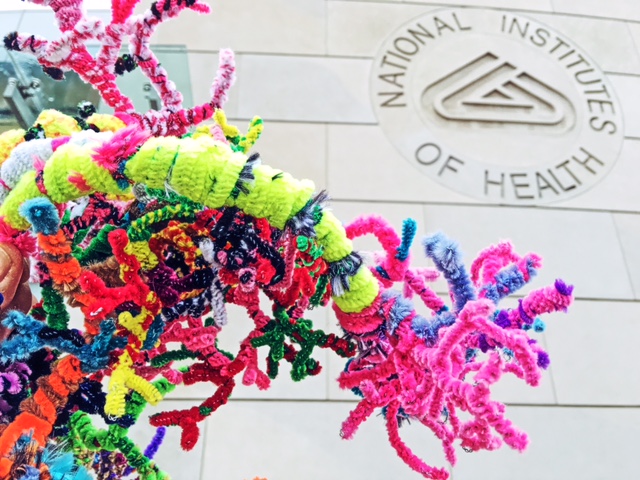 We were guests that morning of Chris Thomas, a strong supporter of arts-integration in science education and an accomplished Science Writer from the National Institute of Neurological Disorders and Stroke (NINDS).  Chris's passion for engaging the public in neuroscience through art is evident in the following National Eye Institute (NEI) video ("How Did You Become a Scientist" ) he recorded in 2013…
Chris and I immediately recognized each other as fellow graduates of OHSU!  Chris earned his Ph.D. from the Neuroscience Graduate Program (I was in Behavioral Neuroscience) and has spent many years writing about scientific discovery in Bethesda.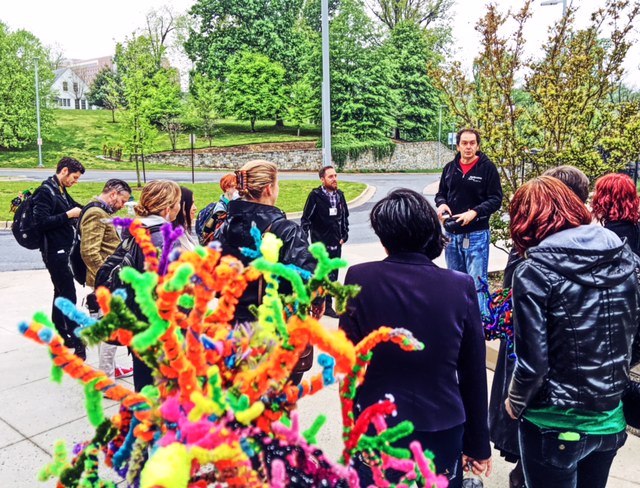 Our Noggin volunteers enjoyed his introduction to the NIH, and asked questions as we worked our way towards Building 35A, the John Edward Porter Neuroscience Research Center.  More than 800 neuroscientists in 85 separate research groups, once scattered across the NIH campus, now collaborate in shared spaces and interactive labs, to study the nervous system in both healthy and diseased states.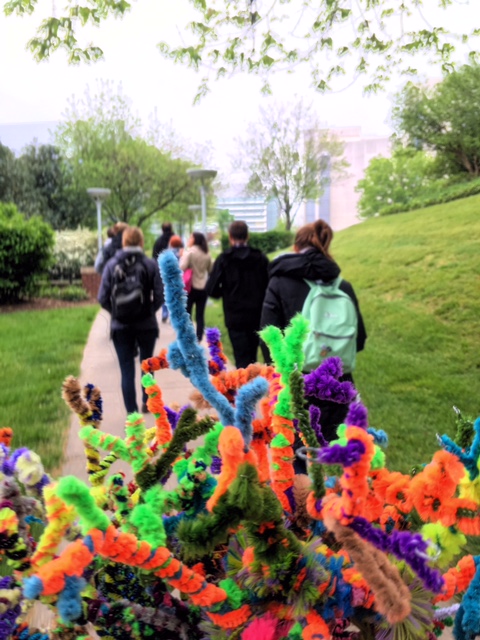 On our way, we passed the looming Mark O. Hatfield Clinical Research Center, named after eminent former Oregon Senator Mark Hatfield.  This conspicuous building operates as both a hospital and the largest clinical research facility in the world, with around 1600 studies currently underway. According to Chris, it is also the biggest brick structure on Earth!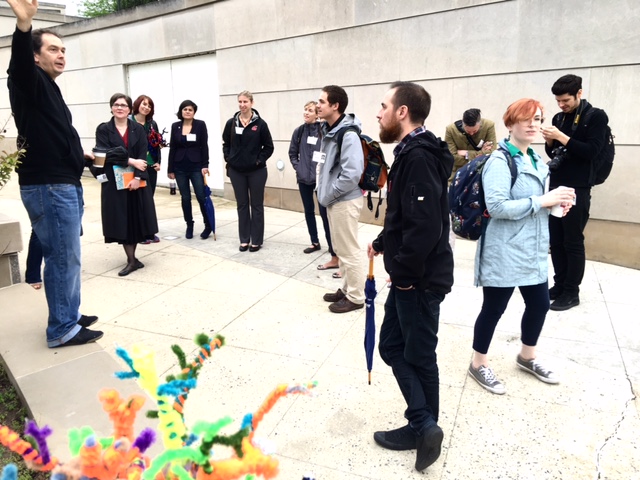 After a week of exceptional science, art and policy experiences in our nation's capital, at DC public schools, Congress, the White House and the Phillips Collection, our volunteers were excited to learn more about NIH opportunities, and to view some extraordinary brain-related art…
We grabbed our caffeine from the atrium Starbucks, and met Jeff Diamond, a Senior Investigator in the Synaptic Physiology Section at NINDS.  Jeff also has an OHSU connection  –  he was a postdoc in Craig Jahr's lab at the Vollum Institute, where he investigated the effects of glutamate transporters on excitatory synaptic transmission in the hippocampus.  Jeff also studied excitatory transmission in the retina with David Copenhagen at UCSF, and as we toured the Center, his continued excitement and fascination with the visual system became very clear!
LEARN MORE:  NMDA Receptors Multiplicatively Scale Visual Signals and Enhance Directional Motion Discrimination in Retinal Ganglion Cells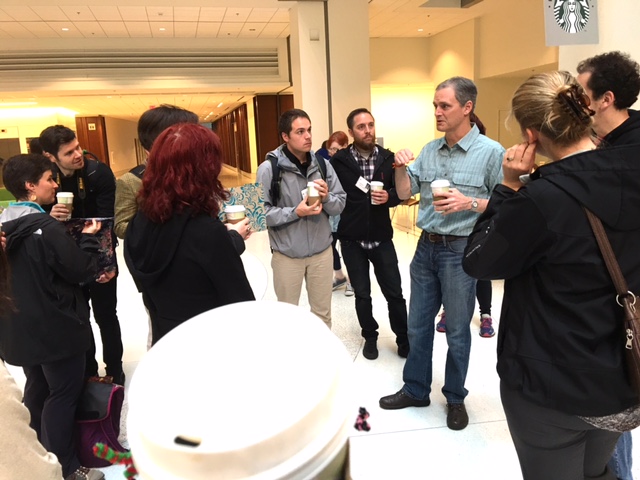 Jeff is not only a well-known vision scientist, but also, along with Chris, a huge supporter of the arts.  In fact, a few years ago, both Chris and Jeff traveled to Europe to visit the Cajal Institute, the oldest neuroscience research institute in Spain, to request some original drawings by celebrated neuroanatomist Ramon y Cajal…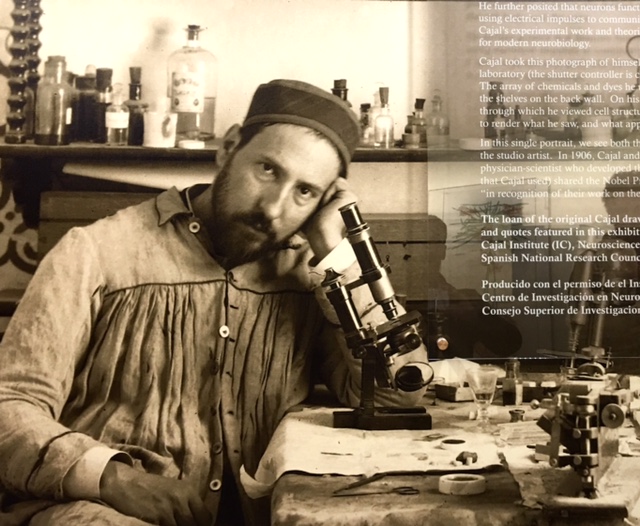 Cajal is exceptionally significant to neuroscientists.  It's over a century since he first applied the silver stain of Italian scientist Camillo Golgi (the Golgi stain), and drew in ink what he saw under his microscope  –  the diverse, striking, individual cellular units of filigreed networks that underlie our cognition, perception, and behavior…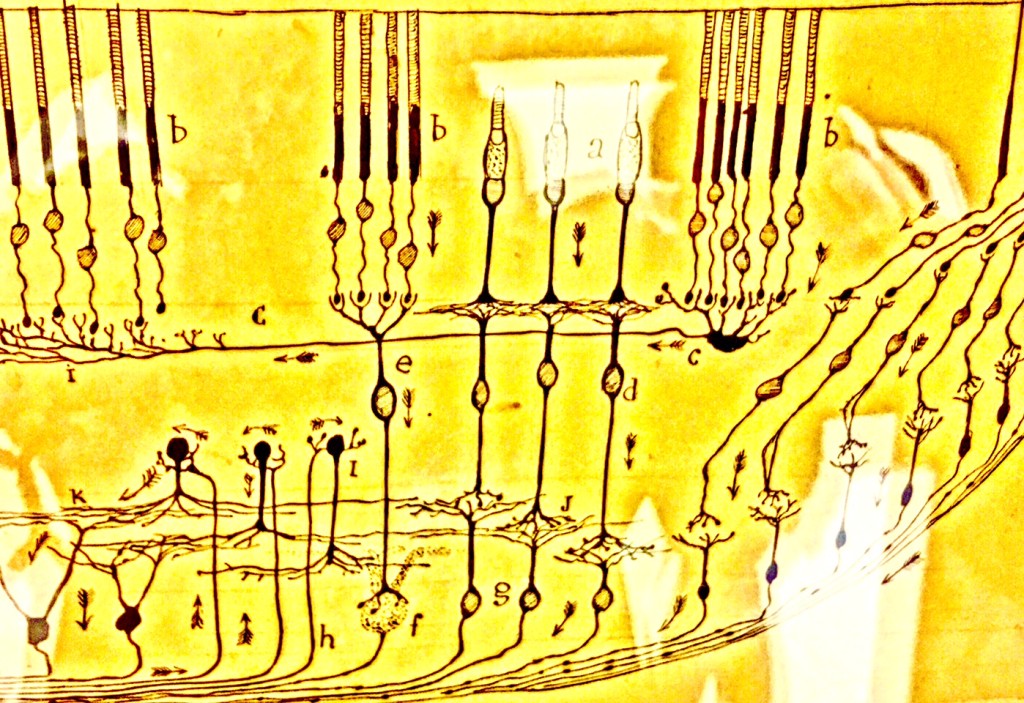 Golgi himself was loathe to apply the Cell Doctrine (the idea that all tissues are composed of individual cells) to the nervous system, which looked to him and others like a mass of interconnected processes, with multiple shared nuclei (known as a "syncytium").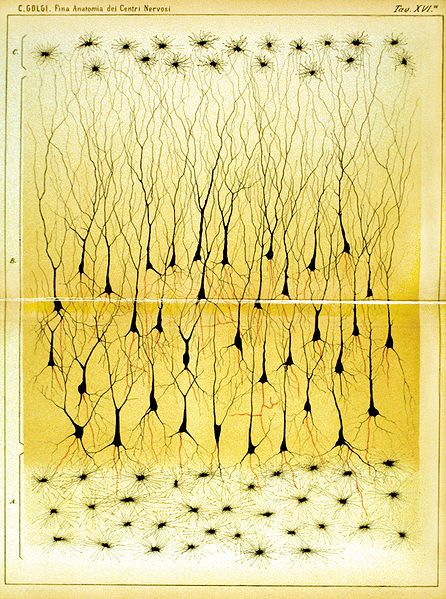 IMAGE ABOVE:  The Discovery and Naming of the Neuron
But Cajal, now considered the founder of modern neuroscience, understood that he was viewing individual brain cells (neurons) that were linked in information processing networks.  In contrast, Golgi remained unconvinced, yet both men were jointly awarded the 1906 Nobel Prize in Physiology or Medicine "in recognition of their work on the structure of the nervous system."
LEARN MORE:  The Nobel Prize in Physiology or Medicine 1906
LEARN MORE:  Golgi, Cajal and the Neuron Doctrine
LEARN MORE:  The contribution of Camillo Golgi to our understanding of the structure of the nervous system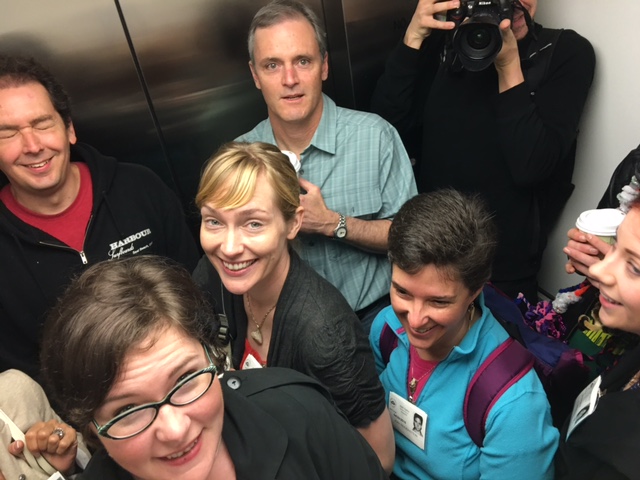 Jeff and Chris managed to obtain several extraordinary original drawings from the Cajal Institute, including famous depictions of the olfactory and visual systems, and the hippocampus, and created a display area in the Neuroscience Research Center.
However, before viewing the Cajal installation, Jeff took us on an exciting tour of works by the many artists he's recently brought into the Center, to view the Cajal drawings, and also to meet directly with working scientists.  As a result, Jeff and Chris are now curators of an incredibly compelling gallery of donated neuro-related art, inspired by federal investment in understanding the structure and function of the human brain!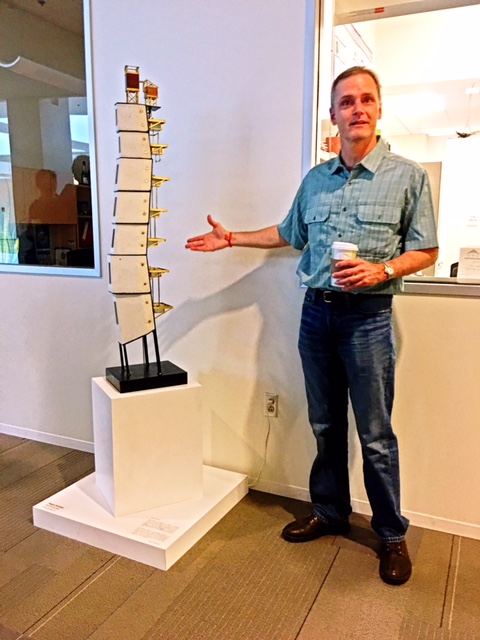 And spinal cord!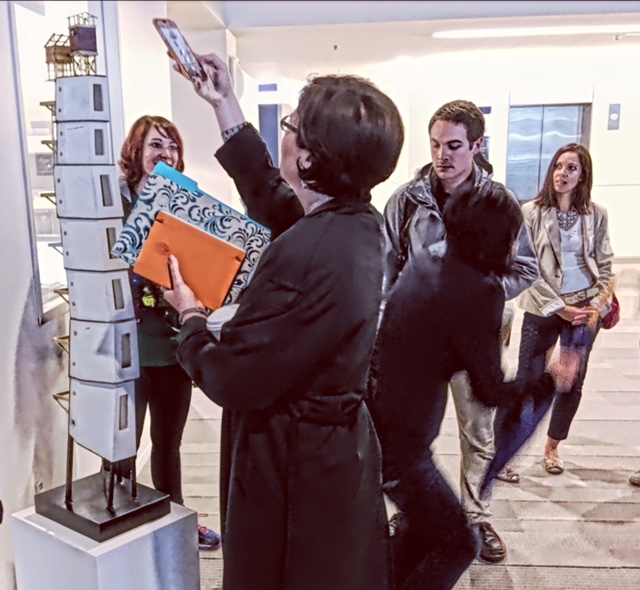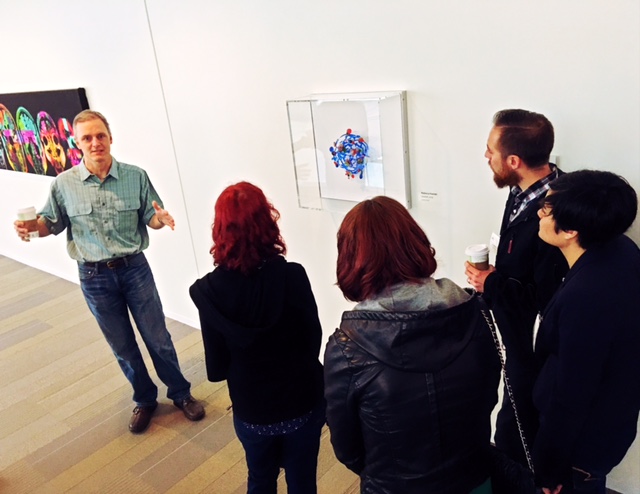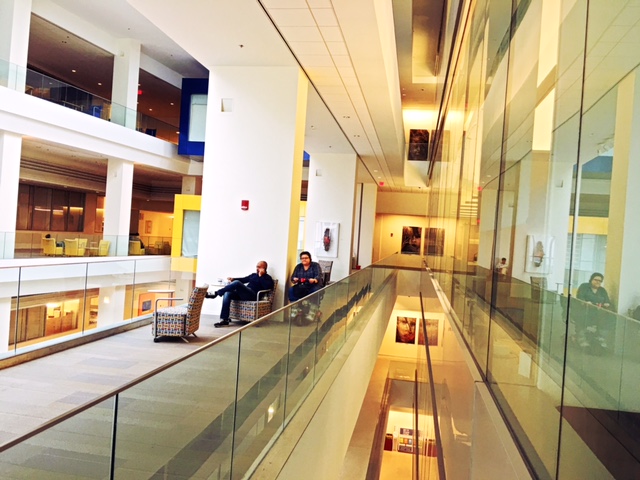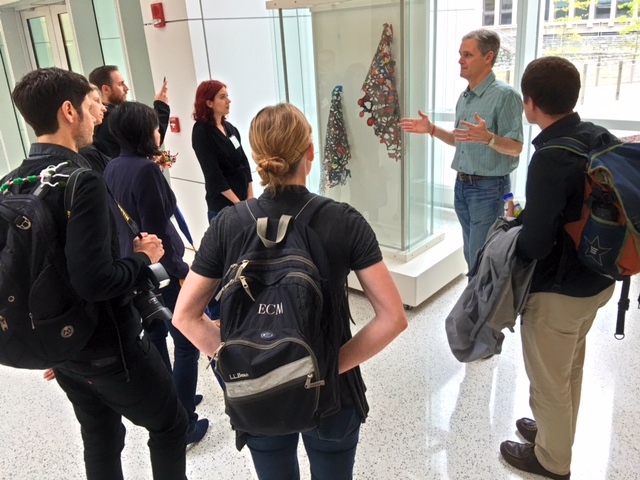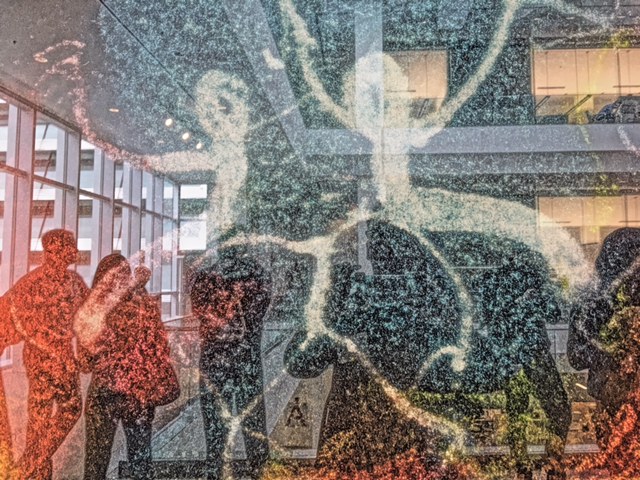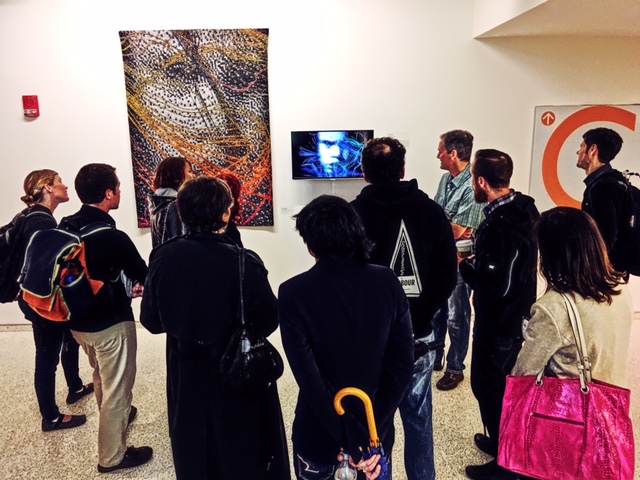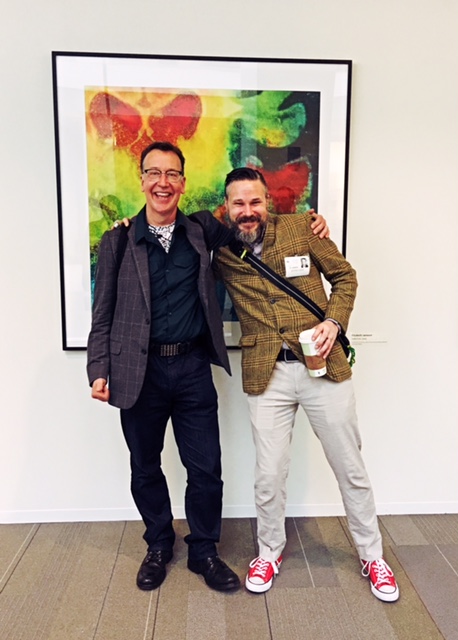 Artists with works on display include Rebecca Kamen, whose colorful acrylic and mylar creations reference reuptake transporters and retinal circuitry, and also Lia Cook, a professor at the California College of the Arts, whose detailed wall-hung textiles provoke dramatic perceptual changes as you move about them…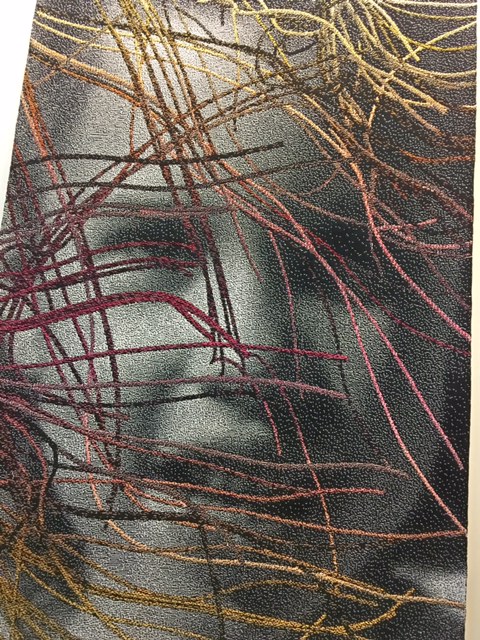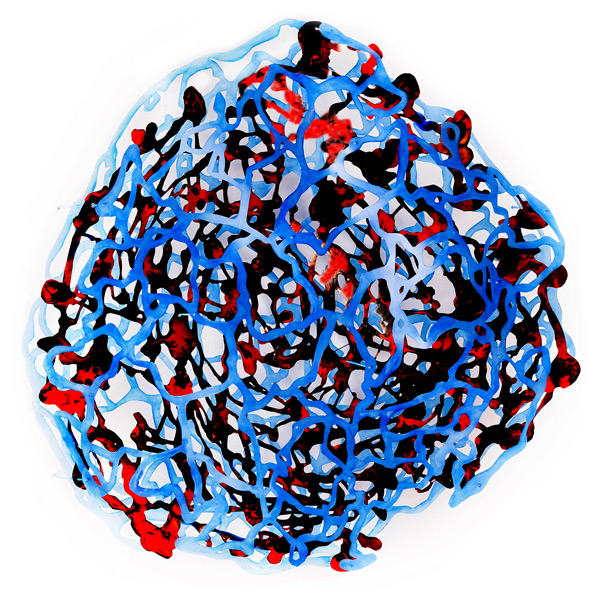 IMAGE ABOVE:  Transporter, by Rebecca Kamen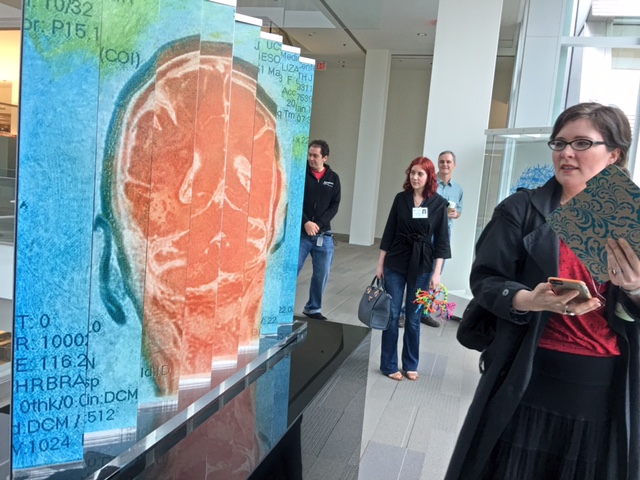 WATCH:  MRI Art at NIH by Elizabeth Jameson, an artist inspired by her diagnosis of multiple sclerosis, and the compelling, and sometimes scary relationship between the architecture revealed by medical imaging and her own ability to thrive…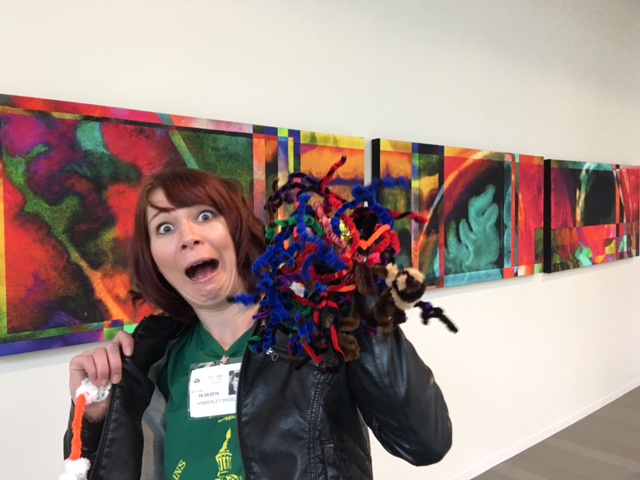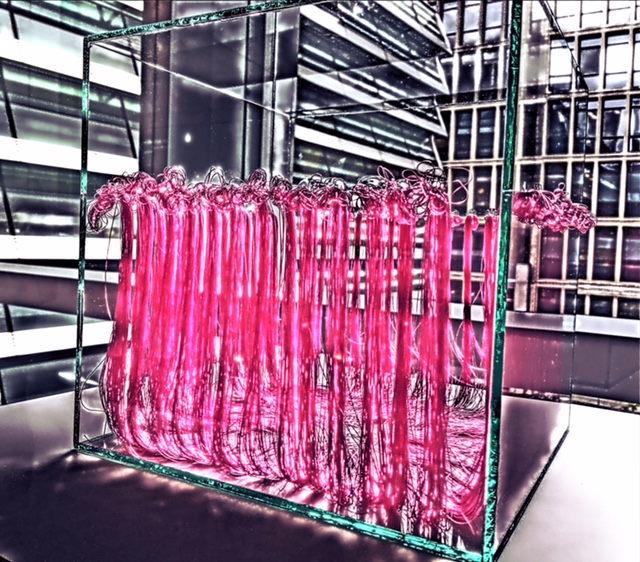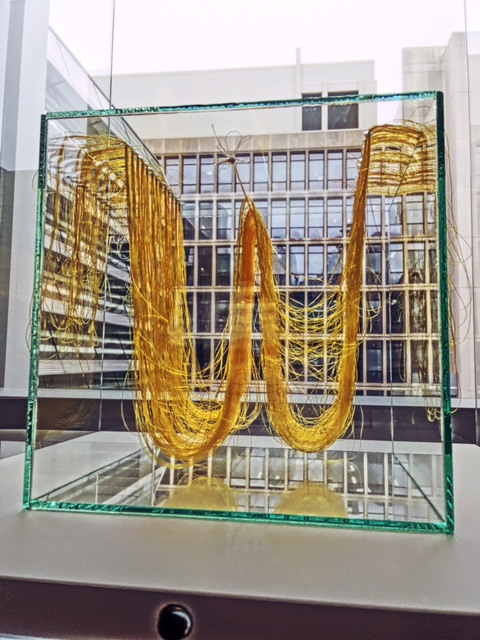 Some pieces were contributed by neuroscientists, including this colorful depiction of mammalian retinal physiology created by Helga Kolb, at the University of Utah, who is one of the most cited vision scientists in the world…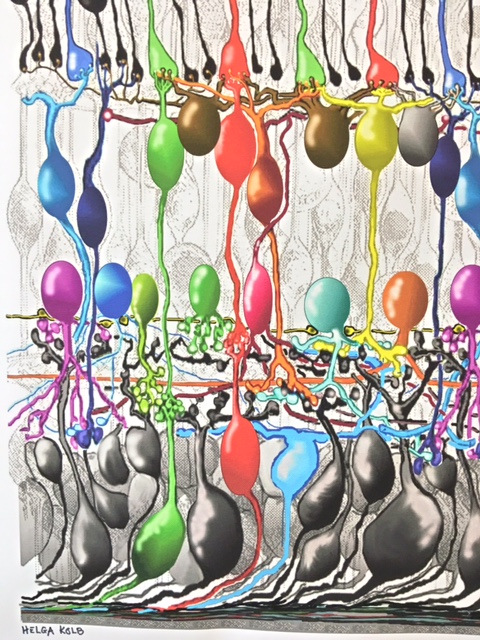 LEARN MORE:  The Organization of the Retina and Visual System
Unsurprisingly, Jeff was very enthused about works, including these below by Rebecca Kamen, related to the physiology of the eye!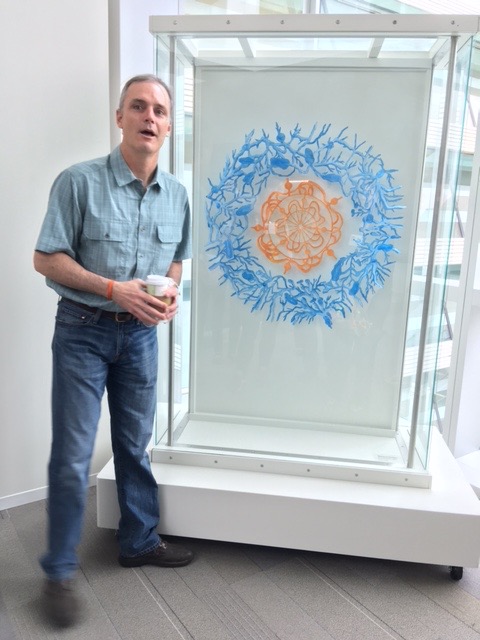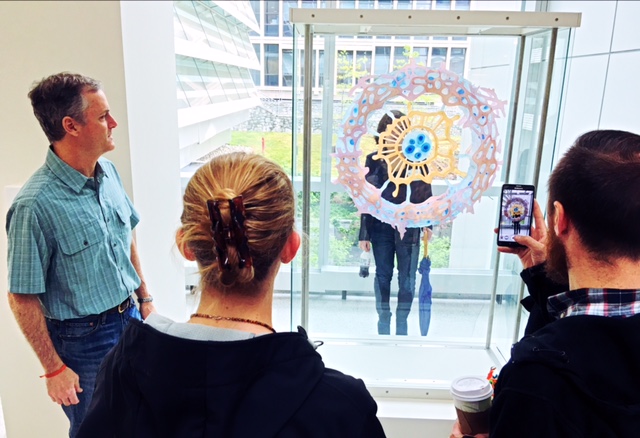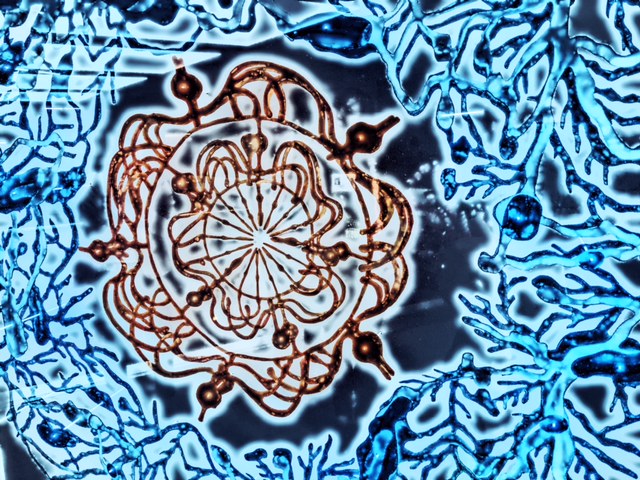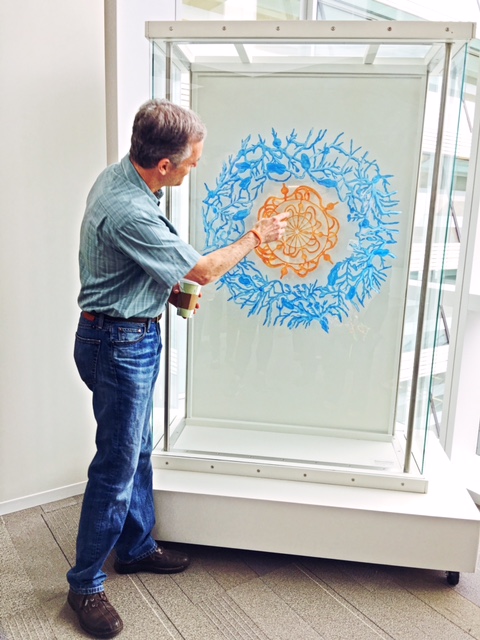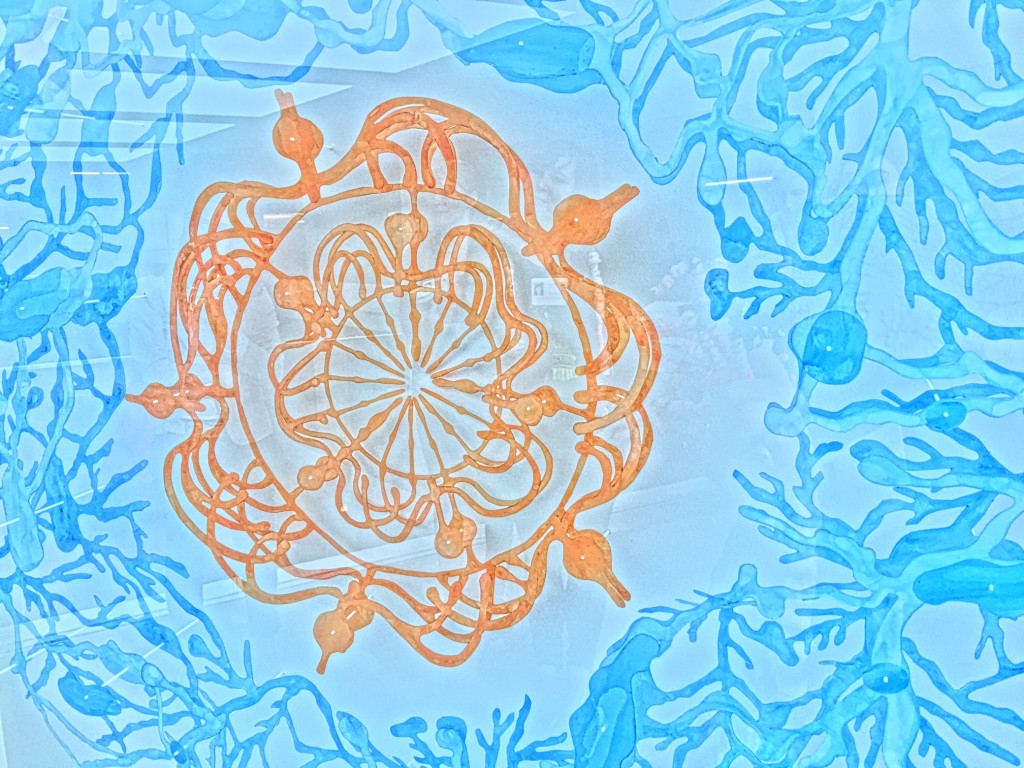 This also seemed like the perfect place to add Kindra Crick's perineuronal net sculpture "Your Joys, Sorrows, Memory, and Ambition," fresh from its appearances at Velo Cult and the Phillips!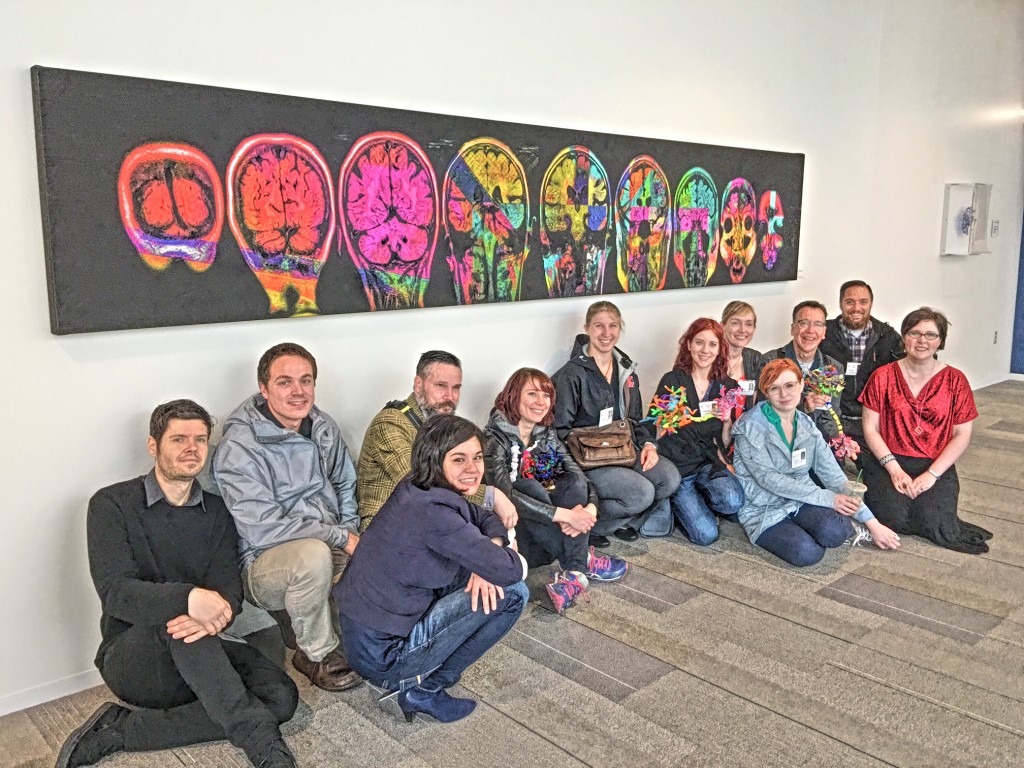 Energized by installations inspired by Cajal's artistry and research legacy, we then explored the drawings themselves, which are phenomenal!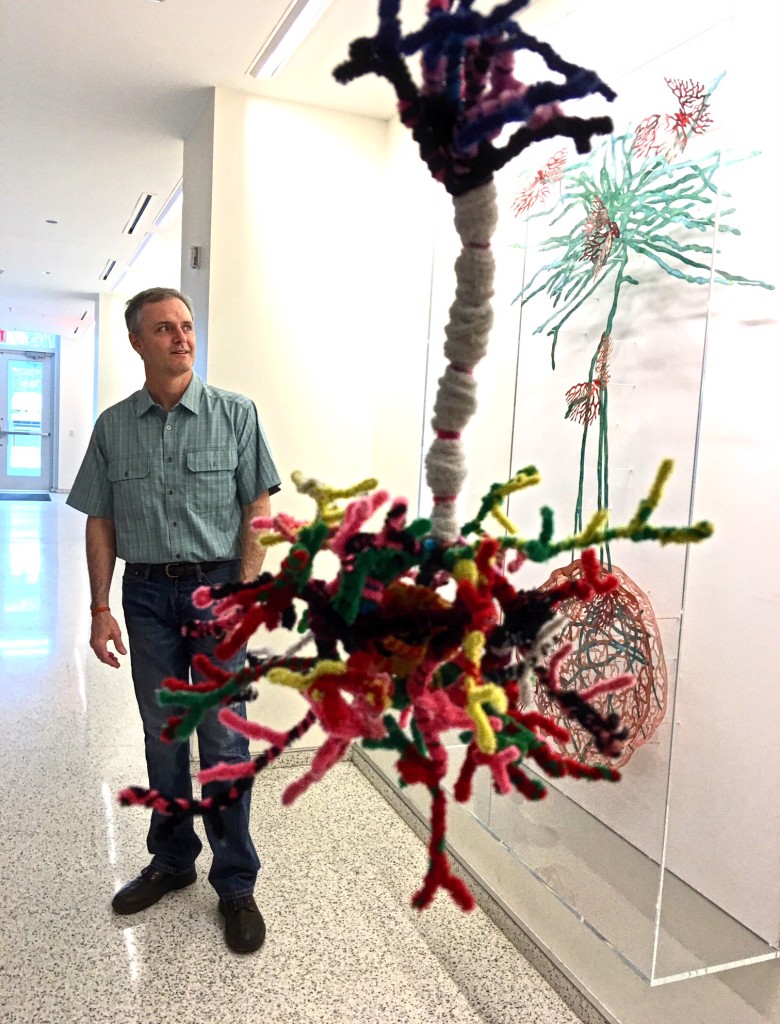 For example, olfactory networks are beautifully represented. In the image below, you can clearly see the bipolar olfactory neurons in the nasal cavity and their short, spatially distributed central processes forming the first cranial nerve, passing through the sieve-like cribriform plate and synapsing on mitral cells in the glomeruli of the bulbs…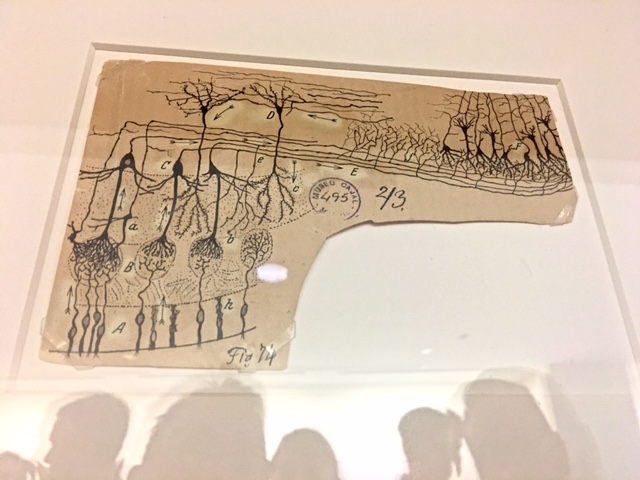 LEARN MORE:  The Organization of the Olfactory System
We were smiling as broadly as Jeff and Chris as we explored these early depictions of the cells and circuits that make us who we are…
Image above:  artist Dawn Hunter's study of Cajal's Calyx of Held drawing, which depicts unusually large synapses in the auditory pathway.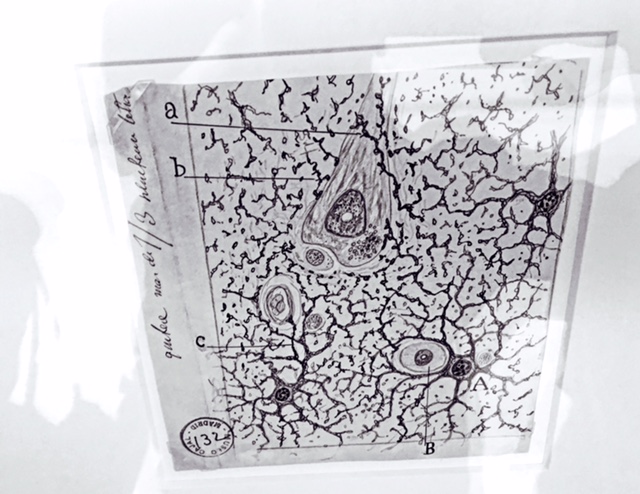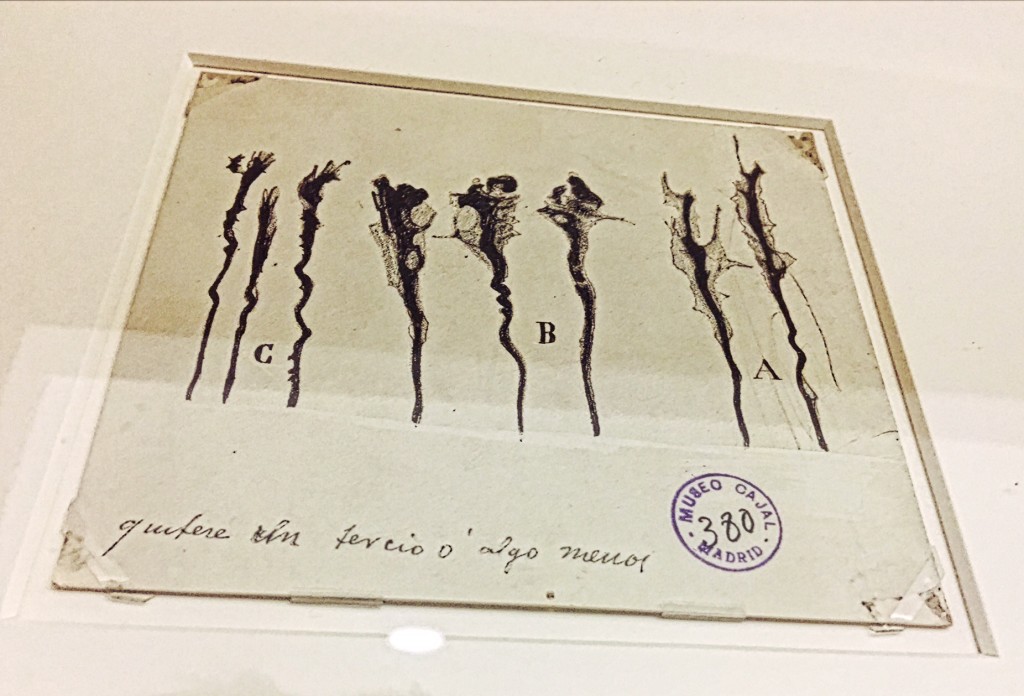 There were terrific tactile representations of the drawings as well.  It made us think of those dramatic textiles by Lia Cook, and the more integrated perceptual experiences possible with art that can be experienced both visually, and through touch.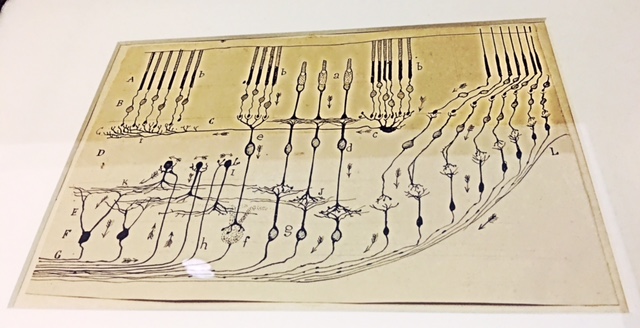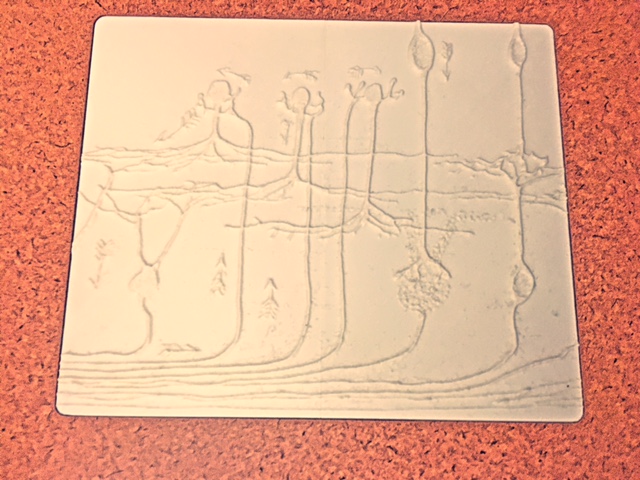 Noggin is currently collaborating with the Portland Art Museum on developing educational resources, and perhaps an exhibit area, aimed at introducing visitors to the neuroscience of sensory and perceptual systems involved in their experience of art, and this installation was particularly inspiring…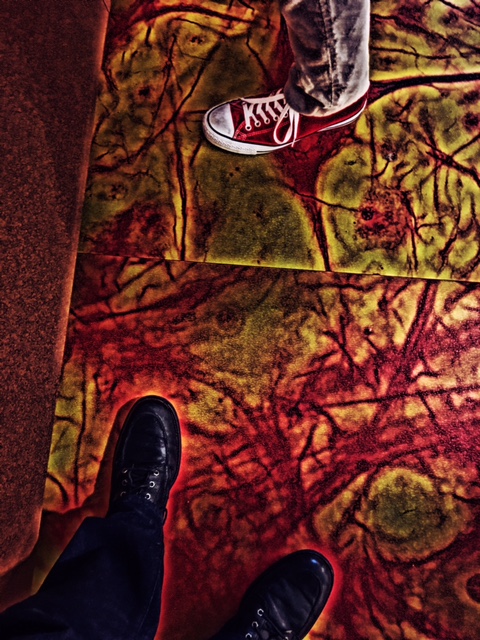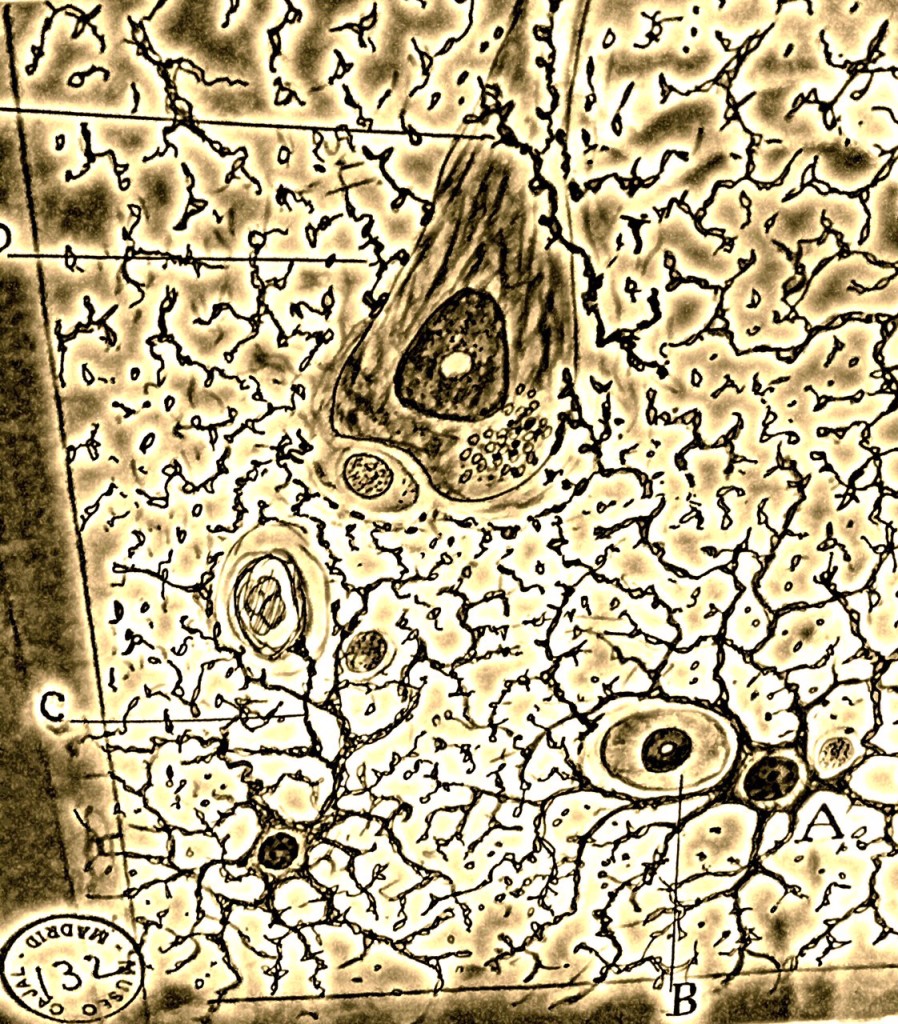 After the tour, Jeff invited our students to actually visit the labs of researchers they were interested in contacting, for future internship and post-doctoral possibilities!  Several of our participants were literally wide-eyed at this unexpected opportunity, and headed off to make connections…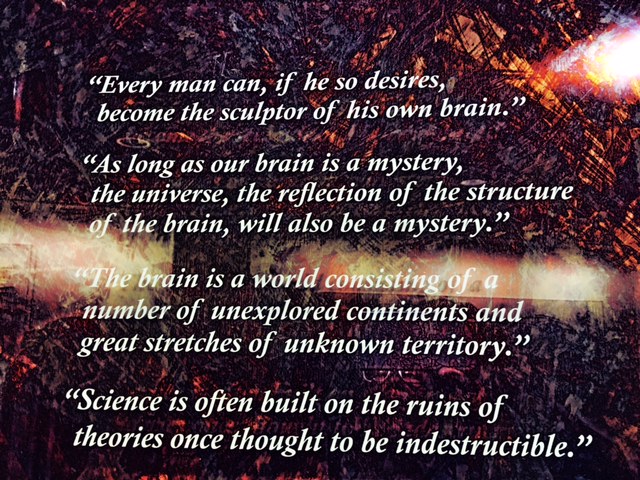 Many, many thanks for the kindness and generosity of both Chris and Jeff!  Thanks also to Katie of ABC for arranging the tour.  This experience positively altered patterns of synaptic connections in our own noggins… 🙂