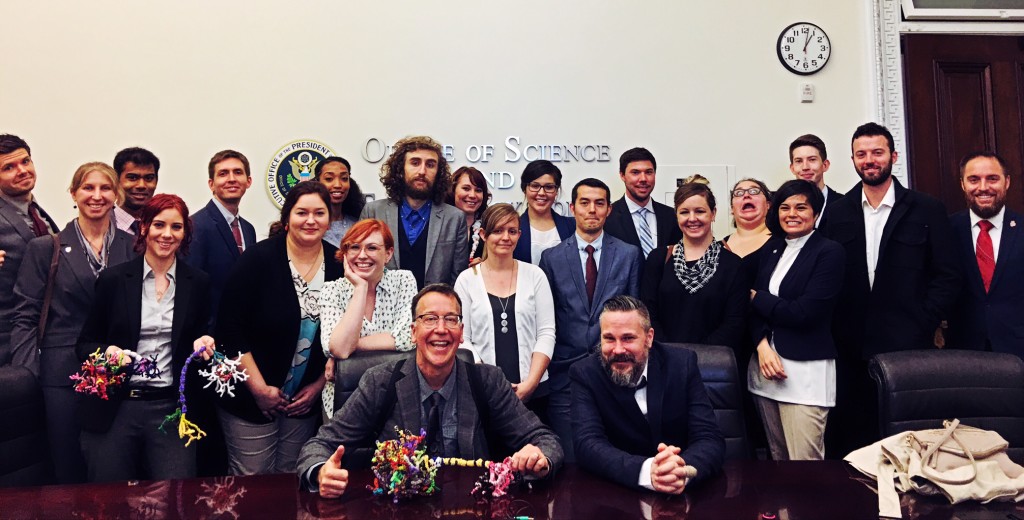 On an outreach journey that became more extraordinary by the day, beginning with brains and art projects at two DC public schools, and briefings on STEAM education and neuroscience research in both houses of Congress, we gathered Thursday morning outside the gates of the magnificent Eisenhower Executive Office Building on the White House grounds…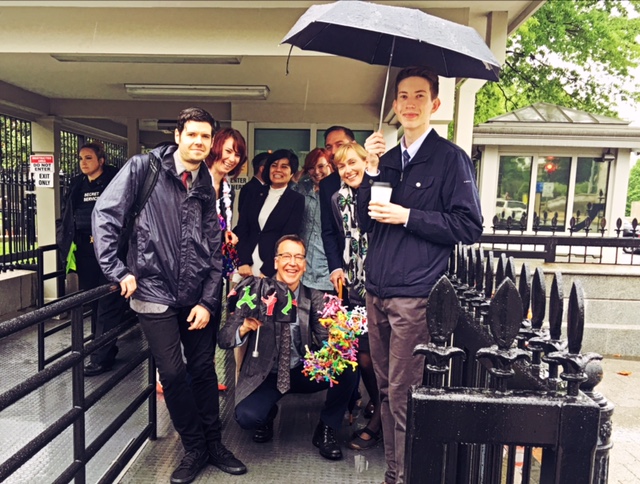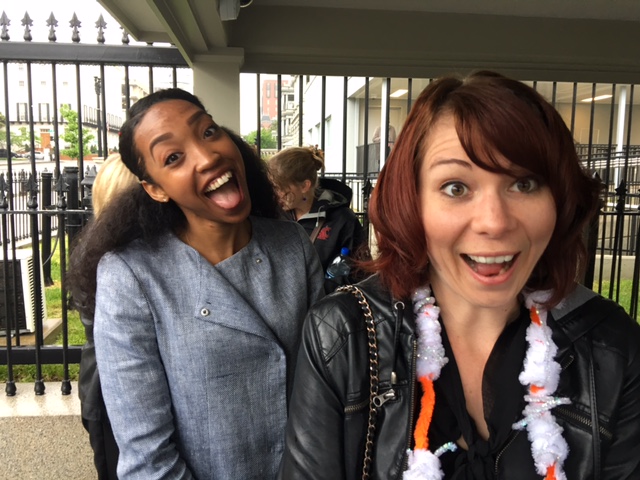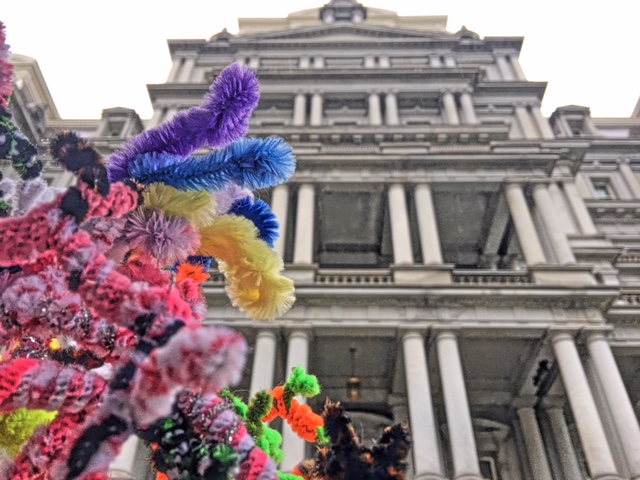 The visit was arranged thanks to Katie Sale, the enthusiastic Executive Director of the American Brain Coalition, whom we cannot thank enough for the opportunity!  After passing through security clutching our flexible tufted neurons, we climbed towards the 4th floor of this palatial French Second Empire structure that originally housed staff for the State, War, and Navy Departments of the U.S. government…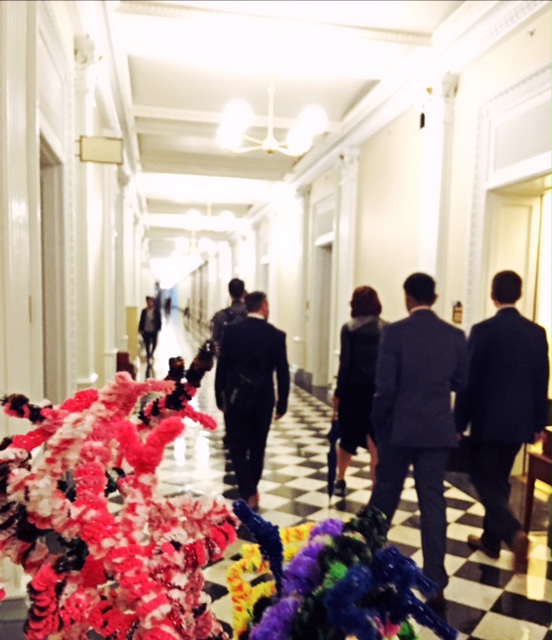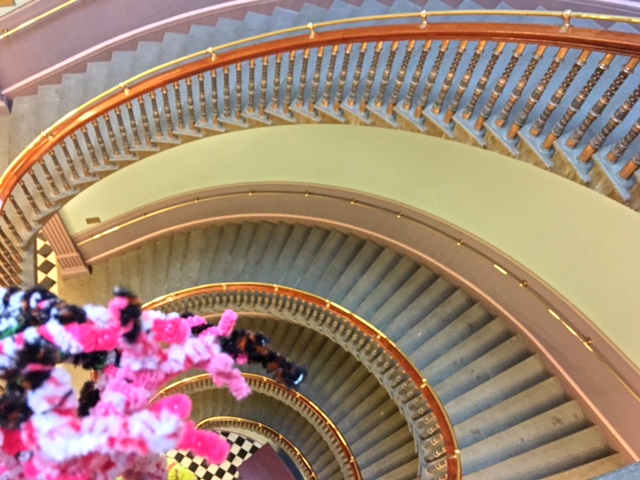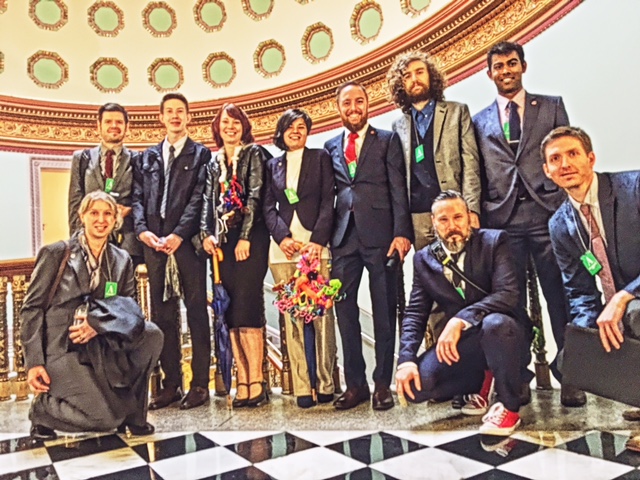 Our rather large team of neuroscience outreach volunteers from WSU Vancouver, PSU, and OHSU were honored to meet with Noemie Levy, a Senior Policy Advisor for Partnerships in the Technology and Innovation Division of the Office of Science and Technology Policy at the White House.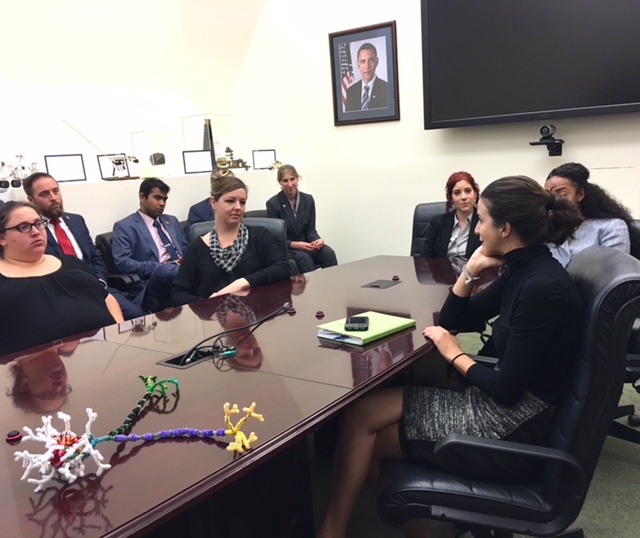 Noemie studied neuroscience, and informed our group about the President's Brain Research through Advancing Innovative Neurotechnologies (BRAIN) Initiative, an executive call to "accelerate the development and application of new technologies that…enable researchers to produce dynamic pictures of the brain that show how individual brain cells and complex neural circuits interact at the speed of thought."  Several of our students, including Brian Mills at OHSU, utilize some of these developing technologies, including DTI and rs-fcMRI, in research on adolescent brain development and its relation to disorders like ADHD…
Our students introduced themselves to Noemie, highlighting their own federally funded research, along with their efforts to reach young students and the general public about discoveries in their labs.  Elena Mahrt, from WSU Vancouver, started us off with a description of her research on mouse vocalizations, and the potential relevance of her work for helping people suffering from communication disorders.  The depth and breadth of research interests among our volunteers was evident…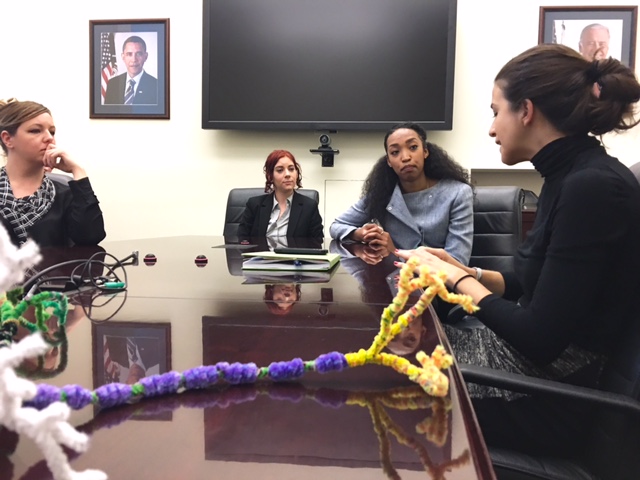 Our graduate students had several questions about funding, and increased competition for traditional jobs as research faculty.  How should today's post-docs transition into independent research?  What did the White House think about additional funding (e.g., more K awards) to assist in this process?  Noemie advised our students to be flexible, and creative, and consider contributing their skills (including their teaching/outreach skills) and knowledge of the brain in additional areas, including public policy…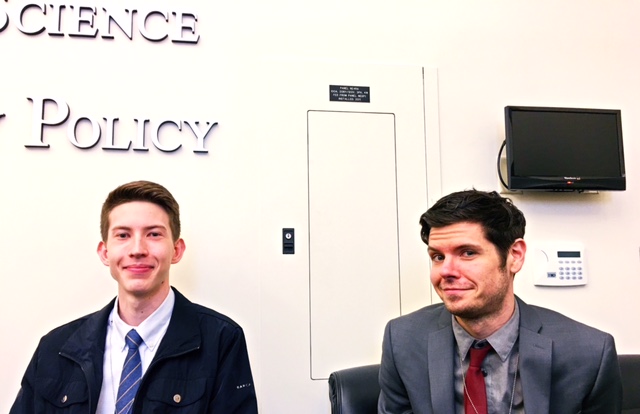 Our participants, including Allie Clark, Rosalie Lee, Alex Voigt and Michael Miller from Psychology at PSU, also brought up personal stories of challenge in their own quests to become students, researchers, and educators, including immigrant status, stigma surrounding disabilities, and being the first in their family to pursue higher education.  This motivates many of our NW Noggin volunteers to engage with students from diverse backgrounds, some who share similar struggles.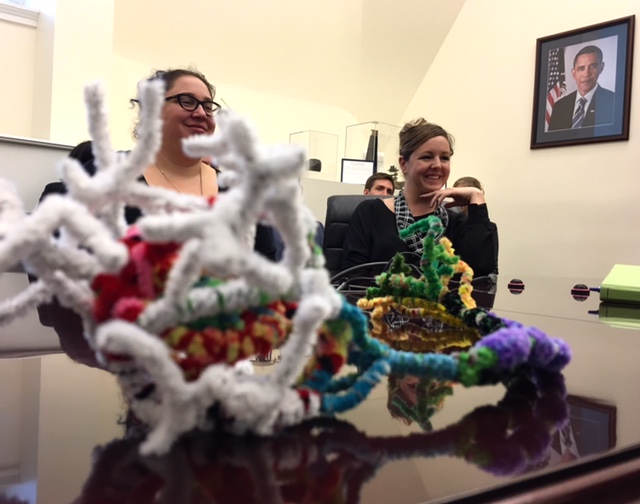 Noemie told her own story, which she also wrote about, eloquently, for the Obama White House blog…
LEARN MORE:  My Day One  –  Journeys Across America on our Path to Citizenship
We also explained how NW Noggin has brought together all these diverse graduates and undergraduates in psychology, neuroscience and art to collaborate across institutions, disciplines, and even state lines to develop their own innovative STEAM programs that enthuse academic priority K12 students and the general public about current federal investment in research.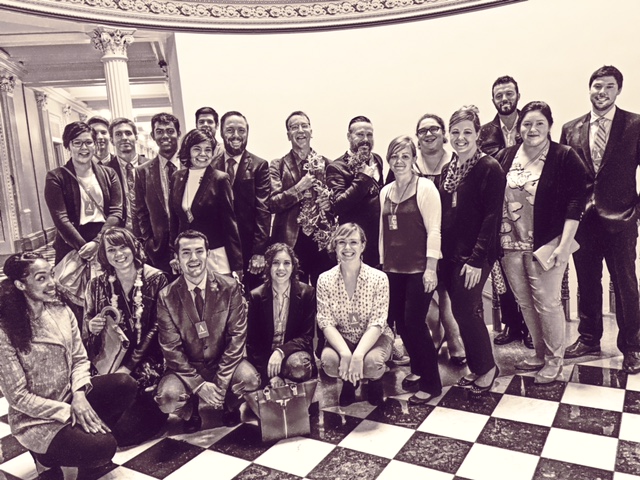 Related arts projects and activities powerfully engage people, inspire them, encourage creative and personal exploration of ideas, and serve as opportunities to add to public knowledge about how science and art are pursued, and how our brains work.  Noemie seemed to like our neurons… 🙂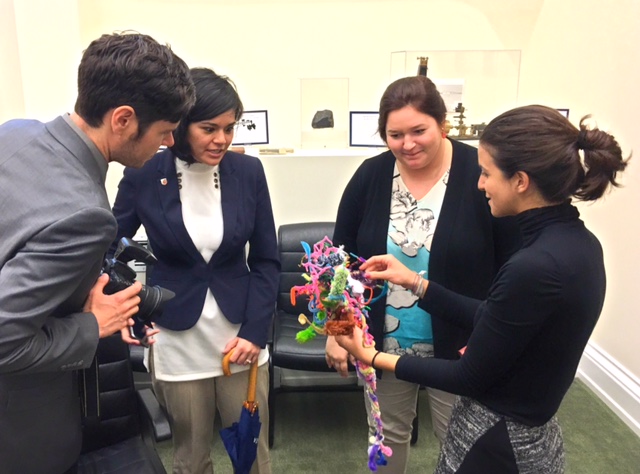 We also asked whether the National Endowment for the Arts, and the National Endowment for the Humanities could potentially contribute to research, outreach and education initiatives, in addition to NIH, DOE, FDA and other agencies currently coordinating science policy at the federal level…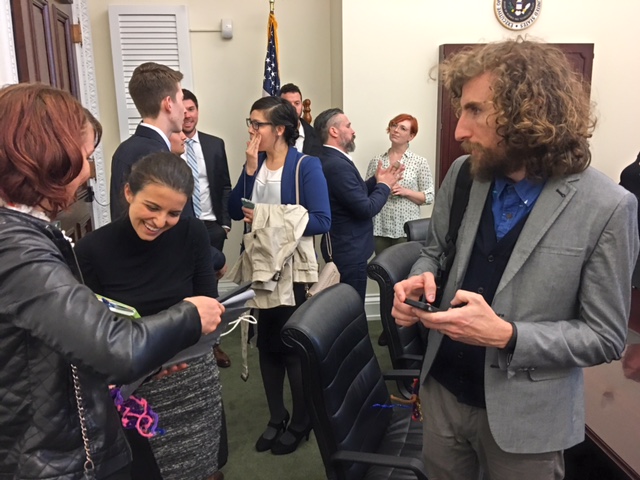 Kimberly Engeln from WSU Vancouver then presented an honorary Certificate of Recognition to Michelle Obama from the Neuroscience Club!  Noemie promised to pass this on… ?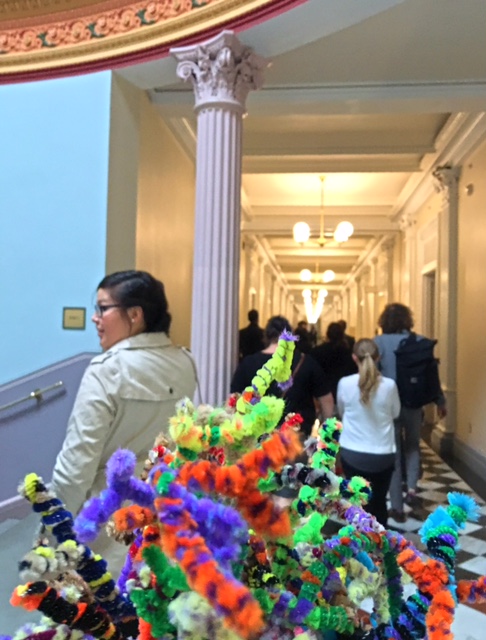 After an hour and a half of discussion, we headed back downstairs, emerging on to a portico with a view towards the White House itself.  We even briefly enjoyed a glimpse of the President's dogs!  We also invited Noemie to join us at Neuroscience Night at the Phillips Collection later that evening…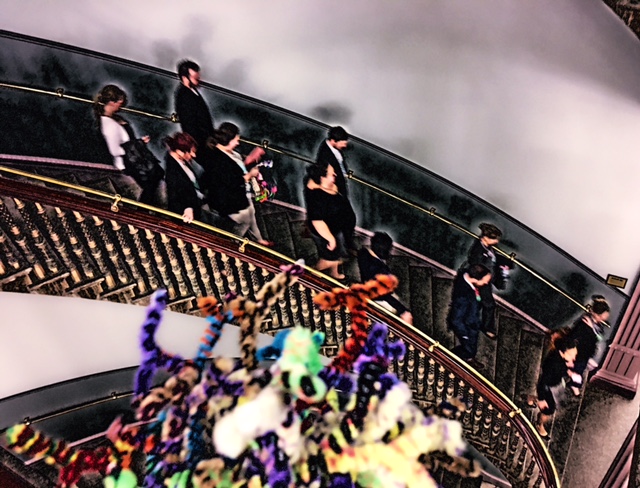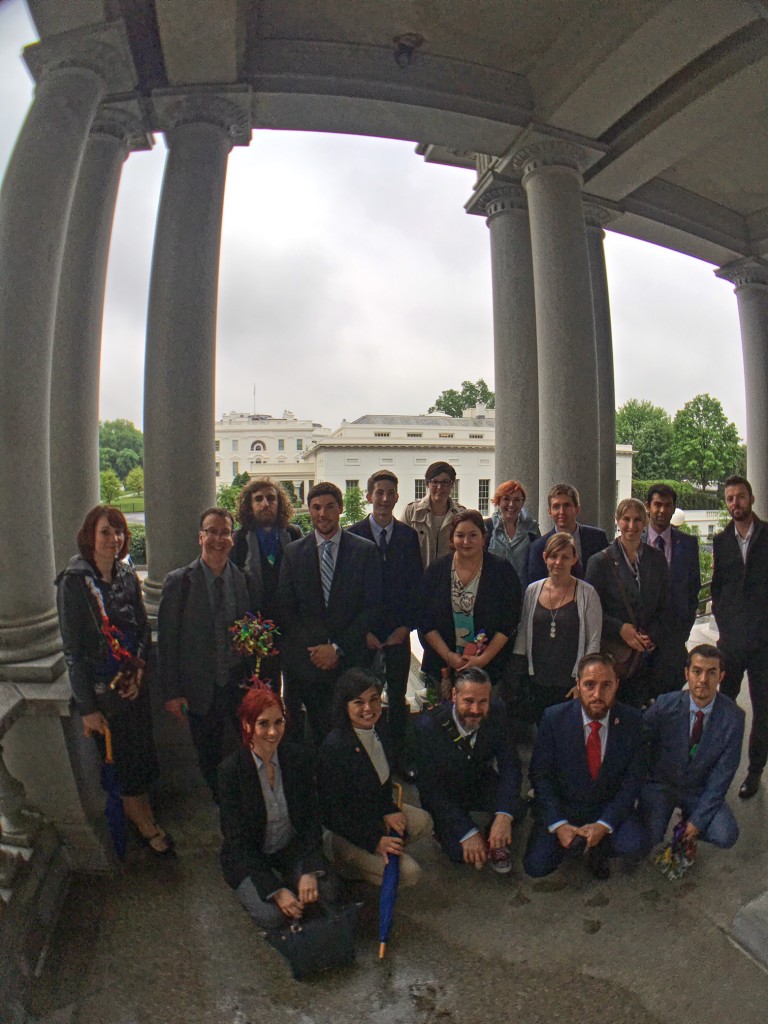 Many thanks to Noemie, Katie, and the Office of Science and Technology Policy at the White House!