We're lucky to live in the Pacific Northwest, with easy access to trails, forests and campgrounds. In Portland, it's a short hike or MAX ride to the Hoyt Arboretum, where you're quickly immersed in conifers and damp earth. You can bicycle west to Stub Stewart State Park along the lush Banks/Vernonia Trail, circumnavigate an active volcano at Timberline, or marvel at towering trees in state parks along the coast…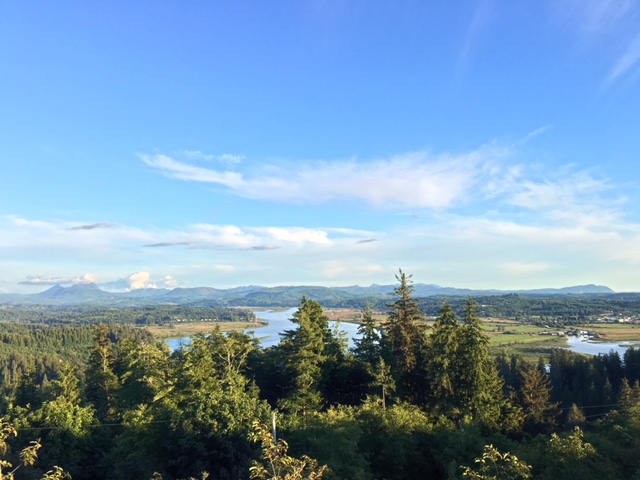 The practice of spending time in nature (Shinrin-Yoku, or "forest bathing") is widespread in both China and Japan, and research from Asia links the experience to significant health benefits, including improved immune response, better cardiovascular function, fewer allergies, increased mental relaxation, and a reduction in depression and anxiety…
LEARN MORE: Shinrin-Yoku (Forest Bathing) and Nature Therapy: A Review
LEARN MORE: Forest Bathing: A Retreat To Nature Can Boost Immunity And Mood
LEARN MORE: Brief introduction to the science of Forest Therapy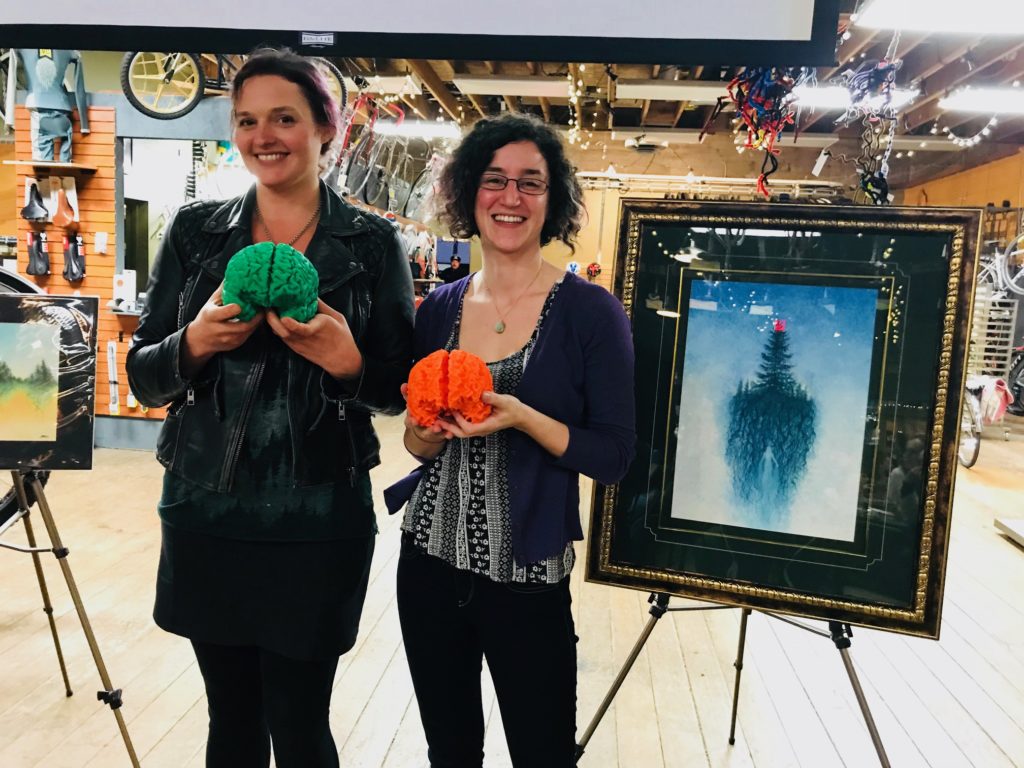 Northwest artist Sienna Morris and OHSU Behavioral Neuroscience graduate student Brittany Alperin returned to the velocipedal stage at Velo Cult this week to discuss the art and science of alleviating anxiety and stress through bathing our brains in the natural world…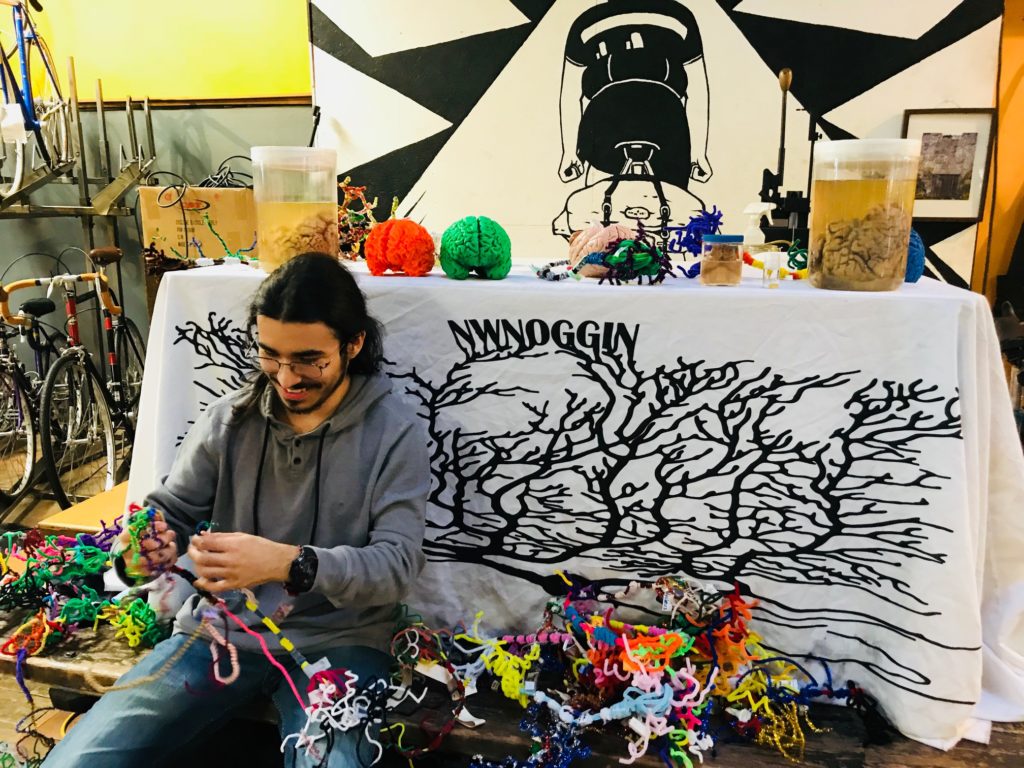 Portland State University undergraduate Ryan Colunga helped untangle a forest of pipe cleaner neurons before the show, as people streamed into the colorful environs and ordered great brews…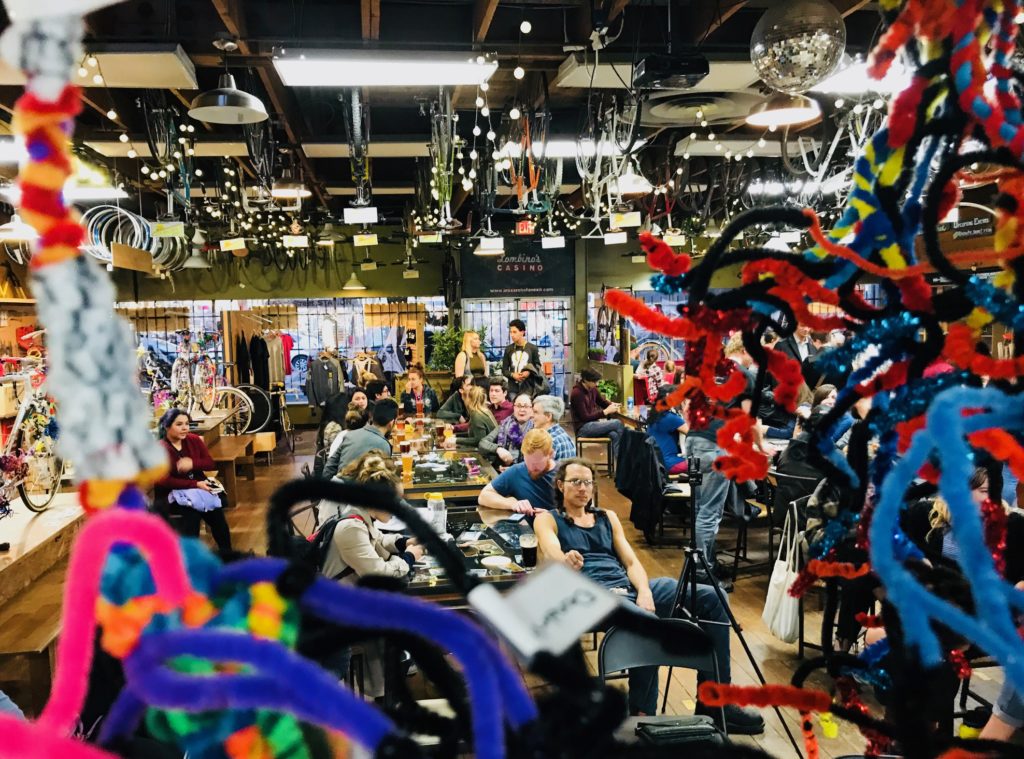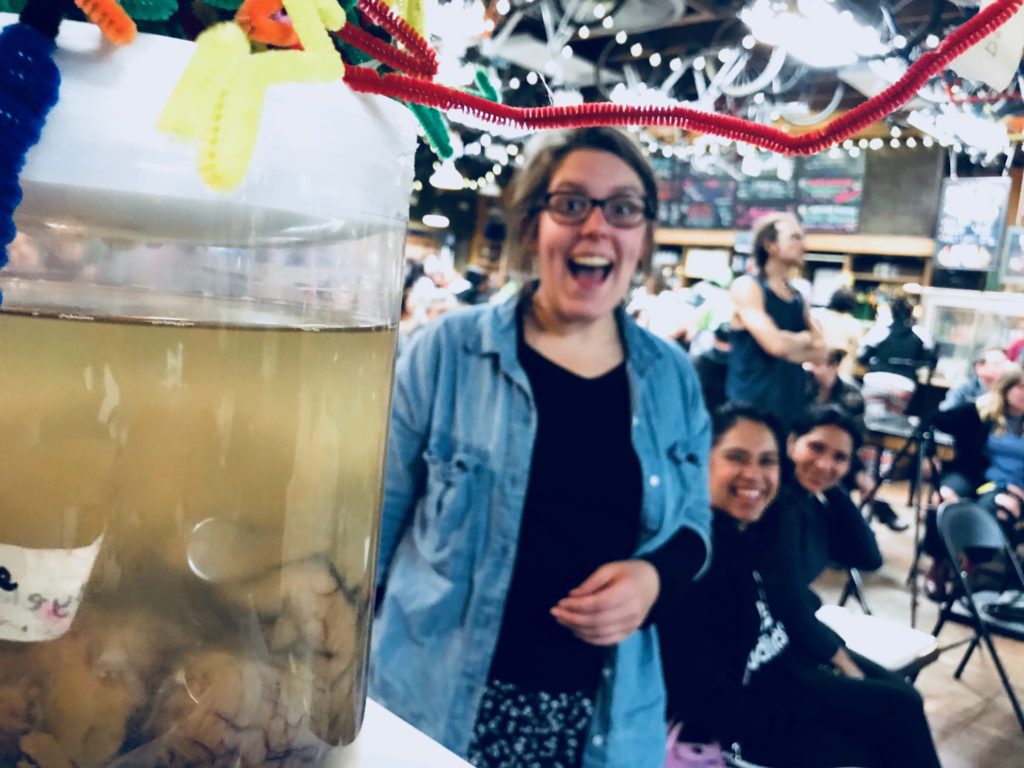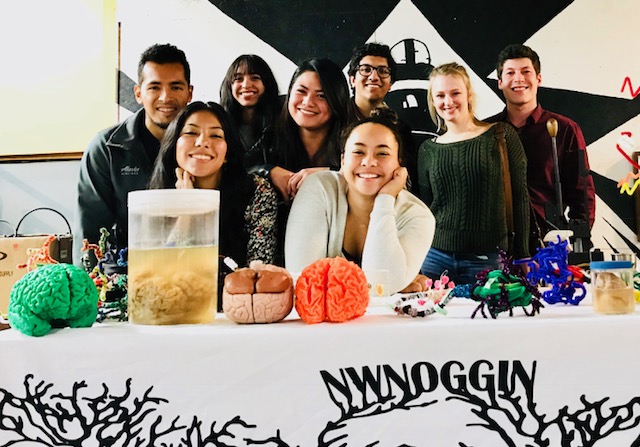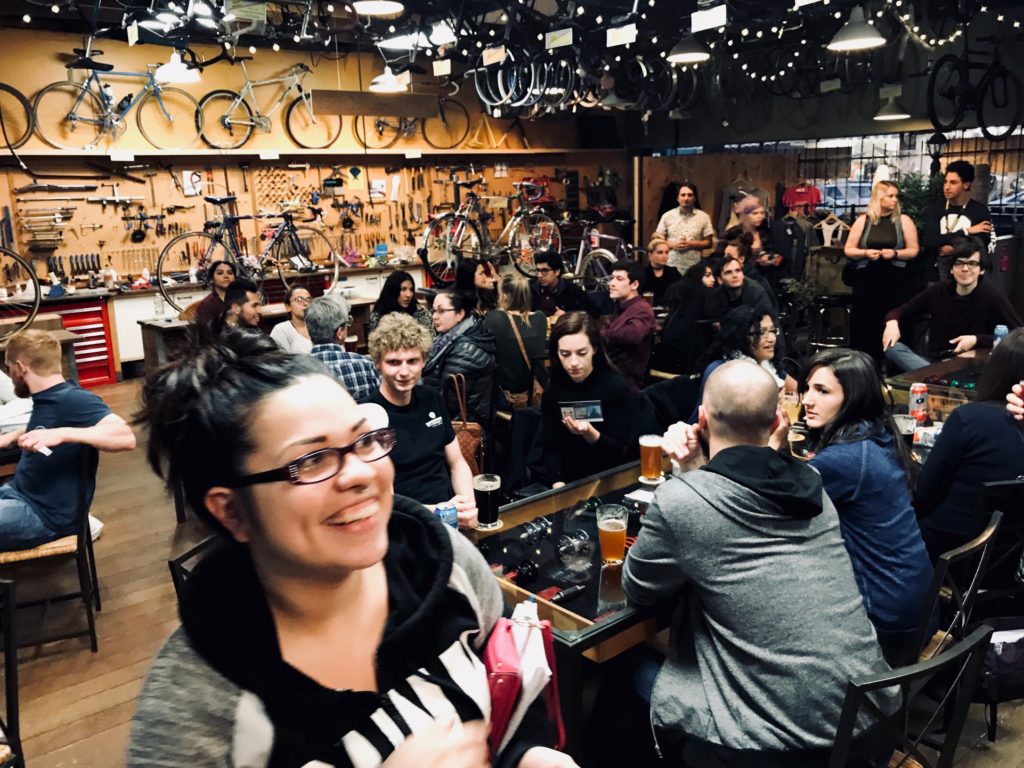 This was Brittany and Sienna's second collaborative Noggin presentation on the art and neuroscience of therapies aimed at improving mental health. They'd both packed the bike house earlier this year for "Changing Brain Waves of Depression…"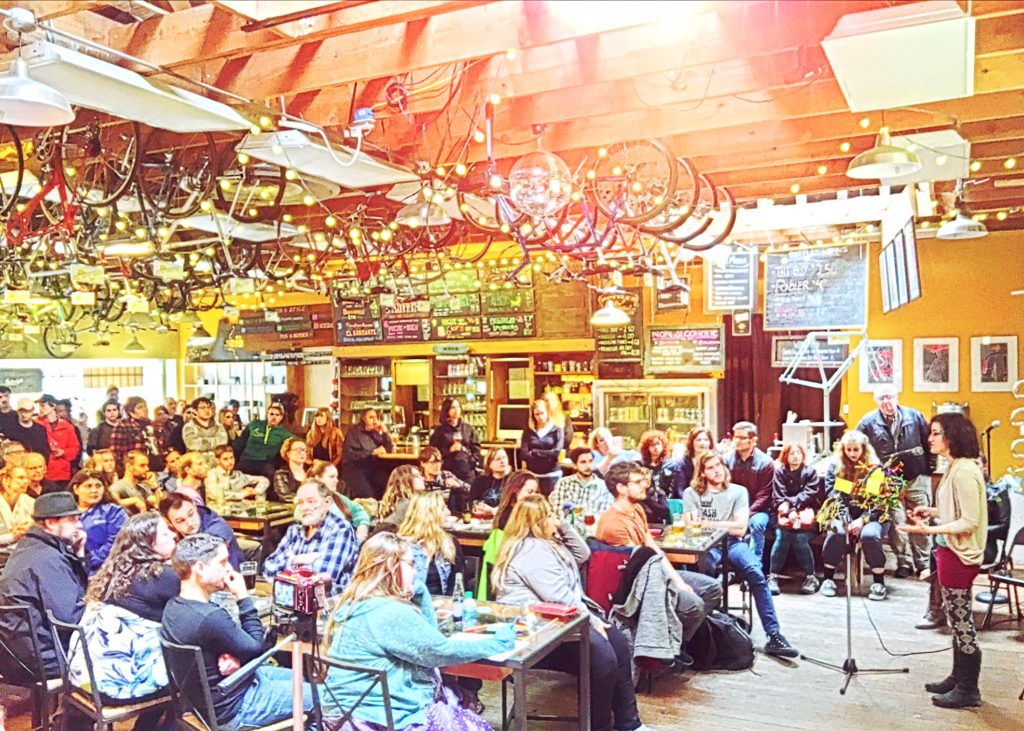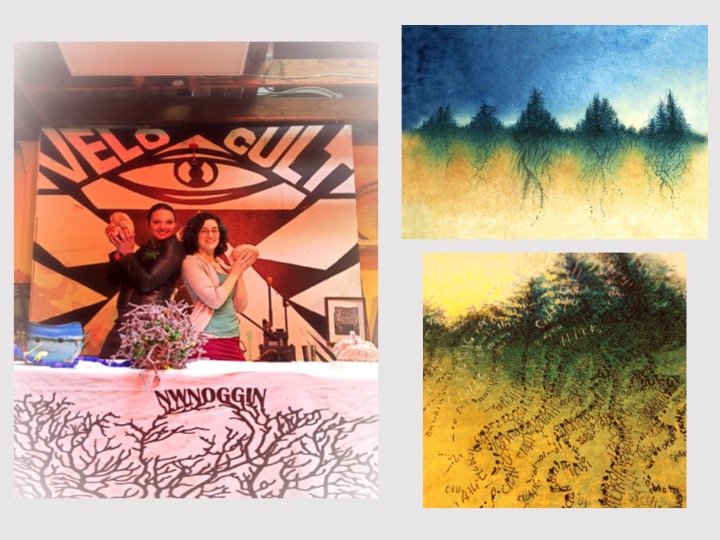 LEARN MORE: Changing Brain Waves of Depression
LEARN MORE: Noggin @ Velo Cult
In spring, Sienna offered a gorgeous and fascinating personal tour of her art of Numberism, a technique she likens to Pointillism, though using numbers and equations instead of dots. She also offered herself as a test case of someone who suffers with depression, embarking on a program of self care involving several techniques  –  including walks in the Columbia River Gorge. Brittany, meanwhile, tracked changes in Sienna's brain activity using EEG;  changes that mirrored the improvements Sienna experienced in her symptoms of depression…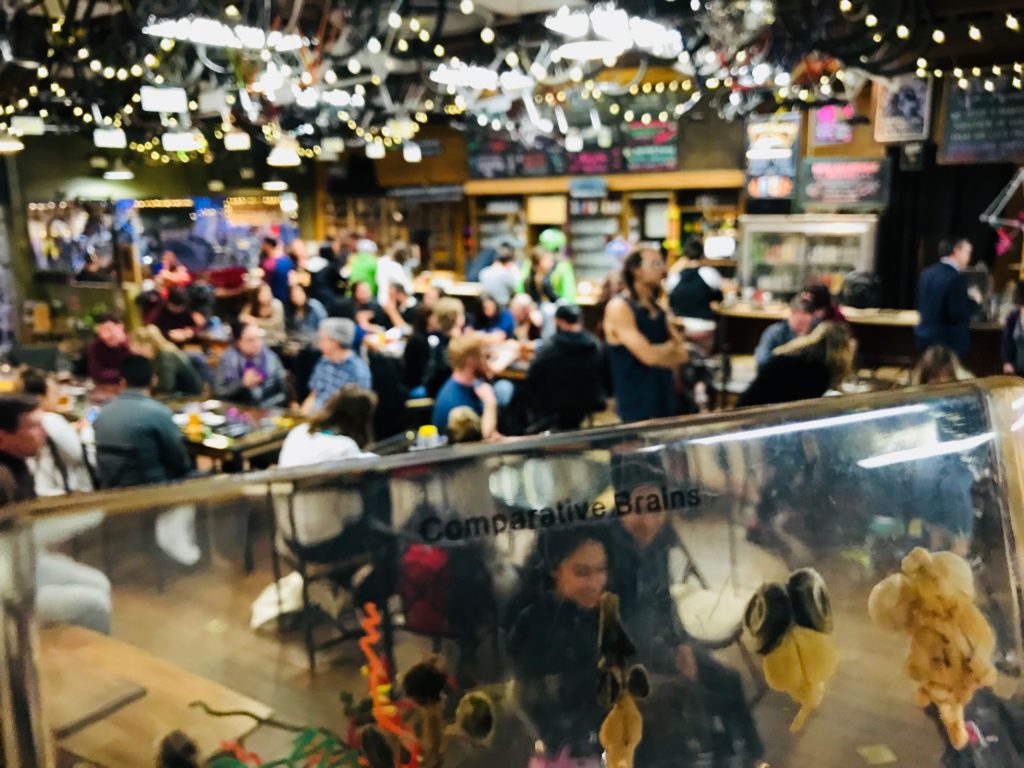 Sienna first recapped that personal journey at the beginning of her Velo Cult talk…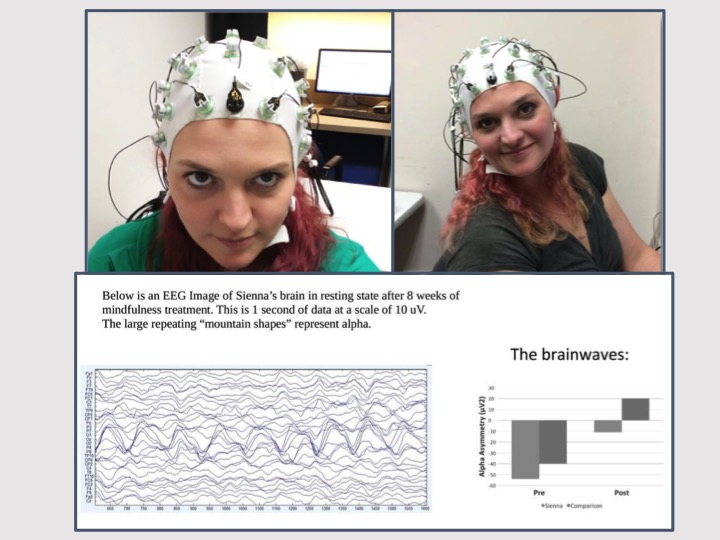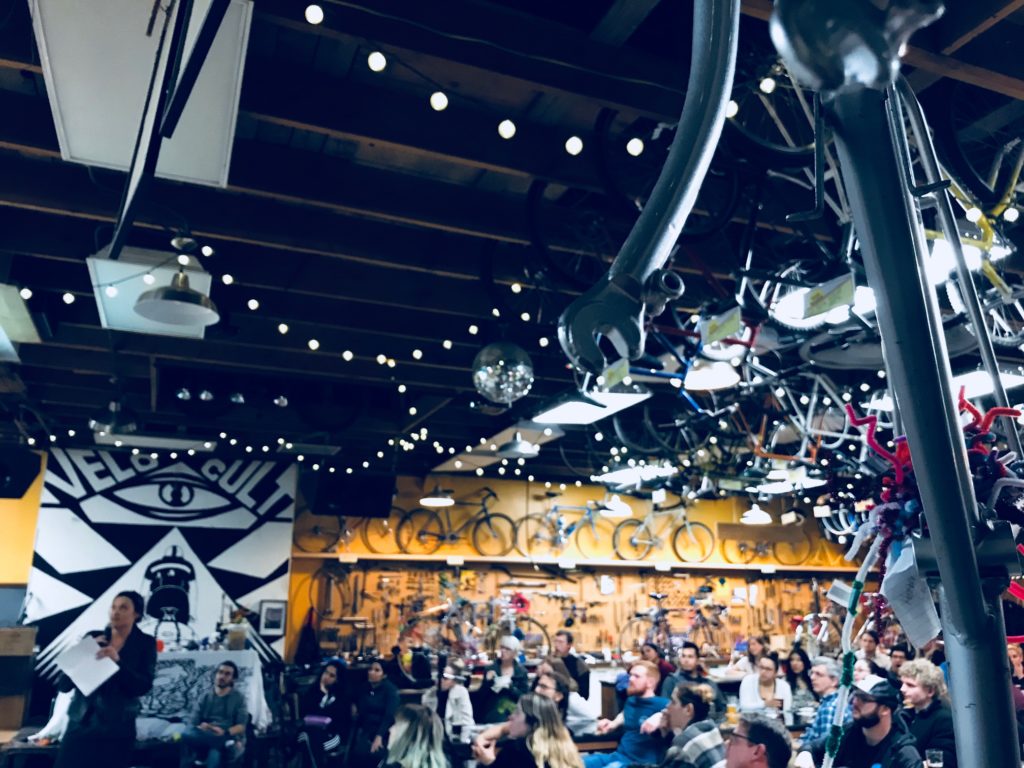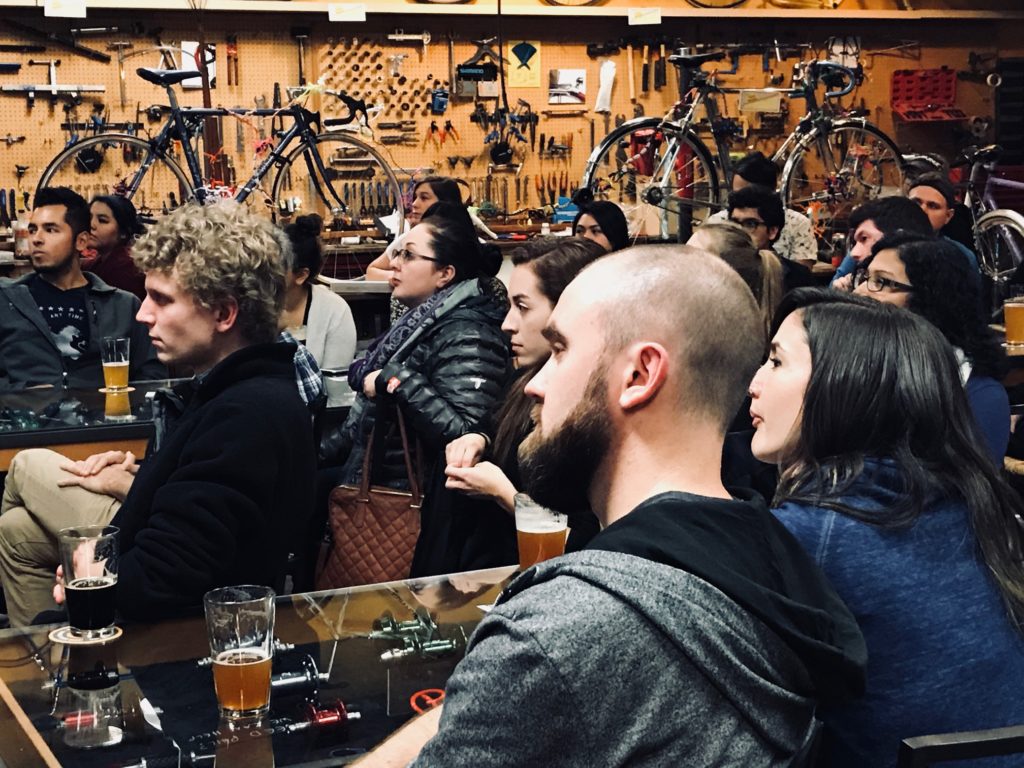 However, Sienna did more than just bathe in Northwest forests, but also meditated, journaled, practiced yoga, and engaged in daily mindfulness. Would nature alone specifically change people's moods, and their experience of anxiety and stress? Would this be reflected in changes in EEG brain measures that tracked improvement?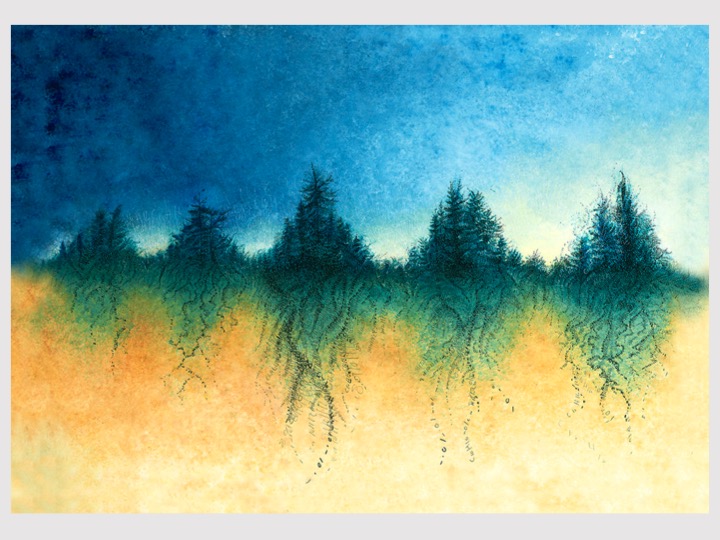 Breathe, by Sienna Morris (artwork created in collaboration with Brittany Alperin for their NW Noggin presentation at Velo Cult in Spring 2017)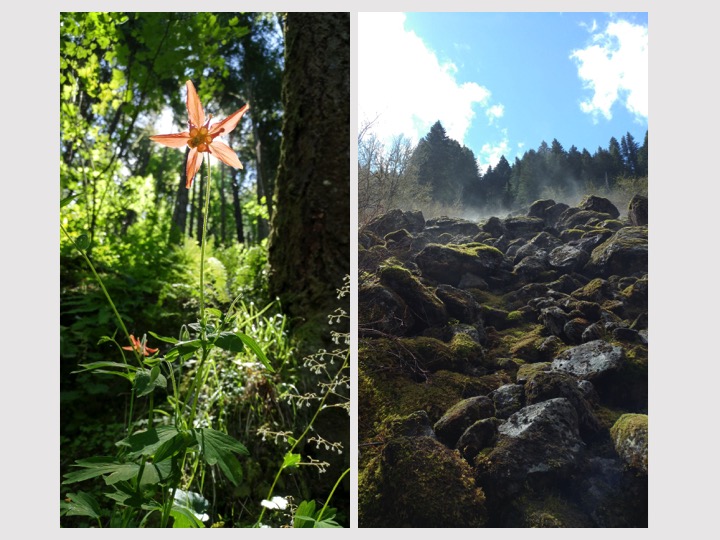 Also, were there additional advantages to nature as a therapy for improving mental health? Sienna expressed her strong suspicion that "meditation works great when I'm working it. Nature works great regardless of me being a good patient."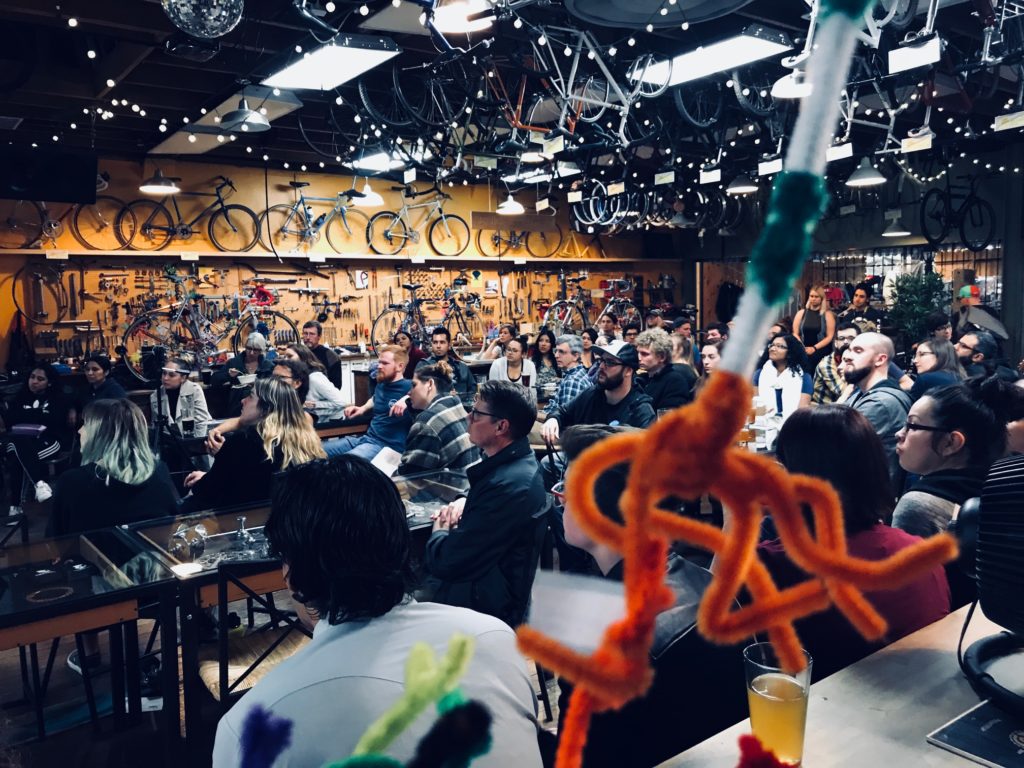 Brittany Alperin then took the mike to review current research on this topic. "What do we already know about the relationship between mental health and going outside..?"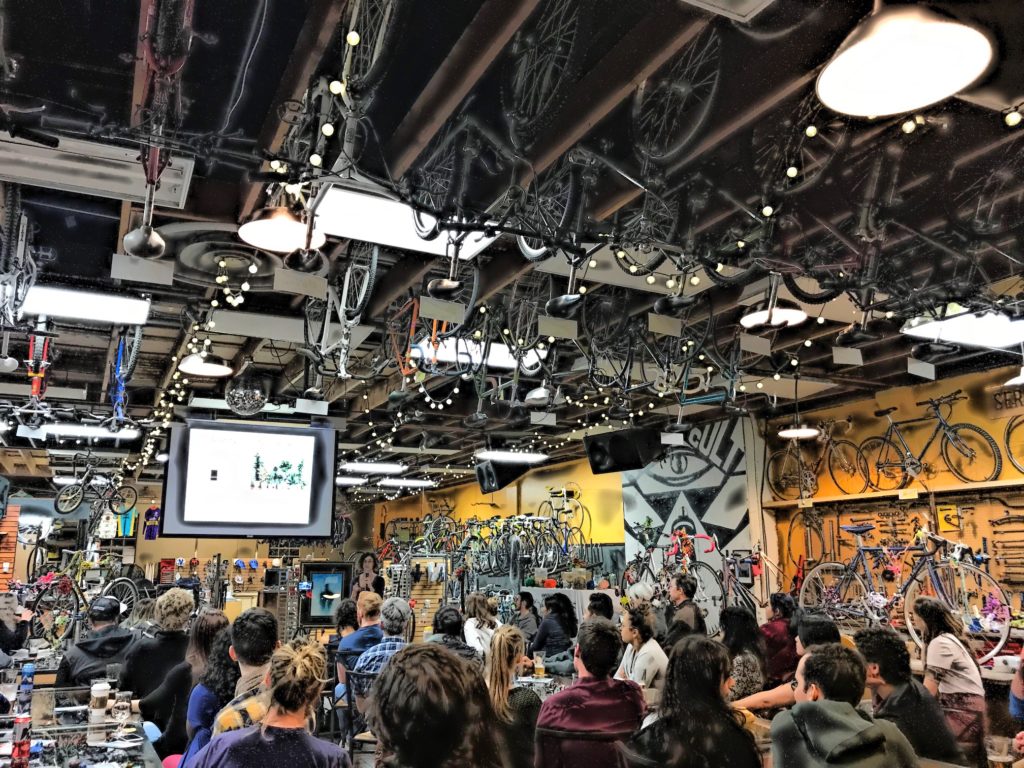 For one thing, being outside feels good…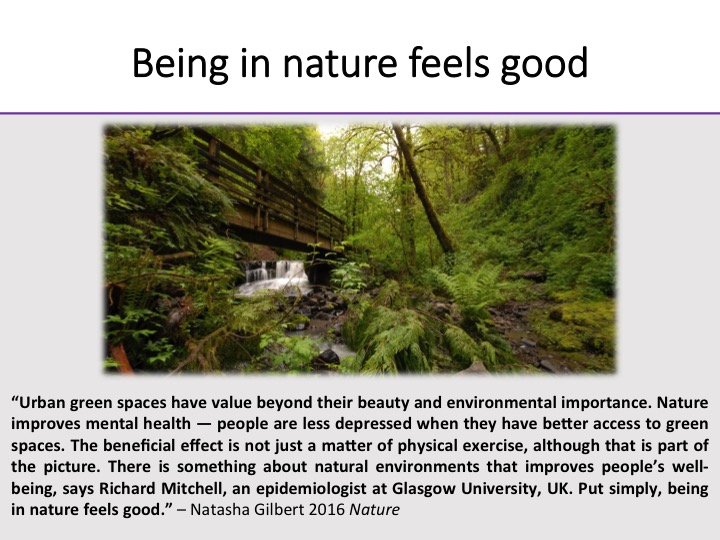 LEARN MORE: Green space: A natural high
Yet as a curious neuroscientist, Brittany also wanted to know why it feels good…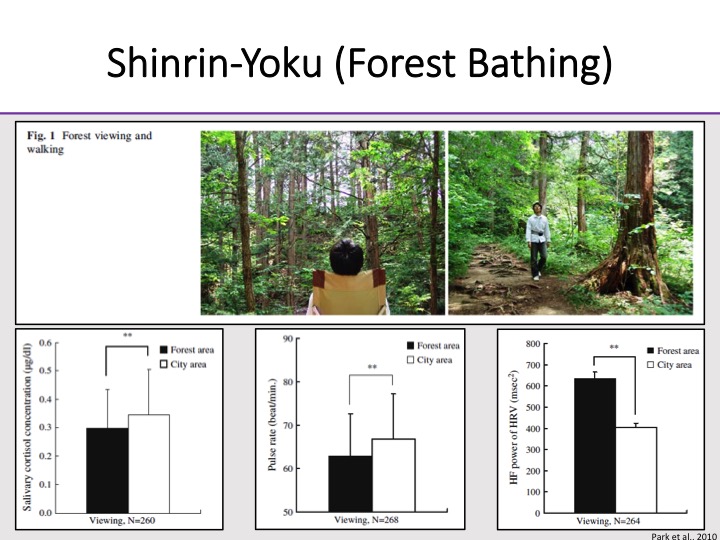 One study compared the effect of hiking in forests versus urban walks, and found that forest bathing (even viewing images of forests!) significantly reduced people's blood pressure, pulse rate and the release of the stress hormone cortisol versus similar walks or views in the city.
LEARN MORE: The physiological effects of Shinrin-yoku (taking in the forest atmosphere or forest bathing): evidence from field experiments in 24 forests across Japan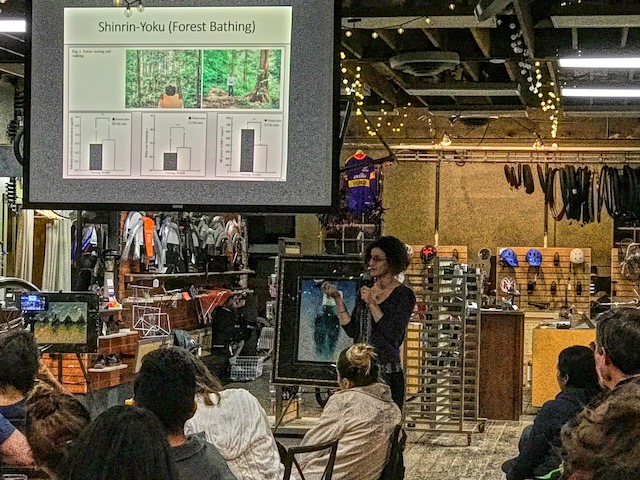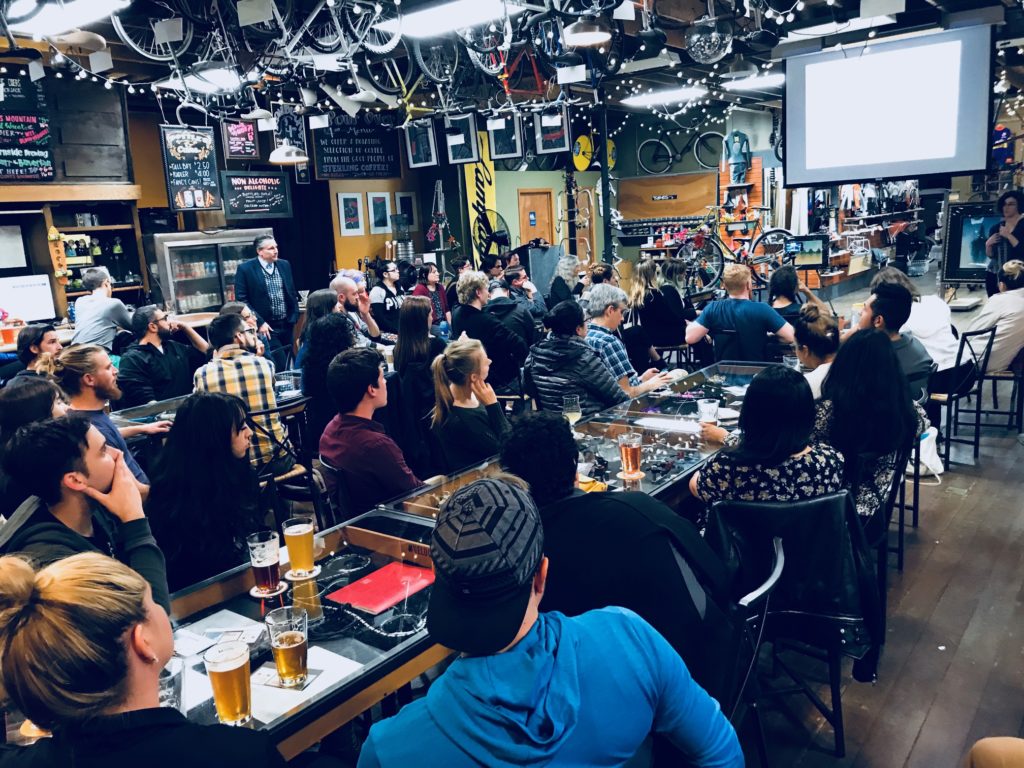 But what if you lack access to the outdoors? Are there ways to get some of the benefits of nature indoors as well?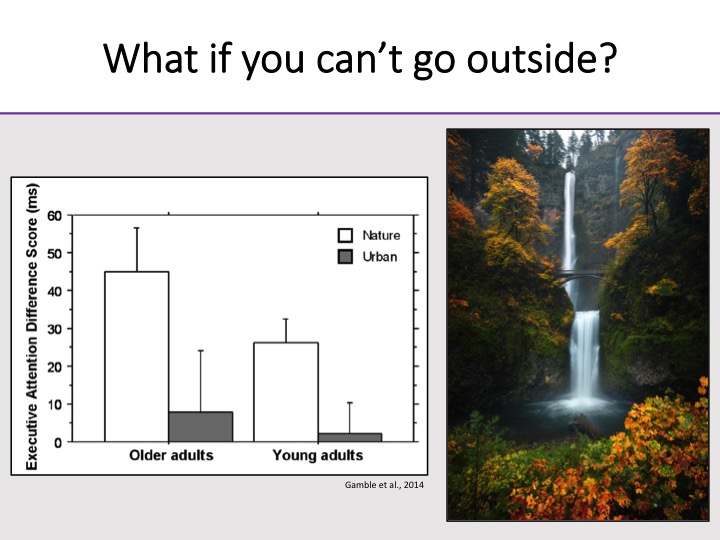 Just viewing pictures of nature can improve aspects of executive function, including our ability to direct attention. According to Katherine Gamble (2014): "nature exposure offers a quick, inexpensive, and enjoyable means to provide a temporary boost in executive attention."
LEARN MORE: Not just scenery: Viewing nature pictures improves executive attention
An exhibit called Picturing Oregon is at the Portland Art Museum (through August 2019), offering paintings and photographs inspired by the distinct regional landscapes that define the state. This might be another wonderful way to gain some benefits of nature in the city's urban core…
Chemicals released by forest trees and plants (including alpha pinene and gesomin) appear to contribute to the beneficial health effects of nature; however, visual stimulation alone (from pictures and paintings) apparently also generate some of these reported improvements.
LEARN MORE: Terpenes from Forests and Human Health
LEARN MORE: Trends in research related to "Shinrin-yoku" in Japan
LEARN MORE: Smell, Memory, Place Tour of Picturing Oregon @ PAM!
Houseplants are yet another potential source of indoor exposure to nature, although Brittany admitted that she's a ruthless serial plant murderer…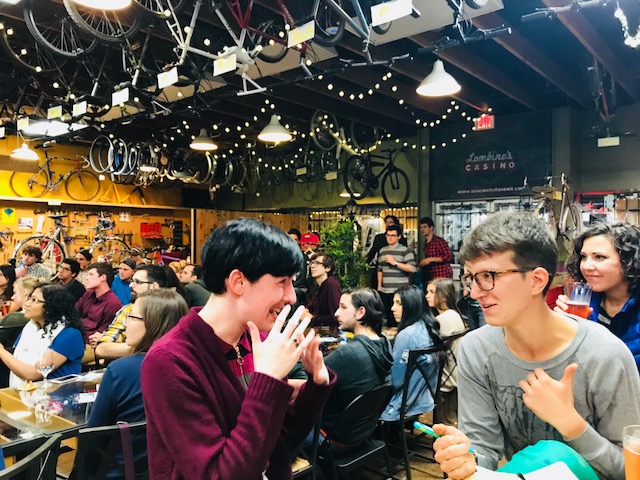 However for this project, she changed her ways, and discovered  –  delightfully  –  some plants that you can't easily kill!
The presence of houseplants has been linked to a significant decrease in blood pressure, reduced psychological and physiological stress, and less pain following surgery. From Lee (2015): "Our results suggest that…interaction with indoor plants can reduce physiological and psychological stress compared with mental work. This is accomplished through suppression of sympathetic nervous system activity and diastolic blood pressure and promotion of comfortable, soothed, and natural feelings."
LEARN MORE: Interaction with indoor plants may reduce psychological and physiological stress by suppressing autonomic nervous system activity in young adults
LEARN MORE: Therapeutic Influences of Plants in Hospital Rooms on Surgical Recovery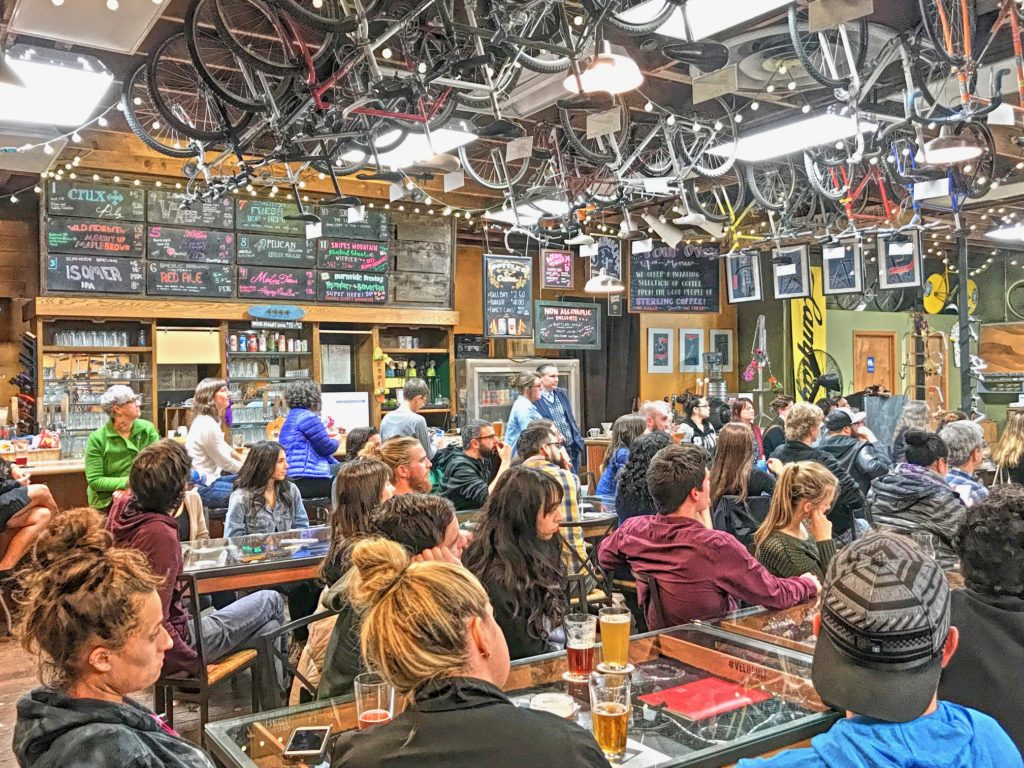 Given this body of research, Brittany and Sienna decided to examine whether limited additional exposure to nature for one month would affect subjective and brain responses…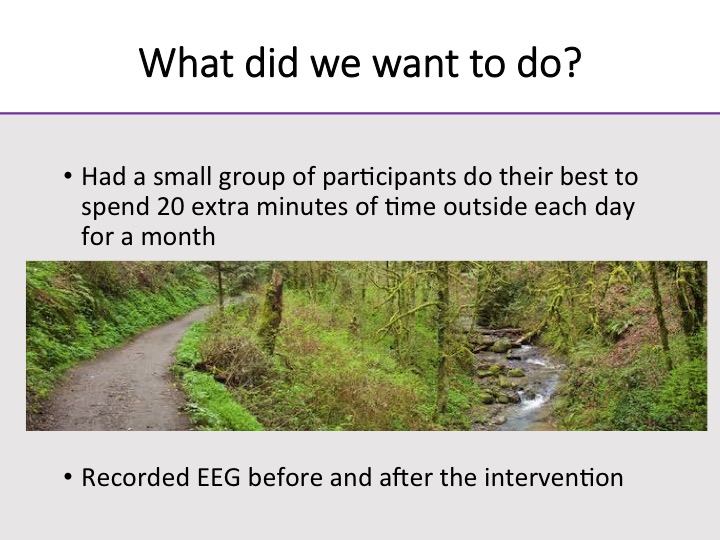 In her graduate studies in Sarah Karalunas' lab at OHSU, Brittany examines the electrical activity of her subjects' cerebrums using a technique known as electroencephalography, or EEG. Many thanks to the Portland Alcohol Research Center at OHSU for purchasing two research-grade emotiv EEG headsets for NW Noggin, to pursue this kind of community outreach!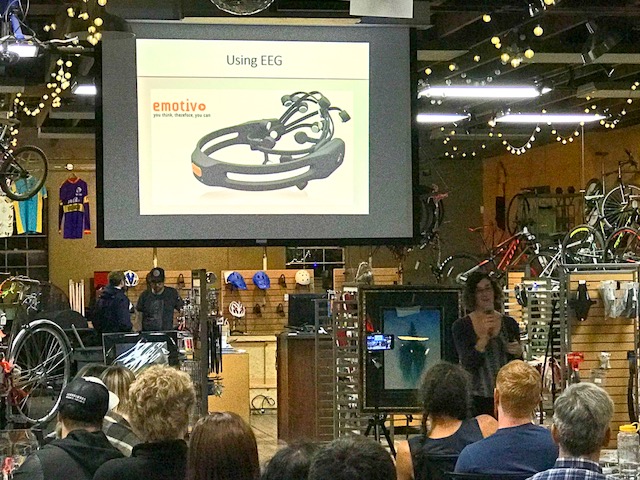 Brittany provided a concise summary of EEG, which measures the aggregate electrical activity (many, many "post-synaptic potentials") of lined up neurons known as pyramidal cells in selective areas of the neocortex found at the wrinkled surface of our brains…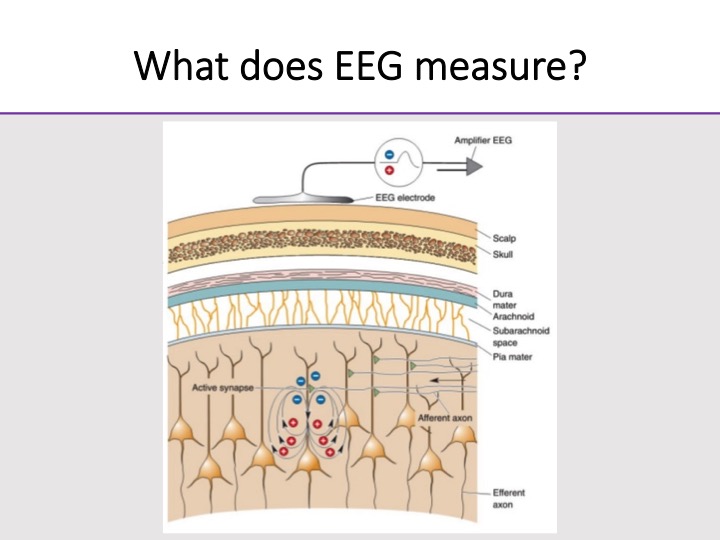 She noted that there is plenty of complex information in these recorded tracings of brain activity, but explained that she was primarily interested in the different frequencies embedded in that EEG…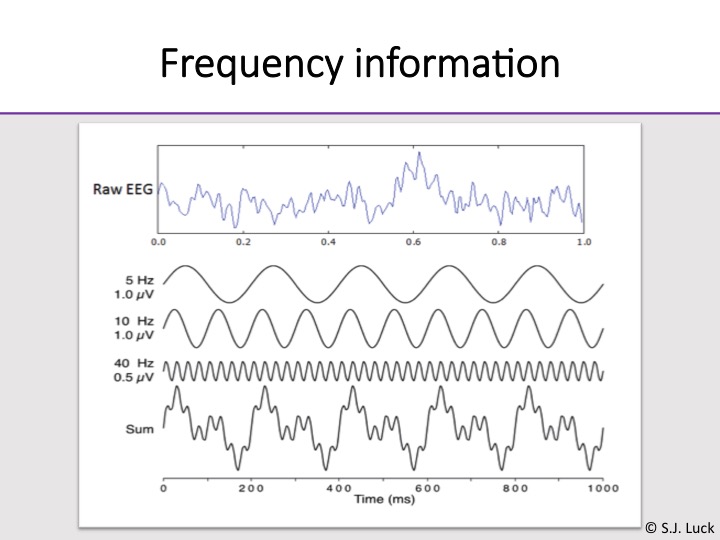 Raw EEG looks like "squiggles," but it represents clusters of thousands of neurons firing together at different rates. Frequencies range from slow delta (1-4 Hz) and theta (4-8 Hz) activity, characteristic of deep sleep, to the higher frequency alpha (8-13 Hz), beta (13-30 Hz) and gamma (> 30 Hz) commonly detected when we're awake…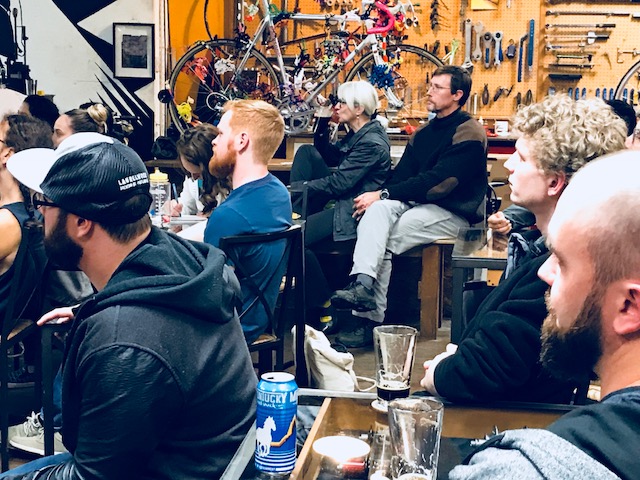 The question Brittany asked is:  how much of each frequency are we seeing..?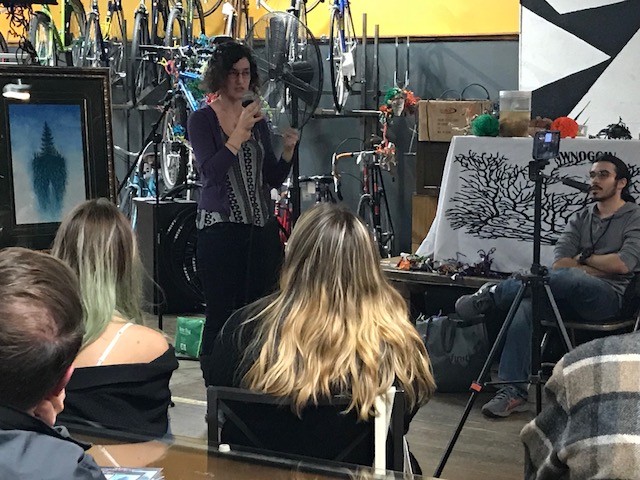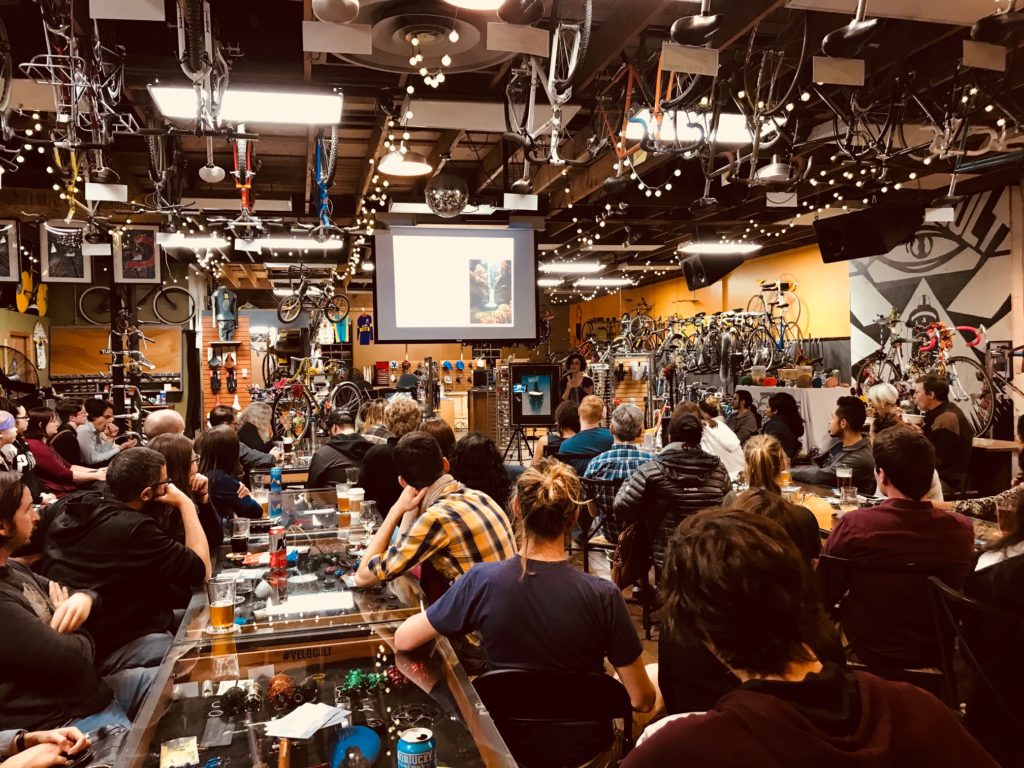 Frequencies represent different functional states, and people experiencing anxiety or depression typically have more alpha activity in their left frontal lobes compared to right than those who don't. This inter-hemispheric "left alpha asymmetry" is one neurophysiological way to assess someone's mental state, and index changes indicating improvement after effective intervention…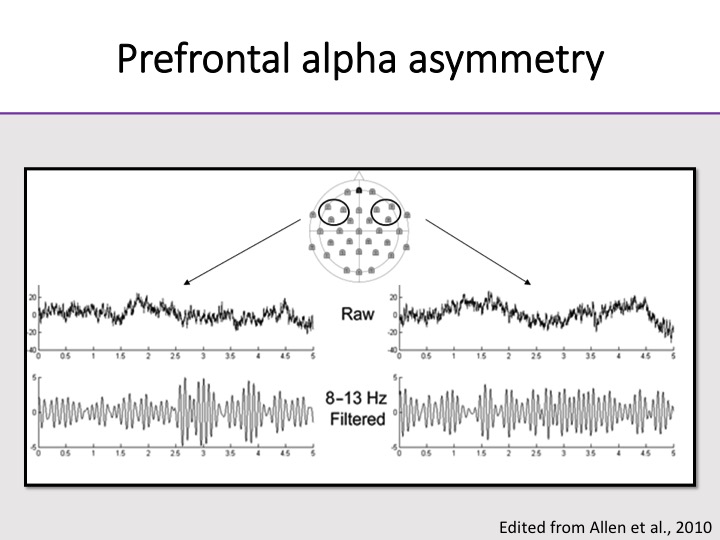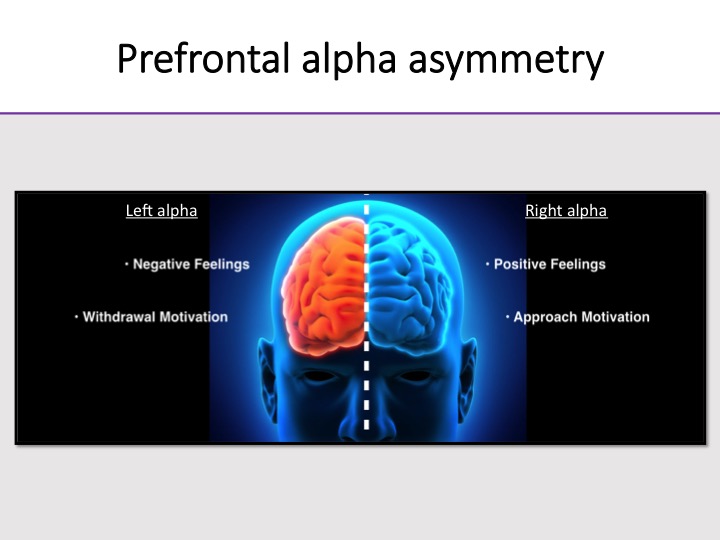 Brittany's three volunteer subjects spent at least 20 minutes outdoors every day for a month, and she examined their pre-frontal alpha activity both before and after the intervention. She also asked them how they felt  –  if they sensed any changes from the additional experience outdoors…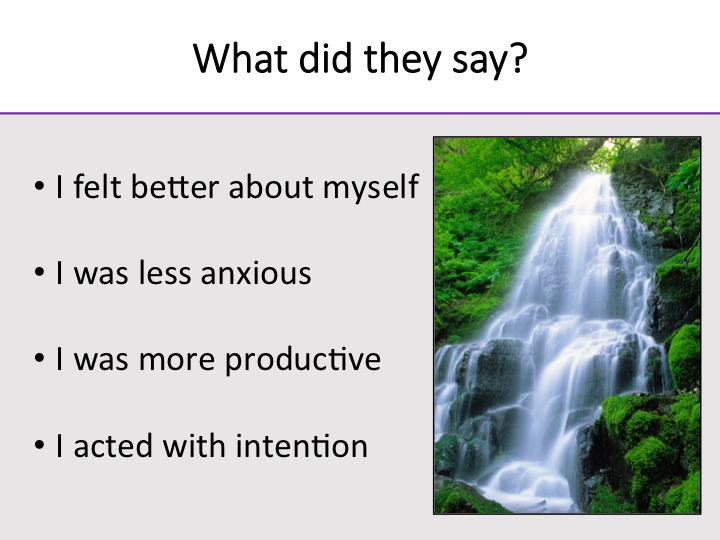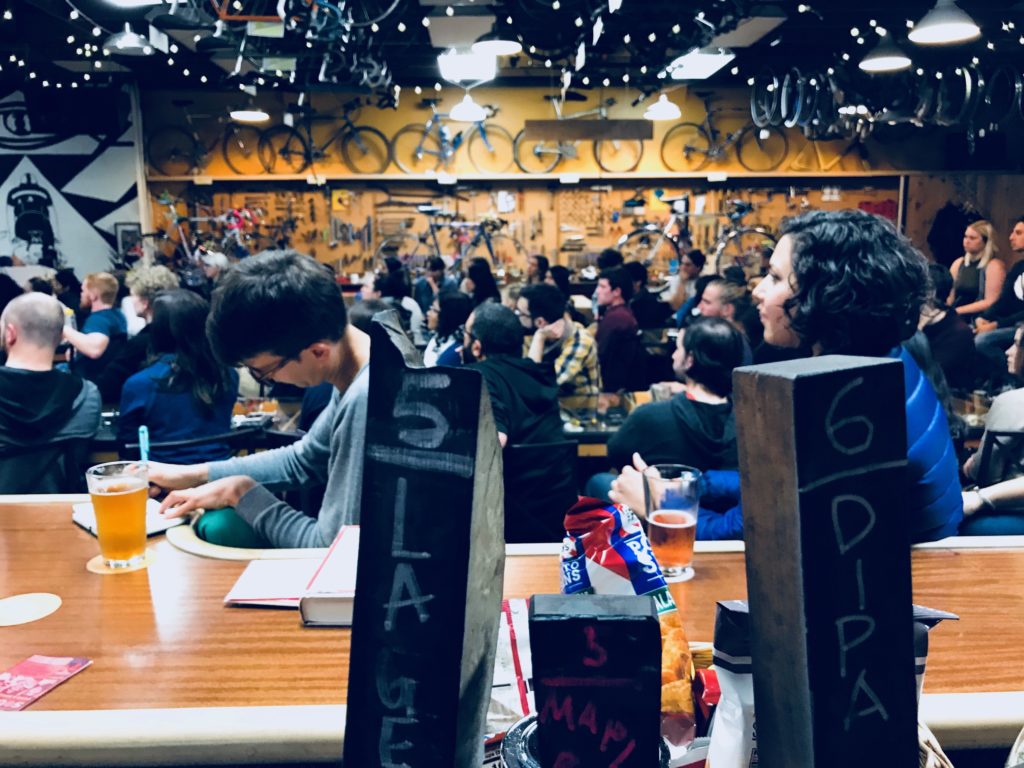 And did their brains agree? Was there a change in the degree of alpha asymmetry? Brittany's subjects were not depressed, and had a slight right alpha asymmetry before heading outdoors. After the intervention, the amount of recorded alpha increased even further in their right versus left hemispheres, indicating improvement!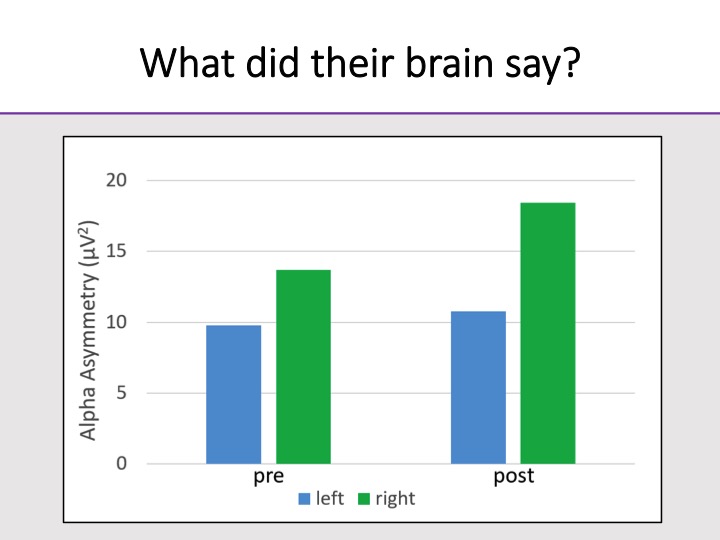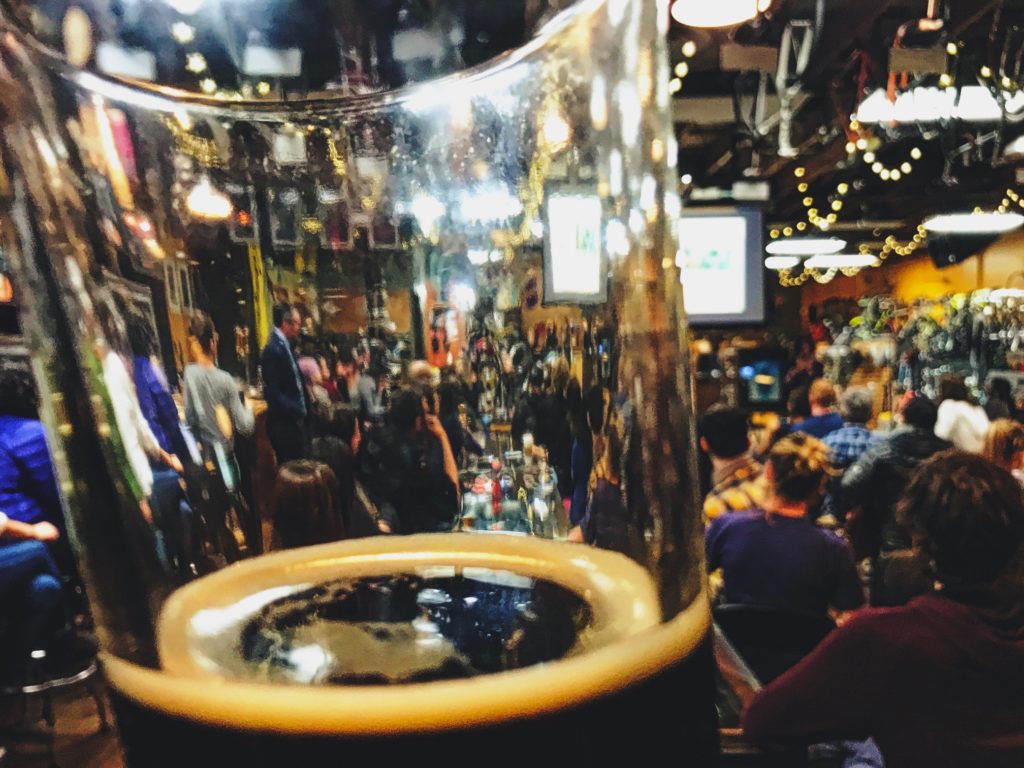 Sienna then described the new works she'd created as a result of this collaboration, and presented a video of herself completing a piece entitled "Forest Bathing…"
From Sienna: "This video is of me finishing the drawing 'Forest Bathing,' which is drawn with a chemical formula for alpha pinene as well as gesomin. These molecules are associated with the sense of calm we experience in nature. Alpha pinene, when breathed in lowers levels of the stress hormone cortisol, lowers heart rate and positively modulates GABA receptors. All of which contributes to healthier mental health."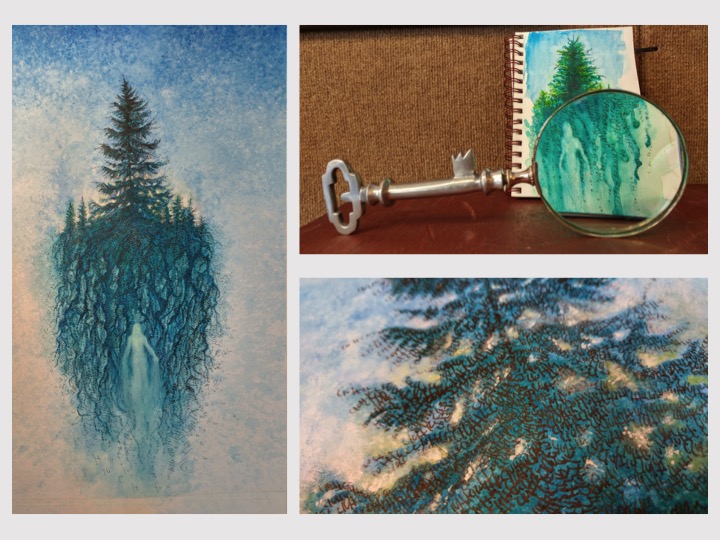 Sienna is also part of a related art exhibit opening at the Ford Gallery on November 4…
LEARN MORE: Self Care: A Group Show On Living Beyond Depression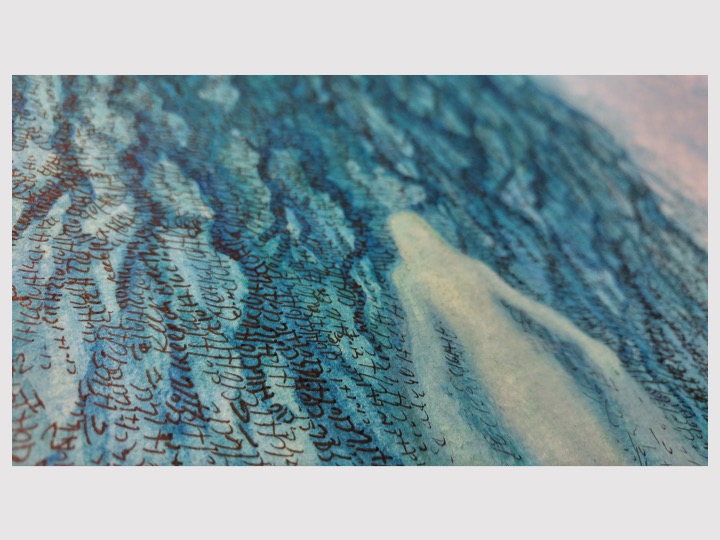 For the next 30 minutes, both Sienna and Brittany took audience questions. Are deserts equally therapeutic? Is this merely an effect of novelty, or something specific to nature? What if you paint your city green? This is clearly a topic of tremendous interest, both in Asia and North America.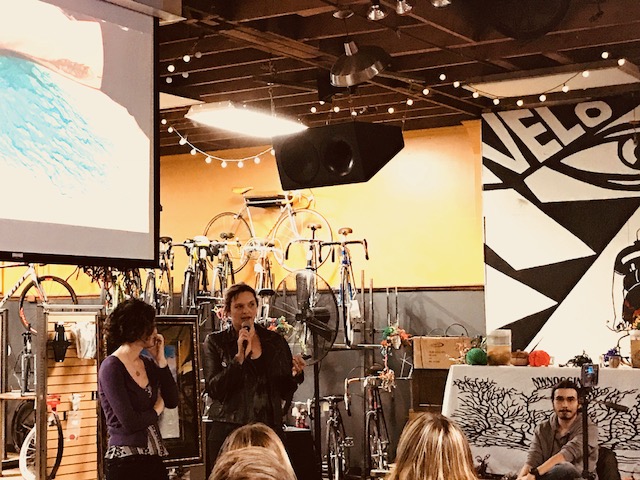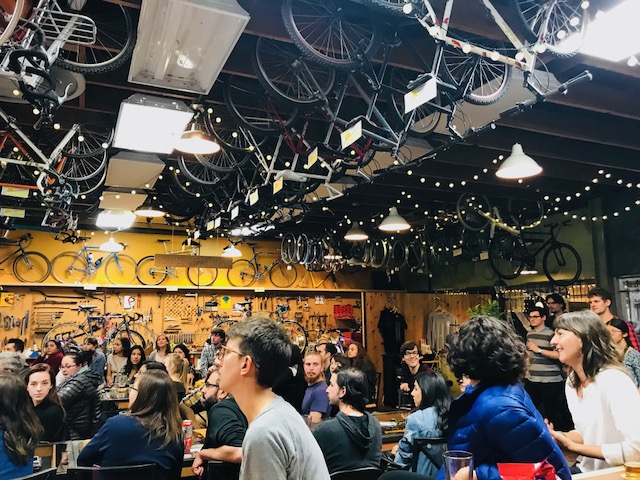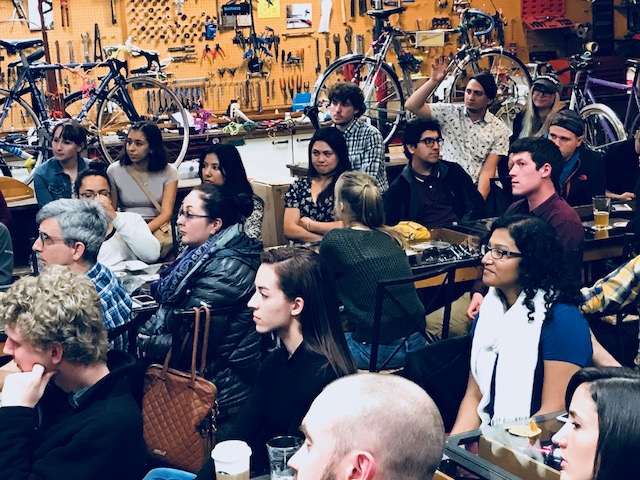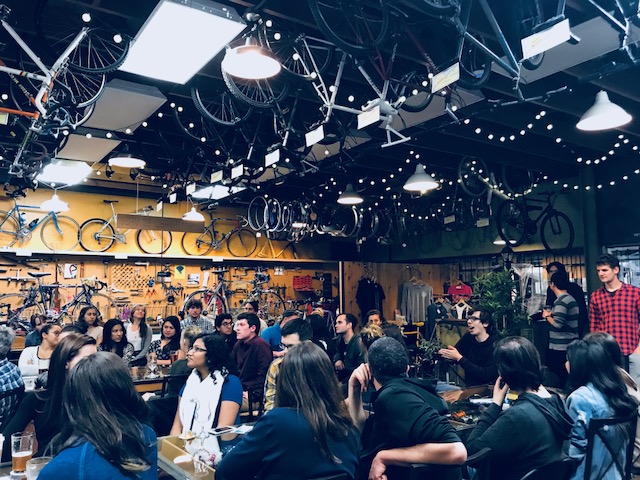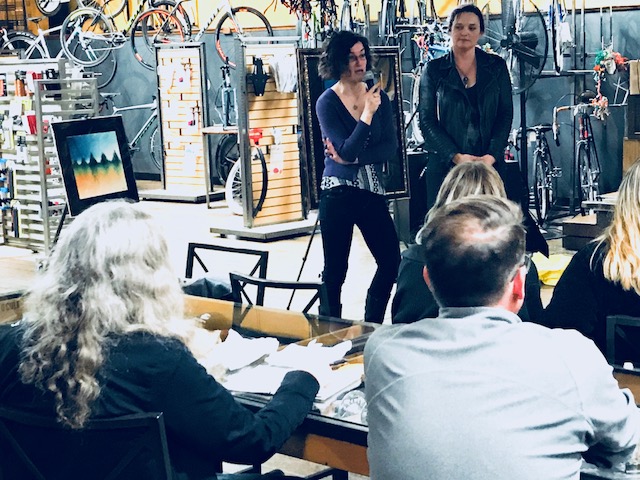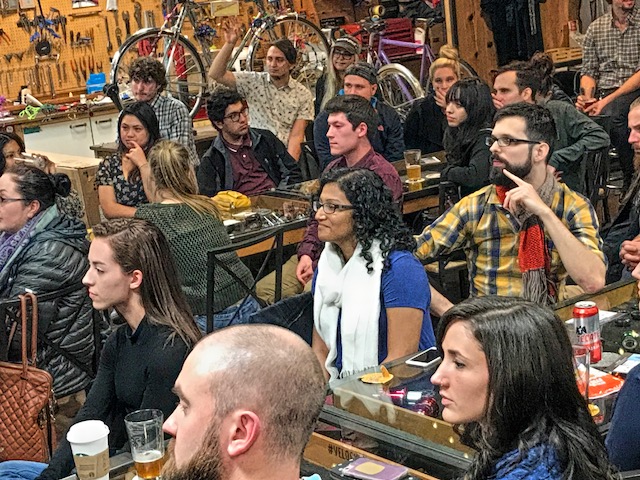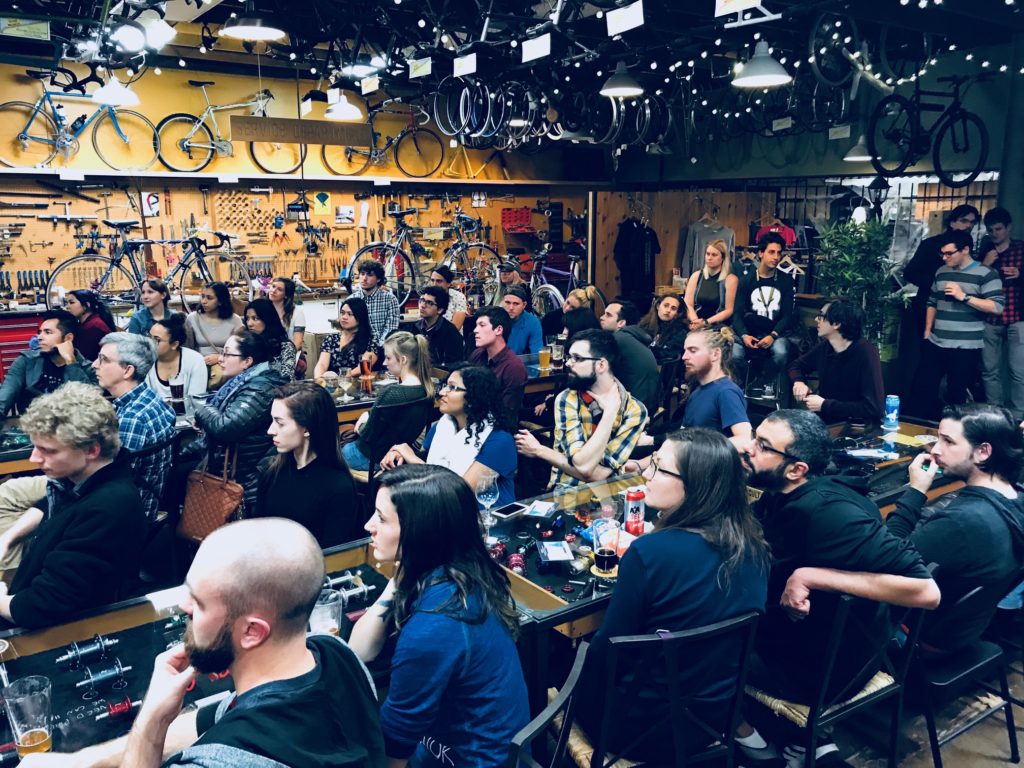 LEARN MORE: Nature Contact and Human Health: A Research Agenda
Many thanks to our compelling speakers, our outreach volunteers, Portland State and OHSU, and to everyone at Velo Cult for supporting innovative arts-integrated neuroscience outreach! We'll be back next month (Wednesday, November 29th, 6 – 8pm) for another show!