Post by Jacob Schoen, PSU/OHSU Oregon National Primate Research Center
Early this morning a dedicated group of NW Noggin volunteers pulled up to Liberty High School with containers full of pipe cleaner neurons, vibrant pink, green and orange 3D printed brain models  –  and of course REAL human brains! The dark sky and raindrops made it a perfect day to spend indoors at the 2018 Liberty High School Health Fair!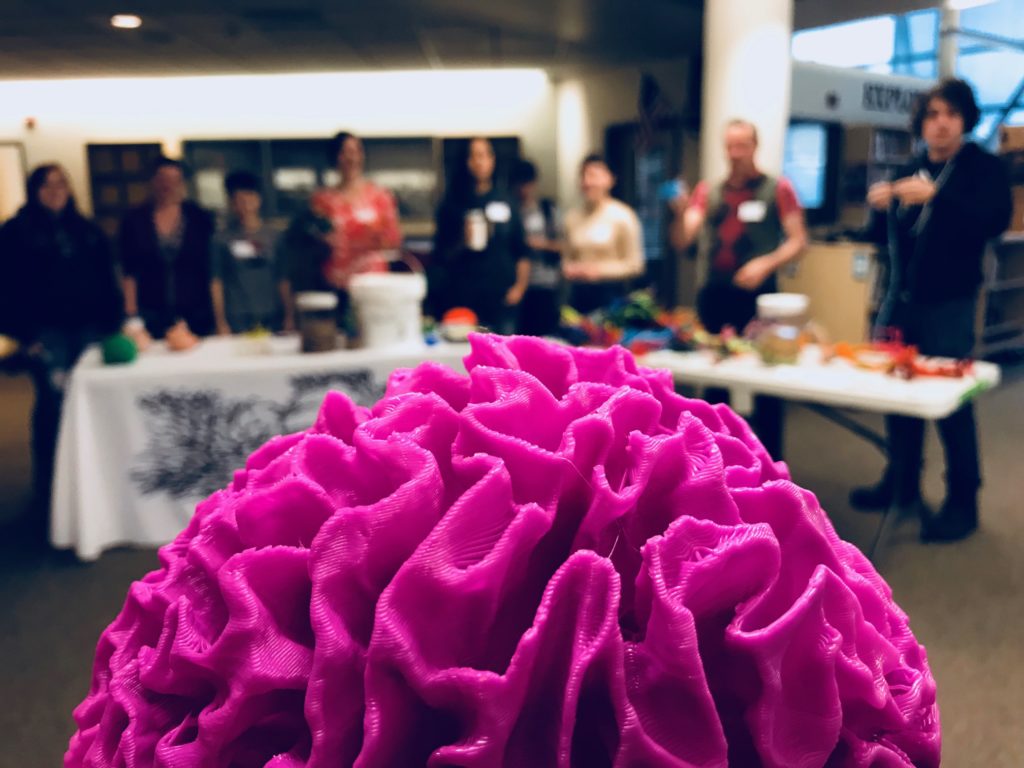 Students came dressed in scrubs or lab coats according to the job they chose to present for the day. The room looked more like a bustling hospital than a high school library…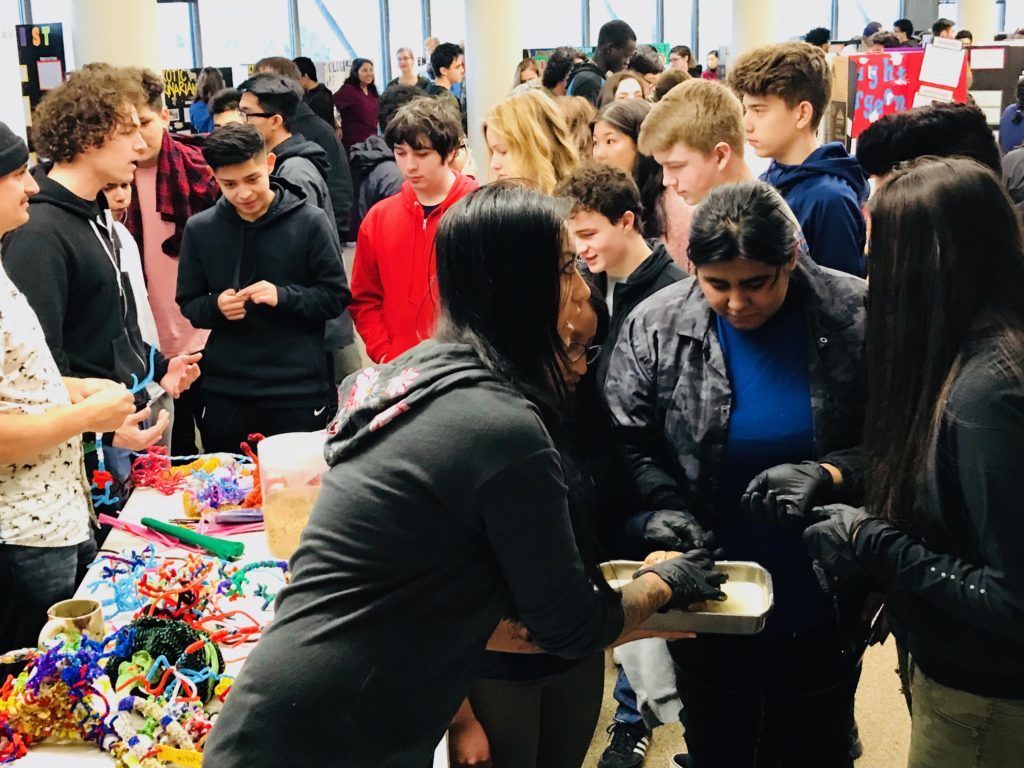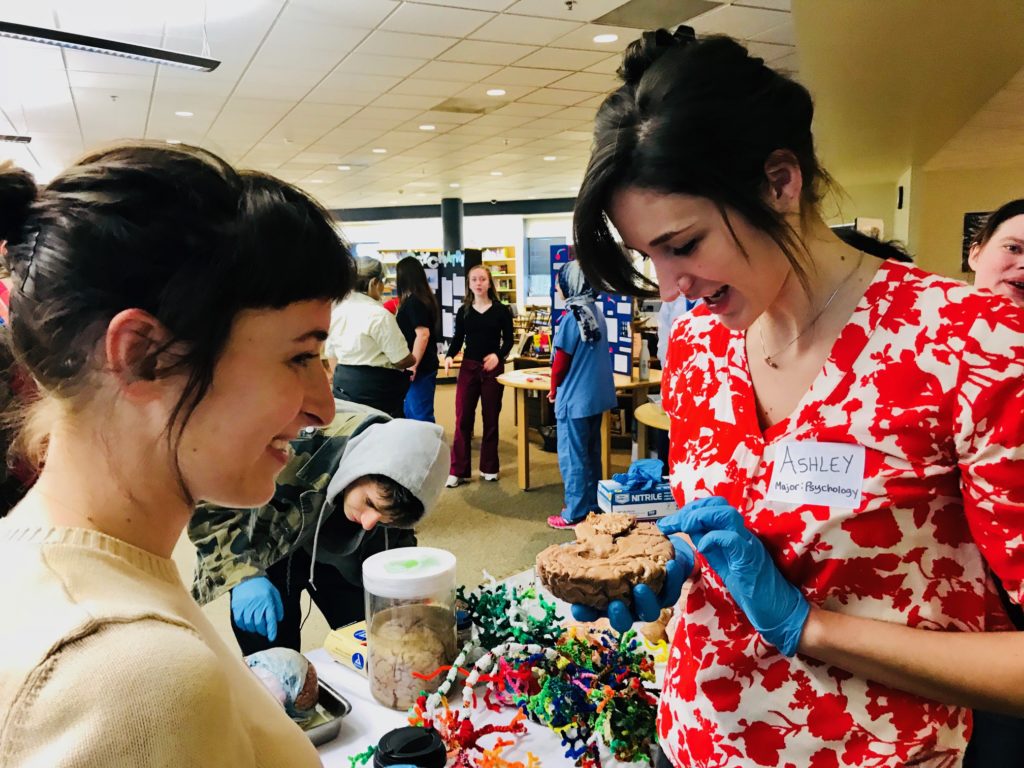 The health fair was organized by Liberty High School students, volunteers, and visiting specialists from a variety of different clinical and research career and educational backgrounds, including our own knowledgeable outreach volunteers!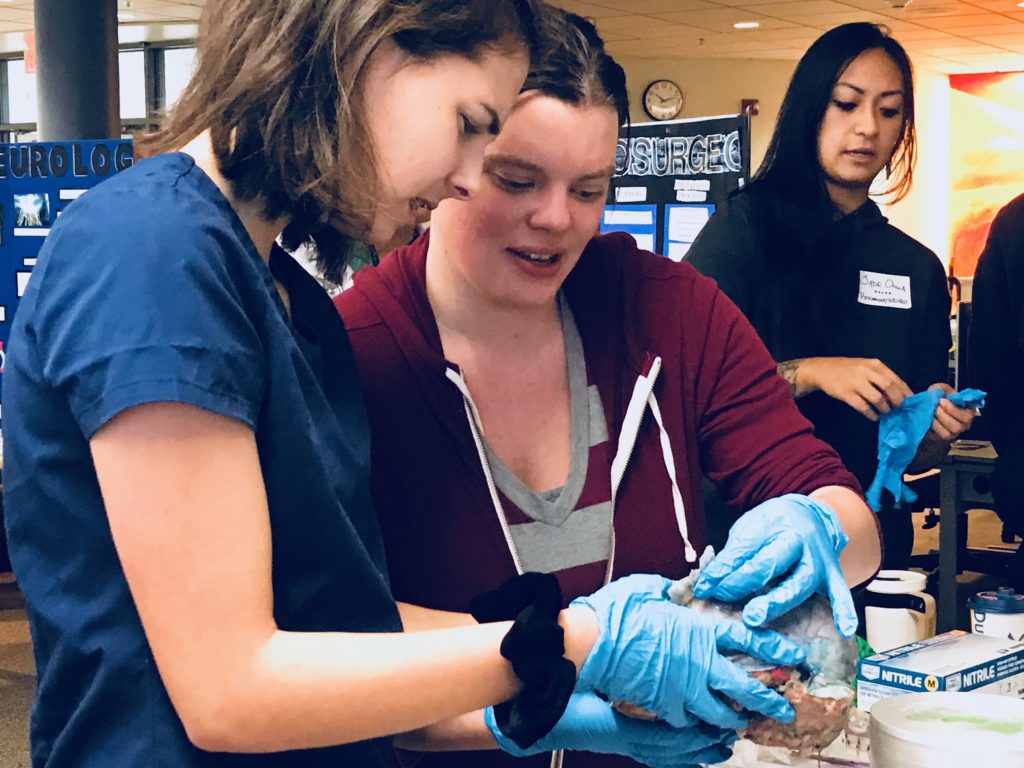 From PSU Psychology undergraduate Krystal Harrel: "I talked to students about my focus in Clinical Psychology and how it relates to what we learn about in neuropsychology. Alyona (Kurelenkova, also from PSU) and I explained the layers and the vasculature in your brain to students. There were a lot of wide eyes everywhere!"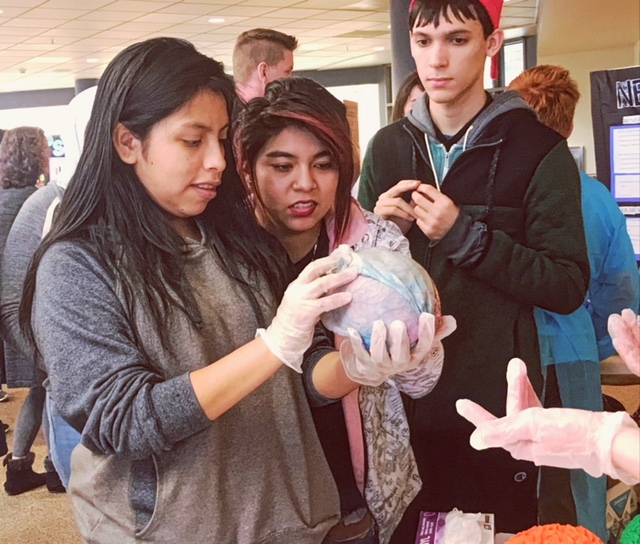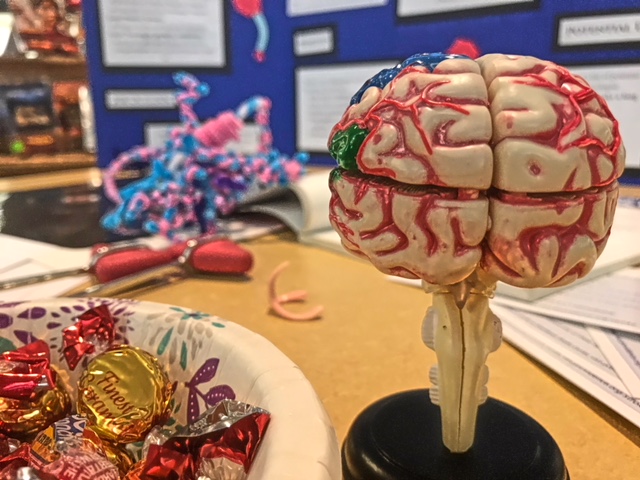 The library was packed with posters describing critical jobs in medical and scientific fields…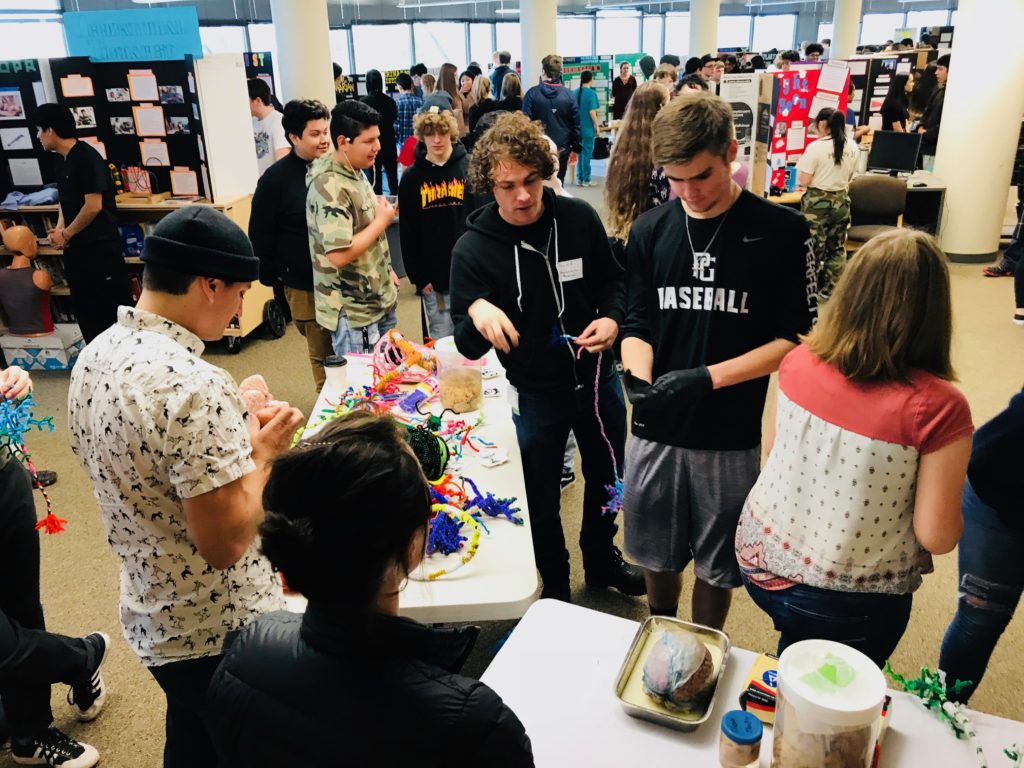 A booth describing psychiatry offered a clay model brain with labels indicating regions where brain diseases like PTSD, anxiety, and depression had impact. A neonatal nurse booth featured a young woman dressed in uniform holding a toy baby. There was a rabbit at the vet poster, and the flight medic table was staffed by a professional in uniform along with another welcoming student dressed in camo. Each student presenter crafted their own poster and experience to impress visitors with educational facts (and, we learned  –  they were being graded on their efforts, too!).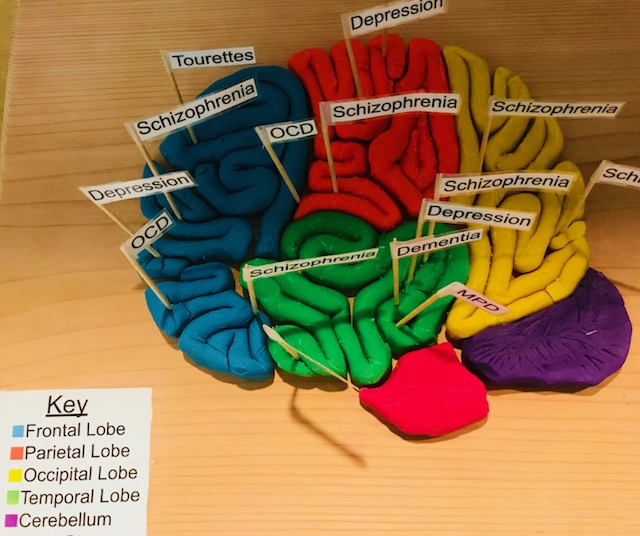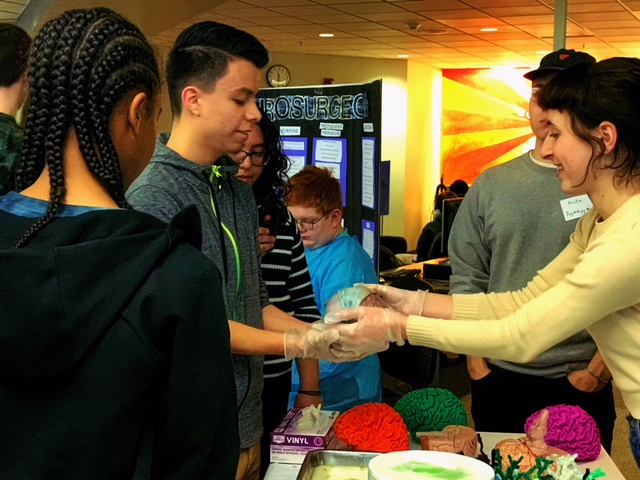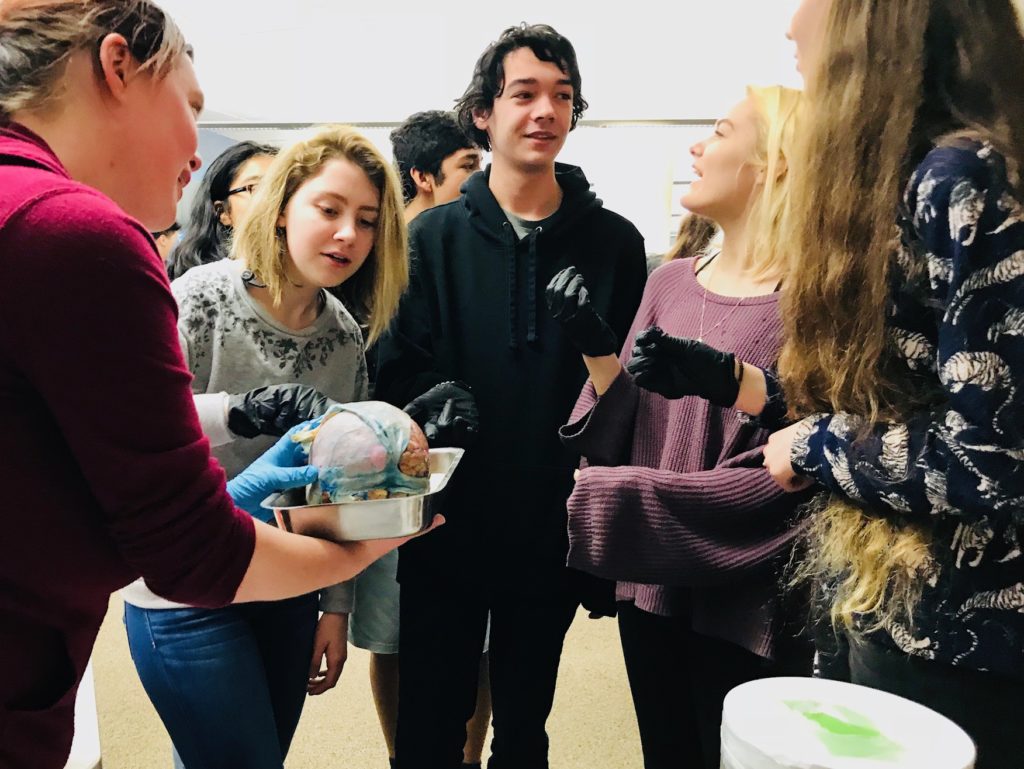 LEARN MORE: Traumatic stress: effects on the brain
LEARN MORE: Changing Brain Waves of Depression
LEARN MORE: Bathing your brain @ Velo
We took non-stop brain questions all morning long. Disgusted/shocked/curious looks at the human brains were frequently followed by the exclamation: "Is that real!?"…"YES, it is!" Intrigued young minds arrived in constant waves for hours, some returning to our table several times…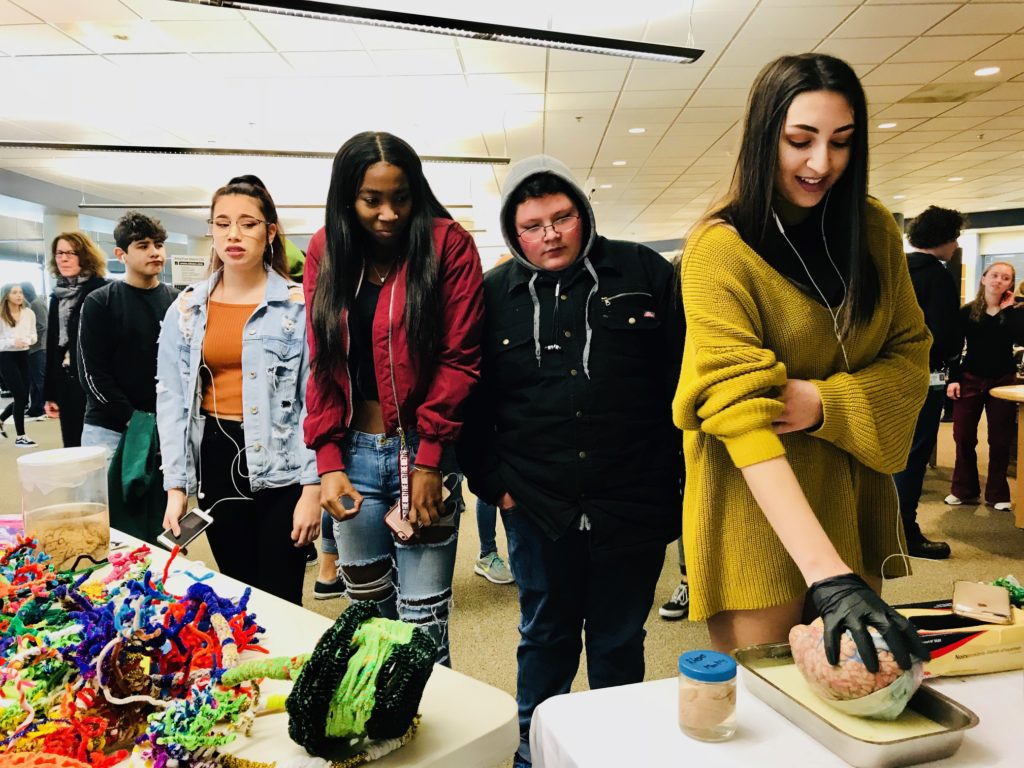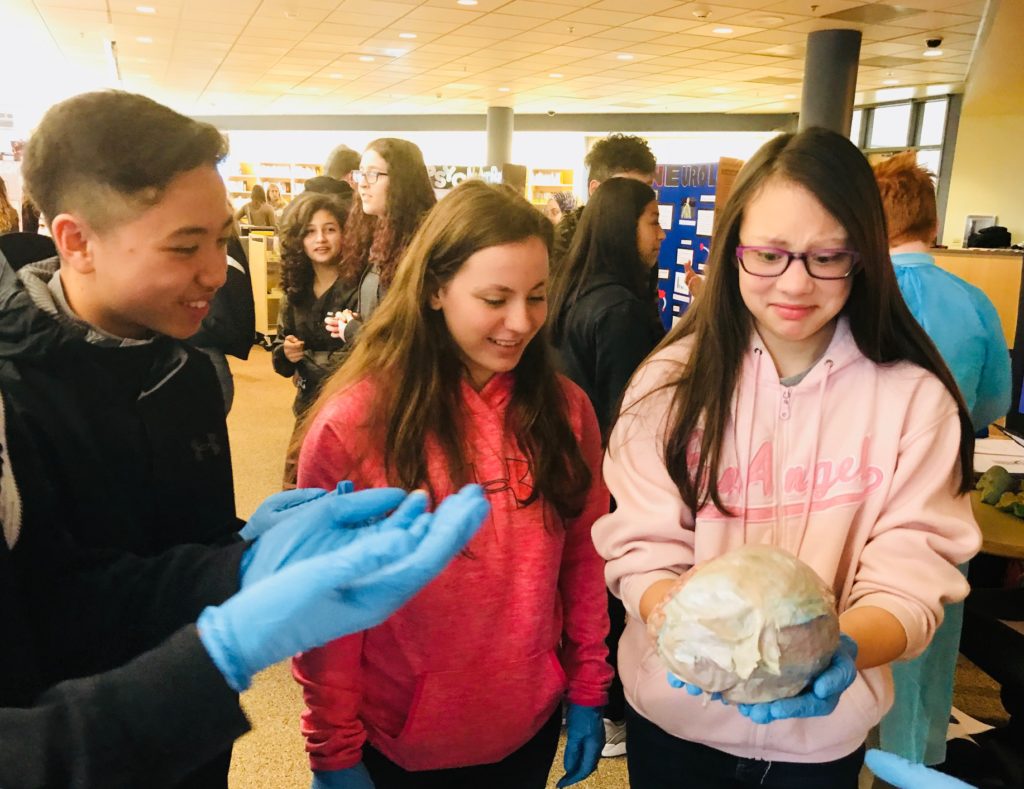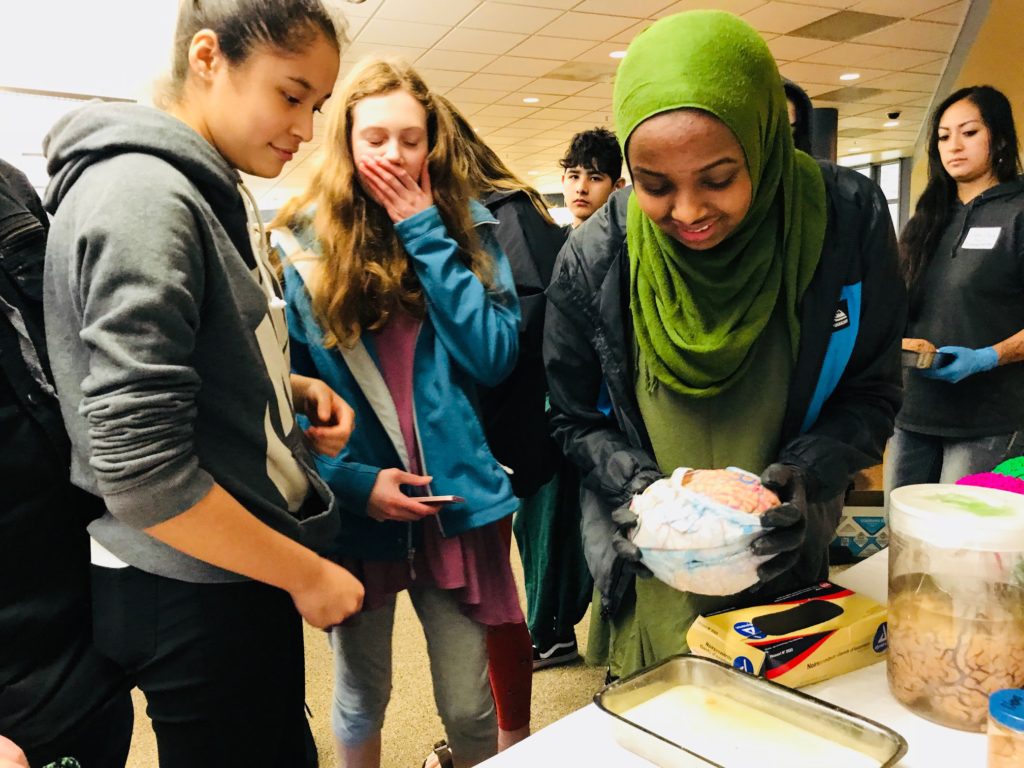 "Hold on – I'm learning something interesting here!"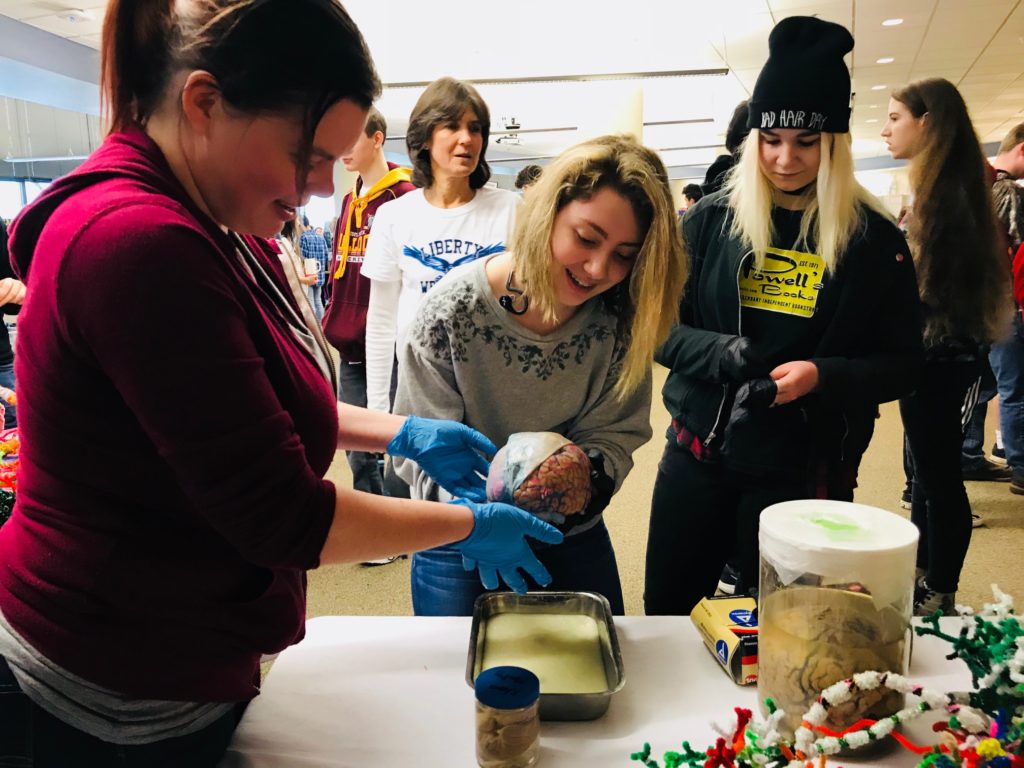 "What's that flap?" "Where does memory happen?" "Where do I feel pain?"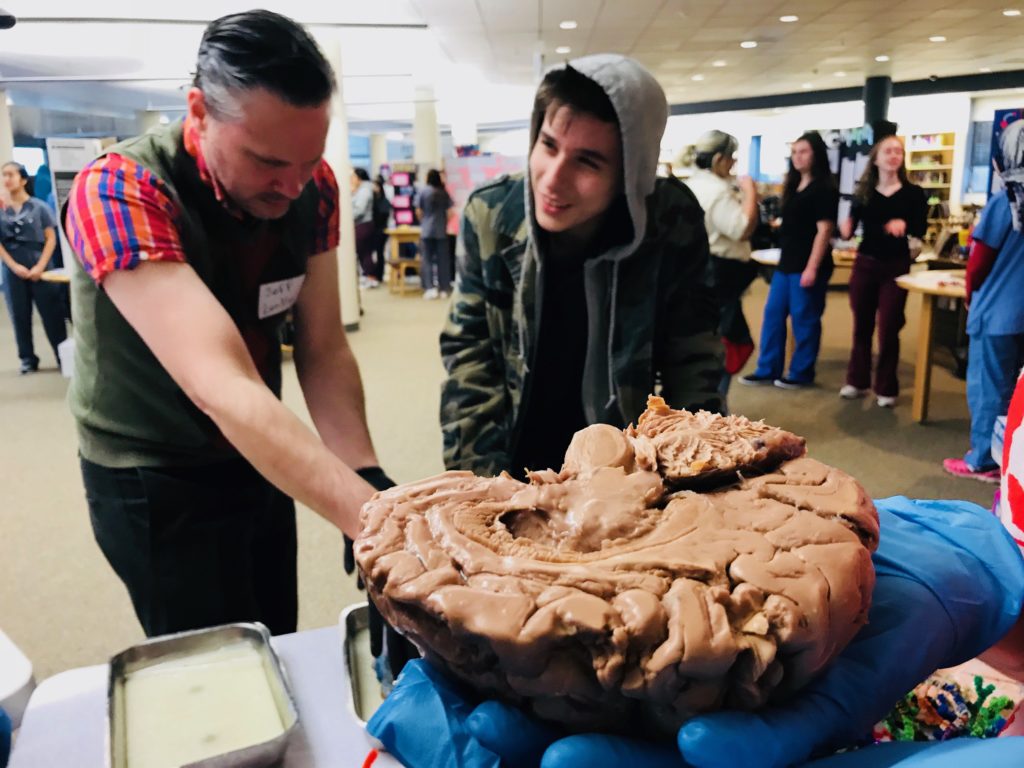 We also got right to work creating pipe cleaner neurons, which many found fascinating…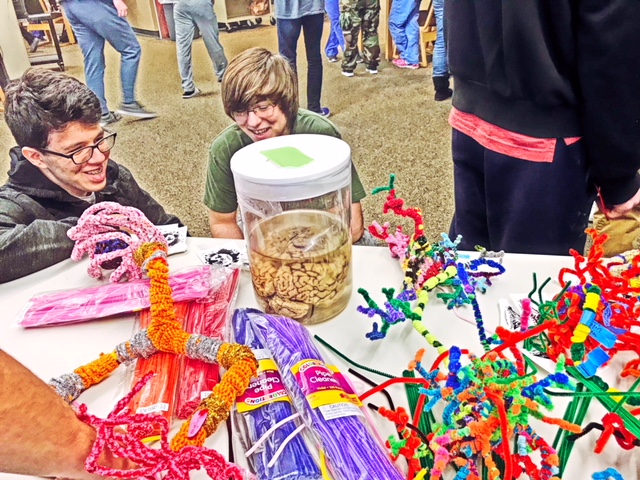 "It's so cool!" One teacher told us: "I've been using all these expensive 3D pens to try visualizing structures for biology  –  and I never even thought about pipe cleaners!"
LEARN MORE: STEAM Art Projects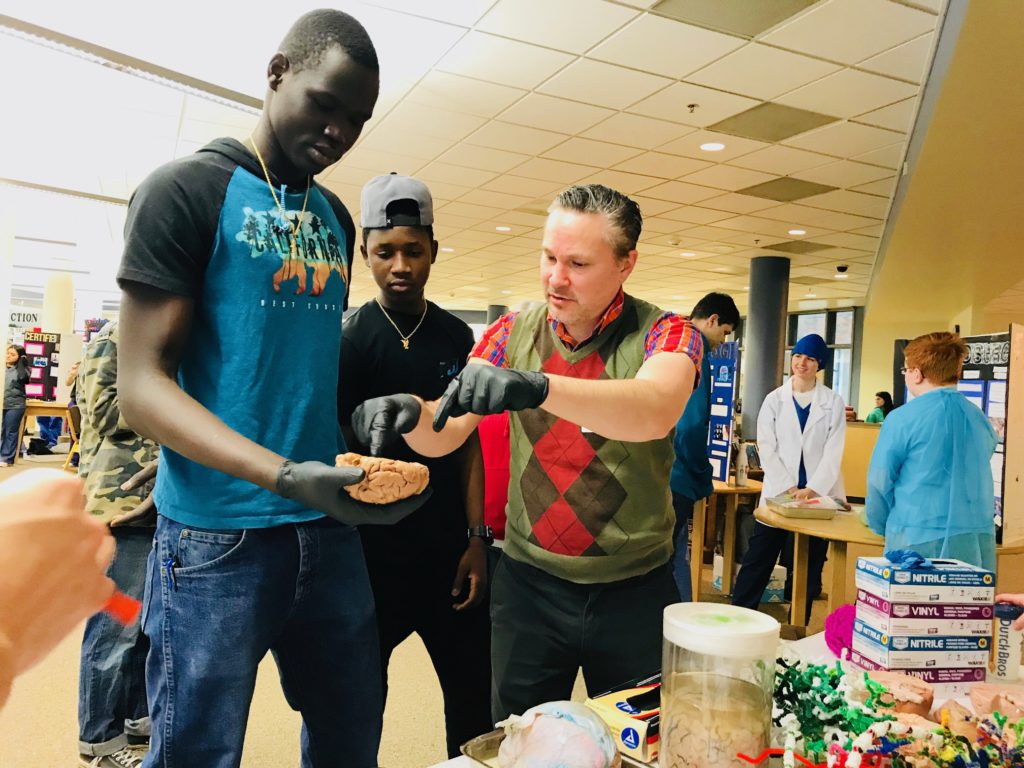 Where in the brain do we process vision? How many neurons are in the brain? Do we get more neurons or lose them as we get older?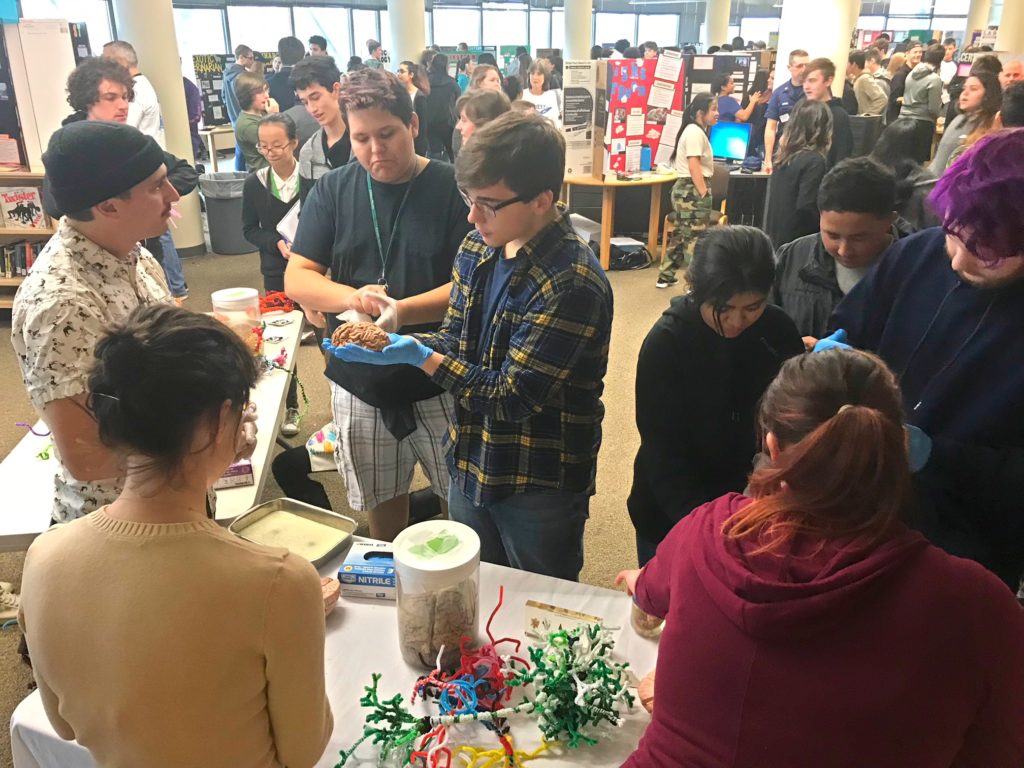 Astronomers estimate that there are 100-400 billion stars in the Milky Way, but we know that humans are born with about 200 billion neurons in the brain!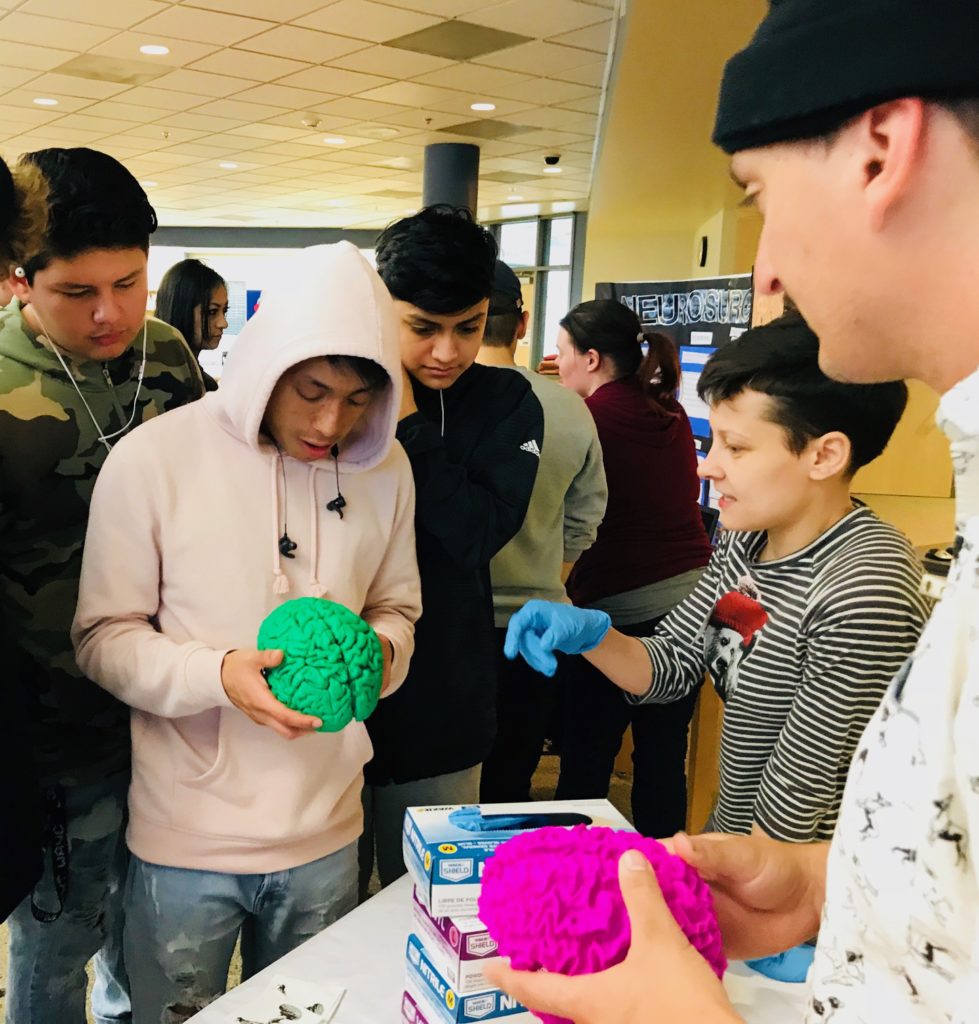 LEARN MORE: How Many Stars in the Milky Way?
LEARN MORE: The Human Brain in Numbers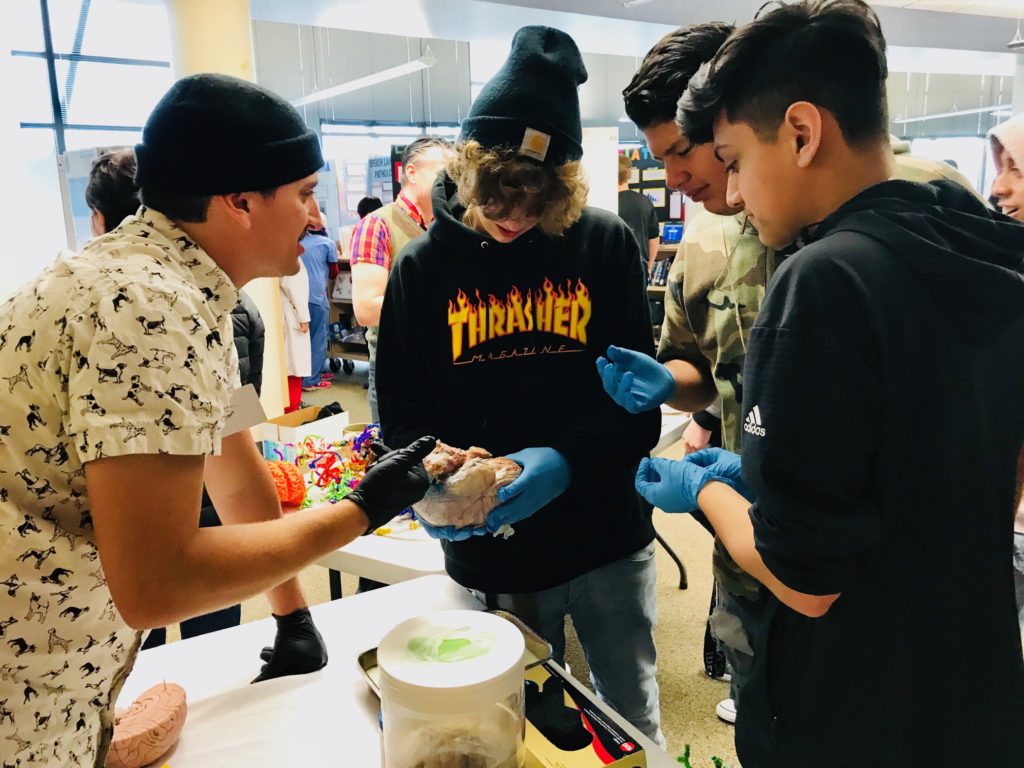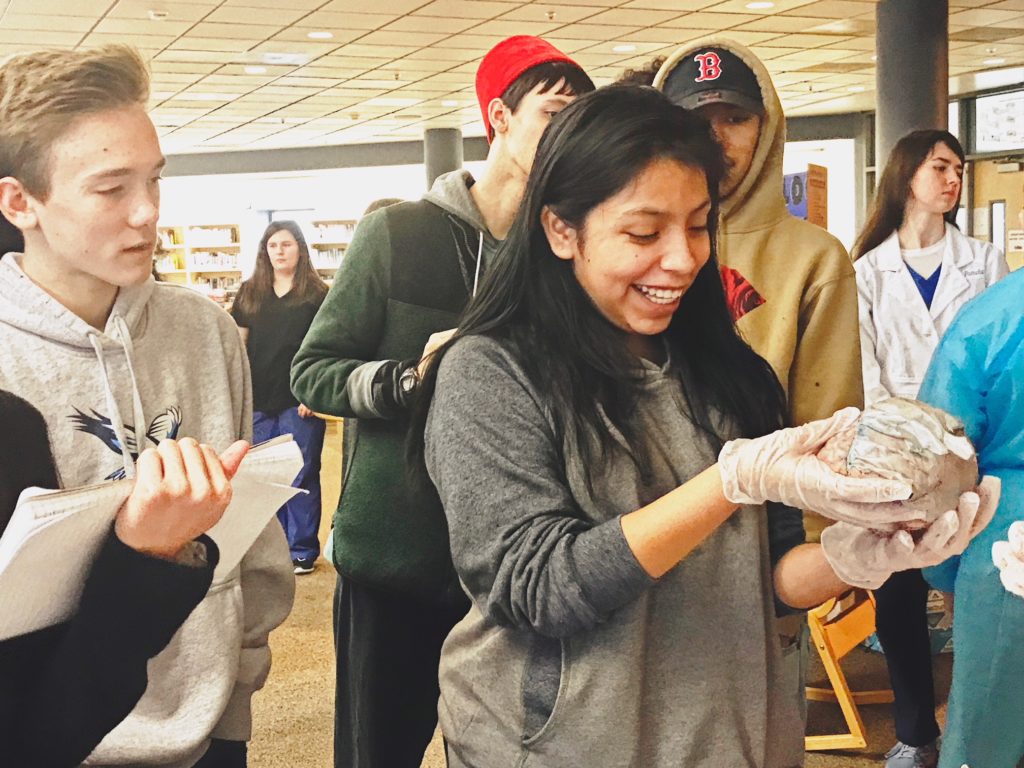 Students shared stories and discussed brain surgery observations, unanswered questions in neuroscience, and exciting possibilities for future research. The coming together of a diverse number of medical and scientific fields provided a place for compelling conversations that engaged us all…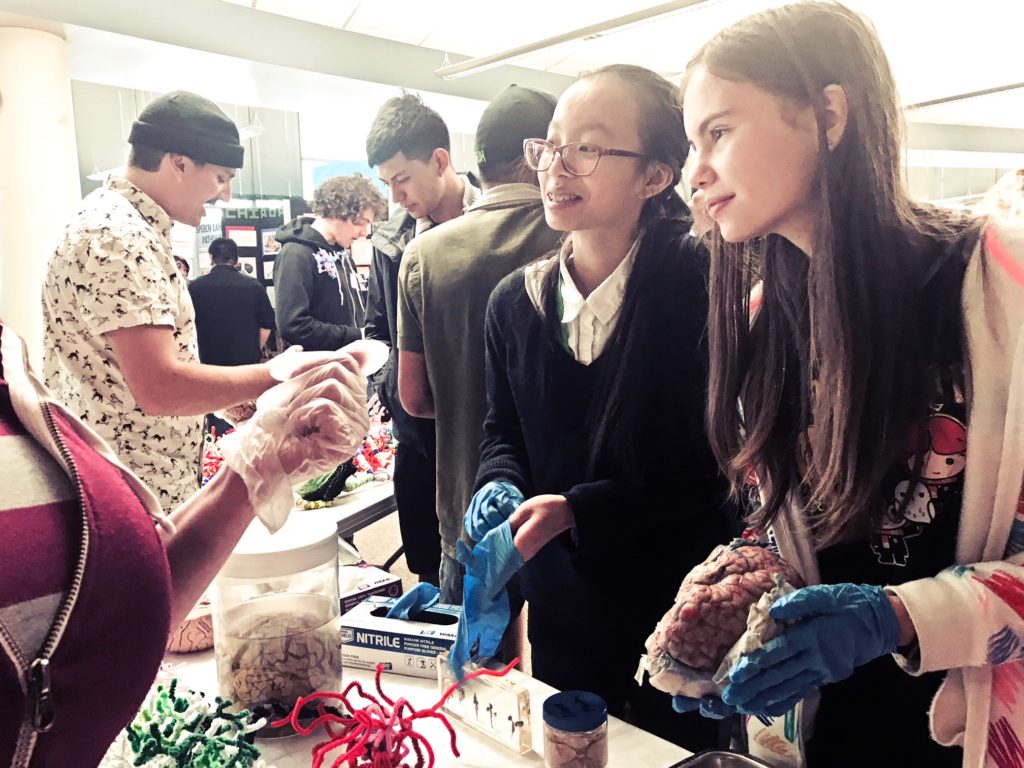 Our accomplished outreach volunteers included Austin Lewis, Jordan Ray, Madeleine Ogle, Ashley Keates, Alyona Kurelenkova, Jade Catherine Osilla, and Krystal Harrel from Psychology at Portland State University, your author Jacob Schoen, a graduate of PSU and current OHSU employee at the Oregon National Primate Research Center, and Noggin co-founders Bill Griesar and Jeff Leake.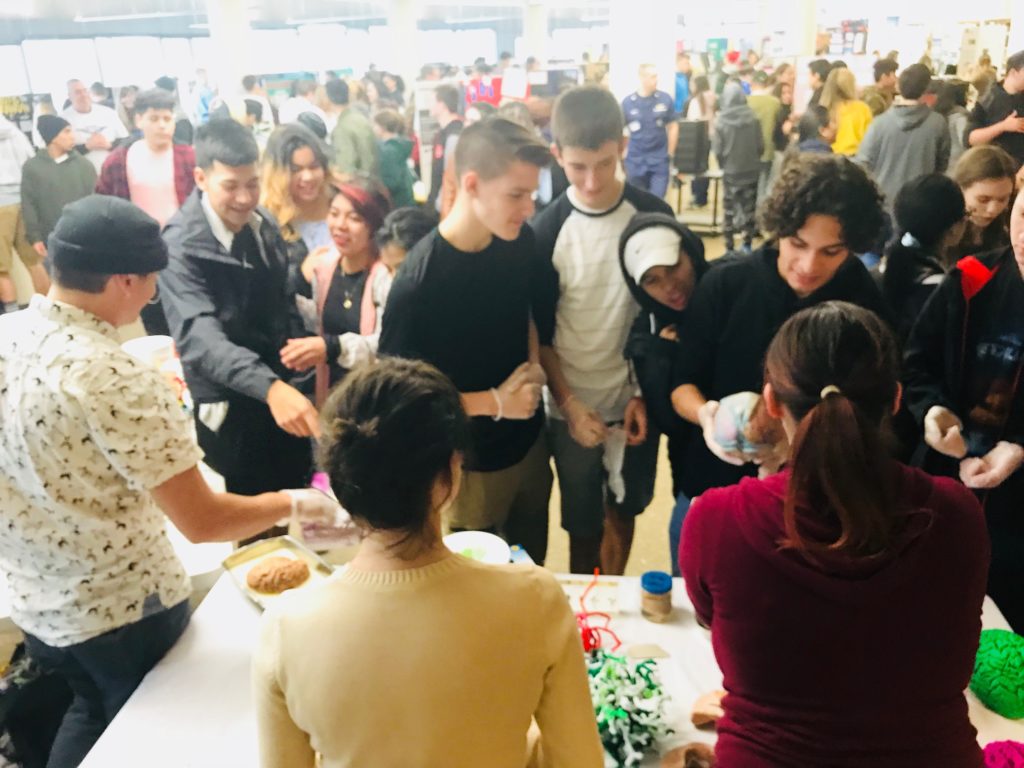 Thank you teacher Ramona Toth and Liberty High School students for putting on an awesome Health Fair this year!
See what we've done at Liberty in the past..!