Velo Cult (Alcohol & Caffeine)!
April 19, 2017 @ 6:00 pm

-

8:00 pm
Event Navigation
WHAT:  Drunk mice on espresso  –  what could go wrong?
WHERE:  Velo Cult, 1969 NE 42ND AVE PORTLAND, OR 97213
WHEN:  Wednesday, April 19th, 2017, 6 – 8pm
UPDATE:  See what we did at the link 🍺 ☕️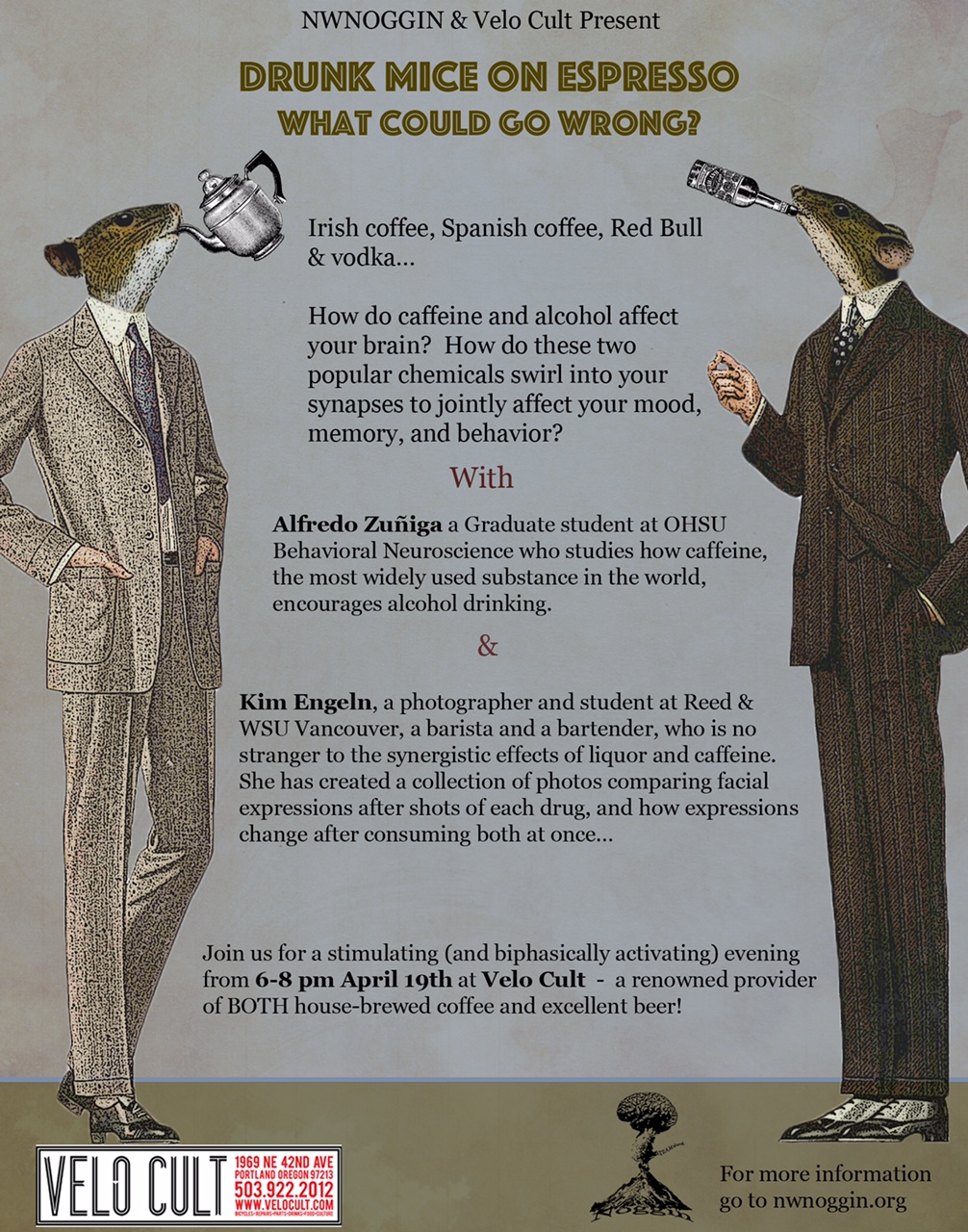 Drunk mice on espresso  –  what could go wrong?

Irish coffee, Spanish coffee, Red Bull & vodka…
How do caffeine and alcohol affect your brain?  How do these two popular chemicals swirl into your synapses to jointly affect your mood, memory, and behavior?
WITH

Alfredo Zuñiga at OHSU Behavioral Neuroscience, who studies how caffeine, the most widely used substance in the world, encourages alcohol drinking.
&

Kim Engeln, a photographer, student at Reed & WSU Vancouver, a barista and a bartender, who is no stranger to the synergistic effects of liquor and caffeine. Kim has created a collection of photos comparing facial expressions after shots of each drug, and how expressions change after consuming both at once…
Join us for a stimulating (and biphasically activating) evening at Velo Cult  –  a renowned provider of BOTH house-brewed coffee and excellent beer!
NW Noggin Velo Cult events are always free, open to the public, child friendly, and feature access to amazing beer (scroll here for current tap list), wine, coffee, tea, sodas and sandwiches…