The current White House Press Secretary, Sean Spicer, recently warned of "greater enforcement" of federal marijuana laws, noting that "when you see something like the opioid addiction crisis blossoming in so many states around this country, the last thing we should be doing is encouraging people."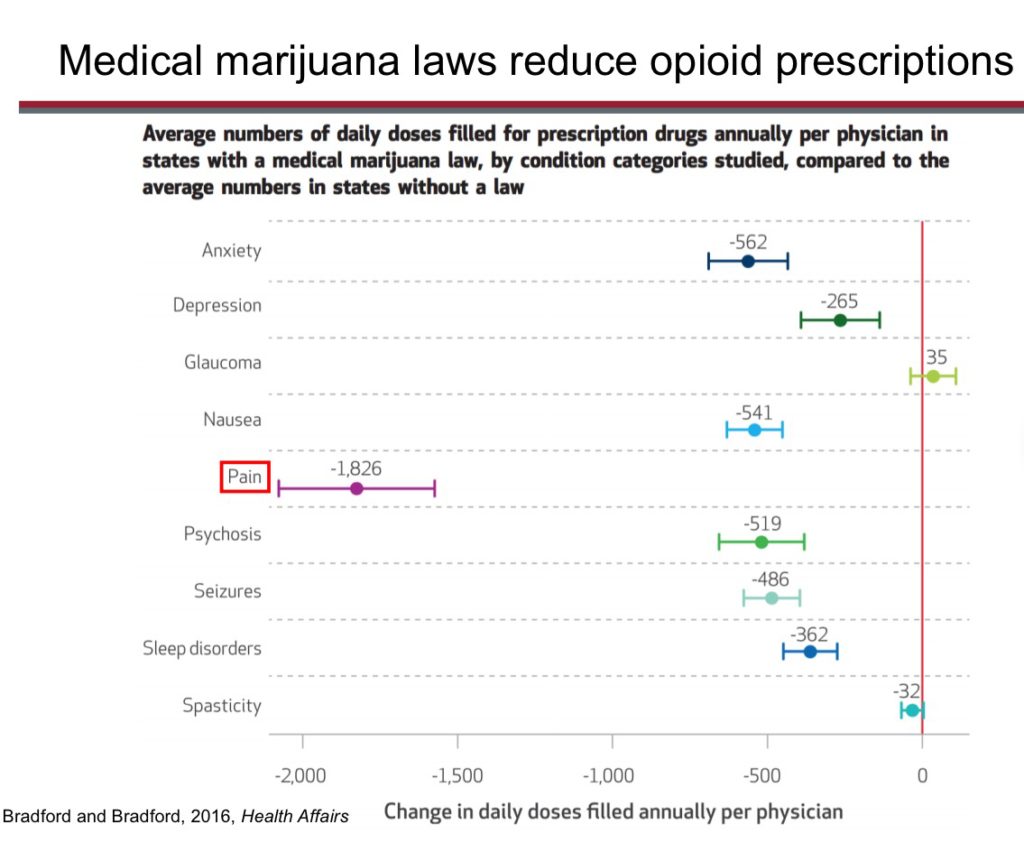 However, marijuana is not Vicodin, or heroin, and new research suggests the opposite approach.  In states where marijuana is legal, both opioid death rates and prescriptions have plunged…
LEARN MORE:  Medical Marijuana Laws Reduce Prescription Medication Use In Medicare Part D
LEARN MORE:  Medical Cannabis Laws and Opioid Analgesic Overdose Mortality in the United States, 1999-2010
LEARN MORE:  Could pot help solve the U.S. opioid epidemic?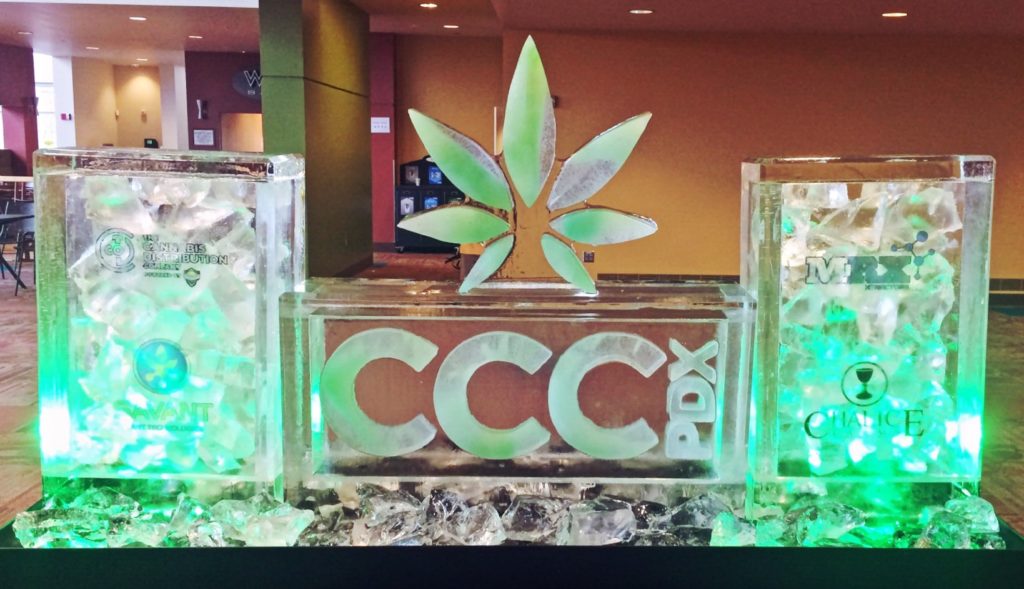 If marijuana or chemicals derived from marijuana could safely and effectively alleviate pain, and reduce the need for opioids, that would offer many Americans hope.  According to federal statistics, almost half the U.S. population received an opioid prescription in 2015!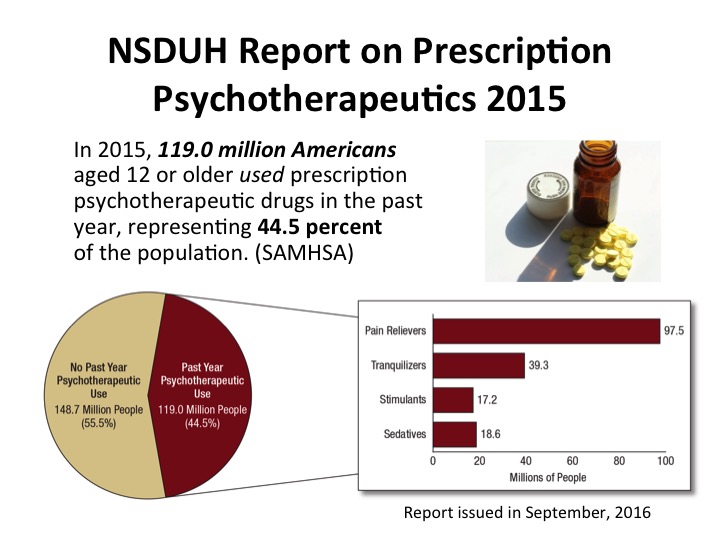 LEARN MORE:  Prescription Drug Use and Misuse in the United States
At the third annual Cannabis Collaborative Conference in Portland Oregon, Ram Kandasamy, Bill Griesar, Jeff Leake and Cole Dawson discussed the actions and effects of chemicals found in marijuana, and presented research evidence on their potential to safely relieve pain, including the pain from migraines…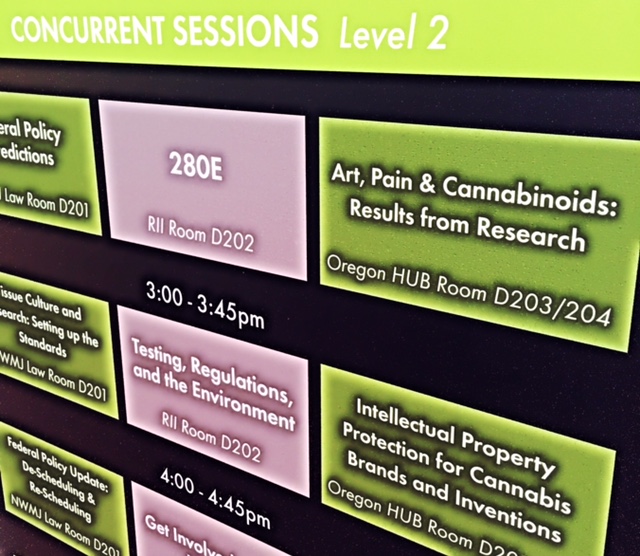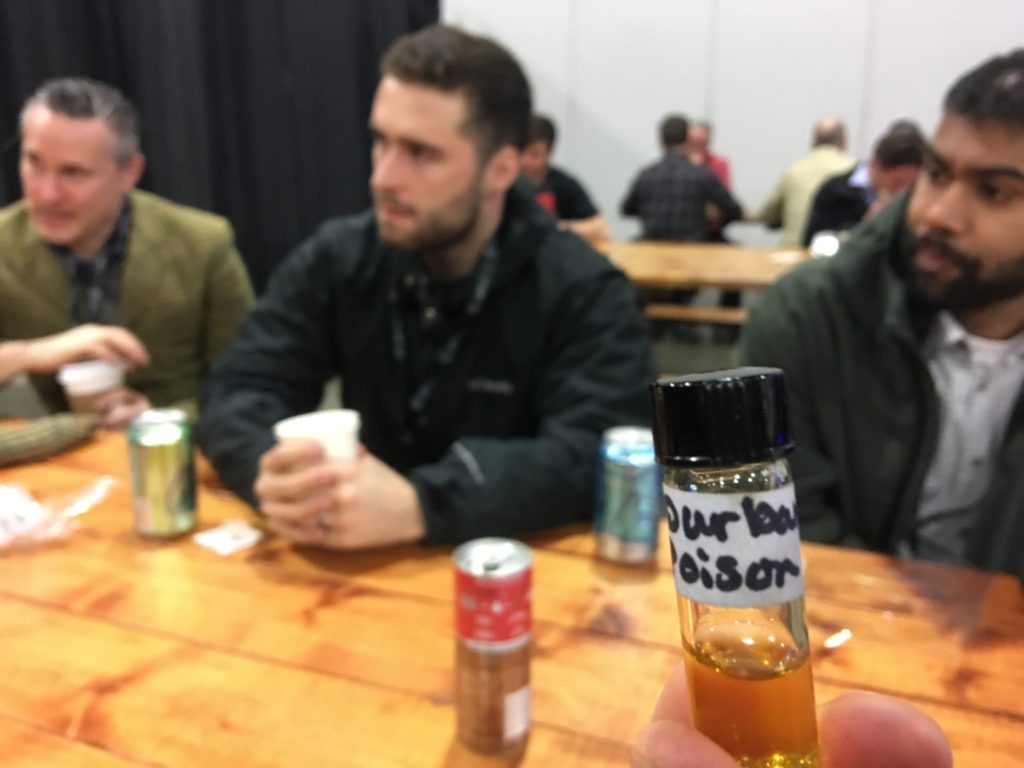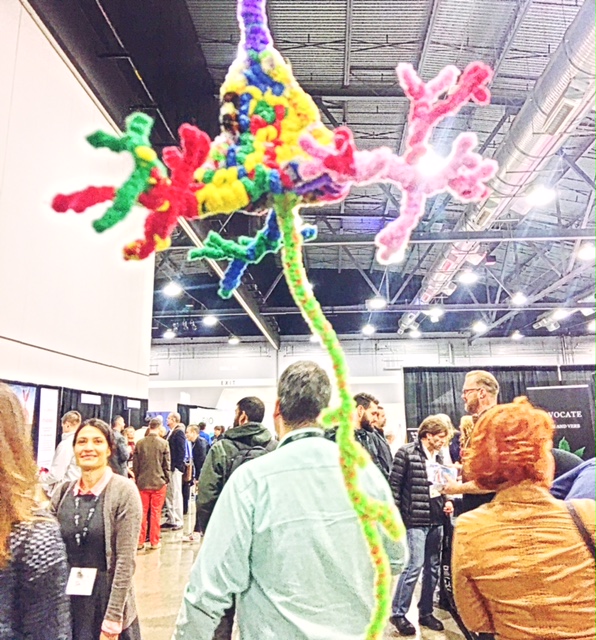 Chronic pain is a huge public problem, one widely prevalent across the world.  Millions of Americans suffer from chronic pain, with 82% reporting that their symptoms are "poorly treated," and 50% complaining that they lack "control."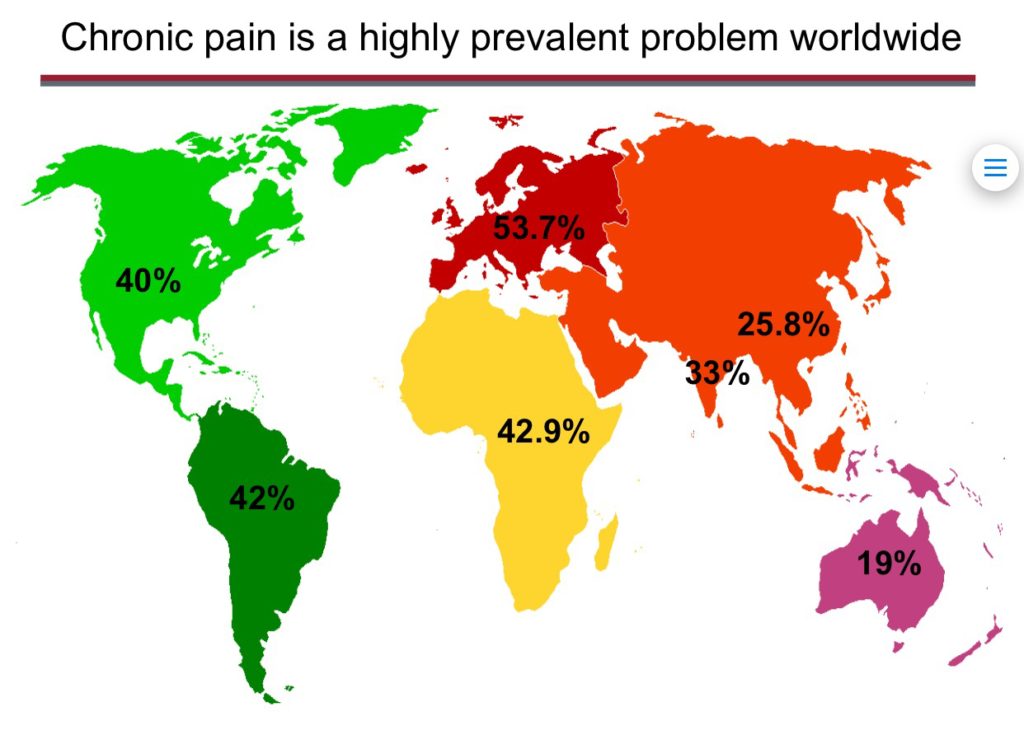 LEARN MORE:  The Cost and Burden of Chronic Pain
LEARN MORE:  Chronic Pain: Symptoms, Diagnosis, & Treatment (NIH)
Current treatment of both acute and chronic pain involves drugs called opioids, including morphine, codeine, hydrocodone (e.g., Vicodin), hydromorphone (e.g., Dilaudid) and meperidine (Demerol).  While opioids, which block the transmission of incoming tissue damage information at the spinal cord and brainstem, offer relief from acute pain, their use in managing chronic pain has been disastrous.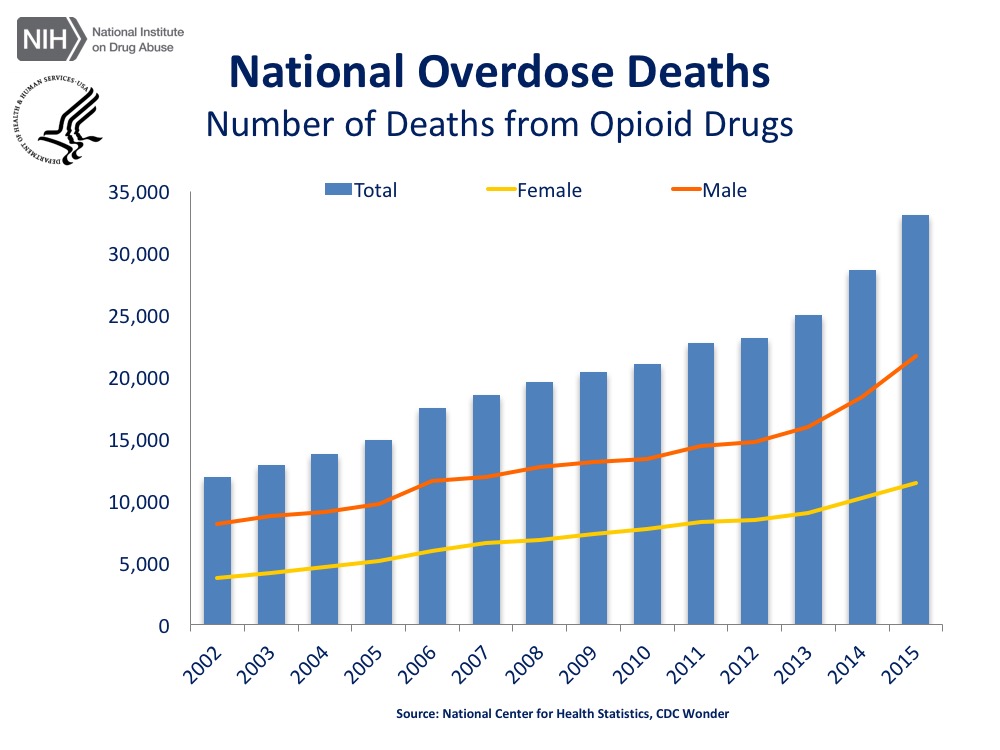 According to the National Institutes of Health, more than 25,000 Americans died from opioid overdoses in 2016. Opioids are often dangerous and ineffective medications for the treatment of chronic pain, millions have become dependent, and thousands of lives are being lost each year…
LEARN MORE:  Rates of prescription opioid use and opioid use disorder double in 10 years
LEARN MORE:  The global epidemiology and burden of opioid dependence: results from the global burden of disease 2010 study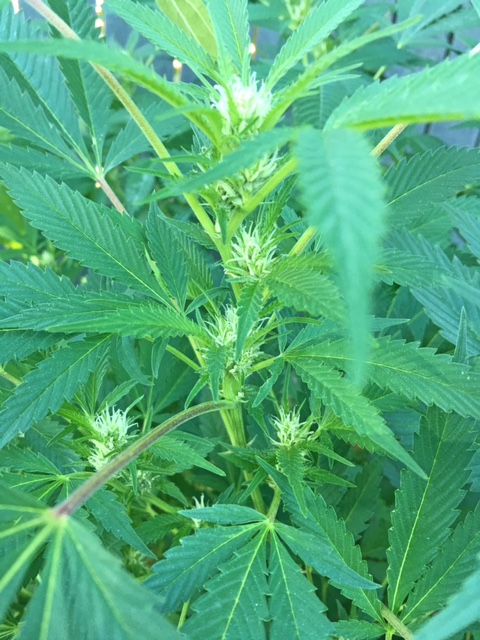 In contrast, cannabinoids, the psychoactive chemicals found in marijuana, have no LD-50 (i.e., there is no "LD," or lethal dose), and appear effective at reducing pain, at least for some chronic conditions…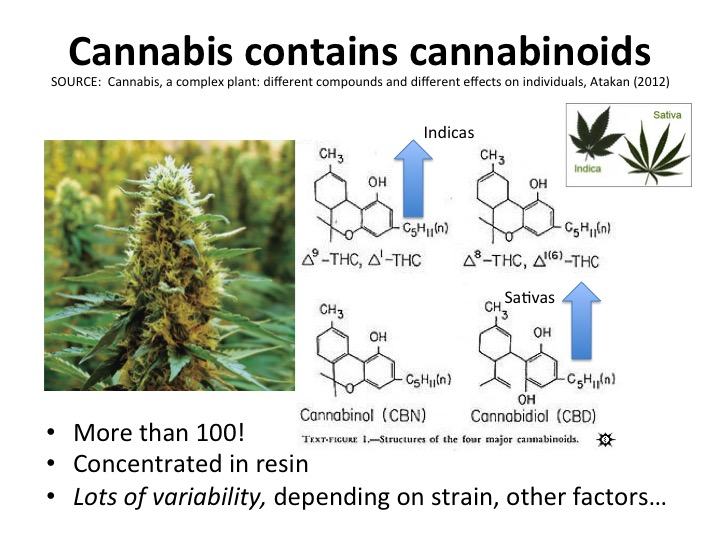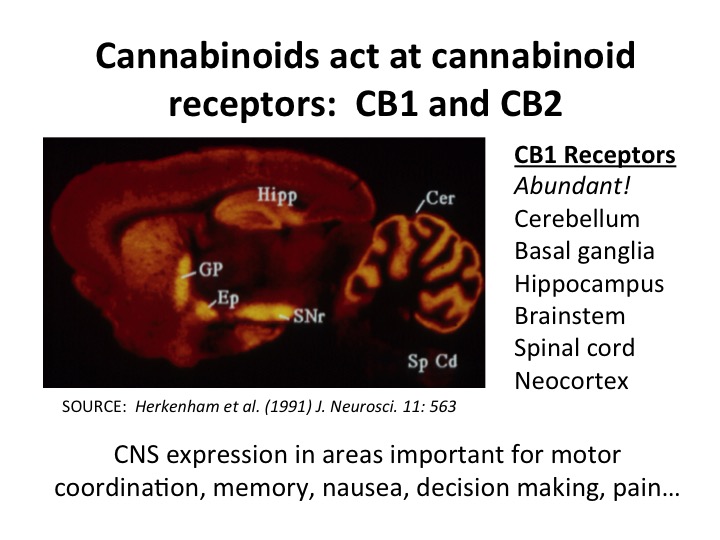 LEARN MORE:  Comparative risk assessment of alcohol, tobacco, cannabis and other illicit drugs using the margin of exposure approach
LEARN MORE:  Medical Marijuana for Treatment of Chronic Pain and Other Medical and Psychiatric Problems: A Clinical Review
LEARN MORE:  Comprehensive Review of Medicinal Marijuana, Cannabinoids, and Therapeutic Implications in Medicine and Headache: What a Long Strange Trip It's Been ….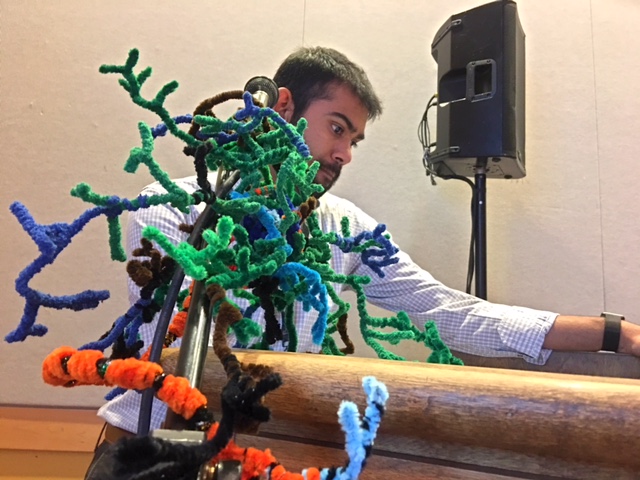 Ram Kandasamy, a graduate student in Neuroscience at WSU Vancouver, presented his research on a specific cannabinoid, delta-9 THC, and its potential to mitigate migraine pain at the Cannabis Conference.  Ram had also presented similar work at a popular NW Noggin Velo Cult event earlier this year…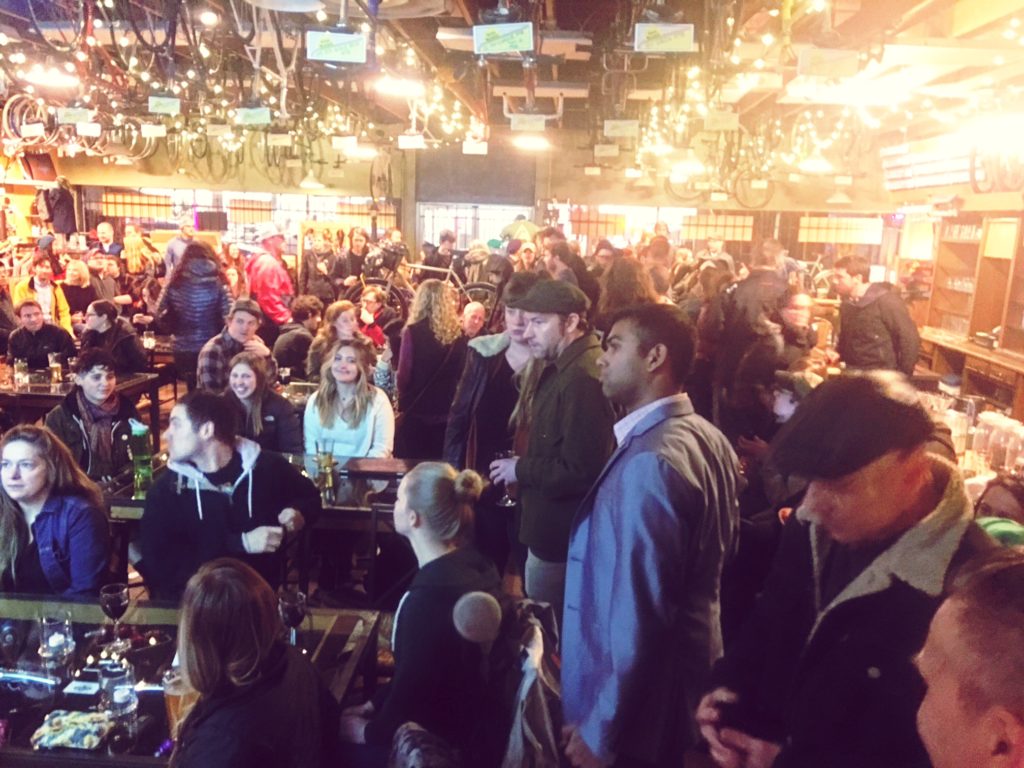 LEARN MORE:  Feeling no pain @ Velo!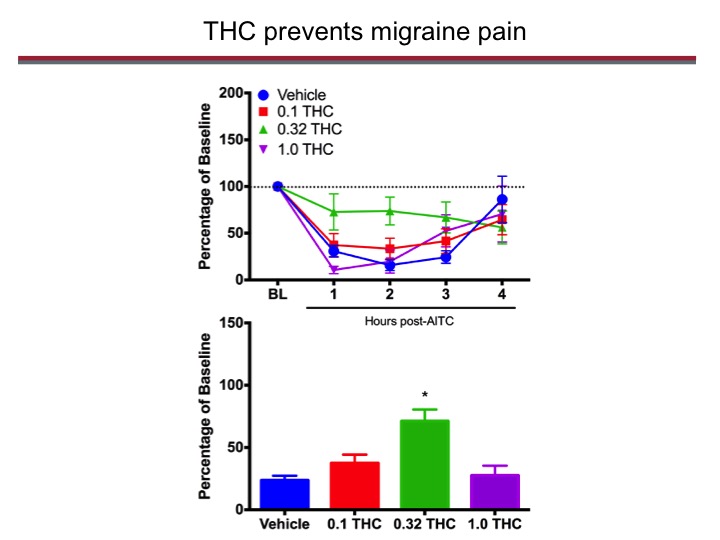 Middle and high school students often ask us about drugs, and specific questions about marijuana are common.  The drug is legal for adults at the state level in Washington and Oregon, for both medical and recreational use, and federal statistics suggest that adolescents in the Pacific Northwest use cannabis at relatively high rates compared to many other parts of the U.S…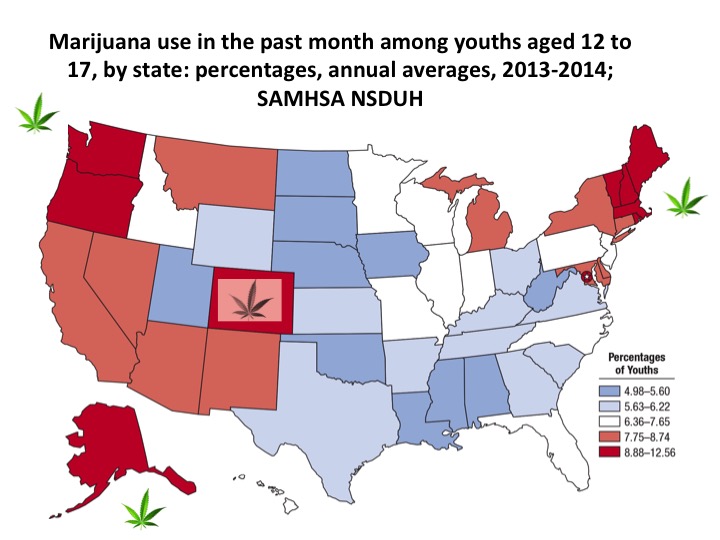 Young people in the Northwest are also less concerned about casual marijuana use than elsewhere…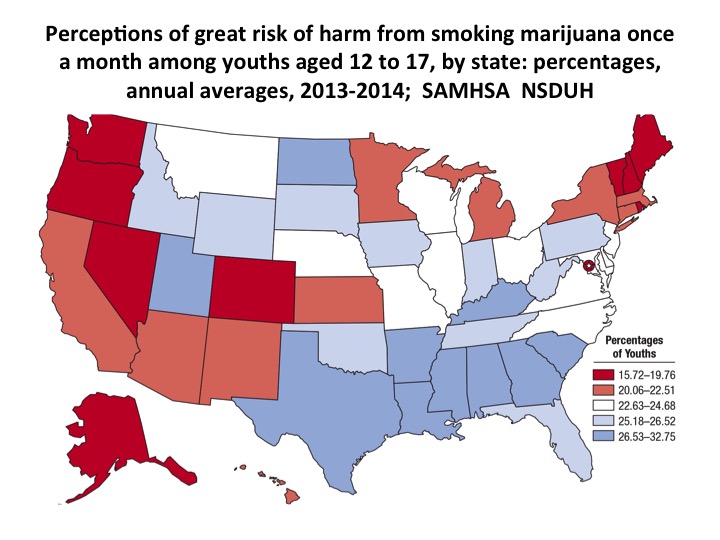 LEARN MORE:  Key Substance Use and Mental Health Indicators in the United States
LEARN MORE:  STATE ESTIMATES OF ADOLESCENT MARIJUANA USE AND PERCEPTIONS OF RISK OF HARM FROM MARIJUANA USE: 2013 AND 2014
LEARN MORE:  Marijuana use, attitudes and health effects in Oregon
There are certainly known health risks from exposure to many drugs for developing adolescent brains, including marijuana, alcohol, nicotine and opioids, and we regularly present relevant evidence from currently published research…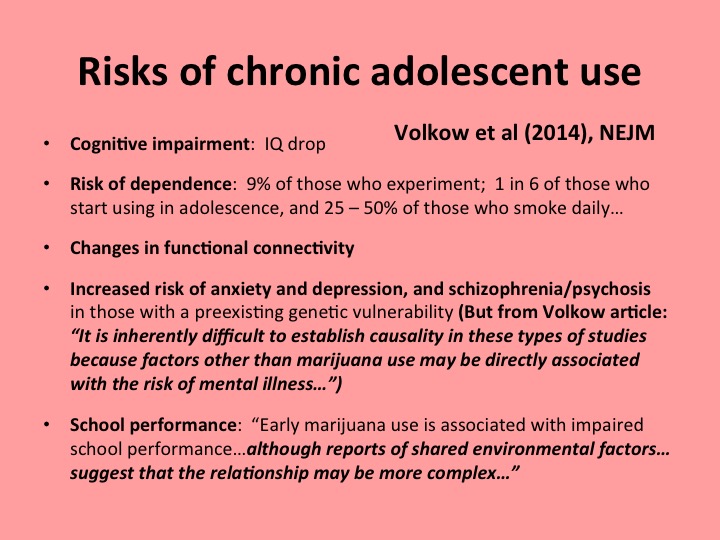 LEARN MORE:  Adverse Health Effects of Marijuana Use
There is also concern about the potential negative consequences of excessive marijuana use in adults…
LEARN MORE:  Marijuana use disorder is common and often untreated
LEARN MORE:  Prevalence of Marijuana Use Disorders in the United States Between 2001–2002 and 2012–2013
However, the continuing confusion surrounding the legal status of marijuana, and its Schedule I designation under the Controlled Substances Act, complicates access for sorely needed research.  Schedule I drugs are legally considered to have no clinical use  –  a status clearly contradicted by existing studies…
LEARN MORE:  The Therapeutic Potential of Cannabis and Cannabinoids
LEARN MORE:  Drug Scheduling (DEA)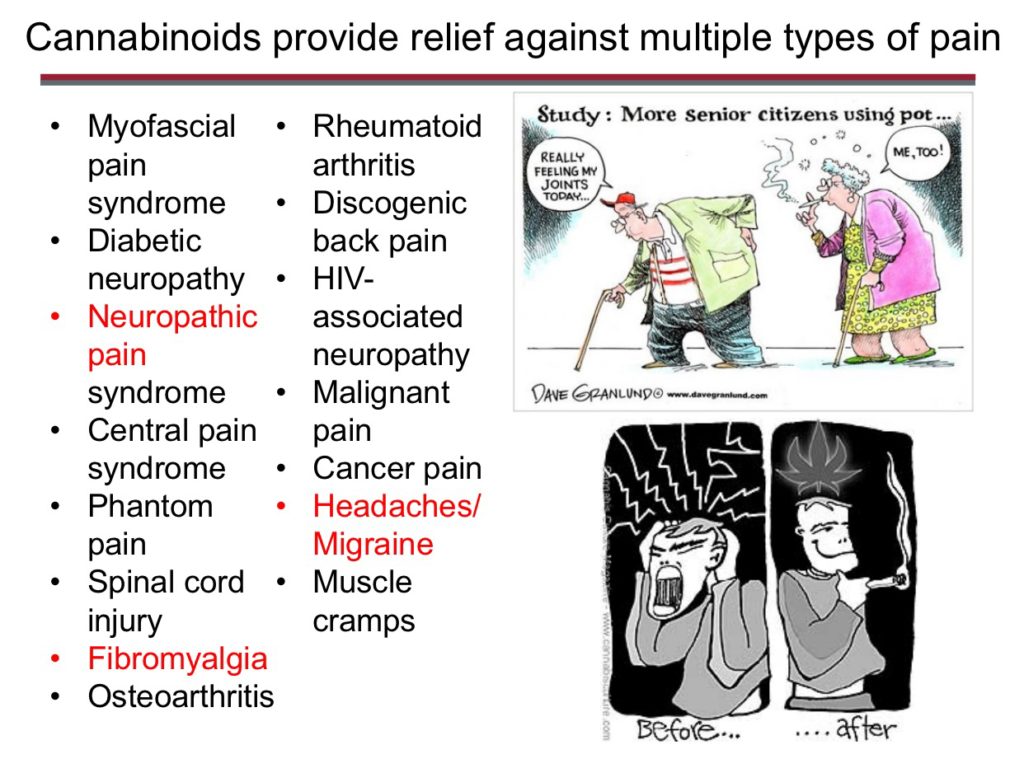 Substantially more scientific research would be helpful on a fascinating plant source of multiple psychoactive chemicals with a long history of therapeutic application and culturally accepted use.  Jeff Leake summarized attitudes and artistic depictions of cannabis from communities across the globe…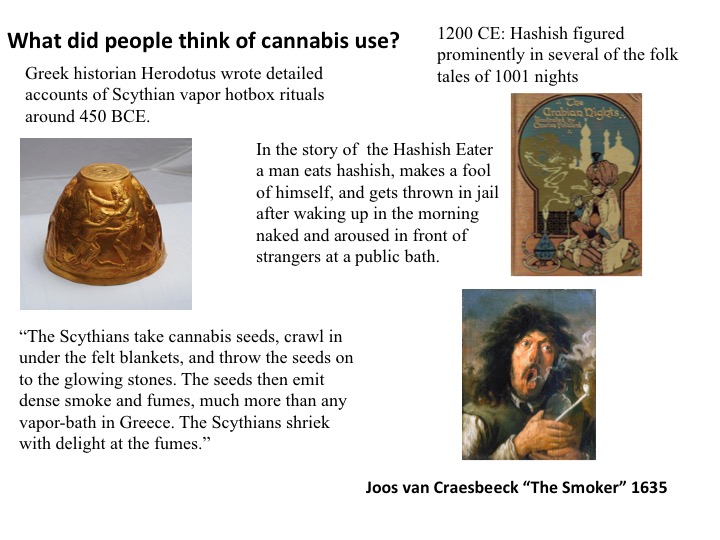 He, Bill and Ram also noted the selective and peculiar demonization of marijuana in the United States, beginning with Harry Anslinger, the plainly racist first Commissioner of the U.S. Bureau of Narcotics (now the DEA, or Drug Enforcement Agency) in the 1930's.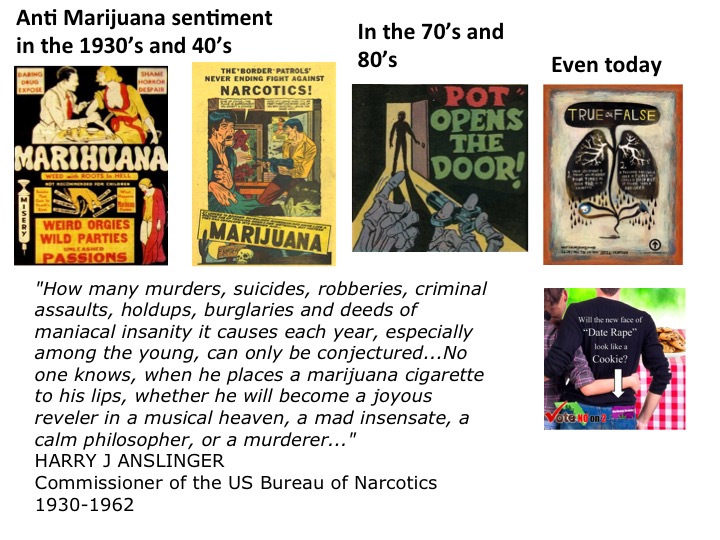 Anslinger, who formerly headed the Bureau of Prohibition until repeal, intentionally targeted Black and Latino communities, as indicated by his own statements, and through his successful effort to pass the Marijuana Tax Stamp Act of 1937…
LEARN MORE:  The man behind the marijuana ban for all the wrong reasons
LEARN MORE:  Did You Know… Marijuana Was Once a Legal Cross-Border Import?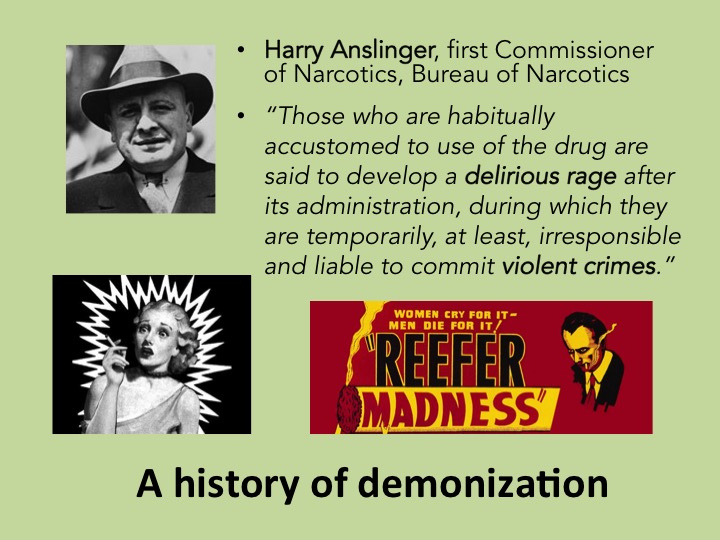 At the conference we highlighted the need for more research by presenting two studies published in the Journal of Neuroscience.  The first study found that chronic marijuana exposure during adolescence was linked to visible structural changes in brain areas, including the amygdala and nucleus accumbens, that are critical for motivated responses to our environment…
However the second study, which controlled for exposure to alcohol, found the exact opposite…
Given the potential benefits of cannabinoids for safely treating pain and other maladies, and the significant and deadly risks of opioid drugs, reducing legal roadblocks for access and research offers more public benefit than further restriction, and demonization.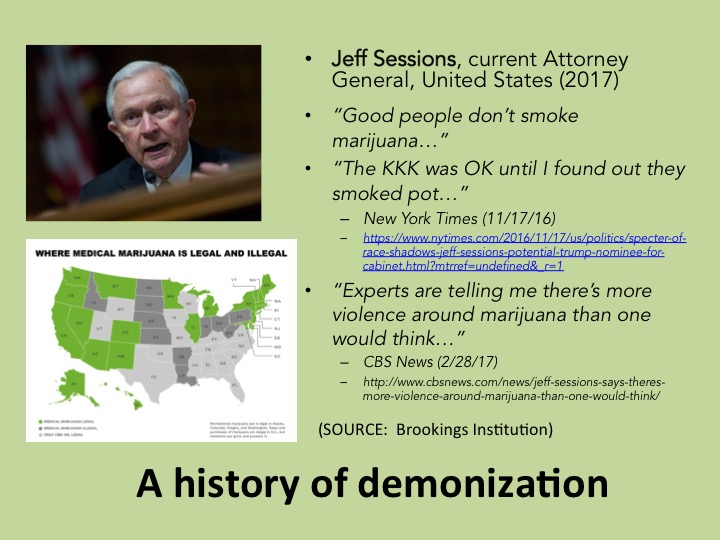 Happily, long term trends for more evidence-based public policy are moving in a positive direction…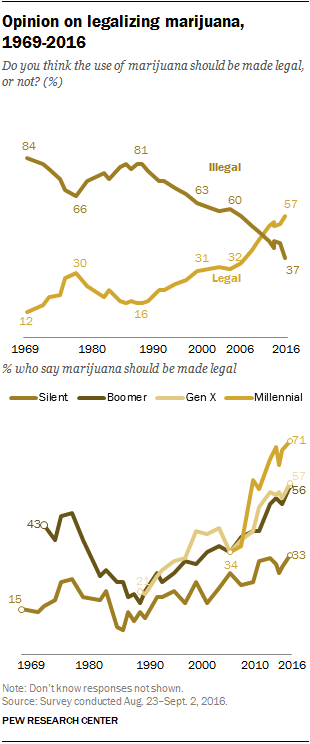 LEARN MORE:  Opinion on legalizing marijuana, 1969-2016 (Pew)
EXPLORE MORE:  SLIDES Bill Griesar CCC Feb 2017 (pdf)
EXPLORE MORE:  SLIDES Jeff Leake CCC Feb 2017 (ppt)
EXPLORE MORE:  SLIDES Ram Kandasamy CCC Feb 2017 (ppt)