Noggin + PSU Posters @ Brain Awareness Campaign event!
November 11 @ 2:30 pm

-

4:00 pm
Event Navigation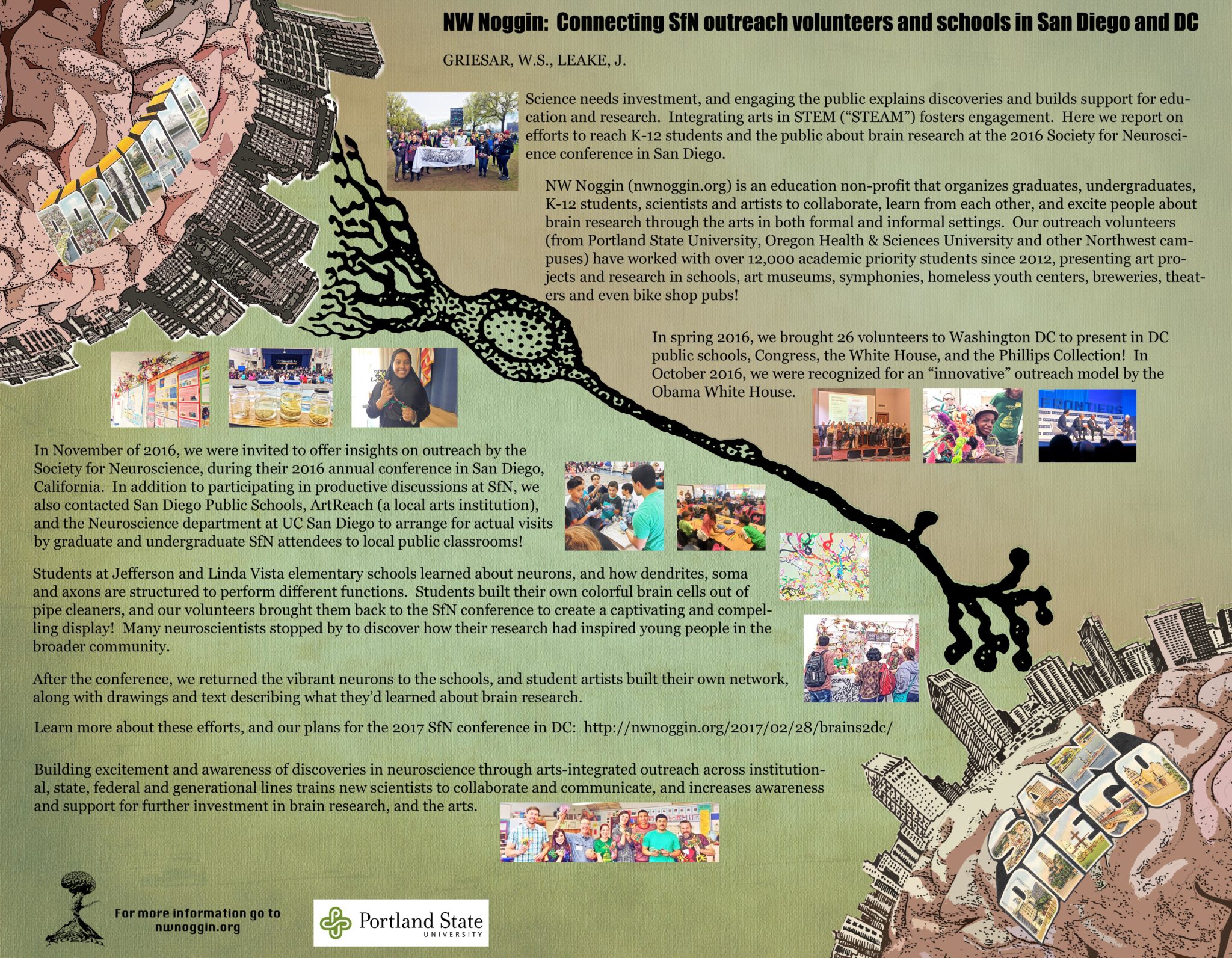 WHAT: Opening Channels to Brain Awareness
WHERE:  Society for Neuroscience conference in DC; Hall E of the Convention Center
WHEN:  Saturday, November 11, 2017, 2:30 – 4:00pm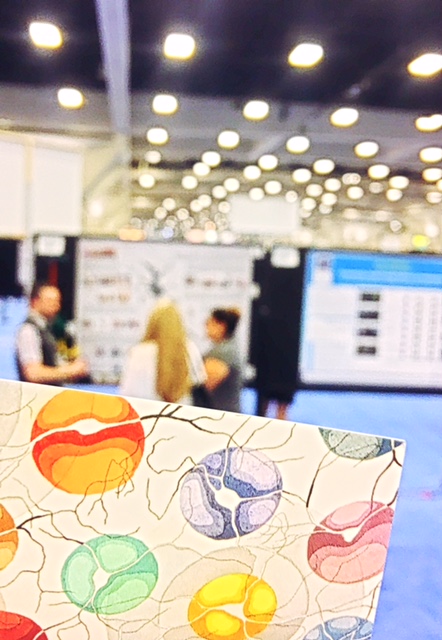 Bill Griesar and Jeff Leake will present a poster for NW Noggin…
And five additional PSU undergraduates have been invited to present a second poster on the extent and effectiveness of STEAM outreach at a Brain Awareness campaign event at the conference!  The students are Rebekah Hough, Thomas Madison, Jessica Patching-Bunch, Travis Christian, and Alison Mack…
We'll share ideas, initiatives and successes in neuroscience education outreach by presenting a poster at this year's Brain Awareness Campaign Event.
We'll celebrate Brain Awareness and share outreach achievements with Brain Awareness Week organizers from around the world, and applaud the winners of the Brain Awareness Video Contest and other education awards.
We'll also hear from Jayatri Das, the Chief Bioscientist at the Franklin Institute, about how museums can be channels for connecting scientists to new audiences through neuroscience outreach  –  something that NW Noggin has pursued many times, with the Portland Art Museum, Phillips Collection, etc…
Here are a few key details about the event that presenters should know:
The Brain Awareness Campaign Event: Opening Channels to Brain Awareness is Saturday, November 11, from 2:30 – 4:00 PM
The event will take place in the Hall E of the Convention Center
Poster setup will begin at 2:00 pm. Setup is first come, first serve. Any posters put up before 2:00 pm will be removed by staff.
PSU undergraduate outreach poster…
NW Noggin: connecting communities coast to coast

R. Hough*, T. Madison*, J. Patching-Bunch**, T. Christian*, A. Mack*
* Department of Psychology, Portland State University
**Developmental Brain Imaging Lab (DBIL Lab), Oregon Health & Science University
Noggin helps us influence the community in a meaningful way. Noggin provided a platform for the organizer of the march for science in Portland Oregon to spread the word and get the community involved. Then members of Noggin marched along side others in the community to help gain support not only for neuroscience but all science and research. Noggin also connects college and graduate students to help bring neuroscience into the classrooms of middle and high school students exposing them to professions and resources that they wouldn't have otherwise. Noggin hosts science talks at a local bike shop to help get the community more excited about and involved in neuroscience research and science themed art. Noggin also helps connect undergraduate students to graduate students and senior scientists helping them learn more about their possible future careers and possible research experience. This creates possible new neuroscience students who are truly passionate about community involvement and education. Noggin also helps raise awareness about community concerns like how homelessness affects the brain to help gain more community support and understanding. Noggin also travels to national neuroscience conventions to help raise awareness about the importance of community education and involvement. The Noggin website is also a unique resource that helps spread information and awareness about new research and events within the neuroscience community.  Lastly Noggin helps combine art in science to help get those who may not be as scientifically inclined more interested and excited about neuroscience and science in general.
DOWNLOAD: brains2dc-poster
NW Noggin poster…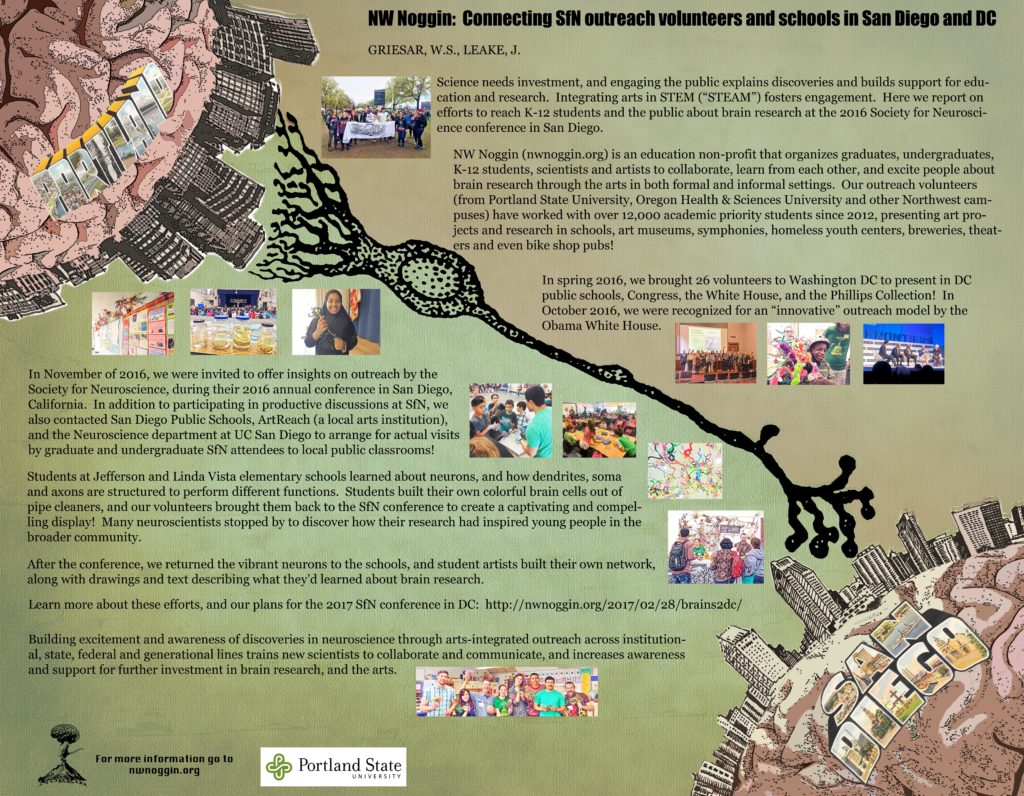 NW Noggin: Connecting SfN outreach volunteers and schools in San Diego and DC, GRIESAR, W.S.*, LEAKE, J.*
* Department of Psychology, Portland State University; NW Noggin (nwnoggin.org)
Science needs investment, and engaging the public explains discoveries and builds support for education and research. Integrating arts in STEM ("STEAM") fosters engagement. Here we report on efforts to reach K-12 students and the public about brain research at the 2016 Society for Neuroscience conference in San Diego.
NW Noggin (nwnoggin.org) is an education non-profit that organizes graduates, undergraduates, K-12 students, scientists and artists to collaborate, learn from each other, and excite people about brain research through the arts in both formal and informal settings. Our outreach volunteers (from Portland State University, Oregon Health & Sciences University and other Northwest campuses) have worked with over 12,000 academic priority students since 2012, presenting art projects and research in schools, art museums, symphonies, homeless youth centers, breweries, theaters and even bike shop pubs!
In spring 2016, we brought 26 volunteers to Washington DC to present in DC public schools, Congress, the White House, and the Phillips Collection!  In October 2016, we were recognized for an "innovative" outreach model by the Obama White House.
In November of 2016, we were invited to offer insights on outreach by the Society for Neuroscience, during their 2016 annual conference in San Diego, California. In addition to participating in productive discussions at SfN, we also contacted San Diego Public Schools, ArtReach (a local arts institution), and the Neuroscience department at UC San Diego to arrange for actual visits by graduate and undergraduate SfN attendees to local public classrooms!
Students at Jefferson and Linda Vista elementary schools learned about neurons, and how dendrites, soma and axons are structured to perform different functions. Students built their own colorful brain cells out of pipe cleaners, and our volunteers brought them back to the SfN conference to create a captivating and compelling display! Many neuroscientists stopped by to discover how their research had inspired young people in the broader community.
After the conference, we returned the vibrant neurons to the schools, and student artists built their own network, along with drawings and text describing what they'd learned about brain research.
Learn more about these efforts, and our plans for the 2017 SfN conference in DC: http://nwnoggin.org/2017/02/28/brains2dc/
Building excitement and awareness of discoveries in neuroscience through arts-integrated outreach across institutional, state, federal and generational lines trains new scientists to collaborate and communicate, and increases awareness and support for further investment in brain research, and the arts.
DOWNLOAD: SFN Brain Awareness campaign 2017