The Society for Neuroscience (SfN) is the world's largest organization of scientists and physicians devoted to understanding the brain and nervous system. The nonprofit organization, founded in 1969, now has nearly 40,000 members in more than 90 countries and 130 chapters worldwide.
Neuronline is the SfN members-only home for learning and discussion.  Neuronline content, created and curated by leaders in neuroscience and SfN partners, is regularly updated to reflect the most relevant issues in the evolving neuroscience field…
Jeff Leake and Bill Griesar recently collaborated on a Neuronline piece about NW Noggin's extensive, ongoing STEAM outreach efforts in the Pacific Northwest.  If you are a member of SfN, you can access the article here…
Bringing Communities Together Through Neuroscience and Art
For non-members, we have reprinted the article below…
Bringing Communities Together Through Neuroscience and Art
The following case study is adapted from a Theme H abstract presented at Neuroscience 2015. Theme H abstracts cover topics related to history, teaching, public awareness, and societal impacts in neuroscience, allowing departments and organizations to showcase the work they have done in these areas.    
Science requires significant public investment, and engaging the broader community is key to communicating discoveries and building support for education and research.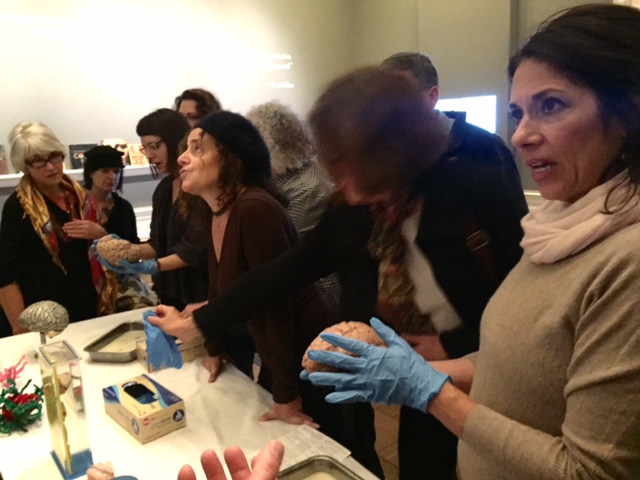 There's nothing as rewarding as answering questions at a drop-in center for homeless youth who are curious to learn about the neuroscience of sleep, anxiety, trauma, and drugs, or developing an exhibit of landscape paintings at an art museum to explain the neurophysiology of visual perception with the help of images from the Allen Institute for Brain Science.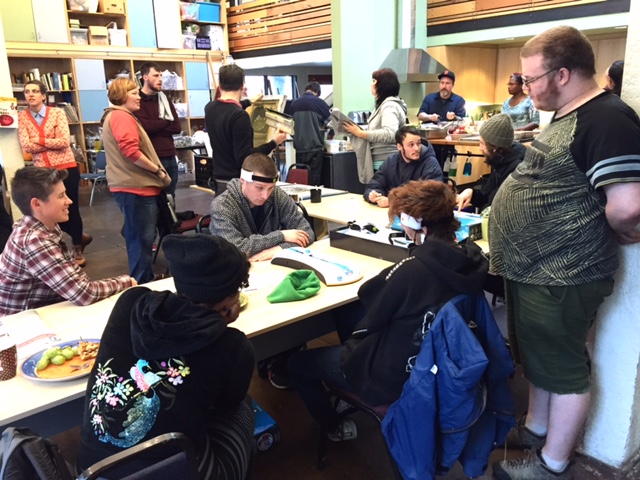 These are both positive outreach experiences we've enjoyed through a partnership we've created called NW Noggin, a volunteer art and neuroscience outreach program that brings graduate and undergrad students together. We bring brains and art to K-12 classrooms and the community throughout the Pacific Northwest to educate the public about the recent advances in neuroscience research.
What We Do
NW Noggin prepares students to confidently explain topics in neuroscience using art projects and activities in a wide variety of formal, informal, urban, and rural settings. Students from Washington State University Vancouver (WSUV), Portland State University (PSU), Oregon Health & Science University (OHSU), and the Pacific Northwest College of Art (PNCA) have presented in schools, theaters, art museums, conferences, the symphony, homeless youth centers, breweries, and velocipedal taprooms.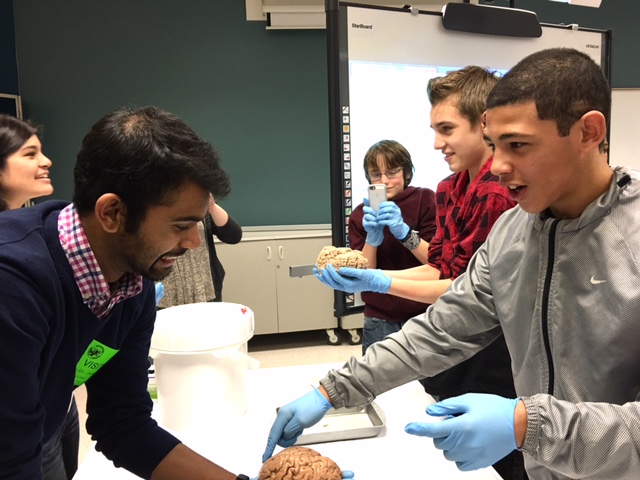 Since 2012, our students have developed and delivered their own short- and long-term courses to more than 8,000 academic priority K-12 students throughout the Pacific Northwest.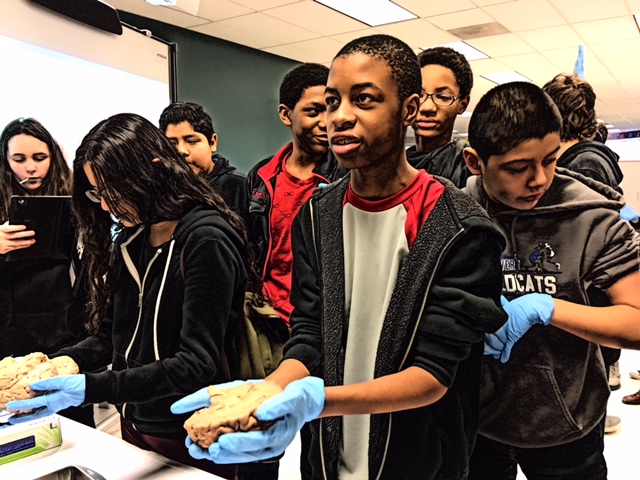 We've also worked with a bike repair shop and pub offering collaborative presentations from students studying neuroscience and art. In 2015, these efforts informed more than 500 people about brain research, and gave graduate students experience in communicating their science to a lay audience.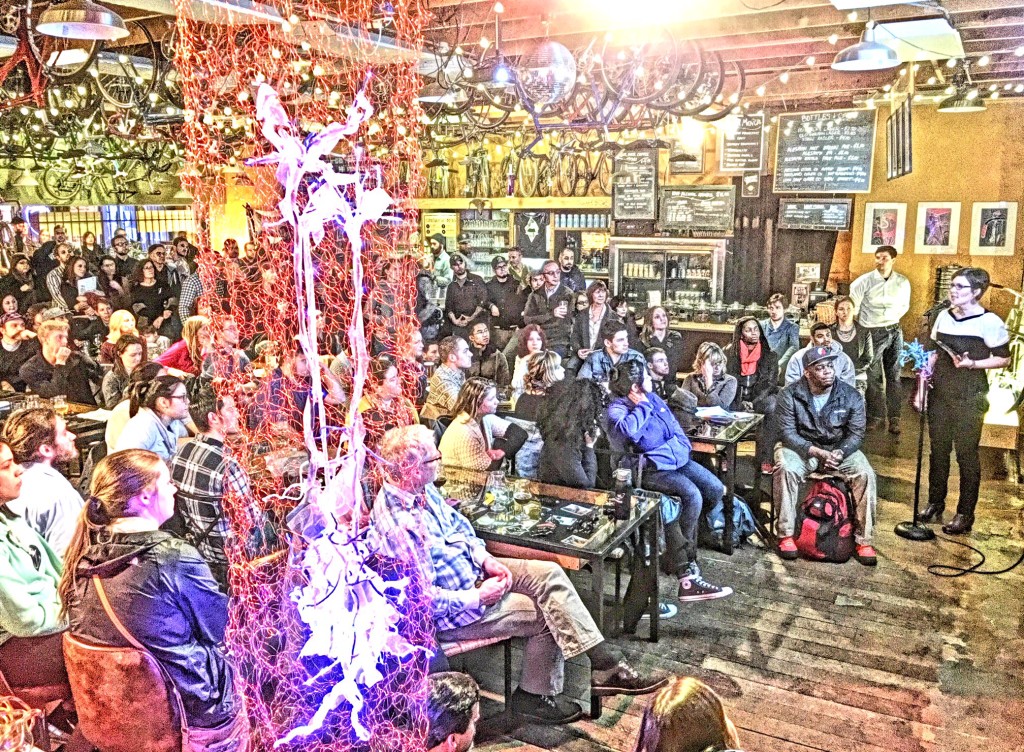 Why We Do It
We believe that our approach can be widely implemented. Universities with research and education programs in neuroscience, art colleges, organizations, and vibrant arts communities can use these ideas to contribute to STEM educational efforts (an approach known as STEAM) in their areas.
Participation in outreach can:
Broaden skills. Graduate students, particularly at institutions without undergraduates may struggle to gain teaching experience and be less competitive for jobs that require classroom expertise. Getting involved in our outreach opportunities will give graduate students teaching experience.
Gain exposure. Undergraduates are curious about graduate opportunities in neuroscience. They want to know what research involves, what experience they need to be competitive, and what studies are underway. The chance to work with graduate students teaches them about graduate school and about currently funded research.
Build enthusiasm. Helping middle and high school students engage in science builds enthusiasm for inquiry in the natural world, including the brain, and can enhance their interest in exploring research.
Engaging the public about scientific discovery contributes to fascination, understanding, and support for more research and education. Effective integration of art increases engagement, makes learning relevant, and allows students to explore scientific concepts.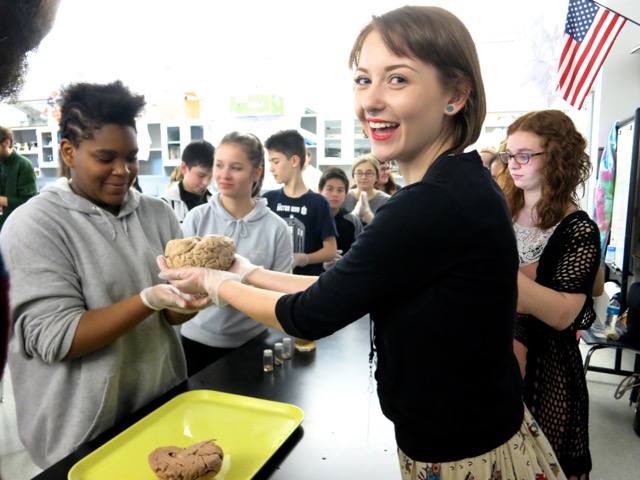 For more information about outreach in the Pacific Northwest, visit the NW Noggin website.
Bill Griesar, PhD & Jeff Leake, MFA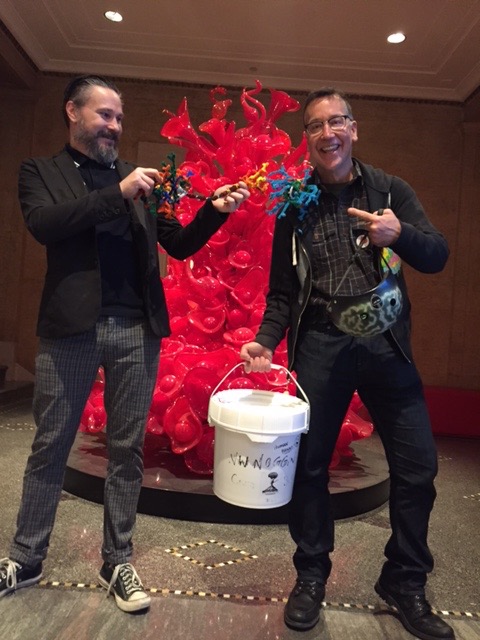 Bill and Jeff currently co-teach an Art and the Brain course at WSU Vancouver, and at PSU, providing reference to visual arts and visual phenomena in relation to neuroscience. They also founded the volunteer art and neuroscience outreach program, NW Noggin, and routinely bring college students and brains to K-12 classrooms in Portland and Vancouver Public Schools.