Washington State University – Vancouver was 1 of 4 sites hosting the NW Noggin 2015 Summer Outreach Program. NW Noggin teamed up with Washington MESA (Mathematics Engineering Science Achievement) to bring together 3 weeks of neuroscience and art education to a group of incoming 9th graders.
Below you'll find pictures, lesson plans, and activities from our initial preparations and the 3 weeks of integration!
PREPARATION & PLANNING
The NW Noggin/MESA team spent 3 weeks together, planning for our integrative science and art outreach. Our dedicated participants from across the Pacific Northwest collaborated to created original lesson plans and activities for what turned out to be an amazing group of MESA students. Guests from Portland Public Schools and Pacific Northwest College of Art were brought in during the planning process to assist with teaching techniques, concepts of core curriculum, and impart their years of experience and wisdom.
A few members of our team doing some coffee-fueled planning. From left to right, Angela Johnson, Jessica Trigueiro, Sarah Neveux, Mauricio Zumba, Kirk Wydner, Megan Slaker, and Michael Miller
Our site was also host to an assessment team, working to observe and measure the ability of our teachers to convey, and our students to comprehend, Next Generation Science Standards. The team, consisting of Portland State University students James Reiling, B.S. graduates Tessa Stadeli and Michael Miller, and led by graduate student in Applied Developmental Psychology Lizzy Tremaine.
Together they collaborated on assessment guidelines, outlook, design, and the eventual implementation! A critical component of this process months long process was creating a large pool of questions to cover the topics Brain Structures and Networks, Neurons, Neurotransmitters Drugs and Motivation, Membranes and Action Potentials, Sensation and Perception, and Nervous System.
The final product was a computer-based app titled MyNoggin, created by web designer Brittany Wouden and programmer Joel Uyesugi. The goal of the quiz-game app is to engage every student with the material, encourage further exploration of neuroscience topics, and provide a fun, engaging, and low-pressure way for the everyone to apply what they've learned!
For a statement by assessment team leader, Lizzy Tremaine, see the bottom of the 2015 Program main page.
NW Noggin syllabus – link will download Word doc
Draft outline of course (w/notes)

 LEFT: Sheep Brain dissection overview with, from left to right, Chris Merideth, Megan Slaker, Mauricio Zumba, Jessica Trigueiro, Tessa Stadeli, and Kirk Wydner
RIGHT: Chris Merideth, Jessica Trigueiro, and Jueliette Thimmig discussing potential vision lesson plans and activities
MESA Summer Program PARENT PACKET

THE FIRST WEEK
For the first day of the program our classroom at WSU-V was filled with MESA students, parents, teachers, coordinators, and other than the ones in our head, human brains! Debbie Blas from MESA, and science coordinator Megan Slaker started everyone off with guidelines, classroom agreements, and an overview of the packed next 3 weeks.
Jessica Trigueiro and Kirk Wydner, both undergraduates in Psychology at Portland State University, led everyone in a brain lobe game, and both students and parents had the opportunity to hold a human brain!
Week 1 outline:
Day 1: Introductions, Human Brains, Basic Brain Structures Day 2: Neurons Day 3: Nervous Systems and Networks Day 4: Assessments, Review, and Human Brains (again!)
After reviewing some basic brain structures from the first day, our second day was all about Neurons! Mauricio and Zack introduced the class to the structure of a neuron, and we all built our own neuron pipe cleaner! The concept of Structure = Function was introduced, and we learned about some different functions of neurons.
To further demonstrate how Structure = Function, Michael led the class in a sequencing activity that got everyone active, communicating, and working together…kind of like a network of neurons!
For instructions, follow the link to our Resources page: Zoom Sequence Activity
After learning about brain structures and neurons, our MESA students learned about Networks and Nervous Systems on Day 3! Chris and Rosie took the lead on discussing our central and peripheral nervous systems, and came up with an exciting way to demonstrate the parasympathetic and sympathetic nervous systems. With plexiglass in front of them, some brave students tried to suppress their automatic reflex to flinch or dodge a bean bag flying right at them!
 
Do you think they flinched? From left to right: Sarah, Steven, Eli, Megan, and Chris
Our talented art coordinators from PNCA, Juliette and Nikki, led the class in a collage project, going over the different topics covered so far in the course. Students were each given a topic, like neuron, temporal lobe, or central nervous system, and came up with some unique ways to show their understanding.
We were then joined by Tessa Stadeli, a member of the assessment team, to tell us about Networks! Tessa shared why she considers the concept of networks so important in understanding our brain, body, and self, and told us about the Default, Salience, Emotional, and Attention networks of the brain. We learned the different structures involved in these networks as well as which might be active when we act or think in different ways.
Check out this AWESOME video put together by Kirk, recapping a fun-filled Day 3!
For our 4th day at WSU-V, our MESA students started off in the computer lab. We were introduced to the MyNoggin assessment app, as well as the MyBrain app which uses RGB video technology (similar to XBox Kinect) to impose a model brain over a real-time view of the user. Different brain states (ex. under the influence of alcohol) and sensory networks (ex. vision, smell) can be selected to visualize what areas of the brain are active. Watch an introductory video on MyBrain.
Some of our teachers even tested themselves on the assessments!
MyBrain app in action!
We also brought back the human brains to help review some of the concepts introduced in the first few days of the program. As usual, the brains served as a unique photo op!
---
Read a guest post on our Noggin Bloggin by Megan Slaker, a NW Noggin science coordinator and WSU-V neuroscience graduate student. Earlier in 2015, along with artist and PNCA student Dawn Neilson, Megan presented her research at Velo Cult Bike Shop, an event that is part of our ongoing series of brains, bikes, and beers neuroscience and art presentations!
---
Week 2
There was no slowing down in the second week of the summer program! After reviewing the concepts of Week 1, we jumped right in with action potentials and neurotransmitters on Day 5.
Week 2 outline:
Day 1: Action Potentials and Neurotransmitters Day 2: Memory Day 3: Drugs Day 4:Assessments, Review, and WSU-V lab tours!
Kirk started us off with an introduction to action potentials.
While Kirk was teaching everyone about action potentials, Rosie and Bill were setting up the human-to-human interface.
To demonstrate action potentials, Juliette put together an engaging and fun activity – stop motion animation!
Students (and instructors) made characters from their imagination and when they were satisfied with their creation, Juliette helped create a stop-motion animation! Download the video of our students' complete work below!
---
* animation – Download a very cool video of the stop-motion claymation created by the students and put together by PNCA student Juliette Thimmig! * 
---
Ending the day, Rosie introduced the class to GABA, glutamate, acetylcholine, dopamine, serotonin, norepinephrine, and oxytocin. With these neurotransmitters fresh in our heads, we played a modified version of red-light/green-light – inhibitory/excitatory! 
On Day 6 we covered the important and fascinating topic of memory!
Mauricio started the class by asking students what they already knew about memory, and discussing how our brains create new memories. He also went over some different types of memory:
Explicit (conscious) vs Implicit (unconscious)
Declarative (facts)
Procedural (skills tasks)
Episodic (events)
Semantic (facts, concepts)
Rosalie then talked to everyone about neuroplasticity! It was empowering to realize not only how we take in, store, and retrieve information, but also that our brains are shaped and changed by all that we do. Chris talked us through a basic explanation of encoding, as well as amnesia. We watched a video about Clive Wearing, a man known to have the most famous case of amnesia – a highly recommended watch! Another video awed the crowd and is also worth a watch – The Color Changing Card Trick.
Michael later went through the N-Back test – a common neuropsychological tool which tests working memory. You can even try the N-Back at home! Click HERE to go to an unaffiliated N-Back test site.
We then were led in an art activity testing our short term memory! Juliette and Nikki put together a series of sentences describing a different and hopefully memorable scene. Each student was given 30 seconds to memorize their scene, then it was up to them to paint what they remembered! We tested our students' long-term memory 24 hours from this point (see Day 7)!
At the end of class we got the opportunity to test out the Human-to-Human interface!
Check out our 2015 Summer Outreach Resources page to read more about the Human-to-Human Interface
Kirk and a few students were hooked up to the machine and were tasked with drawing a brain and a neuron. All the while, the other human was occasionally flexing, which sent an electrical signal from their arm, through the interface, and into the drawing hand causing it to flex.
Here are some results of our Human-to-Human Interface drawing exercise:

The 7th Day of our program was on the topic of drugs.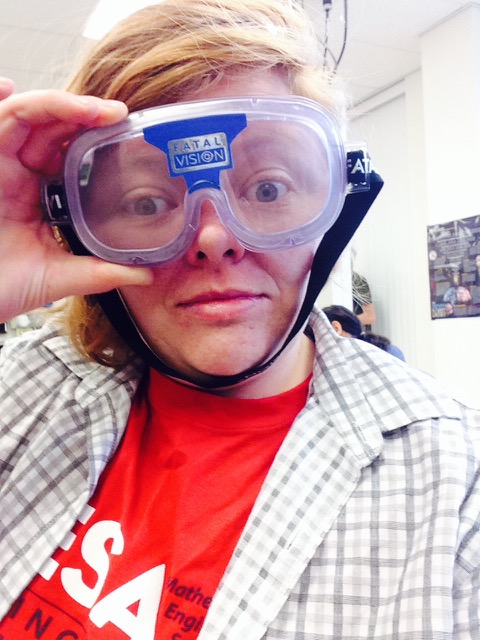 Week 3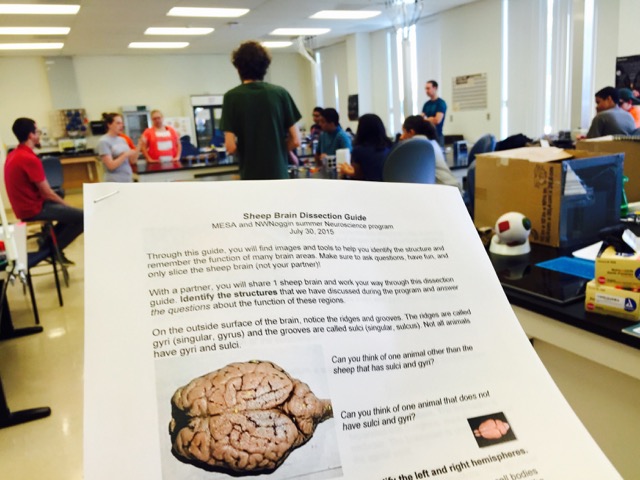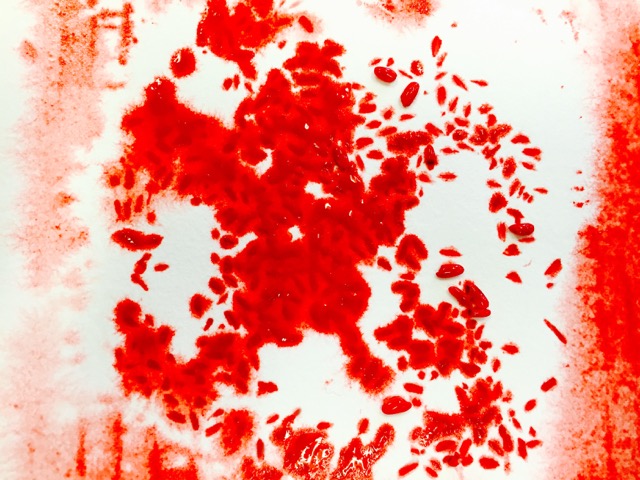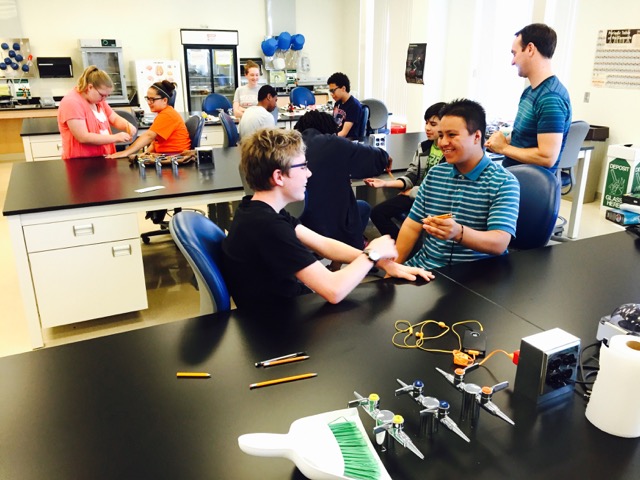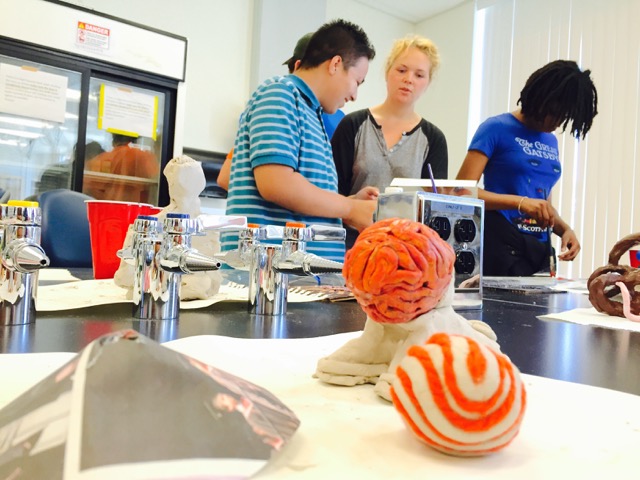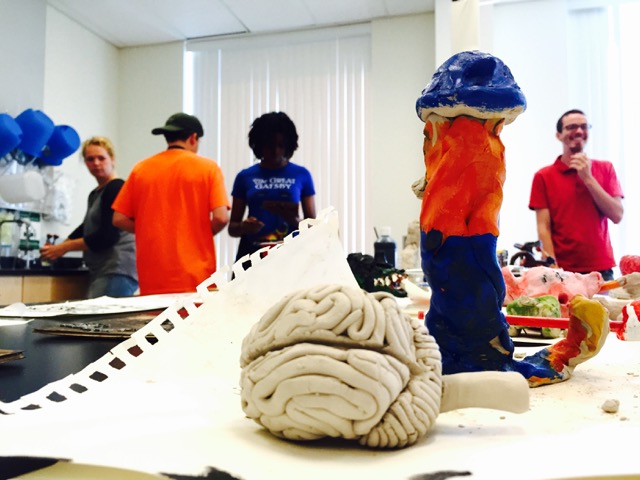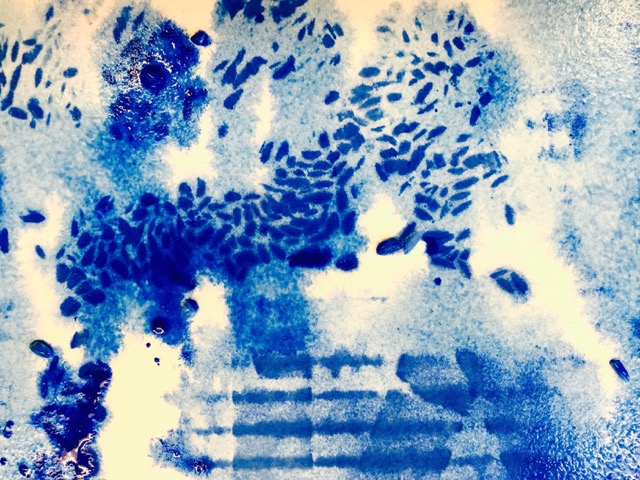 Some of our Noggin participants earned academic credit for their effort, and completed "capstone" projects at Portland State University…
Effective Change Agent Senior Capstone @ PSU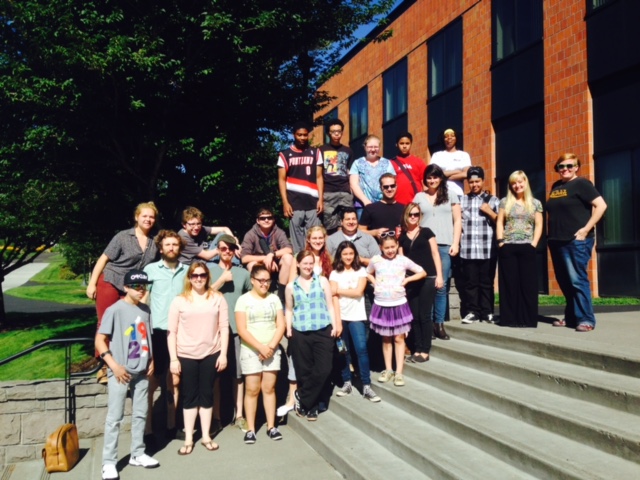 Our MESA/WSUV team...
Michael Miller (PSU), Megan Slaker (WSUV), Sarah Neveux (WSUV), Rosalie Lee (PSU), Angela Johnson (WSUV), Juliette Thimmig (PNCA), Nikki Vene (PNCA), Jessica Trigueiro (PSU), Rosie Salice (WSUV), Kirk Wydner (PSU), Chris Merideth (University of Portland), Mauricio Zumba (Pacific University), Zachary Hackbarth (volunteer from Pacific University)
Our MESA/WSUV Assessment Development team…
Elizabeth Tremaine (PSU), Tessa Stadeli (PSU), James Reling (PSU), Michael Miller (PSU), Brittany Wouden (WSUV), Joel Uyesugi (WSUV)
Special thanks to Debbie Blas and Dora Hernandez of MESA!