Noggin Poster @ SfN!
November 11 @ 1:00 pm

-

5:00 pm
Event Navigation
Session Type: Theme J Poster
Session Number: 026
Session Title: Neuroscience Outreach Activities I
Session Date and Time: Saturday Nov 11, 2017 1:00 PM – 2:00 PM
Location/Room: Walter E. Washington Convention Center: Hall A
Abstract Control Number: 3104
Presentation Number: 026.13SA
Posterboard Number: WW19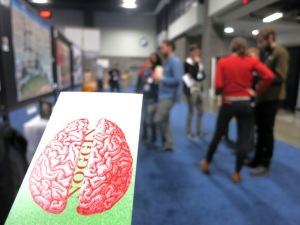 NW Noggin: Synaptic community connections in the rural Pacific Northwest
DOWNLOAD: Noggin Poster 2017 Griesar Leake
GRIESAR, W.S.*, LEAKE, J.*
Science needs investment, and engaging young people and the public explains discoveries and builds support for education and research.  Integrating arts in STEM (STEAM) fosters engagement.  Here we report on efforts to reach K-12 students and the public about brain research through arts in the rural Northwest. NW Noggin (nwnoggin.org) is an education non-profit that organizes graduates, undergraduates, K-12 students, scientists and artists to collaborate, learn from each other, and excite people about brain research through the arts in both formal and informal settings.  Our urban outreach volunteers (from Portland State University (PSU), Oregon Health & Sciences University (OHSU) and other Portland area campuses) have worked with over 14,000 academic priority students since 2012, presenting art projects and research in schools, museums, homeless youth centers, breweries, theaters, Congress, the Obama White House, and even bike shop pubs! In spring 2017, we hit the road with 10 volunteers from PSU, OHSU and WSU Vancouver.  We spent three days in the rural Washington community of Davenport, meeting with every kindergartner through 9th grader in town!  We discussed federally funded research on the brain and drugs, anxiety, depression, Parkinson's, Alzheimer's, the genetics of parenting behavior, the mathematical modeling of brain activity, adolescent brain development and other compelling topics.  We made our own pipe cleaner neurons, and created beautiful brain cell prints. We were also joined in Davenport by the Manager for Constituent & Community Relations for Representative Cathy McMorris-Rogers, Republican co-Chair of the House Neuroscience caucus.  Both her office and that of Representative Earl Blumenauer, the Democratic co-Chair, had invited our NW Noggin volunteers to present a briefing in Congress in spring 2016. In Davenport, we were the "brain people," offered free coffee all over town, and covered by the local newspaper.  From the Congresswoman's staffer:  "A sincere thanks for inviting me to spend time with your group in Davenport! NW Noggin is meeting a very unique but important need in communities across the PNW (and country) which we are very grateful for." We subsequently drove 14 volunteers to rural La Grande, Oregon for another popular day of research discussion and brain-related arts with 6th – 12th graders. Building excitement and awareness of discoveries in neuroscience through arts-integrated outreach across institutional, state, federal, partisan, urban/rural and generational lines trains new scientists to collaborate and communicate, and increases awareness and support for further investment in research and the arts.
* Department of Psychology, Portland State University; NW Noggin (nwnoggin.org)