Noggin @ OHSU/PSU SAIL!
July 20, 2017 @ 10:30 am

-

12:30 pm
Event Navigation
Noggin is running a session for SAIL (the Summer Academy to Inspire Learning).
The mission of SAIL at Portland State University and the Fair Imaging lab at OHSU is to encourage under-privileged middle and high school students to pursue higher education. The values that guide this mission include "interdisciplinary education, community outreach, and socially responsible attitudes"  –  all values that we share!
WHAT:  Noggin outreach at OHSU/PSU Summer Academy to Inspire Learning
WHERE:  Meet at the fountain outside MacKenzie (Mac) Hall, Oregon Health & Science University, 3181 SW Sam Jackson Park Road, Portland OR 97239-3098
WHEN:  Thursday, July 20, 10:30am – 12:30pm
We'll bring brains and art projects for two hours of questions and exploration.  Lunch included!
We'll begin by introducing ourselves and what we study and research.  What interests you about the brain?  How did you get involved in learning more?  What have you discovered about university and graduate education that you wish you'd known about in high school?
We'll then examine some real human brains up close, and offer students the chance to ask questions of their own!  We'll also make our own neuron prints using gels and found natural materials, including grasses, mosses, flowers and twigs…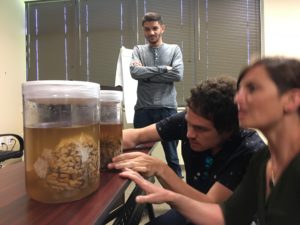 Please join us!  RSVP to Bill Griesar (griesar@pdx.edu) and Jeff Leake (aspragus@yahoo.com)…
LIST OF PARTICIPANTS
Travis Christian, PSU
Alison Mack, PSU
Jessica Patching-Bunch, PSU
Gaile Parker, PSU
Christina Williams, Noggin Resource Council member
Heather Hamilton, PSU/NIH BUILD EXITO
Jennifer Jensen, PSU
Joey Seuferling, Noggin Resource Council member
Firas Saad, PSU
Rebekah Hough, PSU
Jordan Ray, PSU
Aliese Poole, PSU
Ian Anderson, PSU
Leota Wolford, PSU
Denesa Oberbeck, OHSU
John Mootz, OHSU