Why art?
We often hear this question when we go to conferences, talk with school and university administrators, and even while presenting in Congress. For the students we work with in the classroom however, and for many other teachers who work directly with kids, this approach seems very natural.
This year we headed to D.C. for the annual Society for Neuroscience conference, and wanted to emphasize the art in our outreach. With this in mind we were able to arrange two school visits. We were invited to visit the Sidwell Friends School where we met with their BRAIN (Biological Research and Investigations in Neuroscience) club. Students here were intensely curious about the relationship between art and science.
LEARN MORE: From classrooms to Congress!
We talked about science as a creative endeavor that requires flexibility and a willingness to explore diverse solutions, and how art needs structure and organization in order to make ideas concrete. We also tackled the common brain myth that our right hemisphere is solely involved in creating art, while the left hemisphere selectively underlies some sort of "logical reasoning" required for scientific research…
There is certainly evidence for hemispheric specialization.  Our left hemisphere is more engaged in the detailed, "local" processing of stimuli;  for example, the words and syntax of language expressed through speech or sign (in right handers, and a majority of left handers too).  Left hemisphere damage often produces significant loss of language comprehension, expression, or both…
EXPLORE MORE:  Aphasia Information Page
In contrast, damage to the right hemisphere can also impact language, but more in terms of its emotional content (e.g., the "sing song" quality of speech, or its prosody) and purpose  –  the "global" story you're telling, or the overall point of your speech.  Patients with damage to the right hemisphere often have "flat" speech, devoid of significant emotion, and may also have trouble getting to the point…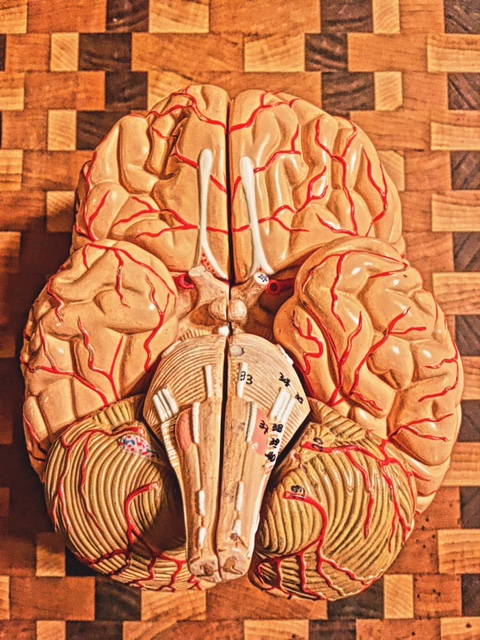 EXPLORE MORE:  Hemispheric specialization for global and local processing
EXPLORE MORE:  Left Brain, Right Brain: Facts and Fantasies
However, particularized skills and a felt overall goal, or hypothesis are critical for both scientists and artists, who each have stories to tell, and who each develop expertise in local, detail-oriented practices and techniques…
And as we engaged in making models of different types of neurons, we had a lively discussion about a range of neuroscience topics, from the role of glial cells to hair cells in zebra fish.
Then, with the help of our friends at the Phillips Collection who arranged and supported us with art supplies, teaching assistance, lunches and enthusiasm, we headed to Anacostia's Turner Elementary where we talked neuroscience and made art with over 650 pre-K to 5th grade students in one day!
After a brief introduction we joined students in making:
Our pipe cleaner neurons, while we talked about what neurons are, and how many these young people still have compared to us (it's a lot more!).
LEARN MORE: Make your own pipe cleaner neurons
LEARN MORE: Neuronal survival in the brain: neuron type-specific mechanisms
Neuron gel prints! We talked with them about why neurons and plants look like each other.
LEARN MORE: How to make a gel print
We also made drawings on our brain map related to the functions of the different lobes, and other critical regions including the cerebellum and amygdala…
LEARN MORE: Our brain map project
And of course we had them all look at and hold brains courtesy of our friend Dr. Paul Aravich from Eastern Virginia Medical School…
LEARN MORE: Serving 700 students at SfN!
We also were fortunate to be invited by both the Neuroscience caucus and the STEAM caucus to do a briefing for Congress arranged for us by the American Brain Coalition.
We were able to talk with more than 80 House staff members about the importance of outreach in public schools and beyond, as well as the effectiveness of arts integration as a means of teaching.
Learn more about STEAM education here.
We were also joined by Representative Suzanne Bonamici and Representative Earl Blumenauer who both spoke very eloquently on the need for STEAM education in our public schools.
LEARN MORE: December 2017 STEAM Newsletter (Rep. Bonamici)
We rounded out the week with a return visit to the National Institutes of Health (NIH) arranged by Chris Thomas and led by Jeff Diamond. We'd been lucky to tour the John Porter Neuroscience Research Center in Bethesda with them both last year as well, during our first outreach visit to Washington DC…
LEARN MORE: Cajal + Creativity @ the NIH
Jeff described their efforts to bring art into the NIH, which has not only added inspiring works to their buildings but has also led to some #sciart collaborations such as with artist Rebecca Kamen, who uses acrylic and mylar to create her own versions of biological forms.
"The Measure of All Things" by Rebecca Kamen
Butterflies of the Soul, © 2013, Rebecca Kamen
Our friend Lia Cook, from the California College of the Arts had several tapestries on display that change in appearance depending on where you are when you view them…
Facing Maze (2010), by Lia Cook
LEARN MORE: Lia Cook, Neuroscience Research
LEARN MORE: Spatial Frequency Discrimination: Effects of Age, Reward, and Practice
LEARN MORE: Facing the Maze
Jeff Diamond and Chris Thomas were also responsible for developing a exhibit of Ramon y Cajal's original (and rather extraordinary) neuron drawings to the NIH from the Cajal institute in Spain.
LEARN MORE: Santiago Ramón y Cajal
LEARN MORE: Santiago Ramón y Cajal: The Cajal Institute & the Spanish Histological School
LEARN MORE: Latino Network Learning & Lobes
This visit emphasized to us that not only do art and science work well together, but as Cajal's drawings demonstrate, they have  –  powerfully and effectively  –  for quite some time…
Teachers and students know this too.
 "The funniest mortals and the kindest are those who are most aware of the baffle of being"
-W.H. Auden
LEARN MORE: Integrating Art and Science in Undergraduate Education
LEARN MORE: Creating a Learning Educational System to Identify Benefits of STEM to STEAM
NOTE: Images (and limited text) by Bill Griesar