A huge thanks to the Society for Neuroscience for inviting our undergraduate outreach participants to this fall's conference in Washington, DC, waiving registration and poster fees, and joining us for our Noggin/American Brain Coalition briefing in Congress  –  and at Turner Elementary, where we worked with over 650 kids!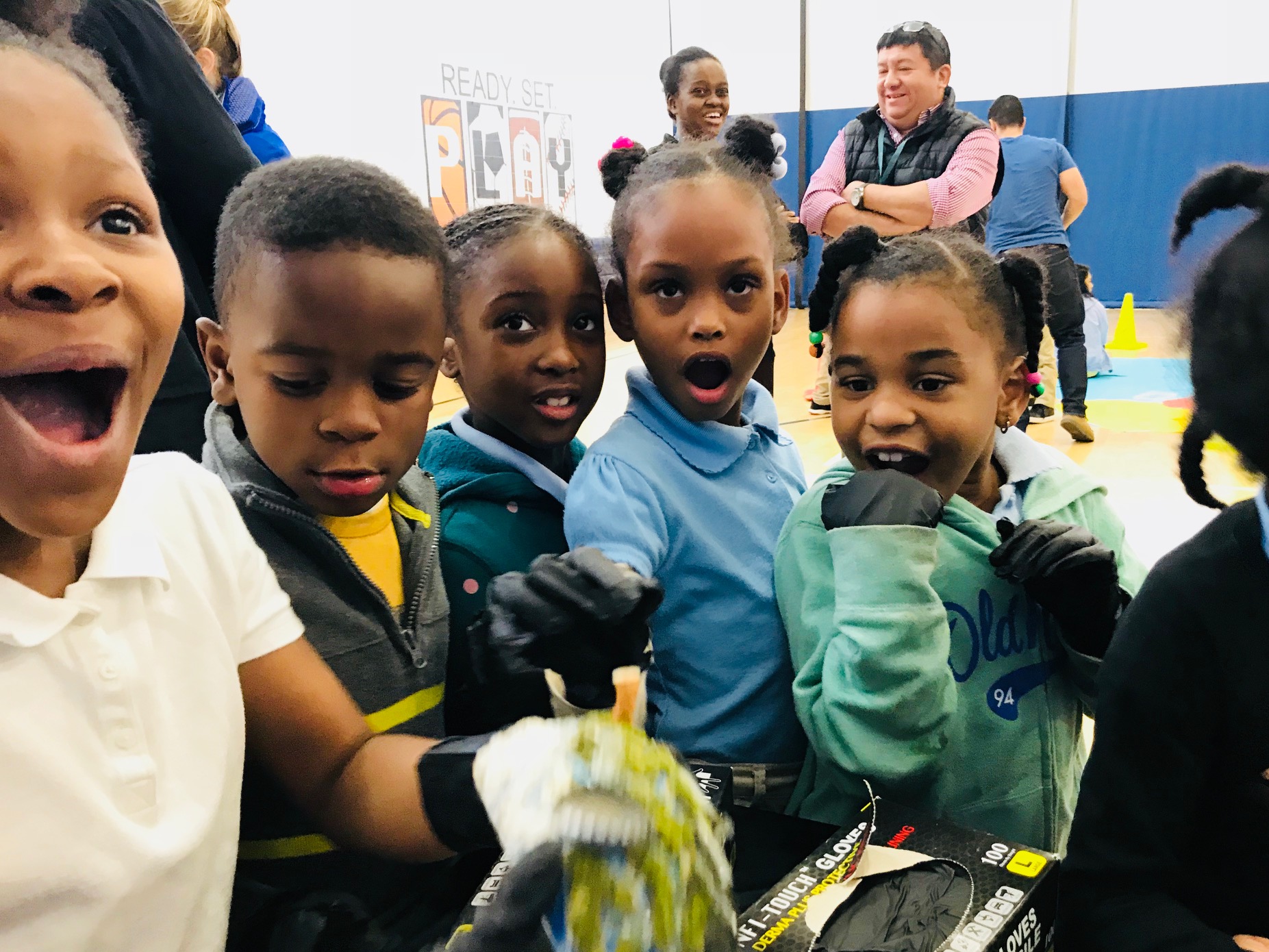 LEARN MORE: From classrooms to Congress
LEARN MORE: A Coalition of Noggins & Brains!
When we're lucky enough to attend a conference like SfN, where 30,000 researchers gather annually, we LOVE meeting other neuroscientists and discovering new studies that kindle our curiosity and improve our own teaching and outreach. We love learning from exhilarating talks and cutting edge symposia, presenting our Noggin work on brain awareness, and exploring the acres of compelling equipment, displays and swag available on the main floor…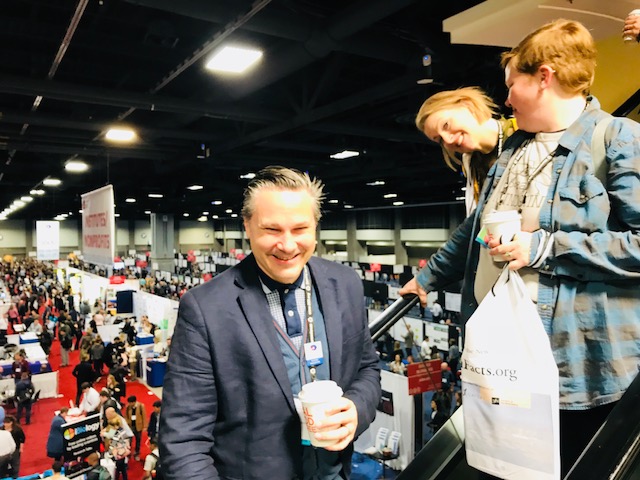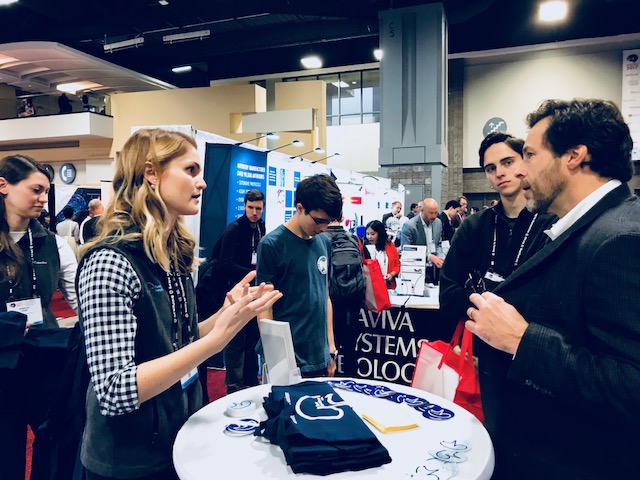 "I'm not going to school just for the academics – I wanted to share ideas, to be around people who are passionate about learning."  -Emma Watson
But we also seek out opportunities to connect with the community, and bring our accomplished volunteers  –  along with real brains and art  –  outside gargantuan convention centers and into local schools! We did this last fall during the SfN conference in San Diego…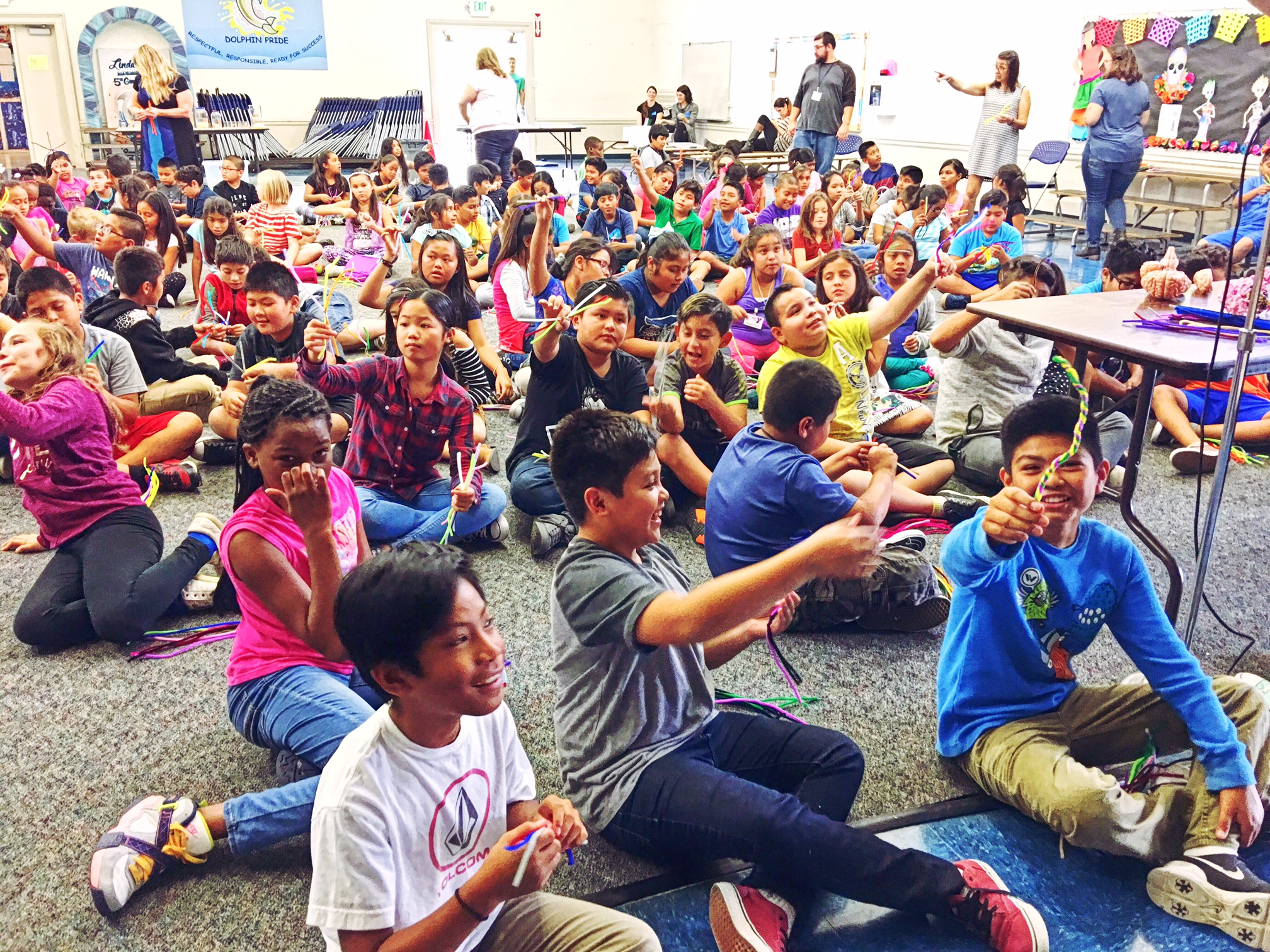 LEARN MORE: Cortical Connections in San Diego Schools!
LEARN MORE: A network grows in San Diego
And this year, in conjunction with both SfN and the Phillips Collection, we spent an afternoon with the BRAIN (Biological Research and Investigations in Neuroscience) Club at the Sidwell Friends School, and an entire day (8:00am – 3:15pm) with every pre-K through 5th grader at Turner Elementary in DC Public Schools!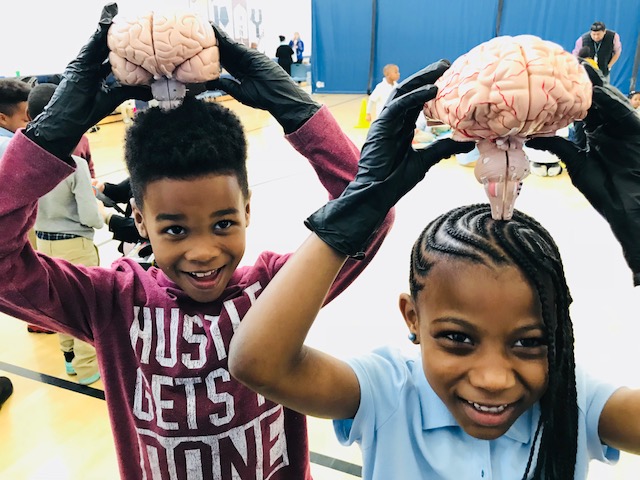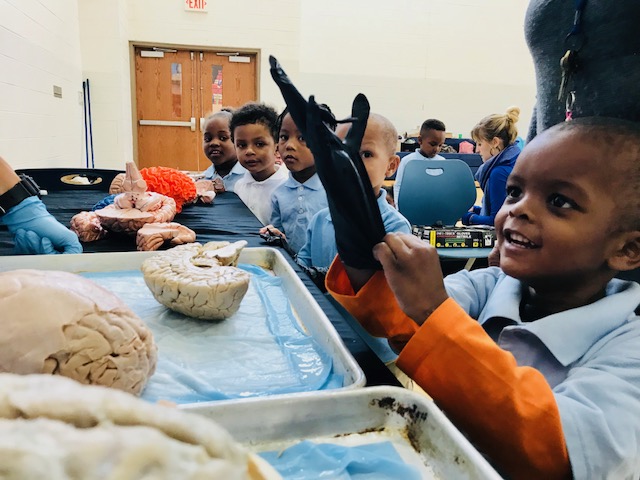 At Sidwell, we were astonished and impressed by the extensive aquarial racks of swimming zebrafish available for high school students studying the structure and function of hair cells  –  the squat little sensory neurons essential for our own hearing. Zebrafish are small, eyelash-sized creatures with hair cells that regenerate (unlike our own) along the sides of their bodies  –  a much more accessible location for research than the human inner ear…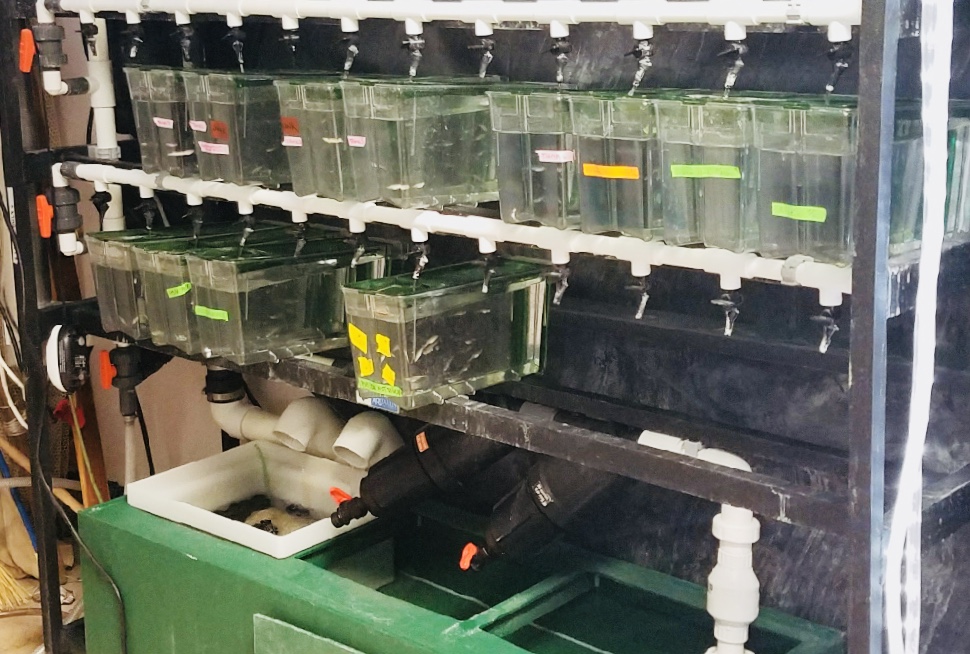 LEARN MORE: Insights into sensory hair cell regeneration from the zebrafish lateral line
LEARN MORE: Helping Hair Cells @ Velo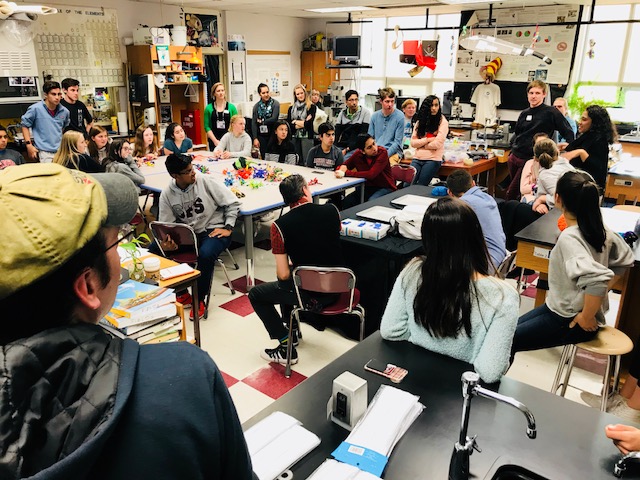 Our volunteers at Sidwell included Andrea Anaya, Alex Kunz, Jesse Hamlin, Alison Mack, Rebecca Hough, Sulema Rodriguez, Kayla Townsley, Aliese Poole, Thomas Madison, Jobe Ritchie, Gaile Parker and Heather Hamilton from Portland State University, Reena Clements and Jessica Patching-Bunch from OHSU, and Noggin Resource Council members Joey Seuferling, Christina Williams and Angela Hendrix…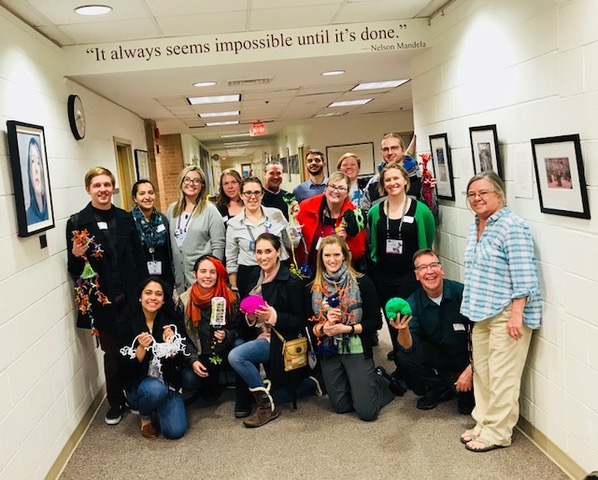 "It always seems impossible until it's done" -Nelson Mandela
We were struck by the Nelson Mandela quote at Sidwell's entrance; the same quote we'd chosen to begin our earlier Noggin post about the tremendous and successful organizing efforts our students pursued to actually make it to DC!
LEARN MORE: NW Noggins Bring #brains2DC!
LEARN MORE: Noggin Fest 2017!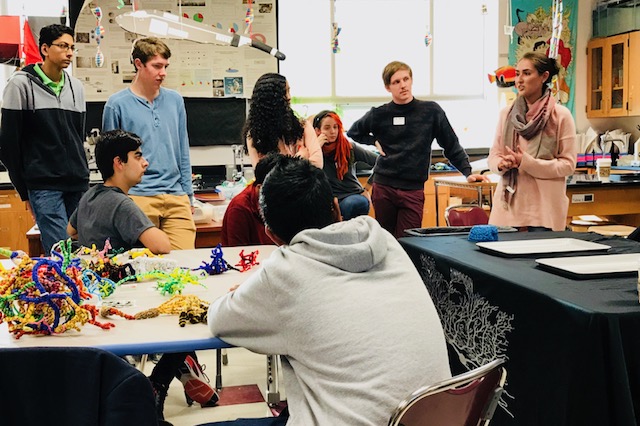 We introduced ourselves and discussed our work in labs, classrooms and community. We took insightful questions, too, about hair cells, sports pain, vision, consciousness, memory, sleep  –  and our evolving understanding of the role of glial cells in the brain..!
Neuroglia from the hippocampal formation (stratum radiatum of the Ammon horn) of a human brain. Drawing by Ramon y Cajal, from Garcia-Segura, 2002.
Glia ("glue" in Latin) were identified by Ramon y Cajal and his contemporaries, though many considered them mere support cells for neurons. However, subsequent work has revealed extensive neuron/glia interactions, and critical glial contributions to synaptic modification, blood flow, immune response and information processing…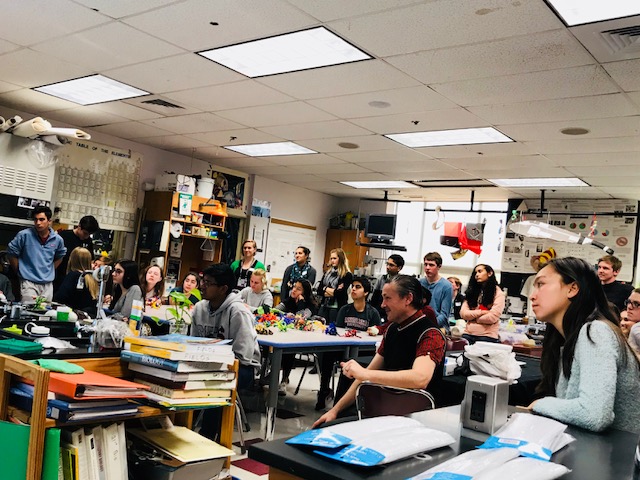 Glia were also significantly over-counted  –  and once thought to outnumber neurons 10/1 in the human brain. Many respected neuroscience textbooks incorrectly reported this exaggerated 10/1 ratio for years. There are, in fact, varying ratios in different regions of the brain, but overall an almost equivalent number of each type of cell…
LEARN MORE: The Other Brain (from the NIH Catalyst)
LEARN MORE: The search for true numbers of neurons and glial cells in the human brain
LEARN MORE: Glial Biology in Learning and Cognition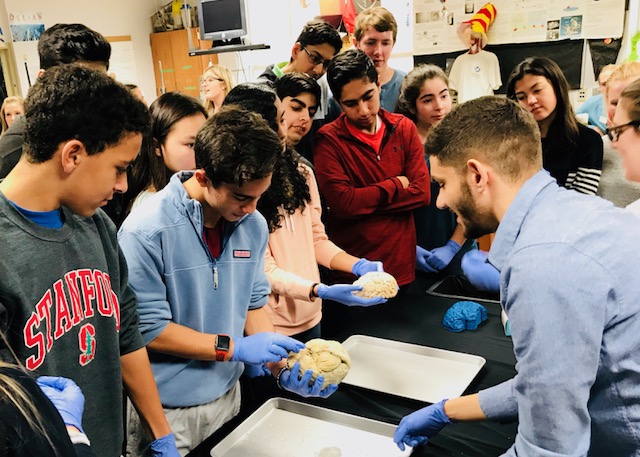 We are indebted to Dr. Paul Aravich from Eastern Virginia Medical School for loaning us part of his extensive collection of human brains, which BRAIN Club members held and examined with great enthusiasm…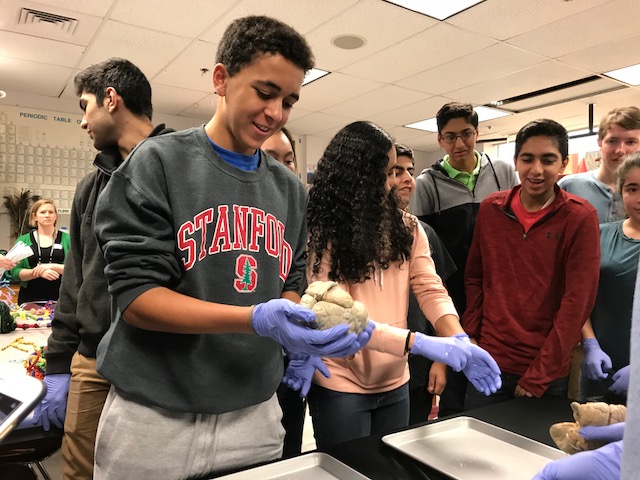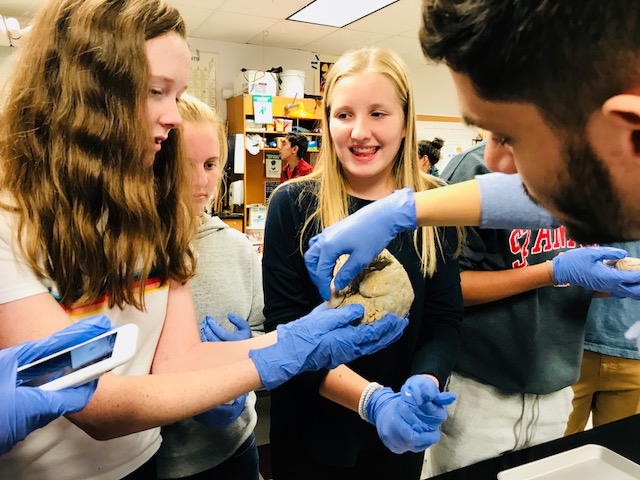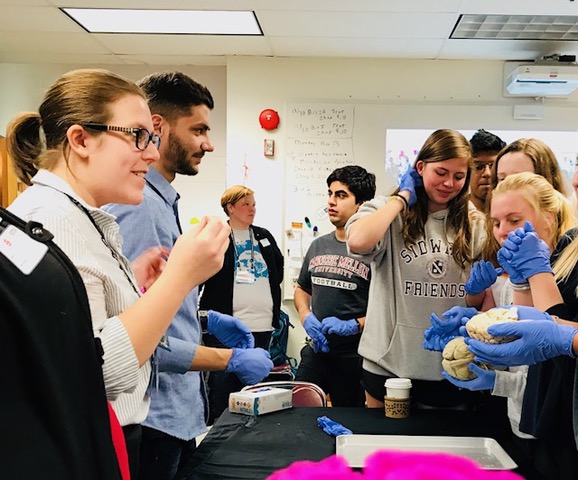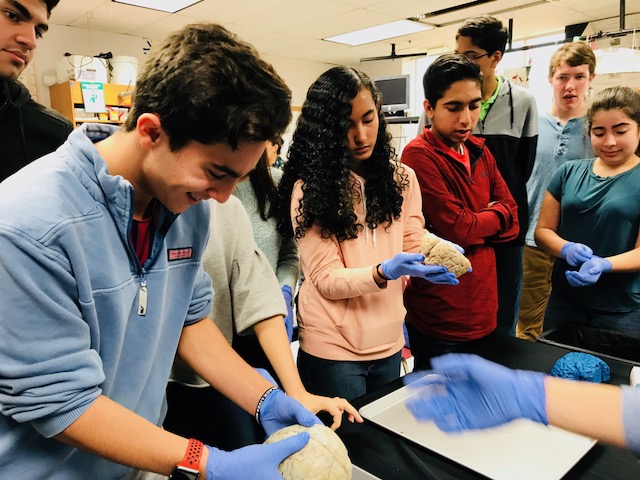 We also crafted new pipe cleaner neurons  –  along with some pipe cleaner glia!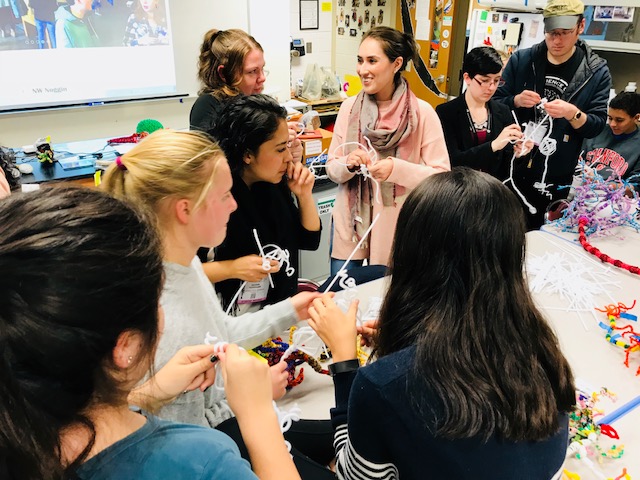 The Sidwell Upper School Principal, Mamadou Gueye, and the Dean of Students, Michael Woods, then joined us to ask more questions about the effects of handedness on cognition, and documented brain benefits of multilingualism. Sulema Rodriguez, an NIH BUILD EXITO scholar from PSU, filled in Principal Gueye on the relevant research she'd presented during a recent Noggin training for the Latino Network in Portland…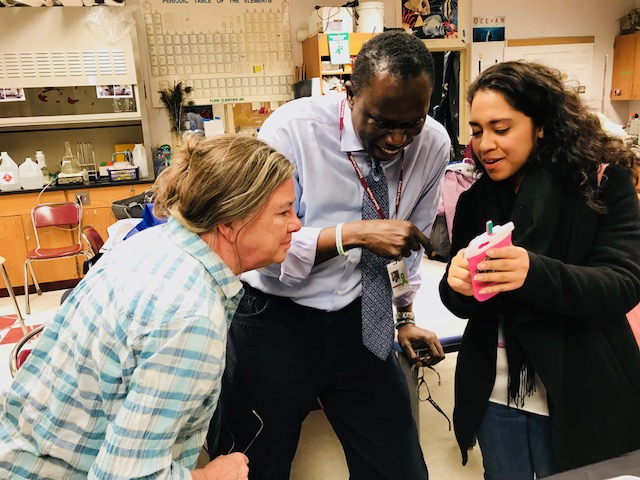 LEARN MORE: Understanding Left-Handedness
LEARN MORE: Latino Network Learning & Lobes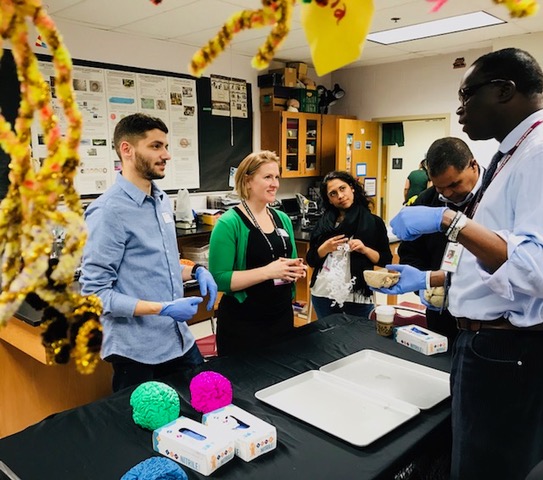 Many thanks to Melanie Fields  –  Sidwell teacher, BRAIN Club advisor, and expert rock climber  –  for welcoming us into her classroom during our week in Washington DC!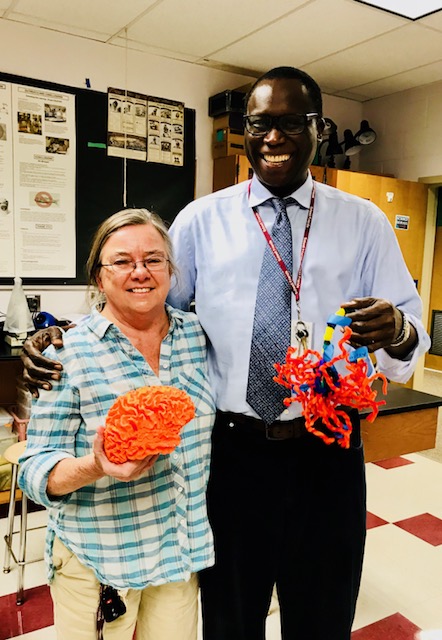 LEARN MORE: The Art and Science of Zebrafish in the Classroom— An Interview with Melanie Fields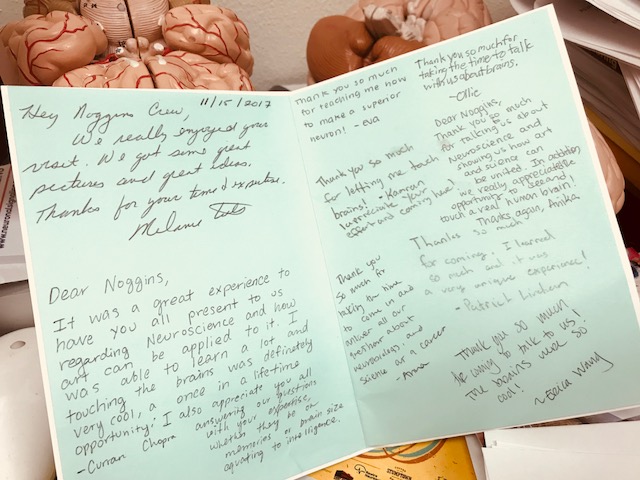 After a good night's sleep and multiple Lyfts and Ubers to Anacostia, we then enjoyed the incredible energy and enthusiasm of hundreds (and hundreds!) of inquisitive students at Turner Elementary! We'd visited this terrific public school during our last visit to DC, where we'd collaborated with the Phillips Collection on educational outreach, a Congressional briefing, and a sold out Neuroscience Night at the museum itself!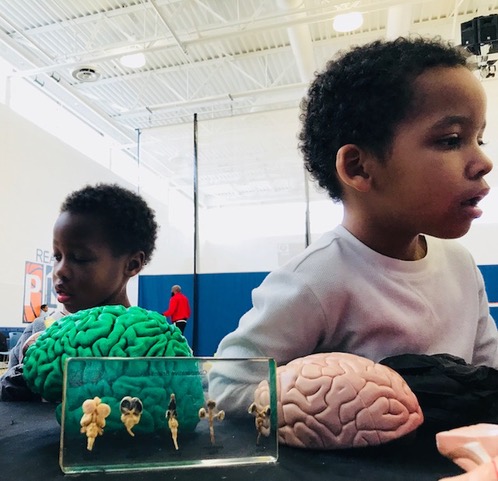 LEARN MORE: Brains in DC  –  Inspired Teaching at Turner and ITS
This time we met with every pre-K to 5th grade student (650+!) during a remarkable day of brains and art. Binyam Nardos, Alfredo Zuniga and Scott Jones from OHSU were welcome reinforcements! Emma Lindberg, the Outreach Associate for the Society for Neuroscience, joined us there too. Rachel Goldberg and Miriam Deaver of the Phillips participated, and contributed the art supplies for several projects, including pipe cleaner neuron building…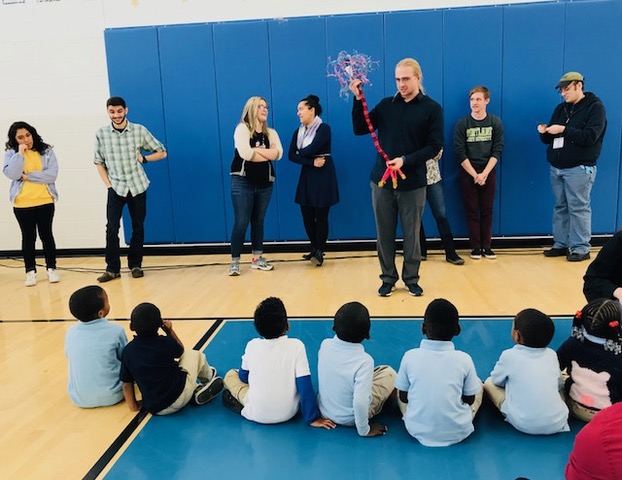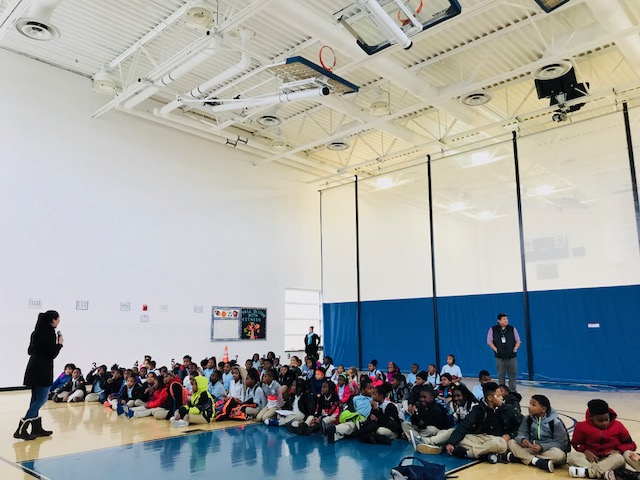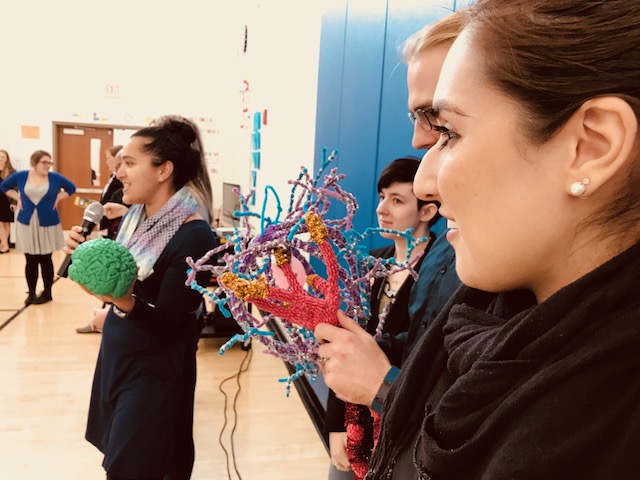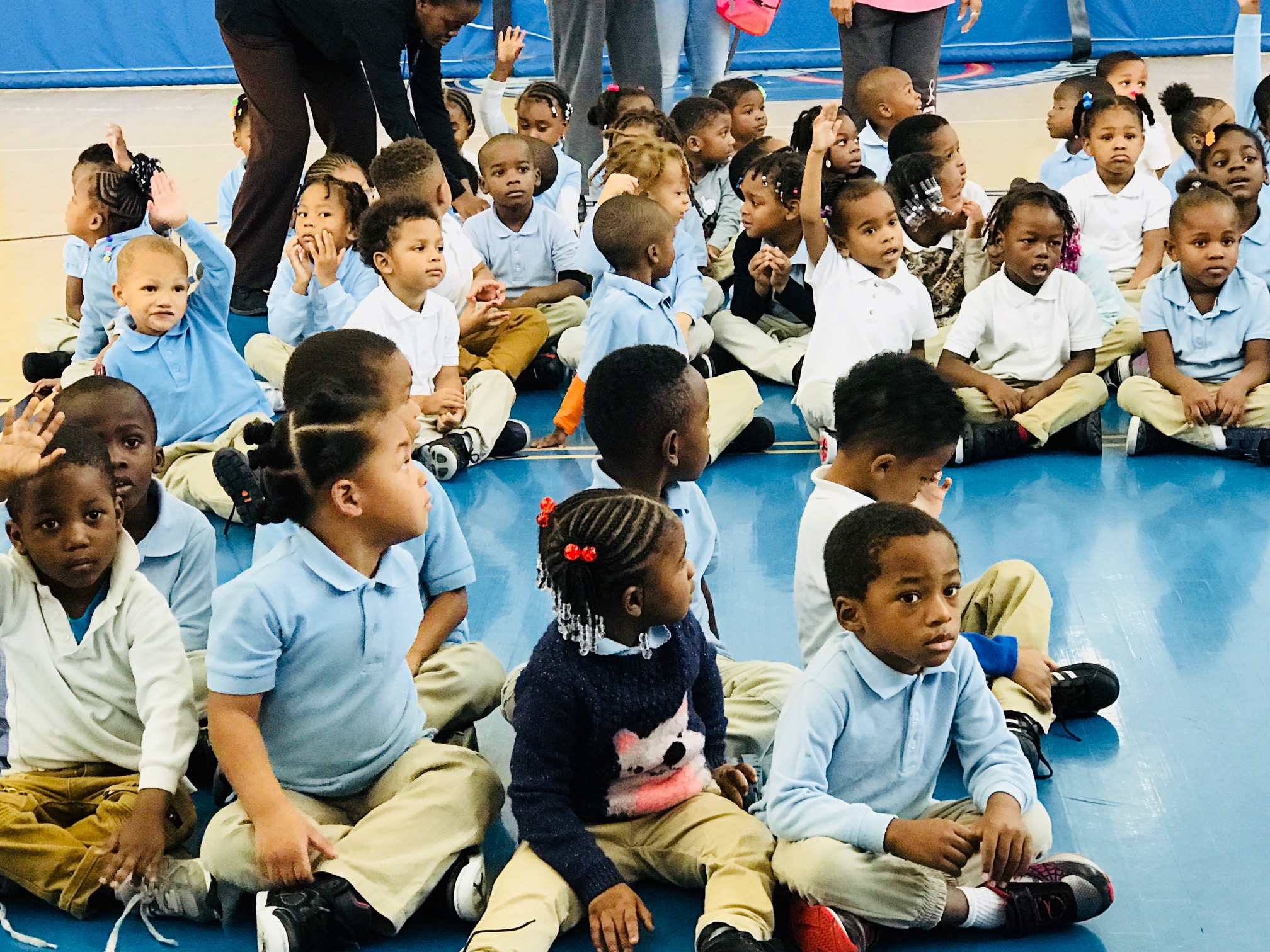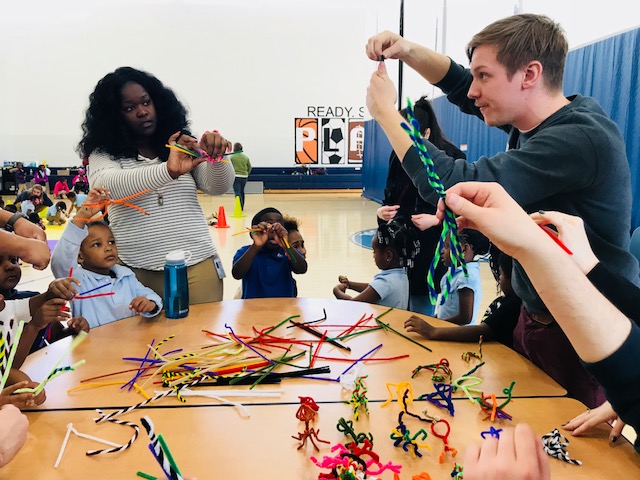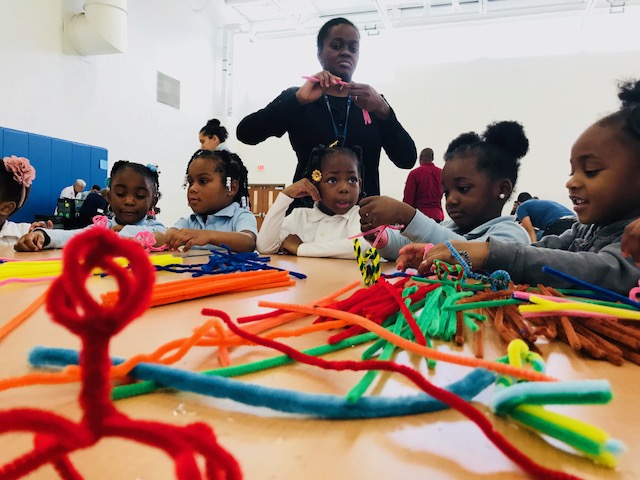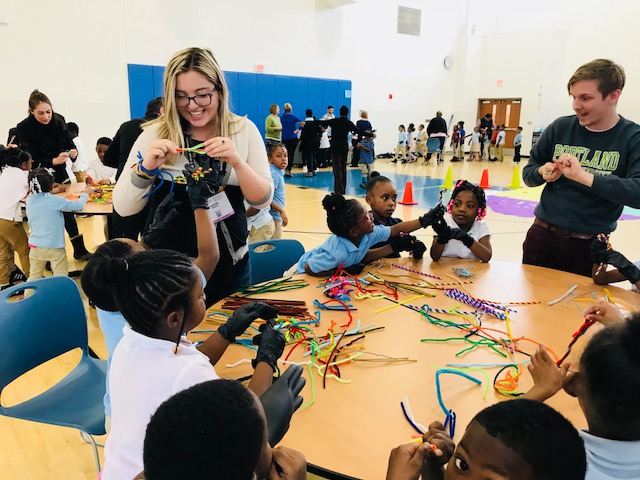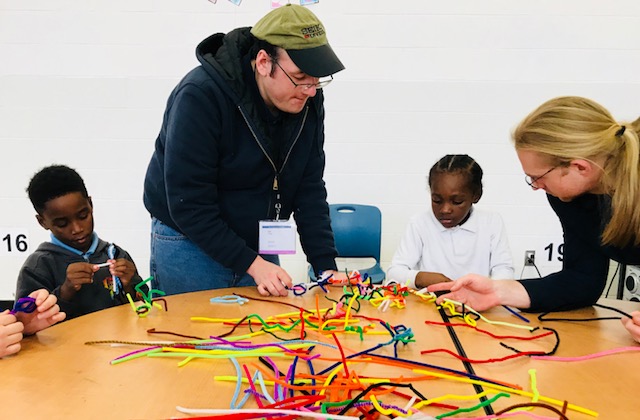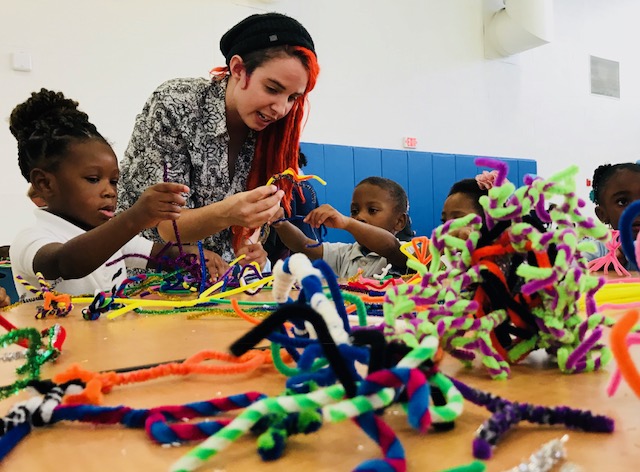 Neuron gel prints (using plant material gathered from outside the school that morning)..!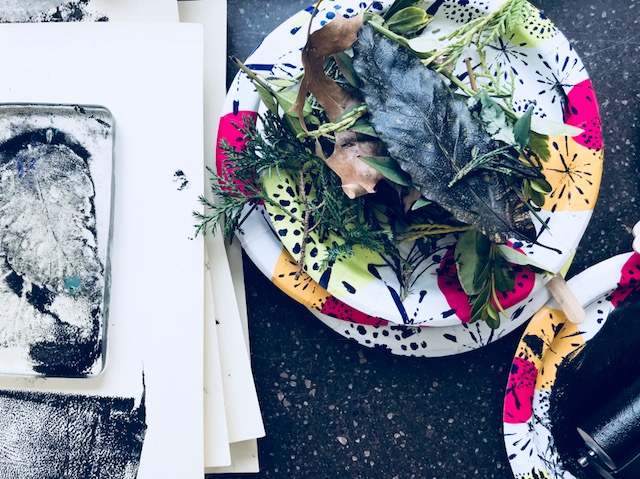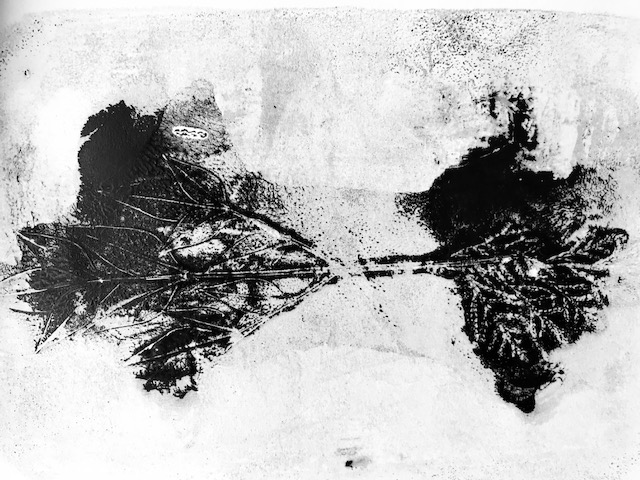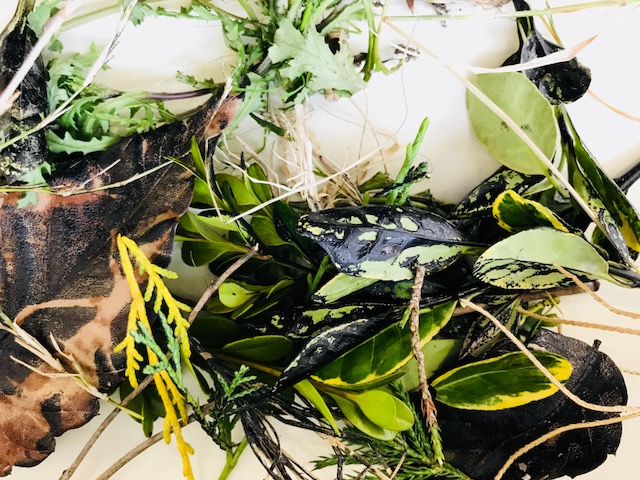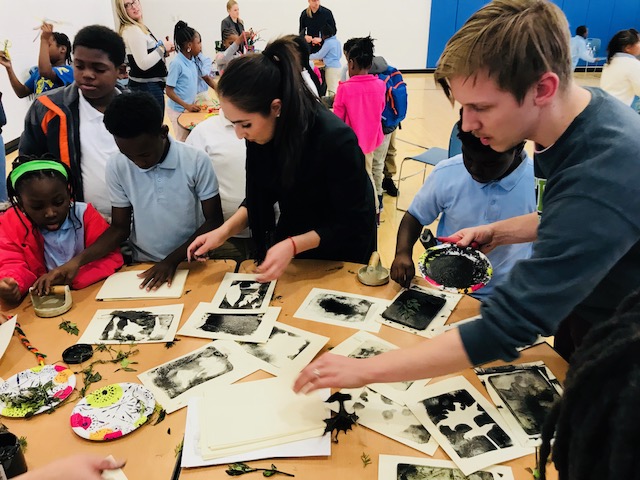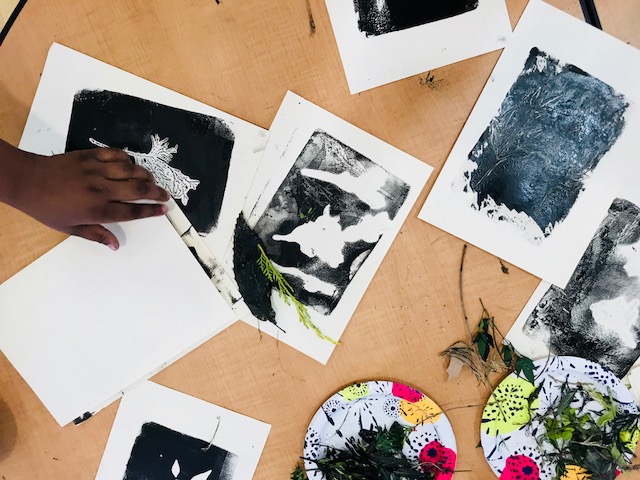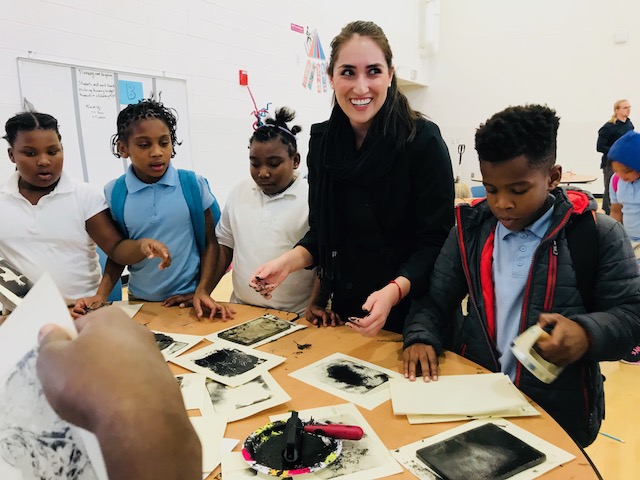 A giant craft paper "brain map" on the gymnasium floor, where students drew their own interpretations of what neural networks in each colorful region were for…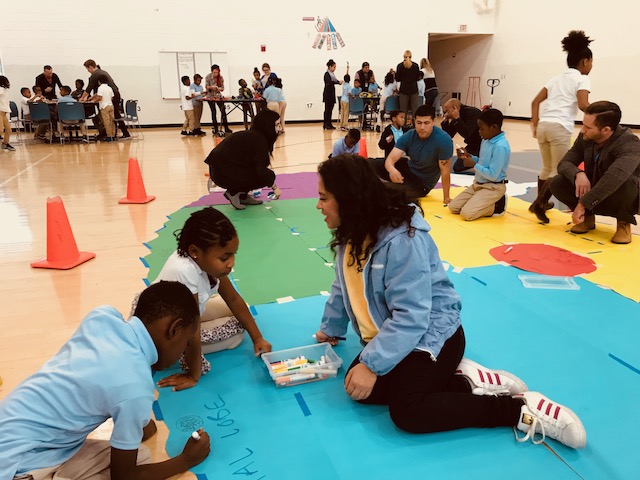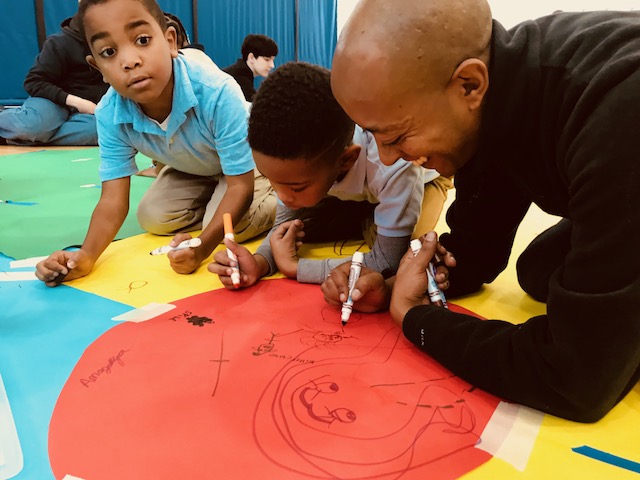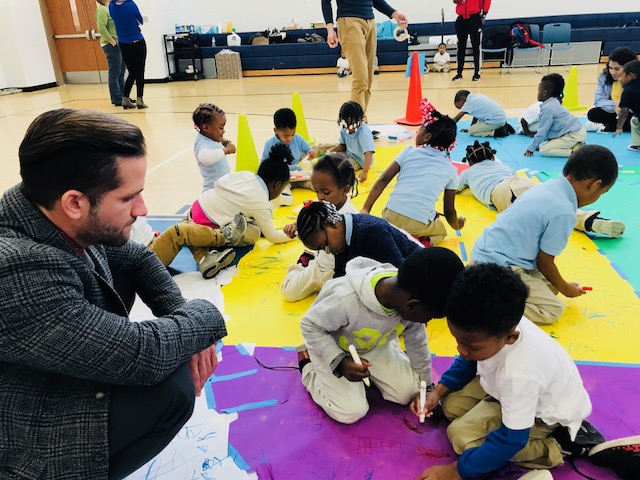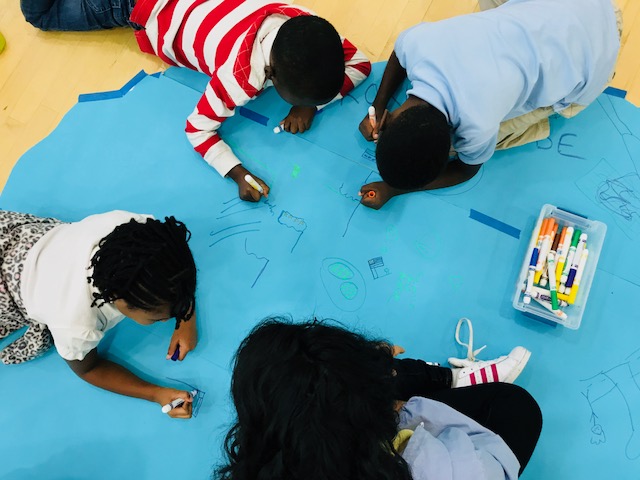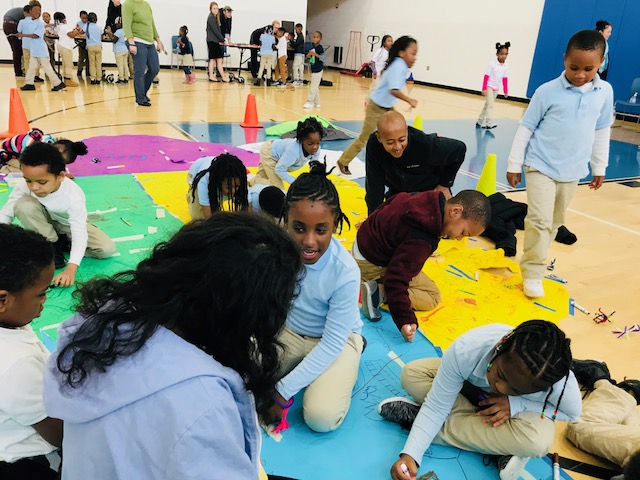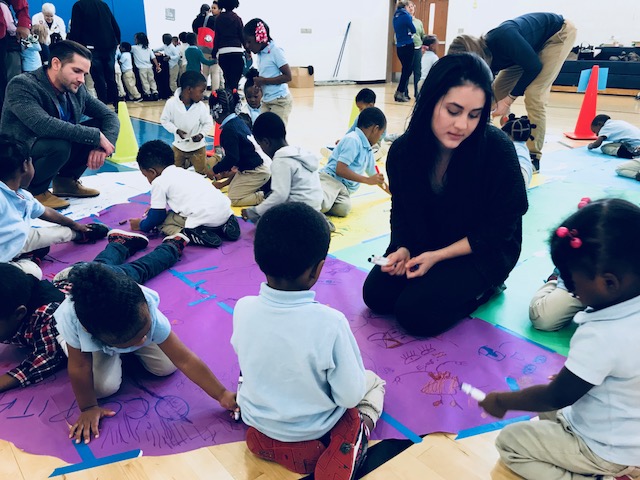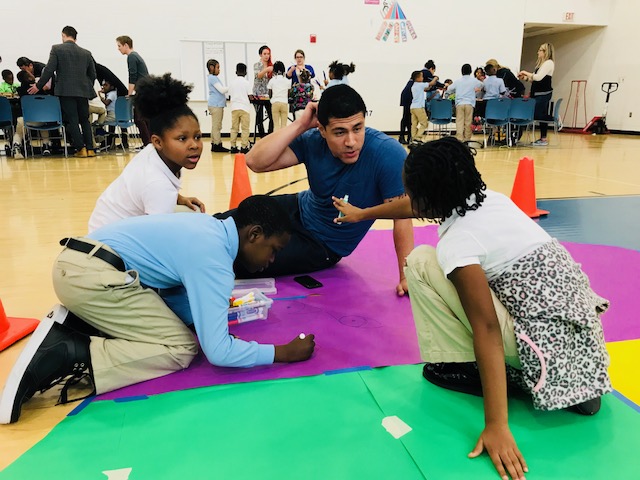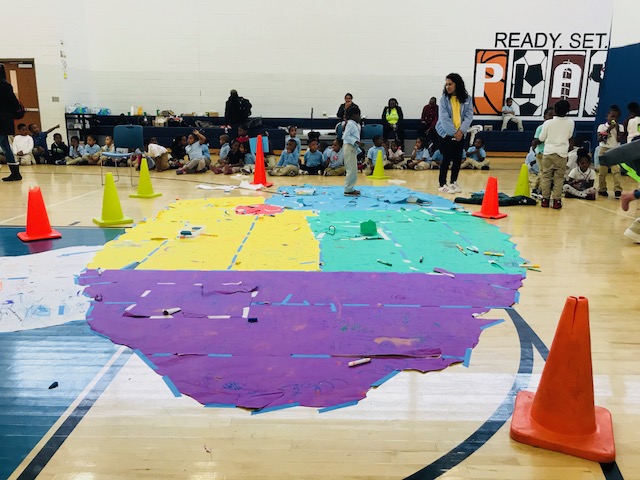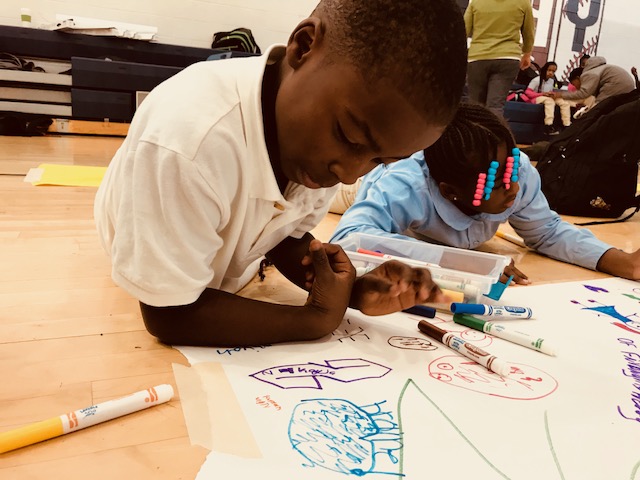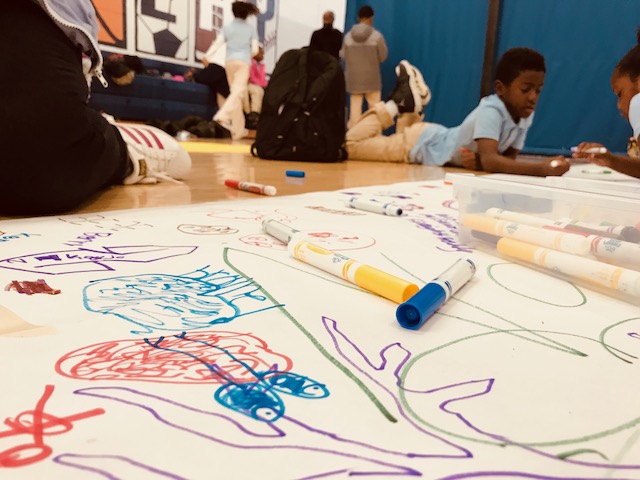 LEARN MORE: Noggin STEAM Art Projects
And of course  –  we looked at, touched and held real human brains!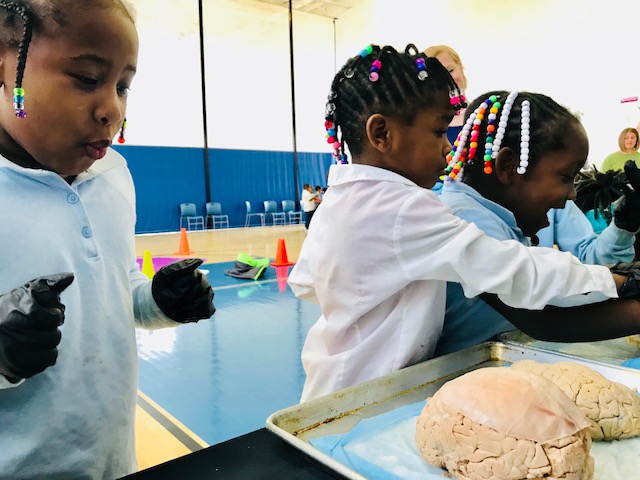 Students had many awesome and important questions, for example: Where did you get them? We love working with Dr. Paul, who has curated a pretty extraordinary assortment of cerebral specimens…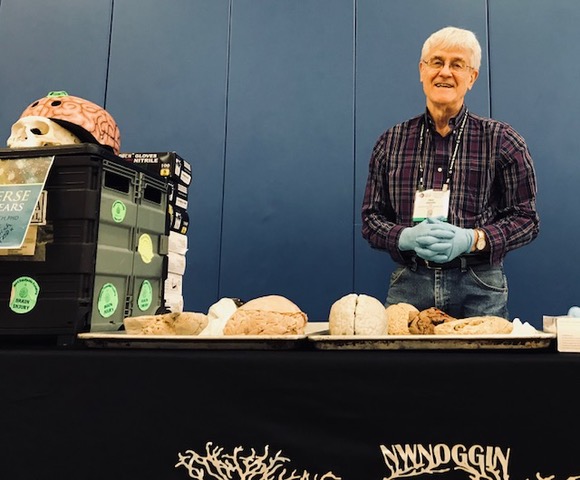 This includes the brain of someone who had suffered from Huntington's disease, with degenerated caudate nuclei pinned in red…
A brain from another individual who'd experienced a significant intracranial bleed…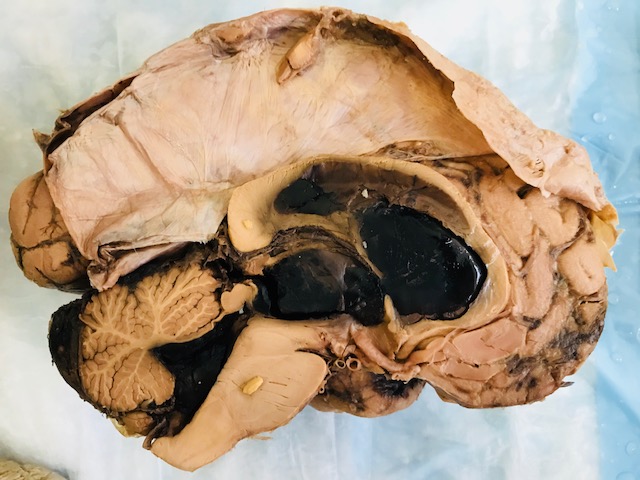 An extraordinary dissection, revealing both the hippocampus (black pins) and the amygdala (red)…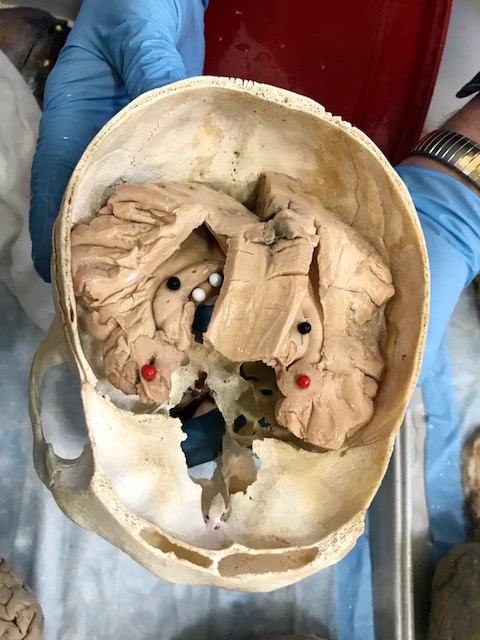 And even the brain of a friend who had recently passed away…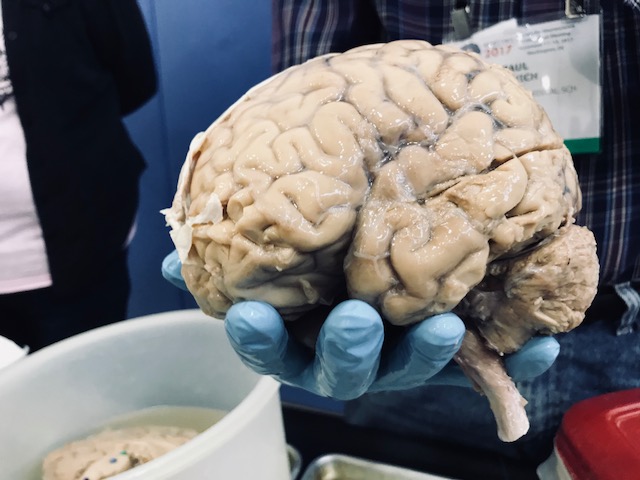 Other compelling questions: Is my brain bigger or smaller than these? Wait – brains are made of brain cells that look just like wires? Does everybody have a brain? Why do brain cells die? Can I get new brain cells? If I hit my head, do I hurt my brain? Why is it wrinkly? What's that cover on the brain? My grandma can't remember  –  is it because of her brain? How does my brain make me?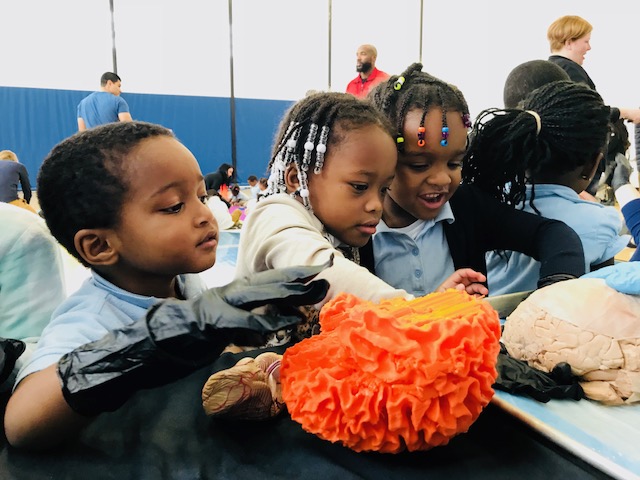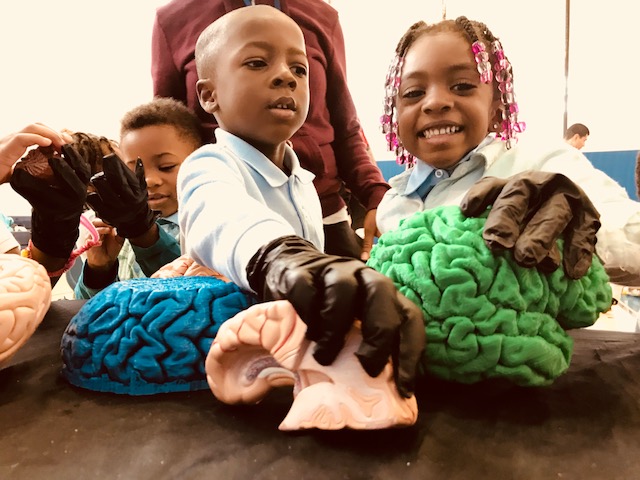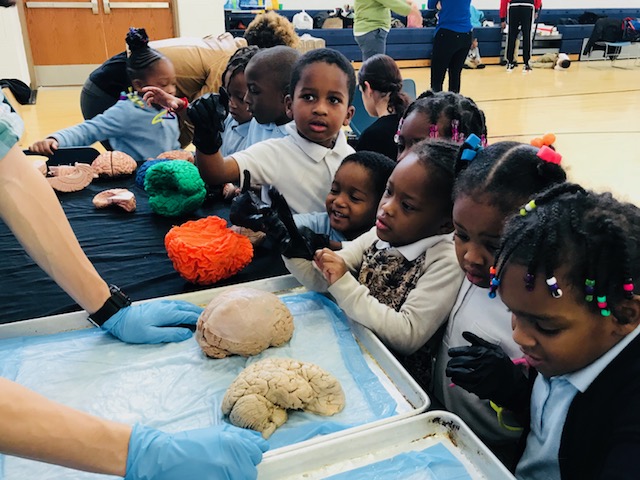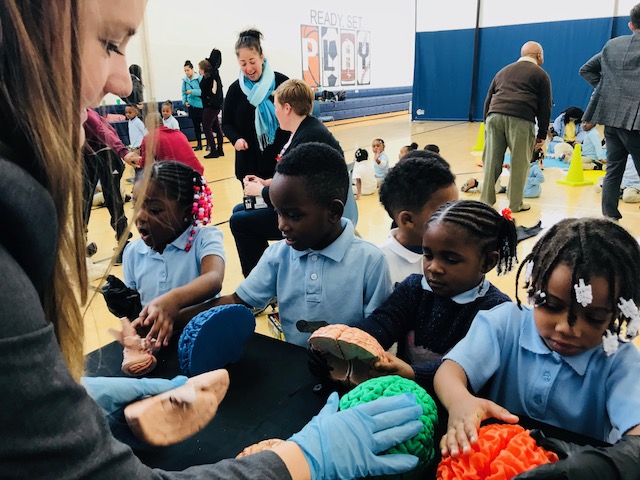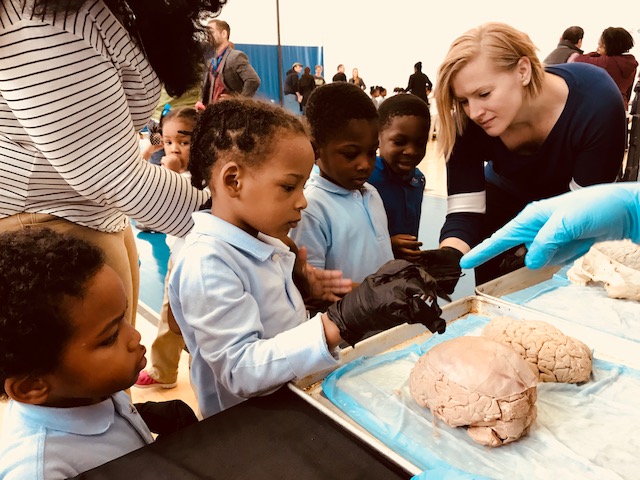 We also had colorful new 3D printed brain models (with gray matter cortex in green, and white matter axonal wiring in brilliant orange) based on actual MRI data from living Portlanders, with data provided by the Fair Neuroimaging Lab at OHSU, and printing completed thanks to the Portland 3D Printing Lab and Make + Think + Code at the Pacific Northwest College of Art..!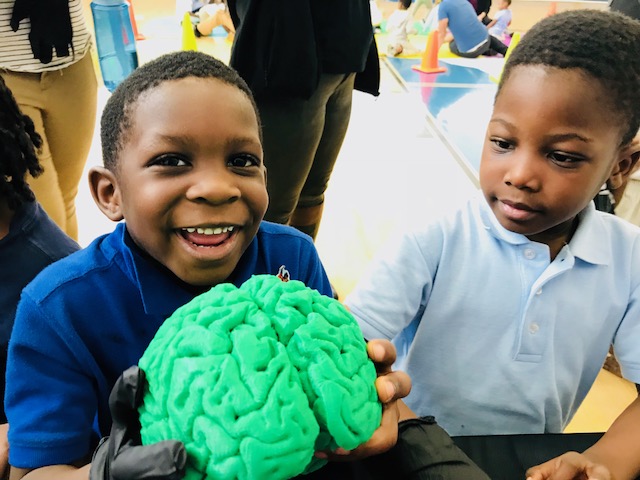 These are exceptional educational aids, and proved a great introduction for young students before they handled the real deal!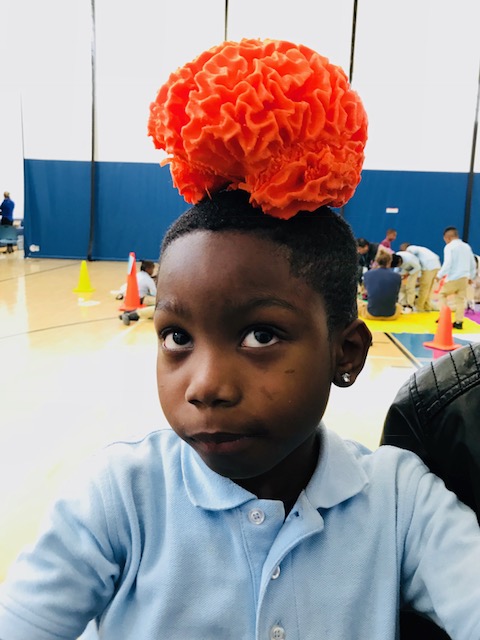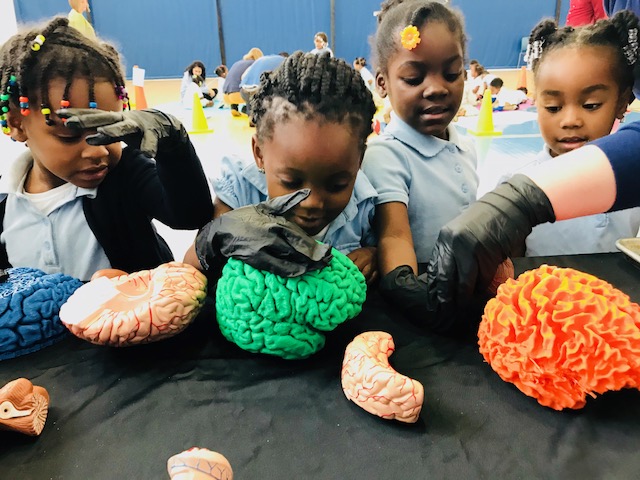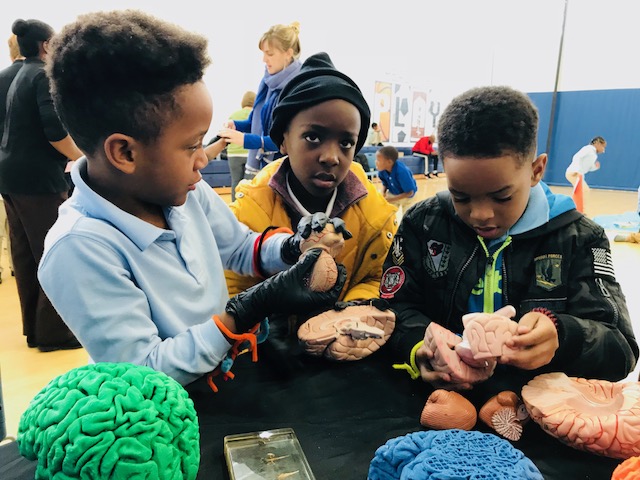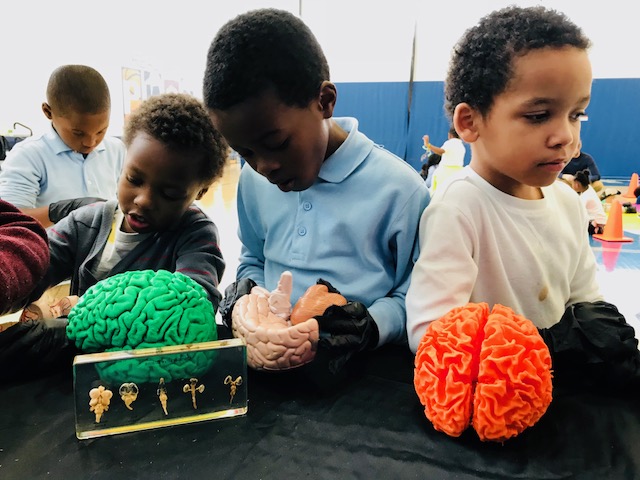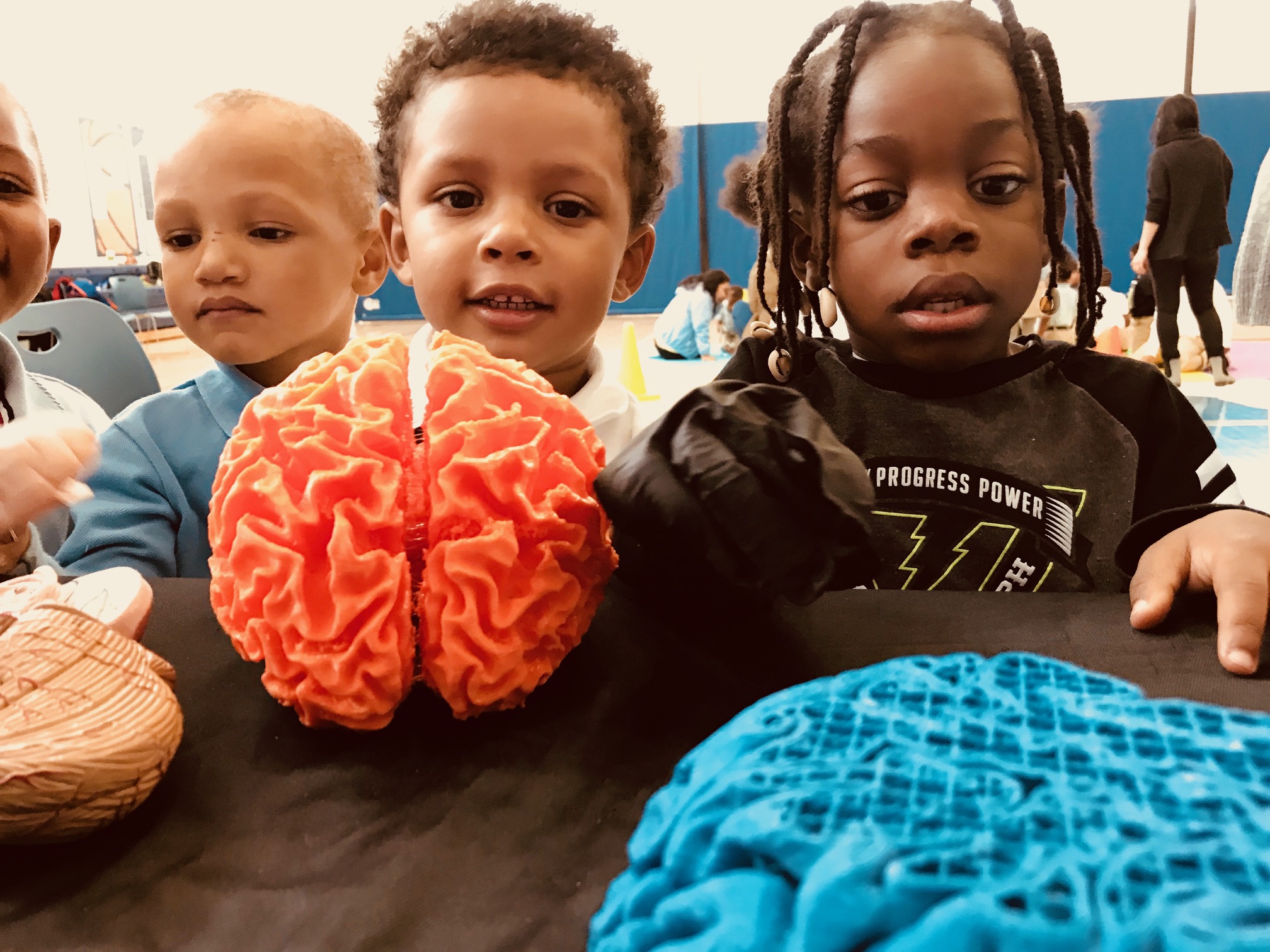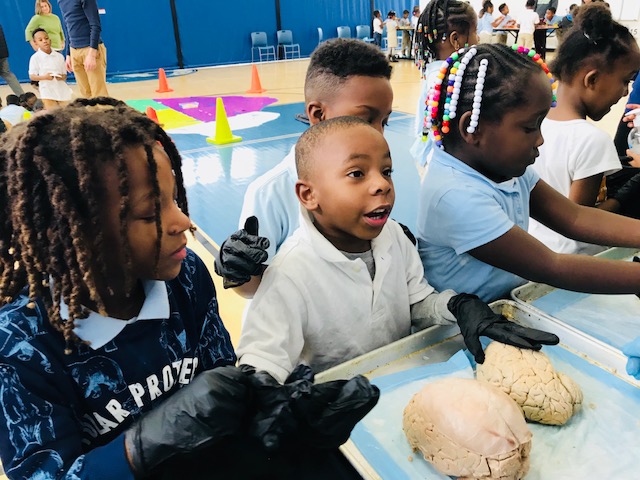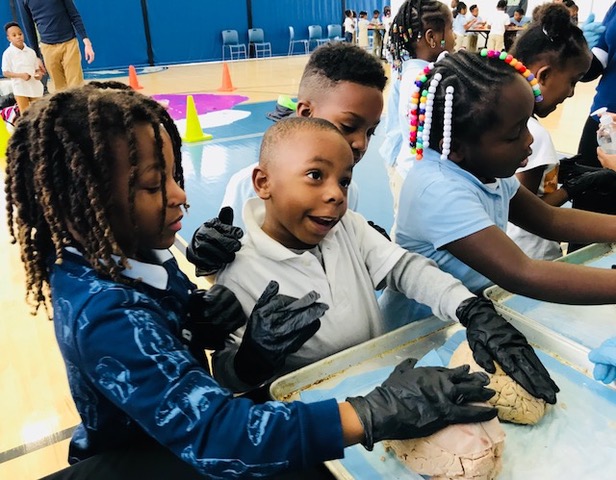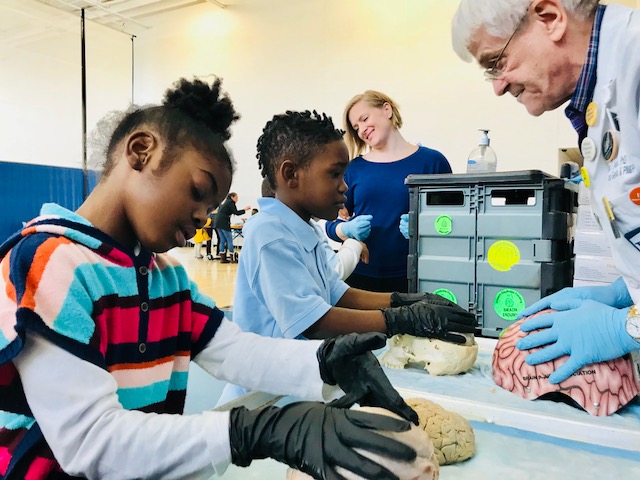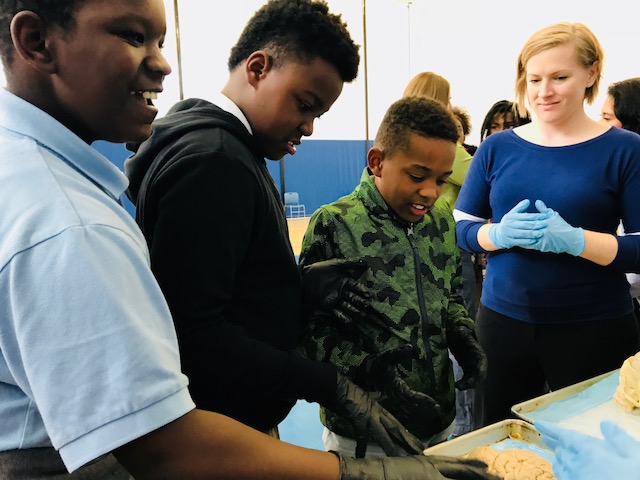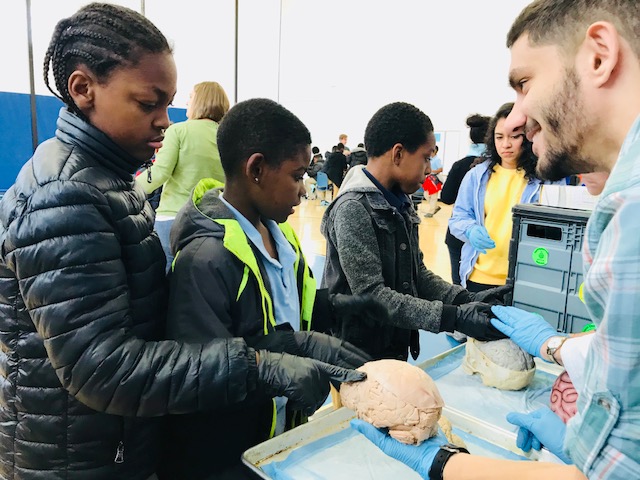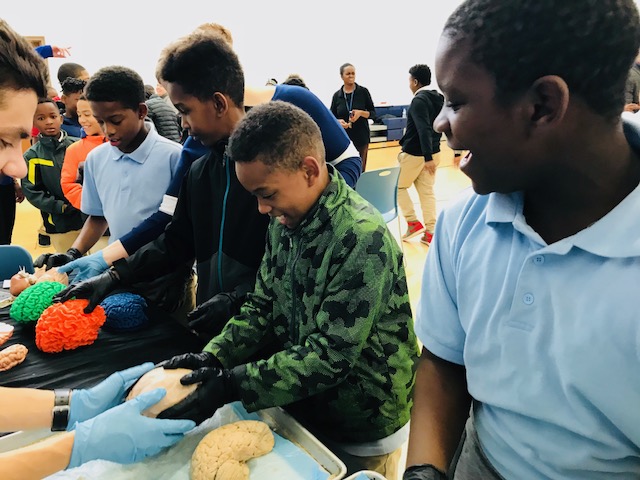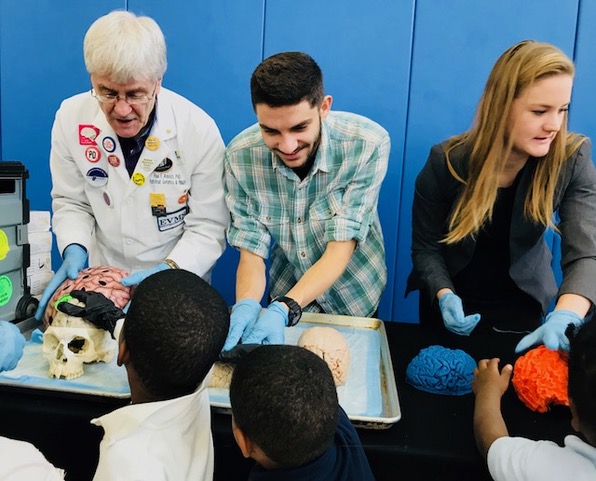 We cannot thank our tireless (and tired!) volunteers enough!! We lost our voices that day, through countless energizing conversations with some future neuroscientists and artists in DC…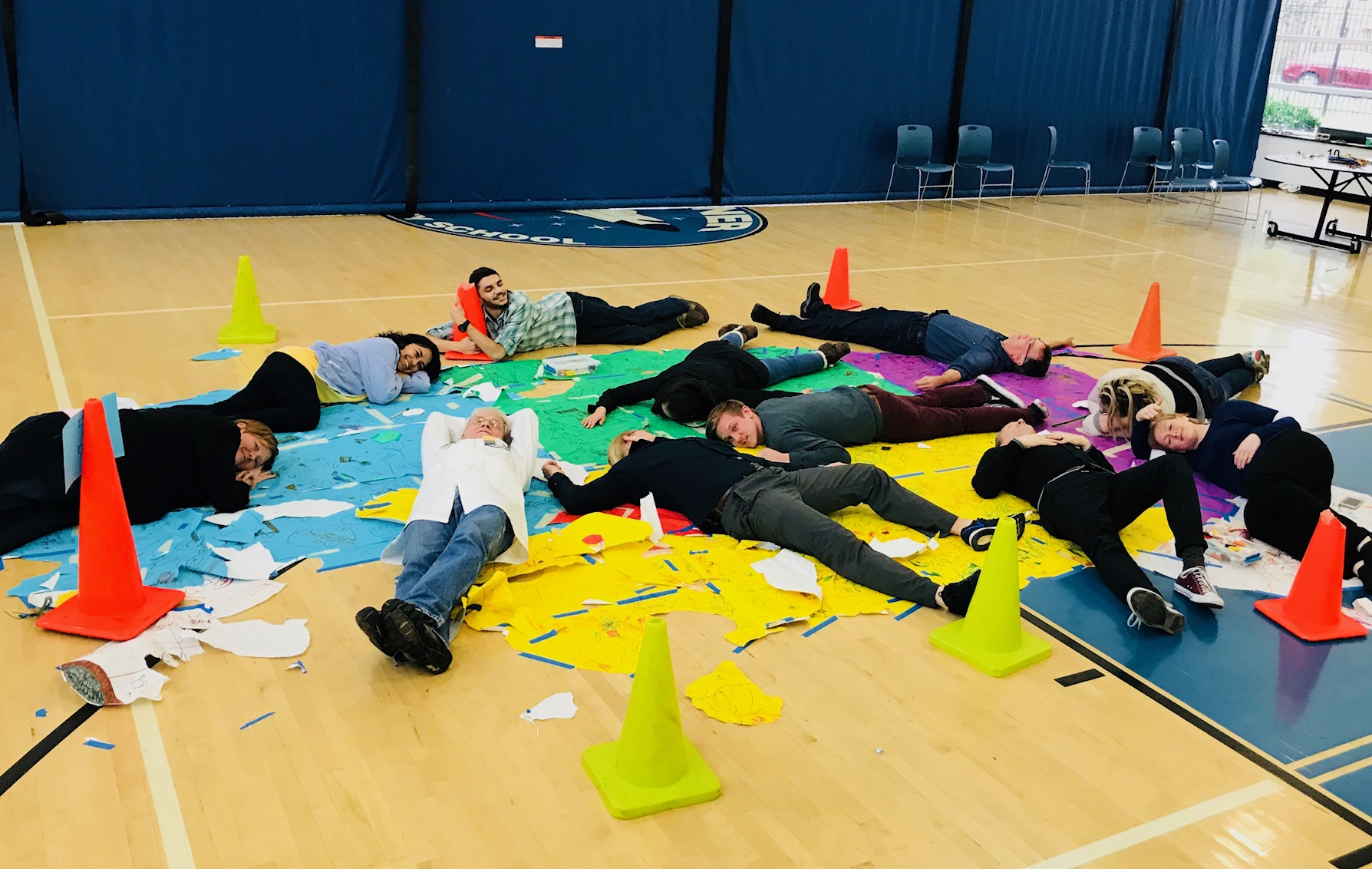 And the discussions were so inspiring! One girl told us that her pipe cleaner brain cells looked just like butterflies, echoing Spanish neuroanatomist and Nobel Prize winner Santiago Ramon y Cajal's description of neurons as "butterflies of the soul…"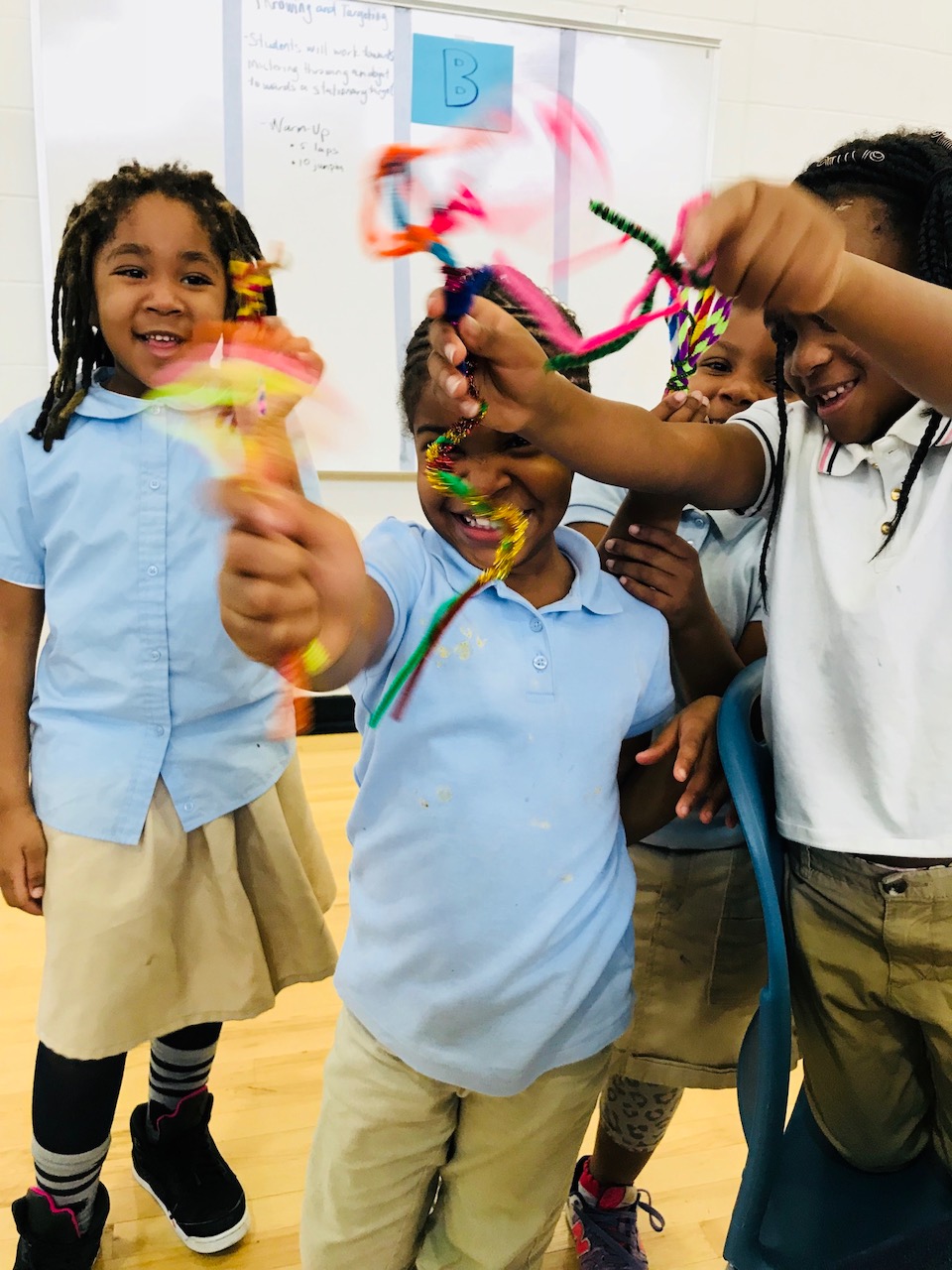 LEARN MORE: Nobelist Cajal's Drawings Now on Exhibit at NIH
LEARN MORE: Cajal + Creativity @ the NIH
Tremendous thanks are due Rachel and Miriam from the Phillips Collection, who not only brought the art supplies but also FED our enthusiastic crew of volunteers! Thanks also to the teachers and staff at Turner Elementary, for another warm welcome to school! We look forward to returning, perhaps during a future conference…