…is not a safe, secure place to sleep, or call home…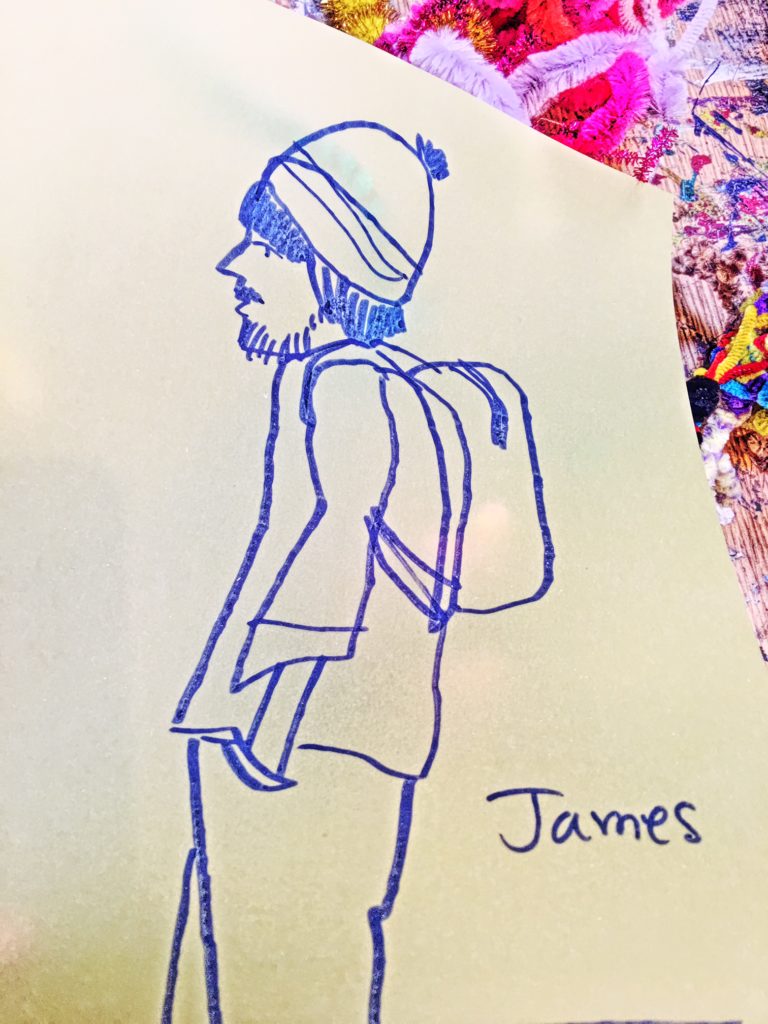 This summer, NW Noggin is working with p:ear to organize a public fall event to address the issue of affordable housing and the brain.  We aim to bring together students from Portland State University and OHSU who study sleep, anxiety, depression, emotional regulation, drugs, adolescent brain development, bias, and other relevant topics, clinicians from Central City Concern, and data, artwork, poetry and testimony from valuable members of our community without a home, all to learn from each other, and to shine a light on the often devastating connections between homelessness and our brains…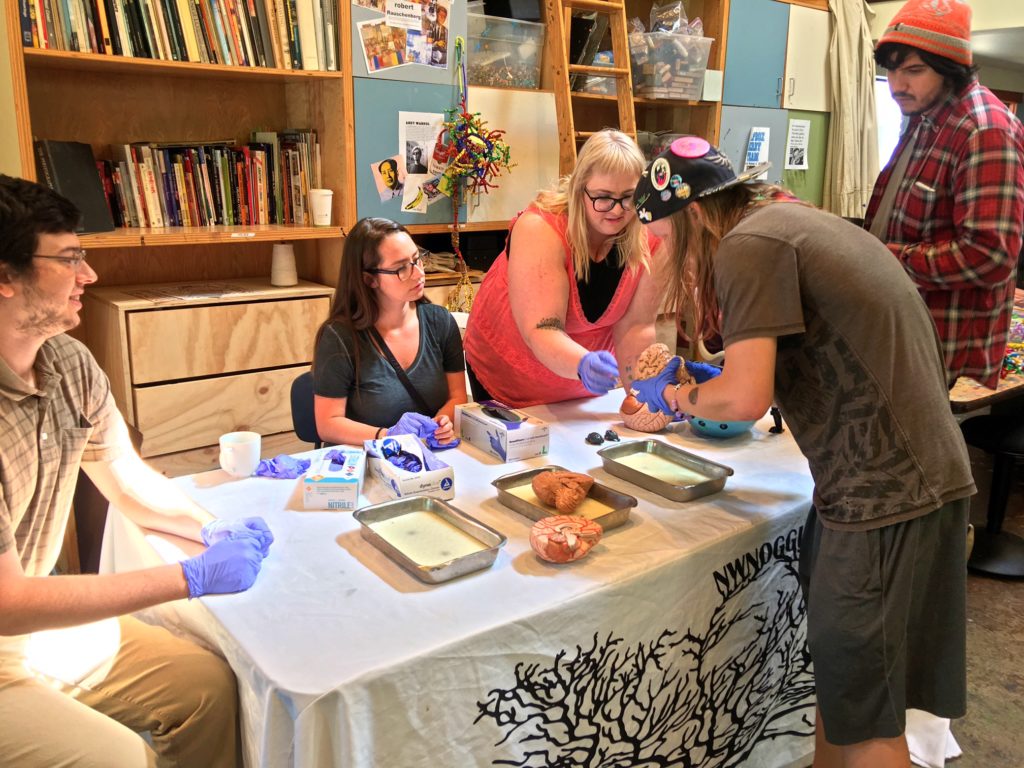 In 2017, 4177 people in Portland have no permanent place to call home, according to the latest biennial "Point in Time" count of those living on the streets or in temporary shelters.  This is a 10% increase over the last count in 2015, when 3800 people in Portland had no stable place to sleep.  While there are more families in shelters, the number of those who are chronically homeless has significantly increased.
LEARN MORE:  2017 Point in Time Count
LEARN MORE:  Portland's Homeless Population Is Up 10 Percent, but Fewer People Are Unsheltered
Today we met for the first of two June Noggin sessions at p:ear, to consider how we might best highlight, educate, and inform not only the public but also local policy makers about federally funded research on the foundational importance of sleep for everyone's mental health and wellness, and the existing neuro-diversity in our community that current educational, health and municipal systems are failing to adequately serve.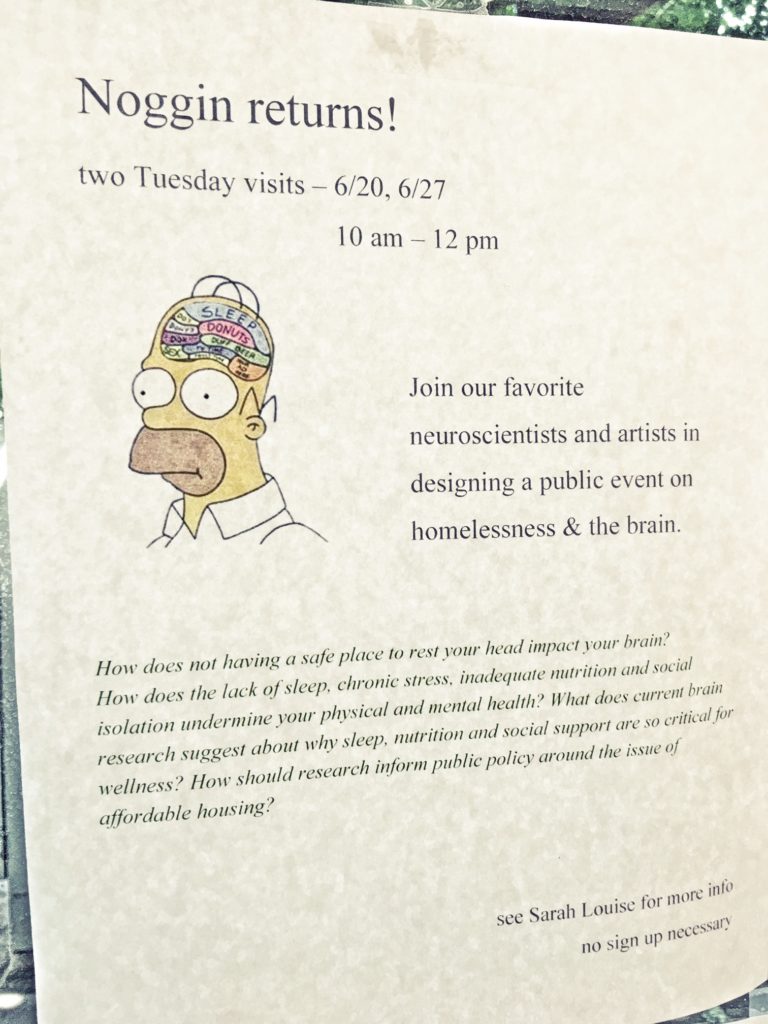 We welcomed some terrific outreach volunteers, including Jessica Patching-Bunch, Emily Weiss, Gaile Parker, Adam Bishop, Alex Kunz, Jarrett Skinner and Mitch Fennimore from Psychology and Mathematics and Statistics at PSU, Holly D'Andrea from the suburban Vancouver branch campus of WSU, and Sam Carpenter and Justin Caouette from Oregon Health & Science University up on nearby Pill Hill…
How does not having a safe place to rest your head impact your brain? How does the lack of sleep, chronic stress, inadequate nutrition and social isolation undermine physical and mental health? What does current brain research suggest about why sleep, nutrition and social support are so critical for wellness? How should scientific discovery inform public policy around the issue of affordable housing?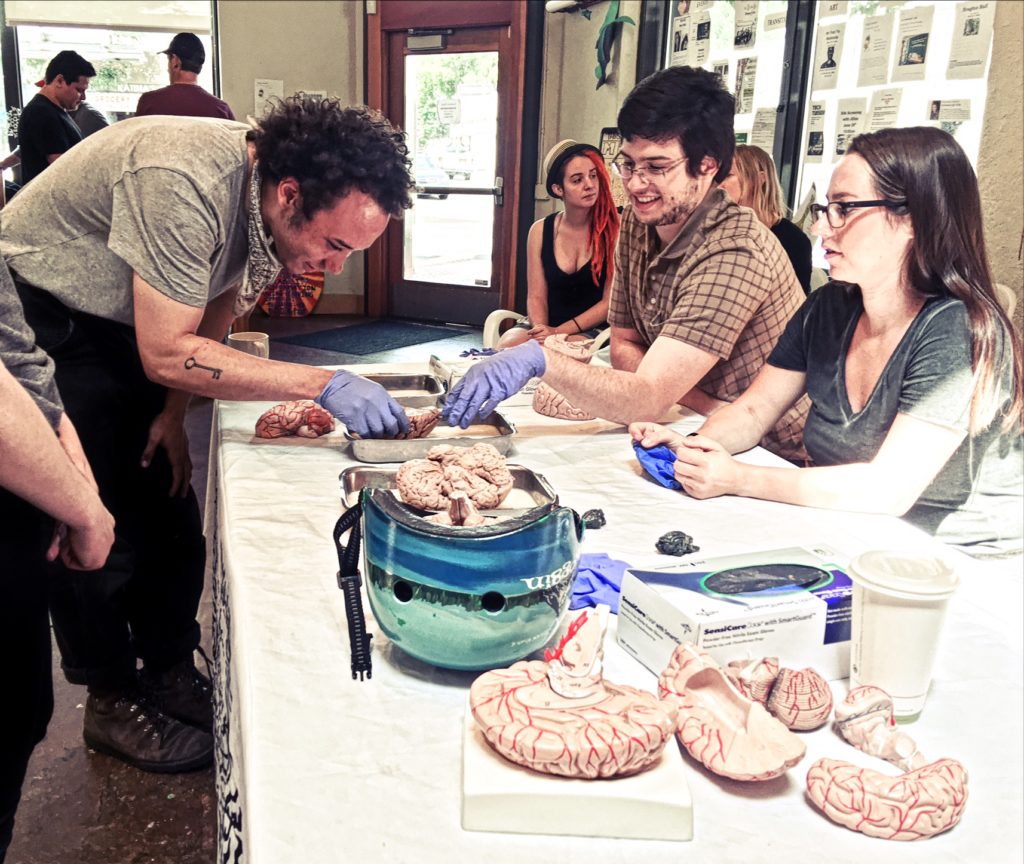 Several young people at p:ear enjoyed examining our real noggins, and asked us pointed questions about how sleep deprivation affects emotional responses, and our memories and behavior, and how drugs and diet might influence brain development and activity.  They began compiling a list of "weird places I've slept…"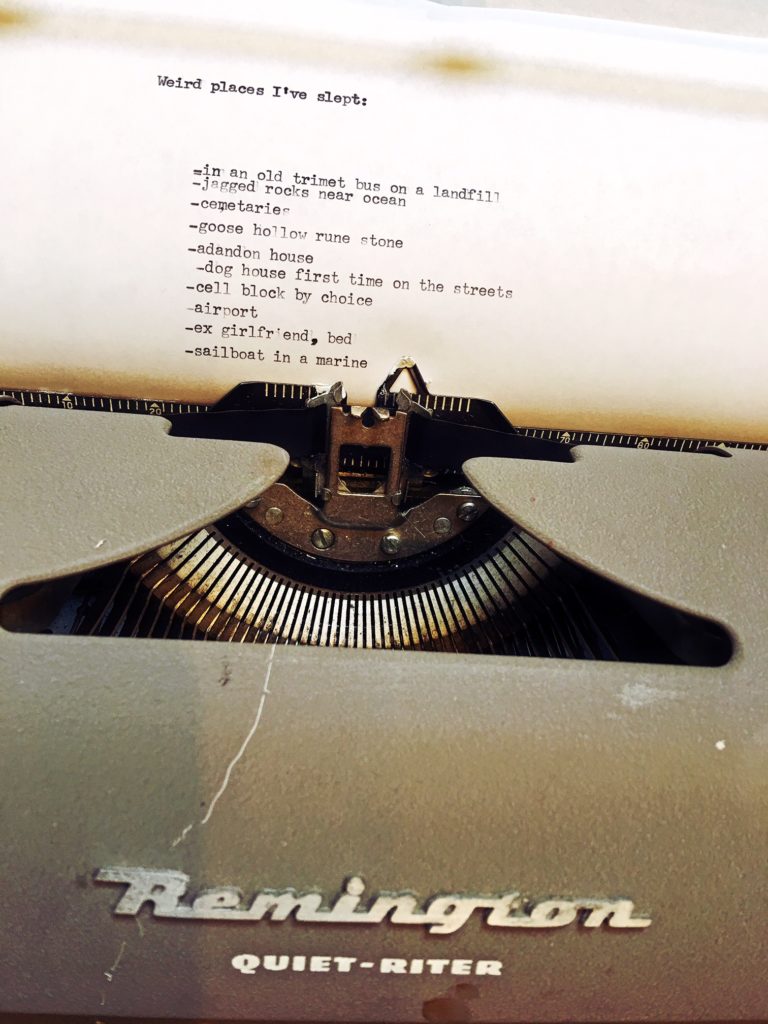 "I got up today at 4:30am and jumped up wide awake, ready to defend myself," said one young man.  Sarah Louise Allen, the Education Coordinator at p:ear, noted that "many people don't understand that the kids who receive social services must make these mandatory daytime appointments to receive benefits, and yet they are exhausted from not sleeping overnight.  Some turn to amphetamine, and meth, to keep themselves awake.  This is a structural problem…"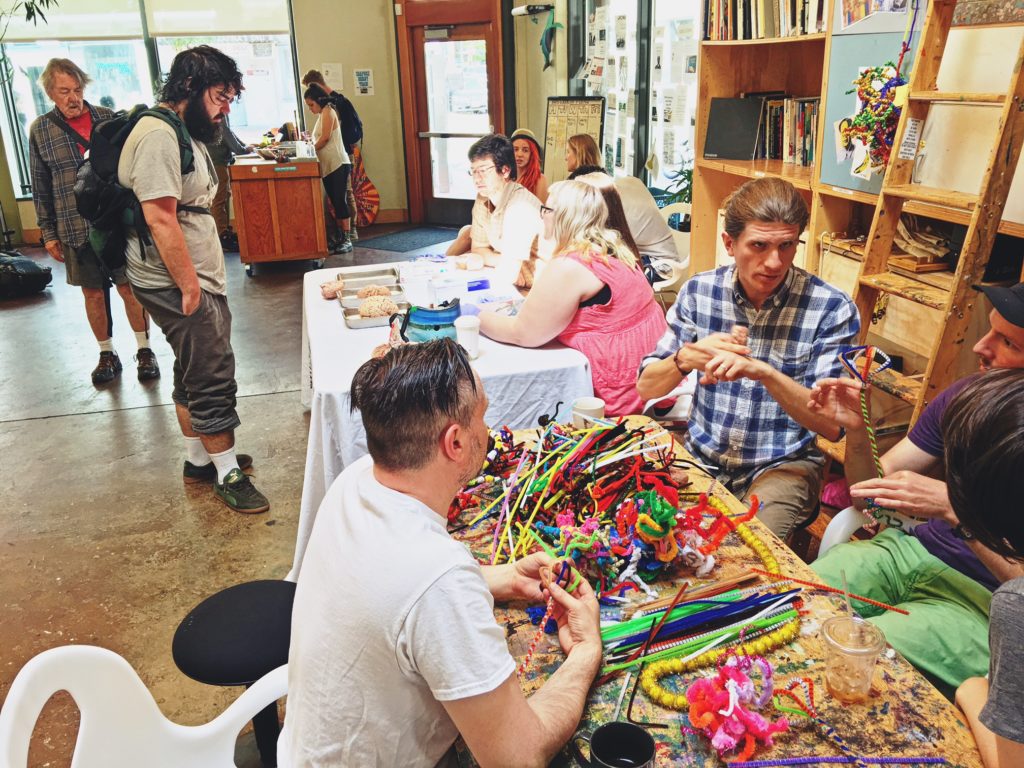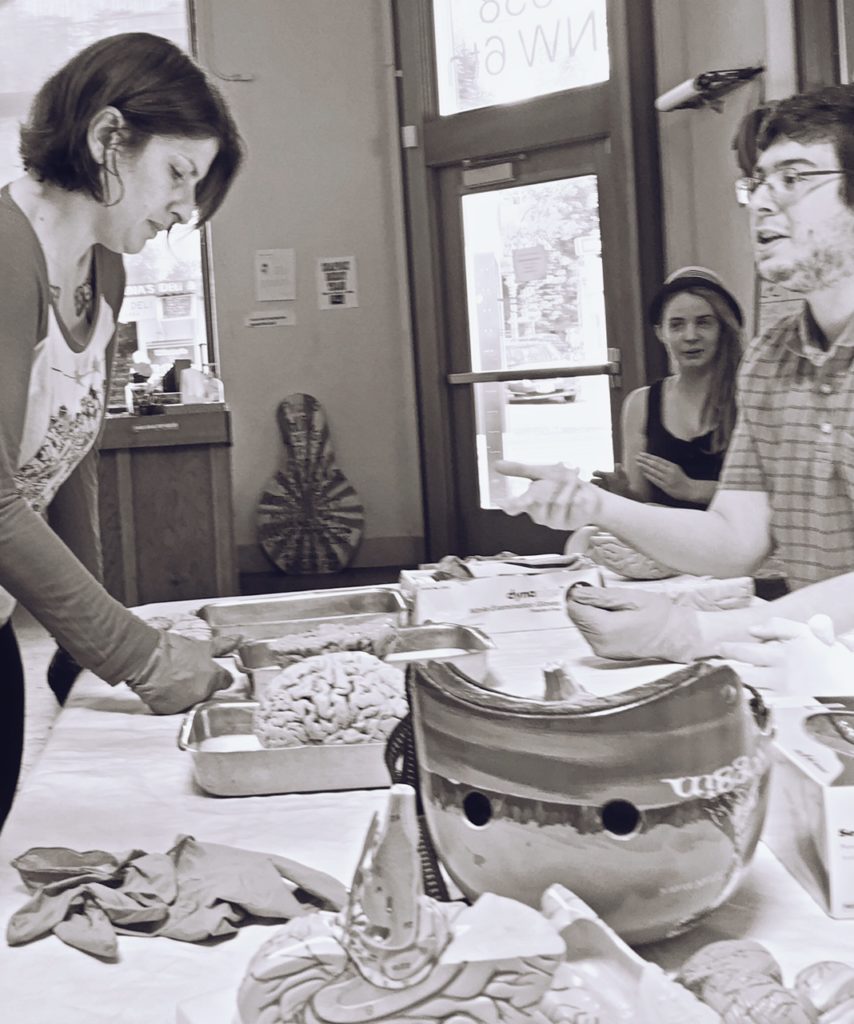 P:ear provides extraordinary, healthy meals for young Portlanders without a permanent home, and a sense of community and support, with art supplies and opportunities for creative expression, and education.  They do not offer housing  –  and the City and County, and the private sector, are still not adequately addressing this fundamental need.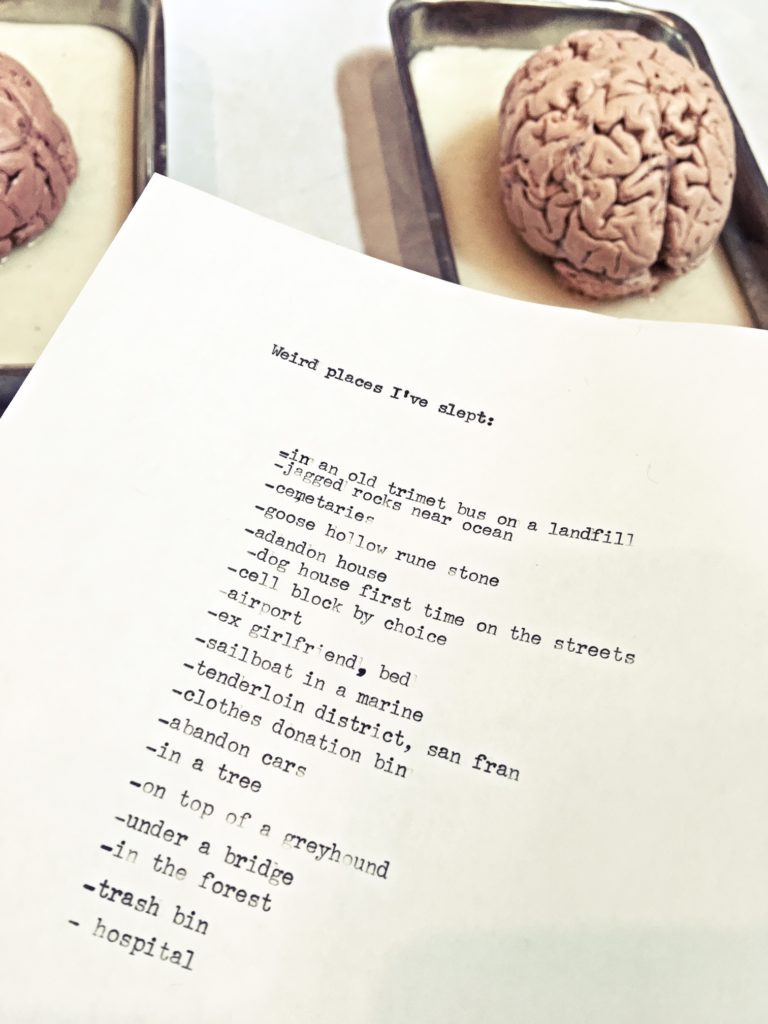 Each of us would suffer in terms of our own mental health and wellness if we did not have our own place  –  safe and secure  –  to call home and get adequate rest.  By bringing together young researchers studying the brain and sleep, stress, anxiety, depression, drugs, along with clinicians from Central City Concern, and local policy makers, and those in our community directly impacted by the lack of accessible housing, we hope to make this issue physical, and clear, and help form social networks of better informed decision makers to ultimately rally the investment required for healthier brains, and a healthier Portland…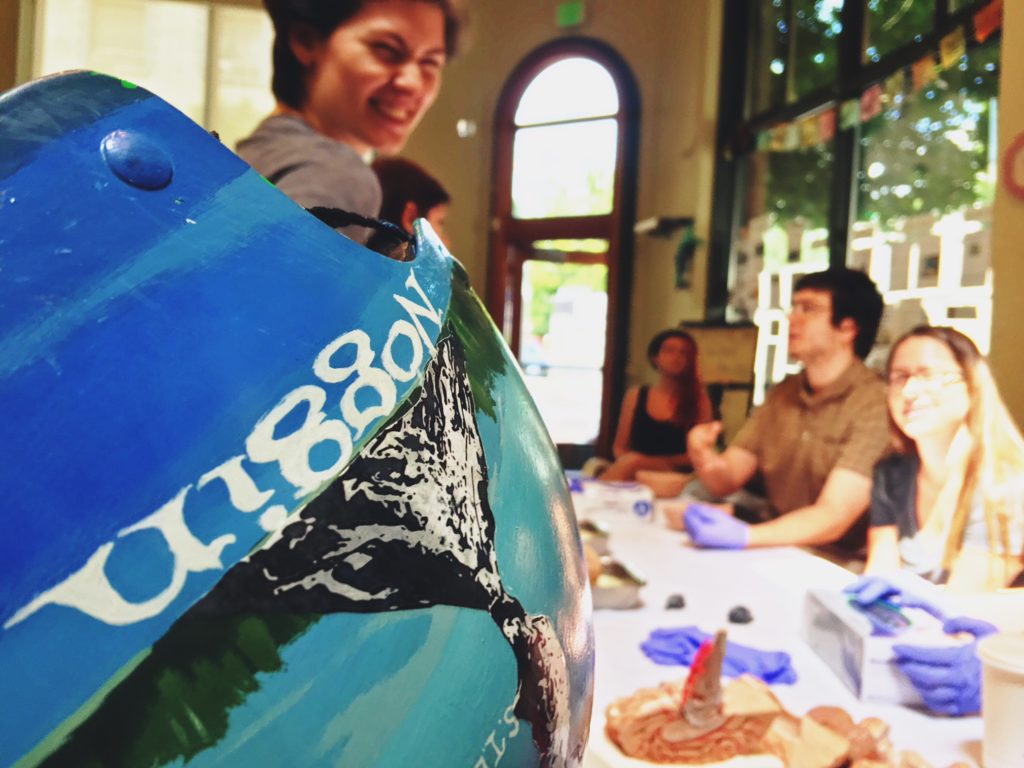 We'll be back next Tuesday (6/27) to work on this fall event  –  and will also bring miraculin tablets to mess with our taste buds and explore how our sensory neurons respond to environmental stimuli (including the chemicals that make up our food) and route information electrically to brain networks that underlie our perception of flavor and taste…
LEARN MORE:  Lemon candy @ P:ear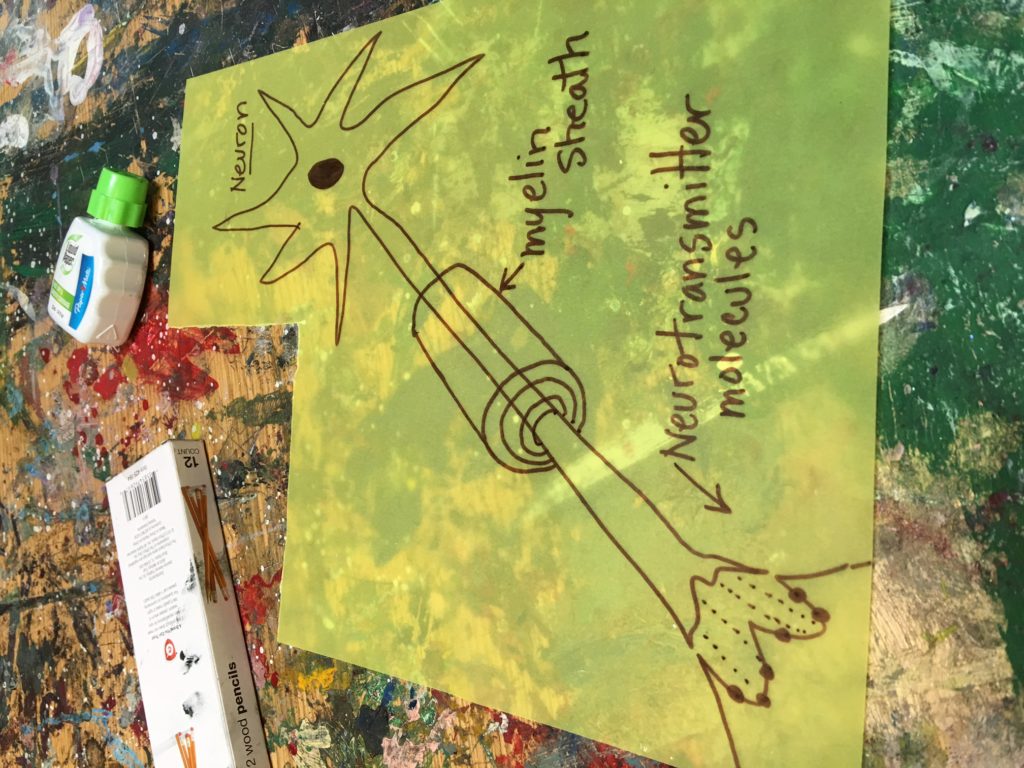 Many thanks to Sarah Louise Allen for her enthusiasm for brains, art and action!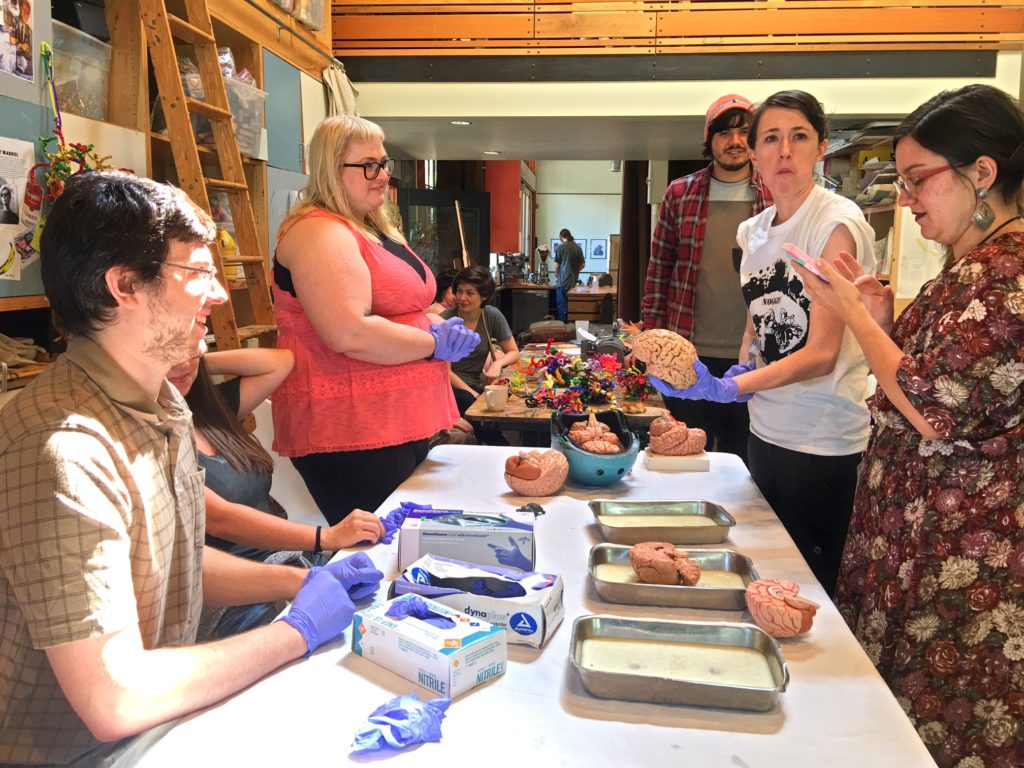 "There is a lot that happens around the world we cannot control. We cannot stop earthquakes, we cannot prevent droughts, and we cannot prevent all conflict, but when we know where the hungry, the homeless and the sick exist, then we can help."  – Representative Jan Schakowsky, member of House Neuroscience caucus
PROPOSAL SLIDES:  Homelessness and the Brain 2017 (pdf)