"Oh demon alcohol, sad memories I can't recall," sang The Kinks, about excessive drinking and the risk of blackouts and other consequences.  Rob Oberdorfer, Levi Cecil and Evan Railton of the Neutral Spirits covered the song, along with additional ethanol-related tunes during a Noggin presentation by neuroscientist Andrey Ryabinin on why we imbibe at Portland's well-stocked Velo Cult bike shop and bar…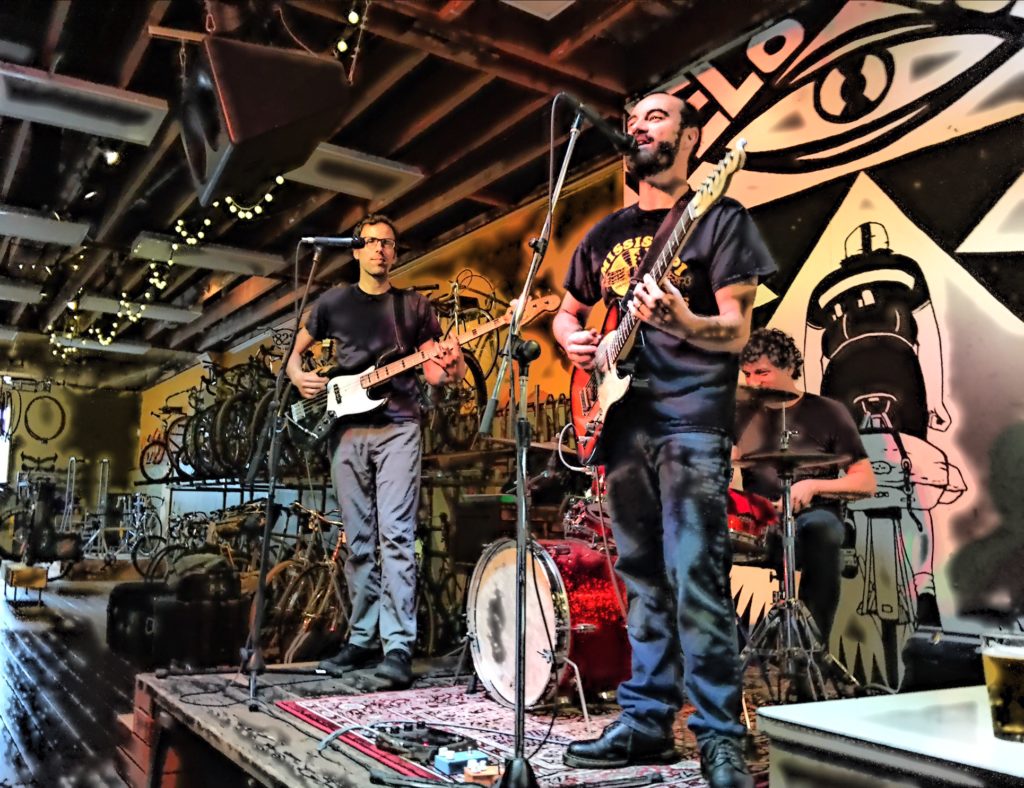 People streamed into Velo on a cool, damp Northwest evening, while Andrey and the band warmed up…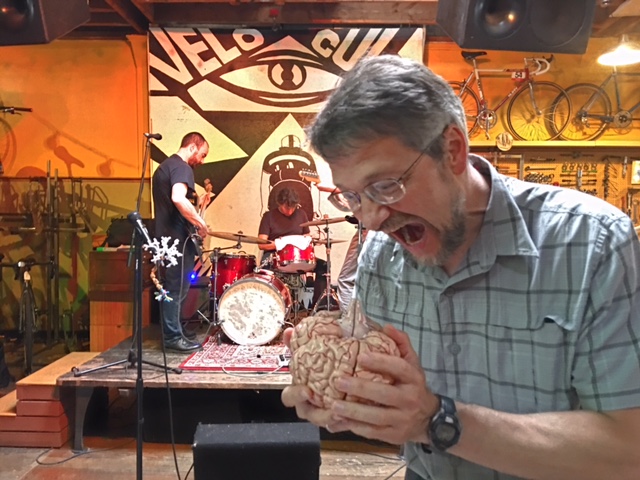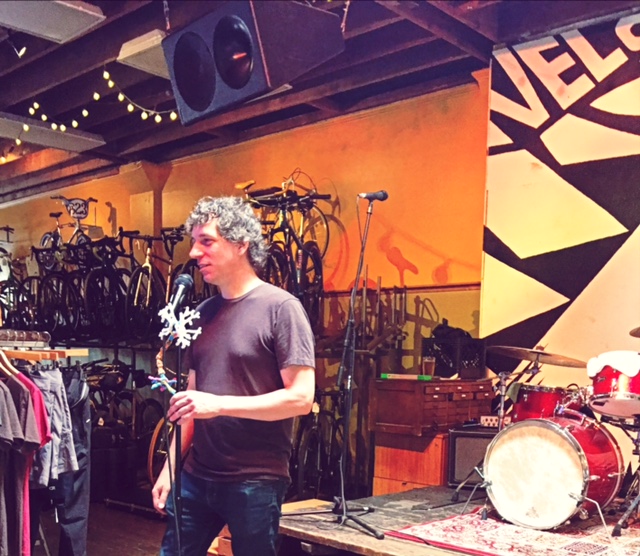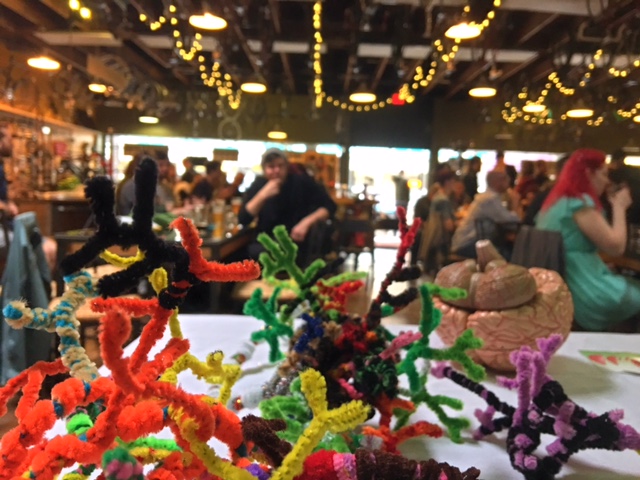 Neutral Spirits are (so far anyway!) a one night Velo gathering of three talented old-school Portland musicians whose credits include Ages and Ages, Brothers Young, Swords, The Standard, Blue Giant, Heroes and Villains, and Loch Lomond…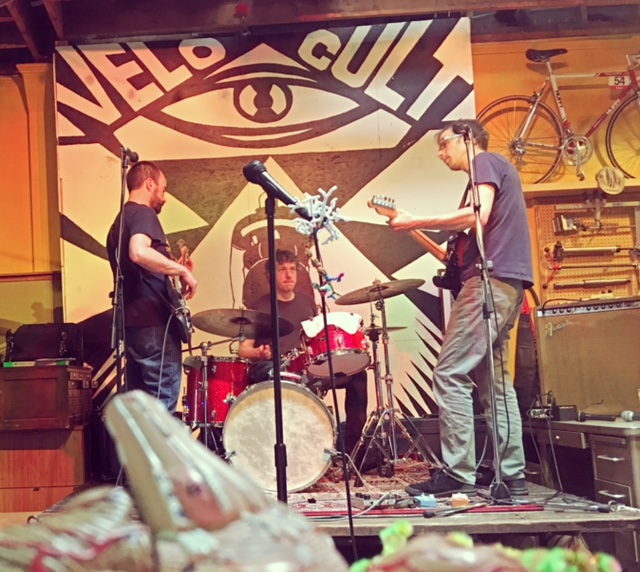 WATCH:  Neutral Spirits high proof warm up
Rob, Cecil and Evan also consider themselves amateur alcohol researchers, having spent, as they explained, "many years playing music for drunk people all over the world." Rob also works at a law firm specializing in DUII defense, so he's had a front row seat to many people re-evaluating their relationship with drinking.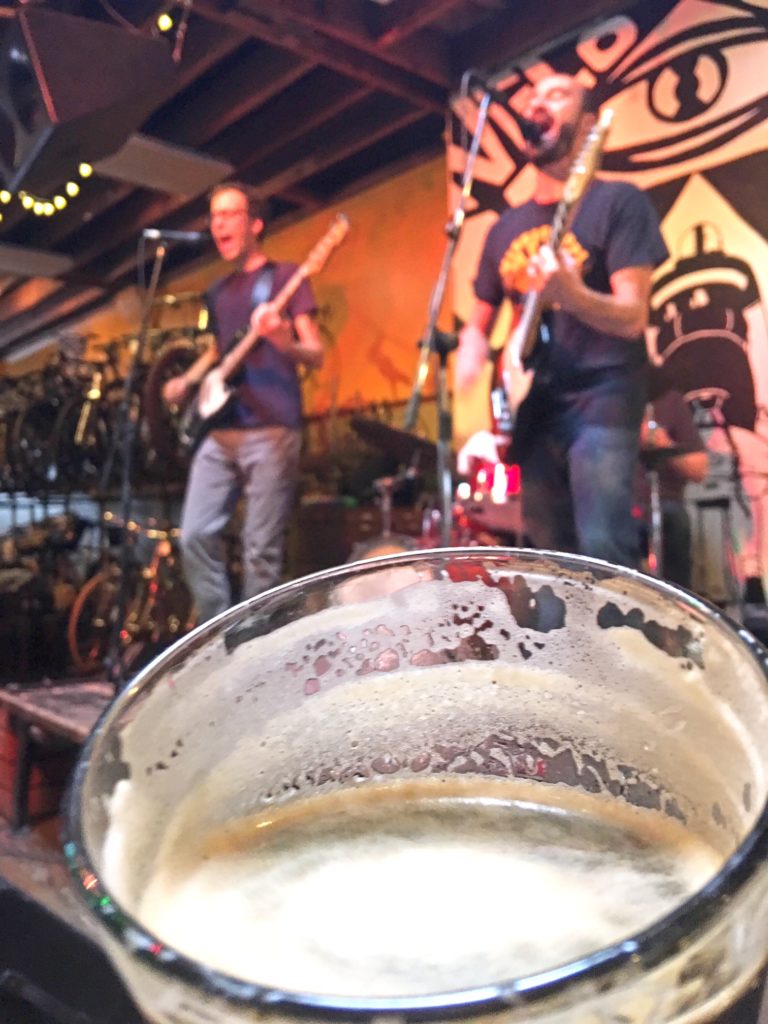 Andrey Ryabinin is a full professor of Behavioral Neuroscience at OHSU, who studies mechanisms of alcohol and other drug addiction, stress and social behavior using animal models. He's authored more than 95 peer-reviewed publications and serves as an editor for several scientific journals…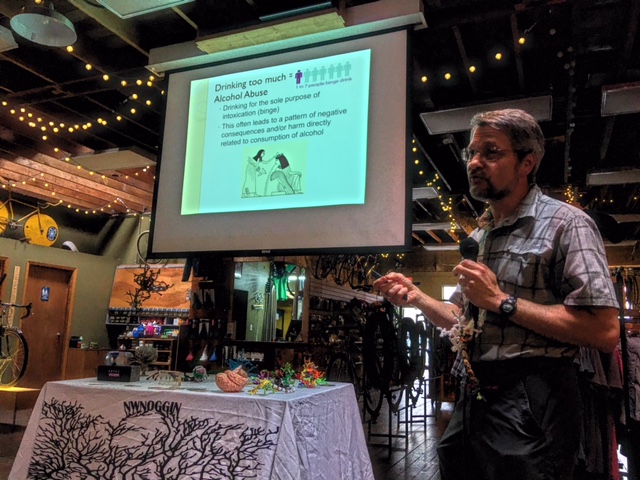 The show started with "Six Pack" by Black Flag.  "I got a six pack and nothing to do, I got a six pack and I don't need you."  Isolation can cause stress, and also increase alcohol consumption in those already prone to drink.  Interestingly, many drug studies only examine rats and mice kept separate from their fellow rodents…
EXPLORE MORE:  Increased alcohol drinking in isolate-housed alcohol-preferring rats
EXPLORE MORE:  Effects of stress on alcohol drinking: a review of animal studies
Andrey assured the crowd  –  many of whom were enjoying the excellent brews on tap at Velo  –  that his talk title "The Unpredictable Science of Drinking Too Much" most definitely referred to alcohol  –  and not water, or milk!  He also wondered, is a six pack too much?  For some, yes;  but for others, perhaps not.  There is a great deal of individual variability in alcohol consumption, risks, and behavioral effects…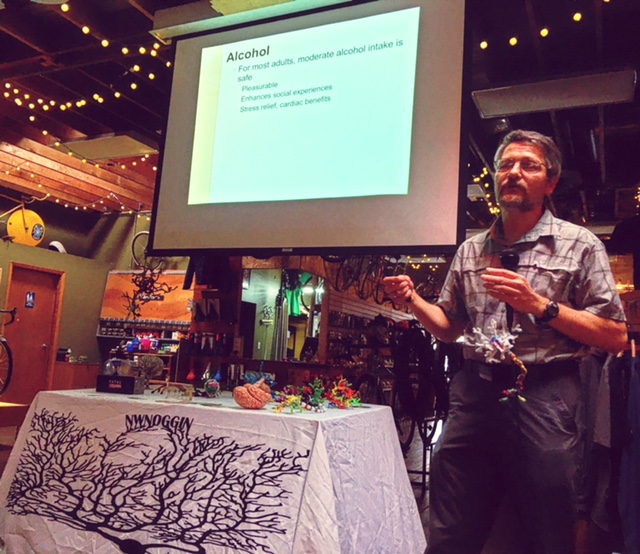 In fact, moderate alcohol drinking is considered safe and pleasurable, and it clearly enhances many social experiences, relieves stress and improves cardiac health…
EXPLORE MORE:  Drink to Your Health (in Moderation), the Science Says
EXPLORE MORE:  Alcohol and cardiovascular health: the dose makes the poison…or the remedy
EXPLORE MORE:  Drinking Levels Defined
However, drinking to get drunk or intoxicated is not healthy.  Andrey showed us an image from ancient Egypt depicting the results of too much beer  –  not even Kings could escape the unpleasant consequences…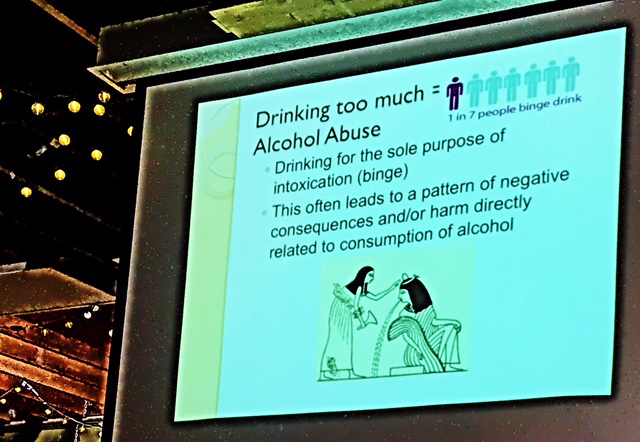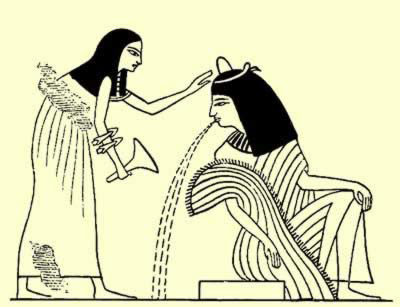 SOURCE:  Tour Egypt
Alcoholism (now alcohol use disorder) is a particularly serious risk for chronic heavy drinkers, with devastating costs for the individual sufferer, their family, friends, and society at large…
LEARN MORE:  National Institute on Alcohol Abuse and Alcoholism
So there is great interest in studying that old demon, and how it affects our brains and behavior…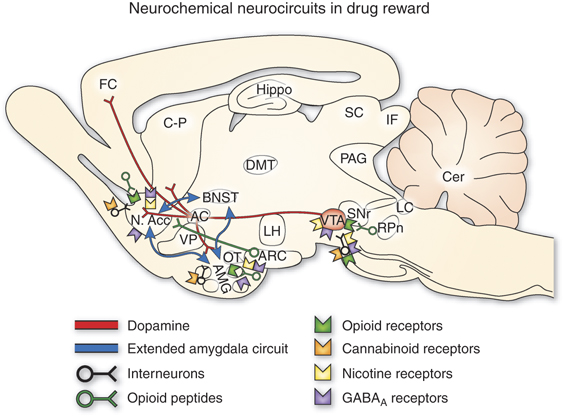 Andrey briefly laid out our current understanding of alcohol, and other drugs, and how these chemicals are thought to impact a specific set of neural networks in the brain.  There is one area in particular, a "node" where multiple neural pathways converge called the nucleus accumbens, that appears to play a major role.  Most drugs reliably provoke activation of the accumbens  –  increased neuron activity  –  which motivates our engagement…
EXPLORE MORE:  Neurocircuitry of Addiction
However, several years ago Andrey decided to look more closely at brain areas activated by alcohol by examining c-fos, a gene that reliably ramps up expression in response to cellular activity.  Administering alcohol activates certain neurons, which promotes c-fos expression, which results in production of the c-fos protein.  These intracellular events occur on a consistent timescale, and are measurable…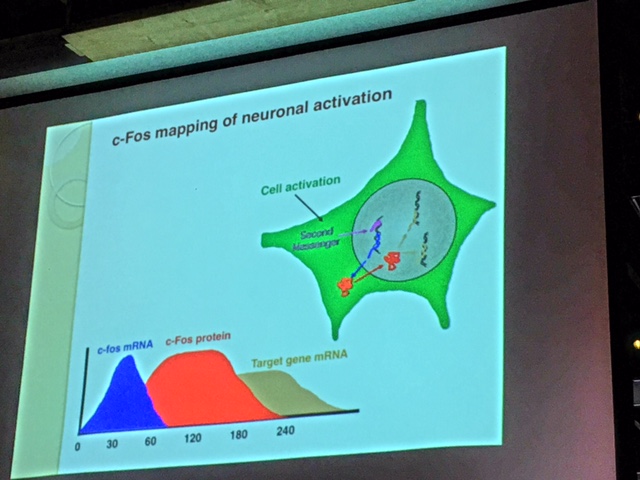 EXPLORE MORE:  Expression of c-fos-like protein as a marker for neuronal activity
EXPLORE MORE:  The Fos promoter as a marker of neuronal activity during behaviour
EXPLORE MORE:  Using c-fos to study neuronal ensembles in corticostriatal circuitry of addiction
Using this technique, which Andrey described as "the poor man's fMRI," he and his lab found a very different pattern of c-fos activation with direct injection of alcohol (ethanol) compared to other drugs, like cocaine…
But he went further, reasoning that voluntary consumption of alcohol, which better models actual human drinking, would activate different regions than involuntary exposure  –  and he was correct!  When rats pressed a bar to deliver their own alcohol (instead of being forcibly injected), there was only one region that exhibited enhanced c-fos expression  –  and it wasn't the nucleus accumbens…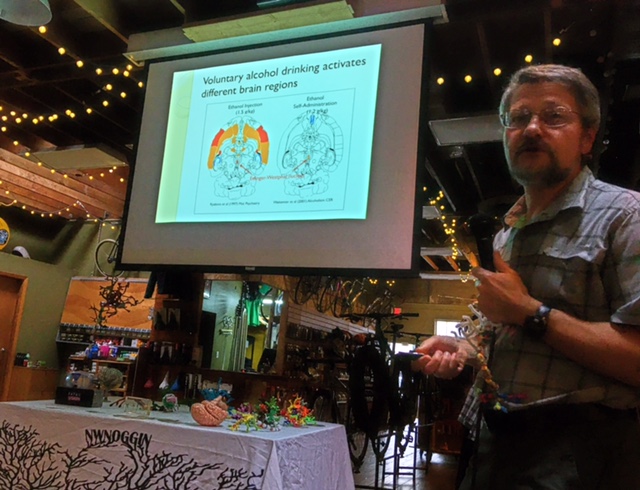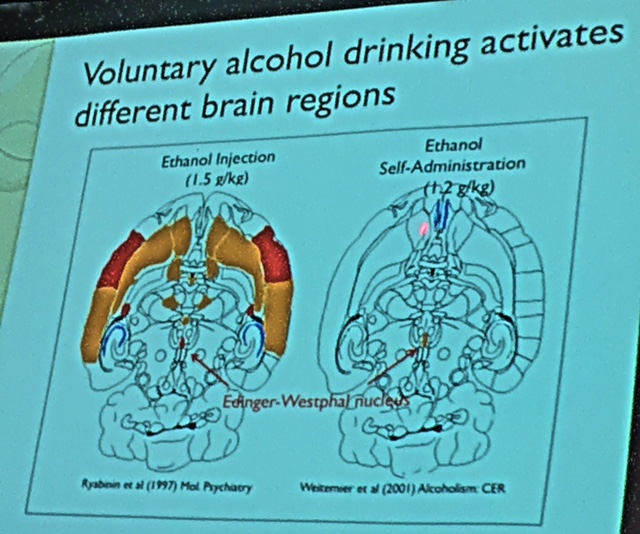 It was a very unexpected area  –  a small brainstem structure known as the Edinger-Westphal nucleus…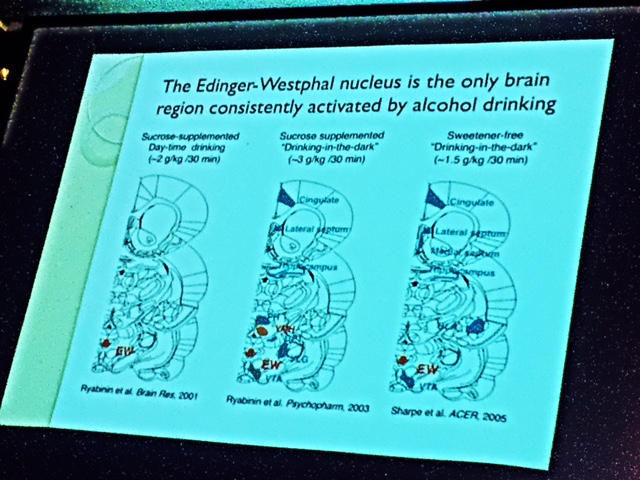 The Edinger-Westphal (EW) nucleus has for years been thought of as a node in a very different neural network, one linking detection of light in the retina to muscles that constrict and dilate the pupils.  This description is still found in a majority of neuroanatomy textbooks, even though Andrey's lab discovered that the cells required for pupillary accommodation are actually found outside this structure…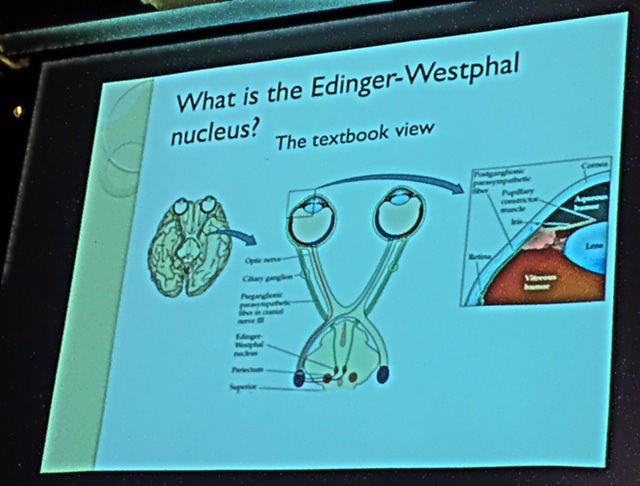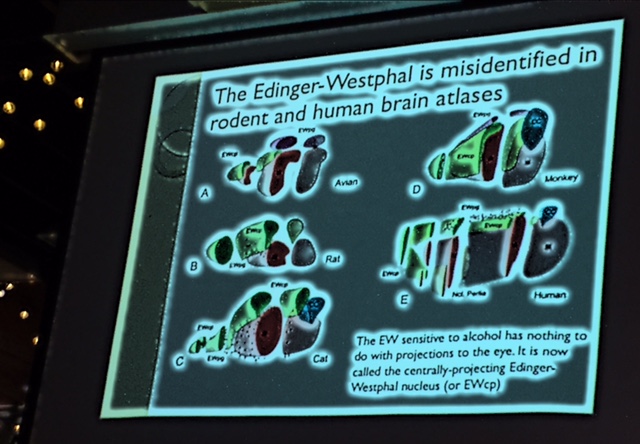 So Andrey asked the next question:  If it doesn't contribute to pupillary changes (and no one has ever reported alcohol effects on light accommodation), what does the EW nucleus actually do..?  He and his lab tried to address this by selectively lesioning it in the mouse…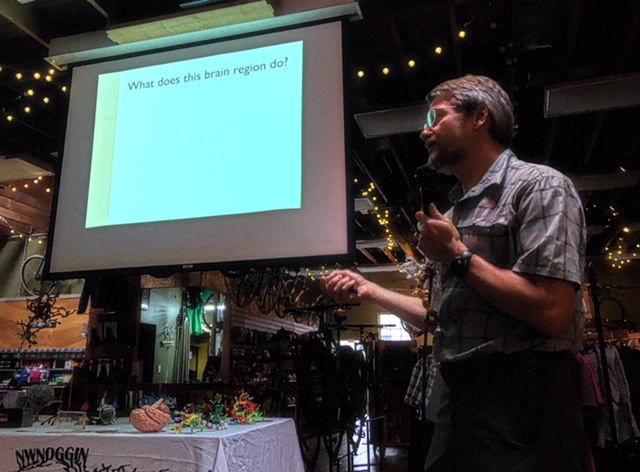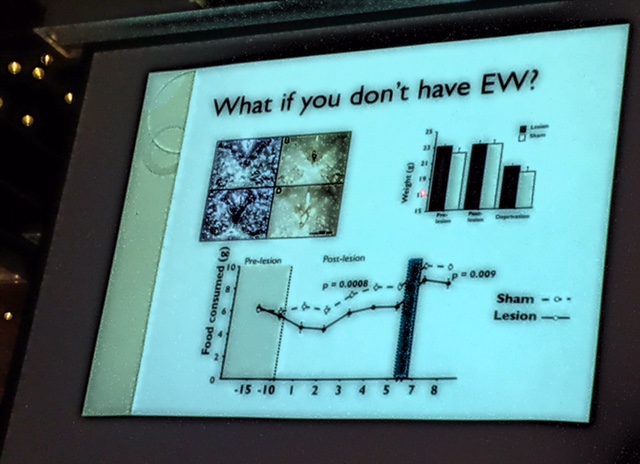 They found that in mice which voluntarily consume alcohol (a specific strain of high drinking mice, known as the C57 strain), removing this nucleus significantly decreased the amount of alcohol they chose to drink…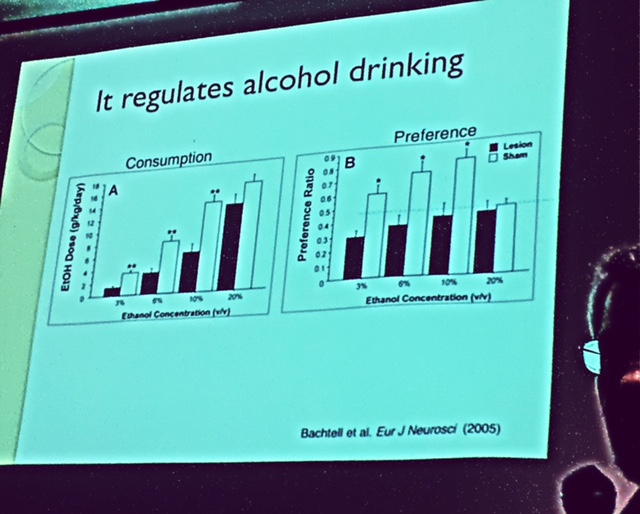 However, these C57 mice really like to drink, apparently  –  Andrey noted that in human terms they each typically consume, on average, about five bottles worth of wine!  Removing the Edinger-Westphal nucleus cut this dramatic level of consumption in half…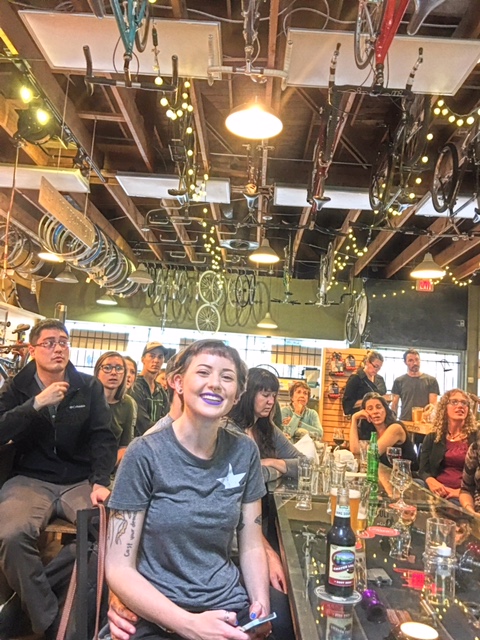 Andrey took time to emphasize the complexity of alcohol and other drug use, and what motivates consumption and determines when enough is enough  –  and he suggested that our current understanding of addictive drugs hijacking the brain's "normal reward pathways" was perhaps a little too simplistic…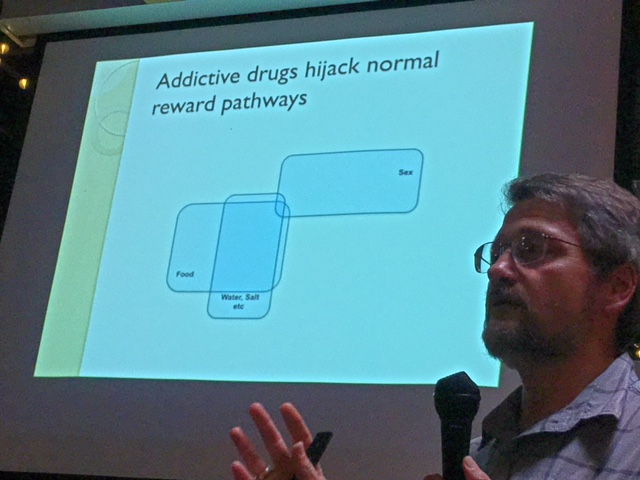 This is partly, of course, because motivating rewards themselves are so varied and complex.  Rewards, for example, are not just food, sex, water, salt…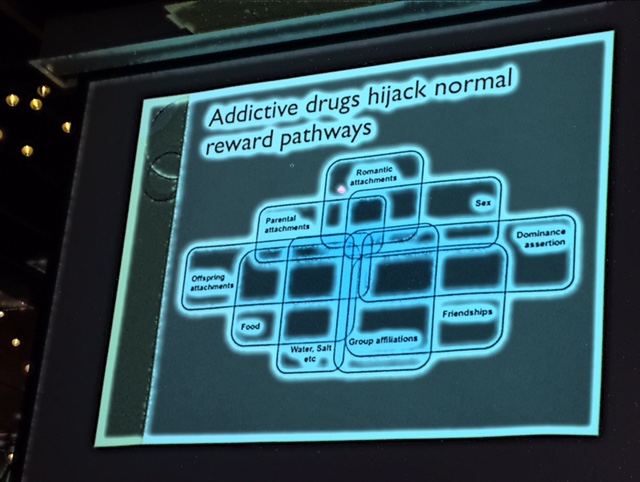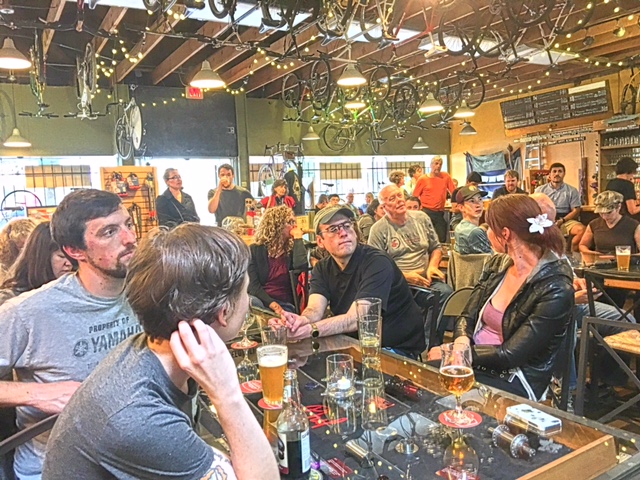 With alcohol, of course, one of the great rewards for people  –  and perhaps part of what contributes to better cardiac function, and lower mortality risk  –  is the less stressful, more convivial social engagement that many experience as they enjoy a beer (or two) with friends…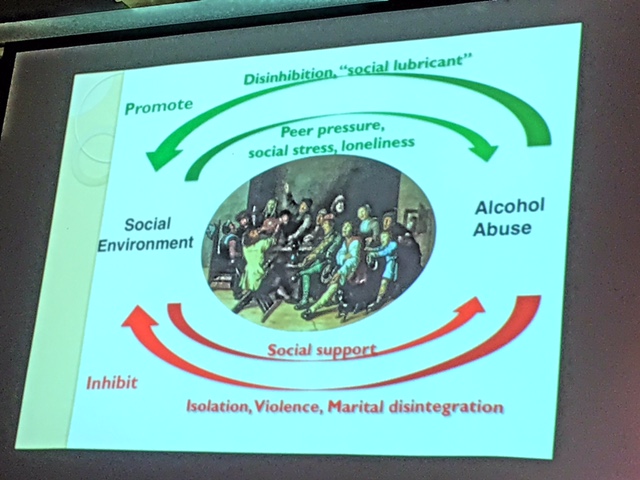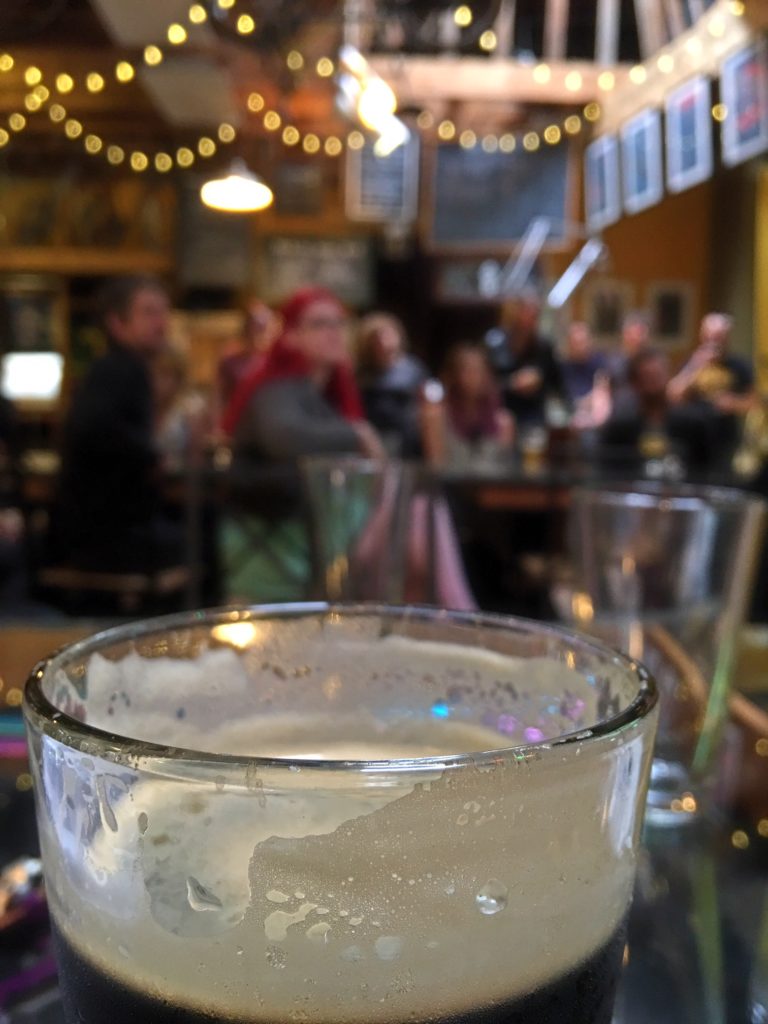 At this point we refreshed our own beverages, and enjoyed another spirited musical break, with Rob, Cecil and Evan offering a traditional rendition of "Moonshiner" (an Irish drinking song performed by Bob Dylan, Cat Power, and others), The Kinks "Alcohol," and "Drink" by They Might Be Giants..!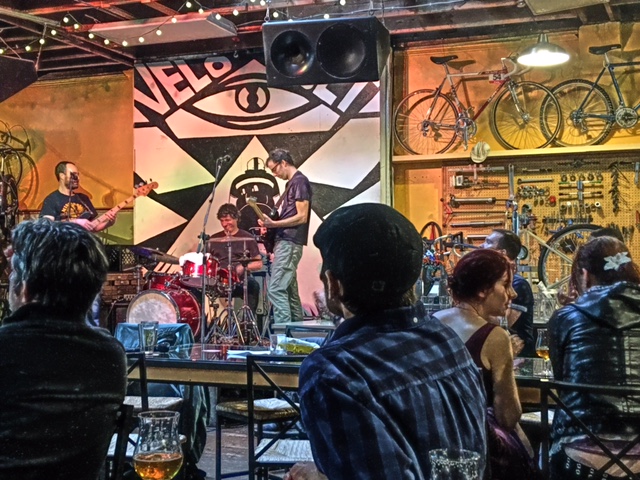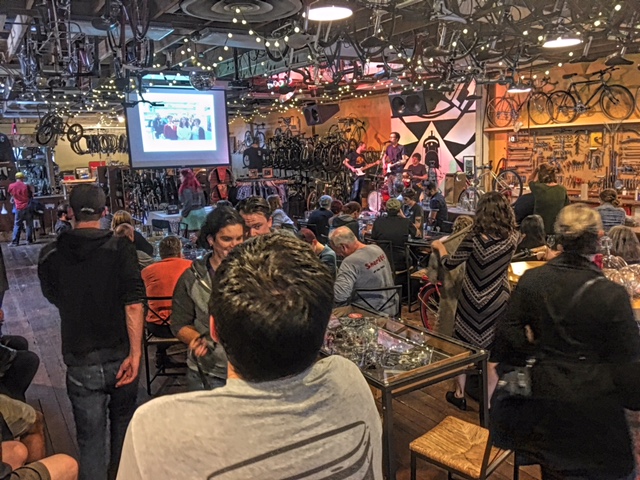 Andrey grabbed our attention again with pictures of adorable prairie voles  –  his current animal model for examining the effects of social experience on drinking!  Like people, many prairie voles enjoy alcohol, and will readily choose to consume it.  Prairie voles are also monogamous, bonding with their partner for life…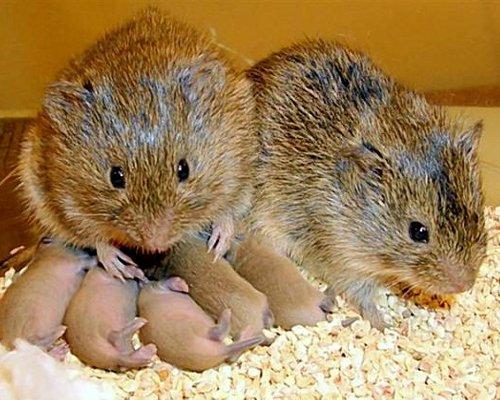 However, that does not mean that coupled prairie voles never stray;  in fact, if presented with a new vole, they may well choose to mate  –  but will reliably return to their original "soul vole" partner after a night out…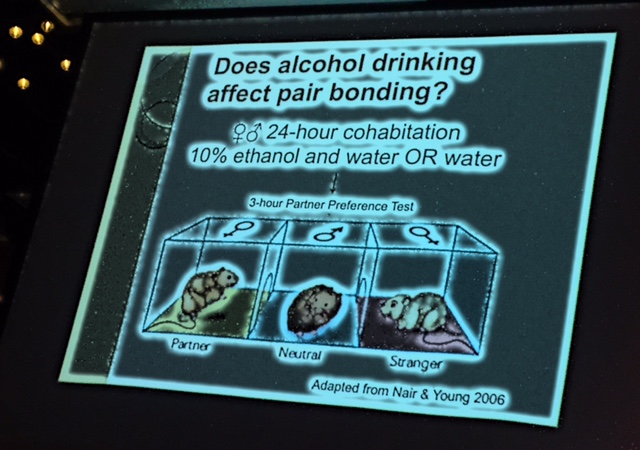 In other words, they are (in the words of sex advice columnist Dan Savage) "monogamish"  –  and thus a good model for human behavior!
LEARN MORE:  Prairie voles as a novel model of socially facilitated excessive drinking
LEARN MORE:  The Risks of Being Monogamish
So what are the effects of alcohol on drinking behavior in prairie voles?
Andrey presented us with results of several studies, including one that found prairie voles drink more when housed together…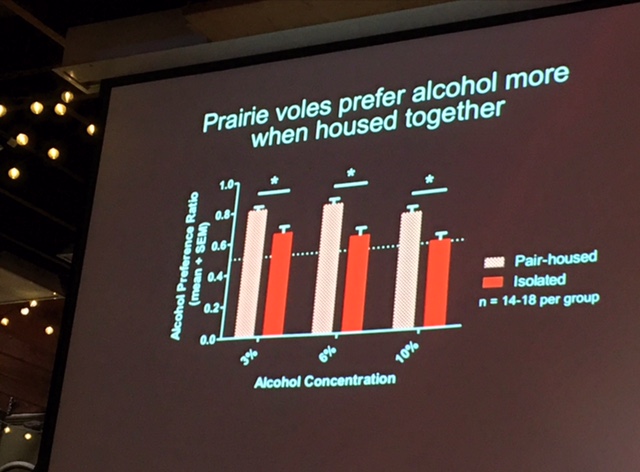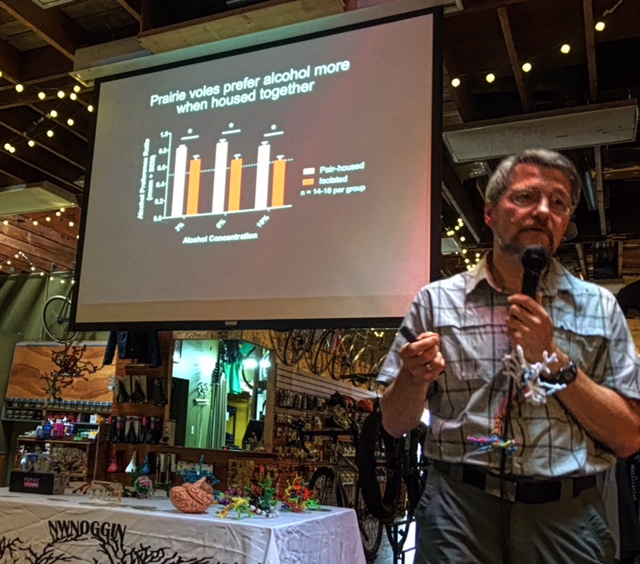 However, this effect was only seen with same sex sibling pairs  –  but not with male-female bonded pairs..!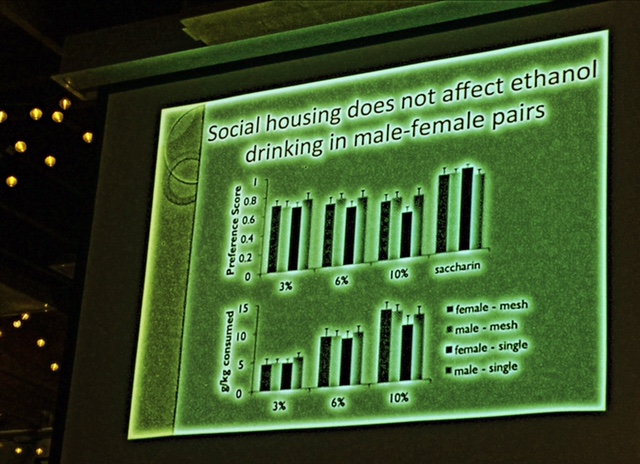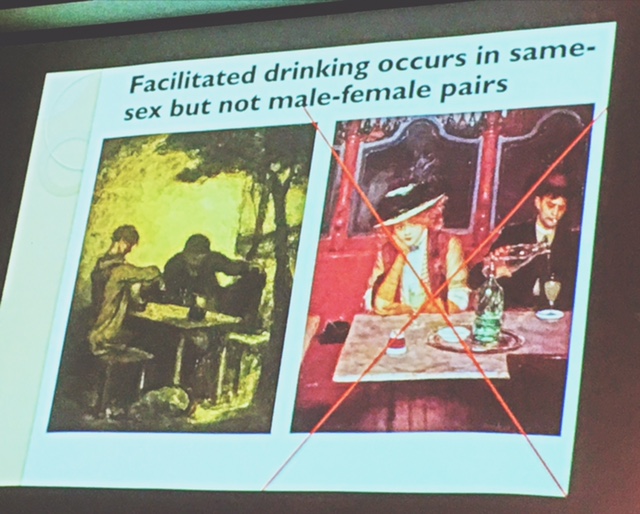 Honore Daumier (left), Jean Beraud (right)
EXPLORE MORE:  Social housing and alcohol drinking in male-female pairs of prairie voles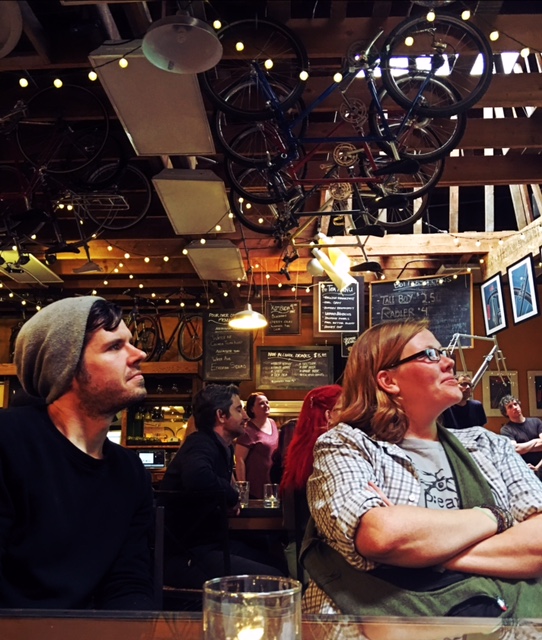 And also, interestingly, when low drinking prairie voles were paired with high drinking prairie voles, the high drinkers tended to drink less.  These sorts of social effects on drinking behavior are fascinating to consider, and have potential clinical application…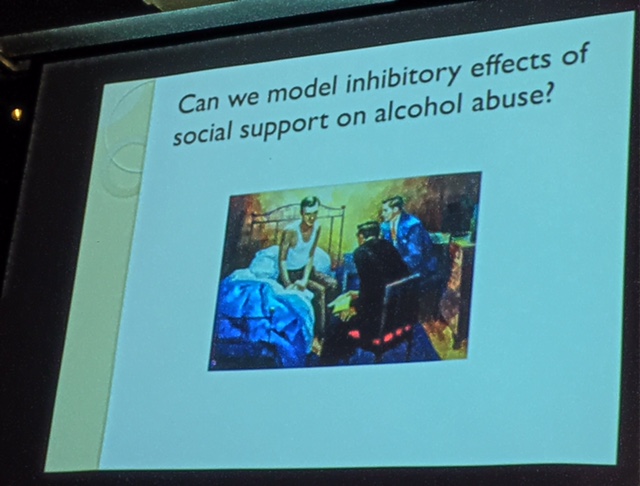 Image by Bill Dotson, "The Man on the Bed" (an early Alcoholics Anonymous intervention)
EXPLORE MORE:  Alcohol intake in prairie voles is influenced by the drinking level of a peer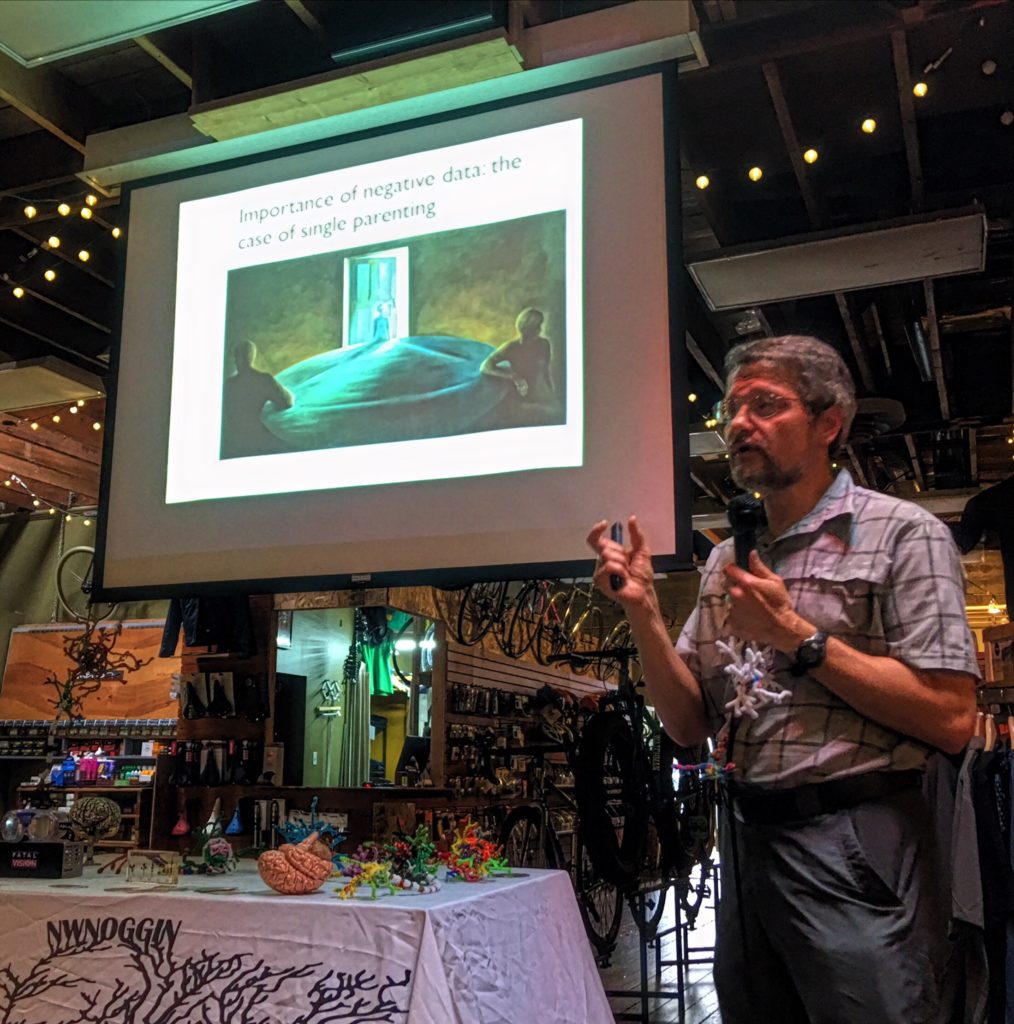 Andrey's lab also looked at the impact of single parent versus coupled parent rearing on offspring, and found that while offspring of single mothers were more promiscuous, and showed fewer maternal behaviors with their own progeny, they were no more likely to drink alcohol.  This "negative result" is actually compelling, as it suggests that increased drinking behavior is not caused by having a single (vole) parent…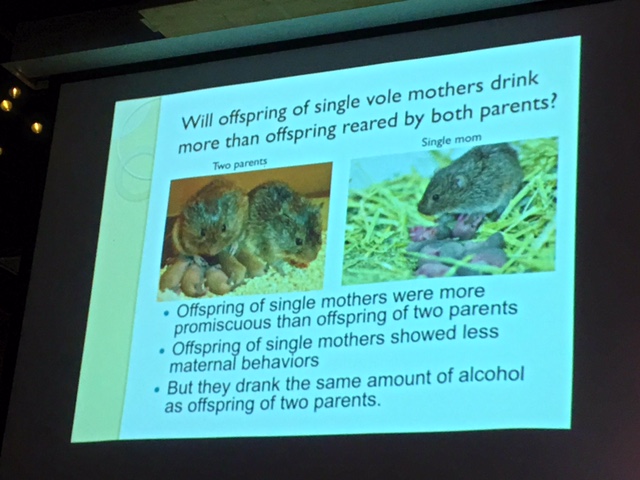 EXPLORE MORE:  The Role of Early Life Experience and Species Differences in Alcohol Intake in Microtine Rodents
Perhaps more intriguingly, alcohol disrupted monogamous behavior in male prairie voles, and made them more likely to stray (when asked, a majority of audience members predicted this result).  However, in contrast, alcohol exposure enhanced monogamous behavior in female voles!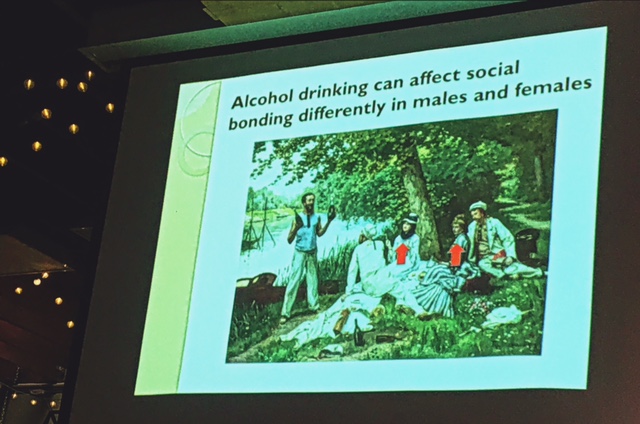 Roger Jourdain, Di Manchea La Grande Jatteis Ian Donthesei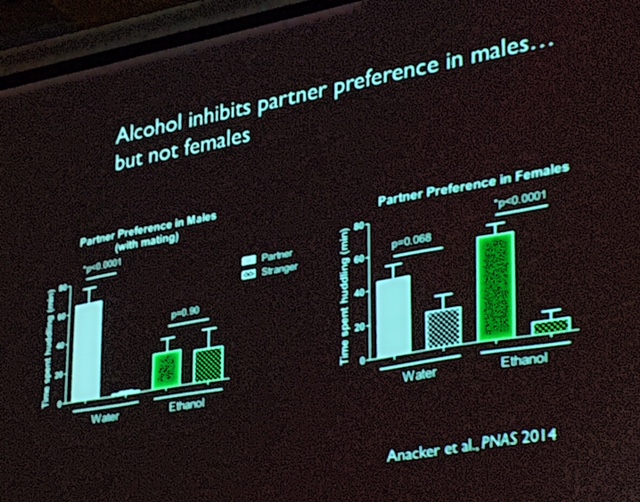 EXPLORE MORE:  Drinking alcohol has sex-dependent effects on pair bond formation in prairie voles
This was a fascinating look at the complex interplay of sex, bonding, and other social influences on drinking…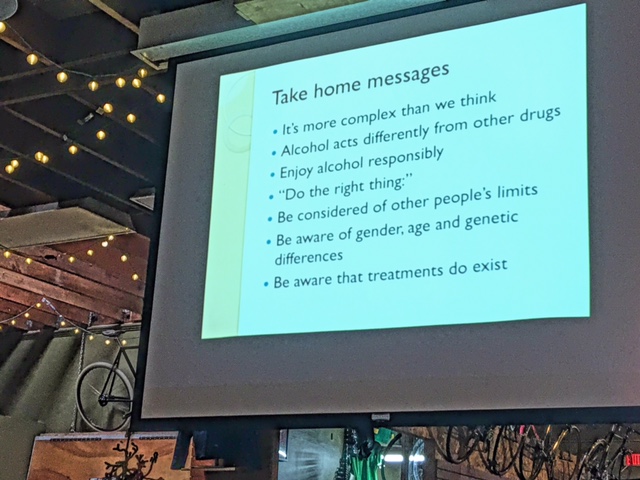 Explored both in science  –  and song!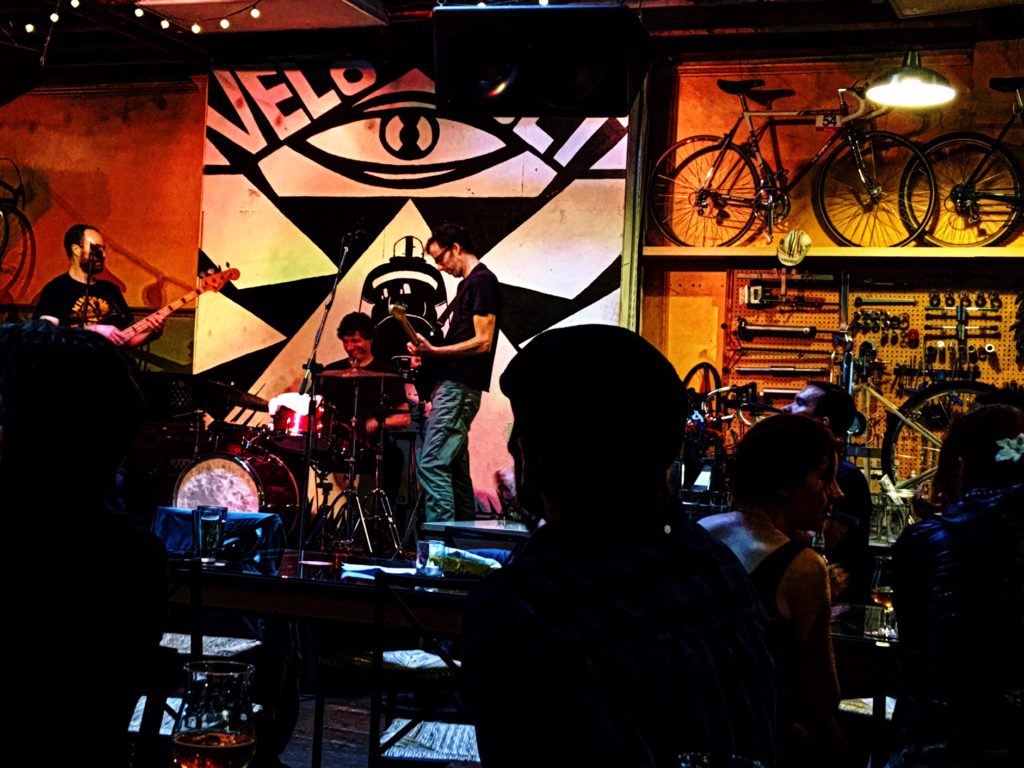 Many thanks to Andrey, Rob, Cecil and Evan  –  and to Velo Cult for their continued support!