Fresh off a long drive from a conference workshop in Ashland, and a shorter bike ride from Northeast Portland, Jeff and Bill had the exciting opportunity to attend the Portland Art Museum member opening of "Seeing Nature," an extraordinary exhibit of landscape masterworks from the Paul G. Allen Family Collection…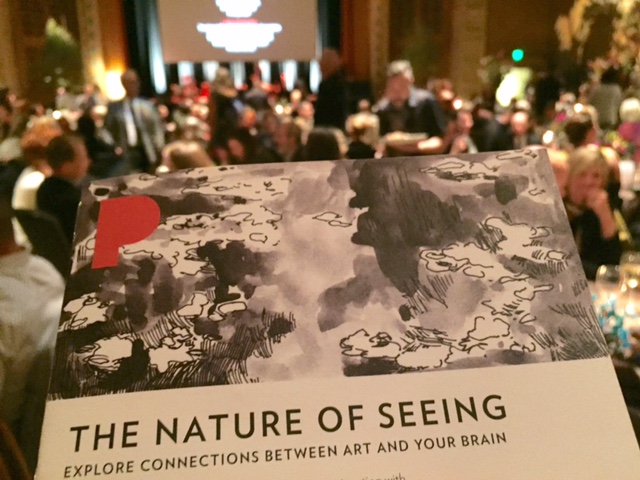 We headed first to the galleries to feast our eyes  –  and brains!  –  on paintings by J. M. W. Turner, Jan Brueghel the Younger, Thomas Moran, Gustav Klimt, Edward Hopper, Claude Monet, Paul Cézanne, Georgia O'Keefe, Yves Tanguy and David Hockney, among others…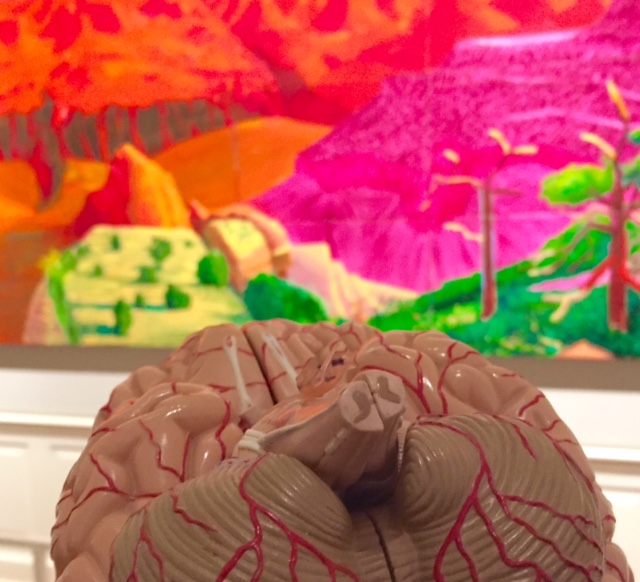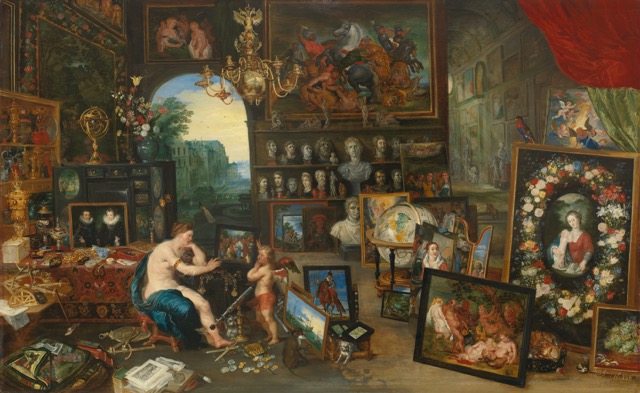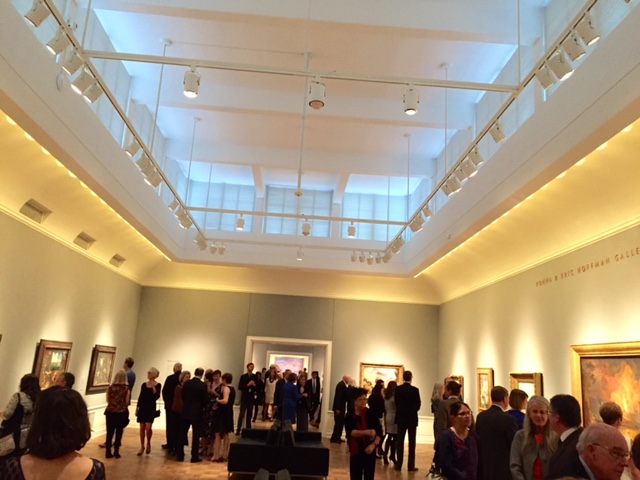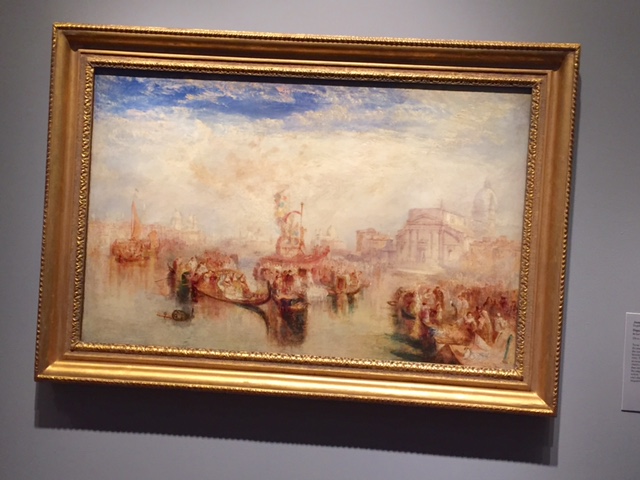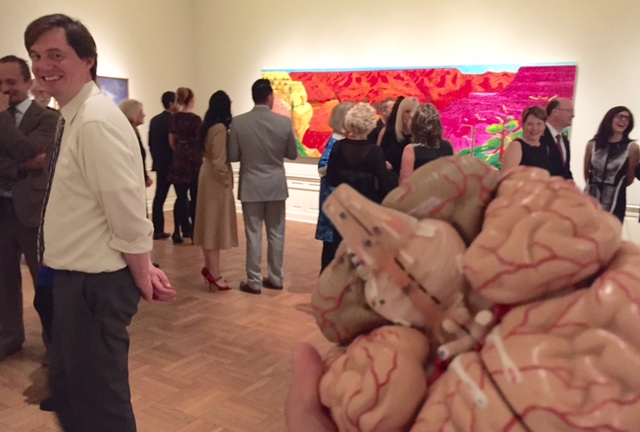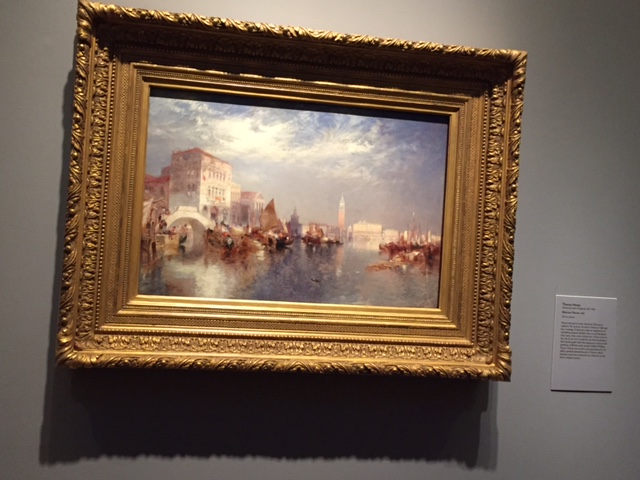 But how do we see?  How does light reflected from brushstrokes, textures, and paint become a compelling landscape, with a palpable perceived sense of color, depth, and space?  Where does visual information go in the brain?  
We spent the next hour in a unique and innovative gallery devoted to "The Nature of Seeing," introducing museum guests to the neurophysiology of visual perception, along with some striking images of mouse brain connectivity from the Allen Institute for Brain Science…
Jeff designed the brain backdrop, and Bill wrote text introducing these images, including a colorful depiction of neural links between areas of cortex and specific parts of a subcortical structure known as the thalamus (the multicolored, kidney shaped object in the center of the picture below)…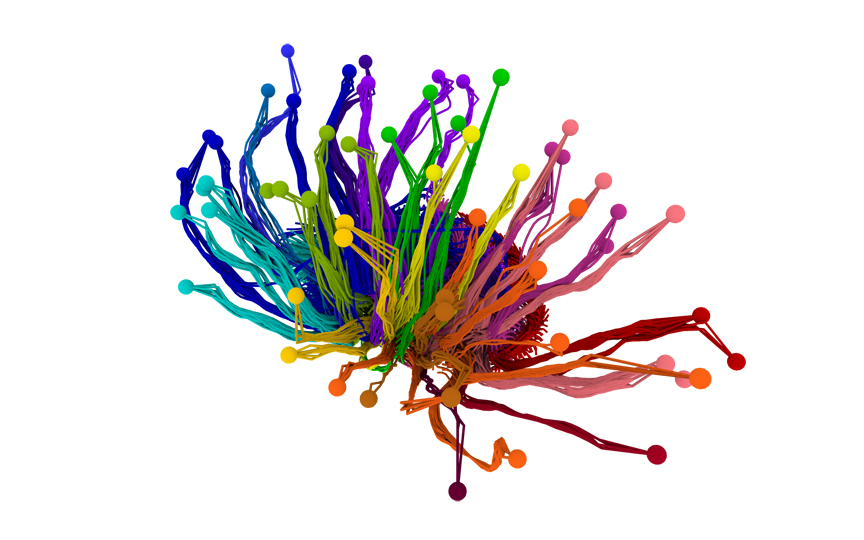 Visual details detected by photoreceptors in the eye are transferred electrically to a particular part of the thalamus;  specifically to a nucleus, or cluster of neuron cell bodies, dendrites, and synapses, called the LGN.  The tinted lines above show how neurons in the LGN, and in other nuclei of the thalamus, connect (via their long, wire-like axons) with highly distinct areas of cortex (those colored circles in the same Allen Institute image, above).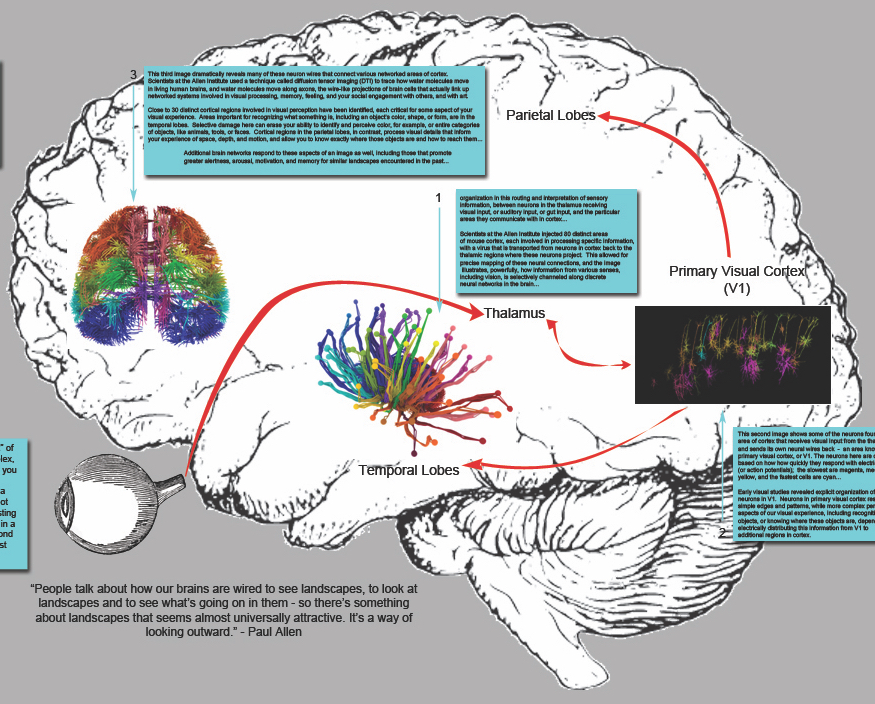 Neural activity in these distinct cortical areas is essential for perception of specific aspects of, for example, what we experience visually.  The recognition of specific objects, like the Venetian gondolas in works by Turner and Moran, or the trees in Hockney's "The Grand Canyon," is dependent on networks of neurons in the temporal lobes that respond to color and form, while your sense of how your own body relates spatially to these landscapes requires neural processing in the parietal lobes…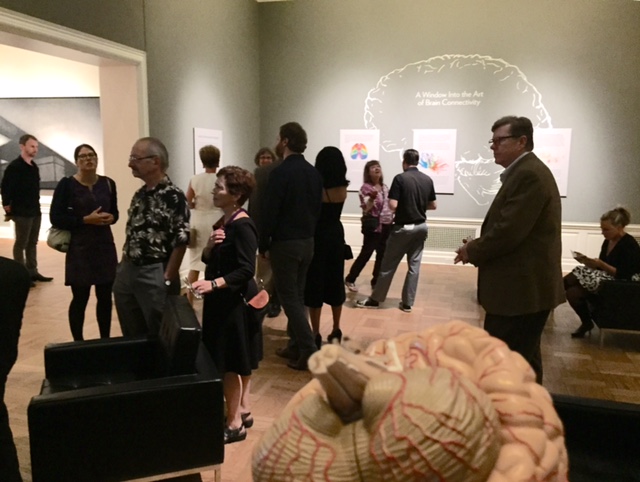 We also collaborated with illustrator Mia Nolting on a "Nature of Seeing" educational guide, available in the gallery to help museum visitors of all ages explore the remarkable paintings in this exhibit, and consider what's happening in their own brains as they experience color, depth, feeling, memory, awe, surprise and other aspects of perception…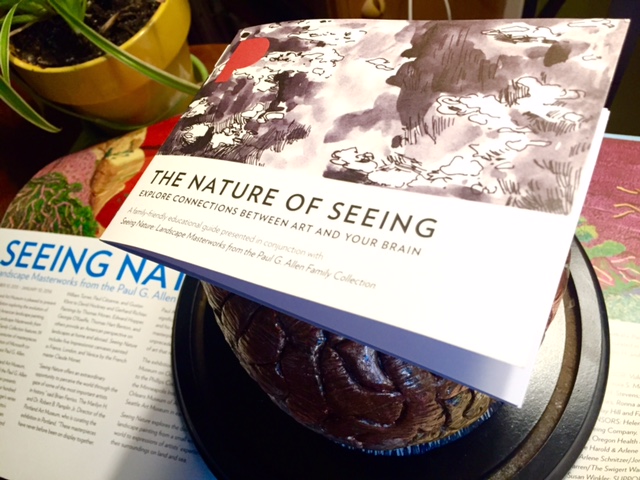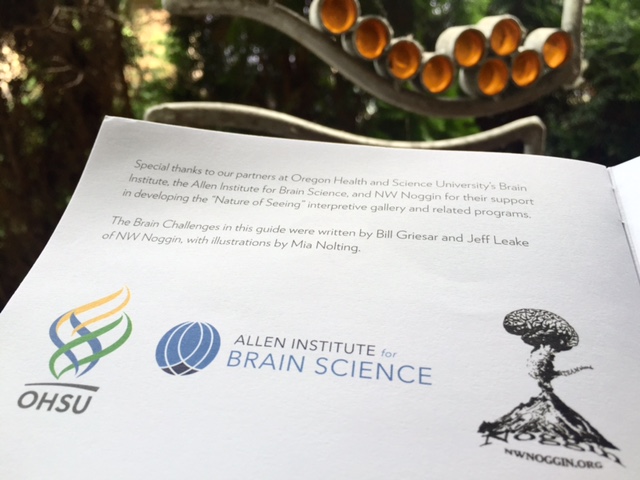 This gallery also offers a library of books on the neuroscience of vision and art, and a video introduction to the nature of seeing created by the Allen Institute for Brain Science…
We carried our plastic cerebrum, and a few pipe cleaner neurons, into the dining hall for more stimulating discussion at dinner about brains and art.  We were privileged to sit by Kindra Crick, an accomplished artist with a strong family connection to neuroscience  –  and we are extremely excited that she will collaborate with one of our Noggin participants (John Harkness, a new postdoc in Neuroscience at WSU Vancouver) on a Velo Cult presentation early next year..!  Stay tuned for details…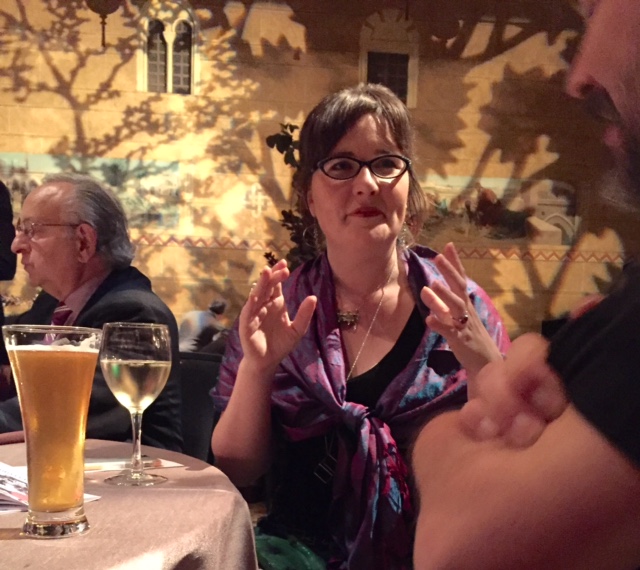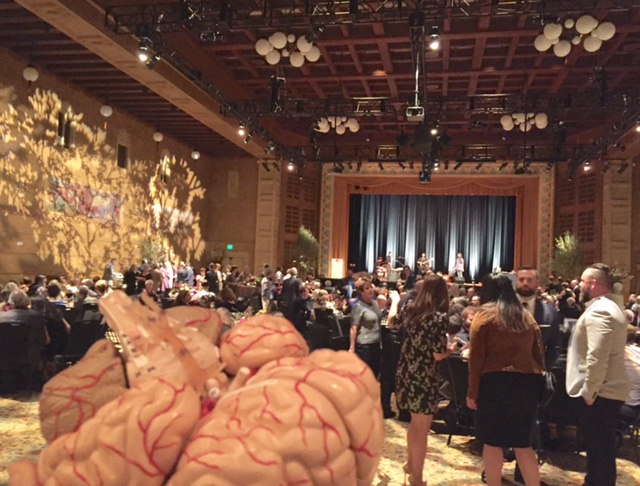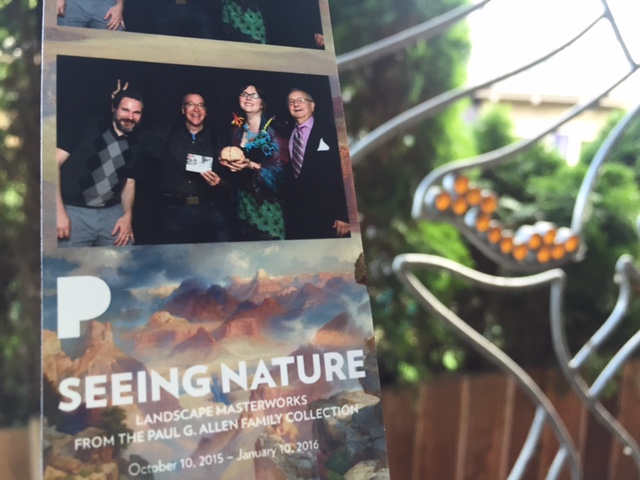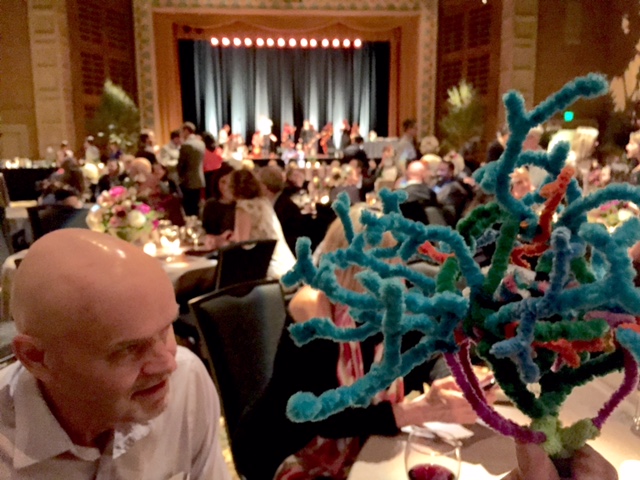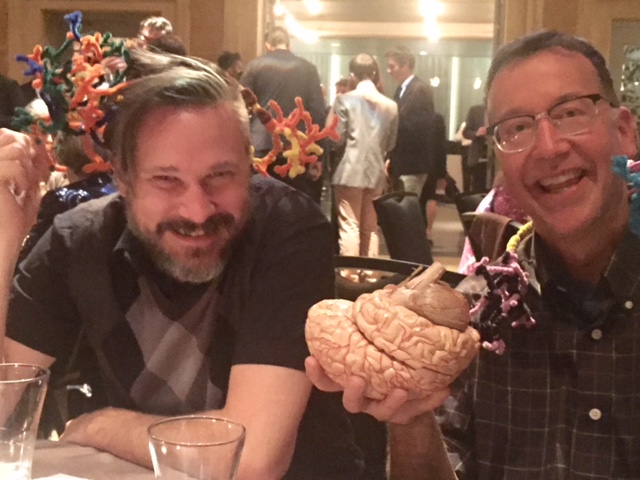 Many thanks to Mike Murawski, the Director of Education and Public Programs at the Portland Art Museum, for offering NW Noggin, and our students, some truly phenomenal opportunities to be engaged in public art and science outreach in the Portland/Vancouver community…
And please  –  go see the show!  We'll bring about 150 Perception/Art & Brain course undergraduates from Portland State University and WSU Vancouver into these galleries later this fall.  The exhibit will run at the Portland Art Museum through January 10th…

Some early press coverage of the exhibit is found below…

LETTING NATURE TAKE ITS COURSE (Portland Tribune)
Paul Allen to Share His Art With America in a 5-City Traveling Masterpieces Show (Observer)
EXHIBITION OF WORKS FROM PAUL ALLEN'S PRIVATE COLLECTION BEGINS U.S. MUSEUM TOUR (Vulcan)
Portland Art Museum to open 'Seeing Nature: Landscape Masterworks from the Paul G. Allen Family Collection' (oregonlive.com)
Selections from Paul Allen's Massive Art Collection on View in Touring Exhibition (ARTFIXdaily)
Paul G. Allen's Landscape Collection Begins National Museum Tour (Hamptons Art Hub)